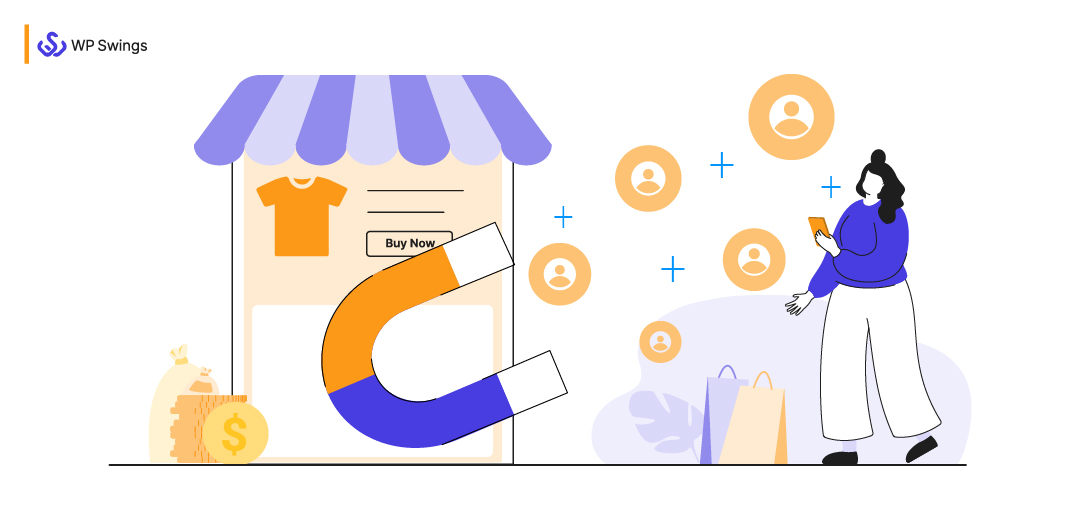 For the past few years, our world has gone through waves of COVID-19 that have destroyed the customer's willingness to try out new products or spend money on luxury items or non-essentials. Customer retention post-covid has seen a decline.
Even nowadays, there is uncertainty in the world, customers are avoiding visiting stores. This social distancing and restrictions have changed customer behavior to a considerable extent.
With all this uncertainty and economic state, more and more brick-and-mortar stores are shifting online. And eCommerce is becoming more crowded in terms of competition and customers.
In this heart-throbbing competition, acquiring new customers is harder. But, the report says, it is 70% easier to keep an existing customer.
But, that doesn't mean you will stop hunting for new ones. You can earn more revenue this upcoming Christmas holiday sales by nurturing your existing customers with an effective customer retention strategy.
Do you know if you only invest 5% in customer retention you have the chance to boost your sale by 25-95%?
Yes, exactly! you read it right.
In this blog, I will share how to increase customer retention for holiday sales in 2022 – 23; And a win-back campaign will help you get more sales in this post-pandemic market.
Let's get started!
How COVID-19 Has Changed the Shoppers' Behavior in the Past Years?
The world came to halt in 2020 as the COVID-19 spread rapidly. Lockdowns were imposed and human activity was mostly restricted within the confines of home. Getting essentials was the primary motivation for shopping.
In the following years, we have witnessed wave upon wave of COVID-19 sweep across the world. Now, that the pandemic is receding globally, the restrictions are being lifted and people are returning to normal.
But even in the post-pandemic stage, consumers have shown a radical shift in their shopping behavior. The shoppers are considering priorities over preferences to reduce expenditure on any unnecessary commodity.
The long period of isolation, lockdown, and economic uncertainty have very much affected the buying decisions. 
So, before learning how to increase customer retention for the festive season and create strategies, let's see statistical data for the customers' change in behavior.
1. Buying Basic Necessities Has Taken the Precedence
As I said earlier, the pandemic has taught people to consider priorities over preferences. Consumers have centered their buying decisions around commodities like staple products, hygiene, and health-related products.
Focus on targeting the consumer's needs to increase festive customer retention. The gift people will give to each other will also reflect the minimalistic approach they have adopted. (More on this later)
2. New Shopping Trends That'll Stay for Long-Term
The pandemic outbreak is responsible for the birth of some new shopping trends that are going to stay for long. Here are the three rising trends in the aftermath of the virus outbreak:
Increased Focus on Health
Consumers are becoming more aware of the importance of a strong immune system, therefore, brands should pay heed to promoting a healthy lifestyle. No matter what niche your business belongs to, including health in your marketing strategy is very important for the foreseeable future.
In short, understand the sentiments of your audience and assure them that you're as much worried about the situation as they are.
Consuming Consciously
During the coronavirus outbreak, 88% of consumers were worried about the impact on the economy and 64% were worried about personal job security.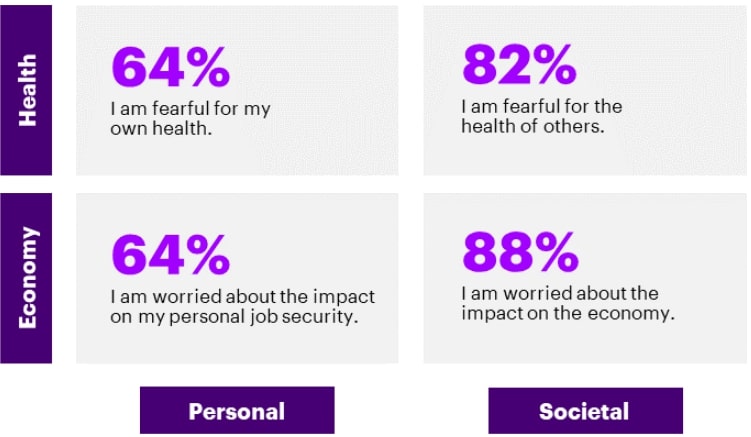 [Source: Accenture COVID-19 Consumer Research]
This tells us that the shoppers have become more concerned about mindful buying. They are striving to avoid wastage of commodities like food and shop for more sustainable options. As a business, you have to take this very seriously and explore new business opportunities that resonate with this trend.
Support for Local
The coronavirus outbreak created an existential crisis for local businesses and believe it or not these locally owned businesses are the backbone of a nation's economy. This is how they contribute to a country's economic growth:
Local businesses are responsible for a country's existential bulk of jobs.
They are responsible for the cultivation of innovation to give customers something every day.
Unlike big retail chains, local businesses adapt their products to meet the customers' immediate needs.
From common people to celebrities, everyone raised a call to support local businesses.
Congratulations the new owners of Tilbury Foodland. They transitioned into the business over the past year thanks to the support from the previous owners and community. We look forward to better times ahead and thanks to everyone for choosing to #ShopLocal#ckont pic.twitter.com/nwqfCjJKuj

— CK Small Business Centre (@CKbizcentre) July 26, 2021
All these campaigns made consumers more willing to buy locally sourced products and support local businesses. The lesson here is brands will have to look for ways in which they can connect and engage with the community locally.
3. Lowering Customer Loyalty
According to eMarketer Reports, in the mid-2021 more than 80% of consumers reported buying a different brand than usual.
The contributing factors to lower customer loyalty are higher prices, out-of-stock products, and a lack of covid appropriate order fulfillment.
Now, how can you increase customer retention in the holiday season if these variables are affecting customer loyalty?
Just follow these basic rules:
Reassess your policies in line with your brand values. Give out offers, discounts, and cashback to help the customers. It will work as a counter to higher prices.
Opt for delivery partners that strictly implement COVID safety protocols.
Fix your supply chain so that stocks are replenished on time. If possible, find a local alternative for acquiring resources.
Why Is It Important To Retain an Existing Customer Post-COVID?
As in my previous blog, I've already explained that acquiring a new customer costs about 5-25x more than selling an existing customer to a business. And the existing customers spend 67% more than new customers.
According to Marketing Metrics, the success rate of selling to an existing customer is 60-70%, while the success rate of selling to a new customer is only 5-20%!
No matter how you look at it, retaining customers seems to be the best approach.
In the COVID-19 aftermath, the brands need to have customer value if they want to return to the path of growth. Therefore, keeping your loyal customers is crucial and it could be only achieved by working strategically on increasing customer retention.
Stick to this fact – The easiest way to grow your business is not to lose your existing customers.
My question is why we keep on spending on acquiring new customers when existing customers can easily purchase from you with little or no effort.
The Benefits of Customer Retention
It's easy to convince the existing customer
Increases sales and revenue
Requires low marketing cost
Motivates staff for the efforts and work
Increases the chances of referrals
The probability of cross-selling and upselling increases
Engaged customers provide more feedback
Improves brand reputation
Loyal customers are more profitable
Increasing customer retention during the holiday season will reap the same benefits. Moving on, I'll discuss what are the best methods of retaining customers for festive.
11 Ways To Increase Customer Retention This Holiday Season 2021
What's the value of all the efforts put into acquiring a new customer, if they never come back to you?
While the post-covid era has a higher scope of online shopping, retailers are still facing problems in retaining customers due to the change in shopping behavior.
So let's start with how you can prepare yourself for the post-covid holiday season and increase customer retention significantly to gain maximum profits.
1. Online Gifting with Gift Cards

Tradition gift-giving was almost impossible to carry out during the pandemic high time. So, people did what they do best — They adapted to this change.
People choose digital gift cards as a suitable gifting option. It is contact-free and has higher usability. During the pandemic, people gave gift cards for essential items such as groceries, medicines, hygiene products, etc.
A genuine desire to help the community and friends boost gift card sales.
Gift cards were popular, to begin with, but the pandemic furthered their popularity. The reason for its soaring demand is it takes off the stress of gift-giving. Finding a perfect gift during the holiday season for all your friends and family is a mentally challenging task.
Gift cards reduce all that effort. It is an easier, cheaper, and trendy gift.
By selling gift cards, you can dramatically increase customer retention during the holiday season of 2022.
Actions Items-
Implement a gift card program for retaining customers
Create and sell gift cards on your store for in-demand products
Establish a gift card redeeming portal on your store
Allow customers to customize their gift cards
Sell gift cards based on popular festive and holiday occasions to capture more sales
Enable customers to download, send, or order their gift cards
Sell WooCommerce Digital Gift Cards With WP Swings
If you are interested in creating & selling attractive gift cards for free then, then please try our WooCommerce gift cards plugin.
2. Create A Win-Back Campaign Strategy
Retaining existing customers is cheaper than acquiring new customers.
The existing customer had already purchased a product or service from your store. You already have a relationship and trust level with your existing customers.
That's where the holiday customer retention strategy comes into play.
Convincing old customers for more purchases through the win-back campaign has a great impact. To create a win-back campaign, use customer data which may include their email address or phone number.
Action Items –
Show you care. Customer retention strategy in the holiday season requires you to drop greeting emails or messages to your customers on relevant celebratory occasions
Bribe your customers with an incentive. Offer discounts with offers like Buy One Get One (BOGO) or nudge your customers by temporarily lowering the product's price or the ability to raise the price again later. It will push your customers to buy from you.
Ask for feedback. Ask them to rate your product on a scale of 1 to 10. Feedback email is an important part of an existing customer retention strategy. Sending feedback emails helps your customers keep purchasing from you and also helps to improve your marketing.
A FOMO email. Motivate your disengaged buyers with Fear Of Missing Out' by using keywords like 'few hours left', 'last chance to grab the deal',  or add a timer in the mail.
Unsubscribe. Tell them you've unsubscribed them from your email list, but also leave an option for them, if they want to return home!
3. Personalize Email Marketing
The marketers use email marketing campaigns to get new and retain existing customers and to convert them into conversions, especially in the holiday sales season.
To briefly understand what importance email marketing holds, please look at the email marketing conversion rates given below.
How Personalized Email Marketing Campaigns Can Increase Festive Customer Retention?
Helps in generating new leads and keeping existing customers
Nurtures lead to convert them into loyal customers
Through emails, you can stay at the top of the customer's mind
Enhances brand awareness
Strengthens customer relationship
Increases revenue
Builds customer loyalty
To plan out your Email Marketing Campaign, you can also make use of email templates available for free!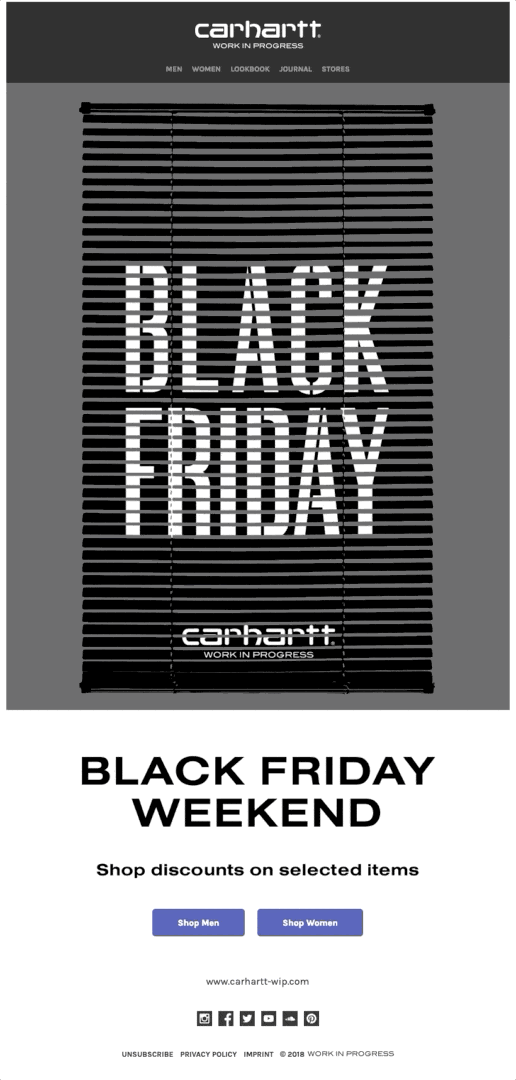 [Source: Reallygoodemails]
Related Read – Know-how to implement Marketing Automation in your business.
Action Items –
Transfer the control to your subscribers by giving steering in their hands, let your customers decide their mailing preferences, including an option "unsubscribe".
Retain customer base by segmenting them based on their shopping behavior with RFM Analysis (Recency, Frequency, Monetary).
You can make an email list of lost customers who have not purchased any product or service from your store for a long time.
Bring cart abandoners back to your site with cart recovery emails based on the visitors tracking history.
Target inactive buyers with post-purchase emails, educational content, freebies, customer loyalty programs, polls, giveaways, and surveys.
To humanize your brand, make your customer feel special with attractive promotions, run personalized discounts on birthdays, anniversaries, or seasonal greetings.
To encourage your one-time shoppers to purchase, you can include attractive offers/discounts and rewards in your emails.
In the emails, you can also ask your old customers to subscribe to the newsletter to stay active and tuned.
4. Improving Customer Experience (CX)
Whether it is before Covid or post-covid, customer experience is crucial for a business. Remember your customers love to be treated like humans and not like targets.
Whether it's an online retail store or an eCommerce store to increase customer loyalty is their ultimate target. One way to increase customer loyalty is by improving the customer experience.
According to a study by SuperOffice, for about 45.9% of business professionals, customer experience is the number one priority for the next 5 years.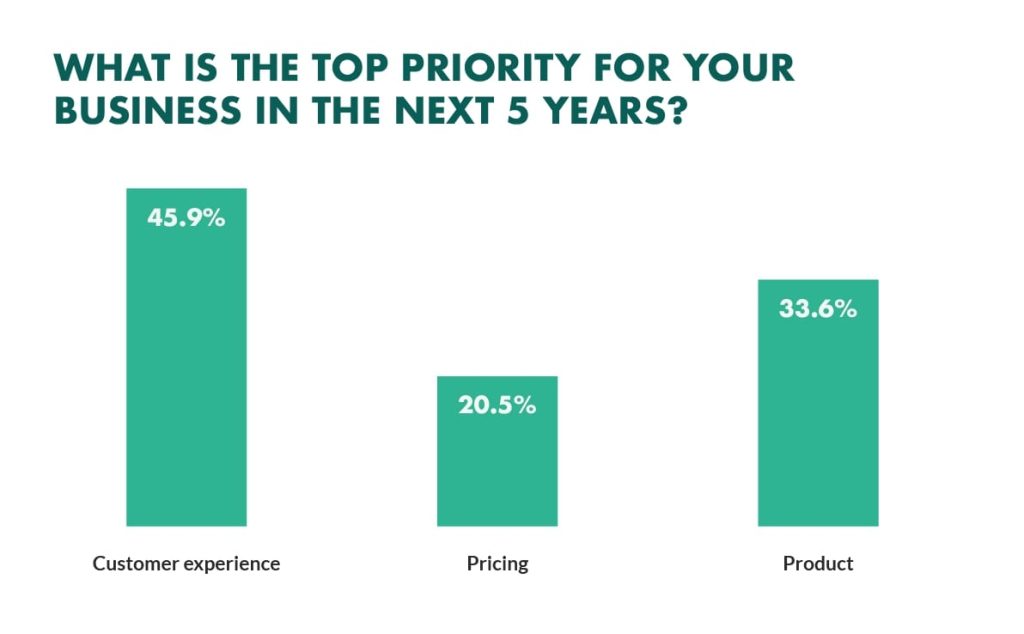 One of the benefits of improving customer experience is, that it helps in gaining trustworthy and loyal customers. This strengthens the relationship between marketers and customers.
Action items –
To revamp customer experience you first need to improve the quality of your staff. It can be improved by training them with advanced and upgraded skills.
Use a Free buyer persona tool to map your buyer's journey by creating buyer personas to target the audience based on their shopping preferences and taste.
Catch your customers before they say goodbye to you, with traceable overlays and pop-up forms. (I recommend HubSpot CRM).
Personalize your customer experience with geo-targeting and User Generated Content (UGC).
Give personalized product recommendations through emails.
Remind your customers of the exclusive price drops on the items' wishlist by them. It increases the chances of conversions by 30-40%.
How To Create Buyer Personas [With Examples]
Improve your customer retention by leading a target marketing campaign using buyer personas.
5. Coupons and Reward Points
One of the best ways to increase customer retention is by offering coupons, price drops, and rewards to the 'At-Risk' customers.
As per a study, 58.7% of internet shoppers, earning loyalty points as rewards is one of the most valued aspects of the online shopping experience.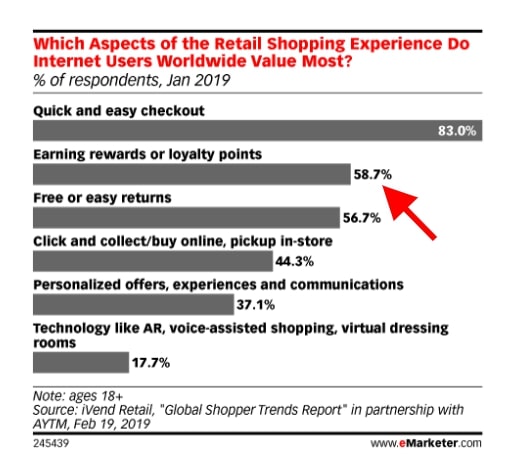 Action items –
Create win-back offers for your old customers. The coupons/discounts/rewards are used by many eCommerce stores to make their customers feel like part of the family and not a target for them.
Use plain text, text with fascinating images or it can be a landing page.
Reward repeat customers with weekly, monthly, and seasonal offers including Black Friday Cyber Monday Deals (BFCM), and Christmas offer during this holiday season.
Give your first-time shoppers coupons like Free delivery and free shipping.
Encourage your customers by rewarding them with customer retention points on referring a friend, that they can easily utilize at your store, Double profits!
If you are running a brick mortar store, then you can offer region-based coupons, like USOPEN10, AUS50, etc.
Reward your customers by adding reviews on your social media platforms, and site. According to a study from iPerceptions, 63% of customers are more likely to make a purchase from a site that has user reviews.
Add a Point-Based Reward Program to Your WooCommerce Store

You can use our 'Points And Rewards For WooCommerce Pro' plugin to help merchants create a Point-based loyalty program to reward their customers. Also, the above-mentioned actions can easily be implemented using this extension.
It has the following features that will increase festive customer retention:
1. Reward and Redeem Points
2. Rewards On Birthday
3. Points On First Order Only
4. Points Adjustments on Refund & Cancellation​
5. Round-Up and Round Down Reward Points
6. Point-Based Customer Ranking
7. Membership Benefits
8. Email Section Updation
9. Point Conversion and Coupon Generation
10. Points Log Report
Point And Rewards For WooCommerce Pro
If you want to create a customer loyalty program and offer reward points, then please try our WooCommerce point and rewards plugin.
6. Actionable Social Media Advertising
Social advertisements play a vital role in improving customer retention.
Through social media channels, you will be able to reach your target audience. Online marketers can decide the suitable platform according to their business goals.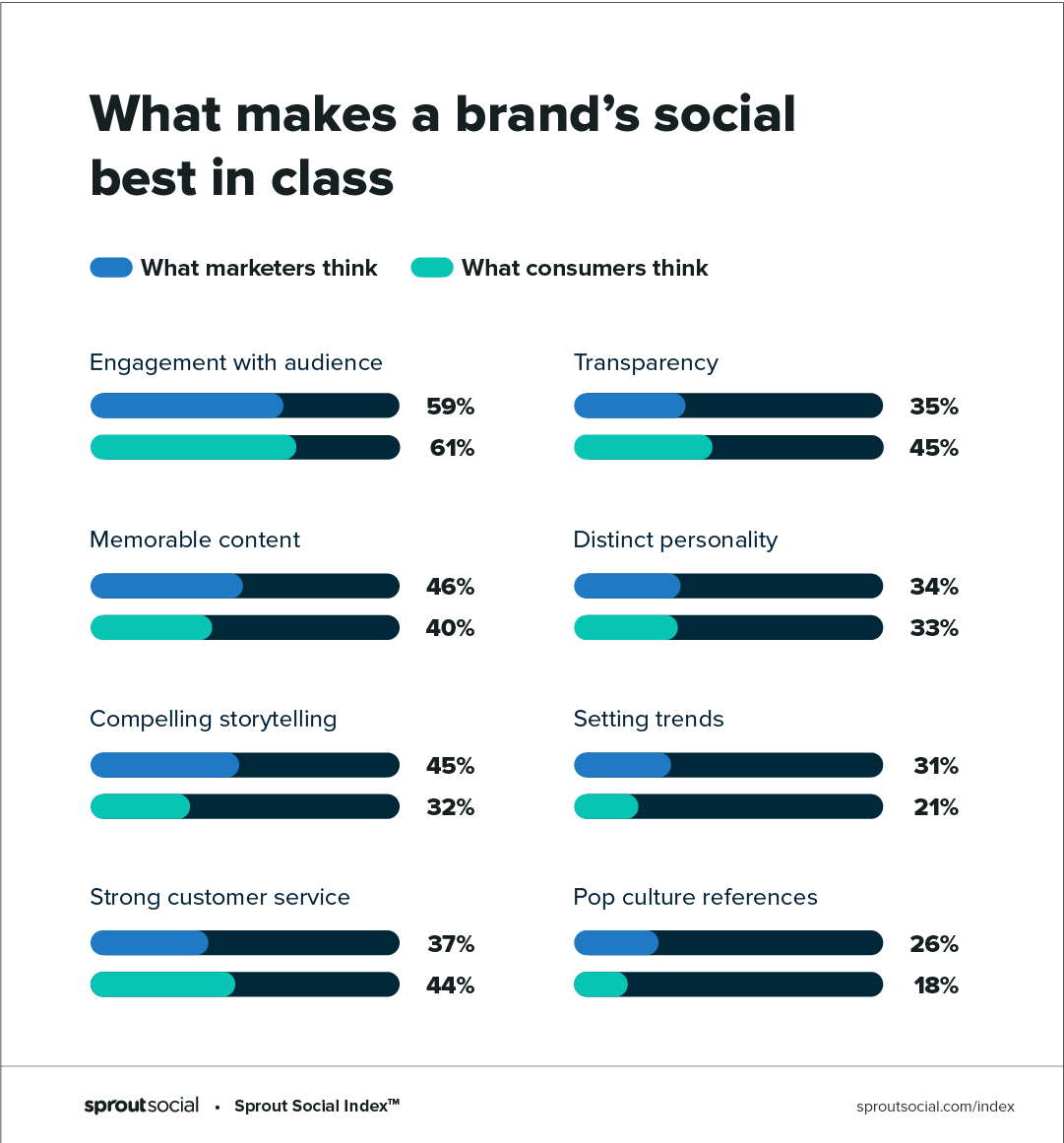 Almost all major retail brands use social media to increase customer retention during the holiday season.
Therefore, this festive season doesn't forget to add social media channels to make it more joyous.
Action Items –
With social media platforms, you have the opportunity to convince the customers about the offers, discounts, and rewards you want to give them. It's also easy to create urgency in the mind of users through social media ads.
Let your customers easily find you over social platforms, with tools such as Namech_k help you to keep a check on the usernames which are available across thousands of platforms.
Automate your social media strategy by scheduling some of your posts with tools like Buffer.
Social media listening tools like Google Alerts, Hootsuite, and Mention, give instant notifications on your brand mentions and give you an easy way to track your audience engagement with your brand this Holiday Sales 2021.
Use social media to know your customers as individuals and their driving factors. Note the interests of your consumers by following hashtags, and monitoring their "likes". All of this is helpful in creating a retention program tailored to their psychological makeup.
7. Try To contact Customers Through Calls
Another popular way to increase customer retention is to connect with them on calls. This method is a bit more direct, so make sure you have your customers' consent before calling them out of the blue.
If the customer is inactive for a long time, try to communicate with them through calls. Solve their problems and queries; make them feel free to give any suggestions.
But one thing I'd like to mention here is don't irk your customers by continuous calling. Make a call only when it is necessary and required.
One more thing as this is the time of the holiday season make sure you provide them with offers regarding Black Friday, Cyber Monday, and Christmas Eve.
8. Reinforce Your Value With Customer Service
Remember, great customer service is a key to retaining customers.
Analyze your customer issues and give them frequent responses that add up value to your brand.
The holiday season brings a surge of traffic to your online store, but with new customers, comes new issues. Promptly solving their queries is the best way to increase festive customer retention.
It gives your customers a positive feeling about your brand. Products are not the only way to add value to your customers. The service they receive at your end makes them your brand advocates.
It converts customers into repeat customers. Customer retention post-covid depends upon maximizing value-addition in all parts of your online store.
Action Items –
"Thank you for bringing this to our attention."
"I will update you by [time]."
"Happy to help."
"As much as I would love to help"
Say "I certainly can check that for you."
"I apologize for the inconvenience."
"I don't know, but let me find out."
Pro Tip: Make dozens of standard scripts based on buyer personas.
9. Creating a Customer Loyalty Program
The purpose of customer loyalty programs is to influence the customers towards more and more purchases of products and services of your company. It is the time and tested way to increase customer retention.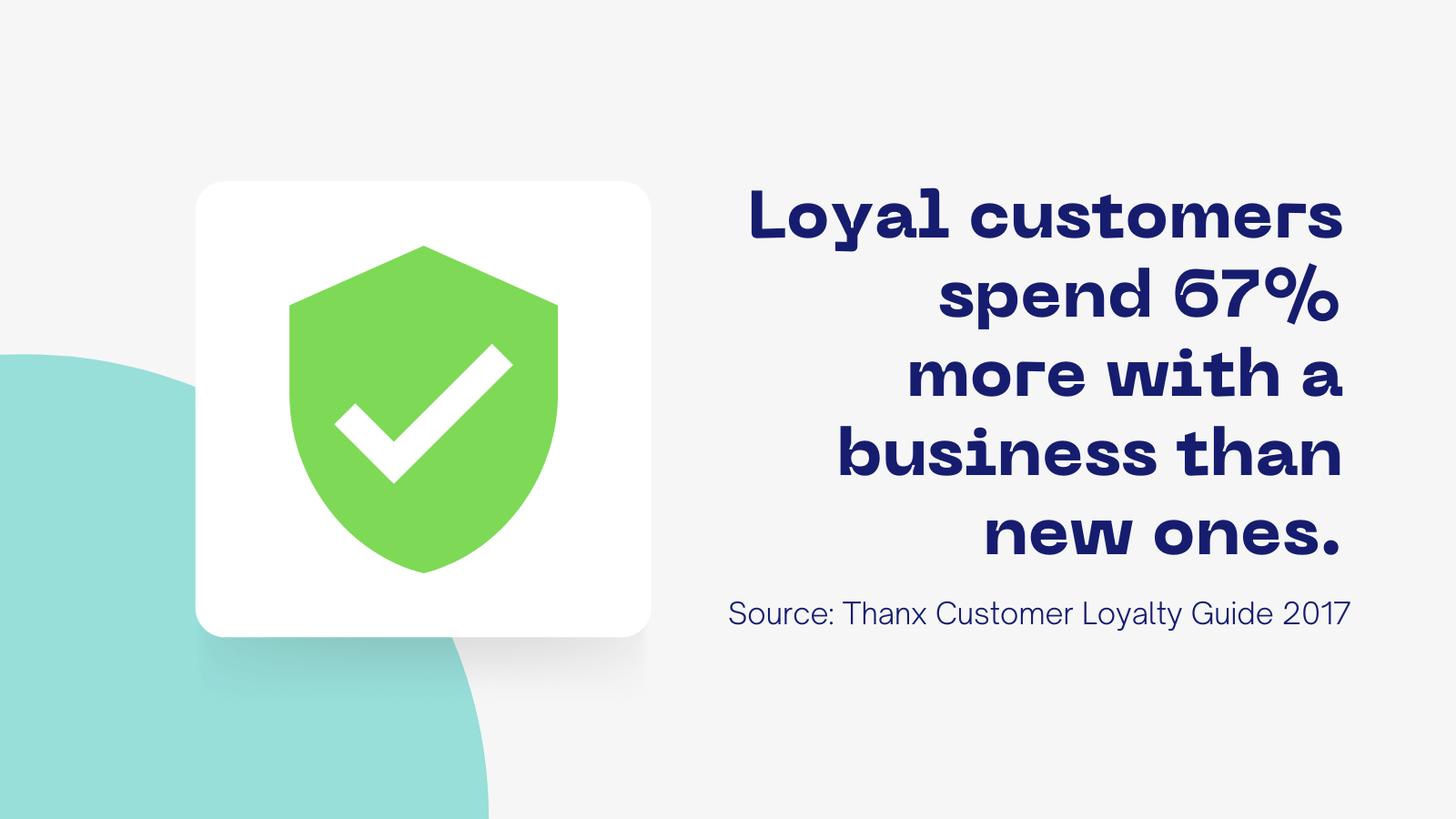 The coronavirus outbreak has taught us that it is the loyal shoppers that you should count upon for weathering the storm.
Luckily, business revival is possible by increasing customer retention in the holiday season in 2022.
Do you know that 70% of consumers like to recommend a brand with the best loyalty scheme and 77% of consumers said that loyalty programs make them stay with brands?
The loyalty program helps you increase customer retention post-covid as it engages you with inactive customers or less frequent customers.
Including a customer loyalty program this holiday season for the two biggest sales days, that is Black Friday and Cyber Monday will help you to boost the sale.
How To Use Social Media To Enhance Customer Loyalty Program?
10. Ask for Their Valuable Feedback
Your customers can give you the best feedback and highlight areas for improvement. And the best way to collect customer feedback is through reviews.
If you wish to increase festive customer retention, you need to fix your pending issues before the holiday season arrives.
According to research, 90% of people read customer reviews, and 88% trust these reviews as much as a personal recommendation. These numbers show us that in today's web-based shopping world, everyone is apparently reading customer reviews.
Action items –
Ask for the feedback of customers in emails and on social platforms. The feedback will definitely help you to regain lost customers.
Plan out your Loyalty Program to motivate your customers to provide feedback. To do so, you may allow points and rewards for each review of your customers' posts.
Run Customer Satisfaction (CSAT) surveys to know what customers think of your brand and unveil those areas that need improvement.
Ask your customers to give product feedback that helps you address the customer concerns, issues, or custom requirements. It will improve your products as well as customer experience.
NPS (Net Promoter Score) is a working customer retention metric that keeps a check on how loyal your audience is.
11. Creating Urgency for Brands/Products Among Your Customers
Lastly, to increase customer retention retailers can always add an element of urgency to their festive season marketing campaigns. Scarcity creates a sense of urgency in the customer's minds about the products and services.
Scarcity, also, helps in enhancing brand awareness. Marketers create scarcity through emails, landing pages, social ads, and advertising on T.V. You can create scarcity by adding a timer running against an offer for a specific duration like in the image below.
Action items –
Offer free delivery to your customers for a "Limited period".
Monetize your Holidays with a deadline by running effective promotions on events like BFCM, and Thanksgiving that encourage immediate action.
Offer "Today Only Deals", and "lightning deals" to drive impulse purchases.
Use pop-ups to hold customers leaving your site without making the purchase. You can use marketing automation tools like HubSpot, and Mautic to create highly converting pop-ups.
Display how many customers are buying these products as Myntra does.
Turn your customer's curiosity to the urgency with "Coming Soon" sales.
How To Create Urgency In Marketing On Your eCommerce Store
Urgency is a time-based concept that prompts customers to act quickly and increases retention rates.
The Final Words
Generating new leads, converting them into sales-ready leads, and, then retargeting the existing customer to purchase again, it's a complete cycle. So, each step requires attention to detail.
In this blog, I have discussed the points that will help your business to reach how to increase customer retention post-covid to rejuvenate your business.
To boost your this holiday season you've to primarily focus on tactics to increase customer retention strategies by valuing your customers and overhauling the communication.
Share your views if you find this blog post amazing and worth reading!