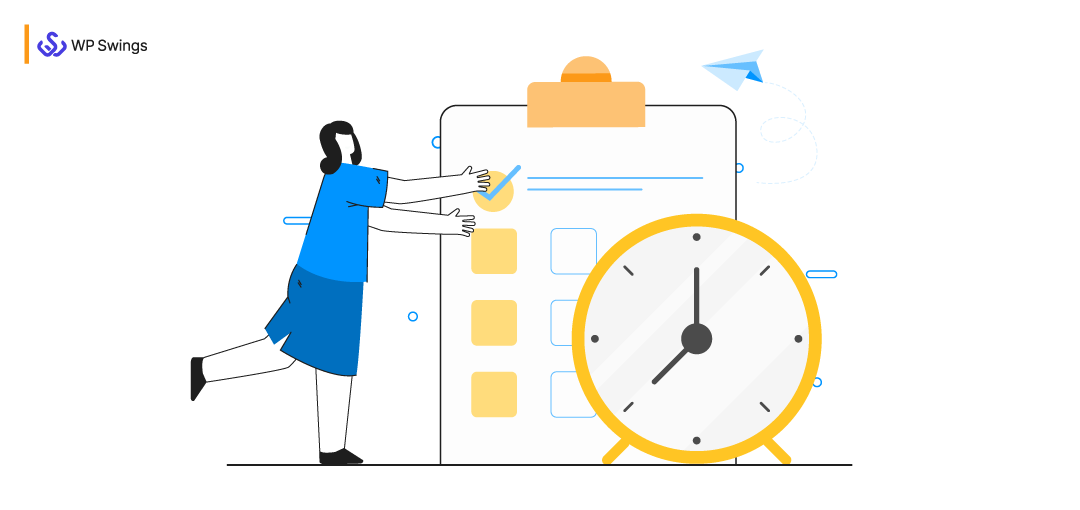 Urgency!
This term itself can create chaos in one's mind. Urgency terms can become a tool for conversions. Also, this word will provide you with a sense of exigency or scarcity.
According to Loss aversion, urgency is a prominent psychological technique that compels people to take action right away. It is deeply ingrained in our brain and relates to FOMO (fear of missing out).
Scientifically speaking, urgency is a time-based concept that prompts us to act quickly.
And when urgency is coupled with your marketing goals and efforts, it is called urgency marketing.
It is human psychology that people want things that are available in low quantity.
This is in direct relation with the "Law Of Demand" which says
When demand is high, supply is low.
Hence, the same applies to the eCommerce market as well.
You just have to show the low stock availability and it will create a sense of FOMO (Fear of missing out) in your customer's mind. Further acting as witchcraft will compel your visitor to make immediate buying decisions.
While going through an eCommerce store, you must have heard terms like:
Order before it's too late
Few minutes left to end the season sale
Final call
Hurry! Only a few pieces left
Prices go up in 4hrs 27mins 6secs
I bet, pretty frequently.
These phrases are used by all eCommerce stores as a WooCommerce sales hack since time immemorial.
Do you know why?
Let's discuss this in the blog.
What Do You Mean By The Term "Urgency"?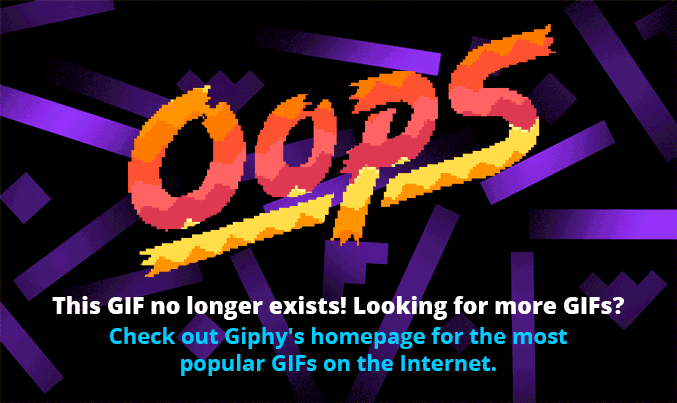 As the word suggests "urgency" means urgent or haste or the state of being very attentive and a necessity that needs immediate attention.
Creating a sense of urgency is a time-based strategy referring to creating a situation of emergencies for things that need instant attention and/or may end soon.
Suppose I have a flight at 8 'o'clock in the morning, that is about to leave, you have to reach there on time. So, the action taken at that time will be considered as Urgent action i.e. urgency of something.
Or let's take another example, you are very ill and there is curfew all around and you have the option of a cab who gives you an offer that he will take the shortest route.
What will you do?
You will make an immediate decision to take the cab.
Let's now cope with marketing and discuss how it will help in eCommerce marketing.
Why Does Urgency Matter For The eCommerce Business?
Urgency matters for the eCommerce business because in this digital era, living up to your customer's expectations is very hard. And it's even harder to have conversions from that.
Therefore, applying the means of Urgency will compel people to act quickly. You must have experienced that someday, people wait for too long before they make a decision or take any action. They think too much and slightly or do not respond to our call-to-action.
Raising the urgency level will tell your people that it has to be done within a second else you will lose the opportunity.
Therefore, by using this trick on your landing pages and online store, you can easily force your visitors to do what you want them to do.
What Is Urgency Marketing?
Successful marketing strategies always keep an eye on the behavior of their targeted visitors. Thereby, you have to understand the psychology behind your audience's mind.
And one of the most relevant and effective psychological principles for effective eCommerce marketing is Urgency marketing.
It is defined as converting your visitors into customers by applying any means of urgency i.e. (sales trigger words or powerful CTAs).
Or we can say, urgency marketing is the strategy to show your customers that products are scarce, grab their immediate attention, and compel them to make a purchase.
For instance, showing the scarcity of items you want to sell, will create a sense of urgency in your customer for that item.
For example; see the example below from Amazon.

What Are The Different Sales Triggers?
The Deal Expiration
Low stock availability
Saving Trigger
Best Review
Now you must be pondering
How do these sales triggers work?
1) The Deal Expiration
This shows you how much time is left for the sale product in form of:
Days (left)
Date
Countdown timer
This will play with the customer's mind to take advantage of the discount and purchase the product before the offer expires.
See the image below: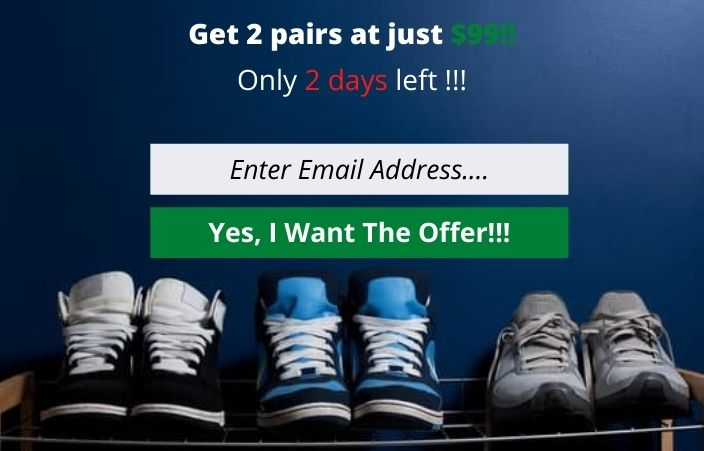 2) Low Stock Availability
Another way to trigger customers' minds easily is to show the low stock availability in your store.
This will create a sense of FOMO in your customers to complete the purchase before the product goes out of stock.
For instance, see the image from Sephora. They have categorized the product into period online store owners must fast selling. This will create urgency of going product out of stock compelling customers to buy immediately.

3) Saving Trigger
The saving trigger displays the amount of money you are saving by the current sale.
Giving this urgency triggers grab the attention of the customer at the very first instance.
It gives your customer a sense of satisfaction that they are having financial benefits by making this purchase.
For example: see the image from Amazon how they have displayed the saved amount of money.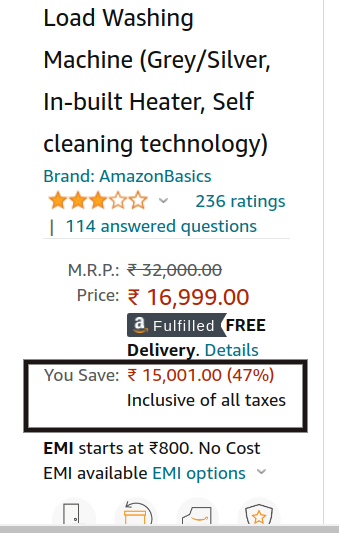 4) Best Review Trigger
This will show how many customers like your product and use it.
This is another best urgency trick. Just ask for reviews on the product and display it.
This will create trust and customers will be more likely to purchase those products that are best.
For instance, see the image from Myntra.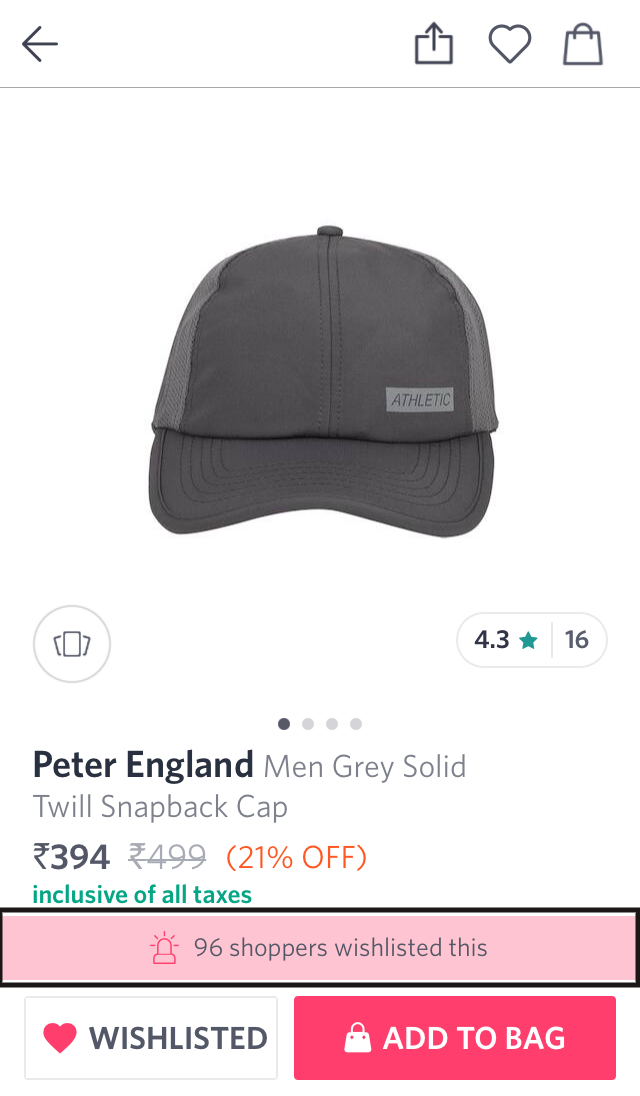 Also, you can use stars for ratings and reviews. Consider the following example from ferns and petals. See how intensively they have used this trigger to attract customers.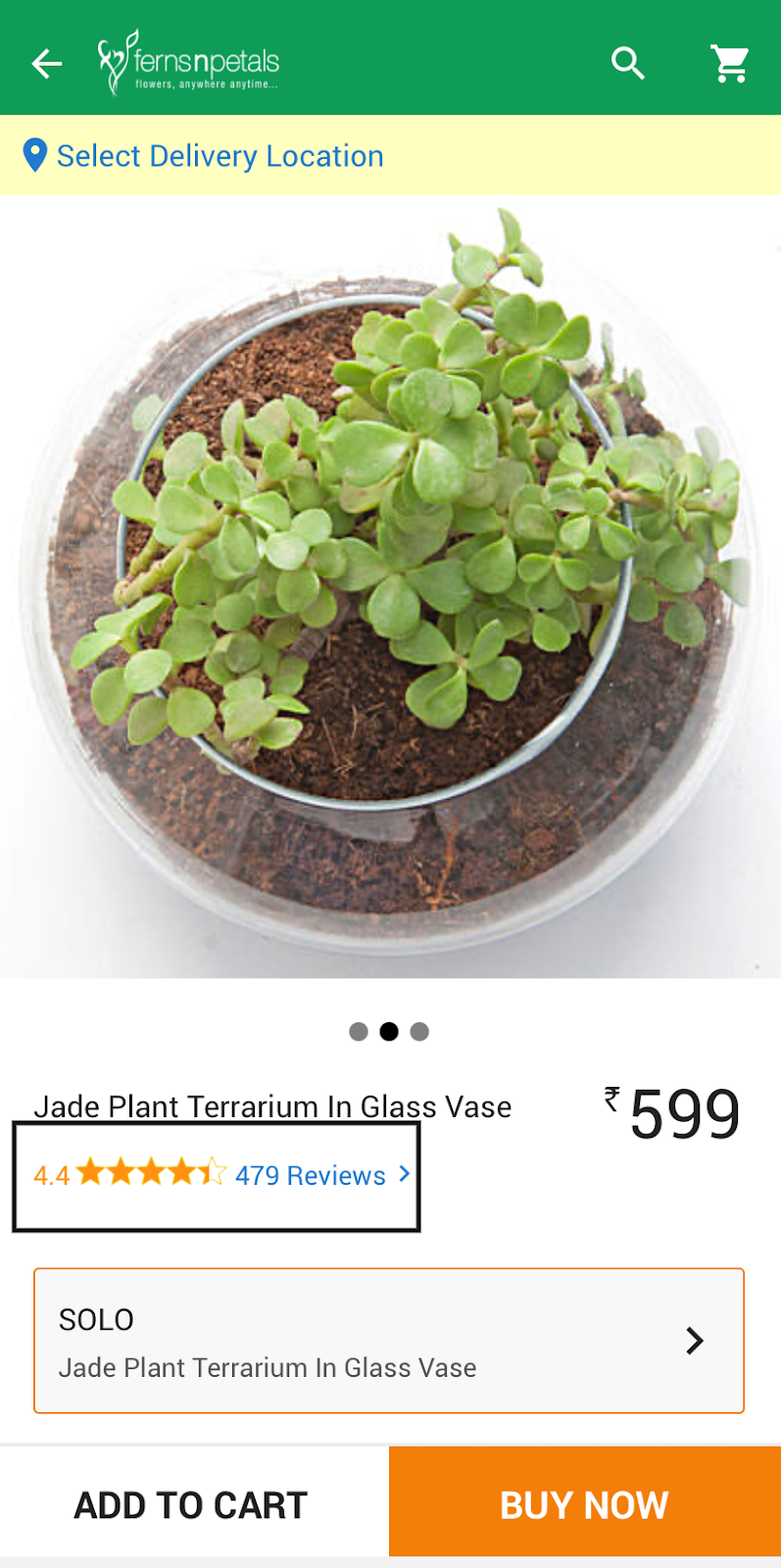 How Urgency Influences Your Customer Behaviour?
People act quickly when the term "urgent" comes to light.
According to the B2B marketing zone,
A sense of urgency drives purchasing decisions. In this digital environment, psychological principles play a great role in customers purchasing decisions
If you're looking for immediate conversion try urgency emails.
The urgency marketing tactics is taking over all other marketing aspects
These stats are evidence of how magically urgency works and affects customers' buying behavior.
eCommerce marketers don't use urgency principles for fun. It is proven that it is very effective for boosting and conversion of eCommerce stores.
Scarcity makes your consumer feel like they should have items that others can't have and makes them feel good.
Also, five experiments were performed in 2018 that show when the unimportant tasks are characterized merely by spurious urgency (e.g., an illusion of expiration). The mere urgency effect documented in this research violates the basic normative principle of dominance — choosing objectively worse options over objectively better options. People behave as if pursuing an urgent task has its appeal, independent of its objective consequence.
There are four types of scarcity that influence your customer behavior:
Exclusive
Rare
Excess demand
Urgency
These words act like physiological triggers that invoke your customer's minds and make them sit upright. Therefore, they notice what exclusive things you are offering. Consequently, they make quick purchase decisions.
How To Show Urgency In Marketing?
A) Show Scarcity
"Scarcity is defined as the state in which the product or items are in limited supply, limited time, and limited abilities. Or we can say they are difficult to get or in shortage."
You must have experienced that when something is scarce, it's often perceived as more valuable.
So, these can be very helpful tactics if applied smartly with the eCommerce market.
What do you need to do?
You just have to show the limited stock availability of the product and it will create a sense of FOMO (fear of missing out) in your customer's mind.
FOMO is defined as a pervasive apprehension of missing out on something valuable or an experience that others are preoccupied with.
It is an open secret that most eCommerce business uses to increase their eCommerce sales.
See the below image from Booking.com where: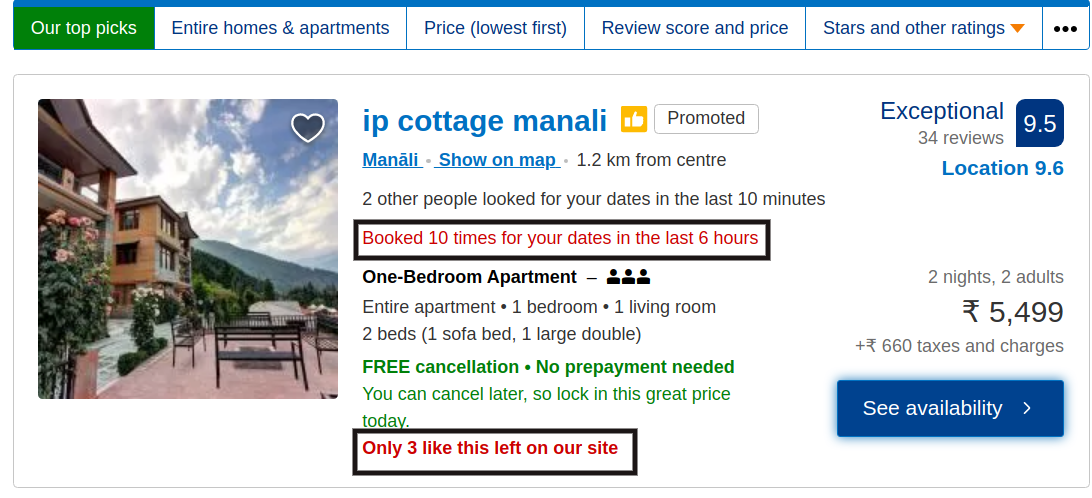 "Only 3 left in our stock" shows the scarcity of room.
"Booked 10 times for your dates in the last 6 hours" shows hotel reviews.
Note: Scarcity works very well until it's not fake. So don't use it excessively.
Ideas To Implement
Just find out your customer demands
Limit the time and resources
Scars items that are exclusive
Scars valuable items
B) Set Deadline
Whether it is items supply or time supply, if we set the word "limit" it often gets more valuable.
Therefore, setting a deadline on your sales and promotion to make it more valuable.
If no deadlines are given on product sales and promotions then consumers will push the items to buy "later" as the sale is not special.
And that "later" never comes. Next time maybe they forget or like to buy something else.
And when there is a set deadline, time becomes urgent. Therefore, your customers see the sales as a limited-time option and they quickly jump on it to take advantage.
In this way it's not the item that is valuable, it's you who made it valuable by just limiting the time.
For instance, see the season-end sale from Myntra that is valid from 20-24 December, showing the clear deadline.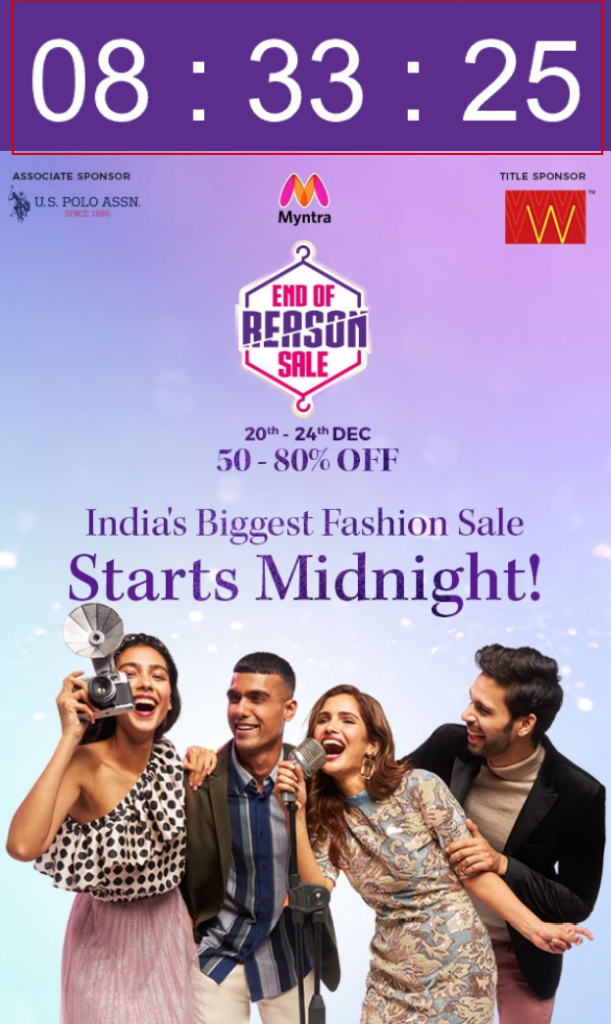 Ideas To Implement
Use phrases like "offer end soon", "for the limited time period", "offer valid till 5 January" etc.
Do not exceed offers
Do not implement on all items
Implement tactics on selected items.
C) Make Your Product Exclusive
You must have noticed this habit in yourself.
People always want to achieve what they can't or that is difficult to achieve.
Even if someone does hard work to achieve things, he will value that more. According to the theory of efforts justification  people value the items or things more if they work hard to achieve them.
Let's cope with this with eCommerce.
You must have come up with the products that have a price tag. By seeing the digit, you must have gone blocked.
For instance, take the example of Apple phones. Every time they launch a new iPhone model, it happens to be more expensive than before.
A lot of people do not like this about iPhones, but you know what.
Do they do it purposely?
But why? When it is online store owners' duty to satisfy their customers.
Let me tell you this is just to make their product look more exclusive.
Your customers always wanted to be unique. So, offer them unique and exclusive.
"When you mix the feeling of scarcity with exclusivity, here comes your conversion."
For example: see the image from Amazon with every iPhone version price gets high.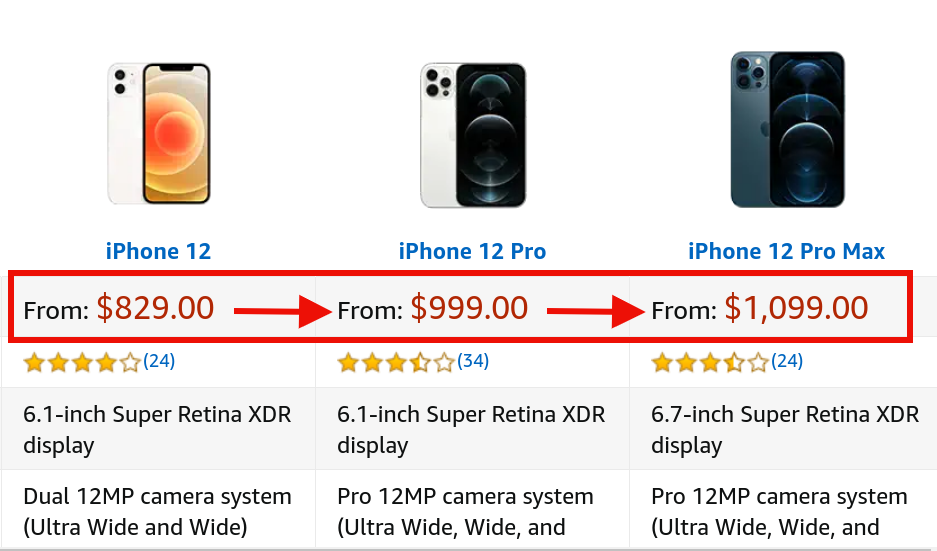 You can also run exclusive sales. You can give discounts on exclusive items that are not easy to buy.
See the image from Amazon.com of an exclusive offer on the One plus brand.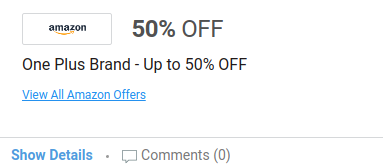 Ideas To Implement
Just jumble up the price of certain items
Right exclusive or present it as exclusive
Offer them a free version to sell premier
For instance, You must have gone through "Apple Music", "Spotify" and all other apps that give you a free version.
To make it exclusive they add a premium version in which they give you offers like "add free music", "you can set ringtone".
It will benefit you both the way. By giving a free version you can have a good email list and if they install the premium version that will be best.
D) Make Your Buyers Understand The Value Of Product
The very important thing that has to be kept in mind for creating urgency in your eCommerce sales growth is to explain the needs or benefits of the product and services you are offering.
Therefore,
Firstly, starts with why people should buy your products
Secondly, what are the benefits of the products?
Lastly, how your products are unique i.e. different from your competitors.
You can also display the negative effects when the customers are not purchasing products from you.
Like you can show price discrimination, that your competitors' price is high and the customer will suffer a loss if he will not buy from you.
Ideas To Implement
Offer your customer "must-have" to purchase instead of giving them options or "nice to have" purchase
Do not try to sell the product just show your customers the benefits of the products
Just threaten your customers smartly for not buying items.
E) Use Right Words
It is a small but powerful thing to boost sales of your eCommerce products.
You should use the right urgent words that trigger your customers' minds at the very first instance.
For example, Use words like:
Final Days!
Seasonal Sale!
Last Chance!
Limited Edition
Last Call
Last But Not Least
Rush!
Hurry Up!
Don't Delay!
Offer Expire!
Always use these types of powerful words that catch your customer's attention very quickly.
Now let's discuss the best practices of urgency marketing that will help you to drive conversion in your store.
Best Practices To Drive Traffic With Urgency Marketing
1) Run Flash Sale
"A flash sale is defined as sales, promotion, and discount offers given by eC stores for a very short time."
Flash sale just flashes directly into the eyes of your visitors compelling them to avail of the offer.
"Urgency and Scarcity" mixed period made a flash sale.
It can be categorized in three ways:
Discount: you should offer, exclusive
Time Limit: it is much shorter than any other online store sale.
Limited selection: only applied to selected items
To run this sale you should focus on all three categories.
For example, urgency will show the discount and time limit and limited selection comes under scarcity.
See the example from the Loft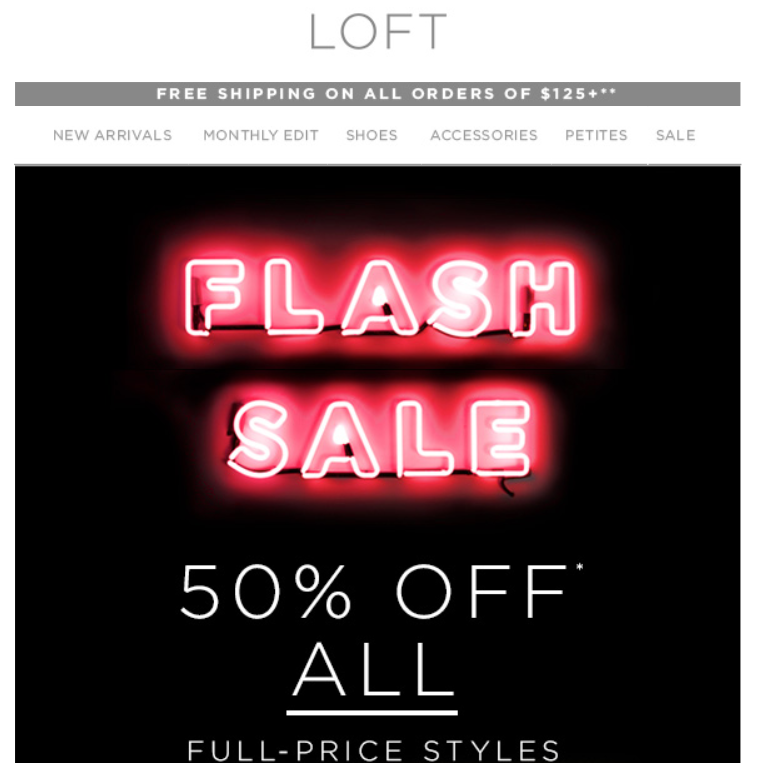 Other benefits of flash sales:
Excess inventory
Increase customer trust
Create FOMO
Attract more customers
Tips To Remember
It will increase your sale during the slow season
Create more visibility
You can win your inactive customers
Target abandoned carts customers
Bypass your email list
Don't overdo flash sale
Make return policy clear
2) Countdown Timer
"Countdown" is the duration that leads to a particular event.
And when it comes to the eCommerce market countdown timer is an excellent way to drive immense conversion and customers to your store.
The countdown timer implements the duration in which the sale will end.
This sale could be anything – maybe free delivery, discounted price, or anything.
These urgency marketing tactics motivate your customer to purchase the product before time or stock runs out.
You can use the countdown timer on any specific page, collection pages, homepage, product page
Note: There is a minor difference between leveraging the countdown timer properly and overdoing it. If you will always use a timer to trigger customers, they will realize there are being played and the trust will face a major jolt
For example; see the countdown timer used by Myntra on the final clearance sale.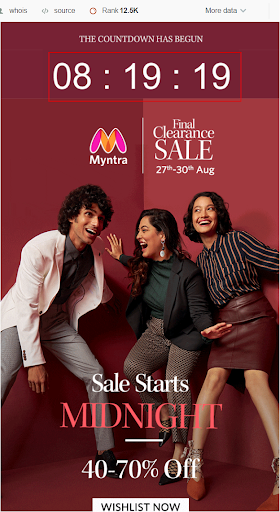 3) Holiday Sale
Holiday sales are those in which online stores run sales or promotional strategies to boost revenue during the festive seasons.
Like Christmas, New Year, Holi, Diwali, etc.
It is the best time to increase sales volume and nurture new and loyal customers.
What do you have to do?
Run a holiday sale with a special discount or free shipping and see the magic. Christmas and New Year's season-end sales are two apt occasions for such kinds of promotions.
Check out the Christmas sale from Faces Canada.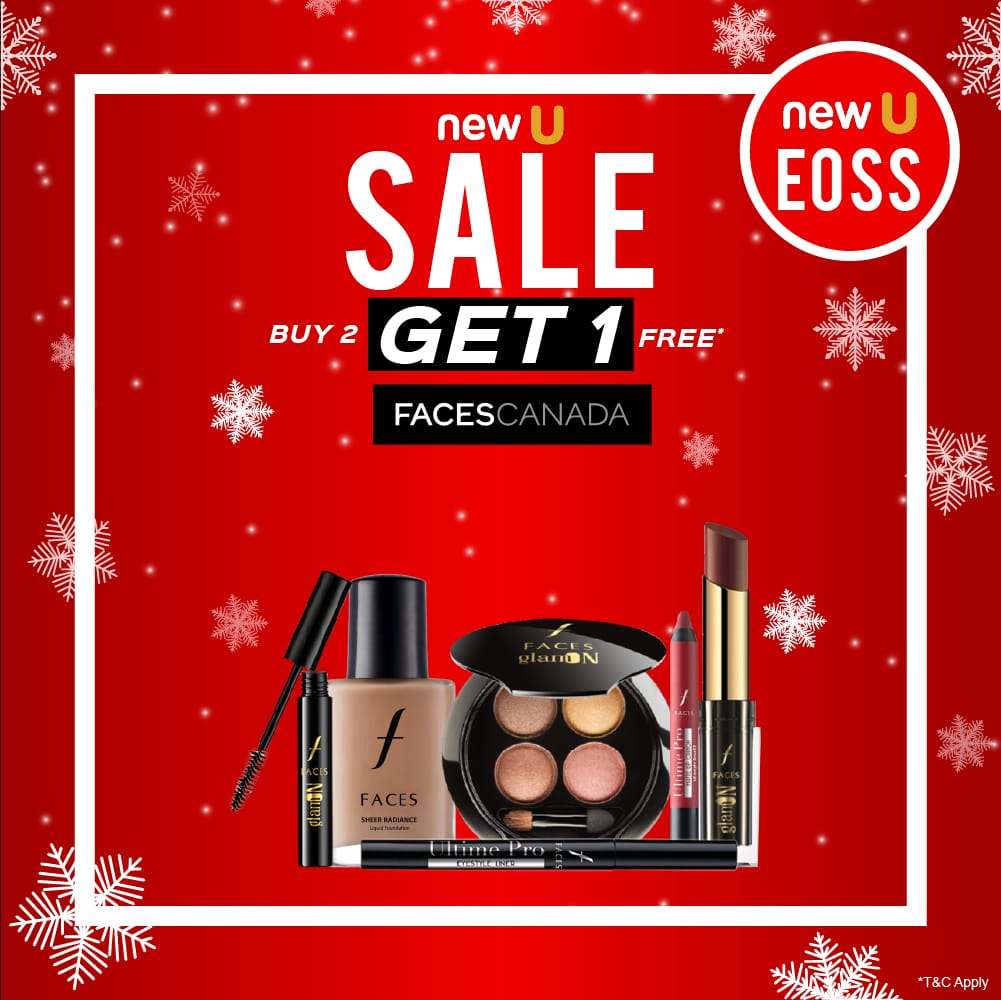 Quite a mesmerizing creative, isn't it?
4) Use Customers Real-Time Actions As Social Proof
Showing the real-time behavior of your other customers is a powerful marketing tactic to create urgency to purchase.
For example: how many customers are buying your products, or how many people are browsing your store.
As we know, evidence is a great way to gain trust. So, whether it is reel or real life we have to give proof for everything.
The same applies to eCommerce too.
Show the reviews and stocks of your products.
For instance, see the image here: hotels are booked 10 times on the same date in 6 hrs. This shows the exclusivity of this hotel.
Therefore, always give proof of your words that why people should buy from you.
5) Choose Bright Colors
Every eCommerce marketer uses a certain color to create a sense of urgency.
A/B testing by Hubspot found that bright colors such as red, yellow, and orange tend to capture more attention than cold colors like green or blue.
Therefore, always use red text, to call to action buttons.
The red color will create a sense of excitement, whereas yellow gives you pride and orange security.

Use these combinations of colors and see the purchasing of your store.
6) Highlight Increased Price After Sale
Fear of paying more tomorrow will, however, force you to spend less today.
The price strategy with urgency will surely benefit you. People always give second thoughts to the easily available things.
Therefore, make sure to highlight the increased cost after the "offer" ends. This will create fear in your customer to purchase the product right now.
For instance, you must have seen this while booking flights or hotels.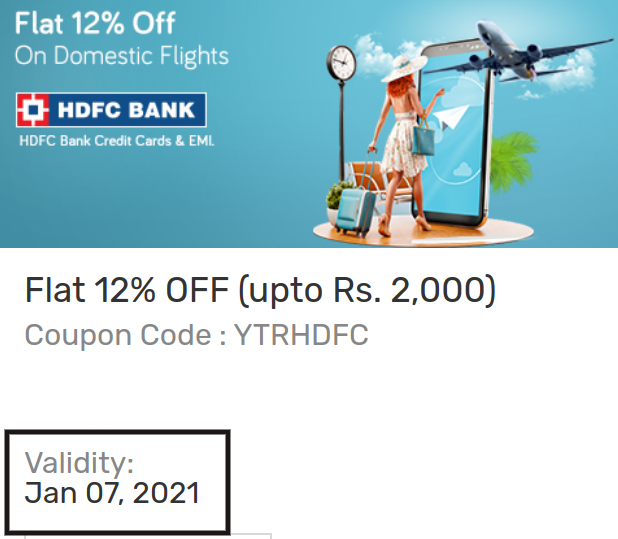 Where they always give you alerts about higher prices for tomorrow or the validity of the "offer".
Other Implementation Of Urgency Marketing On Your Online Store
Use pop-ups to remind customers about offers
Also, run a "coming soon" sale.
Use email marketing for reminding customers of "Last chance"
Make it personalized
Email reminders for abandoned carts also offer special discounts for that.
Referring rewards for the customers
Free shipping for the limited time period
Plugins To Trigger Urgency Marketing
Finale Lite – (Sales Countdown Timer)
HurryTimer – (Scarcity and Urgency Countdown Timer for WordPress & WooCommerce)
NotificationX – Best FOMO, Social Proof, Sales Popup & WooCommerce Notification Bar With Elementor Support
Conclusion
As an online store owner, you do everything to make your store successful. Urgency helps in compelling your customers to take quick action.
It plays with the mind of customers by striking at their fear of missing out, and by giving them all social proof.
There are lots of ways to create urgency in marketing. You just need to change the way you give offers.
Here in this article, I have discussed most of the things about urgency marketing. By implementing them in your online store, you will experience a huge increase in your sales and revenue.
I hope this article will help you in attaining your business goals and you will surely find the answer to the tactics you are looking to implement in your eCommerce store.