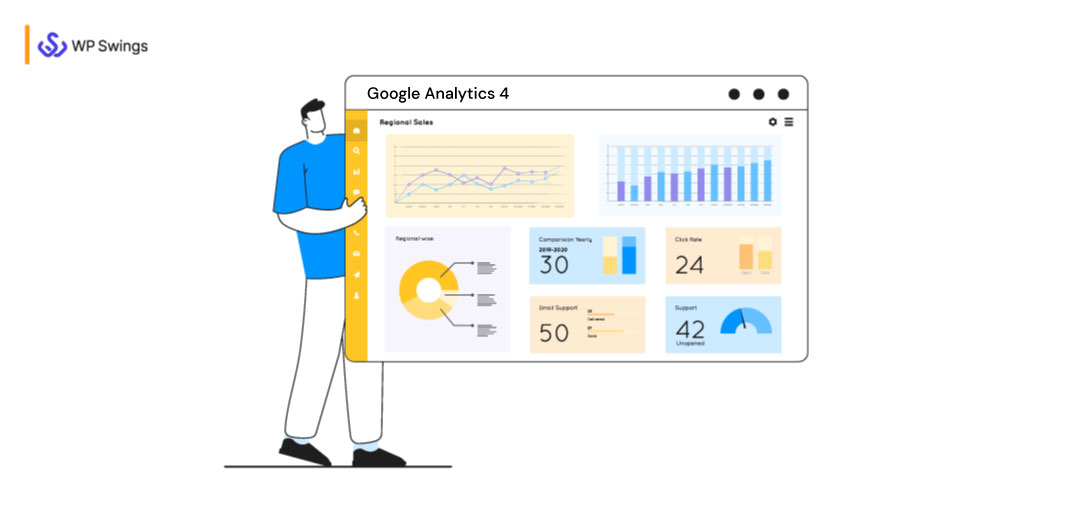 Google Analytics will give you numbers. And numbers are just numbers.. unless you know what you're looking for.
In the era of digitalization, data is the primary driver of success in understanding how to analyze and extract relevant information from the digital insights beneficial for your business. Only 0.5% of the data we create every day is analyzed and used for data discovery, improvement, and intelligence. Half a percent may not seem like much, but considering how much data we have at our disposal, it still represents a significant amount.
So, let's start with data analysis and its importance for your WooCommerce Store.
What Is Data Analysis?
Analyzing data involves employing methods and techniques for determining insights relevant to a business's goals from raw data. Data is further drilled down into information to turn metrics, facts, and figures into initiatives for improvement. Analyzing raw data can help you to find trends and answer questions.
If we talk about data analytics, it is the process of capturing a broad area of the field that includes many techniques with many different goals. In order to achieve a successful data analytics initiative, combining these components will provide a clear picture of where you are, where you have been, and where you should be going. If data is not analyzed to discover patterns, correlations, insights, and trends, it is just a bunch of ones and zeros with no business value.
Why Is Data Analytics Important for Any Business?
Data analytics is used with great success in different fields to improve efficiency. Improving performance helps businesses succeed in a global market that is increasingly competitive.
In recent years, data analytics has been used successfully in several industries. One of the earliest adopters has been the eCommerce sector. Data analytics has helped predict market trends and assess risk. Increasing profits and ROI is not the only purpose of data analytics. It is used to identify and prevent fraud, making financial institutions more efficient and reducing risk.
Data analytics can be applied in countless ways, but the most popular ones are Google Analytics and Amazon Alexa.
A report by The New York Times tells that Google is working on an Anti-Amazon Strategy to acquire a large chunk of the eCommerce market. Google is striving to set itself up for independent sellers as an affordable and less restrictive option to attract traffic to its sites. The below report shows Google succeeds in its anti amazon strategy. As Amazon has announced the retirement of Alexa from May 1, 2022.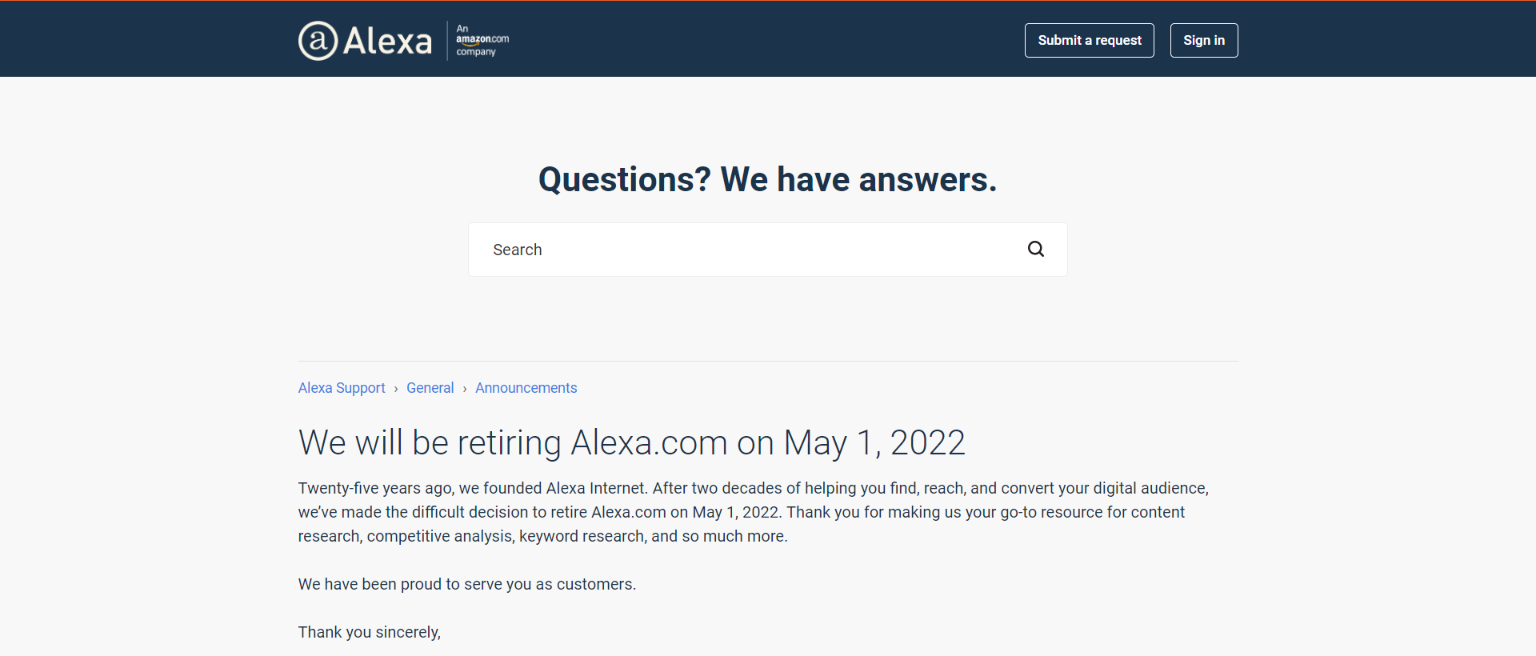 With all these factors in mind, Google developed its next-generation analytic system, Google Analytics 4.
What Is Google Analytics?
Millions of businesses and websites make use of Google's Analytics reporting tool to track user interaction across web domains, mobile apps, and offline APIs. Google Analytics is a helping hand to many businesses. It helps track the amount of traffic they get, monitor important marketing channels, and measure their key performance indicators. In addition, Google is now offering a new version of Analytics that is very different from the traditional "universal" Analytics.
So let's talk about Google Analytics 4 and What is NEW in it…
Introduction to All New Google Analytics 4:
According to Google, the new Google Analytics is a next-generation approach combining privacy-first tracking, x-channel measurement, and AI-based predictive data. The new Analytics can provide information about website traffic and user behavior without relying on "hits" from every page. By applying Google's advanced machine learning models, it is able to fill out the data.
In 2019, Google Analytics released the "App+Web" system, which focused mainly on cross-channel data, meaning that marketers were able to track users across the apps, software, and websites.
In other words, it is a way to change how data is displayed to focus mainly on the journey of the users from their first visit to final conversion.
Plus, the new Google Analytics uses "events" to present data. Event Data is the main component of the new Google Analytics.
Last but not the least, this new Analytics is able to fill in gaps where businesses aren't able to understand their entire customer base due to cookie opt-outs.
Several new privacy laws (such as GDPR and CCPA) and the diminished stability of traditional analytics are leading to a need for something like Google Analytics 4. These laws can result in inaccurate or missing data for businesses using the traditional Universal Google Analytics.
After knowing about the GA4, there is an important announcement made by Google you must know:
On July 1, 2023, all standard Universal Analytics properties will cease to process new hits, and on October 1, 2023, 360 Universal Analytics sites will cease to handle new hits. After then, you'll have at least six months to view your previously processed data in Universal Analytics. Get a better idea of what to expect.
Make the switch to Google Analytics 4 as soon as possible to get the historical data you need before Universal Analytics stops accepting new hits. Check out the resources in our Help Center for more information. In the image below you can see the pop-up notice arrives on the Universal Google Analytics home page.

What Is New in Google Analytics 4?
It's designed with machine learning as the primary method of data collection. With "modeling" that can extrapolate from historical data and generate predictions about site traffic and user behavior. The new AI-powered "Insights" tool is intended to automatically highlight pertinent information for marketers.
Its goal is to provide marketers with a "fuller understanding of the customer experience across devices." It also looks to be more interested in tracking the full customer journey rather than just specific data across devices, pages, and segments.
It's designed to be "future-proof," which means it won't require cookies or other identifying information to function.
Google Analytics 4 employs "data streams" instead of views and segments like prior Universal Analytics features.
GA4 does not have a "view" level segment. In contrast to traditional Universal Analytics, which includes three layers (Account, Property, and View), GA4 only has two: Account and Property.
Google Analytics 4 claims to let you adjust, track, and fine-tune events right from the UI, whereas "event tracking" in classic Analytics required changing the Analytics code or using the gtag.js script. This includes behaviors such as clicks, page scrolling, and more.
What Will Change in Google Analytics 4?
The changes you will see in Google Analytics 4 are:
Without needing to alter on-site code, GA4 will allow marketers to edit, correct, and fine-tune the way events are monitored in their analytics.
Data Import now allows you to combine data from non-website sources (such as apps) into a single property.
Within the UI, cross-domain tracking is possible without requiring any code changes.
A "Life Cycle Report" focuses on the user journey and appears to be one of the most significant advances in Analytics. Additionally, "templated reports for eCommerce funnels" provide marketers with a way to show and visualize data, which was previously only available in Analytics 360 accounts.
To ease your understanding, we also came up with the differences between Universal Analytics and Google Analytics 4.
Differences Between Universal Analytics and Google Analytics 4: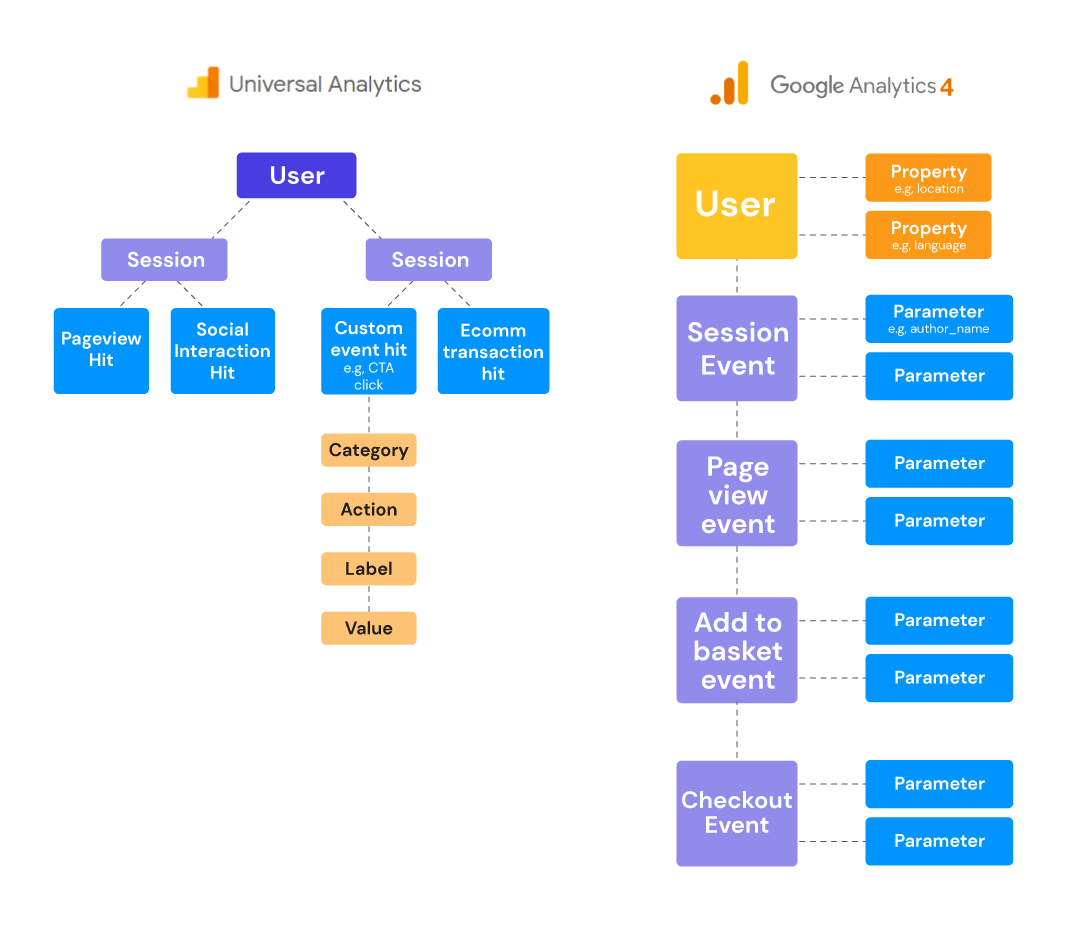 The user interface is the most significant distinction between conventional Universal Analytics and the new Google Analytics 4.
Many of the old default reports, as well as some of the capabilities that marketers and organizations are accustomed to, will not be available. Traditionally, data is organized in three tiers (Account > Property > View), however, there are now only two: account and property.
There are numerous changes in data collection between Universal Analytics and Google Analytics 4 properties. Especially in terms of how data is defined and what data items are referred to. Here's a quick rundown of GA4's key concepts:
Parameters:
Extra details that provide context for each incident. Parameters can be used to indicate the worth of purchase or to provide context for where, how, and why an event was recorded. These can be page names, article IDs, and so on – they're very similar to many of the previous "dimensions."
Events:
User interactions with a website or app include things like page views, button clicks, and user activities. Some events are measured by default, unlike before, and do not require adding specific code to the on-site Analytics monitoring code.
User Property:
Information about the user's qualities or demographics.
User ID:
This is used to track users between platforms.
There are a few additional major principles that differ from the data marketers will recall from the prior version of Analytics in addition to these essential terms. Understanding how to use the new version of Analytics will necessitate learning new ideas and how to apply them to your company's KPIs.
Page Views:
Traditional Analytics' "page views" correspond to GA4's "page view" event. Remember that a Universal Analytics event has its own hit type and has a Category, Action, and Label. There is no longer a distinction between hit categories in GA4; every "hit" is an event. The processing platform treats them all equally.
"Rather than porting your old event structure to Google Analytics 4, it's advisable to reimagine your data collection in terms of the Google Analytics 4 architecture," says  Google.
Sessions:
Marketing and business people may be confused as to why their GA4 sessions are decreasing. Sessions may seem shorter due to differences in how hits are handled over time. Marketers should not expect their data to be aligned perfectly.
Parameters:
One significant distinction is that page URLs or URIs. They are no longer prominently displayed as dimensions, as they were in previous versions of Google Analytics. These are now referred to as "page location" parameters. It appears that Google does not want marketers or businesses to conceive of these events in terms of "URL" or "website" page (at least not as the major criteria), but rather "screens" or "page title," which allows for much simpler cross-over between mobile sites, desktop sites, apps, and so on.
Along with key differences, let's move forward on how GA4 will be beneficial for your online store.
Enhance Your WooCommerce Store Data Tracking With GA4
You may design funnels using Google Analytics 4 tracking to effectively track every step of the client journey. As a result, it will be easier to track the traffic to your website and the behavior of potential clients. You can also discover any issues that happen throughout the checkout process and take fast action.
Marketers would be able to better map a user's activity and forecast their actions if they collected data from many platforms. Furthermore, the tool includes "privacy-first" tracking, cross-channel measurement, and AI-based predictive data.
Google Analytics 4 tracking allows you to compare real-time sales data to other website characteristics such as traffic source and medium. So you can figure out how well your web pages are performing and what the average return on investment from your marketing activities is. It generates a comprehensive eCommerce report for you. You can receive a detailed picture of user behavior on your website or app by using this report. You'll be able to use the information afterward to help your company grow.
Once you've identified your consumer's behavior, you can easily create a buyer profile that takes their needs and preferences into account. Following that, it will be simple to update your business strategy in order to increase revenue, increase AOV, and increase customer lifetime value.
Interested in Google Analytics? Want to set up your own WooCommerce Analytics??
Don't worry, we're here…
Why Choose Google Analytics 4 for Your Business?
Google Analytics 4 Is Future Proof
In contrast, Google Analytics 4 takes a more adaptable approach to data measurement and was designed with a cookie-free future in mind.
Cookies are less crucial in the new Analytics than they are in Universal Analytics. However, Google has stated that it will go above and beyond to reduce GA4's dependency on cookies. In the future, GA4 will incorporate modeling to fill in gaps and flesh out incomplete data, which will eliminate the need for cookies. Due to the ever-changing privacy rules regarding the usage of cookies, this is critical and quite beneficial.
Google Analytics 4 Is Customer-Centric
Google Analytics creates a unified, customer-centric view of how your consumers engage with your business using Google signals and marketer-provided User IDs. You'll be able to observe where your customers first hear about your company (for example, from a social network ad) and what activities they take subsequently, such as visiting your website or installing your app. From the time they find your items, you'll be able to track your customers' behavior at every stage of their connection with your company.
Google Analytics 4 Offers Cross-Platform Analysis
Google Analytics 4 is more strongly connected with Google Ads than its predecessor. This also allows you to reach customers with a unique advertising plan tailored to their specific interests while also tracking the campaign's overall effectiveness.
This new version of Analytics can measure activity from both online and app engagements, allowing you to evaluate how your marketing efforts are doing across email, social media, Google Search, YouTube, and other channels.
Machine Learning Provides Customer Insights
Machine learning is used in Google Analytics 4 to provide a more complete view of client activity. It can also reveal patterns in your data, such as which goods are experiencing a surge in demand and what client demands may be driving that desire.
Google Analytics' powerful machine learning can even forecast your customers' future behavior, alerting you to the likelihood of churn and allowing you to take the required steps to keep them. It can also uncover niche customer groups with the potential to spend a lot of money.
With the enhancement, we came up with the setup guide for your ease. So let's move forward and learn how we can set up GA4 for your WordPress website.
How to Set Up GA4 for Your Online Store
Setting up a new Google Analytics property for your site may be done in a few different ways. Businesses can create a property in the Domain section of their existing accounts for this new version (previously known as an App + Web property).
a. Create an Analytics Account
The first step is to set up an Analytics account unless you already have one. If you don't want to create a separate account for this website and/or app, skip to creating a property. If this website and/or app belongs to a different business, for example, you may want to create a new account.
In Admin, in the Account column, click Create Account.
Provide an account name. Configure the data-sharing settings to control which data you share with Google.
Click Next to add the first property to the account.
b. Create a Property
1. If you are continuing from "Create an Analytics account" then, skip to step 2.  Otherwise,
In Admin, look at the Account column to make sure that you've selected the right account. Then, in the Property column, click Create Property.
2. Then, enter a name for the property (e.g. "My Business, Inc website") and select the reporting time zone and currency. So, if a client visits your website on a Tuesday in their time zone, but it's Monday in your time zone, the visit is recorded as having occurred on Monday.
Analytics automatically adjusts for time changes if you choose a time zone that observes Daylight Savings Time. If you don't want to adapt to Daylight Savings Time, use Greenwich Mean Time.
Changing the time zone affects data only in the future. If you alter the time zone for an existing property, you can notice a flat area or a spike in your data as a result of the time shift forwards or backward. For a brief time after you adjust your settings, report data may relate to the old-time zone until Analytics servers have processed the change.
3. Click Show advanced options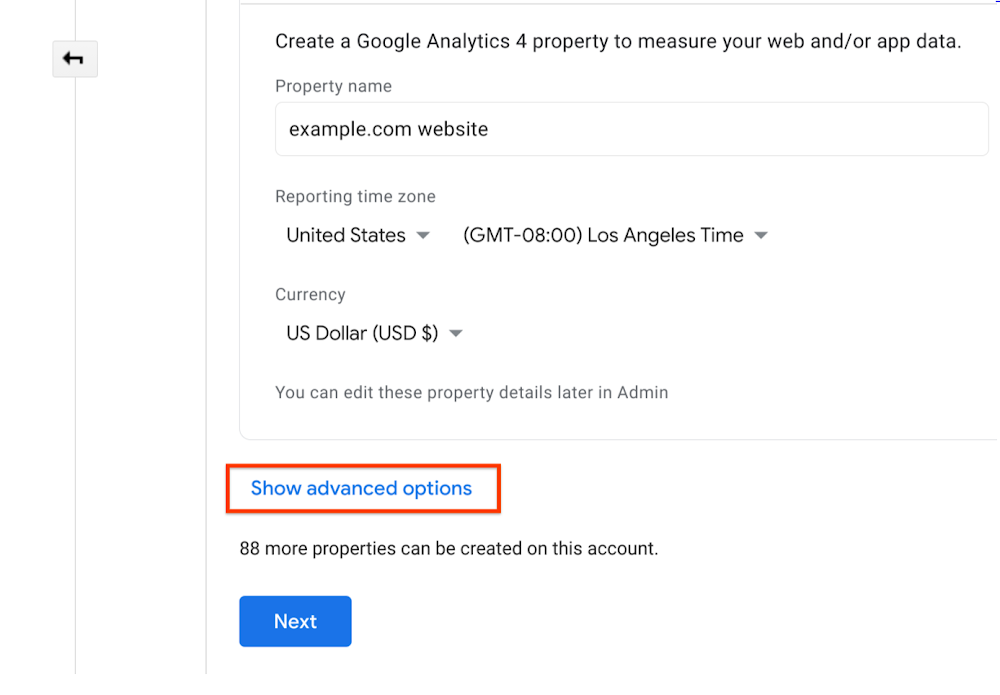 The following steps are for Universal Google Analytics and if you want to continue with GA4, skip to step 9.
4. Turn on the switch for the Create a Universal Analytics property.

5. Enter the website URL. Select the protocol (HTTP or HTTPS).
In URLs, most domain hosts only support UTF-8 characters. For symbols and any non-UTF-8 characters (including Cyrillic characters) in your domain name, use UTF-8 characters or Punycode. For assistance, use a Punycode translator.
6. At this point, choose to create
A Universal Analytics property as well as a Google Analytics 4 property. This option

Set up a Google Analytics 4 property in addition to your Universal Analytics property to collect data. Data will be sent to both properties once you add the tag for the Google Analytics 4 property to your site. Using the property selection or the Admin screen, you can swap between properties.
Creates a link between the two properties, allowing you to migrate configuration settings from Universal Analytics to Google Analytics 4 later.

Only a Universal Analytics property. Choose this option if you only want a Universal Analytics property.

7. Click Next and provide information about your business.
8. Click Create.
9. If prompted, agree to the Analytics Terms of Service and the Data Processing Amendment, then click Finish.
c. Add Google Analytics 4 Tracking
To start collecting data, you'll need to add the tracking code to your site after you've created your new GA4 property.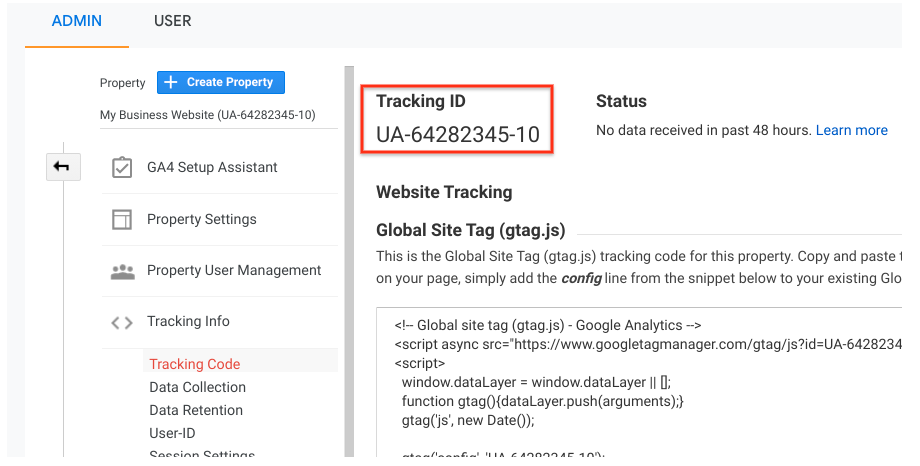 Don't worry if the idea of adding another tag to your already-tagged site makes you nervous about double-tracking. These are distinct characteristics with various tracking codes (which we will see later on). There will be no double counting of traffic.
The method of adding the GA4 tracking tag will depend on how your current setup is configured; however, depending on the resources you have available, such as developers, you may choose to set it up differently from your current Universal Analytics tracking code.
Navigate to "Collection" then "Tag Installation" in the Setup Assistant section. This will take you to the section for Data Streams. Alternatively, navigate to Property > Data Streams and select the Data Streams component.
d. Data Streams
We've only created a data stream for a web domain in this piece, but you could also include an iOS or Android app to connect the consumer journey across devices. This is only one of GA4's many benefits.
You'll find a variety of information, including your Measurement ID, if you click on your current data stream. The Measurement ID is a replacement for the UA- ID from Universal Analytics, although it serves the same purpose.
e. Non-GTM Tagging Options for GA4 Setup
There are several methods for establishing a new GA4 tag or using an existing tag to start collecting data in your GA4 property within the tagging instructions section.
You can utilize the gtag.js tag to deploy GA4 if you're already using it on your site:
In a separate tab or browser, open the Google Analytics attribute that controls your on-page tag.
To find the tracking code, go to Admin > Tracking Info > Tracking Code.
Under global site tags, select Connected Site Tags (gtag.js).
The Measurement ID should be connected.
You must install the provided code available under "Tagging Instructions > Add new on-page tag" on every page of your website if you are adding a new gtag.js to track your GA4 property.
Check out these steps on Google's Support site if you're using a CMS (Content Management System) to deploy your tag.
f. GTM Tagging Instructions for GA4 Setup
There are a few extra steps you'll need to perform if you manage your tracking using GTM (although they're still extremely simple).
You'll want to make a new GA4 Configuration tag in your GTM container.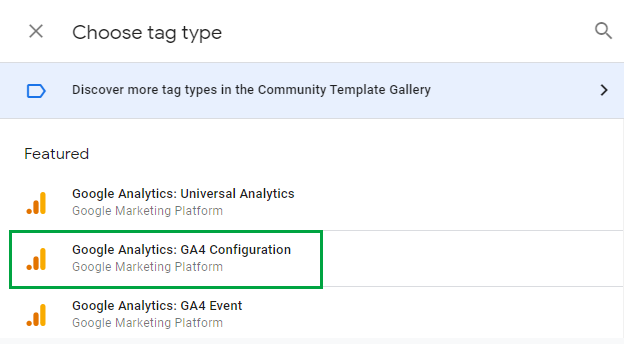 Return to your GA4 tagging instructions and copy the Measurement ID from the upper left corner.
Paste it into the GA4 Configuration Tag's Measurement ID field.
Select All Pages as the trigger.
Check the box that says "dispatch a page view event when this configuration loads" (default)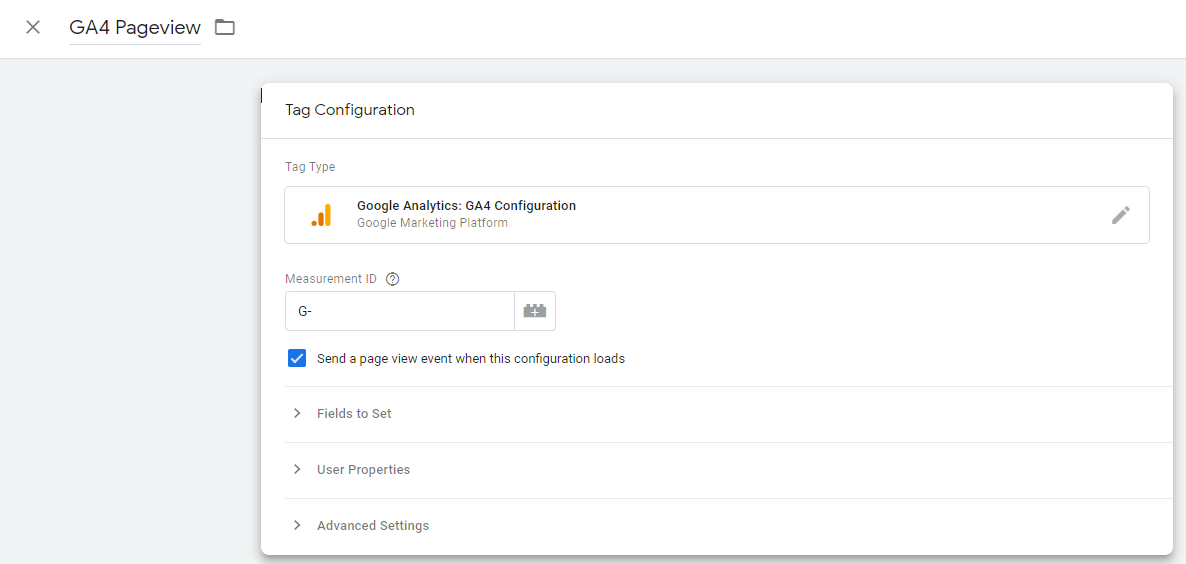 Save and Publish.
Enhance Your eCommerce Data by Using GA4 Plugins
There are a variety of Google Analytics plugins available, and many of them now allow you to add Google Analytics 4 monitoring settings. The method used will depend on the settings of the plugin.
To that end, I recommend employing a Google Analytics and Conversios.io plugin to accomplish this.
Conversios.io

Know And Measure What Matters To Your Business with the new and improved Ecommerce Google Analytics Plugin for WooCommerce. By integrating eCommerce monitoring in Google Analytics for both the Universal Analytics (Google Analytics v3) and the Google Analytics 4 properties, the plugin is ideal for helping global eCommerce firms scale faster.
GA Google Analytics
GA Google Analytics is one of several excellent analytics plugins for WordPress that make it simple to incorporate Google Analytics into your site.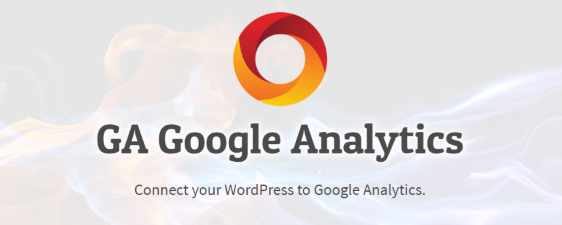 Simply copy your tracking (measurement) ID and put it into the plugin configuration labeled "GA Tracking ID" to enter and enable Google Analytics 4 using the plugin. Then, under the plugin setting "Global Site Tag," choose "Global Site Tag."
That is all there is to it. You won't have to worry about putting it in the site head because the plugin will do it for you.
Still, if you face any issues regarding WooCommerce!
Conclusion
"Google has been an amazing benefit for our business. People understand the whole world of mapping and want to do more than not get lost. It's been fantastic for us."
The Google Analytics 4 release is a significant update that will have a favorable impact on marketers' lives in various ways. You may now choose when and how to use customer data to improve ad performance. Also, you can use only data that is required for measurement.
Overall, if properly implemented, you should be able to address all client needs while also improving your products and marketing strategy. Marketers always appreciate anything that makes their job easier.
I hope that this guide demonstrated how simple it is to upgrade your site and install Google Analytics 4. With the above information, you can manually upload everything to your website or use a plugin as suggested. Good luck from here on out, since you should notice results quite shortly.