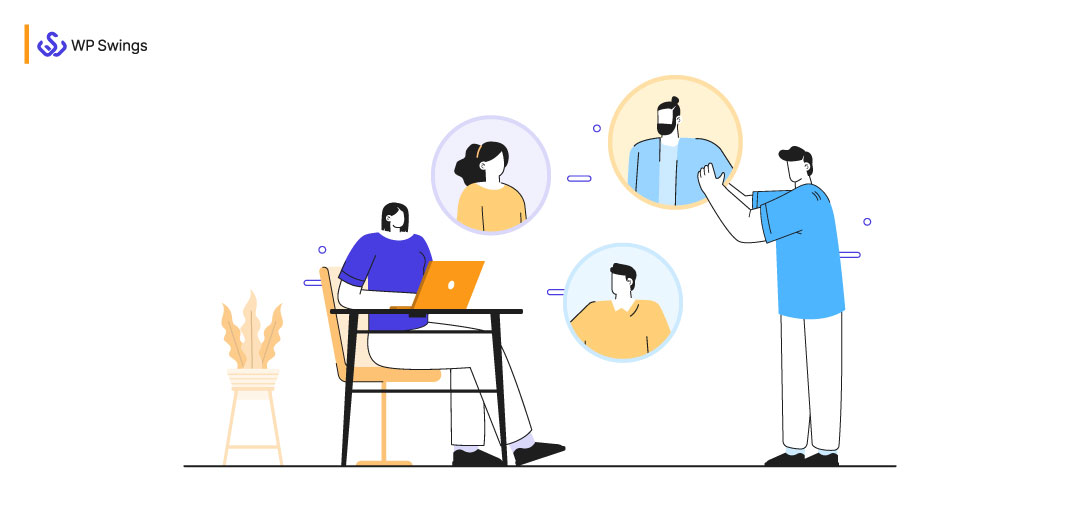 "Buyer personas are the blueprints for all your marketing ventures."
Selling your products or services is a challenging task. You have to reach out to your customers or make it easier for them to reach out to you or both.
But you can't run a business by shooting arrows in the dark. You need to know who you are selling. That's where buyer personas come in.
Buyer personas are fictional profiles of your potential customers built on market assessment and pre-existing customers.
While creating your buyer persona(s), consider including customer demographics, behavior patterns, motivations, and goals. The more detailed you are, the better.
It can be of many types because customers' preferences and behaviors are quite diverse. Different types of personas take different paths to complete the purchase decision.
I've written a poem that beautifully explains the buyer's persona. Here's a couplet from it:
Buyer personas are a blend of fiction and reality

to nurture your buyers throughout their journey.
Scroll down to the end of this article to read the full poem.
Table of Contents
How To Create Buyer Personas For Your WooCommerce Store
"Buyer personas are created through research, surveys, and interviews — all with a mix of customers, prospects, and those outside your contact database who might align with your target audience."
1. Customer Demographic
Customer demographics are a statistical view of your customer base that includes distinctive identifiers such as age, gender, state, nationality, income, job occupation, etc. These data points are essential for the creation of buyer personas.
The most basic information required to create a buyer persona is acquired through customer demographics.
The greatest benefit that you receive from customer demographics data is the ability to take personalization to the next level. You have every major data point about a customer, and you can personalize your content, product, services, ads, and emails accordingly.
So, What are the best ways to collect demographic data?
You can use WooCommerce Reports, Google Analytics, Surveys, Forms, and Interviews to collect demographic data with accuracy.
2. Create Buyer Personas Using Analytics
You can use Google Analytics to collect demographic information about your customers/users.
Go to your Google Analytics dashboard and click on the Audience section from the left-side menu. Then, click on the Demographics sub-section. It contains all the information you need.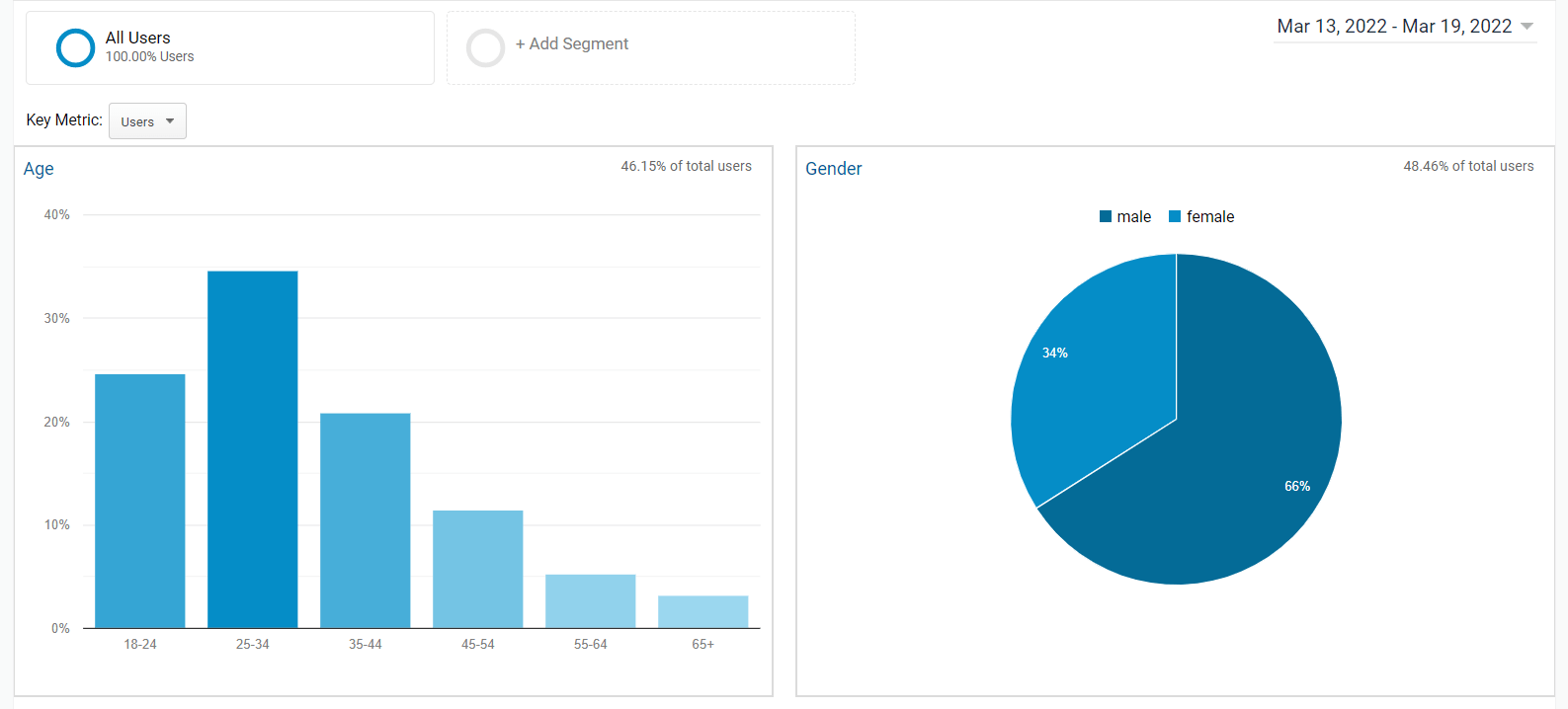 In addition to that, the Add Segments feature will help you implement special rules to divide the available data and understand demographics for a particular page or content type.
This demographic data will act as the foundation for creating buyer personas for your online business.
Google Analytics offers much more:
Track Website Traffic
Monitor User Behavior
Create Custom Reports And Segments
Track the Performance of Conversion Funnels
Improve SEO and Content Marketing
Device Data
Users Flow
And much more.
WooCommece store owners can rely on WooCommerce Reports for the analytical data of their website and its users. It shows various sales-related insights such as Total Sales, Revenue, Top Customers, Top Product Categories & Items, etc.
Use survey forms to get crucial information required for creating buyer personas such as name, phone number, email, company name, city, age, etc.
To create these forms, you can use SurveyMonkey, WPForms Builder plugin, and Google Forms.
Product inquiry forms also help in collecting demographic data. You can add inquiry buttons on your shop and product page. It would allow your users to fill out inquiry forms and submit their complaints and queries directly.
Take interviews with your customers and prospects to get the basic demographic information and key points about the performance of your products and services.
Here are the kinds of questions interviewers should be asking to create buyer personas: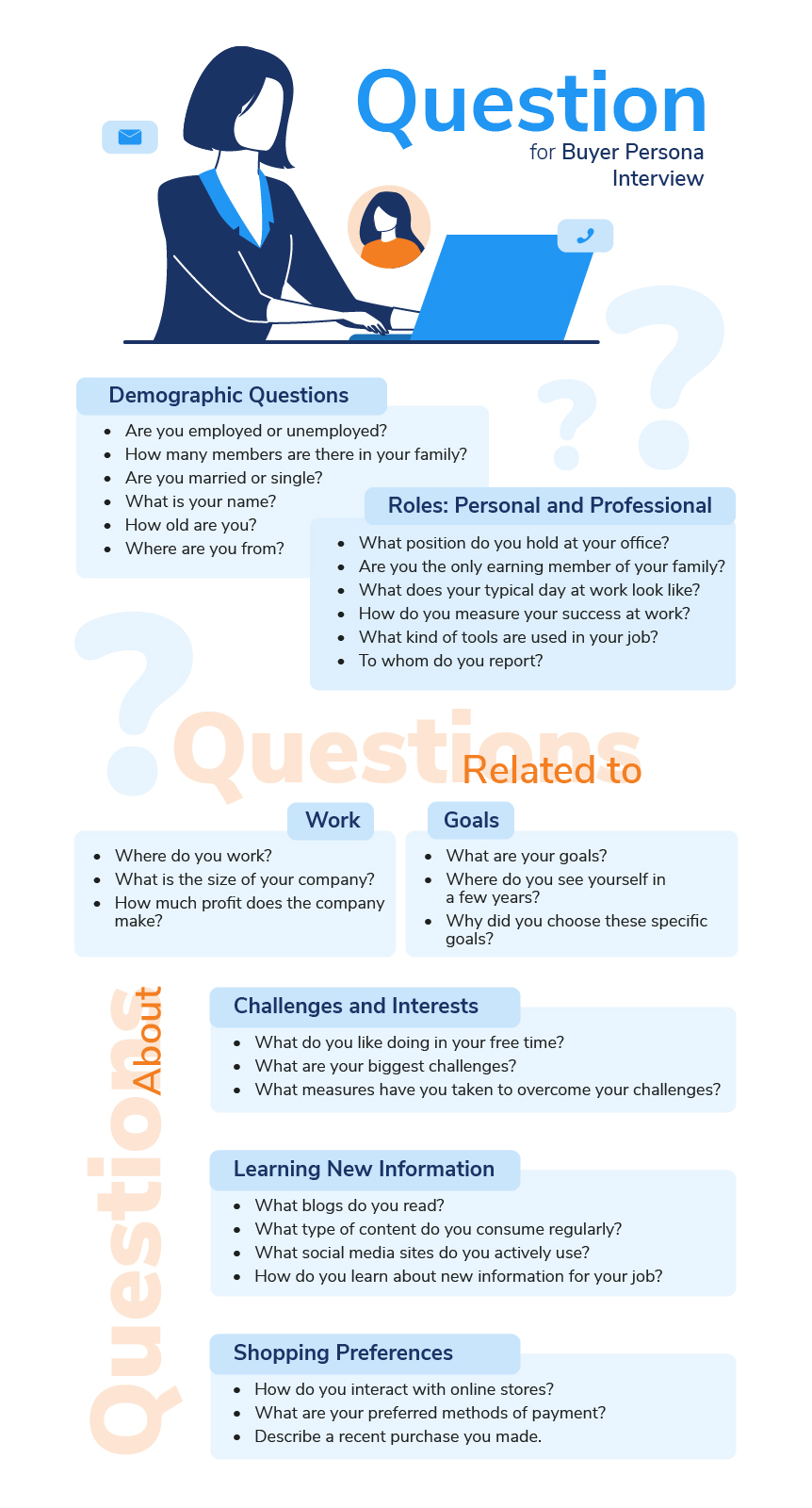 Conducting interviews is one of the most reliable methods of buyer persona research because you are taking direct input from your customers.
3. Customer Behavior Patterns
Customer behavior is the study of how customers interact with your WooCommerce store, how and why they choose a particular product or service, and what kinds of decisions, motivations, and thoughts lead them to complete the purchase process.
In truth, our behaviors are the windows to our souls. 
If enough data points are collected about an individual, you can visualize their daily life without seeing them in person.
We evaluate and comprehend these behaviors according to behavioral psychology, economic psychology, and marketing science.
In fact, as a field of study, consumer behavior is Applied Social Science.
While creating buyer personas, the study of customer behavior analysis draws out the character of a customer. It increases the accuracy of your buyer personas, which increases the accuracy of your marketing approach.
The pandemic has also brought drastic changes in customer behavior in the U.S. One-fifth of respondents who were surveyed on March 25, 2020, in the United States, stated that they now always sanitize carts and/or baskets before using them in-store.
Customer behavior analysis reveals the following details:
Issues and challenges of customers
Factors influencing their purchase decisions (mental state, family, financial status, etc)
Customers product research
The core reason behind the purchase
When these details are applied to create buyer personas, you get the most accurate semi-fictional representation of your customers.
Now, we will look at the types of customer behaviors that are crucial for the creation of buyer personas.
a) Habitual Buying Behavior
For most of you, it might be hard to imagine shopping as a hobby, but it is as real as it gets. People like spending money on things that make them happy. Money does buy happiness.
And that release of dopamine (happiness) makes shopping a habit. These kinds of customers aren't loyal, but they buy frequently on a monthly or even weekly basis.
b) Complex Buying Behavior
This buying behavior is noticed when customers are highly involved in the purchase process. It happens when they are buying something expensive like cars, PCs, laptops, etc.
Complex buying behavior involves heavy research and product comparison. The purchase process may take months or even years to complete in extreme cases.
c) Variety Seeking Behavior
In variety-seeking behavior, customers are compelled by their urge to get a different product just because they want to try something new. It's about newness and curiosity.
For example, if a customer is buying a soap, they might even try some variations of that soap. Or buy a similar product of a different brand.
d) Dissonance-Reducing Buying Behavior
A conflict within the mind is perhaps the biggest blockade to completing the purchase decision.
Sometimes customers are unsure about choosing one particular brand above the other.
Imagine having to decide between two of your favorite ice cream flavors – it's a war within.
So what do customers do?
They research extensively to make up their mind and get strong enough reasons to choose one product. They try to reduce the "dissonance" and that's why it's called Dissonance-reducing buying behavior.
And that's it. These were the four customer behaviors.
Bottom line: Customer habits are unique, but they often share common behaviors. This repetition of behavior forms a noticeable pattern and allows merchants to segment their customers.
4. Challenges And Interests
What is the simplest way to connect with customers?
You have to talk about their issues and offer solutions to their problems, however small those problems may be.
That is why it's important to acknowledge the challenges and interests of your customers while creating buyer personas. It will help create content that's relevant and engaging.
Offer your products and services as solutions that will help your customers overcome their challenges.
Don't sell your products just for the sake of making sales. Be sympathetic towards your customers and their issues.
Looking at the bigger picture, you can even introduce new products on your WooCommerce store by recognizing customer issues. You can boost your sales and earn customer loyalty.
Acquiring information about your customer's challenges and interests is a piece of cake.
Often customers themselves make you aware of their issues in comments, emails, messages, etc.
You have to listen to those requests, complaints, and questions. Add it to your buyer personas And divide them into groups based on the commonalities of their issues. You can use surveys to know what kind of problems your customers are facing.
For example, if a customer is between the age group 14-24 and he is searching for study lamps in your WooCommerce store, then it's very likely that he is a student. But the pain point is that "he wants to increase his focus while studying".
Remember that people don't buy products, they buy solutions to their problems.
5. Creating Buyer Personas
Now, it is time to arrange and organize all the data you have collected on your customers and create separate buyer personas.
The reason for doing this is simple, one size does not fit all. And likewise, one buyer persona alone can't represent all the types of buyers you have.
You have to create multiple buyer personas by grouping your customers and prospects based on the commonalities they have.
Identify people in your audience and segregate them by their demographic information, specific behavior patterns, challenges, and interests.
Benefits Of Customer Segmentation For Your eCommerce Business
Categorize them as accurately as you can and then create buyer personas for your WooCommerce store.
For creating buyer personas, you need buyer persona templates. You can download free buyer persona templates online or purchase one from a website or design your own.
You can customize those templates according to your WooCommerce store and your customer base.
So, I am going to show you some examples of buyer personas that I have created. Learning from that, you can create your buyer personas easily.
But here is the interesting part. The B2B buyer personas are different from the B2C buyer personas because both business models are a world apart and their types of buyers are also different.
Difference Between B2B And B2C Buyer Personas
B2B means business-to-business, so it is understood that a group of buyers is involved in the purchase process. The B2B buyer's journey is complex because many steps are revisited.
B2B buyers also buy in bulk and spend large sums of money. They take longer to complete the purchase decision and are likely to do heavy research before purchasing your products and services.
Whereas B2C or business-to-consumer buyers are more frequent purchasers. B2C buyers are individuals and are free to make independent purchase decisions. Most basic research is enough for most B2C buyers unless they are buying something extravagant.
B2C buyers are more likely to buy on impulse. Sometimes it takes minutes for them to complete a purchase decision.
These differences in the purchasing power and purchasing processes draw the line between B2B and B2C buyer persons. Both of them have different sets of problems, motivations, and goals.
So, their buyer personas are different too but they serve the same purpose.
B2C Buyer Persona Examples
Let's look at some eCommerce customer personas for the B2C model.
1. Sharon Rawlins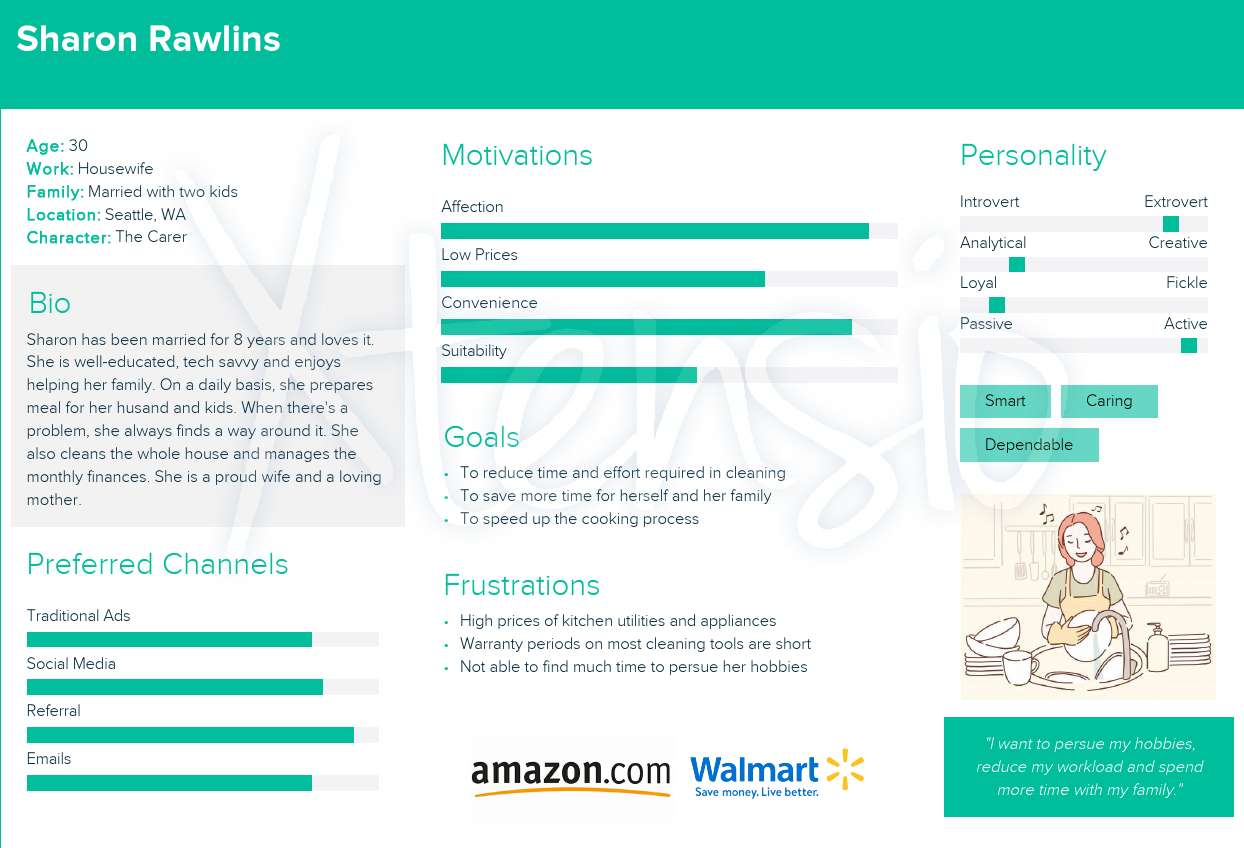 a. Sharon Rawlins is your average stay-at-home mom. The household work is physically demanding and time-consuming for her. She has back pain due to the workload and doesn't get proper time to pursue her hobbies.
b. On top of that, her budget won't allow her to hire a maid. She wants to buy some tools and appliances to ease her workload, but again they are costly.
c. She has expressed her concerns through comments, surveys, and emails on popular eCommerce sites.
d. The online stores will provide the kind of solution she is looking for at affordable prices. And nurture her through the purchase process with various offers and discount coupons.
2. Tyler Blake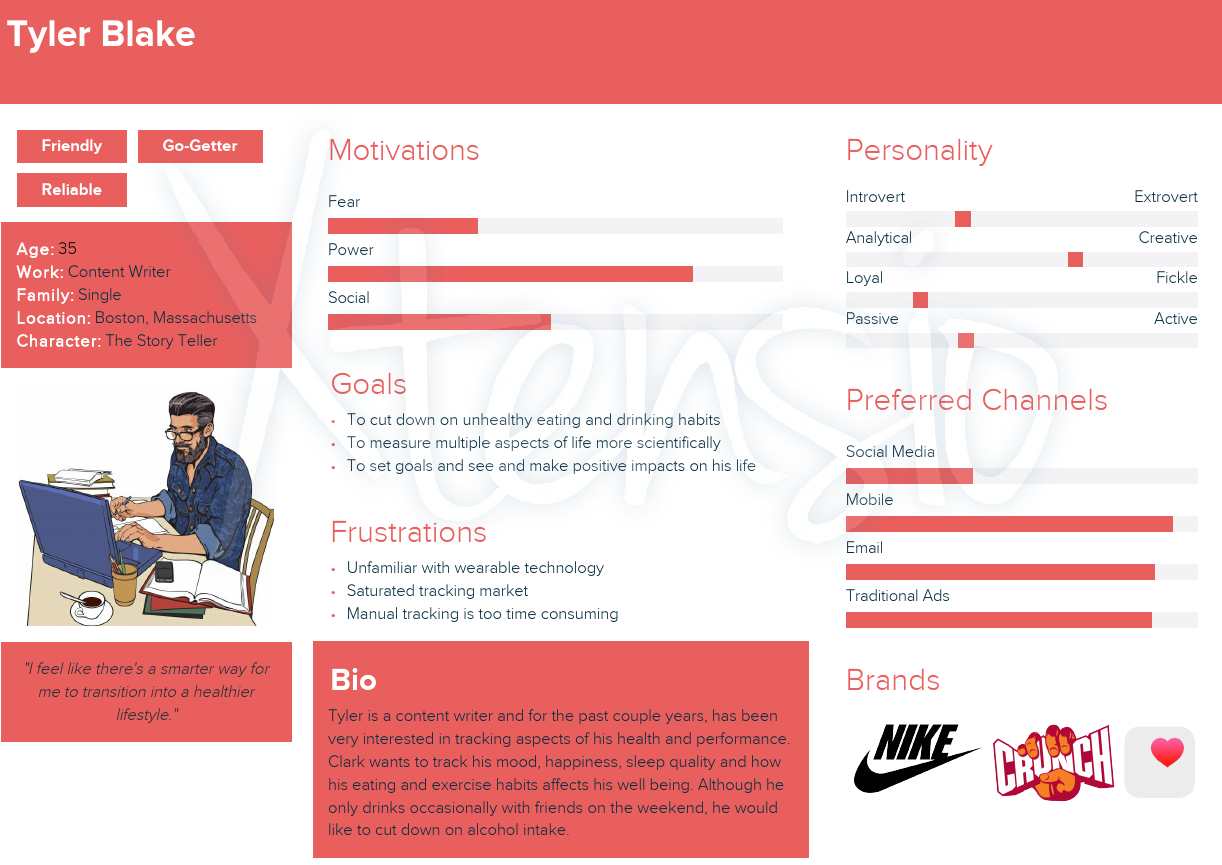 a. Tyler Blake is a content writer. Through his years on a desk job, he has developed unhealthy eating and drinking habits.
b. Tyler's health and work are being affected by his lifestyle. He wants to work hard, exercise, and track his health.
c. But the problem is that Tyler is unfamiliar with wearable health-tracking technology. He could try manual health tracking, but he doesn't have the luxury of time.
d. So, he is looking for a health tracker with a simplistic and understandable UI. He is searching for fitness tracks of popular brands like Nike, TechCrunch, etc
e. These brands can use social media, emails, mobile, etc., to attract Tyler to buy their products.
So these were two examples of B2C buyer personas. As you can see, it is fairly simple to understand and target a huge base of customers by using buyer personas.
Both B2C persona examples are fictional representations of an ideal customer, but they are relatable to a larger group.
Just like Sharon, many housewives would love to purchase products to reduce their workload.
In the case of Tyler, it applies to a large number of office-goers who want to change their unhealthy lifestyle and stay fit.
These people may have the same set of motivations and challenges. Thus, targeting all of them according to this buyer persona example would be profitable.
B2B Buyer Persona Examples
Here, we will see B2B buyer personas of some fictional customers.
1. Alyssa Wilson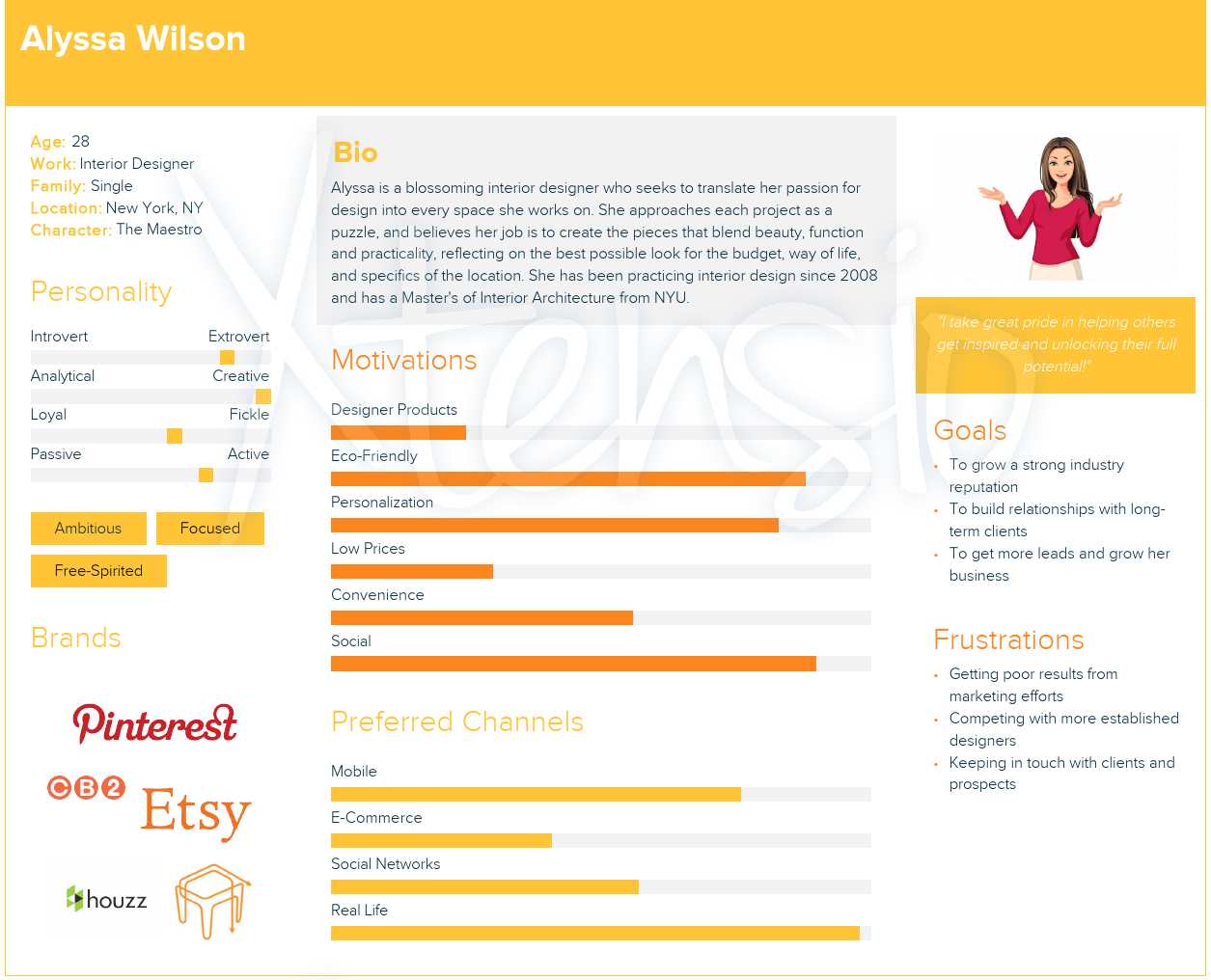 a. Alyssa Wilson is an interior designer. She is ambitious and focused and wants to grow her business. She wants long-term and high-value clients, but she does not get the desired results from her marketing efforts.
b. She has been searching for eCommerce agencies on Google that would help her develop her eCommerce website and market it properly.
c. This is a semi-fictional representation of a group of individuals who are looking for web designers and marketers to promote their business and create an online presence.
d. The eCommerce agency can nurture these leads by providing information through their preferred channels.
Let's look at another example to better understand B2B buyer personas.
2. Clark Andrews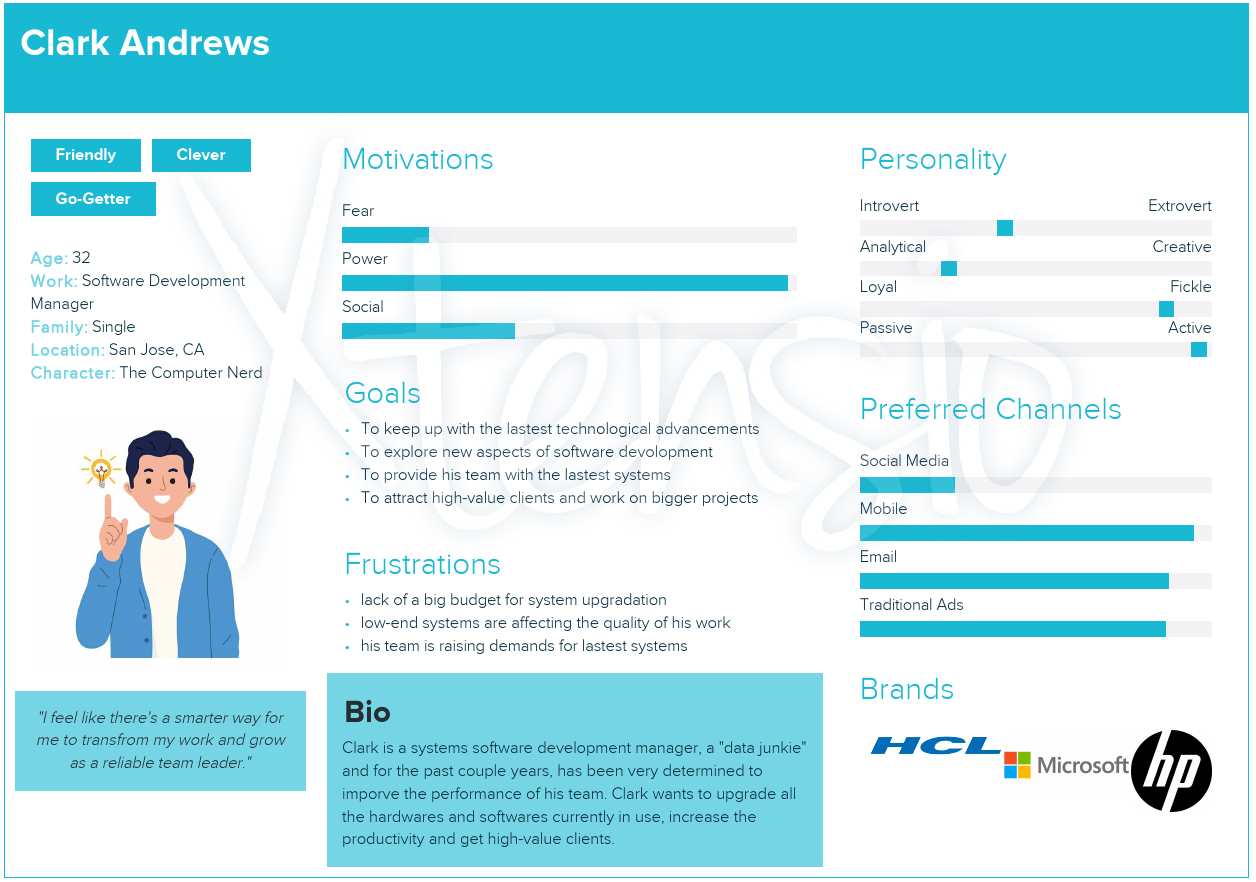 a. Clark Andrews is a highly dedicated software development manager who leads a team of software developers. He wants his team to work on projects and generate high revenue.
b. But there is a hurdle; most of the office systems haven't been upgraded to the latest version. Some of them can even be classified as low-end.
c. Software developers are requesting Clark to upgrade their systems as soon as possible. The budget for up-gradation has been allocated, but it's a tight one.
d. So, Clark has been searching on big tech websites for the latest hardware and software solutions at discounted prices.
Big tech companies can target and nurture buyers like him through emails, social media ads, conventional advertisements, etc.
The Importance Of Creating Buyer Personas
Buyer personas are the most crucial part of your inbound marketing strategy.
In this case study by MarketingSherpa, we can see a dramatic increase in the length of visits, revenue, email open rate, and the number of pages visited.
The importance of creating buyer personas can also be understood from the fact that Skytap, a self-service provider of cloud automation solutions, implemented a targeted content marketing strategy, and saw 124% increased sales leads.
Implementing buyer personas on your WooCommerce store can help you create customized and personalized content for marketing campaigns. It can also help you improve the overall user experience.
Let's look at some of the key reasons why buyer personas matter:
1. Understanding Buyer Needs And Motivations
Understanding the needs of your buyers can help you better your product and services. It can even help you introduce new products. You can decide how to sell your product by understanding the motivations of buyers or buyers' motives.
Needs and motivations drive the purchase decision of customers. While you are creating buyer personas, needs and motivations should be included.
2. Tracking Customer Behavior
All major online businesses are learning customer behavior to improve their targeted marketing campaign. Undifferentiated marketing is no longer feasible.
Buyer personas are created by studying the behavior of consumers. Behaviors such as how consumers interact with your online store, what and when they usually buy, the products they search for, their spending habits, etc.
All activities of the customer from the landing page to the purchase are noted. It helps you personalize your services, features, and offers according to the interest of your customers.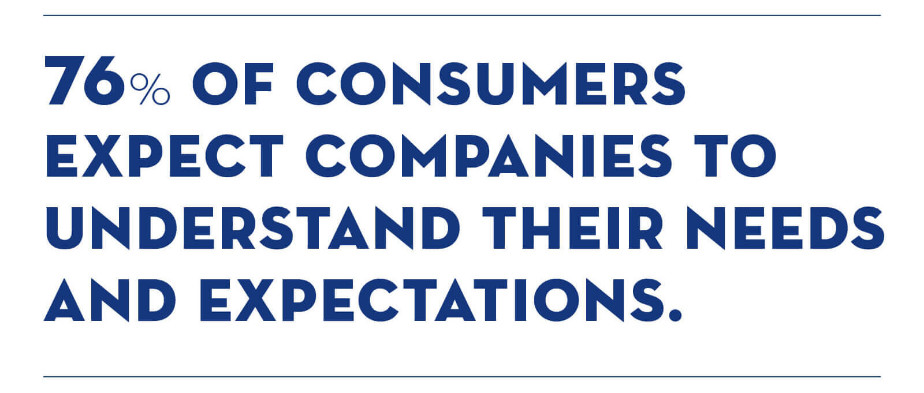 Source: Salesforce
Use these customers' behavior insights to build your marketing strategies and improve the customer experience of your WooCommerce store.
3. Improves Content Development
Content is used everywhere, from product ads to product descriptions. It is the core of all marketing strategies.
It is created with the intention to provide value to the customer, but again a shot in the dark won't work here. You have created the type of content that customers find engaging. That's where buyer personas are most helpful.
The buyer personas help you acknowledge the needs, concerns, drives, motivations, and problems of the customer.
As a result, you shape your content to address those issues that are significant to them. It's the surest way to convert leads into paying customers.
4. Lead Segmentation
Buyer persona also helps the segmentation process for email marketing and ad campaigns. You can segment your leads per the buyer personas you have created.
It will significantly improve the CTR of your emails and social media ads. Hence, enabling you to lead a successful marketing campaign.
So, these are some of the points that show the importance of buyer personas for your WooCommerce store.
Final Words
Buyer personas are the building blocks of marketing campaigns. It's the guiding system of any eCommerce business. And I have briefly explained how to create buyer personas for your WooCommerce store.
The Buyer Persona Poem
One shoots arrows in the dark of the market,
Unbeknownst to their average target,
Wasting men and money alike,
Running bases without a strike.
To put an end to capital waste,
Serve according to the consumer's taste.
Take time out to read a logical page;
Start with demographics – gender, income, & age,
And all mysteries of socioeconomic strata,
Divorce from instincts, unite with data.
Use the read to outline your sketch,
And see how far the business can stretch.
Even ask the shopper the secrets of the trade,
A survey from servers, who would dissuade?
Also, record their actions in the intangible outlets,
Everchanging trails and tastes
And light the forge of the analytical role,
So, new marking templates may unroll.
Buyer personas are a blend of fiction and reality
to nurture your buyers throughout their journey.
In this article, I have also talked about the importance of buyer personas and shown the B2B and B2C buyer personas examples.
The application of the methods I've mentioned will help you create the most effective and accurate buyer personas to grow your business.
And hey, check out our blogs If you want to learn more about the best eCommerce practices.