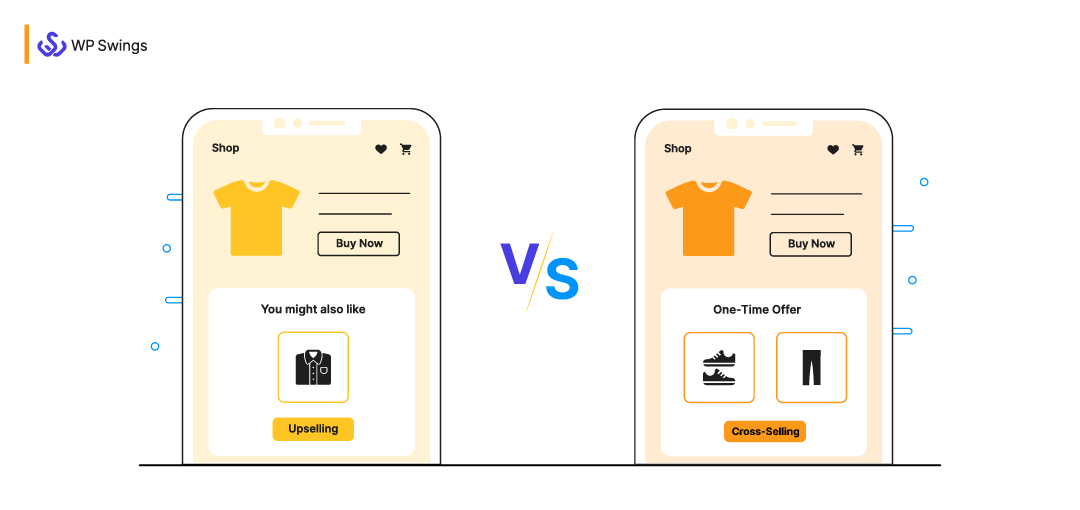 Upselling and cross-selling are two marketing strategies that are widely used by brands for increasing their profits and average order values. Both these marketing strategies are very simple yet highly effective in boosting sales for a business.
According to McKinsey, upselling, cross-selling, and other product recommended marketing tactics are responsible for increasing sales by 20 percent and 30 percent.
The best company to list that leverages upselling in the most authentic and accurate approach is Amazon. Statistics have proven that Amazon earns half of its revenue directly by using an upselling strategy. To be more precise Amazon gives the credit of 35% of its revenue to upselling and cross-selling.
With the help of this blog post, I'll be shedding some light on upsell v/s cross-sell. Also, the benefits of implementing these marketing strategies to your business model.
In This Article:
Upselling vs Cross-selling – What's The Difference?
Let's first start with upselling v/s cross-selling which will help us in understanding the difference between the two.
Cross-selling is the technique of selling an additional product or service to the existing customer at the time of shopping. Cross-selling is used to gain more revenue by showing products related (variable product) to the purchased product (parent product) to the current customers.
On the other hand, upselling is a sales technique where a seller offers the customers to purchase a more expensive product, upgrades, or other add-ons, in an attempt to make a more profitable sale.
Upselling vs Cross-selling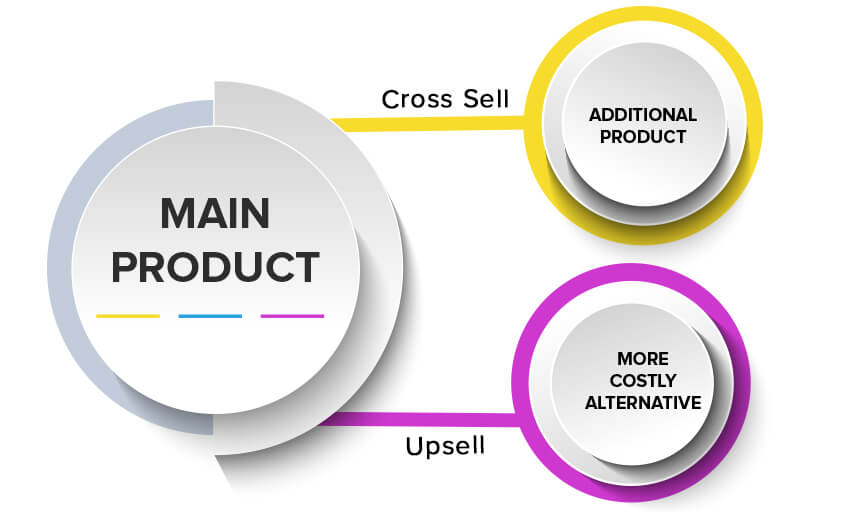 Upselling and cross-selling are often confused, but there's a slight difference.
While upselling focuses on increasing the order value by persuading the customer to make expensive purchases, cross-selling involves making a product recommendation that can be purchased as an add-on.
You might have unconsciously come across many upselling and cross-selling offers when you are shopping online.
For example:
Anyways, let's understand the concept of upselling v/s cross-selling with some examples. For instance, you visit Amazon to buy the iPhone 12 pro 128 GB variant.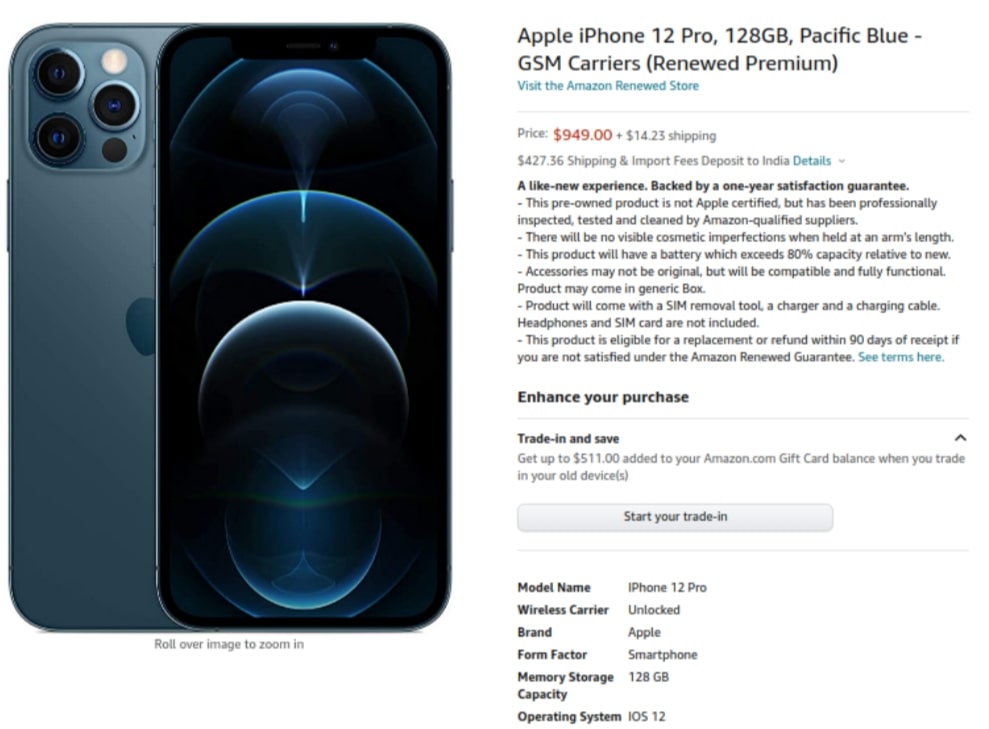 Suppose the price shown to you on the product page is $949. You choose to buy the phone and when you press the Add To Cart or Buy Now button Amazon shows you some more product operations. The product shown to you by Amazon lay in one of the following categories, either they are add-ons or they can be an upgrade of your current purchase.
Let's understand this with the iPhone we were purchasing. You found the product, pressed the Add To Cart button, and visited your cart page. On the cart page, you'll be recommended some addons such as phone cases or screen protectors for your phone by Amazon.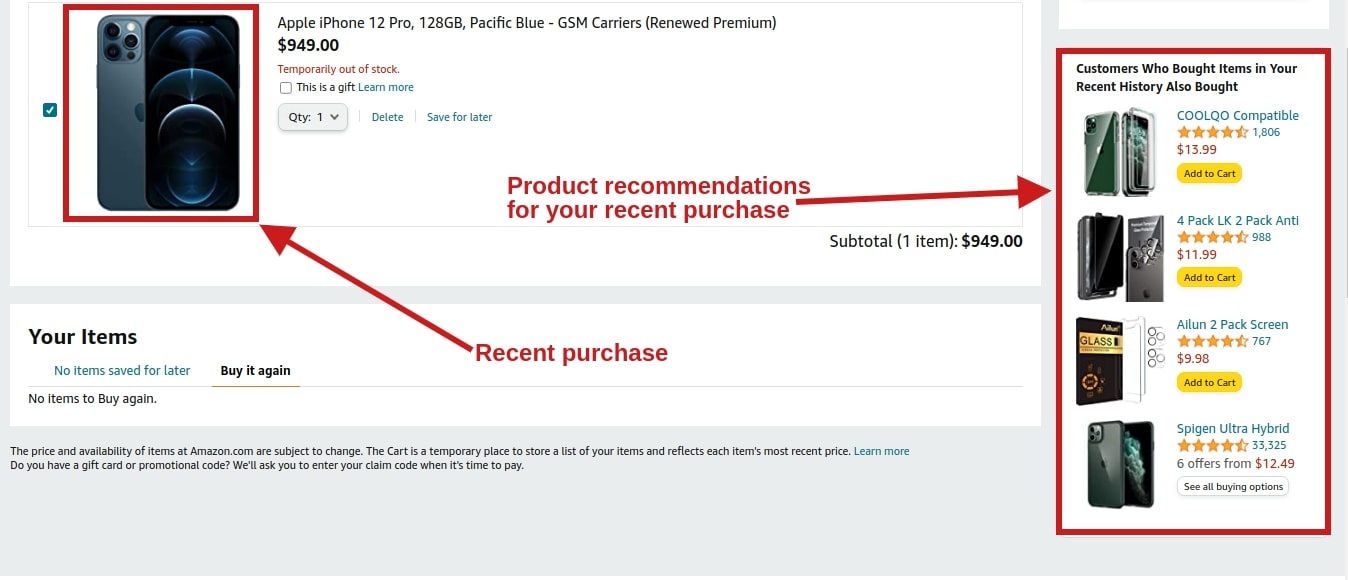 By making product recommendations Amazon is trying to cross-sell some of its products that go well with your current purchase.
Suppose you added the product to the cart and scroll down a bit further on the page you'll find a section where you'll find a comparison of the recent purchase with all the upgrades.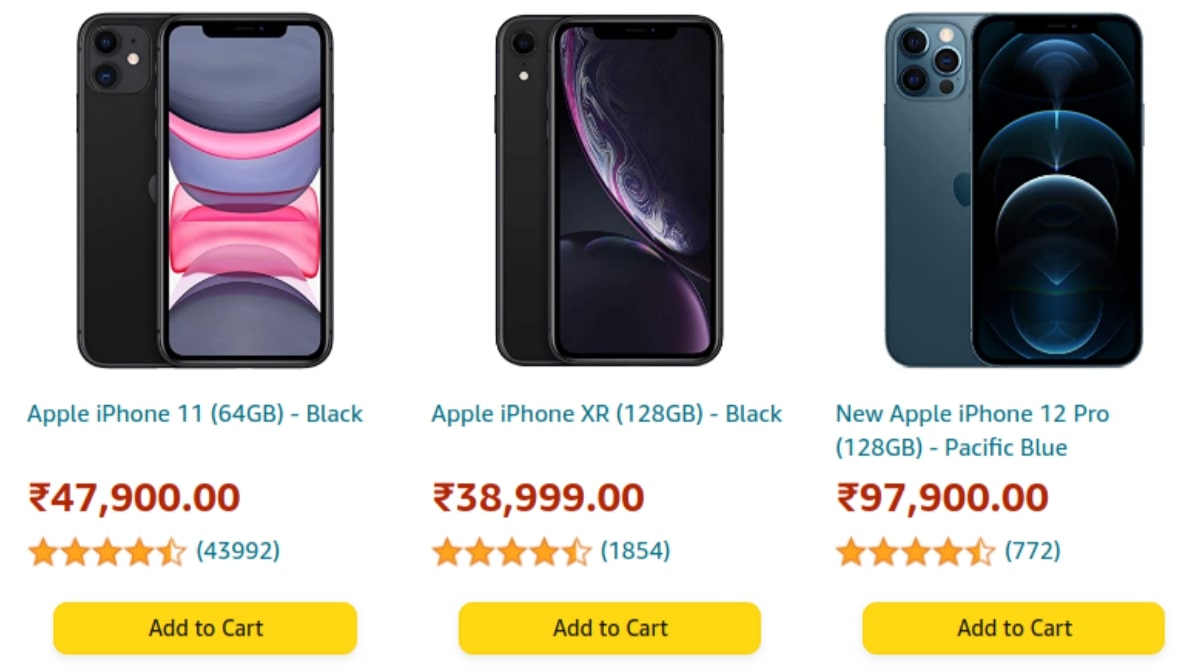 The "similar items" section is the place where you see upselling offers and as a result, the customers can upgrade their purchase. In simple words, Amazon is trying to make you spend more on the same item for a better average order value.
So this was all about how upselling and cross-selling are two different marketing strategies. Now as an online business owner you can show upselling and cross-selling offers either pre-checkout or post-checkout.
I'll be sharing the concept of pre-purchase upselling and cross-selling v/s post-purchase upselling and cross-selling in brief.
Post-purchase v/s Pre-purchase Upselling And Cross-Selling
The two prominent places on your online store where you can show upselling and cross-selling offers are:
Firstly, before the customer is about to pay for his/her order or before a product is even added to the cart, popularly known as pre-purchase or pre-checkout upselling.
Secondly, after the customer has filled his/her shopping details and proceeded towards checkout, popularly known as post-purchase or post-checkout upselling.
I'll be sharing some details on both of these methods and try to explain the pros and cons of each of these upselling and cross-selling methods.
Pre-Purchase Upselling And Cross-selling In Brief
In an eCommerce ecosystem, a pre-purchase offer is shown to the customer either on the product page or on the cart page.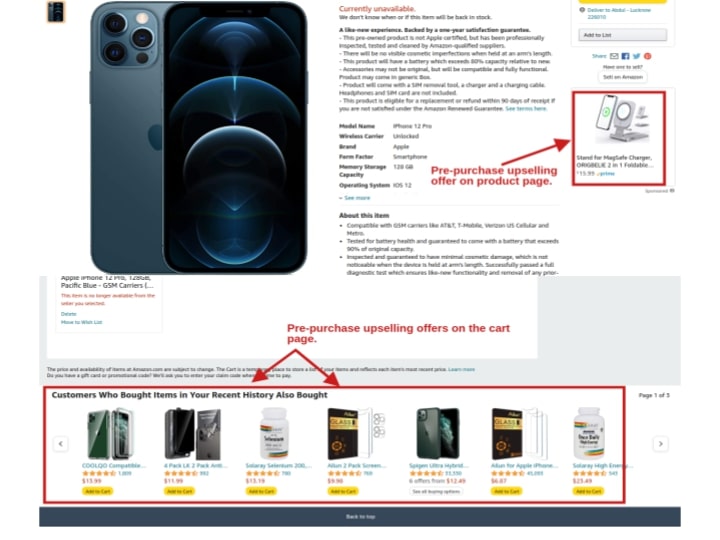 Commonly the pre-purchase offers are shown in the form of a banner, popup, or an on-page div, and if the offer is accepted the cart is either updated or the product is added to the transaction.
The challenge is to find the right balance.
Offers that you recommend should be inexpensive and relevant to the current purchase order. The last thing you want is to scare your customers away with aggressive upselling offers before they finish their transactions.
Therefore, before placing a pre-purchase upselling offer make sure the offer is soft, relevant, and clear for a shopper. Understand this, if your offer doesn't match with these parameters your overall conversion rate will be negatively affected.
Pre-purchase upselling and cross-selling offers are also known as order bumps.
In eCommerce, order bump is an upselling and cross-selling marketing technique in which a merchant tries to increase the average order value right before the checkout process is completed.
Post-Purchase Upselling And Cross-selling In Brief
Unlike pre-purchase, post-purchase upselling offers are shown to the customers on the thank you or order confirmation page.
The best part about a post-purchase upsell and cross-sell offer is that a customer doesn't have to enter any information such as payment details or any other details to grab the offer. Post-purchase offers are truly one-click in nature and a customer is more likely to purchase the offer shown by you.
Another great place where you can place your post-purchase offers is through emails. Amazon and many other online shopping sites upsell products in the order confirmation emails.
This is a very old-school post-purchase upselling technique that is very effective, however, there's only one problem and that is in many cases it has zero access to the pre-filled customer information. To say, if a customer clicks on any of these offers. he/she might have to re-fill all the information.
In short, post-purchase upselling and cross-selling offers help you sell more even if the customer has completed his/her transaction. Also, the ease with which it can be accessed in just one click makes it even more lucrative for the customers.
Challenges Of Post- And Pre-Purchase Upselling And Cross-selling
Pre- and post-purchase upselling and cross-selling are incredible marketing strategies that help in boosting the average order value and conversion rate at the same time. Best they do it without any negative impact on the original sales funnel. But there are some challenges to it:
1. Relevancy
The biggest challenge in upselling and cross-selling is relevancy. As a merchant, you have to be careful that you aren't making product recommendations that add a point of friction in your sales funnel.
If your upselling and cross-selling offers are irrelevant and aggressive chances are that the customers may abandon their purchases.
The implementation of AI-powered software for cross-selling and upselling recommendations can help you increase the relevancy of product recommendations as it will process real-time information from customer interactions and continuously tailor the experience.
2. Fatigue
If you're hitting your customers with too many offers you might reach a stage known as upselling fatigue. If you want to upsell too many products, try using bundles. Bundling your products helps you prevent pandering to your customers.
These were the two biggest challenges that are faced by merchants when they are upselling or cross-selling products to customers. But some secret tips can help you tackle these challenges which I'm going to disclose in the coming section of this article.
Before that, I want to share with you the top 5 benefits of including these two techniques in your marketing efforts.
Top 5 Benefits Of Upselling & Cross-selling
Upselling and cross-selling are age-old techniques that have been used by business owners to surge their profits. These techniques are traditional and still prevalent in the modern online shopping scenario. Therefore, it is a sin to think upselling and cross-selling are pointless endeavors.
I'll make my point even more clear by sharing the prominent benefits of upselling and cross-selling.
1. Personalized Customer Experience
We're living in the era of personalization and customers prefer to engage with brands that can offer suggestions that are relevant to their shopping behavior.
The product recommendations made in upselling and cross-selling are so personalized to the customers' needs that they are persuaded towards grabbing the offer. Apart from being personalized, the offers are reasonable and no one can ignore them.
Here's an example from my favorite brand Apple: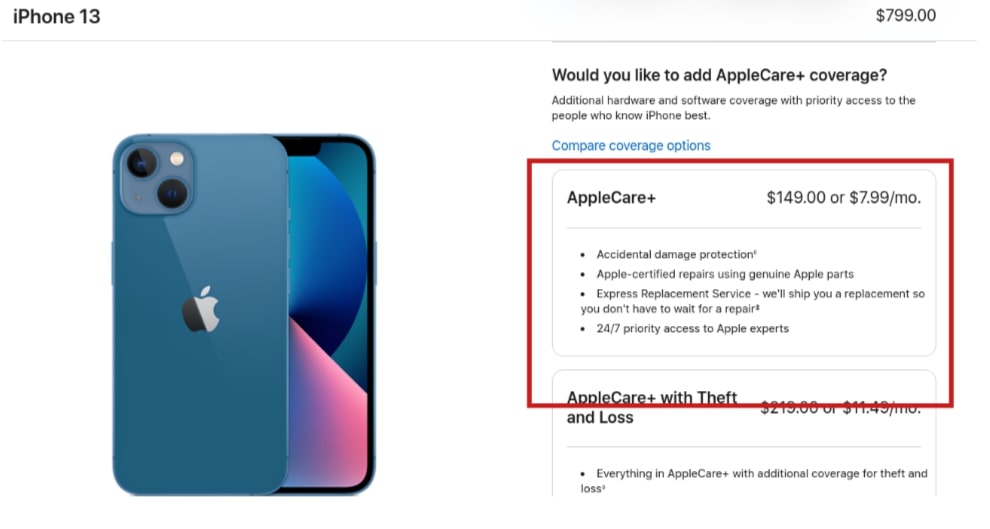 As you can see Apple provides an AppleCare+ service to their customers for just a few additional bucks when a customer buys an iPhone or a MacBook. In short, you not only get to relish your favorite gadget but protect them from theft or damage too.
2. Boosts Revenues
The obvious benefit of adding upselling and cross-selling to your marketing arsenal is that it boosts revenue.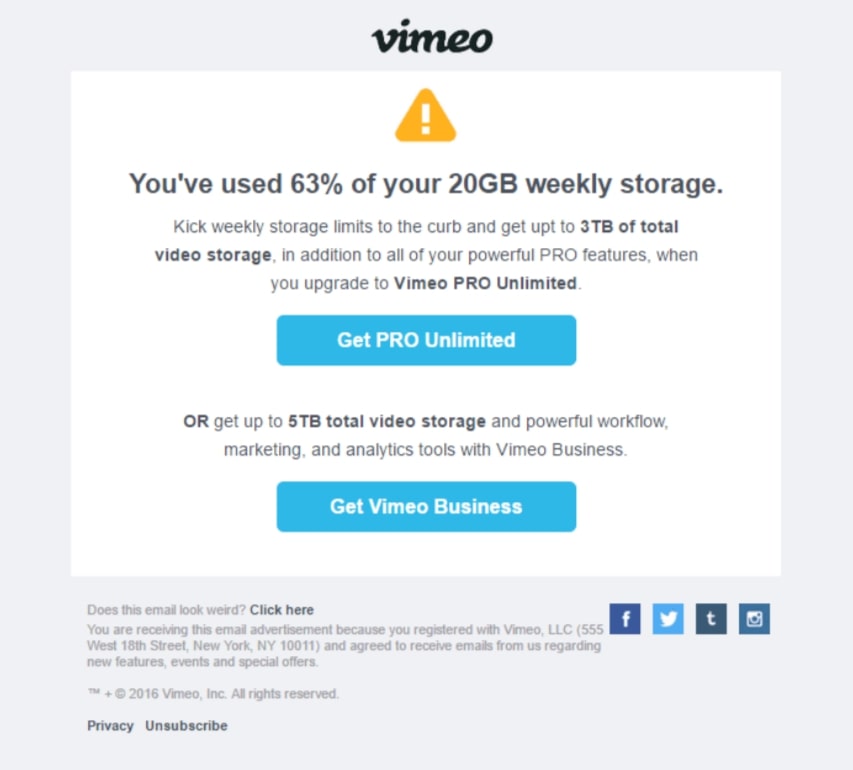 Source: Venture Harbour
The above screenshot from Vimeo shows us how the brand uses upselling to recommend its customers a better plan to curb weekly storage limits. This not only increases the profits for Vimeo but conveys a message to the audience that by spending a few more bucks they can increase the usability of the product.
3. Optimizes Every Sale
It goes without saying that upselling and cross-selling are responsible for increasing the average order value. As a result, the value of every sale is optimized. As you might be aware the chances of making a sale to an existing customer are 60 to 70 percent more and upselling and cross-selling targets customers that are currently buying from you.
By providing value-driven upgrades to customers' current purchases you get 2 benefits:
It increases the average order value in the short-term and
Increases the customer lifetime value in the long term.
4. Boosts Retention
The competition in the eCommerce space is tough and getting new leads is a mammoth task, therefore, successful brands focus more on customer retention than customer acquisition.
While many marketing strategies induce customer acquisition, upselling and cross-selling are one of them. They allow your customers to buy and leverage a complete solution and do long-term business with your brand.
Here's how:
Customers' can view all your offers in a more holistic way and on a single page. Also, the best part is that the offers are exclusively related to the products that they are buying.As in this case, Apple customers can see all the offers related to network and phone care on a single product page without having to browse all the pages.No one likes to run around to buy different products from various spots, therefore, it is better to provide everything at a centralized location.
If you're successful in providing offers that are relevant to your audience, they are going to love it.As a result, it increases brand loyalty for your brand to reach new bars. By showing relevant upsell and cross-sell offers you are telling your customers indirectly that you know what they want and that you care about their choices.
5. Unparalleled Shopping Convenience
The unparalleled shopping experience is one of the underrated benefits of upselling and cross-selling. The marketing strategies are responsible for easing the decision-making process for customers.
The question is how?
While making an upselling offer you demonstrate your customers' choices by highlighting them through your content.
Here's how Instapage does it: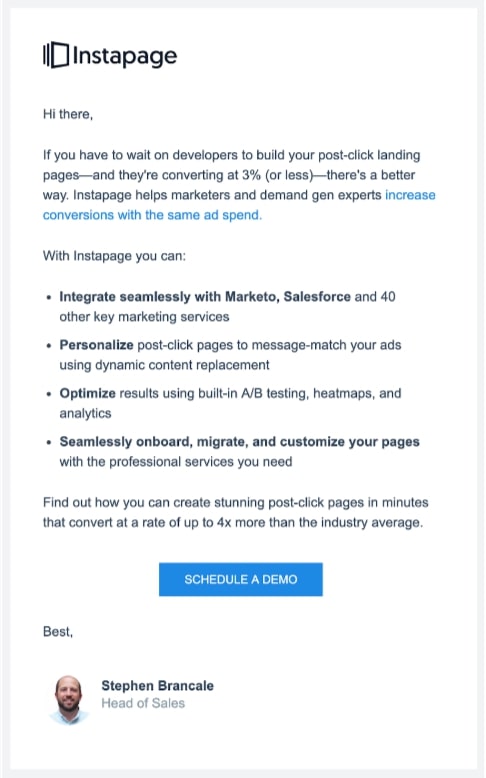 In its newsletter email Instapage first demonstrates the needs of the customer by highlighting the problem area. After a brief explanation, you can see a CTA from where you can schedule a demo with their team and get enlightened about the product.
With the help of upselling, Instapage creates a seamless shopping experience for the target customer and deepens the relationship.
These were the prominent benefits of including upselling and cross-selling while building your marketing blueprint. Now as I promised, let us see some tips that you can consider for overcoming the challenges faced by businesses while implementing upsell and cross-sell offers.
5 Best Tips For Upselling And Cross-selling In 2022
The biggest challenge is to be soft, less aggressive, and relevant with your upselling and cross-selling offers because the last thing we want is to scare away your prospect.
1. Try To Know Your Audience
Now it may sound obvious but it is important to know your audience first. Try to build a buyer persona using various analytics tools and demographics. You can also perform quarterly reviews with your existing customers and understand their needs.
In short, understand the goals and challenges of your customers and tailor offers that help them reach their goals.
2. Trace Your Customers' Journey
Tracing your customers' journey will help you understand how they are going to use your products and services. If your products are adding value and helping your customers to grow you'll reach a point where they'll automatically refer your products to others.
It is at this point in their journey that they would want to hear your upselling and cross-selling offers and buy more from you. If you remember the example of Vimeo where the brand suggests the customer an upgrade at a certain point when he/she has used it enough.
3. Try Making Bundles
Bundling your products is a smart move for making upselling and cross-selling offers to your customers. Dollar shave club bundles all the important products in a package where the customers don't have to search for different products.
It saves shoppers' time and the brand doesn't have to show multiple upselling and cross-selling offers for different products.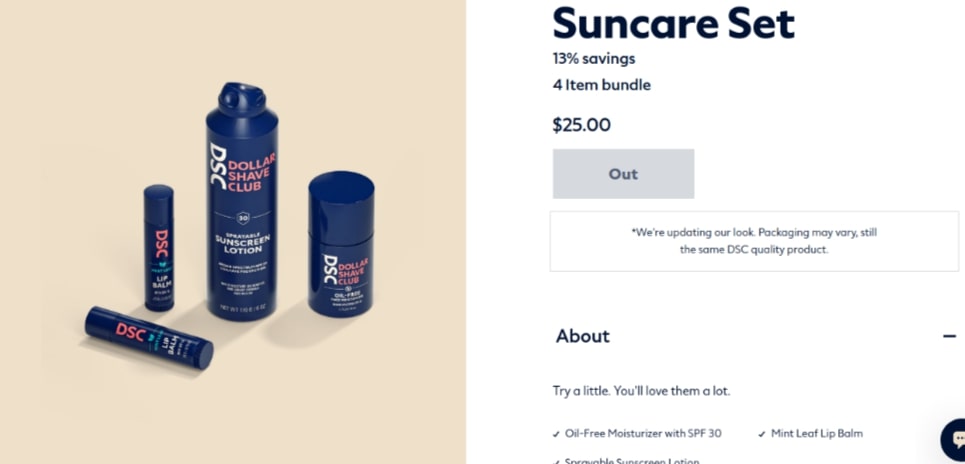 The chances that a customer will buy a bundle of products are dramatically high and on the brighter side, your upsell offers are less aggressive and more relevant.
4. Keep A Check On The Prices
Pricing is a major factor in making your upselling and cross-selling offers a huge success. If the products you're cross-selling are priced reasonably lower than the product then the chances of the item being purchased become higher.
5. Keep It Simple
It doesn't matter how big your discounts are if your customers cannot access every marketing effort will go in vain. If you're making your customers overwhelmed by offering too many discounts and offers, the strategy might backfire. The reason is it may cause a sense of confusion and disrupt the buying experience.
The key is to keep it simple; limit your upselling offers to a minimum. Offer products that you think will score the highest on the relevancy scale.
These were some of the tips that you can use to tailor your upselling and cross-selling strategy in 2022 and the coming years. To summarize it, all the upselling and cross-selling offers should be built on the foundations of relevancy, personalization, and customer satisfaction.
How WP Swings Can Help You?
If you're a customer of WP Swings reading this article you know how much effort we put into building eCommerce solutions. Countless entrepreneurs are making their way towards building a successful online business. Therefore, we strive to build solutions that help marketers, entrepreneurs, and business owners fight their way and break all the barriers to success.
Our team of WooCommerce experts has built the following solutions to help you implement the power of upselling and cross-selling on your store efficiently.
Let's learn about them one by one.
(Note: These solutions are exclusively for eCommerce websites that are running their businesses using WooCommerce)
1. One Click Upsell Funnel For WooCommerce

One Click Upsell Funnel is a WooCommerce solution that allows merchants to create post-checkout upselling and cross-selling offers. Customers can grab these with a single click and no-hassle entering shopping details.
The best part of this plugin is that you get to track the success of your cross-selling and upselling offers. With the help of the deep analytics tool, you get the opportunity to know which upselling offers the best and which needs improvement.

With the One Click Upsell Funnel plugin you can:
Create unlimited funnels that will trigger specific products and product categories.
You get a comprehensive report of all the upselling and cross-selling funnels running in your store.
The extension lets you increase the average order value just when the customer is about to checkout.
The plugin comes with fully customizable templates for designing the upsell offer page.
You get Sandbox mode to test post-checkout upsell funnels before they go live.
Download One Click Upsell For WooCommerce Now!
2. Upsell Order Bump Offer

Another highly recommended solution developed at WP Swings for WooCommerce store owners: Upsell Order Bump Offer. This is similar to the previous plugin except it helps you create pre-checkout upselling and cross-selling offers on the cart page.
With Upsell Order Bump offer plugin you can:
Create special offers and smart offer upgrades for your customers.
Grow your average order value exponentially and satisfy your customers for a long-term relationship.
Create eCommerce bump offers funnels for simple, variable, and subscription-based products.
Track order bumps performance with order bump sales reports and behavioral analytics.
Download Upsell Order Bump Offer for WooCommerce Now!
Over To You…
These were a few solutions that have been developed by our team of WooCommerce experts. With the help of which you can practically implement your upselling and cross-selling strategy.
Upselling and cross-selling apparently do the same thing i.e. increasing AOV and profits but have a slight difference in the way they work. Rather than understanding the concept of upselling v/s cross-selling it is more important that you make sure your offers are relevant and less aggressive.
Do You Still Think You Can Use Some Help With Your WooCommerce Store?