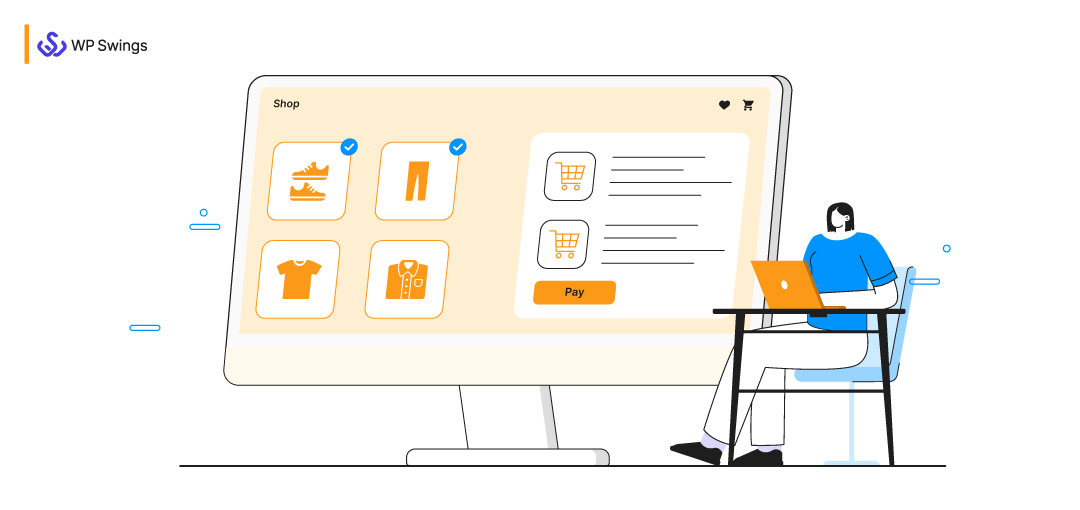 Refund and Exchange policy is the first thing that 68% of the shoppers check before making a purchase from an online store.
That is, out of every 10 buyers, 7 of them visit your Refund Policy Page, read it, and after being convinced they proceed with the purchase.
But,
What if your refund policy isn't very convincing, and is unfair to the buyers? Or, what if your policies are perfect but are not easy to understand?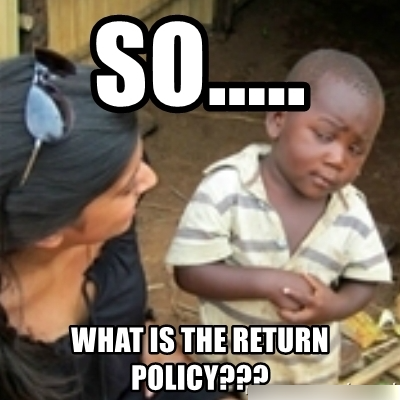 How will your sales get affected?
Well!
In that case, you will lose those 7 out of 10 potential buyers. Those buyers which you have acquired with all your amazing eCommerce Branding Strategies and skills. Those buyers were just one step away from the purchase.
A way for shops to stand behind the goods they offered in the past was to offer a money-back guarantee. "Return it for the full amount of what you paid for it if for any reason you don't like our product," was the fundamental message. The quality of the product is unconditionally guaranteed by this agreement, as seen from the outside. Therefore, return policies have served as both a standard in retail and a marketing tool.
Losing such Potential Buyers at the last stage of the Buying Process is more degrading to the Business than those Customers Lost at the initial stages.
The only solution to avoid this adverse situation is to re-check or re-write your refund policy so that is simple, convincing, and fair to the buyers. At the same time, it shouldn't hurt your business.
In this article, I will guide you with some powerful tips to write a perfect refund policy that does not confuse buyers and reduces the risk of churn.
Blog's Outline…
But, before writing down a refund exchange policy, make sure you really know all about refund policies!
And then be in a position to offer an excellent RMA solution to your buyers.
What Is A Refund And Exchange Policy?
As we know;
Refund and exchange is a negative flow of your business cash.
Almost all eCommerce stores try to run away from such a flow of business cash. It is crucial to understand, this negative flow can be embraced if it gives satisfaction and happiness to shoppers.
Did You Know Refund and Exchange Can Be a Key to Customer Experience?
But, some buyers exploit refunds and exchanges through unfair tricks. Yes, you heard that right…..
On A Serious Note-
According to Appriss and the National Retail Federation, return scamming is on the rise, costing US businesses more than $18 billion per year.

Professional return fraud groups are now promoted on web forums everywhere on the web.

To safeguard themselves from serial returners and consumer abuse, retailers should take specific countermeasures, such as improving product information and leveraging technological innovations.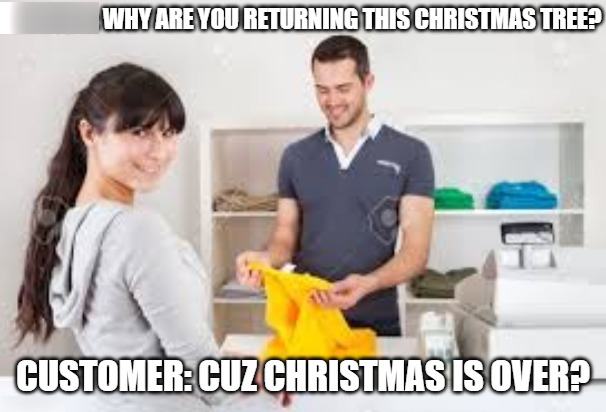 Such wrong practices are termed Fraud.
Fraudsters purchase the product, use it a couple of times, and return it. Such practices would damage the essence of your online business, turn you into losses, and scatter your business.
And so,
Rules and regulations in your return and exchange process become a must-have for eCommerce stores to keep your refund and exchange under strict scrutiny and avoid every possibility of wardrobing. This set of rules is known as the return and refund policy.
Now, What's A Good Refund & Exchange Policy?
A good refund and exchange policy filters out the fraudster cases and gives no space for wrong practices, and at the same time, does not cause any difficulty for valid refund and exchange requests.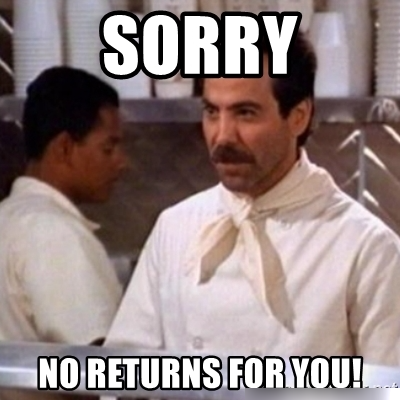 Designing such rules and regulations is challenging and equally important for your business.  And, this article has the sole purpose to help you with tips and the process to write down one such effective refund and exchange policy for your online store.
Note: If you are dealing with GDPR compliance issues, do add this GDPR WordPress plugin to your website.
Now, that you are accustomed to the concept of a refund and exchange policy, we can understand how to set up one for your eCommerce store!
Set Up a Return Refund And Exchange If You Haven't Done It Yet
If you have recently started your online store business, or are planning to start an online store soon, then setting up return and exchange is equally necessary as setting up the checkout flow or other fundamental processes.
On average, 80% of people in the U.S. and the UK check the Returns & Refund Policy on a retailer's website before making a purchase.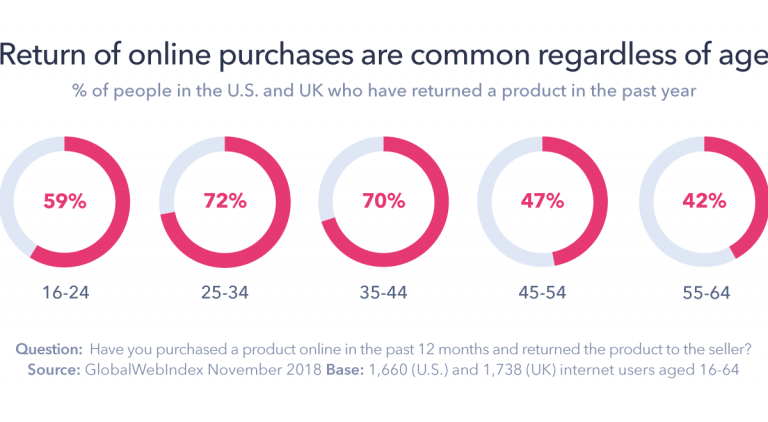 Source- GWI (Global Web Index)
Note: For those who are happy with their existing return and refund feature can skip this section and continue reading about the refund policy. But, if you are facing any discrepancies with your existing refund and exchange solution for your store, continue reading.

Why? 
Well, it is designed in such a way that an eCommerce owner can manage all the return refunds and exchanges in a systemized manner. The interface is very simple, and user-friendly both for the administrator and the customer! It is an all-in-one solution for Return, Refund, Order Cancellation, Exchange, and Wallet systems, with an exceptionally efficient communication system between the Admin and the Buyers.
Are you interested? 
Get WooCommerce RMA For Return, Refund & Exchange Now!
The plugin allows the Admin to do full Customization that helps to smoothen the process with individual tastes and Business Needs.
I am sure that the above resources are more than enough to easily get you started with a return refund and exchange for your WooCommerce store. And, if there are still any issues while setting up the plugin, the support team is ready to help you 24/7 for the premium users.
eCommerce Return Statistics and Information
Customers are increasingly choosing to shop online as the online industry expands. There will be more returns, exchanges, and refunds as a result of this.
(Source: ReadyCloud)
The average ecommerce return rate is estimated to be 20-30%.
The majority of eCommerce returns (60%) are due to fit or quality issues.
30% of all returns are due to customers changing their minds.
The cost of eCommerce returns is estimated to be $400 billion annually in the United States.
The majority of customers (60%) feel that a good returns policy is important when making an online purchase.
The average cost of processing a return is estimated to be between $10 and $20.
40% of customers who return items will make another purchase.
60% of customers are more likely to purchase from a website with a good returns policy.
Millennials are more likely to return items than other generations.
The majority of customers (75%) expect free returns.
No matter what sector of the economy your company operates in, you should anticipate consumer requests for returns, swaps, or refunds. Increase customer trust by including a detailed return policy with refund and exchange provisions on your website. This safeguards your company from fraudulent returns.
Having a perfect return refund and exchange for your online store is very necessary for customer satisfaction. A satisfied customer has a higher lifetime purchase and thus benefits the growth of the business in the longer run.
Activation and Installation of the plugin are easy and quick. Still, if you face any issues, you can follow the step-by-step guide using the full dedicated article on it.
Complete Setup For Free & Premium Return Refund and Exchange
Learn about the plugin and see it in action with our plugin's personalized Demo. Before you spend your money on a plugin, be sure you're sold on it.
Thus, by providing the return, refund, and exchange facility to your buyers, you may lose a sale but you win a customer that will have a much longer and higher purchase possibility than a few returning sales.
Frequently Asked Questions for RMA Return Refund and Exchange
Q1. Can the admin put some customized refund & exchange policy according to the site on the refund & exchange form?
Ans: Yes, the admin can put customized refund & exchange policy by catching in WPSwings -> RMA Setting -> Refund/Exchange Tab ->> and enable the refund/exchange rules in the Appearance section and put the matter in the description box given as refund/exchange rule editor.
Q2. Can the admin add some fees for the refund & exchange process?
Ans: Yes, the admin can put some extra fees in the refund & exchange of a product by moving in WPSwings -> RMA Setting -> RMA Policies Tab >> & then set the Refund/Exchange including tax policies accordingly.
Q3. Does ShipRocket operate with your RMA plugin?
Ans: Absolutely, Shiprocket is compatible with our RMA plugin. Please enter the username and password to configure and authenticate your account for this in the Plugin settings >> Integrations Tab >> Shiprocket Integration.
Q4. Can the admin set a form for the COD Orders to collect the customer's bank details?
Ans: Yes, the admin can collect the customer bank details in COD Orders by enabling the checkbox to Show Bank Details Field For Manual Refund from WPSwings -> RMA Setting -> General Setting.
Before moving to some great policy writing tips, let's check a real example of truly good eCommerce return policies.
Real-Life Examples Of Refund-Exchange Policy
The majority of online stores have a return policy as their benefits are undeniable.
When writing your refund policy, taking examples from other stores for guidance is a very good practice. And, so we bring you an inspiring example. If you feel limited by one example, check out the footer of some of your favorite online stores.
Man Crates
This is an awesome example of a refund policy that I appreciate and after reading you would too.
Man Crates is an online store that sells men's gifts. Its refund policy is so convincing and easy that anyone can fall in love with this store.
Here's the return policy.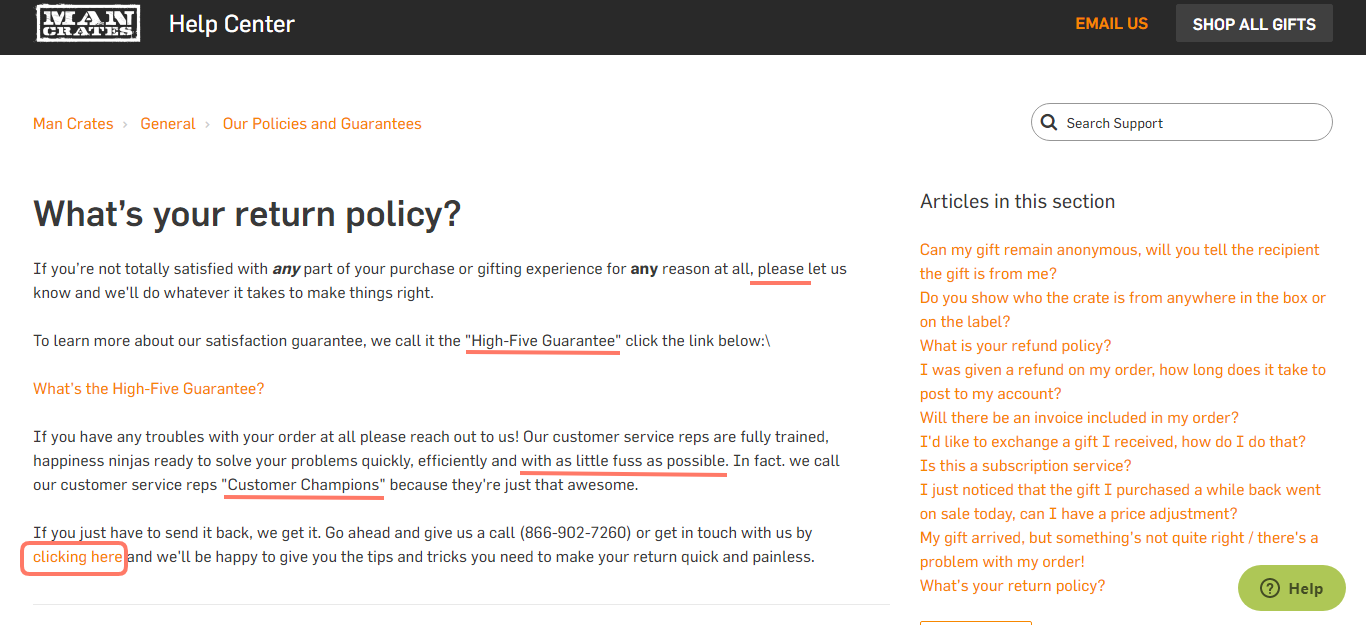 They are kind and helpful with their words. Their refund policy is supportive and short, and they handle their refund and exchange directly through emails or calls. "Customer Champions" is what they call their support team.
They also guarantee return satisfaction with their concept of the "High-Five Guarantee". Here's what it means.

I could sense the level of confidence and satisfaction a reader of this refund policy will get. And, so, this is not just a refund policy page but a perfect sales promotion and customer retention page.
How to Proactively Reduce Returns?
That's an eCommerce Pitfall, never ending Returns and Refunds….
It could be worthwhile to offer a few suggestions that could perhaps help with reducing the overall return volume before moving on to how to write an effective returns policy that will aid in customer retention and raise brand loyalty.
The first step would be to give as much information as you can about your products, along with as many detailed, high-quality images and, if possible, client reviews. A useful addition to that may be video tutorials that display and illustrate how to use the product.
Opt for a Service That Will Help Your Process Your Return Refund Policy on the Mark
Utilizing the proper services for processing returns and exchanges will help you save time and money on the fulfillment and operations side, just as having a formal return and exchange policy tool will help reduce some of the hours spent on customer care.
1. Free Return Policy Generator ~ Shopify
Shopify provides businesses with the policy generator as a free tool. In other words, using it is free. Shopify provides a number of additional free policy generators—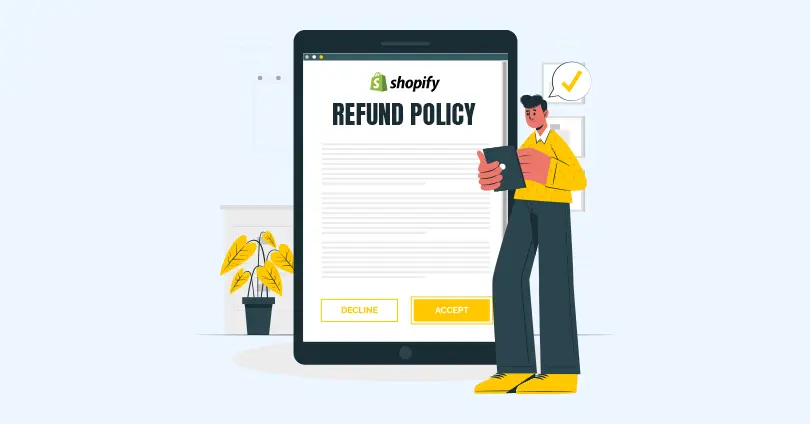 Terms and Conditions, Privacy Policies, Refund Policies, etc.
2. Return & Refund Policy Generator ~ Terms Feed
Generate a Return & Refund Policy for your eCommerce store using Return & Refund Policy Generator from TermsFeed. A Return & Refund Policy is useful to inform customers about your requirements regarding returns and refunds.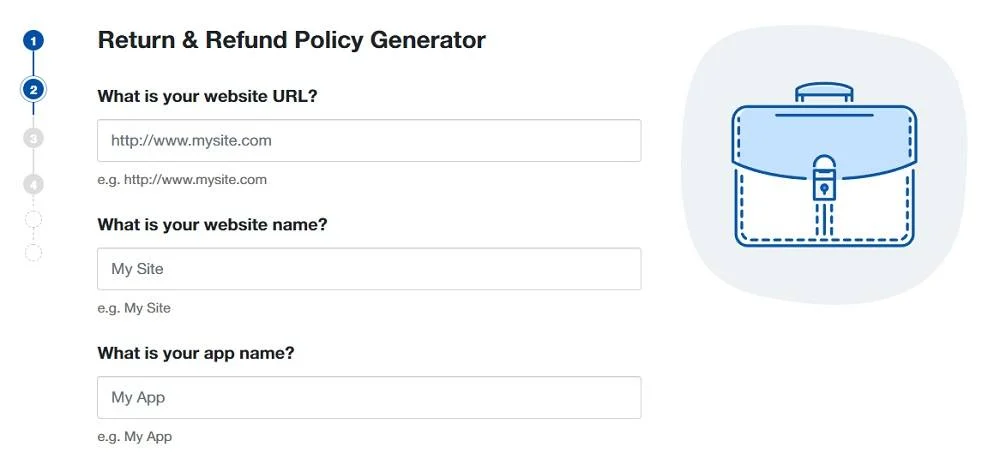 You can easily Download the Return and Refund Policy as HTML, DOCX, Plain Text, or Markdown. Edit as you wish. Update anytime.
3. Free Refund & Return Policy Generator ~ Termly
With the help of this free tool from Termly, you can create a refund and return policy template for your online store, SAAS, or eCommerce website.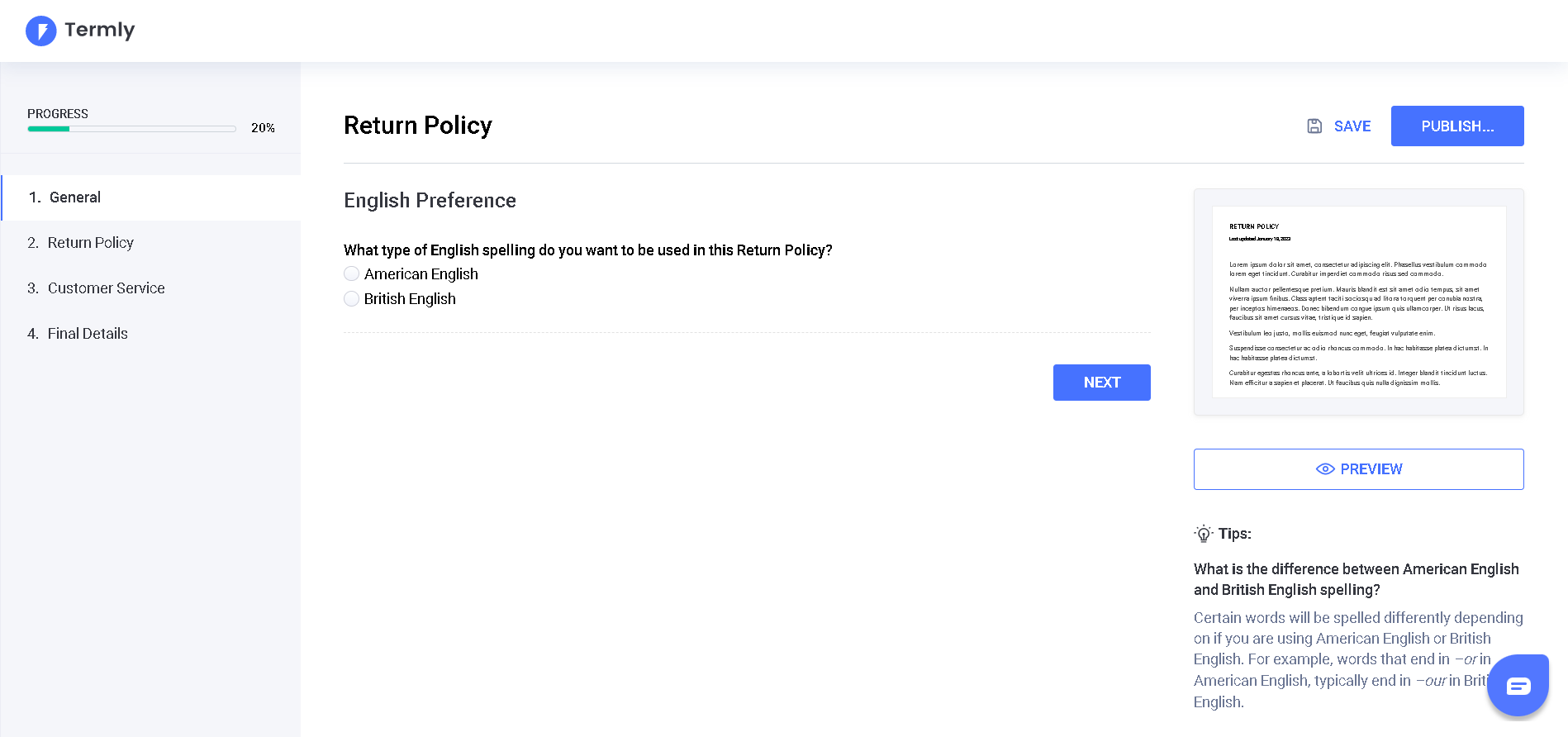 No matter what size, kind, or location of the business you run, this return policy template generator customizes each policy, particularly to your platform.
4. RMA Return Refund & Exchange for WooCommerce ~ WP Swings
Used by numerous eCommerce stores, Return Refund & Exchange for WooCommerce is a return and exchange solution that easily integrates with your existing eCommerce system.
This plugin offers the merchant or the store owner the option to set up the number of protocols based on the rules followed by if/else cases under the setting to be carried over as the refund policies as well as complete reverse logistic mechanisms for your store.
For more clarity in the process refer to the tab screencast attached below-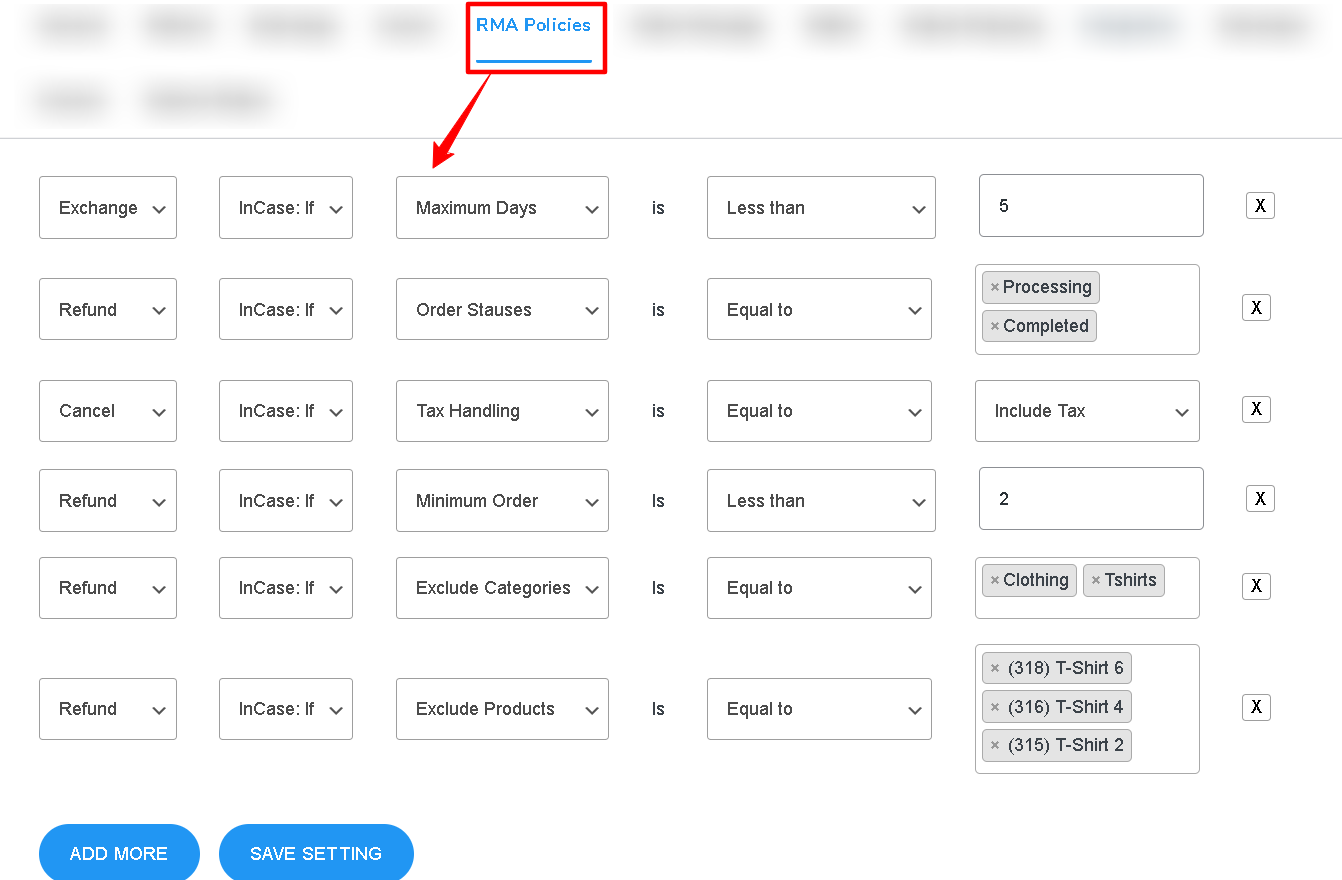 This would also use the WooCommerce product tags to allow businesses to set up customized rules for returning and exchanging certain products as well as create and customize their refund, and return policies on their own.
5. Free Return & Refund Policy Generator ~ Privacy Policies
Generate a Return & Refund Policy to be transparent with your customers and win their trust when they purchase from you.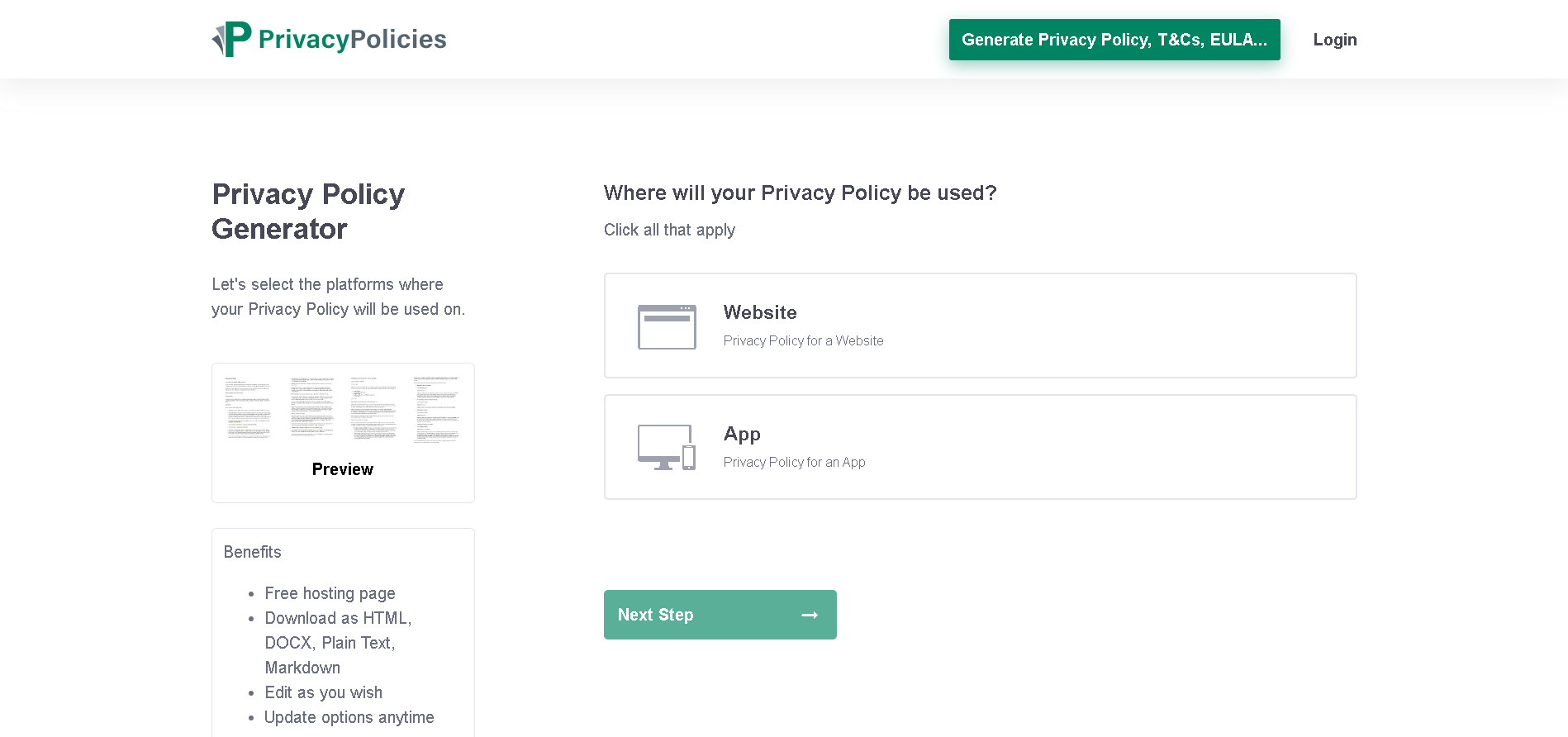 A clear and easy-to-read Return & Refund Policy for your eCommerce store has been shown to increase store sales.
Tips To Write A Perfect Return Exchange Policy
Writing a refund and exchange policy for your online store requires good research, as that directly affects your revenue. The tone, the flow of sentences, and the choices of words and phrases; all matter.
These tips which I am going to reveal now will help you to write down a perfect refund and exchange policy for your online store.
Let's get started:
Pro Tip: Take Refund and Exchange As An Opportunity To Win Customers
Buyers returning the products back to the store is not a good trait for your business. It's in fact against your business. An excessive amount of refund and exchange requests can harm your business.
However, it's hardly possible to eliminate refund and exchange requests from an online store. Particularly the festive season sales, when the refund and exchange rate climbs to a peak of about 30% of purchased products. And, if you dare to remove the RMA facility, you will ultimately lose your customers.
So, the best practice is to take your returning customers as an opportunity rather than as a burden. You could upsell or cross-sell, or simply give them a pleasant experience that brings them back for their next shopping. Stay on your customer's side, and try to give them the most convincing refund and exchange.
At the same time, your refund and exchange policy is the easiest and the most appropriate way to restrict improper return and exchange requests and protect your business from wardrobing cases.
1. Make It Easy and Simple To Understand
Buyers need immediate solutions for their refund-related problems.
A simple and easy-to-understand written return policy can give quick solutions and hence they naturally develop a positive preference for your brand.
To make it simple, you can include tables, as shown below.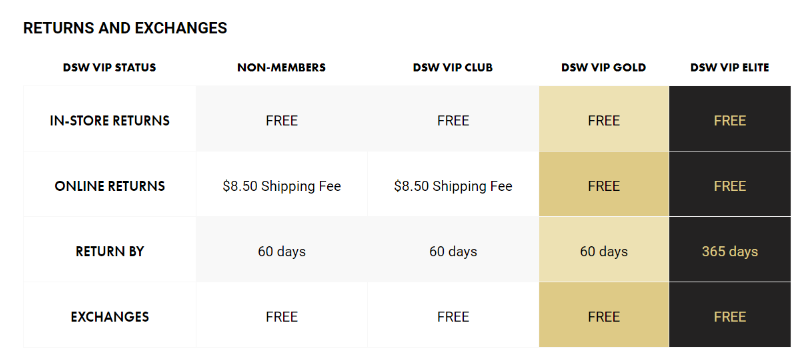 Furthermore, including Frequently Asked Questions (FAQ), makes it really quick for buyers to jump straight to those questions whose answers they are looking for.
2. Be Original. Avoid Copy Paste
Some beginners make mistakes copying refund and exchange policy pages (or even other similar pages like privacy pages) and making required changes. This can be risky.
The best is to write down a purely dedicated refund and exchange policy for your brand, that has traces of your brand identity and tone.
3. Using Refund Policy Templates
Definitely, Writing Policies, Rules, Regulations, etc., isn't fun.
Is there any way you can do it quickly and nicely?
Yes! Templates.
Using templates, specific to your niche, product, and store type can help quickly get the work done. Terms feed return and refund policy template generator can help you with that. All you have to do is to fill in the details about your business and it will generate an  eCommerce refund and exchange policy for you.
Sample Refund / Return Template (Utilize It if You Find Relevant to Your Business Type)
Return / Refund Policy [Text Format]
Last updated [Date]
We appreciate your purchase. We really hope you enjoy your purchase. However, you may return your item to us for [a full refund], [store credit], or [exchange] if you are not entirely pleased with it for any reason. For further details about our refund and exchange policy, please check the section below. For further details about our return policy, please check the section below.
RETURNS
Within [#] days of the purchase date, all returns must be postmarked. All returned goods must be brand-new, unopened, and complete with all original tags and labels.
RETURN PROCESS
For a Return Merchandise Authorization (RMA) number to return an item, contact customer care through email at [Email Address]. Send your return to the following location after getting an RMA number, placing the item securely in its original packaging and [with your proof of purchase/the provided return form/other].
[Company Name]
Attn: Returns
[RMA #]
[Street Address]
[City, State ZIP Code]
[Country]
[We'll cover the cost of return shipping or reimburse you. Please be aware that any return shipping costs are your responsibility. We strongly advise you to mail your return through a trackable method.
The prepaid shipping label that was included with your delivery may also be used. We'll cover the cost of return shipping or compensate you for it. Please be aware that any return shipping costs are your responsibility. We strongly advise you to mail your return through a trackable method. The prepaid shipping label that was included with your delivery may also be used. The cost of delivery will be deducted from your refund if you utilize the prepaid shipping label.]
REFUNDS
We will process your [return] or [exchange] after receiving your return and evaluating the condition of your item. Please give us [#] days to handle your [return] or [exchange] once we get your goods. Depending on your credit card company, refunds could take 1-2 payment cycles to reflect on your statement. When your return has been processed, we'll send you an email to let you know.
EXCEPTIONS
The following items cannot be [returned] or [exchanged]:
[Item]
[Item]
[Item]
To arrange a refund or exchange for any defective or damaged products, please get in touch with us using the information below.
Please Note
All returns costing more than $[Dollar Amount] will incur a $[Dollar Amount] restocking fee.
Products on sale are FINAL SALE and cannot be exchanged.
[Other]
QUESTIONS
If you have any questions concerning our eCommerce refund and exchange policy, please contact us at:
[Phone Number]
[Email Address]
Although it is an easy solution, it has no personal touch to it. So, make it worth adding your own ideology to it. Because you know about your brand more than anyone else.
4. Draw a Clear Border Between Refundable, Non-Refundable Products, and Services
Your refund policy page must clearly enlist the product or type of products that are refundable from the non-refundable products. This clear distinction should be based on fair and logical thoughts.
Across the globe, have consumers who make purchases online bought replacements for the goods they've returned?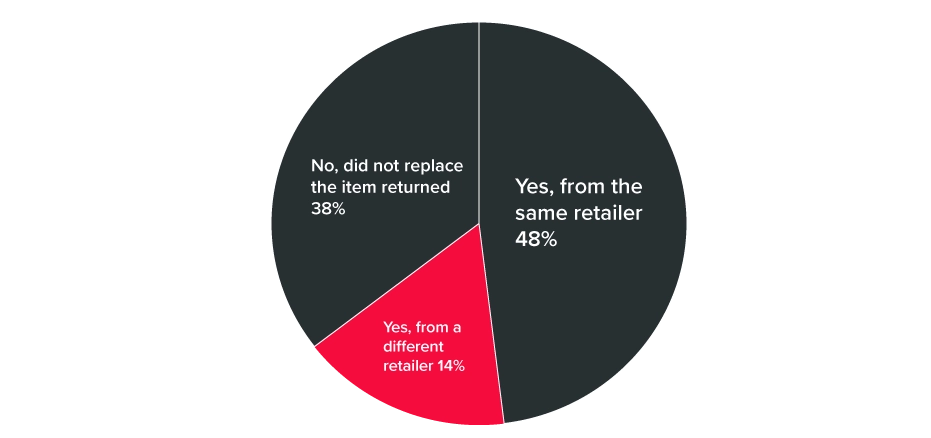 Source– Insider Intelligence
For products that are costly and fragile must be refundable, while other products such as eatables, personalized products, gift cards, etc can be listed out of refundable categories.
5. Mention the Time Limit Clearly
This is a critical point. This is the first thing shoppers check in the refund and exchange policy And, so you must mention this as early as possible.
Here's an example.

6. Who Will Pay The Cost Of Return
Your refund and exchange policy must clearly mention the cost handling of the product refund. The best practice is to provide free return shipping.
But, if you have planned to charge anything from your customer for the return shipping, then the refund and exchange policy is the best place to mention it.
7. Focus On Your Strong Points
Don't make an all-around weak refund policy. Always have at least one strong point that you can use to hook your shoppers. For example; SmartBuyGlasses offers 100 days of eCommerce return policy, which is really a good attraction for shoppers.

And they have prioritized this feature right at the beginning of writing a return policy to hook their shoppers immediately.
But, as you read their guidelines further, you would realize that these 100 days of liberty is not as useful as it might seem. The customer will have to pay all the charges incurred in the returns delivery, and several other restrictions.

Further, the product must be unused, with original packaging, tags, and manufacturer seal. And, the products are checked on return and if found used, the refund will not be made.
With so many restrictions, 100 days of refund and exchange policy can't be much celebrated.
8. Don't Blame Your Buyers For Making Mistakes
Never blame your buyers for making wrong purchases which leads to refund requests. Be neutral about it. Because there is no fixed reason for a return request for unconvinced products.
Sometimes it's buyers, sometimes it's retailers, and other times it's just a product that does not suit the buyers. So, focus more on solving the solutions of your unhappy customers instead of blaming anyone for it.
Essential Tip- Make Sure Your Return & Refund Policy Is Easily Accessible
Before making a purchase, more than two-thirds of potential shoppers will review your refund and exchange policy. Customers might just as well ignore a policy if they can't discover it or comprehend it. Once you've created a transparent return policy, ensure the guidelines are easily accessible.
This entails posting the policy in as many locations as feasible. Your terms should be readily available from every page of the website (including checkout), as well as on invoices and other customer records, receipts, and even packaging.
Let's dive deep into this and let you understand well the crucial areas where you can display your refund and exchange policy….
Where to Display Your Refund Policy?
After writing down one such amazing refund policy for your online store, you definitely will not want it to hide from your customer's reach.
The obvious question is how to make it more discoverable to your buyers.
And for that, the refund policy needs to be exposed at the most relevant places on the website where your buyers are most expected to look for.
Here's a list of the most appropriate places where you must display your refund exchange policy.
1. Footer Of Your Website
Add your refund policy page in the footer menu of your website along with other customers' services. Since the footer menu is visible on all pages of your website, hence it's a universal option for customers looking for a refund policy page.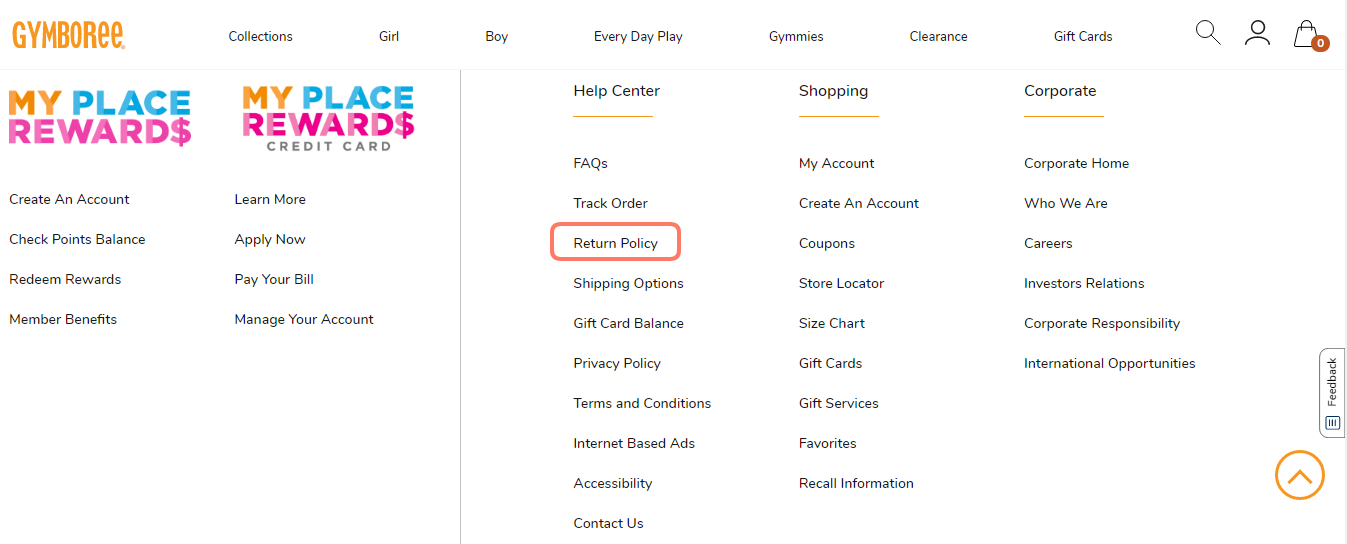 2. The Product And Cart Page
Buyers on the product page are closer to the purchase decision. And, if they knew that the product is refundable, it would encourage them to go for purchase.
Thus, the link to the refund policy page on product pages helps to improve customers' purchase decisions.

3. FAQ Page
Frequently Asked Question (FAQ) is the common section that shoppers or visitors look for when they face any issue. Including the refund policy page link to your FAQ can be a good way to help your shoppers easily find your refund policy and solve their related queries.
Why Are FAQs Needed Your Any eCommerce Srore
4. Checkout Page
That's really good hard work that has brought a shopper to the high-converting checkout page. And, losing such customers just because he failed to find out your refund and exchange policy is worse.
So, clearly display your refund and exchange policy on the checkout page of refundable products. Encourage their purchasing action by telling them that they have a return and exchange facility.
FAQs Regarding eCommerce Return and Refund Policies
As was already mentioned, having a good Return & Refund Policy in place can benefit you—
lessen the general expense of returns and replacements
Boost client retention
might perhaps boost sales
The following list of frequently asked questions may be helpful to you—
Q1. Does my Return Policy need to be in place?
Even though there isn't a regulation mandating online retailers to have a return policy, you might need one if you want to uphold the terms and conditions for returns and refunds.
For instance, a shop must accept returns and issue refunds for all goods returned within 30 days after purchase in the state of New York if the retailer does not present a Return & Refund Policy. You must draft and post a return policy with your own unique conditions if you want to restrict this in any manner.
Even if it is not required by law, having a refund and exchange policy is still a good idea because most customers prefer to buy at businesses that have a Return Policy that is prominently displayed. This is crucial when shopping online because buying something without first seeing it in person increases the likelihood of problems.
You can be at the mercy of state regulations governing return and refund policies if you don't have a return policy. Additionally, you risk alienating prospective clients who worry that they won't be able to return a product if they need to or want to.
Q2. What advantages do Return Policies generally have?
The existence of a return policy has two primary advantages—
First, you will have discretion over the terms of your returns. Some laws demand that you give a minimum duration within which you will accept all returns if you don't establish a return policy.
Second, you'll acquire the trust of prospective clients and increase your sales. Customers are much more inclined to transact business with businesses that offer and advertise a return policy.
Q3. Which details really need to be included in my refund policy?
Include the following details in your return policy–
How long do customers have to request a return?
The best way to start a return.
Return policy conditions (must be unworn, in original packaging, etc.)
Limitations on returnable goods (no returns on software or undergarments, etc.)
In what format do you issue refunds? (the original form of payment, store credit only, etc.)
Who pays the return shipping fees?
If you deduct any restocking fees or other costs from returns.
Q4. How can I make my Return Policy noticeable?
Along with any other significant legal agreements and policies, your return policy should be linked from your website's footer.
A brief summary of your return policy with a link to the complete policy should be added to your Terms and Conditions agreement. The final checkout screen might benefit from having a link to your return policy so customers can evaluate it one last time before committing to a purchase.
Q5. Should I seek permission for my return policy in order to implement it?
To implement your return policy, you do not need to obtain consent. Your policy will automatically become enforceable once it is posted.
However, if you want to go above and beyond to make sure all of your bases are covered, you can include a checkbox that is not checked that customers must check to indicate that they "Agree to your Return Policy" on your eCommerce store's final checkout screen.
Furthermore, since your Refund Policy is a part of the Terms and Conditions, you automatically receive assent to it by including it in the agreement and asking clients to agree to be bound by your terms.
To Sum Up…
Having a perfect and well-written return policy for your online store is a gem for your business.
It helps to not just manage the return and exchange but also build a strong customer relationship, improve customer experience, and the overall impact of the growth of your online store.
The above tips will help you to write one such refund policy. At last, caring for your customers is caring for your business.
I would like to know your opinion on the importance of a refund and exchange policy for an online store. The comment section is waiting for you.