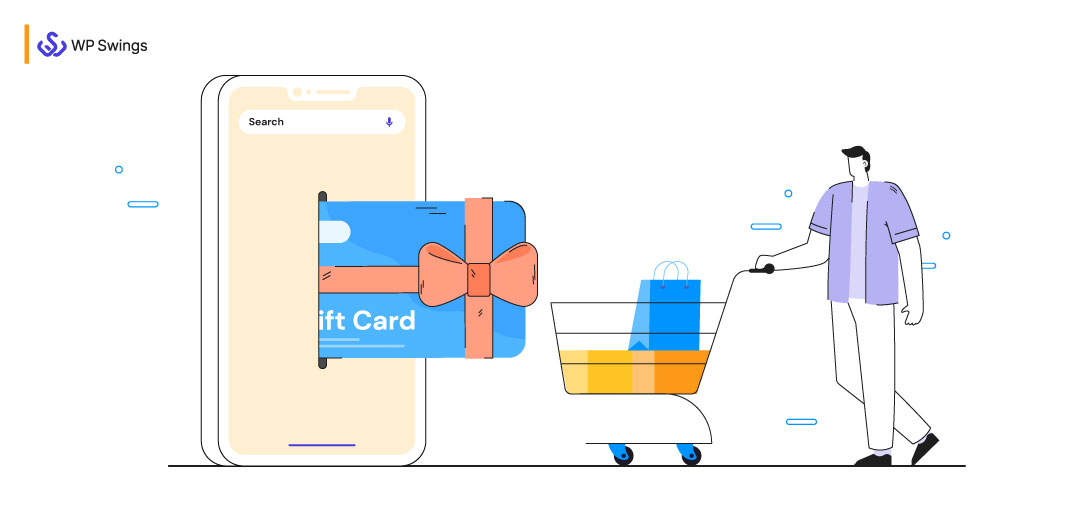 Digital gift cards have proven their worth time and again. Even in the tough times of the pandemic, Gift cards became the hope of many businesses standing on the verge of falling apart.
It surprises me to see the increase in the sales count and sales rate of digital gift cards during both the COVID-19 pandemic and post-pandemic markets. It seems as if people have high hopes to get their business on track by selling digital gift cards.
The stats and survey reports have always emphasized the importance of selling gift cards for eCommerce websites. As shared by mageplaza.com, the global market size for gift cards is expected to rise to $510(billion dollars) by 2025.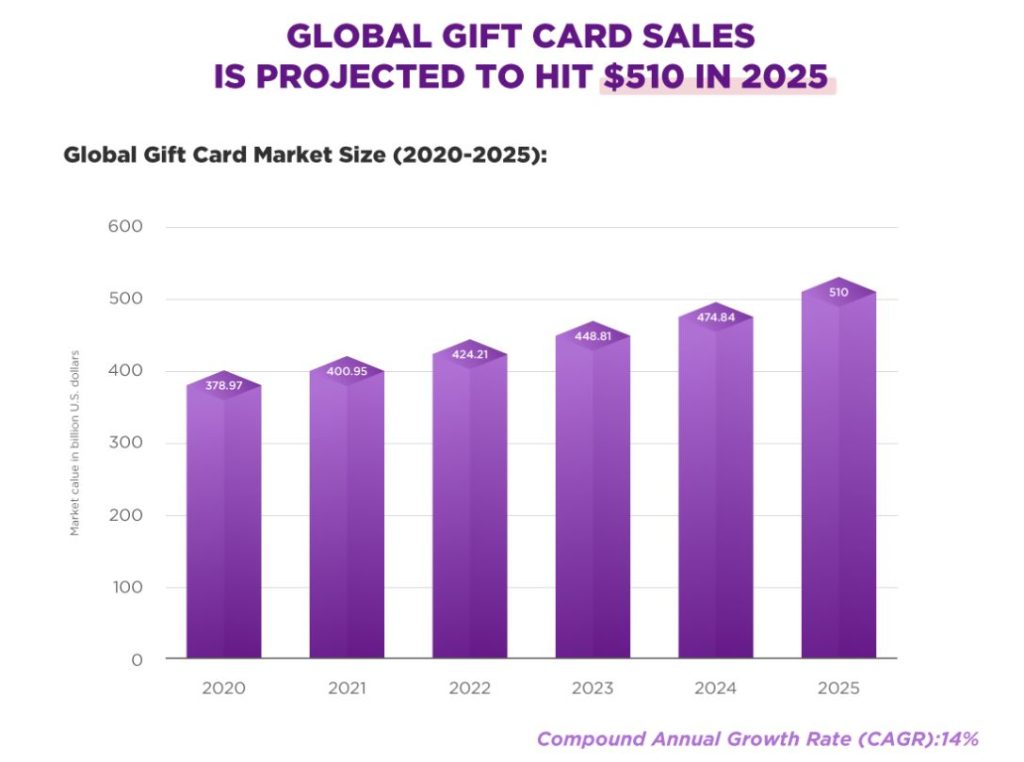 Digital gift cards business can be leveraged as a marketing tool for your business. Moreover, digital gift cards are not limited to sales during the festive and holiday seasons. They work all around the year because there are birthdays, anniversaries, and different celebratory events.
Thinking about it, you're bound to lay your focus on what benefits do digital gift cards offer to have such popularity among both sellers and customers.
Well, the next section will guide you through the simple yet powerful benefits of using digital gift certificates for your eCommerce business. Read on.
10 Benefits of Selling Digital Gift Cards on eCommerce Store
Digital gift cards benefit eCommerce businesses in multiple ways. They are –
1. Acts as Sales Booster
Digital gift cards are the eCommerce solutions that every customer wants to avail of. One of the benefits of digital gift cards lies in their power of being a sales magnet.
If you are sharpening your gift card marketing strategies and thus want to present one to your customers then go for it.
After receiving the gift cards, most of the recipients are likely to come to your store to redeem their gift cards. They often end up purchasing more than the gift card value.
So, gift cards are a two-fold sales booster. First, selling gift cards adds to your revenue, and second, the recipients also buy more products while redeeming their cards.
2. Attracts New Customers
As we already said in the first point, digital gift cards are sales boosters. But, the major reason for being a sales booster is that gift cards also generate new leads for businesses, attracting new eyes with new gift certificates, i.e., they attract more and more new customers.
Customers purchase digital gift cards for their special ones usually. There is a high possibility that the gift card receivers might come across your store for the first time, which would add new customers to your store. Especially during the holiday season, you can add plenty of new users and expand your business.
You can also wake up your sleeping customers with attractive gift card offers, which is one of the most challenging tasks for merchants.
Sell WooCommerce Digital Gift Cards with WP Swings
If you are interested in creating & selling attractive gift cards for free then, then please try our WooCommerce gift cards plugin.
3. Builds Brand Identity and Brand Value
Here is a marketing rule to follow: What's Seen Is Sold.
Gift cards carry your brand wherever they go. Think of it as an extension of your store. Gift cards in the form of gifts reach so many people that they otherwise wouldn't through conventional marketing methods.
Gift cards are even resold sometimes, which furthers their reach. So, all the recipients become aware of your brand.
Many businesses prefer offering gift cards as their pre-launch strategy to build the buzz of their brand/product/service, etc.
Also, the digital gift cards purchased by your customers showcase their love for your products/services that they're willing to give your gift cards to their loved ones. This adds up to your brand value too.
4. Boosts Brand Recognition
Isn't it obvious that customers do remember the name of the brand when they get an exclusive and/or intriguing offer that they can't resist?
Selling digital gift cards in your eCommerce stores provides you with a similar opportunity to force your customers into recognizing your brand in the simplest manner possible.
Besides promoting your digital gift cards is far easier than physical ones. You can use various mediums like blogging, video marketing, social media, etc, to promote your gift cards and boost your brand recognition.
5. Sell Anytime, Anywhere
The good thing about selling digital gift cards is that you don't have to be present in front of your customers. You can sell them directly on your website, which means that you can sell gift cards anytime, literally.
Also, digital gift certificates are shared over emails and different messaging platforms, implying that your customers can get them sitting at their home or while roaming around.
All customers have to do is to buy & share the gift cards with the recipient via email, messenger apps, or simply download them in pdf format.
6. Improve Customer Retention
Most gift card programs offer the convenience of spending the gift card amount as and when they wish to. Though, some sellers restrict the use of gift cards to two or three times. But that works wonders for the gift card sellers.
Why?
Because this method ensures the repeat sales rate for the customers having a gift cards amount balance. Hence, digital gift cards do boost the customer retention rate.
7. Seasonal Sales Promoters
The holiday season is the main part of the year that witnesses the rise in sales in every business sector.
It is like a rejuvenating period for every business. Therefore, selling gift cards during the festive seasons provided a power-pact boost to your store's performance.
The holiday season is when gift cards are in peak demand. As you already know, gift card helps people avoid the stress of selecting gifts, and thus they are popular during the festive season.
8. Builds Customer Loyalty
Having loyal customers is a blessing to any business. And a digital gift card program is also a type of customer loyalty program that is highly adopted by major eCommerce platforms today.
Gift cards are robust and the ability to add that personal touch while creating gift cards adds up to your customer's interest in your business.
You can reward your customers or visitors with gift cards upon the completion of certain actions or tasks and motivate them to purchase more from you.
Offering gift cards can be a great tool to engage users and reward them for their positive behaviors. It can lead to lasting seller-buyer relationships.
9. Convenient Gifting Option
Digital gift cards are the most convenient last-minute gifting option for late shoppers.
Even for corporate giftings, they're becoming a preferred choice as gift cards are easy to redeem with complete independence of choice to the user.
Some sellers even sell Gift cards with customizable designs and prices, adding further convenience for customers, which is not possible with any other form of gift-giving.
10. Support To Small Businesses
Digital gift cards are very popular in the hospitality and spa industry. Many restaurants offer gift cards to their loyal customers as an appreciation for their loyalty.
As the effects of the pandemic recede, many small businesses have come forward with a plan to offer gift cards to their customers to get back on track and cover up the pending targets as much as possible. Also, digital gift cards bring in instant cash flow when offered to regular customers.
Digital gift cards are very versatile and have the potential to benefit businesses in many more ways depending upon the creativity of the sellers and marketers. Furthermore, we have listed a few ways that are most commonly preferred to sell gift cards on an eCommerce website.
Ways to Sell Digital Gift Cards to Avail Maximum Benefits
Time and again, you have got one question that has kept you bothered 'How to sell the digital gift card in your eCommerce store?'
By the way, a digital gift card is one of the easiest forms of gifting solutions through which you can make money. And running a digital gift cards program is easier when done in the following ways –
1. Upsell With Digital Gift Cards
At least, gift cards have already been the best program for retailers when it comes to introducing upsell in the system. While providing upsell, you can channel the complete cycle by incorporating a gift card at the end of the cycle. So, now you can say that there are many benefits of giving gift cards, and here is the catch for you!
2. Pricing Digital Gift Cards The Same As Product
As said in our previous blogs, you can shelf out your digital gift card as your whole-sole product like others. Any buyer can come and buy a gift card like he/she tends to buy other products from your store. And here, you can personalize gift cards according to your store's ceremonies like Independence day, Halloweens, Black Friday & Cyber Monday, and more.
3. Display Your Gift Card Offers
The benefits of digital gift cards also count on displaying gift card offers over the site or using them during marketing. During gift card marketing strategies, you can mark upon by displaying the digital gifting solution at the perfect space of the site. It can be header, centrally positioned, or even on the pop-up.
4. Customize & Personalize Your Digital Gift Cards
Digital gift cards always get purchased based on their design and looks. Moreover, giving a choice to customers to add personalized messages increases their interest in your gift cards. But, you still need to provide gift-ready certificates in your eCommerce stores. There are multiple business gift card templates available in the market and all you need to do is to pick the right one for your business.
5. Digital Gift Cards for Referrals
Be it, presenting a gift card or extending for referral, digital gift cards have a maximum number of benefits. You can seriously count upon the advantages of gift vouchers by extending this facility to your customers and letting them be your patron for the world outside. Gift cards come with many plus points and sharing them in your referral strategy can prove to be a game-changing decision in the growth of your business.
Summing Up!
Gift certificates will be the ultimate gifting medium in the days to come. With the advancement of chatbots, if you are thinking about when to provide a digital gift card, then no place can be better to settle gift cards to get used for services and products asked for.
The benefits of digital gift cards stand equivalent to the business criteria you are catering to. But, be it any business like service based or product based. Gift cards will become the most important things to bring the maximum from both sectors.
Happy Shopping Prevails!