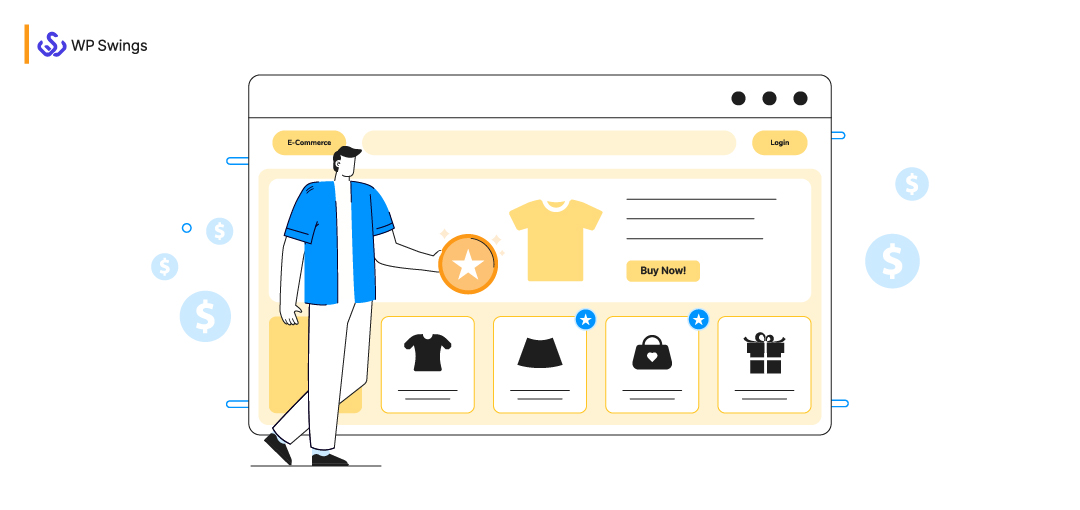 Did you know that Customer satisfaction is key to having happy customers, but not all happy customers are your loyal customers? Not all happy clients will return back to you? But, only loyal customers will!
As an eCommerce store owner or a marketer, you continuously aim to make your customers feel special and happy. Henceforth, you consistently work hard to plan ways for the same. But is customer satisfaction enough to achieve your growth targets and loyal customers?
According to Jeffrey Gitomer, "Customer satisfaction is worthless. Customer loyalty is priceless". Jeffrey doesn't lay emphasis on ignoring customer satisfaction, rather he emphasizes more on having loyal customers.
"Loyal customers, they don't just come back, they don't simply recommend you, they insist that their friends do business with you." – Chip Bell
But how to build a loyal customer base is still a dilemma for the most. This is where the concept of the eCommerce loyalty program moves in.
**Please Note: Customer Loyalty Program or eCommerce Loyalty Programs is often used interchangeably.
The Customer Loyalty Program?
A Customer Loyalty Program is a connection between a brand and a customer. When the company offers exclusive products, offers, discount coupons, promotions, or pricing; and in return, the customer agrees to "go consistent" with your brand through repeat purchases or engagement.
Customer loyalty is the outcome of a confident customer experience, consumer satisfaction, and the value of the product the customer receives when he transacts.
Since it is just the mutual connection between the customer and merchant/brand, the connection can be achieved via other means too. So what is the whole deal of having and implementing the customer loyalty program?
That is so because the Customer Loyalty Program is a definite and elaborative marketing effort. This program is designed with the aim to provide incentives and rewards to the customers showing loyal buying behavior. Successful loyalty programs are designed in order to motivate the targeted audience to return, shop, and trust the efforts of the marketer. The eCommerce loyalty program, therefore, holds importance for the merchants as well as the customers.
In a simple phrase, "Customer Loyalty for eCommerce businesses is like a potion of longevity".
The Importance Of eCommerce Customer Loyalty Programs
The Customer Loyalty Program reflects its importance and needs well through the current market statistics. These data and the information demonstrates how difficult it is to get to hold on to the existing customers while attracting new ones.
Let's check out the following statistics that remark on the importance of eCommerce loyalty programs.
82% of companies agree that retention is cheaper than acquisition.
75% of consumers prefer shopping from companies that offer rewards.
56% of customers stay loyal to brands that understand them
65% of a company's business comes from existing customers.
Increasing customer retention by just 5% boosts profits by 25% to 95%.
The probability of selling to an existing customer is 60-70%. (Altfeld)
The Pareto Principle shows 80% of your profits come from just 20% of customers. (Forbes)
58.7% of internet users believe earning rewards and loyalty points is one of the most valued aspects of the shopping experience. (eMarketer)
95% of loyalty program members want to engage with their brand's program through new and emerging technologies. (Bond)
72% of US adults belong to at least one loyalty program. (Oracle)
69% of US consumers say customer service is very important when it comes to their loyalty to a brand. (Microsoft)
93% of consumers are more likely to make repeat purchases at companies with excellent customer service. (HubSpot)
There are infinite instances of data that show the value of having customer eCommerce loyalty programs implemented for businesses.

Well, the loyalty program holds a set of benefits that many would argue in favor of implementation.
Benefits Of Customer Loyalty Program
Increase in revenue
Increases sales
Makes customers feel more valuable
Gathers user information and valuable data
A mode of interaction and communication between the business and customers
Measure customer loyalty through engagement
Improves customer retention while attracting new customers
Constant improvements result in constant growth

Since you must be aware, How beneficial it is to build a loyalty program for eCommerce, you must be looking out for where to start?
But before you plan to start, there is one thing that you must know.
Not every business can employ the same loyalty program!
Therefore, considering your own business requirements, consumer behavior, and industry practices, you may adopt any type of Customer Loyalty Program from the list below.
Types Of Customer Loyalty Program
Jump to your favorite tip using the index above.
1. The Points & Rewards Program
The easiest and yet involving program. The Points and Rewards program is the most used program out of all customer loyalty programs. In this program, all you have to do is assign points to your customers for each action they perform on your site.
Now, awarding loyalty rewards to your customers on the basis of loyalty points they have earned from their earlier purchases will motivate them to engage and shop more.
The more you shop, the more you earn.
Points & Rewards program runs on this simple mantra. And the good part here is, you can decide on how you wish to reward your customers.
Product especially curated for all the readers, designed to manage various types of points and rewards
2. The Coupon & Referral Program
Refer Your Friend and Earn a Super Deal…
Yeah! You might have come across such offers on various platforms and applications where you are asked to refer a friend or family member to use the product/service. And in return, you and the referred person get some offer coupon.
Well! This program is very much efficient in building a strong customer base with your products/services. Also, this is an indirect form of marketing practice where your customer brings in your more diverse audience by referring them to your product/service.
To learn more about the Coupon Referral Programs:
3. The Charity Based Program
Ever shopped at Easy Day/Pantaloons or some top-notch store? If yes, you might have observed that while the billing process, the cashier often asks,
Would you like to donate a penny?
Many big business houses have tie-ups to NGOs and other such organizations and donate some percentage of their profits to these organizations. Not only this but there are also companies that run their own charitable trusts and try to expand their community by including their customers into it.
Earning the loyalty of your customers by impacting them empathetically is another way for customer retention.
4.The Partnership/Membership Program
With the increasing trends of loyalty programs in various industries, many variants were carved out to gain the benefits of the loyalty program differently from the other ventures.
The Partnership/Membership Program is a similar example. Although any business can incorporate this program, IT industries and/or Hospitality industries are especially looking out for such programs.
Building loyal customers, demands high reward systems! In such cases, the two most important approach that you can follow is –
Firstly, build a strong customer base for your products. Make compelling products for your customer needs.
Secondly, initiate tie-ups from different other companies that may support your rewarding strategies.
The partnership approach provides you with an opportunity to expand your business limits and to partner with other business groups. The Membership approach helps you to streamline your customers with your beliefs resulting in better brand image building.
As it is well quoted by Howard Schultz,
"If people believe they share values with a company, they will stay loyal to the brand."
A product to help you manage all your membership programs with complete ease and transparency:
5. The Tier-Level Program
This program is a more fun-filled and engaging way to build loyal customers. What about influencing your customers to be on your loyal member list by bribing them with multiple badges or level options?
Sounds Funny! But it is intriguing.
Ever played Candy Crush or criminal case types of games, where you proceed to the next level only when you qualify your current level, and with each advancing level, rewards, and accessibility options increase.
A similar method is followed by marketers in Tier-Level Program. They set up the program at different levels and award badges on reaching different levels leading to rewards after qualifying some basic levels.
The good thing here is that the marketer or proprietor is completely free to decide how they want to mold the program for attaining the utmost benefits.
6. The Community Program
Ever heard of communities or forums like StackExchange, BlackHatWorld, Reddit, DigitalPoint, etc.
All these communities or forums were initiated by the industry experts or business holders to develop a direct interaction between their customer base and the industry experts.
Building your own community is definitely a long-time process and is not a direct member of the loyalty programs. But, building your own community, establishing direct communication with your customers, and solving all their queries and doubts will increase their trust in your products/services. And when your customers trust your brand enough to take a stand in front of those who speak against you, you know your customer's loyalty then.
7. The Subscription-Based Program
Are you subscribed to Netflix? Or Amazon Prime? Or maybe for HotStar?
To help you with the fact that The Subscription Program is the only Customer Loyalty Program that offers no discounts or coupons rather the customers are made to pay for the particular service for a particular time duration, they require the service for.
Netflix and Amazon Prime are the most trending examples of Subscription programs. The subscribers need to pay for the subscription program they are opting for. You may think, "How is this Subscription Program included in the list of Loyalty Programs then?"
Dude! Loyalty Programs are not only the ones that offer discounts, rewards, or coupons. Having a strong and crazy enough customer base that is willing to join you for 6-months or a year shows the brand loyalty of customers.
You can check this product for managing all your subscription-based programs:
8. The Reward Card Program
The easiest way to build loyalty eCommerce programs and maintain it is by having a Reward Card-based program. Marketers also refer to this program as a Spend program. The simple working behind this concept is offering reward cards to the customers for their easy and benefitted shopping experiences.
For example, TimesRewardPoints company collaborates with various banks like HDFC to run loyalty eCommerce programs. HDFC customers who prefer Debit/Credit card transactions are always flooded with offers and coupons if they transact using the registered reward card. Similarly, Gift cards are also preferred by marketers as a substitute for reward cards under their special program requirements.
9. The Game & Fun Based Program
An interesting and fun game evening attracts the eyes of the masses!
There can be no doubts over how games can attract traffic? But, here we are talking about loyalty programs and retaining customers rather than only focusing on customer acquisition. Games based loyalty program is a fun-filled alternative to keep your customers' adrenaline rush high ultimately benefiting you.
For example, having an online store, you can organize game events through periodic intervals or a series with level-up targets. Such games are hard to plan at first. However, they keep the motivation level high among competitive customers. After all, who wouldn't wish to have extra rewards for the products and services they use by playing games.
10. The Hybrid Program
Well, as the name says, this loyalty program is the compilation of two or more customer loyalty program types into one. For instance, the most common approach of having a hybrid loyalty program is the compilation of points and rewards programs with the tier-based program. Google's Local Guide Program is one such influential example to be considered.

Well, it's clearly about the innovative approach to having a successful loyalty program. And I'm sure that now you must be willing to build a loyalty program for your business too. But, the process to implement the loyalty program is equally important as well. Therefore, the next section will take you a step ahead in learning how you can build a customer loyalty program for your business.
Steps To Start Building eCommerce Loyalty Programs
Step 1. Know your Customers
Your eCommerce business may have high visibility and you're getting traffic from all parts of the world. But this traffic is irrelevant for you because they don't serve the purpose you aim them to. Hence, you must analyze your traffic sources and target only your potential audience. The more segmented audience you'll have the better the rate of conversions and engagement.
Analyze your consumer's behavior
It's not as simple as it seems to have a successfully running business. You constantly need to observe your consumer's behavior. Behavior analysis plays a very important role in understanding the perspective of your consumer and what they want from your business.
Store your consumer's data
You must be thinking of what is the purpose of storing the data from your customer? Well, Customer eCommerce loyalty programs are all about having a personal connection with each of your customers and also making them feel that they are valuable to you. Saving the personal details of your customers like their birthdays or important occasions and anniversaries will help you in reminding them along with the greetings that you expect their presence soon.
Step 2. Plan your purpose to create a loyalty program
What is your reason or need to create a loyalty program?
Since you're mid-way to implementing the loyalty program for your eCommerce store. It is highly recommended for you to first gauge the outcomes you wish to achieve and the probable duration.
For example, you wish to create a community of your loyal customers and so you have planned a membership program for the same and wish to have 20% of your existing customers be a part of your membership program within 6 months of launch. Setting such goals and initiating your loyalty program in recognition of the same will help you complete the next step too, i.e., measuring your efforts and your customer's response.
Decide on the metrics to measure your efforts into loyalty program
When we talk about our customers and measure their behavior in terms of numbers, we often make a common mistake of calculating it as a conversion or revenue. Rather, metrics that provide a fruitful result for the customer analytics are-
Customer Lifetime Value(CLV)
Net Promoter Score (NPS)
Customer Loyalty Index (CLI)
We shall discuss each of these metrics in the next section of the blog in detail.
Budget…
The most crucial segment for any business. No proper analysis of the budget for any project can drain the business accounts. Therefore, it is equivalent to decide upon the budget too when you're planning to create a loyalty program.
Having a loyalty program doesn't imply that you have to reward your customers at the cost of your business. And, if you think it to be this way, then it's the most drastic approach. Proper budget analysis considering each phase is important.
Step 3. Prepare Your Customer eCommerce Loyalty Programs
Choose the type of customer loyalty program
A customer loyalty program is not just one traditional way to reward your customers. Instead, the more creative and unique you go, the better is the outcome. There are 10 types of loyalty programs that are most common and base for unique ideas. You must choose the loyalty program type that is best suited for your business type and your targeted audience. Although the loyalty program types are standard, there are top market trendsetters whose innovative loyalty program ideas are the compilation of two or more standard loyalty program types.
Plan how and when to reward your customers
This step takes you towards the execution phase of all your planning efforts. You know your target audience, your goals, the metrics you require to make an analysis, and the most-suited loyalty program type. The last phase of your planning journey is the plan to reward your customers.
For example, if you choose to implement the "Points and Rewards Program", then on which activities of your customers, you'll allow them points and how these earned points can be redeemed? Or if you choose to implement a "Subscription-based Program", then how you'll reward the customers with monthly subscriptions or to the ones with yearly subscriptions. Pre-hand analysis of how and when to reward will help you in crafting clear guidelines while you create your loyalty programs.
Step 4. Make your loyalty program easier to manage
You are open to the number of software that can help you in automating your loyalty program processes for your eCommerce stores. These loyalty program-based plugins are discussed in detail in the next section to provide a clear understanding of selecting the tool for implementing your type of loyalty program.
Tools/Softwares To Implement Loyalty Program
| | | |
| --- | --- | --- |
| S.No. | Loyalty Software Name | Specialty |
| 1. | Points And Rewards For WooCommerce | The plugin is full of features and represents the Hybrid Loyalty program by offering the Points and Rewards functionality along with the functionalities of the Membership Program. You can even create levels to reward your customers like in Tier-level Program. |
| 2. | Coupon Referral Program | It helps you implement a referral reward system for your business. Your customers can easily share their referral links with their friends and families and can earn rewards in return as you may prefer to offer. |
| 3. | Gift Cards for WooCommerce Pro | This tool is beneficial if you wish to have a reward card program. With this plugin, your customers have the option to customize the gift card and messages before sharing them with their loved ones or for their personal use even. |
| 4. | RMA Return Refund & Exchange For WooCommerce Pro | Not specifically a loyalty tool, but you can enjoy an easy refund, exchange, and cancel request interface for the purchased product to Customer/guest users that offers smart return ship labels integrated with ShipEngine and ShipStation. |
Loyalty Program Tools – Evaluation Criteria
Well, according to referralrock.com, the decision to choose the loyalty program depends upon various metrics and conditions. Hence, they have combined it together under the name of "Evaluation Criteria".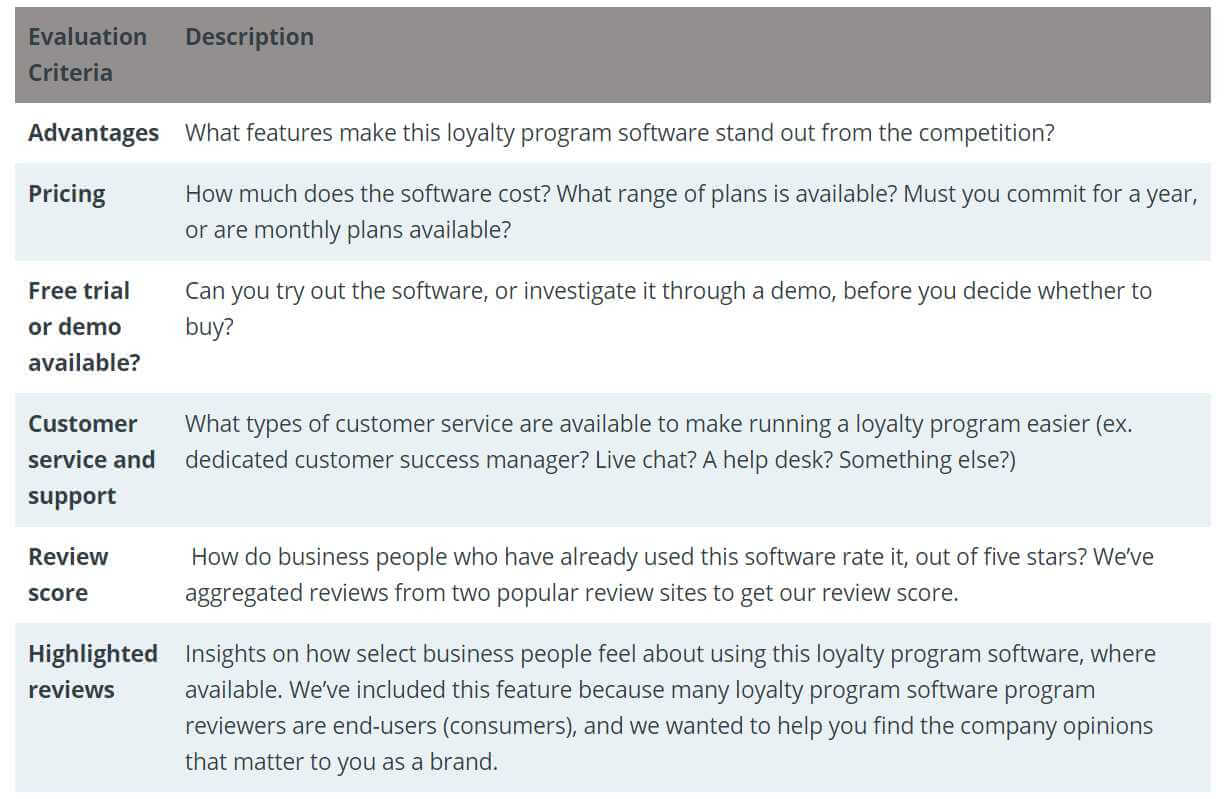 The type of Loyalty program you chose, the lifecycle of building your loyalty program, the rewards, everything can go in vain if you didn't choose the right tool for your eCommerce loyalty programs.
The next section takes you to another very crucial step after deciding on the loyalty tool. This step follows at every stage. It is to analyze your efforts and measure the outcomes of the loyalty program you started (the metrics that help you measure your efforts in terms of your customer's loyalty as discussed earlier).
And, here follows the next section – How To Measure Customer Loyalty?
How To Measure Customer Loyalty?
If you are not tracking your customers that can be the reason for letting your customers go. Measuring the customers' loyalty isn't the option, It's a requirement. Track the relationship with your customers with these metrics:
1. Customer Lifetime Value(CLV)
Customer Lifetime Value (CLV) is a simple calculation but one that surprisingly few businesses are able to calculate. It is calculated as:
(Average Transaction Value * the average number of times a customer transacts before lapsing) – your cost per acquisition (CPA)
There are a number of alternatives, for example, applying your gross margin rather than your CPA.
2. Net Promoter Score (NPS)
How much does a customer like you? This metric indicates the likeliness of your customers referring you to their friends. It is quite a simple way, the consumer just has to answer this simple question with a value between 1 – 10.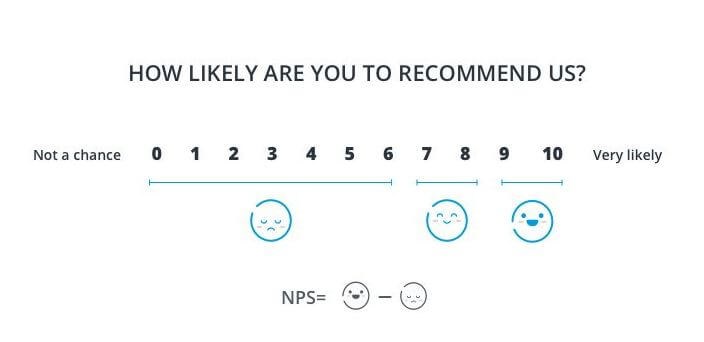 This is a powerful metric because of the fact that when you recommend a product, you put your own credibility on the line. NPS divides your customers into 3 categories:
| | | |
| --- | --- | --- |
| Detractors | Passives | Promoters |
| A score of 6 or lower is segmented as "Detractors" | A Score with 7 or 8 is segmented as "Passives" | A Score with 9 or 10 falls into the "Promoters" |
| They won't recommend you to anyone, will most likely not purchase from you once more. It May even hurt you through negative informality. | They are quite satisfied, but not blissful enough to recommend you. But, they won't hurt you either. | They're your promoters, your equivalent of the people camping in front of the Apple store. They're likely to recommend you and buy from you again. |
Calculate your total Net Promoter Score by subtracting your "Detractors" percentage from your "Promoters" percentage.
3. Customer Loyalty Index (CLI)
A standardized tool to track customer loyalty over time, and it also integrates the values of NPS, repurchasing, and upselling. It calculates all the three values with an NPS-like questionnaire on a 6-point scale. 1 stand for "Definitely Yes", 6 stands for "Definitely No".
How likely are you…
…recommend us to your friends or contacts?
…to buy from us again in the future?
…to try out other of our products/services?
Your total CLI is the average score of the 3 responses.
Answer scores:
1 = 100
2 = 80
3 = 60
4 = 40
5 = 20
6 = 0
In this way, CLI is calculated, which determines customer loyalty.
As the glitter and busyness of designing, creating and implementing a reward program settle, it is now time to conduct a re-check for your loyalty reward program. Because in the end, this is going to help you build a sustainable loyal members' community for the years ahead. Therefore, the next section helps you with the best practices preferred over time by the top marketers to implement loyalty programs.
Best Practices To Implement Loyalty Program
1. Make Your eCommerce Loyalty Programs Visible
How will your customers know about your loyalty program?
Have you wondered about it yet? Your presence with your audience and customers is not merely sufficient to have a flourishing loyalty reward program.
You need to market your loyalty program as well to make your customers aware of it and the benefits they'll get if they join. Your most loyal customers are also the most engaged ones. Lure in the benefits of this loyalty engagement to populate your loyalty program system. You may also consider the following for the same –
Prompt your loyalty program on your homepage.
Spreading the words through social platforms like Facebook, Twitter, Instagram, LinkedIn, and more.
Adding a banner to a home page specifying its benefits.
Have an explainer landing page linked to all the pages of your website
And many more…
2. Ensure The Best Customer Experience
Unhappy customers will take away your business along with your idea of having a loyalty program!
As well said, "A happy wife is a myth, but not a happy customer". Social status is one of the most effective motivators for customer behavior, and can easily be incorporated into your loyalty strategy. Yes, considering the spending habits of each user and offering VIP perks to the heavy shoppers will give you an edge over your competitors to retain them. Providing the best customer experience isn't hard if the right actions are taken at the right time, for the right customers.
Conduct a customer satisfaction survey from time to time to ensure listening up your customers' feedback and reviews for the betterment.
Analyze spending habits to determine your consumer behavior.
Create membership perks for the VIP customers
Connect with your customers on phone calls, emails, social media, referral shared messages, or customer support to establish an emotional connection.
Any effort done in favor of improving the customer experience is better than just resolving their queries on customer-care support systems.
3. Work On Your Referral Marketing
Referral Marketing works best in increasing your presence among the consumers. Yet it is most difficult to achieve. Not because you don't have a better customer satisfaction rate. Instead, it is observed that even the brands having an 80% customer satisfaction rate face only 29% of the referral rate.
Only 29% of satisfied customers actually refer your brand to others, making it a necessary focus for success. (Forbes)
There are still a number of things that are most commonly tested to achieve instant results from the referral marketing perspective.
Lucrative rewards to both the parties involved – the sender and the buyer.
Prompt multi-channel sharing options to your customers.
Make slogans, referral messages, etc. that are compelling and depict brand vision.
Ready To Start A Loyalty Program?
Loyalty programs are an enormous help for an eCommerce business. They increase customer retention and experience while cutting your expenses. Also, starting a loyalty program and maintaining it for the long run will benefit you in holding your existing customers intact. As long as you go, your customers are along with you.
And what could be a better joy for a business owner than having the customers who joined their journey in the start to walk along their paths of successes and failures in full support?
Although I really hope that you are clear in the approach to how to build a loyalty program. But, in case you have any doubts or concerns, then you can have a look over the top market brands and trendsetters' innovative approaches to build a loyalty program for your store. If you have any further concerns, feel free to share your queries in the comments section, we'll try our best to resolve them.
Looking For A Guided Assistance To Build Your Customer Loyalty Program?
We Can Surely Help!