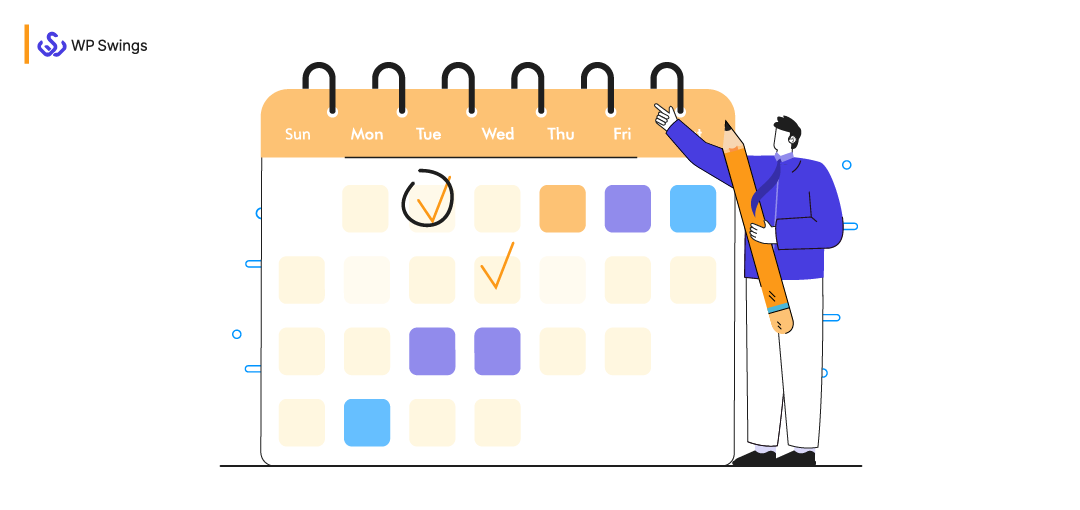 Holidays are something we always crave for.
It's a way to meet and greet our family and friends, eat, party, and all. But for eCommerce businesses, it's an opportunity to make money.
And if you also own an eCommerce business and are looking to take advantage of the holiday season this year, you must target the most profitable days of the holiday sales calendar. So what are those days?
Scroll down to find out.
16 Most Profitable Days In A Holiday Sales Calendar
Note: I've created this holiday sales calendar as per the financial year starting from April 2022.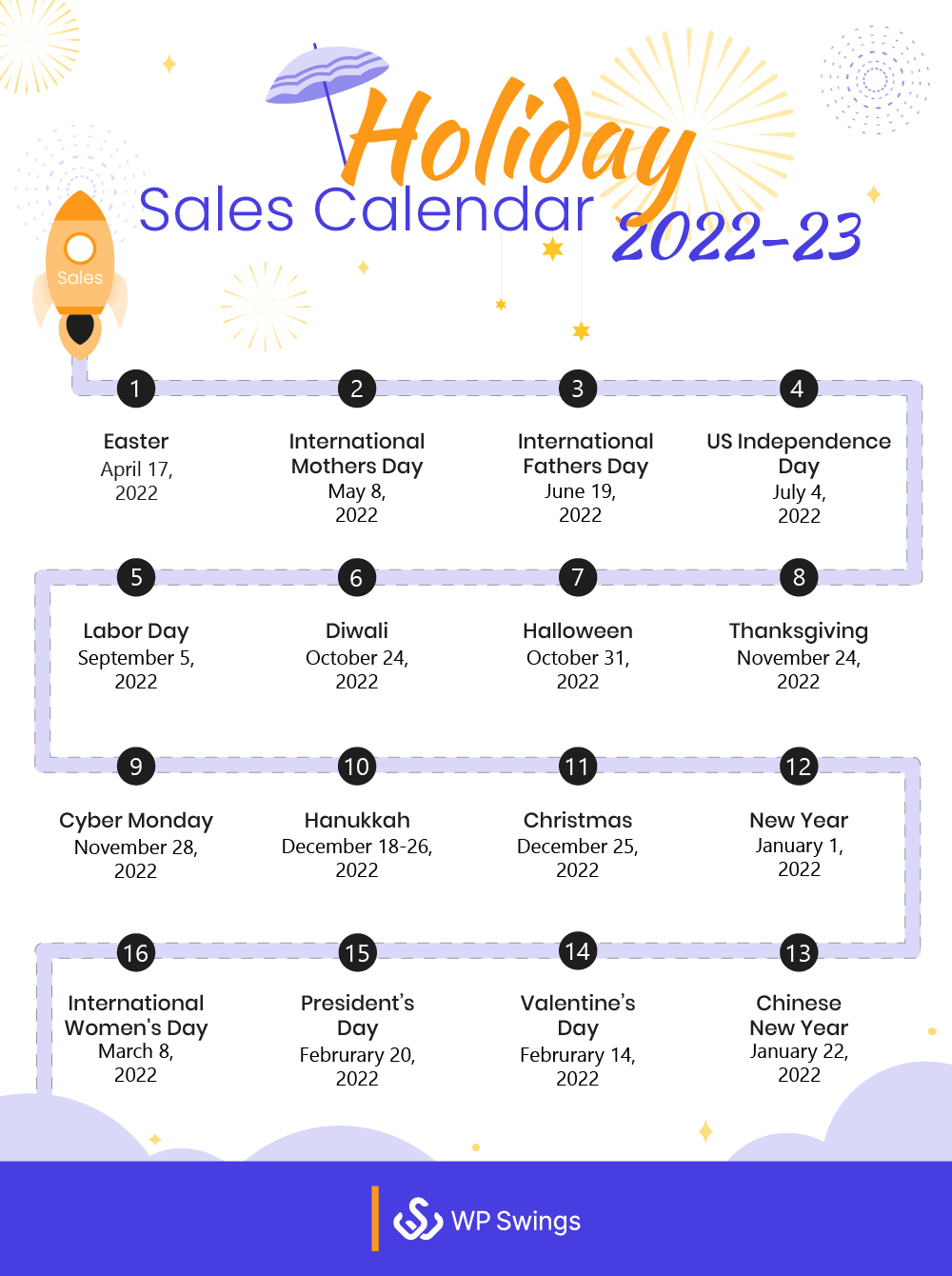 So, if you're still kicking yourself for not making much preparation, you now have your eCommerce marketing calendar.
I will give you complete information related to all the important days of the holiday season. This will help you plan your marketing & selling strategies for each festival accordingly.
Let's Begin The Holiday Sales Calendar Now!!!
Easter – April 17, 2022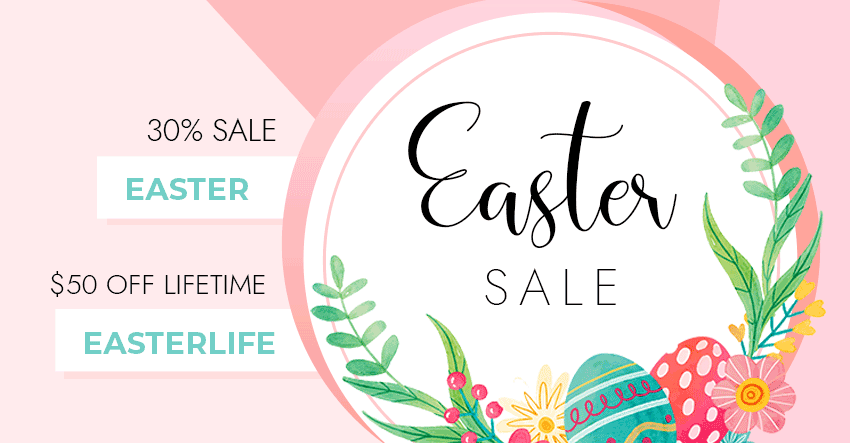 Target audience: Every country that celebrates easter
Easter is an important day for the Christian community. It's the day when Lord Jesus was resurrected after death. People celebrate this festival worldwide and despite the Covid-19 pandemic, people planned to celebrate it with more pomp and show this year.
According to Easter Egg Hunts and Easter, Events.org people are planning to spend $156 on average this easter. Estimate sales decreased from $179.7 on average.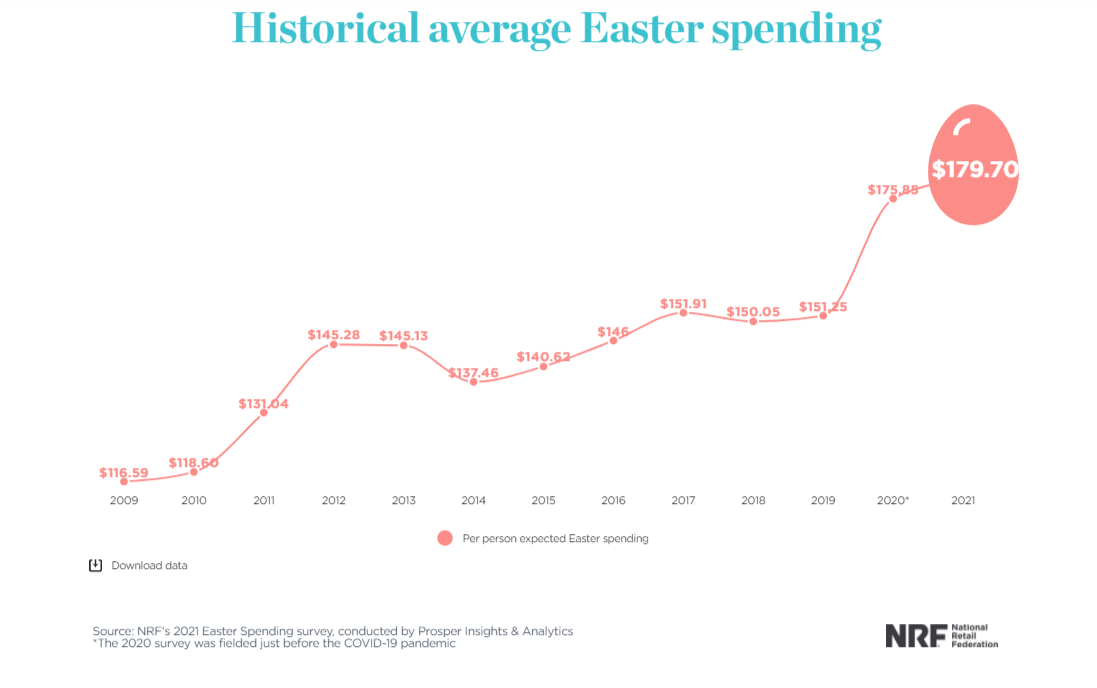 This means if you target this festival, you can easily hatch more sales.
You can follow some of these tips to make this Easter more profitable for your business:
Run an online easter contest
Organize an online easter egg hunt on your website
Give your website and newsletters an easter look
Run a social media campaign around easter
There has always been a huge flow of happiness among people on this day. So, drive up your sale for this special occasion and give your customers a reason to make purchases from you.
International Mother's Day – May 8, 2022
Target audience: Across the globe
A Mother is the only person who possesses selfless love for her children.
And every person tries to make this very day special for their mother.
According to NRF, the total planned expenditure for Mother's Day 2022 is $21.2 Billion. Estimated sales decreased from $28.1 Billion, the highest sale ever.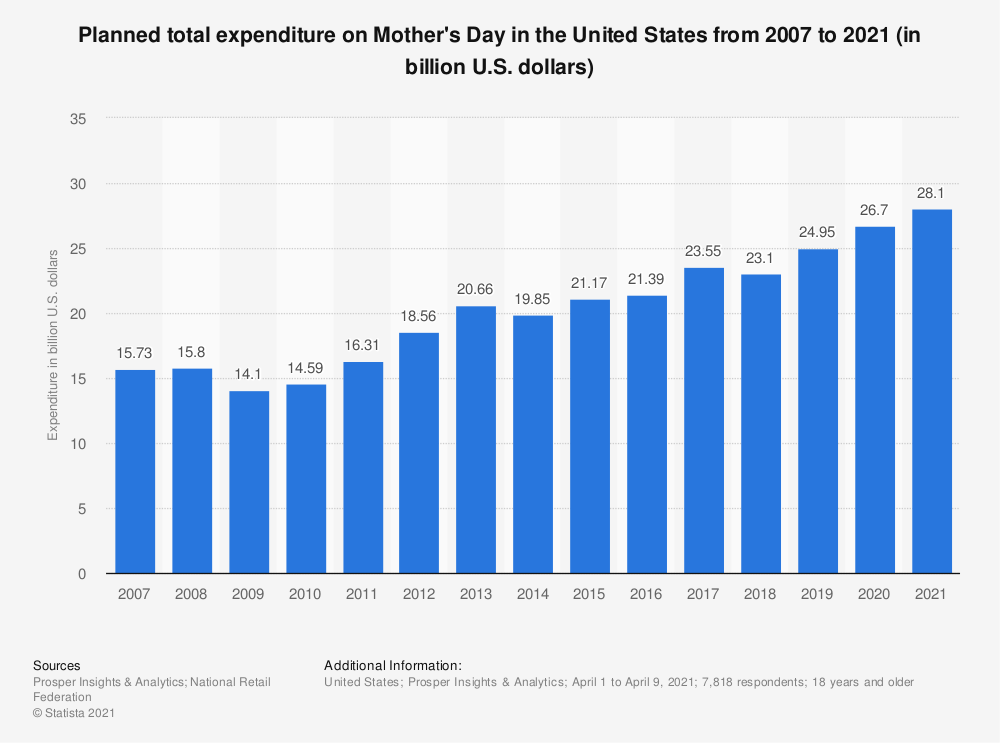 So, accomplish this desire of your customers and design exceptional gifts for mothers.
You can follow some of these tips to increase your sales on mother's day:
Offer free shipping on mother's day gifts
Promote your mother's day products through emails
Host a special sale
Allow personalization on products
But be careful while running your online retail marketing campaign for mother's day since it isn't celebrated on the same day in every country.
While this day is celebrated internationally in May, it is celebrated in March in the UK. so you need to prepare accordingly if you plan for a cross-border promotion.
International Father's Day – June 19, 2022
Target audience: Across the globe
If mothers are the symbol of selfless Love, fathers are the epitome of strength and courage. Make this special occasion enjoyable for your customers by offering them fascinating products for their fathers.
The NRF report shows that this year's Father's Day would see the highest spending ever with total spending of $20.1 billion dollars.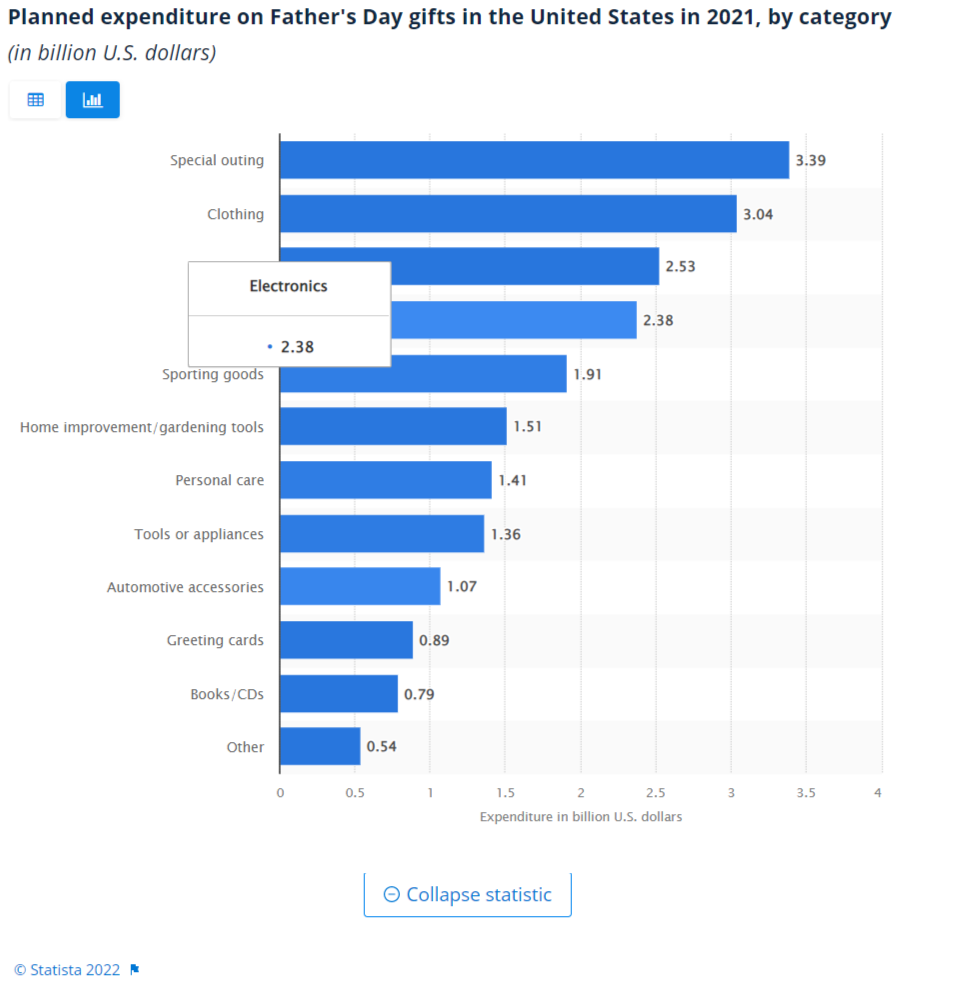 You can follow some of these tips to increase your sales on Father's day:
Host a Father's day special sale
Offer discounts on Father's day gifts
Create and offer a gift guide
Just like Mother's Day, Father's Day is also celebrated on different dates in the countries. So keep those dates in your mind before executing your eCommerce marketing holiday campaigns for father's day.
US Independence Day – July 4, 2022
Target audience: Americans
The 4th of July is celebrated as Independence Day in the United States. As of this Day, 13 American Colonies were declared free and independent and thus recalled as the United States of America. That'll be one of the biggest holidays in America and, thus, a great opportunity for the sellers to entice its customers.
In a survey conducted by NRF in November 2021, 61 percent of American respondents stated that they were planning to celebrate this year's Independence Day with a cookout, a barbecue, or a picnic. As per NRF 2021 report, 16% of people did not celebrate Independence Day.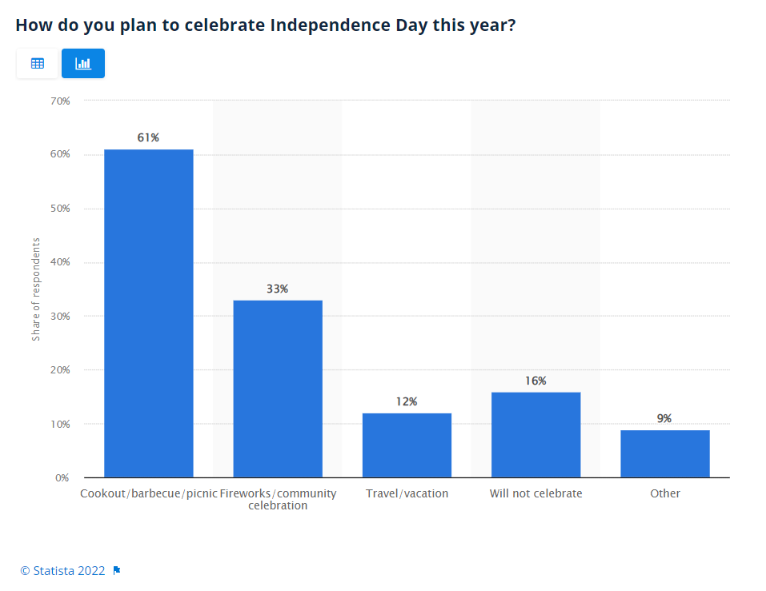 You can follow some of these tips to increase your sales on Independence day:
Focus on clothing with stars and stripes
Offer free shipping for the day
Expose your picnic, food, and beverages-related stuff
All across the continent, Independence day is celebrated on a large scale. Starting from clothing sales to beauty deals and home decor, 4th of July stands as the major point for the retail marketing calendar.
Labor Day – September 5, 2022
Target audience: American, European, and Asian countries
It is again one of the most important federal holidays. This is fully devoted to the Labor movement & Trade Unions.
In the United States, Labor day is celebrated on the first Monday of every September followed by a 3-day weekend. On the other hand, in many Asian and European countries, it is celebrated on May 1st.
So, mark up this special date on your marketing calendar and plan your holiday campaigns accordingly.
Diwali – October 24, 2022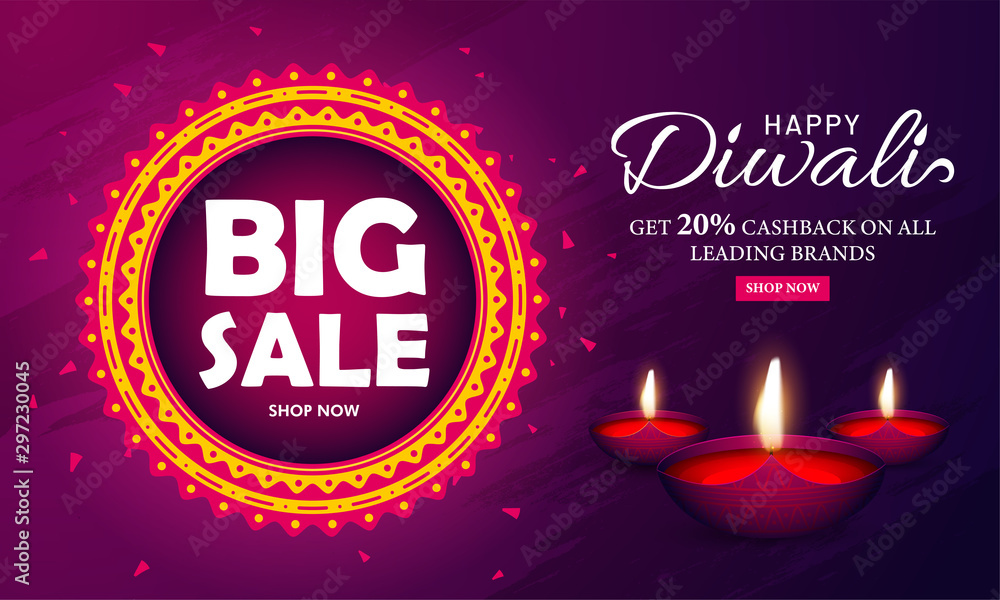 Target audience: Indians, and across the globe
Diwali is a huge festival celebrated by Indians across the globe. For Hindus, this is linked to the ancient legend of Lord Rama, who was deprived of his kingdom and sent into exile for 14 years. Diwali celebrates Rama's eventual defeat of the evil spirit Ravana, and his triumphant return to his home. Diwali purchases are intended to be the "shopping of the year," and this long-standing custom is being observed today also.
According to the economic times, India's e-commerce companies are likely to see a 28% on-year increase in … sales during the Diwali sales this year compared to last year.
Halloween – October 31, 2022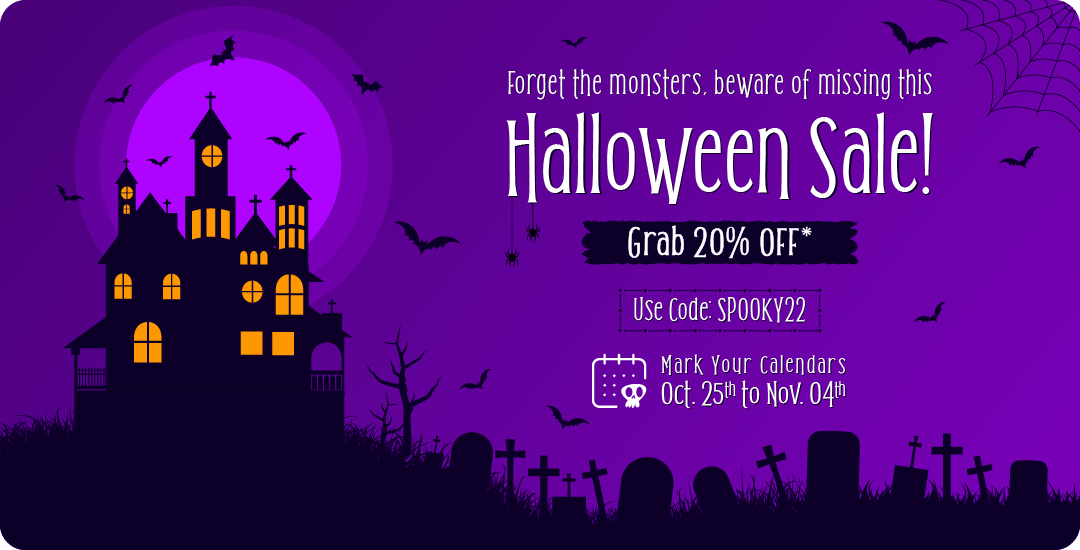 Target audience: North America and some Asian, European, and Oceanian countries
In a holiday sales calendar, Halloween is a holiday for celebrating all things horror, spooky, hilarious, and fun. Halloween traditions revolve around an industry that ranges from decoration to clothing, confectionery, and food. And it stands as the most fruitful event. Where many marketers and shop owners tend to encourage Halloween marketing ideas.
According to Statista, in 2021, spending sat at a comfortable estimate of over 600 million British pounds. And this number is growing every year as shown in the graph below.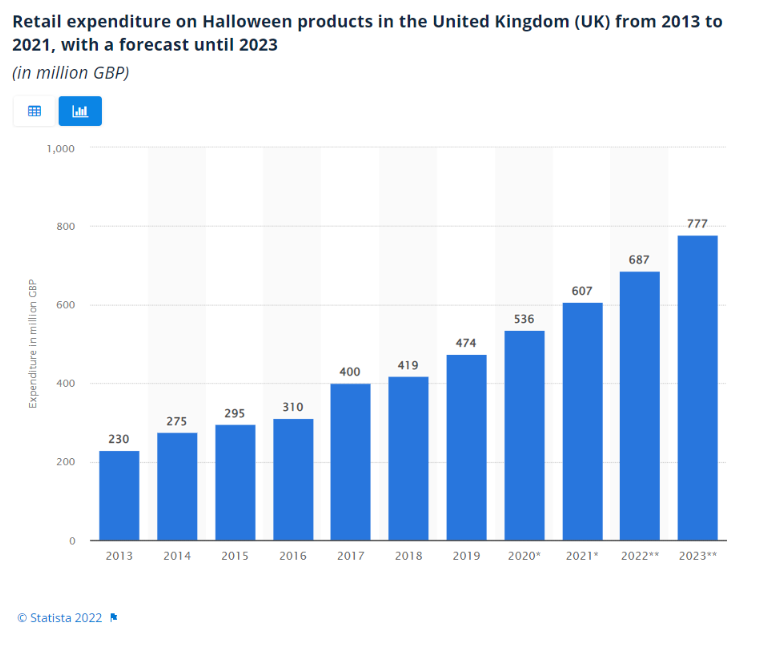 Therefore, it's crucial for you to encash this day to multiply your revenue generation chances.
You can follow some of these tips to increase your sales this Halloween:
Decorate your online store with a spooky Halloween look
Do you know what a spooky Halloween looks like?
If not, then click the below link…
Stock up with Halloween-related items
Run an online Halloween marketing campaign
Make sure to upsell other related Halloween items
Generate and promote content on Halloween
Thanksgiving Day – November 24, 2022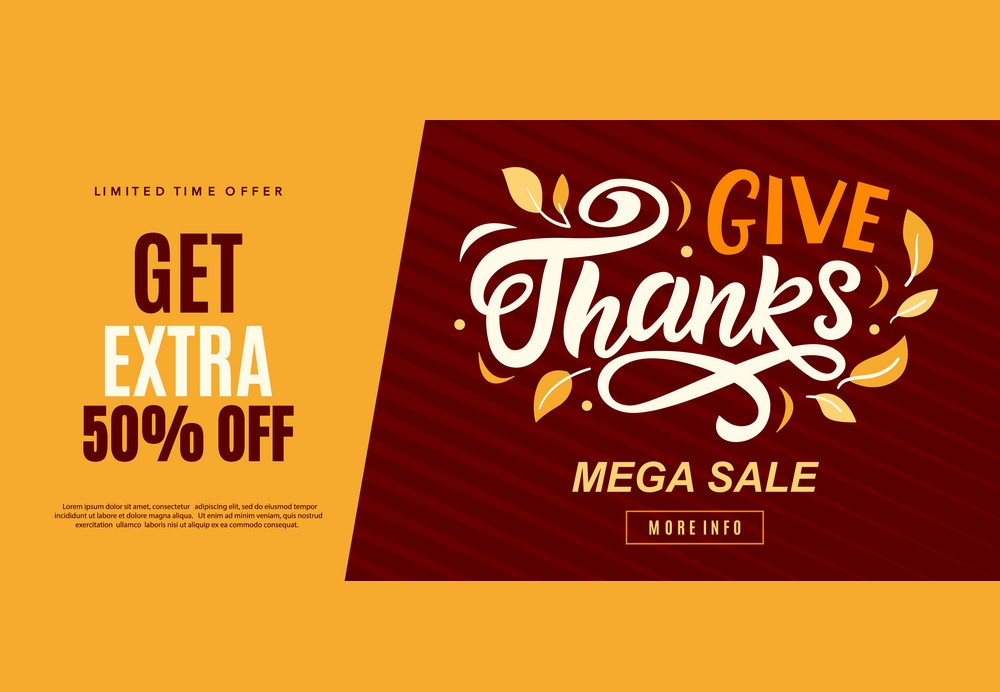 Target audience: American people
According to Adobe, American consumers spent $5.1 billion online on Thanksgiving Day. This data makes it clear that the ongoing pandemic is no hurdle between the festivities, finally. And it also speaks volumes about how profitable this year will be as compared to last year.
So you must target this date on your holiday sales calendar and get yourself ready for the day.
You can follow some of these tips to increase your sales this Thanksgiving:
Thank them through email newsletters
Create and deliver personalized content
Host giveaways on your website
Engage with users through social media
Offer loyalty points to customers
You can offer loyalty points on emails to your customers on thanksgiving. And if you want to increase eCommerce conversions, a holiday sales calendar card is your token which you need to look forward to.
Do You Know You Can Leverage Your Loyalty Program To Drive Maximum Benefits Using WooCommerce Plugins?
Black Friday – November 25, 2022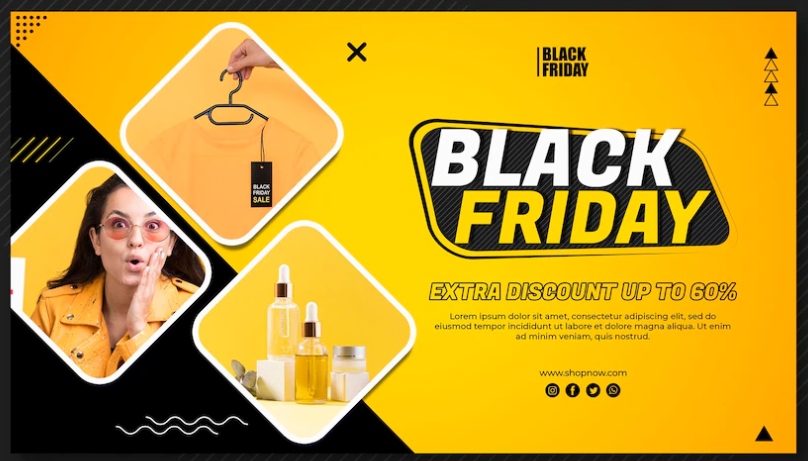 Target audience: Almost across the globe
An exciting fact about Black Friday that can agitate eCommerce store owners is, many other countries have also started celebrating it. One can enjoy Black Friday sales in different areas of the globe.
According to Adobe's 2021 report, Black Friday U.S. online sales came in at $8.9 billion, a decrease of over 1.3% from over $9 billion spent in 2020. A wide range of online and retail products are sold out in the context of the festival. So, if you still have to plan out, get ready for the majority of sales coming into your business.
Here are some tips you can follow to make more sales on Black Friday:
Create and offer a gift guide
Try to run flash sales to create urgency
Encourage customers to purchase with free shipping
Additionally, Black Friday and Cyber Monday are the best of friends when sitting for holiday marketing ideas. So, plan to make it big for the eCommerce holidays.
Cyber Monday – November 28, 2022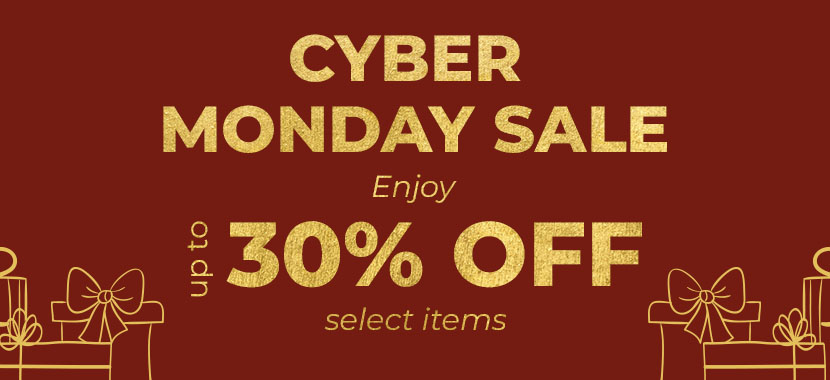 Target audience: Holiday shoppers across the globe
As the name suggests, "Cyber" is related to the digital world. And, therefore highlights a day that totally inclines to online shopping.
According to reports, Cyber Monday was recorded as the biggest spending day, as American consumers spent a total of $10.7 billion online on Cyber Monday, which was down 1.4% or $100 million from last year. Nevertheless, it clocked in as the biggest online shopping day of the year thus far.
This indicates how crazy shoppers are for this day. And it also shows it can bring terrific benefits to your business if you plan your marketing holiday campaigns for this day.
Embrace some of these tactics to generate tons of money this Cyber Monday:
Showcase your cyber Monday collections
Promote your holiday campaigns heavily on social media
Eliminate additional charges from the products
This day brings a lot of opportunities for both large online stores as well as small ones. Like Black Friday, this day also offers big discounts for its customers. It is the biggest holiday sale for any eCommerce Business.
Hanukkah –  December 18-26, 2022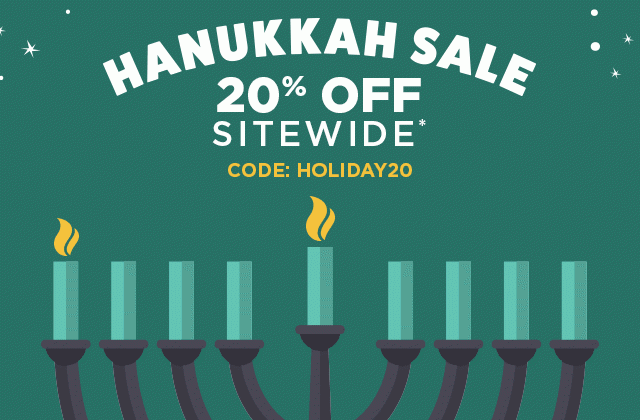 Target audience: Jewish community
The Jewish community celebrates Hanukkah for 8 days. That means an 8 days sales opportunity for your eCommerce business. However, as compared to Christmas, people don't shop that much on Hanukkah. But still, it's a major event for the Jewish community.
Hanukkah is also called the festival of lights, so you can sell products like lamps, candles, and other decoration materials.
Christmas – December 25, 2022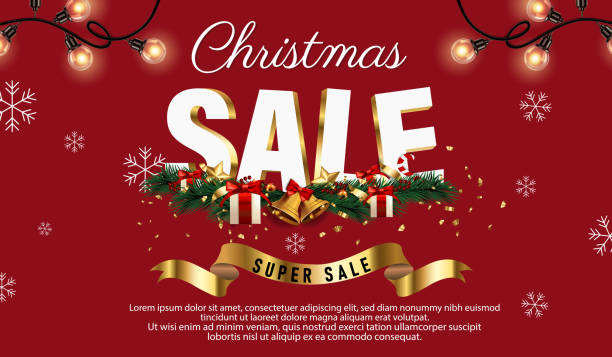 Target audience: Almost across the world
The birth of Jesus Christ is celebrated among billions of people with great pomp and show. People spend an enormous amount of money during this holiday.
A Statista report in 2021, consumers in the United States expected to spend approximately 886 U.S. dollars on Christmas gifts on average. This is the biggest holiday sales opportunity you can leverage to get the greatest benefits.
Here are some of the tactics you can employ to make the most out of this Christmas:
A Christmassy look is a must for your online store
Run online contests on your website and offer Christmas gifts
Create and run personalized marketing holiday campaigns
Offer discount coupons and gift cards
Run an after-Christmas sale
Use social media heavily to drive traffic to your store
New Year – January 1, 2023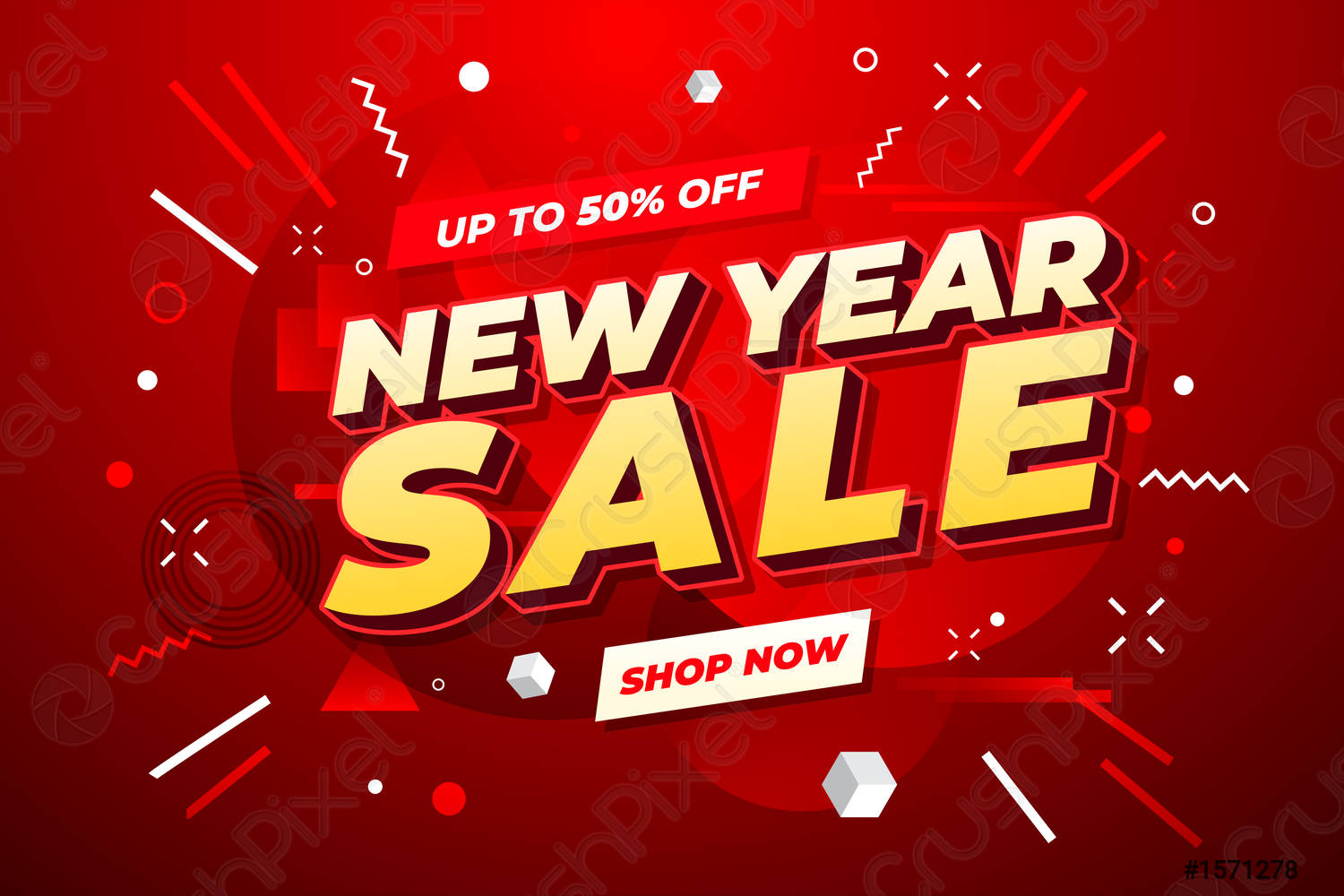 Target audience: All over the world
In the eCommerce holiday sales calendar, the first surprise stands as New Year. During this holiday, at this point in time, customers are in a fresh mind. The retail marketing calendar is checked. So that upcoming retail marketing holiday campaigns could be executed rightfully.
So, this is the right time to invade your customer's minds with your wonderful surprises. Strategize your holiday marketing ideas and holiday campaigns in such a way that customers become highly interested to purchase your products.
Here are some of the tactics you can employ to make the most out of the New Year:
Start off the new year with heavy discount sales
Launch new products on new year
a post-new year sale for product clearance
Give 50% off on your products or offer any special discounts, and plan special products for children as well. Have a look over New Year resolutions and 30-day challenges.
Chinese New Year – January 22, 2023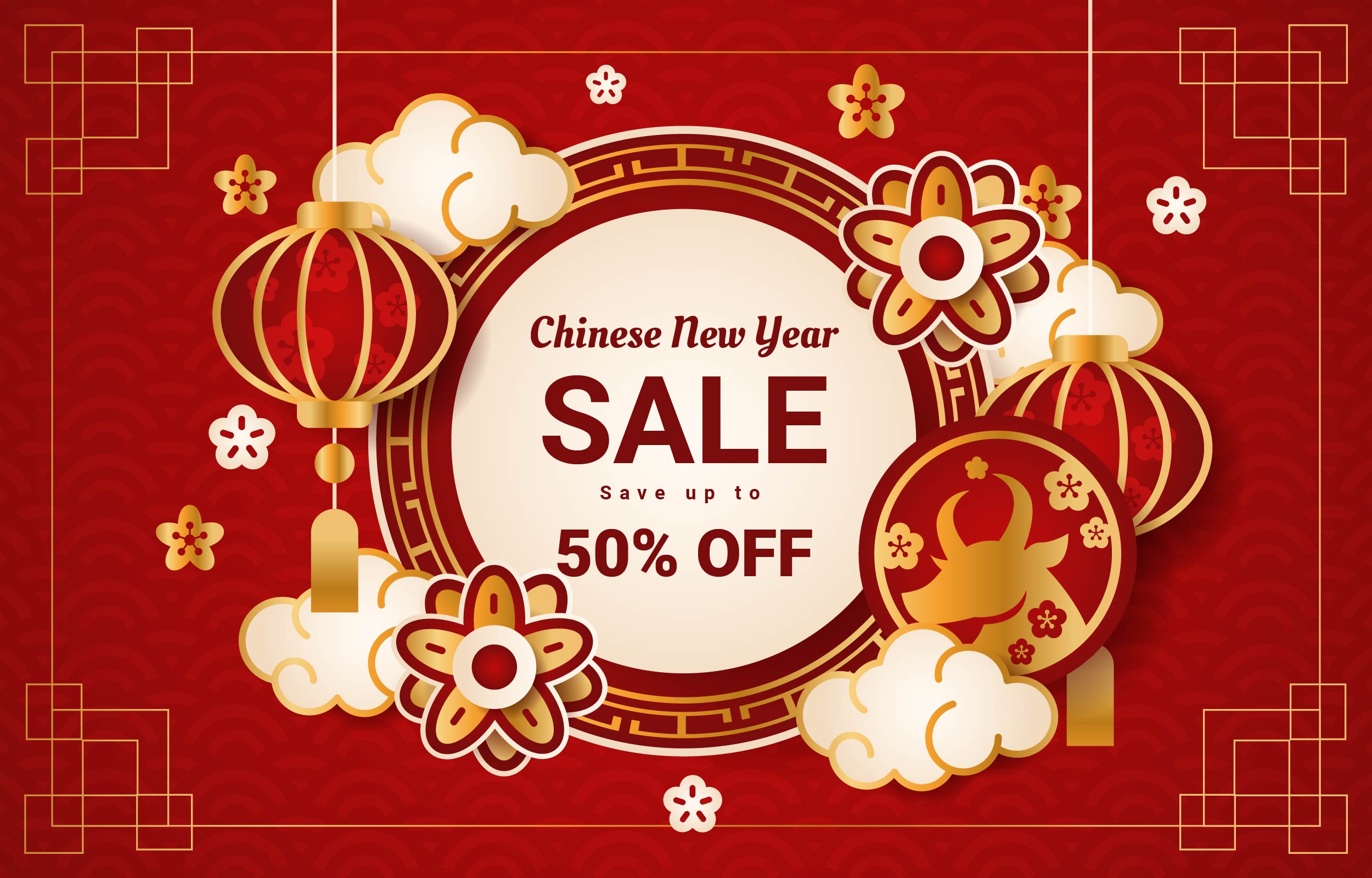 Target audience: Some Asian countries along with the US, Canada, UK, and Australia
Chinese New Year is another festival you can mark in your holiday sales calendar. If your business operates in the east or southeast Asia, this holiday is crucial for you. Countries like China, Vietnam, Singapore, Korea, etc. celebrate this holiday with great enthusiasm. And it is also a public holiday in such countries.
Apart from these Asian countries, countries like the US, and Canada also celebrate this holiday. Though it's not a public holiday there, the celebration still happens.
So you can definitely take advantage of this holiday to make it as profitable as you can.
Valentine's Day – February 14, 2023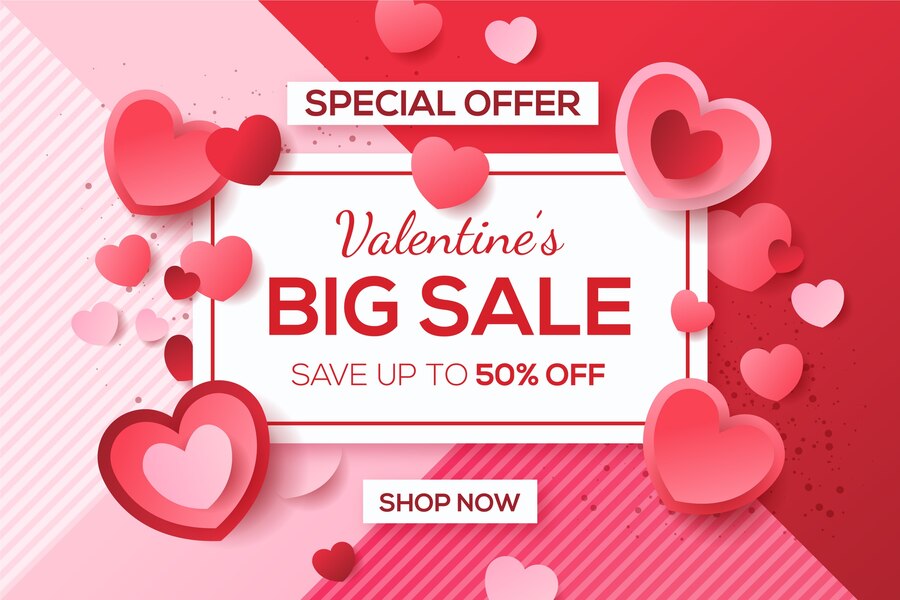 Target audience: Across the world
Valentine's Day has always been a crazy festival. During this holiday, you can seriously put on your thinking cap and nurture your holiday marketing ideas for grabbing maximum sales.
According to the report of the nation's largest retail trade group, consumers are going to collectively dole out nearly $24 billion on Valentine's Day this year, marking the second-highest year on record- an increase from last year, as people spent $21.8 billion.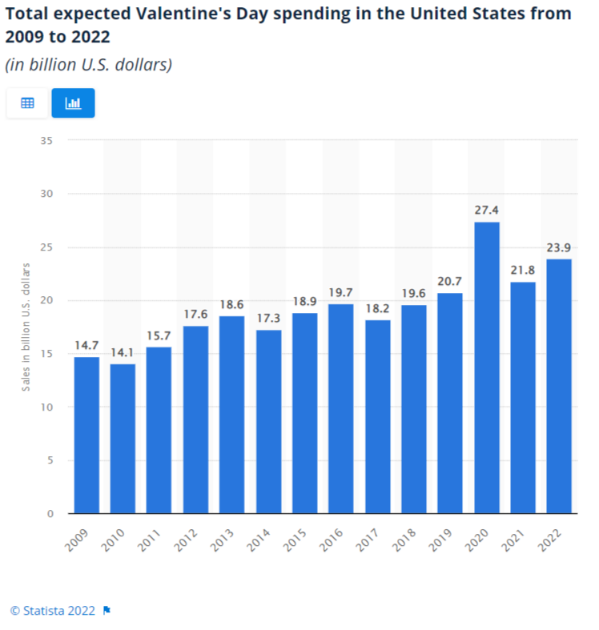 Presidents Day – February 20, 2023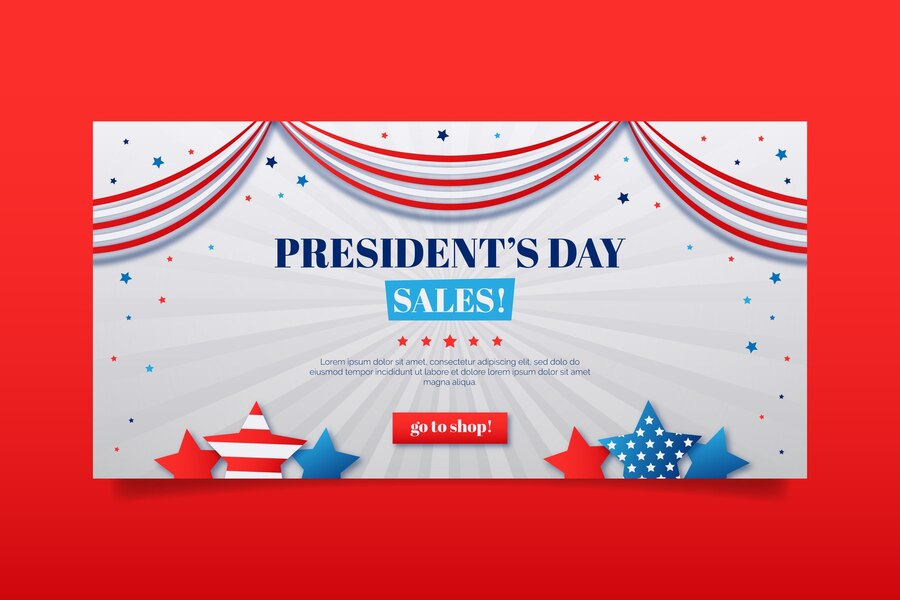 Target audience: American people
Apart from those major holidays, president's day can also be a fruitful day for you. President's day is about the celebration of the first US president George Washington. Along with the first president, people also celebrate the birthday of the United States' 16th president, Abraham Lincoln.
It is celebrated on the third Monday of February. And people buy different kinds of stuff these days like electronics, household items, furniture, laptops, etc.
So if you deal in these sorts of products, you can make a great profit on this day with the right marketing strategy in place.
International Women's Day – March 08, 2023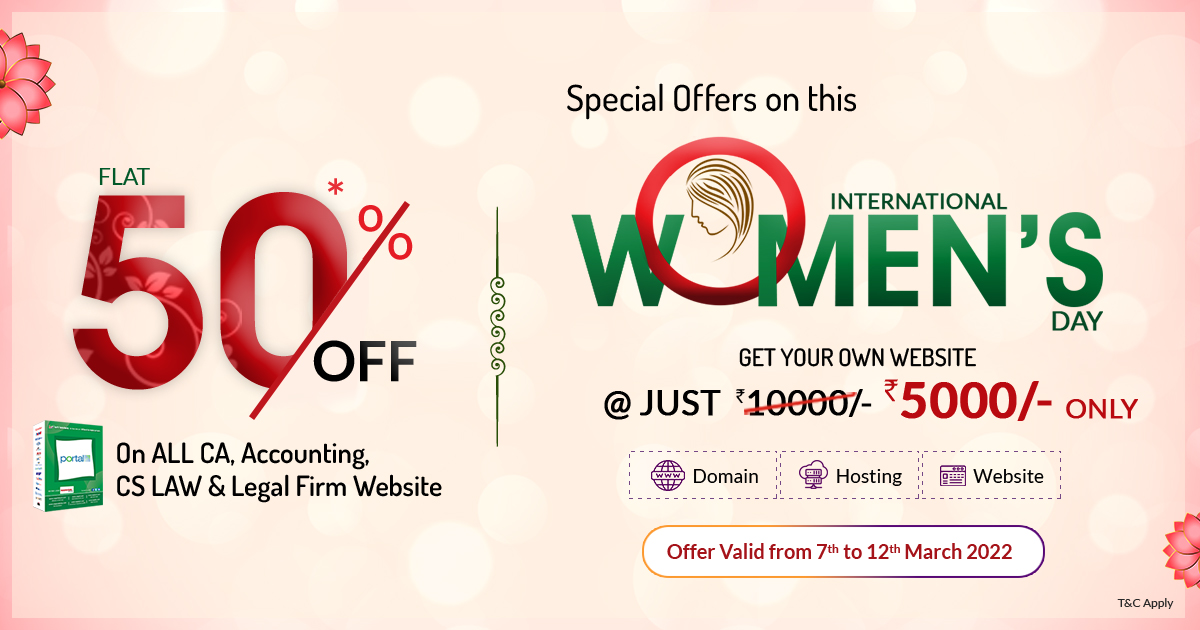 Target audience: Women around the world
Women's Day is nowadays becoming a trend around the world. This day is observed worldwide to honor women's contributions to society, the economy, culture, and politics. The day serves as a rallying point for advancing women's equality.
International Women's Day is gradually growing in popularity among online retailers. In 2018, women made up 72% of all internet shoppers worldwide. It is obvious that eCommerce businesses shouldn't pass up the chance to engage a substantial portion of female customers and entice men to make purchases for the ladies in their lives.
Things To Remember While Creating Your Holiday Campaigns
Nothing works great without perfect deals and offers. And, when it comes to the holiday season, you need to be extra cautious. Here, you need to work on a few of these things:
eCommerce holiday campaigns are not directly set for the festive season but start before that. You need to pitch your sales ideas from the pre-occasions to make the base rather than becoming an alien to the market.
Don't forget to personalize your offers. You might have your previous year's data. This tracks down the deviation path by your prospects from buying your stuff and moving to your competitor. Identify and eliminate those bottlenecks to prevent your customers from choosing your rivals.
Spread the word through social media. Nowadays, there is much more than one-to-one communication. You can post relatable offers and deals on social platforms and groups you're gonna offer during the holiday season sales.
Since this is the COVID era, make it crystal clear to all your users that you're taking all the safety measures like social distancing, and safe delivery to protect your consumers.
All Set For Holidays?
So, now we have reached the destination of our journey.
A holiday sales calendar is a must for any eCommerce business that wants to escalate its revenue during the festivity. It helps eCommerce businesses to strategize holiday sales promotion activities for upcoming events and plans their retail marketing holiday campaigns.
The above listed are some basic and most commercial occasions that most businesses target during the holiday season sales. You just need to select your upcoming festivals and allow your customers to spin the wheel.
Also, make sure you follow all the security measures in each process of your business. Because nobody will risk their lives in this pandemic just for a simple product.