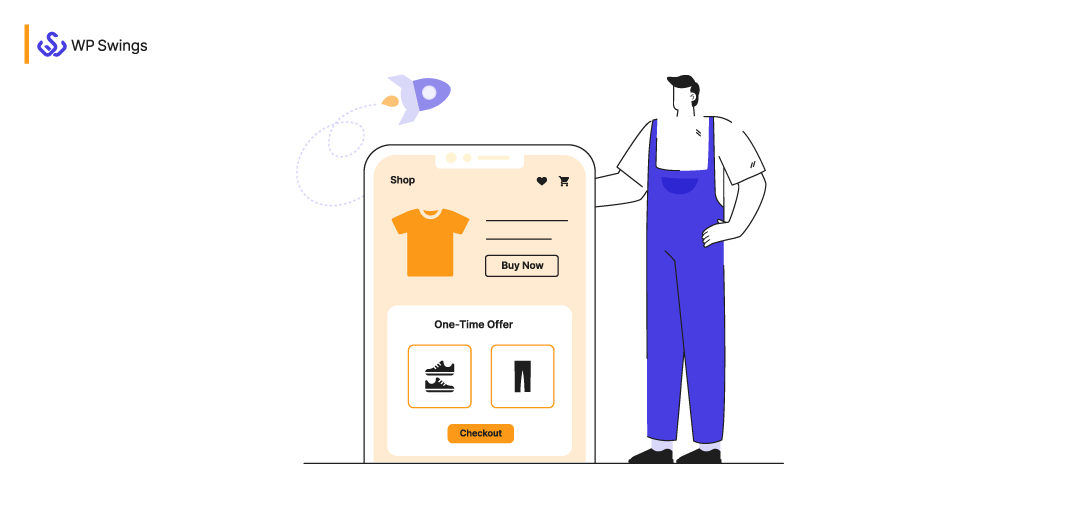 I need those candies!
The young boy exclaimed in a serious voice while pointing a short finger toward a large jar of candy on the shop counter.
Both the mother and counterer smiled
OOPSI..Yes right there the lady got cross sold
Getting some open candies..why not buy a packet of candies instead?
Upselling
An upsell strategy isn't solely meant for sales; it's also a customer satisfaction strategy that can help you forge closer bonds with clients by providing more value.
What is Upsell?
upselling is a marketing technique that is used by businesses to increase their revenue and boost customer average order value (AOV). The importance of upselling is proven by the fact that it's responsible for up to 30% of eCommerce site revenues.
While upselling is like a tool that magically BOOSTS revenue for businesses; with the right implementation you can win the loyalty of your customers. As a result, you can skyrocket your customer lifetime value (CTV) too.
Did you know that there is only a 5-20% chance to convert a new prospect, on the other hand, the probability of selling an existing customer goes as high as 60 – 70%.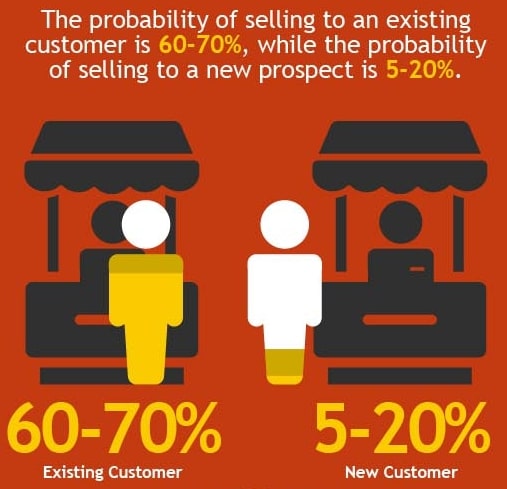 Well, the GAP is a BIG one!
In this extensive guide, we'll be sharing everything about eCommerce upselling, the difference between cross-sell and upsell, and best practices with certain examples. Let's read on with that…
In This Post, We Look At:
What is Upsell?
Upsell is a strategy to offer a relevant additional product to the customer to increase their purchase value. This product can be an upgrade or a complimentary product to the initial one—so it can persuade customers to add it to their cart along with the parent product.
In short, it is a sales technique that gets your customer to spend more by recommending to them either an upgrade or an additional product to what is being purchased.
There's another marketing strategy that is very close to upselling i.e. cross-sell. Cross-selling basically involves offering the customer a related product or service.
Let's discuss the upselling and cross-selling differences now!
Upselling and Cross-Selling for Better Understanding
Cross-selling and upselling are both similar in terms of offering products to increase the average order value.
Cross-selling increases the value of a sale by promoting supplementary products that enhance the initial purchase. On the other hand, upselling increases the value of a transaction by offering customers an improved version of the initial product.
Despite the fact that the terms are frequently used interchangeably, each requires a different strategy. Keeping with your favorite fast food example,
"Do you want some fries with your burger?"
Does that question sound familiar? If you've ever been to McDonald's and asked for a pack of fries to go with your meal you've already witnessed upselling and cross-selling.
You would cross-sell by providing more options in addition to and apart from the burger rather than upselling by improving the burger itself with additional fries.
Whether cross-selling or upselling; both techniques should be in a marketer's arsenal as they instantly elevate the average order value and customer lifetime value.
In light of this, let's discuss the best way to use upselling for the eCommerce business.
Upsell Marketing: Best Practices to Boost Sales
"What is upselling" is an easily answerable question. However, applying this sales strategy requires perfect planning. A lot of companies adopting upselling strategies already. It's possible that you currently offer a silver and gold service.
If not, start considering how you can change what you sell in terms of goods or services. Given that you already have the premium package, you might find that you need to go in a different direction. Create a standard package that will be the easiest to sell, and then upsell to the premium one because it can be simpler than selling the premium right away.
Don't forget your upselling methods should include addressing the issue your consumer is experiencing. They will be more inclined to buy from you if you can better solve their difficulties.
Let's now look at some upsell strategies you might employ in your company.
1. Relevant Product
One thing that matters the most in upsell offers is product relevancy. You cannot recommend a shopper to buy a phone cover with a laptop or a laptop bag with a phone. There has to be some connection between the product being purchased and the product being upsold.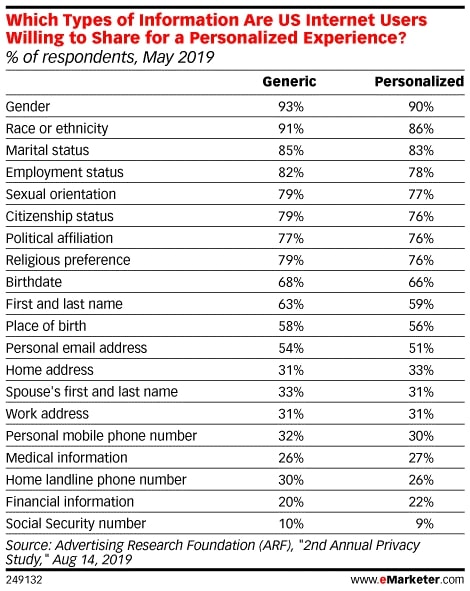 According to a study by business2community, it has been found that 71% of consumers feel frustrated when a shopping experience is impersonal.
2. Provide Consistent Value
When a sale is concluded, the majority of businesses believe their work is done. They believe that they only need to consider that specific customer once—when it's time for renewal or perhaps an upgrade.
Upselling is about giving customers a better product that they will be satisfied with. To get that satisfaction, they will return to you. So, must keep nurturing them post-purchase.
Assuming that the customer will be prepared to upgrade as soon as you ask them is incorrect. The truth is that you must continue to care for them even after the sale.
Send them newsletters with information about your business. It might include information on new products, events you are hosting, or even promotions you are running. A brief phone contact every now and again can make a big difference, at the very least.
Get the Top Strategies to Boost Your eCommerce Sales!
Email marketing, email pop-ups, strategies..all that you need to know is covered here.
Post-purchase upsell offers
Post-purchase upsell offers are shown to the customers when they are about to pay for their purchase. You can show the post-purchase upselling offers either on the thank you or order confirmation page.
Apart from this, you can share your upselling offers in the order confirmation emails sent to the customers: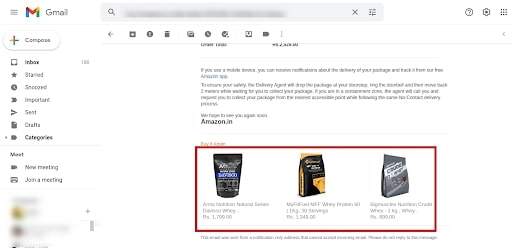 What I like about post-purchase upselling offers is that the customers don't have to re-enter their information, as a result, it makes them truly one-click in nature.
Create Post-purchase Upsell and Cross-Sell Offers to Increase Your Sales!
Follow-up constantly
Remember that upselling is still selling. So, don't allow your buyer to go away with just one brief sales speech. To encourage them…to get that upgrade, keep nurturing them and following up with them.
3. Keep It Subtle
The next important best practice is to keep your upsell offers subtly. Don't go overboard with your upsell offers otherwise, you might get on the nerve of the customer.
Be realistic and practical with your upselling offers. In short, your customers shouldn't be feeling that you're trying to swindle their hard-earned cash. Let's understand with an example.
Let's say, someone at your store is buying a shaving gel from your store, now here are 2 scenarios:
In the first scenario, you recommend the customer a disposable razor.
While in the second scenario, you show an electric shaver as an upselling offer.
Now according to you which scenario is more legit?
The answer is simple and the moral of the story is don't be aggressive with upselling offers and don't seek every stage as a sales opportunity.
4. Price Correctly, Offer a Discount, Free Shipping, Substitutes
Offer Reward/ Discounts/ Coupon Codes
Yes, you can introduce clients to exciting new products with better value, but most of the time, it takes more to convince them to buy the upsell.
They've already taken some time to decide which product they want to purchase. Therefore, they could want a motivation to provide a small prod for impulsive buying.
The possibility to sell more is greatly increased if you provide an upsell on the checkout screen. You must have persuaded them to make a purchase because they are already in the buying mood. But a unique offer can work to encourage them to make a larger purchase.
For instance, If your customers do not buy a product because it is expensive, try giving them Points and Rewards, Gift Cards, Subscriptions, or Memberships. Our Coupon Referral can help you a lot to increase your sales.
Free Shipping
Free shipping always increases sales. According to almost 90% of customers, free shipping is what makes them shop more frequently online.
How does this relate to upsells, then? People can be reminded of how much more they need to pay in order to receive free shipping. That serves as a strong inducement to keep adding products to the cart, especially if they aren't too expensive.
How to Set Up Woocommerce Shipping for Your Store?
No worries! This step-by-step guide will help out with shipping costs and processes.
Offer Substitutes
What happens if your standard upsell item is unavailable? That shouldn't prevent you from promoting the upsell. The most effective examples of upselling demonstrate that you always have options.
For instance, if increasing the memory is your upsell for a specific laptop but you're out of the upgrade, recommend the upgraded memory in other models from the same manufacturer.
Alternatively, you could just recommend a laptop with comparable characteristics if your upsell is accessible.
5. Create a Feeling of Urgency
Give your customers a time-bound offer. Tell them why availing it in this particular period could be beneficial. Always remember to price them fairly and be aware of the goods that will most likely convince customers to buy.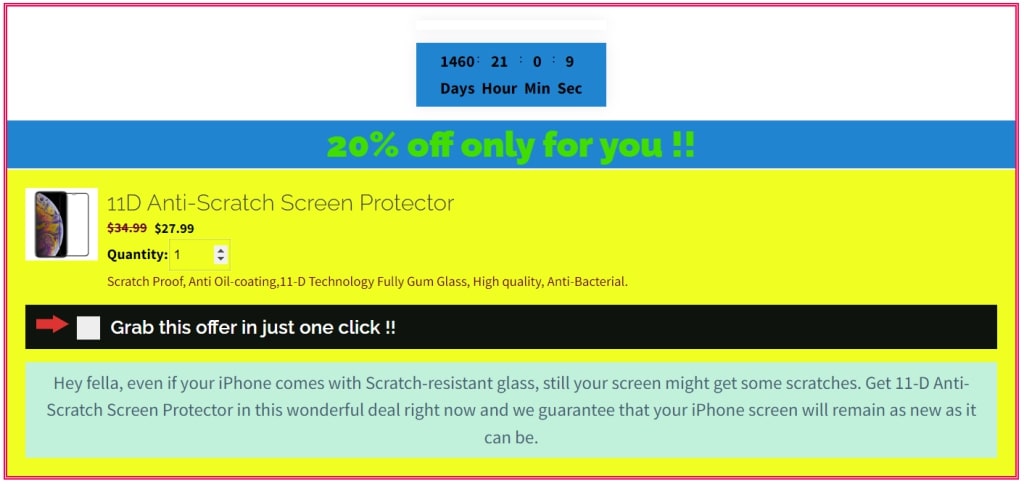 For example, say you sell an online subscription with a free and paid version. You can offer a quick 'New Year offer' where the prices are slashed only for a limited time. It may entice them to subscribe.
6. Happy Customers Are a Key to Success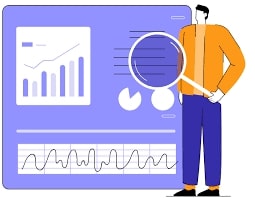 Satisfied customers always lead to a successful business!
But despite your best efforts, there will still be occasions when the customer is not quite satisfied. Be on the lookout for such indications and attempt an immediate fix.
Imagine being dissatisfied with a product or service, and instead of them making things right, they demand more money for an improved version. Most likely, you would quit purchasing, or you would even spread bad rumors.
7. Real-life Examples/ Social Proof Can Be Quite Convincing
Show them how users of the upgraded version could resolve issues (similar to what your prospect is facing currently). The vast majority of your leads wouldn't take you seriously. Naturally, since it is your business, you only have positive things to say.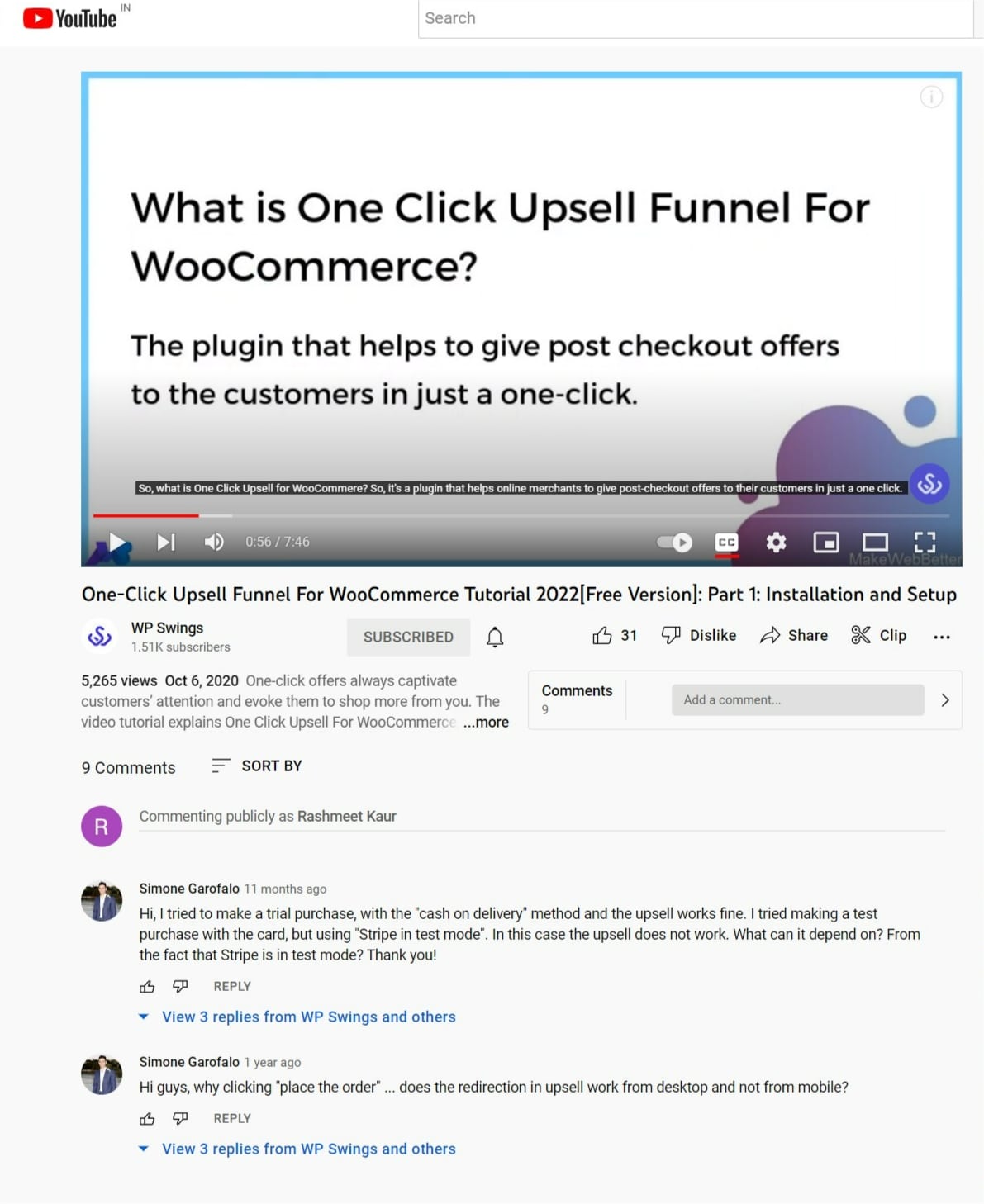 Display the thoughts of their peers who are likewise utilizing and purchasing the same good or service. It will persuade them more effectively than anything you say.
The social proof or UGC tactic demonstrates to consumers that other buyers considered the goods to be worthwhile. Like the one shown in the above image- the YouTube link for creating a simple One click upsell funnel for WooCommerce.
8. Marketing Rule of Three
Have you ever heard of the marketing rule of three?
The rule of three is nothing but a principle according to which information which comes in threes is better consumed by the reader. The idea derives from the ancient Greek rhetoric that suggests that a trio of events or characters is more humorous, satisfying, or effective than other numbers.
Today the rule of three can be seen practically everywhere. Think about the phrases "blood, sweat, and tears" and "mind, body, spirit". It is also a dominant structure that is followed by the screenwriters to add an element of surprise to the punchlines using the concept of "comic triples".
The rule of three can be applied to eCommerce upsells too. This rule can be applied to different pricing levels. Below is the example for the pricing table of CodeCanyon.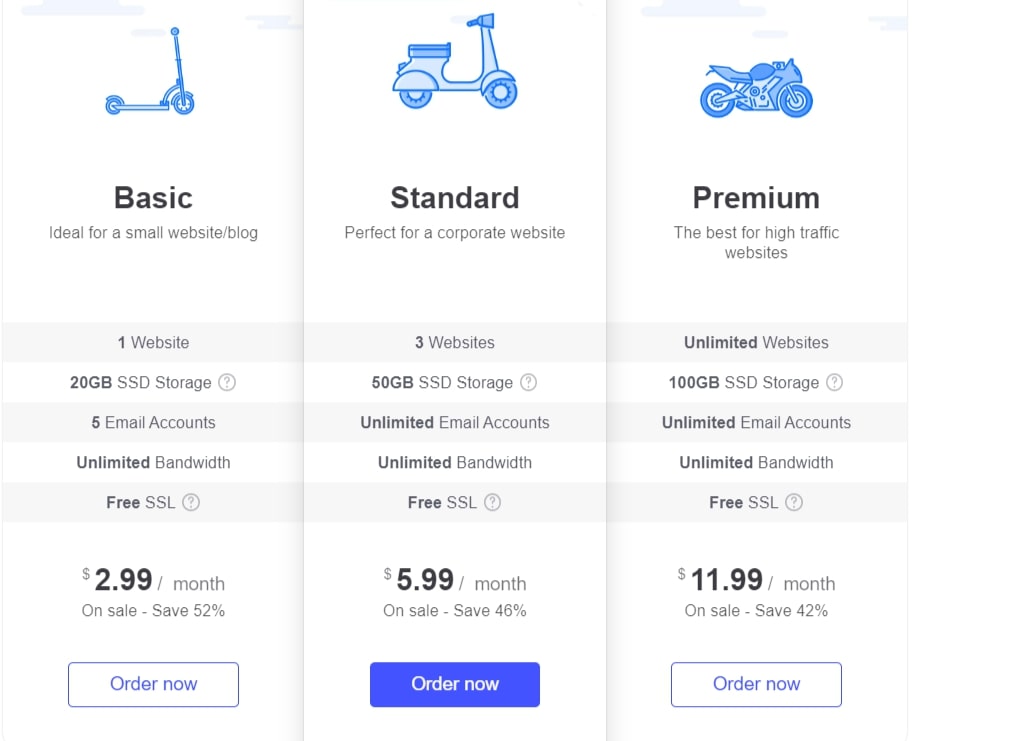 9. Try Downselling Also
Upsell is a very effective marketing strategy for boosting AOV and skyrocketing profits, but it doesn't work every time. On some occasions, your customers might reject your upselling or cross-selling offers still, we have to put in every effort to convert each and every customer.
Here comes the role of down-selling.
Downsell is about offering an affordable version of the product than the initial one. If a customer has rejected your upsell offer, try down-sell instead. This will ensure that no customer is going empty-handed from your store and you're keeping up with your conversion rates.
For example, you visit Amazon to buy a gaming laptop with the latest configuration, chipset, and graphic card, in short, it is the latest edition in the market. But when you look at the price the laptop seems to be too expensive. Therefore, Amazon suggests a cheaper version of the desired product.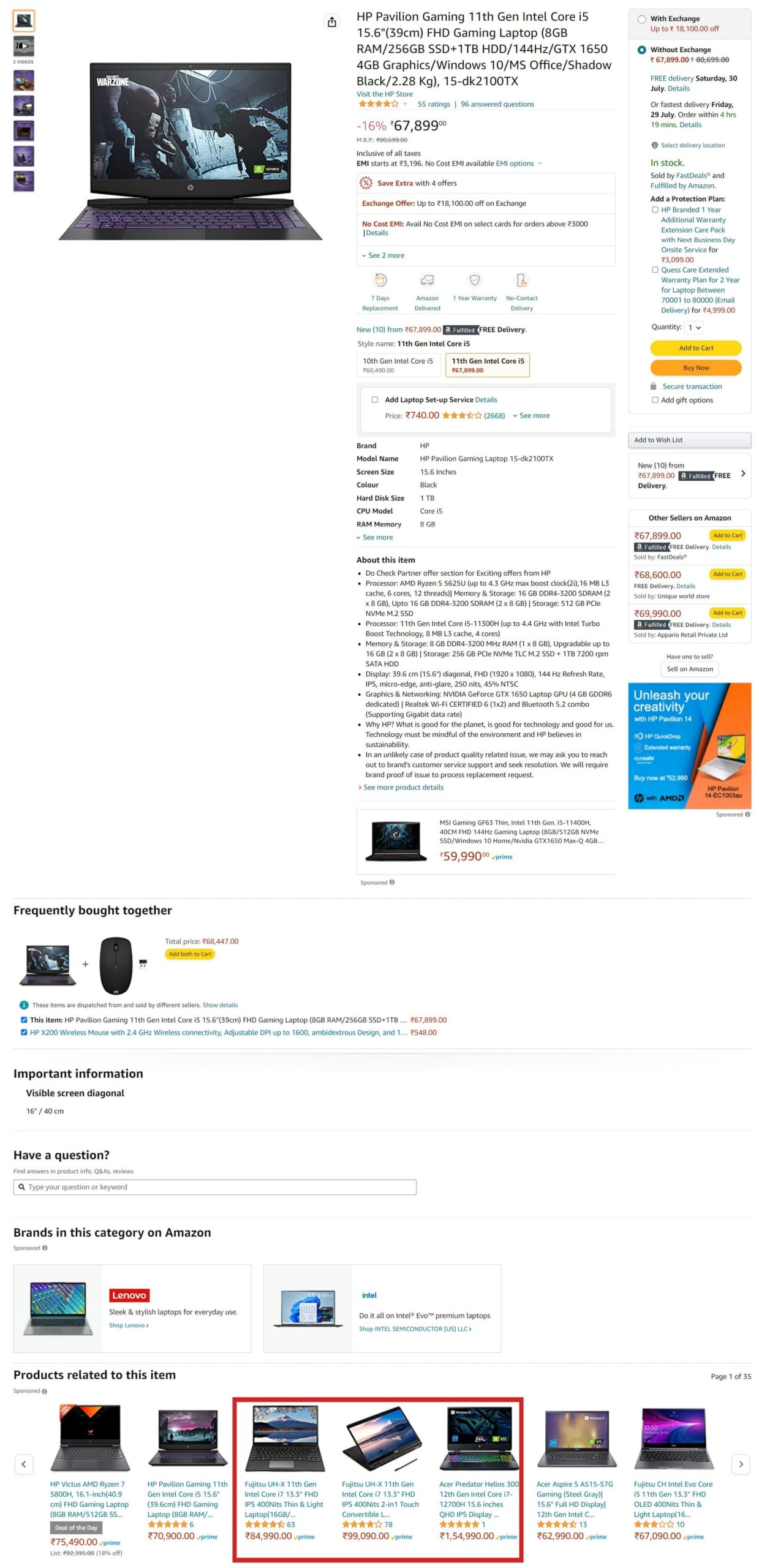 Given that the price is the hurdle in making a purchase, the cheaper variant attracts you and you don't leave the website empty-handed.
So these were the prominent tips to consider while framing your eCommerce upselling strategy. While these best practices can help you create the perfect strategy AOV boosting plan, there are common mistakes that you might commit if you're new to this.
We shall see some common mistakes that you should stop doing right now!
Before that, I wanted to summarize the difference between upselling, cross-selling, and down-selling.
10. Product Bundles…Easy to Decide
The user's decision-making process becomes increasingly difficult with each step they take. Consider methods to streamline the purchasing process.
A customer-relevant combination of related products is called a bundle. There are extra considerations and actions involved in purchasing them separately. In contrast, product bundles allow a buyer to purchase a number of products at once.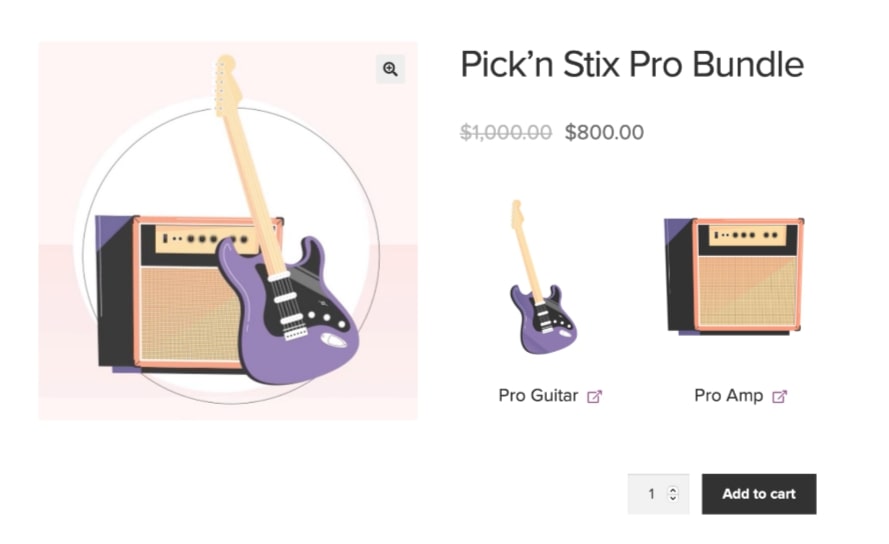 11. Upsell Recommendations- Try Being More Personalized
Personal recommendations are more effective and personalization is mostly dependent on data. According to the survey, 70% of customers are generally okay with service providers, news sites, streaming services, and shops gathering their personal information as long as they are open about how they plan to use it.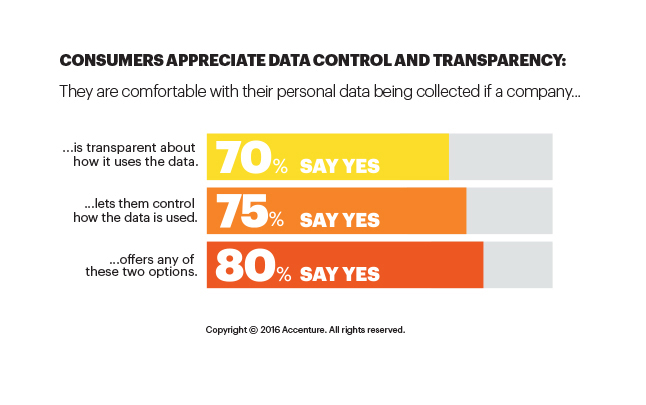 Accenture found that 75% of people are generally okay with businesses obtaining their personal information as long as they have control over how it is used. If a business gives either of these two options, 80% of respondents are okay with their data being collected.
12. Offer at Best Place
So there are some prominent spots where you can recommend products to customers for upselling. Try to make the best of these spots so that shoppers accept your offers instantly. In an eCommerce some of the best places for upselling products are:
Product Page
You have often seen "People Also Bought" or a "Frequently Bought Together" section on Amazon's product pages.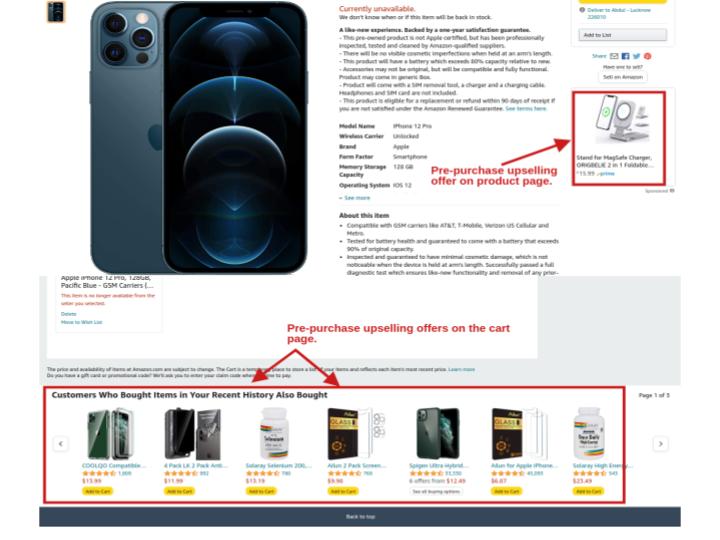 It's a perfect example of how to upsell on the product pages themselves. It's subtle, relevant, and less overwhelming for the user. In fact, the user can run a comparison and check which product will fit his/her budget and what add-ons will go with the desired product.
Cart Page
Cart page upsell offers are termed eCommerce bump offers.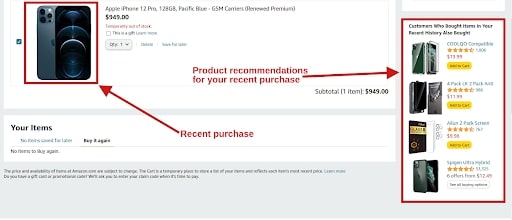 In simple words, an eCommerce order bump is an upselling and cross-selling technique in which a merchant tries to sell an add-on to the customer on the cart page itself.
This promotes impulse buying and the customers readily accept your offers. I highly recommend showing upgraded versions of your product. For example, if you're selling hotel rooms, try to recommend to your customers an upgraded room at a fair price.
Some Examples of Upselling and Cross-Selling
1. Dollar Shave Club
Dollar Shave Club has been the epitome of upselling and cross-selling. They use it perfectly to meet their sales goals and build themselves into multimillionaires.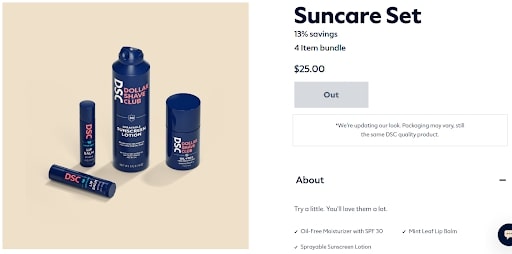 Their preferred form of cross-selling is bundling related products which are provided to the customers at a cheaper price compared to when bought individually. To be honest, upselling products using bundles is a smart move as it saves customers time and you're saved from showing multiple offers.
Other forms of eCommerce upselling practiced by Dollar Shave Club include product subscriptions, in which the customer subscribes to their products to replenish their stocks of razors and shaving creams.
2. Apple
Upselling doesn't mean that you have to always recommend your customers a product; instead, you can recommend an after-sale service too. This is the strategy that Apple has adopted to increase the sales of its Apple Care+ service.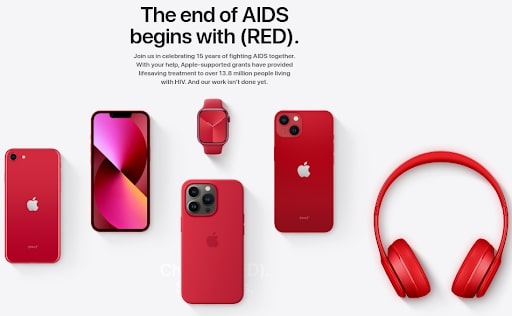 Recently they have launched their special red collection which is dedicated to the 15 years of the battle against AIDs. Apple used the opportunity subtly to create a bundle of their products using the theme red to sell products with a message that touches their customers' hearts.
3. Jetblue
Not only retail industries but other industries also use upsell to increase their profits such as the airline industries.
In the recent past, launched the "even more" initiative where they upsold seats that were more comfortable and spacious.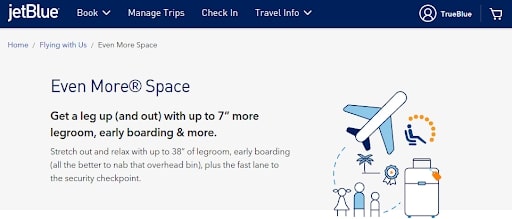 Result? Jetblue made a whopping $190 million in that year which was 12% more than they expected.
4. Comparison Table
The most common and prevalent form of upselling is showing customers a comparison table. The comparison table helps the customers in making a clear comparison between the various features of each version of your product and services.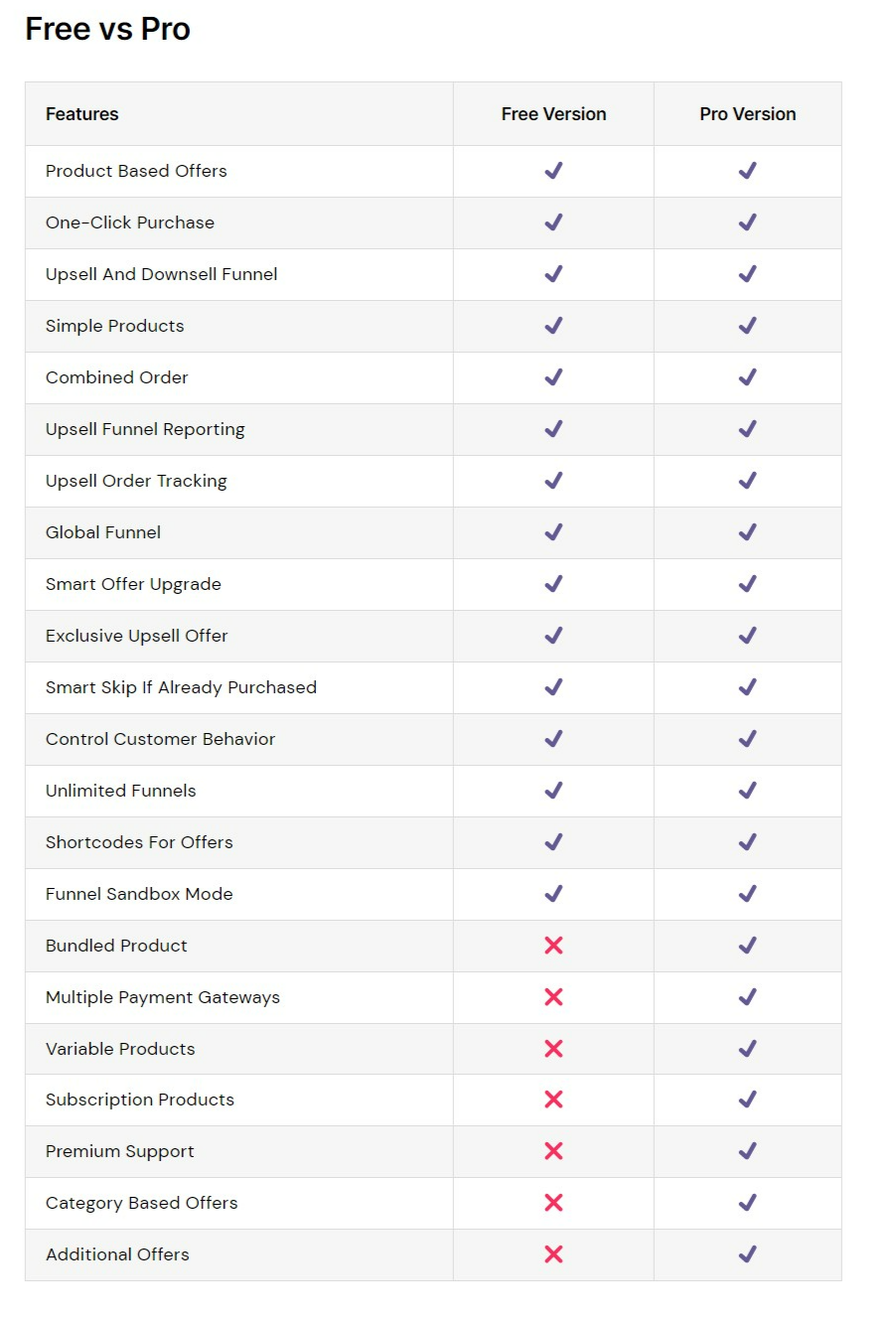 The above pictures show our one-click upsell pricing plan comparison. This is a great strategy to encourage your customers to buy an upgraded plan of your services, as a result, the AOV is boosted instantly.
So this was the answer to the question "What is Upsell?" and some examples of how brands have successfully practiced upselling and cross-selling to skyrocket their revenues.
The examples might have given you some idea of what is upsell and why it is so important for your business. Moving on to how to do it!
Strategies on How to Upsell Online
Face-to-face interactions have decreased as e-commerce has become more popular. It might appear that eCommerce upsells opportunities have also decreased.
However, upselling has actually become simpler as a result of online sales. Compared to in-person upselling, which can occasionally come off as forceful, it allows you to upsell more quietly.
Here are some tested STRATEGIES for internet upselling.
Offer customization
Compare the higher plan's pricing and more features side by side
Show a larger discount percentage for premium products
Permit a simple upgrade (even after the payment has been made)
Promote your most popular or best-reviewed products.
Give the upsell more prominence and showcase customer testimonials
Use your established customer personas to provide pertinent advice.
Give context to suggestions to make them pertinent
Note: Make sure to recommend items from the same category. When someone is looking to buy a laptop, don't ask them to also buy an 18-inch LED TV from your website. The needs met by the two goods are not the same.
Let's See the Tabular Form of What Is Upsell, Cross- Sell and Downsell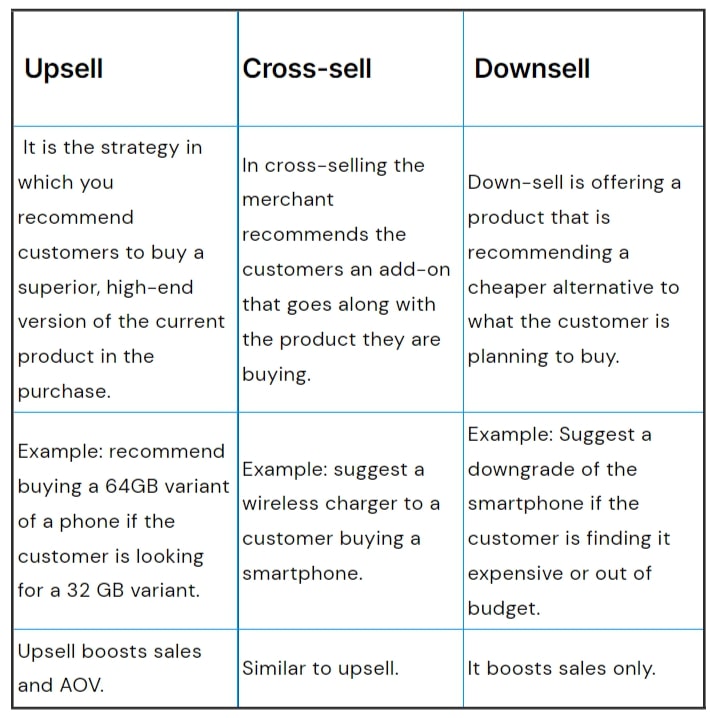 Why Are Upsell and Cross-sell Important for Your eCommerce Business?
Upselling and cross-selling are frequently interpreted as unscrupulous tactics used to extract more money from customers.
To "help clients win," however, upselling and cross-selling should be used as a STRATEGY. It involves giving advice that might better satisfy a customer's immediate needs and assisting them in making a decision after being fully informed of their possibilities.
How might upselling benefit you as a marketer?
Improves Customer Retention
Customers purchase goods and services to address problems; ignoring impulsive purchases. Although they are aware of the issue, they might not be aware of the ideal solution.
The absolute words of Steve Jobs— 'people don't know what they want until you show it to them'. When done correctly, upselling and cross-selling may assist the buyer to discover more value than they had anticipated. It can boost sales by up to 43%, which will help you keep more customers. Hence, Customer retention.
Customer Lifetime Value is Raised (CLV)
According to a Marketing Metric study, there is a 60–70% chance of selling to an existing customer. Selling to a fresh prospect has a 5-20% chance of happening. Increase customer lifetime value at a very low cost by upselling to existing customers.
Increase Sales at Your Store (AOV)
Your average order value rises as a result of cross-selling and upselling, which generates revenue and profits at very little incremental expense. Maximizing order value is essential to ROI since you have already invested precious marketing money to bring the buyer to your eCommerce business.
If you have decided to implement an upsell to your marketing strategy now make sure you're doing it the RIGHT way. Don't be aggressive or irrelevant with your offers. Actually, wait, why not see some of the best practices for eCommerce upselling?
Try This Plugin and Create the Offers for Multiple Products in the Easiest Way Possible!
Common Upselling Faults That Can Scare Your Customers Off
The temptation to increase revenue can lead you to commit some mistakes that can scare your customers away. It might seem easy to upsell expensive products and add-ons but believe it's not that simple. There are some common upselling faults that have to be kept in mind so that you stay away from them, such as:
1. Inappropriate Time
It might happen that you upsell your customer far too early or too late, and the result – is either the customer will decline your upselling offer or leave your website empty-handed.
To enhance your customers' shopping experience and make a better sale so you aren't upselling at an inappropriate time. It is highly recommended to show your upsell offers when a customer has made an affirmative buying decision.
2. Lack of Personalization
80% of customers are more likely to buy from a company that offers personalized experiences– Epsilon
If we go by these stats then creating an eCommerce upsell offer that lacks personalization can be devastating for your business. You cannot afford to lose such a huge customer base, therefore, start adding a personal touch to the offers.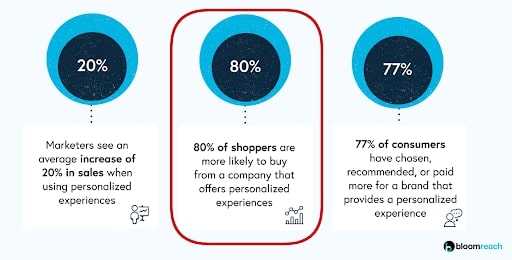 For doing so you can start by analyzing your prospects and their shopping habits. Keep metrics such as demographics and page exits for a better understanding of your target market.
3. No Value for Customers
It is very important that your customers are well-educated about why they should accept your eCommerce upsell offer. Often merchants make upselling recommendations without providing the reason for new offerings.
It will not only end in declining your offer but spoil your relationship with the customers. Therefore, it's important to first educate your customers on how upgrading their product choices can help them add value to their cart. For reference, you can consider the Mailchimp example discussed earlier.
4. Overwhelming the User
"More the merrier", stands completely wrong when it comes to eCommerce upselling.
Merchants often show offers more than what is needed. Instead of grabbing the customers' attention, it might end up leaving them in an overwhelming and confusing situation.
Even while you're showing eCommerce upsell offers your goal should be to provide the solution to their problems instead of making them land into a pool of more questions.
Upselling: Frequently Asked Questions
At this point, what is upselling is not a lingering question in your mind. Instead, you are trying to learn the trick of the trade and figure best strategies for upselling.
Q1. How do I upsell a product without forcing it on the customers?
Nobody likes a pushy salesperson. So, you have to upsell without selling. Follow these pointers for upselling on your WooCommerce store:
Get to Know Your Customer: Understand your customers' needs through their journey and show products most relevant to them.
Avoid Aggressive Offers: Don't show extreme discounts or create unnecessary urgency to bag a sale. Urgency marketing is good but the pressure should be moderately balanced.
Give Multiple Options: Offer multiple versions of the products you wish to upsell.
Q2. What Are the 4 Stages of Upselling?
The upselling strategy should comprise a multi-level approach toward customer satisfaction. Follow the below-mentioned 4 steps:
(1) Find out their needs: Before you upsell, you should have a clear idea of what product or service you should be promoting to your audience. You can take surveys, monitor their shopping behavior, crate buyer personas, or check out their wishlist. That should give you enough data for personalized nurturing.
(2)  Rely on Market Add-Ons: Use the proper methods to advertise your upselling product & services. You can rely on ads, banners, product suggestions, email, sms, WhatsApp marketing, etc., to prompt customers to make better purchases.
(3) Take Feedback From Customers: Complete the communication process by connecting with your shoppers. Ask them if they liked the upsell product purchase or didn't. Client Feedback will help you improve your nurturing tactics and avoid marketing mistakes.
(4) Offer Some Offers: Sometimes people need a little more motivation to complete their purchase. So, you must incentivize them with useful discounts and offers. Create a moderate sense of urgency on products they are interested in. That will do the trick.
Apply these steps for both B2B and B2C business types, it will work without fail.
Q3. What Is the Key to Upselling?
Short Answer: Offering relevant products.
Long Answer: The point of upselling is not selling itself, rather it is providing optimum shopping experience to users. The most important deciding factor of a sales process is the post-purchase experience. Even if you have the most seamless checkout, if the product fails to satisfy the customers, it all goes in vain.
So, your product should feel like a better choice when customers use it and come back to buy more from you.
Q4. What are the types of upselling?
There are five basic types of upselling. Treat these upselling types as strategies and use them to serve your marketing requirements:
1. Product or Service Upgrade: The most common type of upselling is offering enhanced versions of products or services. For example, if the customer is buying a laptop with a 14-inch display and 8GB RAM, you can offer an alternative with a 16-inch display and 16GB RAM.
2. Upselling Quantity: Promoting a larger quantity of the baseline product or service. For example, setting a lower price for buying an extension in bulk for multiple sites compared to a single-site license.
3. Product Protection: Providing repair, replacement, or renewal warranty on purchased products and services.
4. Customization: Giving customization services to enhance the functionality or features to serve the unique needs of your customers is also a type of upselling strategy.
5. Services coverage: Offering to provide maintenance and support package of the product or service for over a period of time.
Q5. How can personalized product recommendations enhance the upselling process?
Answer: Personalization of product recommendations is achieved through gathering customers' accurate behavioral and preference data and leveraging it to create targeted upsell campaigns.
Your website offers multiple opportunities to collect customer data:
Survey Forms
Blog and Newsletters Subscriptions
Shopping History
Interviews
Social Media Monitoring
Wishlist
Marketing Analytics
Web Tracking
And more.
"What is upsell?" is a question that gives rise to a host of deserving topics. I have tried to cover all common queries in this section. However, if you still have doubts after reading this article, please mention them in the comments.
Increase Your Sale with Upsell
I hope this post has cleared up the concept of what is upsell, how to do it, and its benefits.
Upsell! If you want to earn that extra money from your customers and boost your sales. We have given some advice on how to upsell in e-commerce and given examples of upselling that actually happened.
If you do it the right way then gradually you'll learn that it is one of the easiest ways to increase AOV instantly.
These will make sure you get the most out of your upselling strategy! If you enjoyed this post, DO COMMENT below😊.