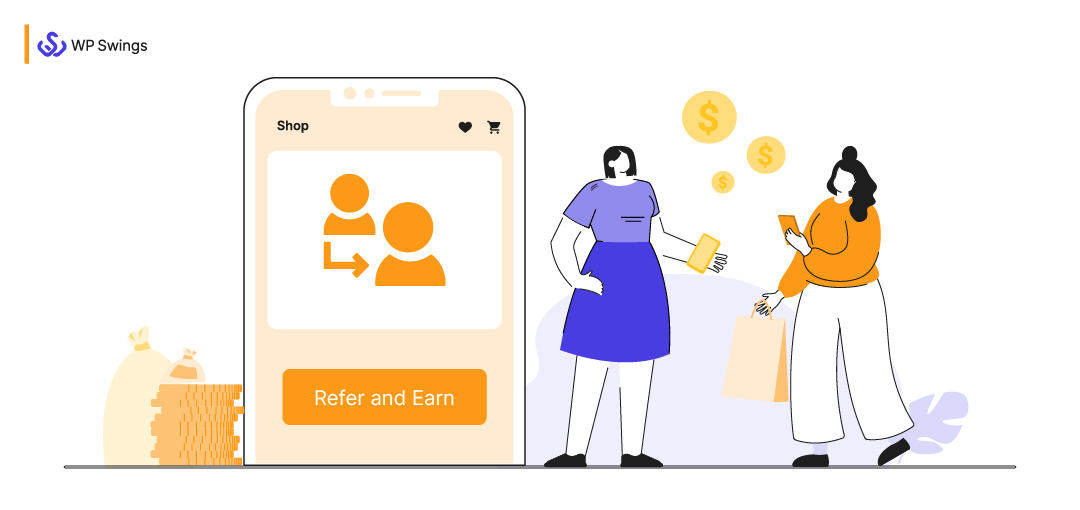 A satisfactory product leaves a lasting impact on your customers. They admire the product, write reviews, and share it with their friends & family. And that's what opens up the possibility of eCommerce referral marketing!
Customer loyalty is the core of referral marketing. As it utilizes brand advocates or loyal customers for product promotion. It utilizes the concept of gamification to increase engagement and user experience.
However, referral marketing isn't a new concept.
But, what makes referral marketing so crucial in the present eCommerce world is the ease of doing it. For example, the points and rewards method.
Leveraging this, store owners can reward points to customers who perform definite actions, including referrals.
Others include coupons code, in which the buyer sends a code to their friends, and when the recommended person uses that coupon code, they both get benefits.
Similarly, several other methods of referral marketing exist in the present-day eCommerce business, which includes contest-based referral programs, events-based referral programs, giveaways, etc.
In this article, we will discuss all such referral programs that can help eCommerce business owners to boost their sales.
Note: Organic referral and strategic referral are two separate things.
Organic referral or simply referral is when the consumers talk about a certain product to their family or friends motivated by the pleasure or pain they have got from the product.
Whereas, in strategic referrals, retailers use some promotional tricks or strategies to motivate the buyers to share or recommend their products to their friends or relatives. A strategic referral is what we call referral marketing.
Thus, we can define referral marketing as;
A tactical way of spreading promotional messages or sale-encouraging messages by the customer's words of mouth or through other digital sharing methods. And, rewarding them or promising them lucky rewards in return for those referrals.
Table of Content
Let's now dive into the working mechanism of referral marketing.
How & Why Referral Marketing Works?
According to Jonah Berger, brands get word of mouth for 6 reasons, which have been summarized as STEPPS.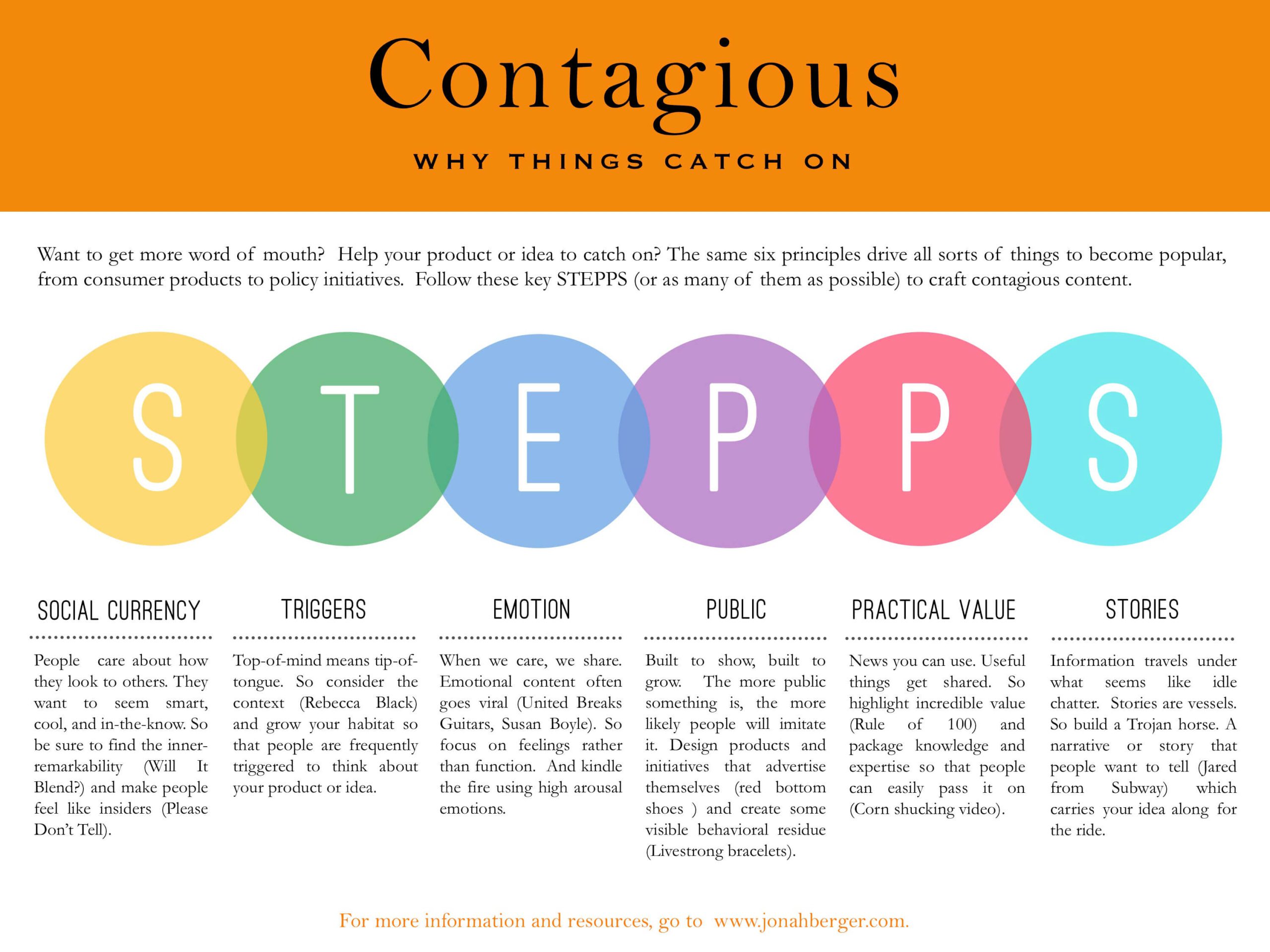 STEPPS stands for:
Social Currency
Social reputation, value, and respect all count as social currency. People want to look smart and cool in the eyes of others. If by sharing about your product, they earn social currency, they would keep doing it.
Trigger
Triggering the mind of the customer in a certain way about the product will urge them to share your products. This is where marketers use rewards, prizes, cashback, etc., and trigger the customer's mind.
Emotions
A product that wins the heart of your customer and gets emotionally attached to them will automatically get more words of mouth.
Public
Any product or event that is among the public will get more word of mouth.
Practical Value
How practical your products are to the consumers decides how many words of mouth it would get.
Stories
People don't talk much about the products but they talk about stories. And, if you give them a story about your products, they will definitely include them in their regular conversations.
Therefore, if your referral program gives any one or more of these reasons to the consumers, then the possibility of word of mouth would be higher. These 6 points are the core reasons behind the working of referral marketing.
On the other hand, every individual referral concept works on set goals, targeted audiences, and mechanisms. However, the reason for word of mouth remains one of the STEPPS or more.
For example, a coupon referral program.
The core concept is the same, but it is distinguished from other referral programs with its specific set goals, mode of making the referral, incentives, rewards, etc.
This video explains the complete working of the coupon referral program for WooCommerce.
Referral marketing is found to be an effective form of marketing method. Several companies used referral marketing and transformed themselves into a well-known brands in a short time. For example, PayPal, Dropbox, Uber, etc.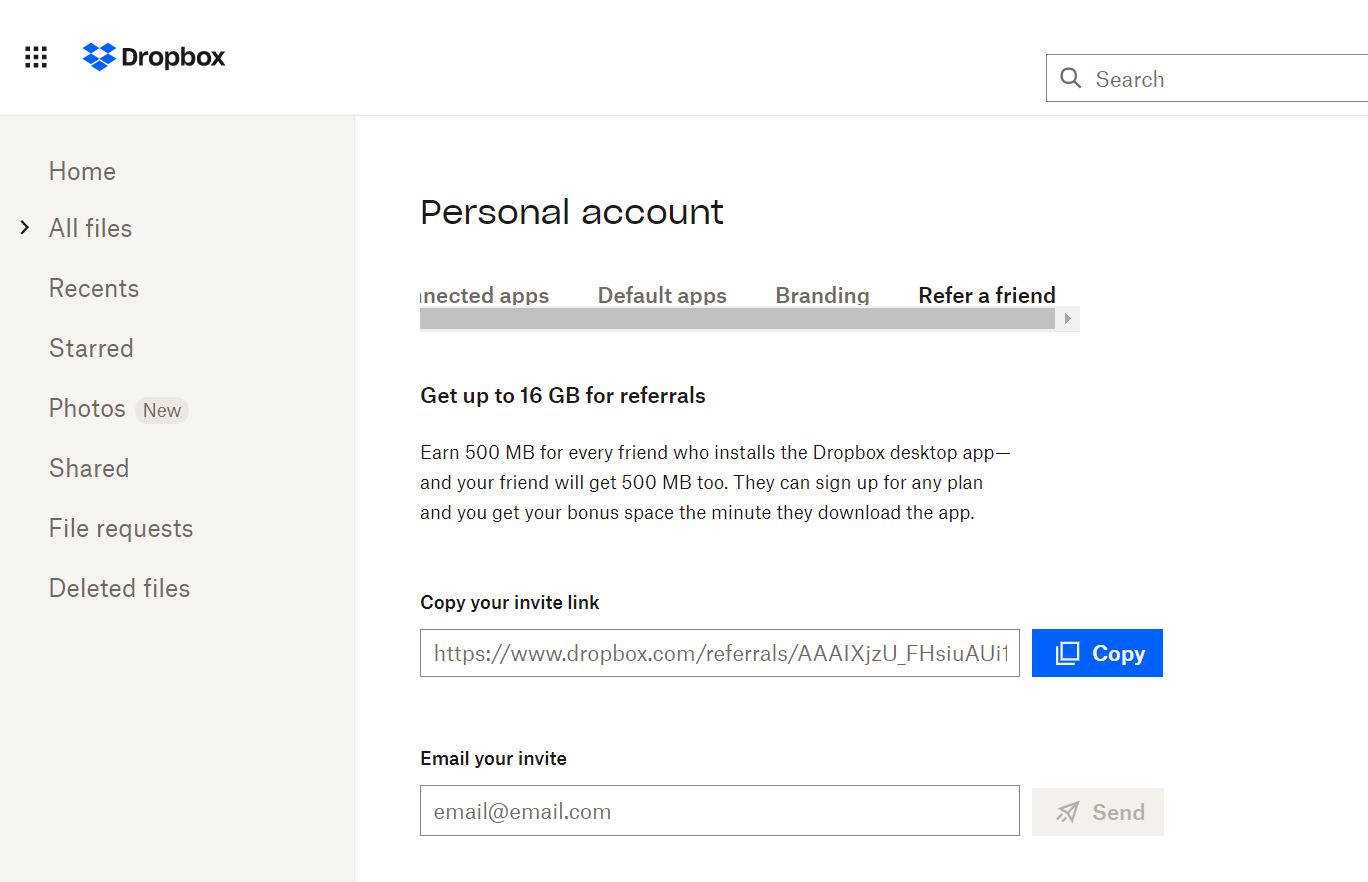 Why Does Referral Marketing Work So Well?
The first and foremost reason is the trust factor. According to Nielson, 83% of people trust a recommendation from a friend.
Therefore, the recommendations from friends or relatives beat all kinds of advertisements and other marketing campaigns.
Also, customer loyalty is equally important to drive the referrer's motivation. Brand advocates present your case passionately to potential customers and convince them to purchase your products or services.
Ways To Implement Referral Marketing in eCommerce
With rising eCommerce and tracking technology, easy and effective referral marketing concepts were born.
In this section, we will see some of the top working eCommerce referral marketing ways. These methods have the potential to upsurge your sales and revenue by many folds, and therefore underestimating them can be a big mistake for your business.
And, if you succeed in implementing any of these; your sales and revenue graph will rise by a noticeable factor.
1. Coupon Code Offers and Discounts
This is the easiest and most popular method for eCommerce referral marketing.
In this method, a coupon code is generated for a customer which they can share with their friends and relatives. And, when the referred person uses that code for signup or for purchasing the products, they both get rewarded.
The reward can come in multiple forms — discounts, offers, free plans, free delivery, and others as per the merchant's choice.
For WooCommerce stores, the Coupon Referral Program plugin can prove to be the ultimate solution.

Maximize Customer Loyalty With Coupon Referral Program
Implement a Coupon Referral Program to engage and reward your customers and turn them into brand advocates
2. Email Referral Program
Email marketing is one of the most preferred methods to nurture customers. Despite the soaring popularity of social media, emails are still relevant and effective.
Globally more than 330 billion emails are sent and received every day. So, it clearly is a great medium to generate sales.
According to MailChimp, the average open rate of eCommerce emails is 2.01%. However, senders of referral emails are friends and family members, which results in higher open rates and more sales.
Email referral programs do work, but it requires automation and incentivization. No matter how loyal customers are, they aren't gonna sit behind a screen and write flavorous emails out of goodwill.
For example, Dropbox has an email referral marketing program that offers 16GB of cloud storage on every new joiner customers bring. It's a no-brainer setup. Users have to enter the email addresses of their friends and press the send button.
3. Organize Contests and Award for Referral
Contest referral programs are a great way to increase the email list, promote the brand, and increase sales.
People have a natural tendency to win contests or quizzes, no matter how irrelevant the contest is. Marketers can smartly use this natural tendency and transform those participants into buyers or referrals.
For example,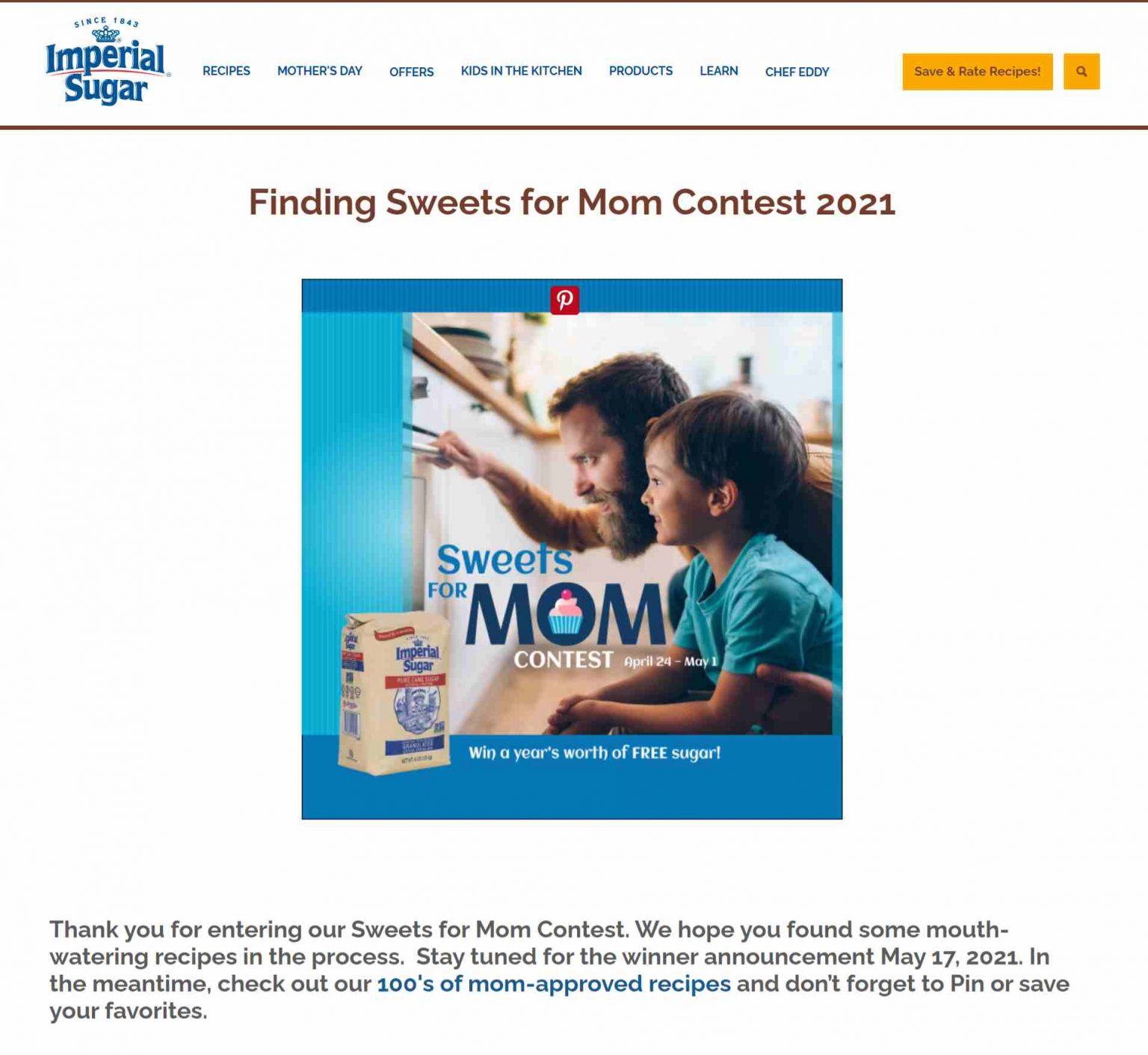 4. Cashback And Cash Reward
Cashback or cash reward are different names for the same equation.
In such a program, the buyers get immediate cash-back or cash reward on each referral.
Many stores extend this to a new level by offering really alluring cash-back that normal people may find hard to refuse.
Consider the example of the CashKaro online store; it gives cashback on referring as well as on every purchase of the referred person.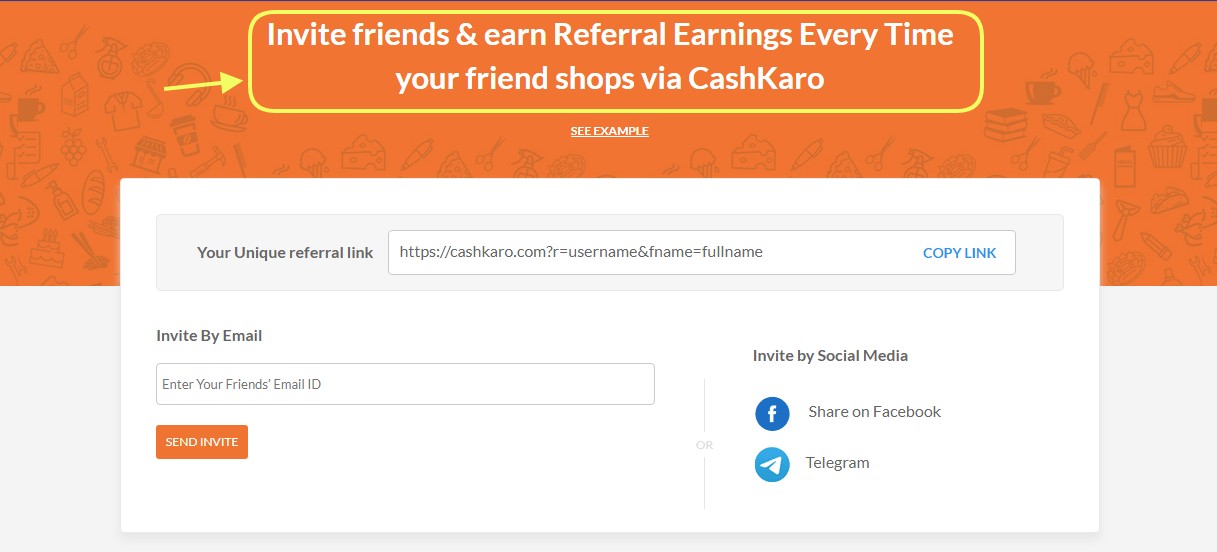 5. Event-Based Referral Program
Organize events that people love to talk about. They talk, they refer to it indirectly.
The events can be anything — summit, gathering, talks, discussion, conference, etc. Participants can be invited under different categories in the events.
For example, CommerceNext. It is a two days event organized by CommerceNext that brings top eCommerce brands together and they discuss various topics. This event gives reason to customers to talk about CommerceNext.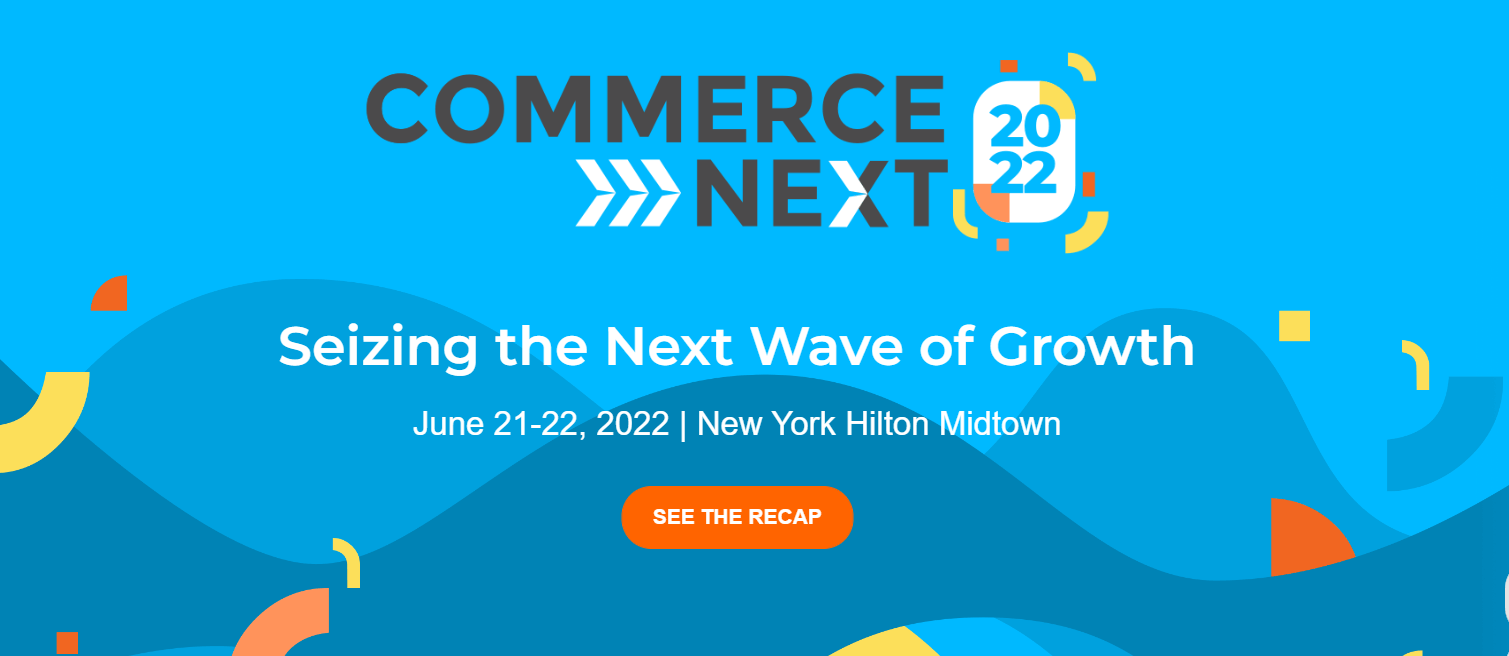 [Source: CommerceNext]
Strategies for Effective Referral Marketing
Now that you know the top trending ways of doing referral marketing, how to start it becomes the frontline question.
Starting referral marketing without any strategic planning can hit your business at a loss.
For that, here are some tips that you must take care of when starting referral marketing for your eCommerce business.
1. Make it a Win-Win Program
Your customers will recommend your product to their friends for some reason. Give them that reason. Be it some incentives or rewards, make sure the customer is benefitted. Similarly, the recommended person will show interest in the referred product for some reason as well.
Therefore, making the referral program a win-win program for both the referring and the referred person makes the program mutually convincing for both ends.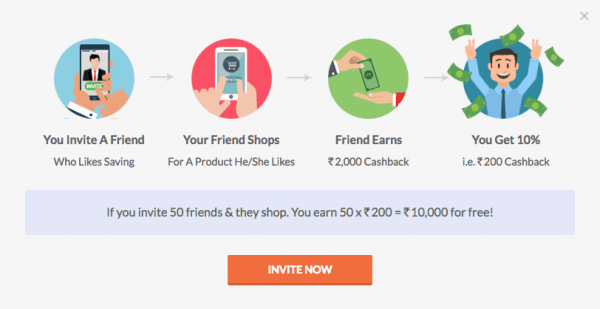 2. Make Your Referral Program Noticeable
After launching your referral marketing program, don't keep it in the dark corner of your online store.
Market your referral program on every social media platform as well as through your email list. Emphasize the offers and the benefits of referring. Clearly state the methods of making referrals at the most noticeable place in your store for visitors.
Using flash buttons, or pop-up notifications can make your referral programs more noticeable.
3. Promote your Referral Program on Social Media
Launching a referral program for eCommerce goals isn't enough. You need to bring more of your customers to actively take part in it.
What else can be better than various social media platforms to spread awareness of your referral program?
Therefore, promote your referral program on every social media such as Twitter, Facebook, Instagram, Pinterest, etc.
Consider the example of Outlaw. They actively use Twitter to promote their referral program among possible customers on Twitter.
We just launched our referral program and it's really simple: Share Outlaw with your friends and when they come onboard, we'll send you a $200 reward as a thank you. It's a win-win for all!

Refer & earn now 👉 https://t.co/JsCDH4IWkn#contractmanagement #referralprogram pic.twitter.com/h4aRs3iet2

— Outlaw (@getoutlaw_) October 15, 2020
4. Personalize the Program
Personalization is a great way to increase the engagement of the customers.
About 79% of customers are more likely to engage with a personalized message or offer. Thus, personalized messages increase the chances of turning customers into referrals.
Further, the rate of response of the referred person also increases if the invitation message is well personalized.
5. Smoothen the Referral Channel
eCommerce referral marketing is no longer limited to word of mouth.
Other digital sharing methods such as email, Facebook, Twitter, and Whatsapp, are now common referral channels for referring friends and relatives. Thus, involve clear sharing buttons of these channels at the place of referral coupon code.
Provide one-to-one sharing options, as not everyone wishes to recommend publicly.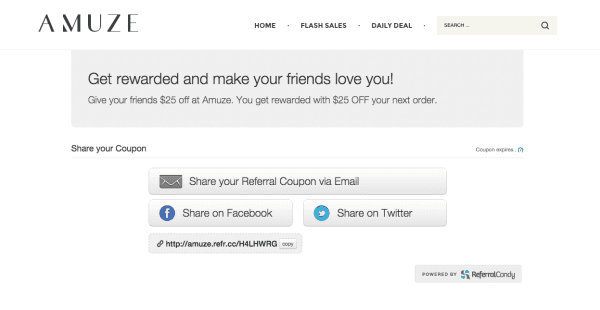 6. Research Well
Plan your moves. Making your referral marking a hit and trial can harm your business.
All-around research will strengthen the base of your referral marketing program which would help you in taking the right decision for your program.
You can take surveys to know and predict the possibility of a customer's referring opinion. Plan out the budget you are going to put in. Examine your competitor's referral program if any, etc.
7. Ask for Referral at the Right Time
Asking your customers to refer to your product is critical.
Even if you have prominently depicted your referral program on the homepage of your online store, asking for a referral is a decent marketing strategy as long as you properly plan the timing.
For some programs which are strategically organized, a pre-order referral is also possible. For example;
But, for most of the referral programs, the right time to ask buyers to refer is after the purchase of the product.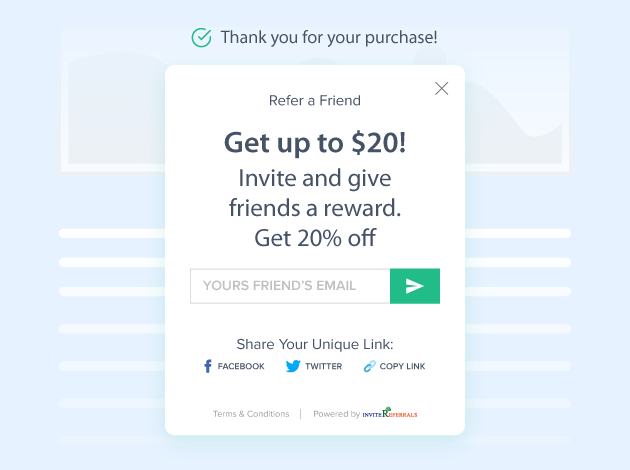 8. Timely Measure the ROI of Your Referral Program
Taking timely measurements of marketing campaigns is important to determine the campaign's effectiveness.
And, referral marketing campaigns are no different.
Return On Investment (ROI) is the most popular metric to measure the success of the marketing campaign.
When all the input investment is lower than the total profit earned from the campaign then it is said to have a positive ROI. Such ROI is important for the growth of the business.
Conversely, negative ROI is when the investment input is more than what is earned
from the campaign. Negative ROI is not favorable to businesses. Immediate steps must be taken to convert those negative ROIs to positive ones.
5. Top Referral Marketing Software 2022
Referral marketing may seem simple but it is fairly complex when you get into the details. Frankly, you can simply avoid the complexities of using the eCommerce referral marketing software.
The below list contains the top 5 referral marketing software in 2022. The list's order is random and doesn't represent any kind of ranking.
1. Referral Factory
Referral Factory helps businesses easily build their referral programs without involving developers. This software offers endless possibilities with design and branding.
You can choose any of the templates and customize them to match your brand identity. It has modest price plans ranging from Starter $95/month to Enterprise $1400 per month.
Except for the Enterprise plan, you get a 15-day trial for every other plan, which would help you evaluate its usability.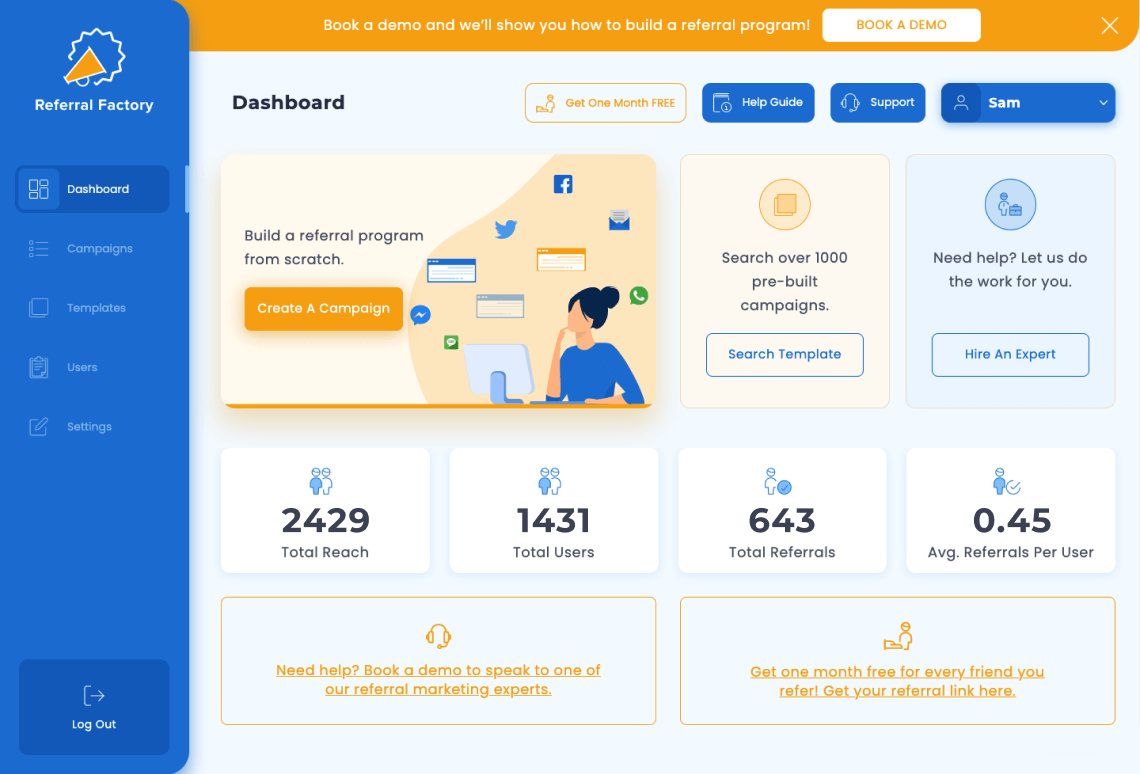 Also, an expert will review the effectiveness of your referral campaigns and advice you on how to proceed further. Customer service is available to help every step of the way.
Features of Referral Factory
1000+ customizable campaigns templates for several kinds of business designed by experts
Set custom rewards according to your business needs
In-build detection of duplicate referrals
Share referrals via popular messaging services
Supports 20 different languages
Referral marketing API
Automate rewards and incentives
Best Referral management and real-time tracking
Drag and drop program builder tools
Integration with business tools like Hubspot, Salesforce, Intercom, and Zapier
Full-featured 15-day trial period
The only drawbacks I could notice are that support isn't available 24×7 for all plans and you can't add multiple users until you upgrade the plan to the enterprise version.
2. Talkable
Talkable is an eCommerce referral marketing software for enterprise businesses. It helps businesses in campaign organization, referral program management, monitoring, expert recommendations, and so much more.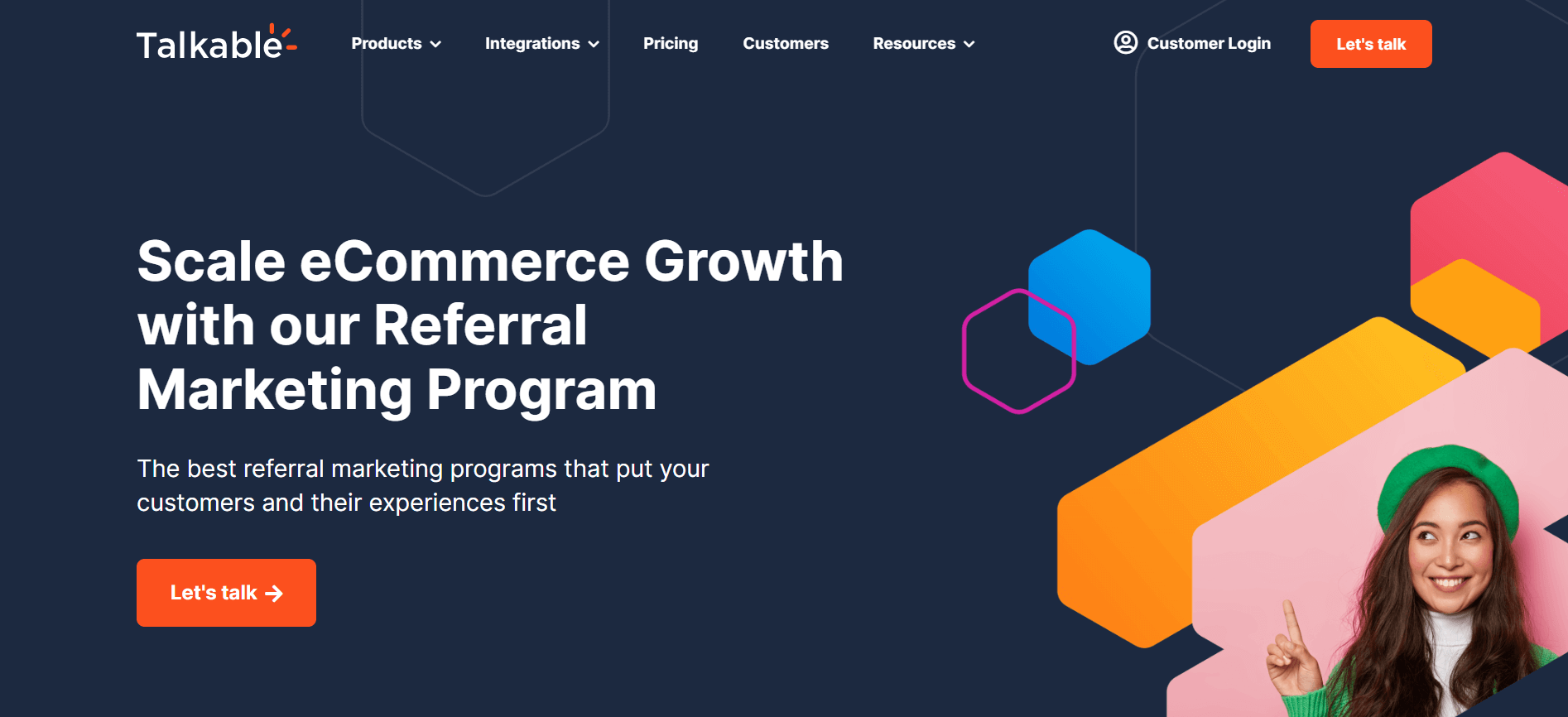 Considering the business needs, it provides AB testing and segmentation features that are crucial for large businesses. You can make any customizations required to maintain brand symmetry.
The in-built reporting system will display the performance of your referral campaigns using key metrics.
Also, it is a secure system. To ensure data protection, it can be made compatible with GDPR CCAP compliant. And Talkable itself claims to have blocked over 5 million fraudulent referral attempts, which equates to over $110M in savings for their customers.
Even with assistance, the program setup may take a few days. Moreover, it easily offers integration with Shopify, HubSpot, etc., and facilitates the further expansion of your business.
Features of Talkable
Automate coupon creation
Referral tracking methods
Advocate personal coupon sharing
Sharing of product or product lines
Customer service portal
Referral verification and approval
Segmentation with traffic source
Integrations with third-party systems like Shopify, HubSpot, Magento, etc.
Experts to strategize and lead your referral campaigns
All over it excellent referral software, especially from the security point of view and campaign management. Although the plans are cheap, it is more suited for enterprise businesses.
3. Friendbuy
Friendbuy referral marketing software allows you to integrate referral and customer loyalty programs into your online business.
It is high-functioning but easy to use at the same time. Most importantly, it lowers your CPAs.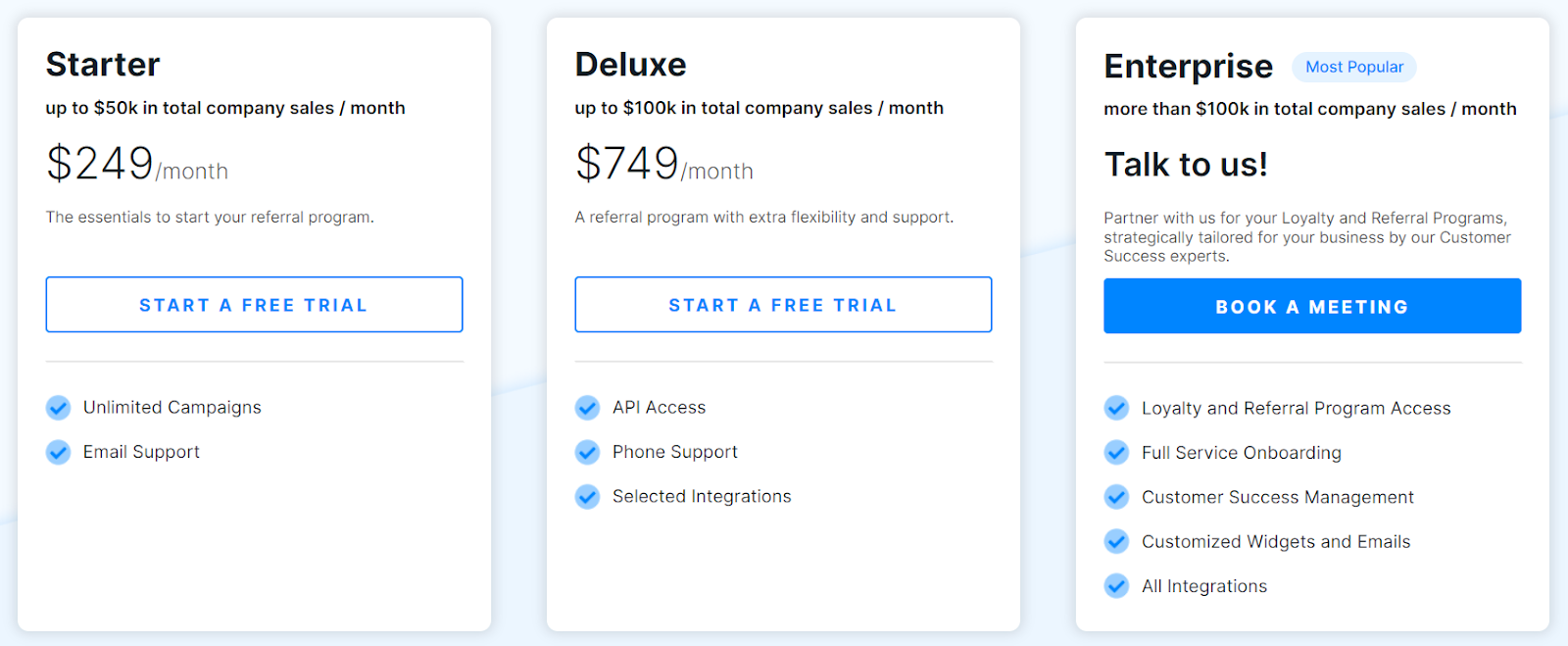 Friendbuy offers various ways to reward your customers such as purchase, refer-a-friend, downloading the mobile, and reward programs.
You can use the referral templates to speed up the setup process. Your customers can refer their friends through SMS, referral links, social, and email. It allows integration with messaging, data privacy, and email marketing services. So, you don't have to worry about managing a large email list.
Throughout your journey, you will have support from eCommerce referral marketing experts, a personalized launch roadmap, recommendations for best practices and program enhancements, and analytics.
Master Google Analytics 4 for Your WooCommerce Store
However, the pricing for the basic plan starts at $249. If you are looking to scale your business the API access and integrations would require $749 per month.
Feature of Friendbuy:
Business-ready referral templates
Referral Dashboard for your customers
Verification and fraud prevention measures
Reward automation
Detailed analytics and reporting
A/B testing
Integration with popular services
API access
CCPA and GDPR compliance
It has minimal features for the basic DIY plans and is expensive when compared to other software packages. Plus, there is no dedicated support for the starter plan, which might not help if you are struggling with technical issues.
4. Extole – Referral Marketing Platform
This eCommerce referral marketing software is designed especially for enterprise businesses. Understandably, the basic plan starts from $3000 per month. For large-scale brands, the cost is even higher.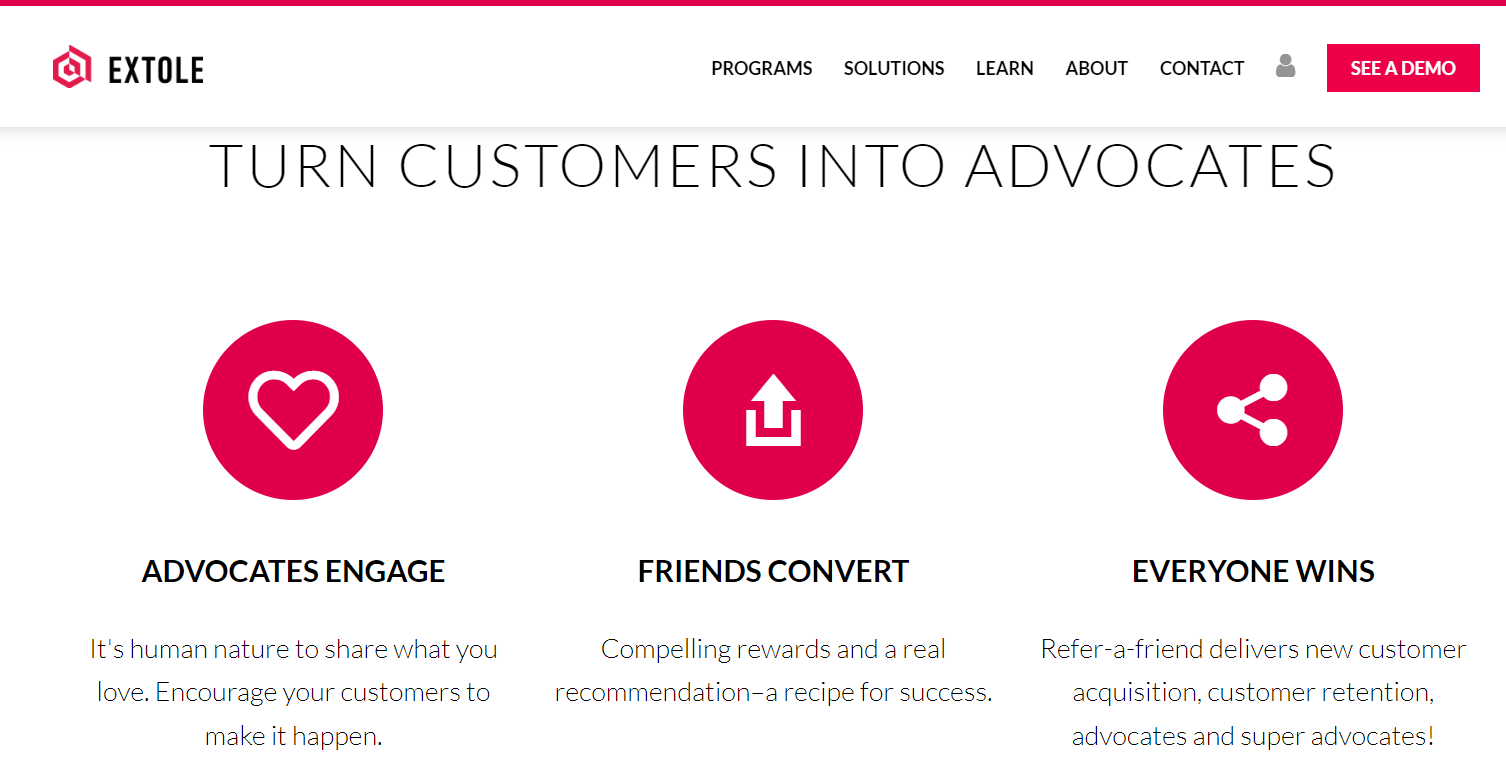 However, Extole is worth the amount it's asking for. It has professionally designed and mobile responsive sharing and referral templates and customization options to tailor the program to your brand.
The automatic reward engine rewards your brand advocates with coupons, loyalty points, and gift cards. Set your own rules to weed out the low-quality referrals.
The biggest plus point of this software is that it focuses on recognizing the best referrals, sharers, and revenue generators, allowing you to reward them in real-time and appreciate their commitment.
Also, you can test your creatives, offers, and rules and manage your programs in a single dashboard.
Features of Extole
Advocate Management
Campaign Management
Referral APIs for Mobile apps
Engage and reward Influencers
Referral for popular products
Multi-Channel Marketing
Referral Templates
Referral Tracking
Reporting/Analytics
Automated reward engine
ROI Tracking
Social Engagement
Third-Party Integrations
It is perfect for enterprise business as it focuses heavily on engagement with brand influencers, rewards management, and automation, but comes at a hefty price.
5. ReferralCandy
ReferralCandy is a popular name in the eCommerce referral software domain. Mainly because of its realistic claims and sensible pricing structure. The yearly plans are much cheaper than monthly ones. Yes, they do take a commission on referral sales but it doesn't go higher than 5%. There is no latent fee here.
You will get a 30-day free trial for Premium and Plus plans. So, you get more than enough to understand how it works.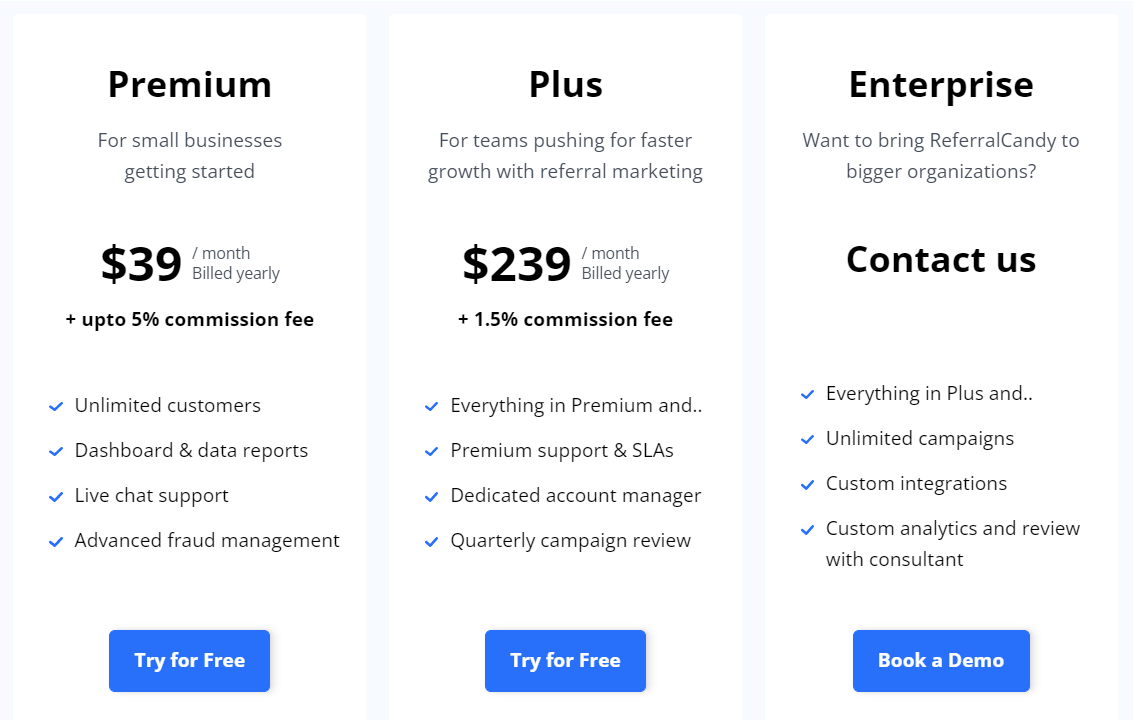 The referral automation features are practical and often come in use. You can automate invitation emails to new customers to join the referral program. Also, send customer rewards to any of your brand advocates to further increase their customer loyalty.
There is no limit to the number of customers you can enroll in your rewards program. Moreover, you can start engaging them from the first visit or purchase with post-purchase popups, landing pages, and referral widgets.
ReferralCandy also enables you to remind the non-active brand advocates to start referring again. Its fraud prevention system identifies suspicious referrals and advanced monitoring helps you keep track of your referral performance.
Features of ReferralCandy
Integration with major eCommerce Platforms
Integration with business tools
Automated Invitation
Tracking and Analysis
Referral Engagement
Cost-effective
30-day free trial
Although it has options for the enterprise. It is best suited for small businesses. There is no A/B testing and advanced settings like other plans we have seen in this list.
So, these are the top 5 eCommerce referral marketing software. You are free to choose any program that meets your business needs.
Conclusion
eCommerce Referral marketing is effective, requires a low cost per acquisition, and is a more trusted form of marketing.
It can quickly boost sales, increase traffic, and there are lots of successful examples of referral marketing in history. All of these make it appealing to try.
There are multiple ways to do referral marketing in eCommerce. These include coupon code referral programs, contest referral programs, event referral programs, cashback, etc.
You can start with any of these for your next referral marketing campaign. And the tips I've shared in the article will help you run a successful eCommerce referral program.
If there is any other way I can help you, please write to me in the comment section.