Membership For WooCommerce Pro
MERCHANTS CAN EASILY ALLOW SPECIFIC PRODUCT DISCOUNTS FOR MEMBERS ONLY, MULTIPLE PLANS IN ONE MEMBERSHIP, AND SEND EMAILS FOR MEMBERSHIP PLAN ACTIONS, PRODUCT TAGS, CATEGORIES, AND SECTIONS SELECTED ONLY FOR WOOCOMMERCE MEMBERS WITH THE HELP OF THE MEMBERSHIP PRO PLUGIN.
The Membership For WooCommerce Pro plugin is a feature-rich, well-supported, and easy-to-use premium solution for all eCommerce store owners to sell and manage membership plans. If you are looking to create or upgrade your WooCommerce membership site to collect recurring revenue, the WooCommerce Membership Plugin is all you need. You can get the most out of your WooCommerce store by using memberships. The WordPress Membership plugin enables the sale and administration of membership plans and provides dynamic features to enhance your store with fully-fledged services. You can build a WooCommerce membership website for revenue creation using this WooCommerce plugin.
Allow

individual product discounts

for membership owners only

Select

product tags, categories, and sections

for

WooCommerce members-only

Combine

multiple membership plan benefits into one

Send

membership plan actions

related to Emails

Two different templates one is Simple and the other is Comparison
Top Features
1. Show Discounted/Offered Prices to Non-members
New
You can show the discounted products to non-members or customers who haven't opted for any WooCommerce membership plans in your store. The offers may encourage non-members to become members and avail of the member-exclusive discount.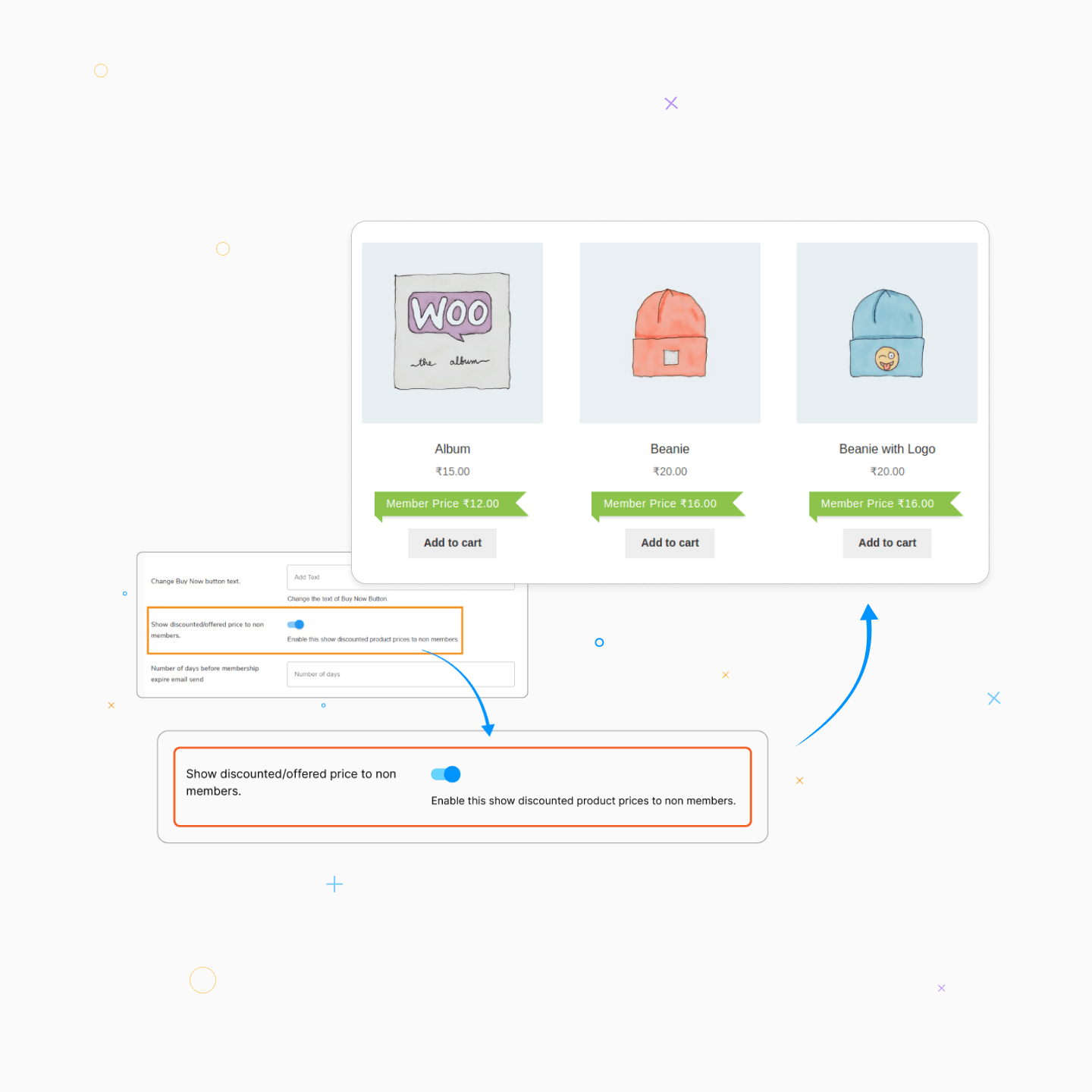 2. Customize the Member Creation, Expiration, and Cancellation Mail
New
You can customize the membership creation, expiration, and cancellation email subject line and message for members. This dynamic mail feature allows you to tailor your crucial membership emails according to your brand voice.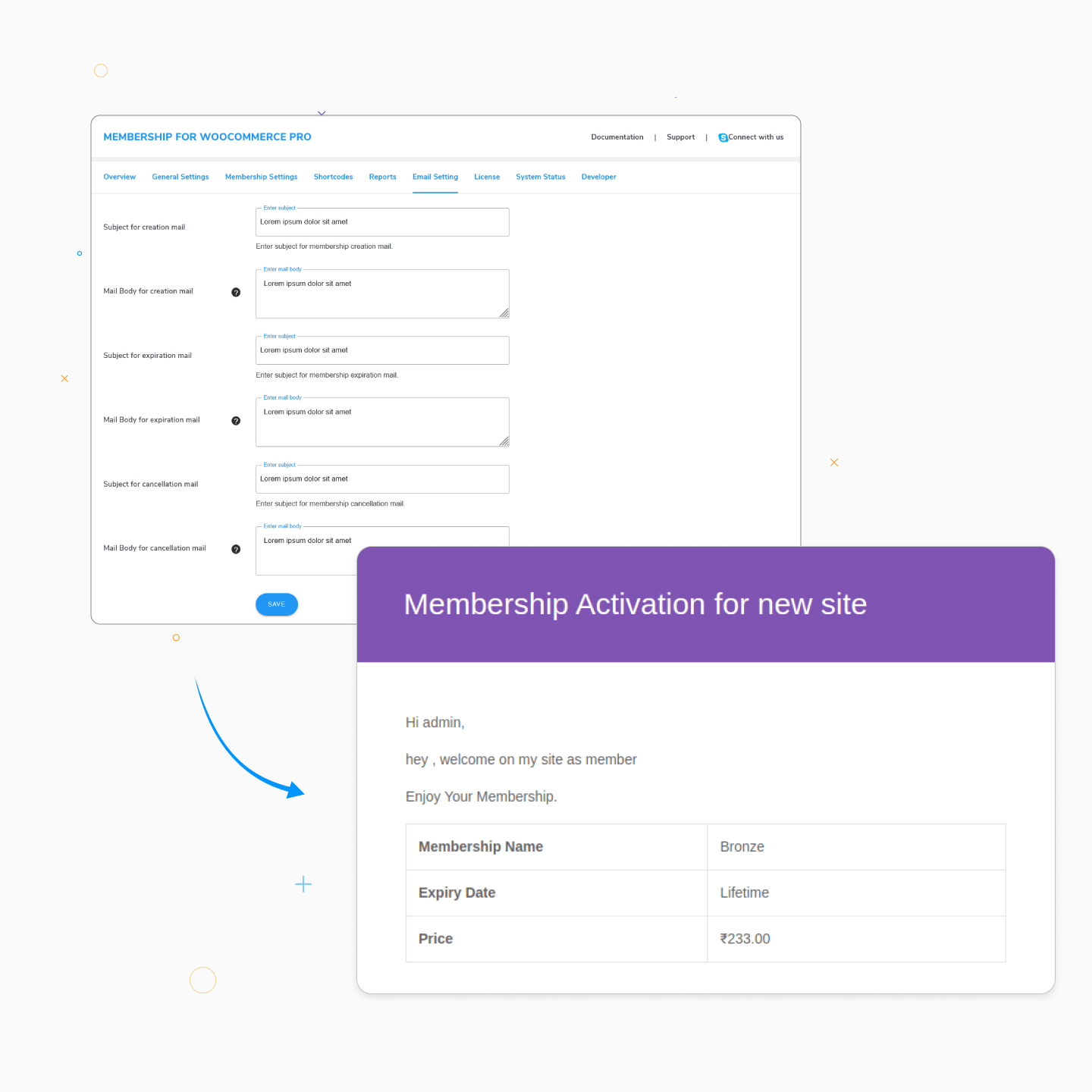 3. Customize the Elements of the WooCommerce Membership Plan Page
New
Using the membership plugin, you can tailor the color of the following elements:
Background and Button Text Color of Buy Now Button
Woo Membership Page Background & Text Color
These color customizations allow users to make the Woo membership pages appear more engaging to your members.
4. Import Members
Membership WooCommerce allows merchants to import all users and members together. The import Members feature simplifies your data of users.


5. Login/SignUp option for a guest user
This WooCommerce Memberships feature allows you to log in or signup for guest users and also send login credentials through the mail.
Note: If you didn't get credentials, then either your email is already registered or your mail setup has an issue.
6. Last Active Member
The WooCommerce member plugin allows you to fetch a report of the number of active members, the time when they were active, and the duration for which they were active. It allows you to effectively monitor your WooCommerce memberships.
7. Restrict Comments on Your Protected Posts
Comments on the restricted post will remain restricted for non-members. Customers must sign up as a member to view the product. For example, if you restrict any product or content, the review and comment of that particular product or content will also be restricted or hidden.
8. Use a Shortcode To Show the Membership Template Column
With the help of shortcodes, you can create and display three WooCommerce membership plans together. You are free to decide how you want to display your plans to customers. For example, single, double, or comparison forms.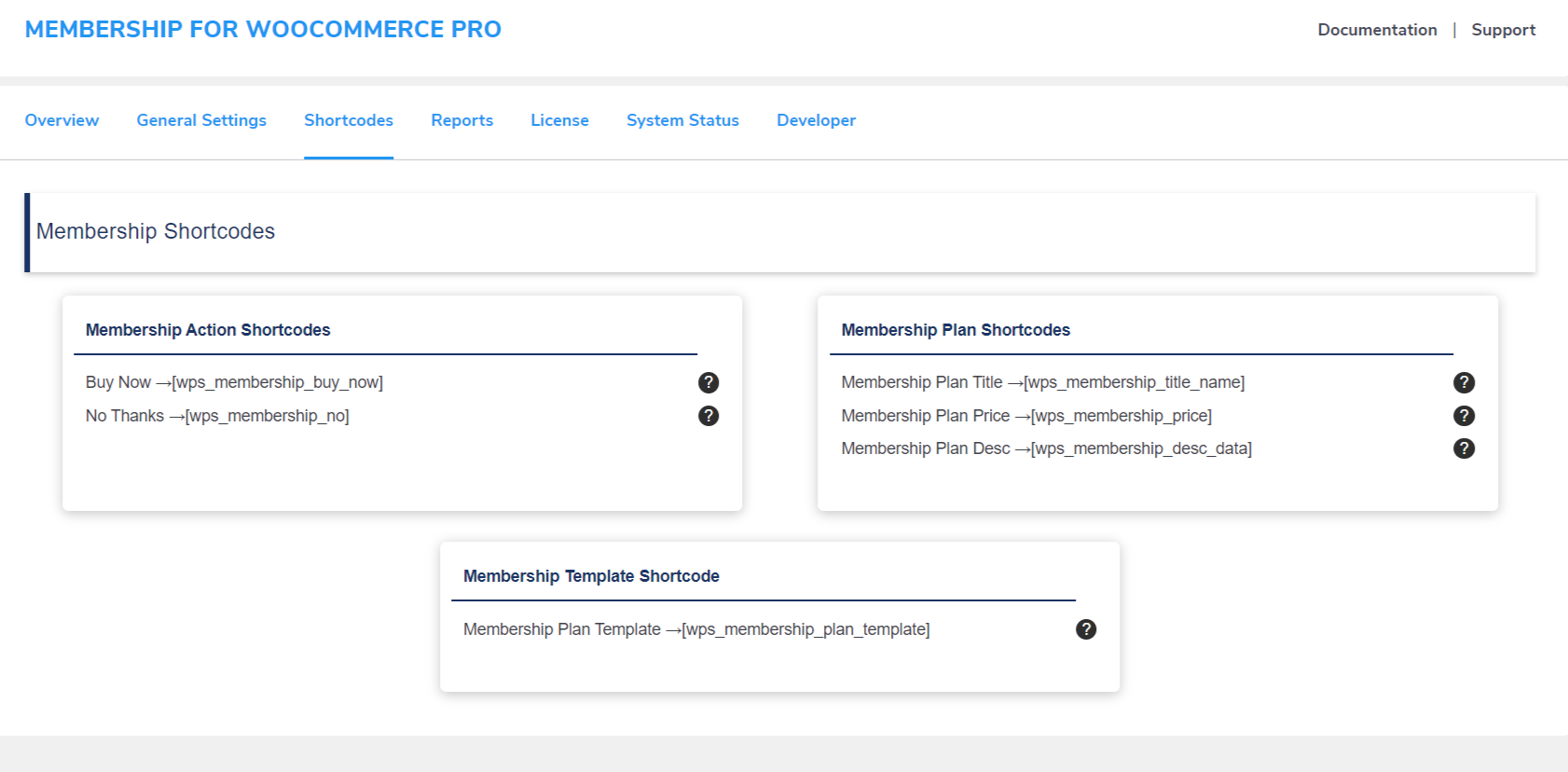 The format of plans will appear as seen in the image below after utilizing the shortcodes.
9. Two Free Templates for Membership Plans
You get two free templates to show membership plans: the "simple plan template" and a "comparison plan template". Check the below image for an example of how each plan template will look on your website.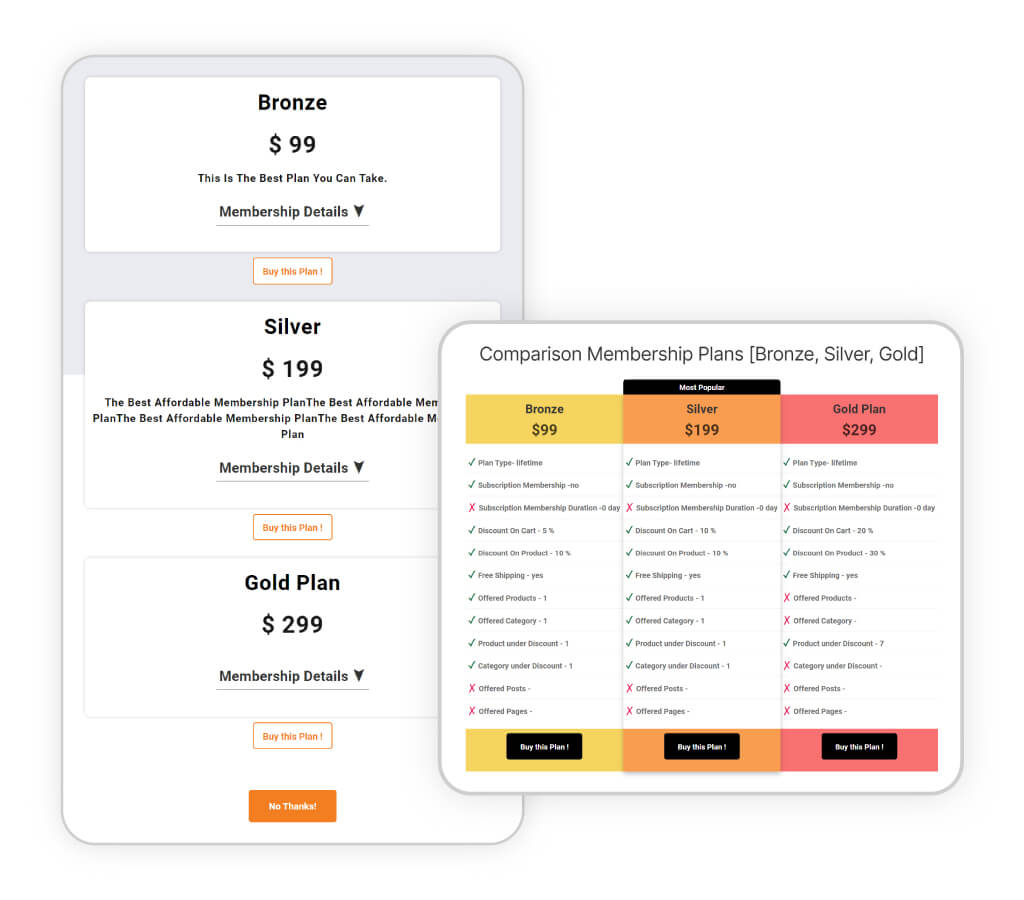 Note: If you want more different customizable templates as per your website design, style, color, font, etc., you can count on us to do that.
10. Dynamic CSS of Becoming Member Button
Membership For WooCommerce comes with a dynamic CSS "become a member button feature in which you can change the background color, text color, and border radius of the button to give it a dynamic look accordingly.
11. Access To Membership Products, Pages, And Posts
You can update access control of any product, page, and post for membership plan users. The Membership Plugin allows you to grant access to premium content to WooCommerce membership holders only.
12. Offer Subscription for Membership Plans
The WooCommerce Membership Plugin allows you to offer subscriptions to membership plans when you select limited access to membership plans. For plans with lifetime access, a membership subscription can't be used.
13. Hide Products From Non Members
You can hide your premium products from customers who aren't a part of any WooCommerce membership plans. This membership plugin allows the admin to restrict access to premium content from non-members.
14. Select WooCommerce Membership Product
You can choose which products to approve as WooCommerce membership products. The Membership for WooCommerce Pro Plugin provides flexibility to set different products for different memberships. You can enable membership for various products and set discounts too.
15. Modify the Text of the Buy Now Button
Store owners can tailor the Buy Now button's text format to give it a more dynamic appearance. For example, you can change the text of the "buy now" button to "purchase now", "grab now," and so on.
16. Allow Your Members to Cancel their Membership Accounts
Membership for WooCommerce allows users to cancel their subscriptions at any time. It makes them feel secure while opting for your membership plans.
Benefits of Membership For WooCommerce Pro
Membership for WooCommerce plugin is the most user-friendly and offers the greatest customer assistance out of all the options. Now let us tell you how and why you ought to use it.
Control Accessibility: Control the accessibility of WooCommerce Membership plans for new users. You can easily have control over the plans you created..
Create Recurring Revenue: Create recurring revenue and offer special members-only discounts. Members have special offers like on-day delivery, bonus sale of an extra % of discount etc.
Hassle Free Account Management: Monitor your membership business using the account details and logs. The Members' data help you better your WooCommerce membership marketing approach.
Admin Accessibility: For any WooCommerce Membership plan, the admin can decide to include products, pages, and articles for members-only view. This helps to enhance customer relationships.
Dynamic Enhancement: Admin can modify the text of the 'Buy Now' Button to something more catchy or suited to their brand voice.
Free Shipping: Allow free shipping to membership users and offer discounts on individual products and carts. It will draw more conversions.
Notify Members: Notify members of their membership plan expiry, cancellations, and completion via emails. You can also send quick notifications to users in bulk for sharing any updates.
Create Community: Create your community of members with a WooCommerce Membership Plugin that smoothly runs on your online store.
Directly Log In/Sign Up: You can directly log in or sign up from the thank you page of the guest users. As a guest user, you can buy a membership plan according to your requirement.
Variety in Plans: Customers can take advantage of Various Membership Plans. For startups, there are basic and affordable plans for mid-level and high-level business plans that rise to a premium.
Anytime Cancellation: Customers have the option to cancel their membership plans anytime.
Plugin Compatibilities of WordPress Membership Plugin
WP Swings has made the Membership For WooCommerce Pro plugin compatible with prestigious eCommerce services. This makes the membership plugin feature-rich to provide better functionality.
1. Compatible With Subscription For WooCommerce
Subscriptions for WooCommerce plugin are compatible with our Membership for WooCommerce, which allows sellers to sell their membership plan or membership using payment gateways compatible with our WooCommerce subscription plugin. So, your customers can renew their membership plans based on the subscription plugin's order renewal functionality on your site, which also includes the WooCommerce wallet.
Note: The membership subscription is automatically renewed with the same payment method used for the initial purchase.
2. Compatible With WPML
The WooCommerce Simple Membership Plugin is compatible with the WordPress Multilingual (WPML) plugin for localization of the Membership for WooCommerce Pro plugin strings.
Free vs Pro
| Features | Free Version | Pro Version |
| --- | --- | --- |
| Individual product membership plan | ✔️ | ✔️ |
| Modify the text of the Buy Now Button to Dynamic Text | ✔️ | ✔️ |
| Allow Your Members to Cancel their Membership Accounts | ✔️ | ✔️ |
| Membership Details of Customers | ✔️ | ✔️ |
| User Membership History | ✔️ | ✔️ |
| Membership User Data Export | ✔️ | ✔️ |
| Membership User Data Import | ✔️ | ✔️ |
| Delete Plugin Data On Uninstall | ✔️ | ✔️ |
| Shortcodes for Product Page Customization | ✔️ | ✔️ |
| Discount On User Cart Total | ✔️ | ✔️ |
| Offer Free Shipping for Members | ✔️ | ✔️ |
| Error Logging | ✔️ | ✔️ |
| Offer Membership Categories | ✔️ | ✔️ |
| Limited or Lifetime Membership Accessibility | ✔️ | ✔️ |
| Set Different Membership Status | ✔️ | ✔️ |
| Manually Assign Membership Plans | ✔️ | ✔️ |
| Multiple Language Translation | ✔️ | ✔️ |
| Multisite Compatible | ✔️ | ✔️ |
| Bulk Actions to Edit & Delete Memberships | ✔️ | ✔️ |
| Membership Registration Shortcodes | ✔️ | ✔️ |
| Send Quick Email notifications to All Members | ✔️ | ✔️ |
| Create Memberships on Processing Order Status | ✔️ | ✔️ |
| Select Membership Products | ❌ | ✔️ |
| Combine Membership Plan Benefits | ❌ | ✔️ |
| Select Access To Membership Pages And Posts | ❌ | ✔️ |
| Select Access To Membership Products | ❌ | ✔️ |
| Override Membership Plan Access | ❌ | ✔️ |
| Membership Reports With Better Graphics | ❌ | ✔️ |
| Emails for Membership Plan Actions | ❌ | ✔️ |
| Membership Sorting | ❌ | ✔️ |
| Login/SignUp option for a guest user | ❌ | ✔️ |
| Last Active Member | ❌ | ✔️ |
| By default, comments on your protected posts will be protected | ❌ | ✔️ |
| To show the membership template column, use a shortcode | ❌ | ✔️ |
| Two free templates available i.e. Simple and Comparison | ❌ | ✔️ |
| Dynamic CSS of Become Member Button | ❌ | ✔️ |
| Show Discounted/Offered Prices to Non-members | ❌ | ✔️ |
| Customize the Member Creation, Expiration, and Cancellation Mail | ❌ | ✔️ |
| Customize the Elements of the WooCommerce Membership Plan Page | ❌ | ✔️ |
| Import Members | ❌ | ✔️ |
FAQs
Is there any option in the Membership For WooCommerce Pro plugin to provide the user with a lifetime membership or a limited membership?
sanjeevmaurya
2023-03-17T16:23:06+00:00
Yes, the admin can set the membership to lifetime or limited using the Membership For WooCommerce Pro plugin. The admin can set either of two.
Still in doubt? Refer to our Knowledge Base and learn more about the WooCommerce Membership plugin.