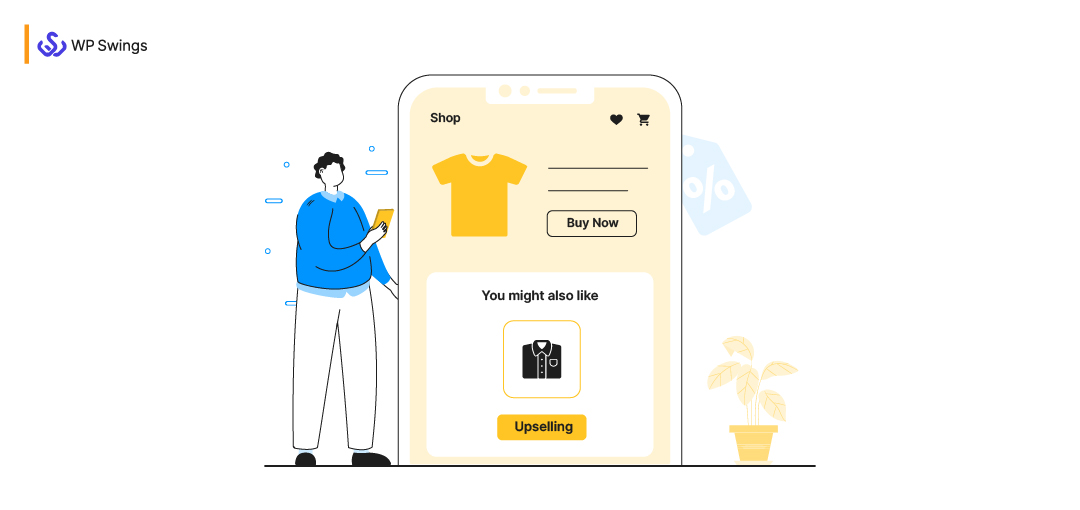 eCommerce order bump, the miraculous marketing strategy that helped McDonald's sell 9 million pounds of fries globally per day. Order bumps alone have been very instrumental in increasing the AOV by 10% – 30% for eCommerce stores.
Selling online is a competitive landscape and bump offers have been very helpful in boosting sales by amplifying the average order value (AOV). Also, it has been indirectly responsible for enhancing the customer experience both in the offline and online worlds.
In this comprehensive guide, I'll be sharing how you can use eCommerce order bumps to substantially increase your profits and build a large pool of happy and satisfied customers.
In the All-in-one eCommerce Order Bumps Guide, You Will Learn:
What Are eCommerce Order Bumps?
In simple words, an eCommerce order bump is an upselling and cross-selling technique in which a merchant tries to sell an addon to the customer just before completing the checkout.
These offers are specially placed on the checkout page and customers can avail of the offers with a single click. Let's understand this with a real-life example and we'll be analyzing our very own favorite McDonald's.
When you're at their store ordering a burger have you ever come across the cliché question, "Would you like some fries with that?"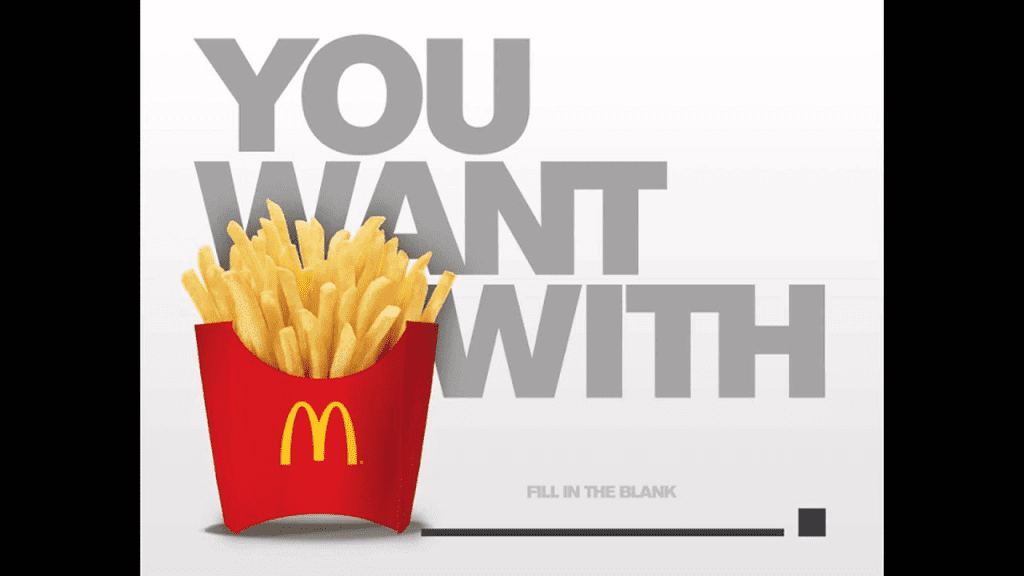 Congratulations! You just experienced an order bump.
The basic structure of an eCommerce order bump is very standard which is the main product + an inexpensive add-on as in the case of McDonald's. We'll be seeing some more scenarios where order bumps can do wonders for your eCommerce business.
Benefits Of An eCommerce Order Bump Offer
Well, I guess till now the benefits of an eCommerce order bump are quite clear but let us have a look at them separately. So, here are some prominent benefits of an eCommerce order bump offer:
1. Increases Average Order Value (AOV)
Did you know that with the help of eCommerce bump offers Paykickstart was able to increase its average order value by 30%?
If you offer a related product as an order bump WooCommerce offer that is less expensive than the initial product, the customers are more likely to buy it. Paykickstart used this approach on the checkout page by providing a service with just a little overhead charge.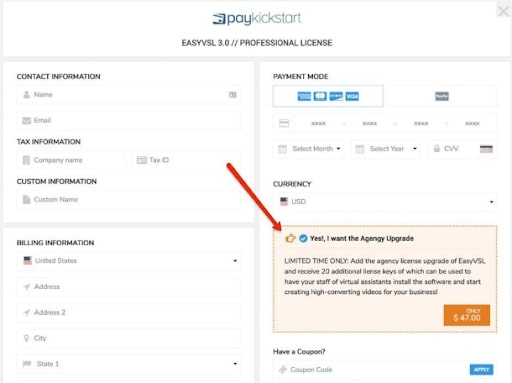 Paykickstart Bump Offer On The Checkout Page
Hey, Do you wish to watch how Upsell Order Bump Offer For WooCommerce Pro helped the user to solve his problem?
Click on the video and get to know how Jack increased his Average Order Value by Upselling
2. More Sales For Trivial Products
Every eCommerce store has products in its inventory that are hard to sell alone. You can add these products as order bumps WooCommerce offers. Since the offered product is related to the initial product and is less expensive, there are chances that the product will get sold.
For example, you sell smartphones in your store, and when a customer makes a purchase you offer him extended warranties with a little overhead price. The extended warranty is more likely to sell as a bump offer rather than as an individual product.
3. Streamlines Customer Experience
One of the indirect benefits of order bumps is that it plays a substantial role in streamlining the customer experience. It gives immense happiness to customers in availing of products that resonate with their purchases and can be achieved at fairly low prices.
If you ask me, buying fries just by paying a few extra bucks at McDonald's gives me immense happiness. Catering order bump offers to customers build strong relationships which result in customer engagement.
4. Adds Value To Your Products
Order bumps add value to the products that are being purchased and make customers' shopping experiences more meaningful. For example, a shoe care kit will add more value to a pair of shoes a customer is purchasing.
By offering something that lets customers take care of their initial product, you provide more value to your shoppers. And when you serve your customers with value, their trust in your brand increases.
Try This Plugin and Create the Offers for Multiple Products in the Easiest Way Possible!
The Upsell Order Bump Offer for WooCommerce will allow you to create multiple offers on the checkout page in a few clicks.
Selling Techniques Similar To eCommerce Bump Offer
Well, Bump Offer isn't the only technique that is responsible for boosting the AOV for eCommerce stores. Store owners use various other strategies that have a functionality similar to order bumps and can often be confused.
Some of the prominent techniques are:
One-click Upsell
One-click upsell is similar to an order bump WooCommerce with a very slight difference. While eCommerce bump order offers are placed on the checkout page, one-click upsell offers are shown to the customer post-purchase.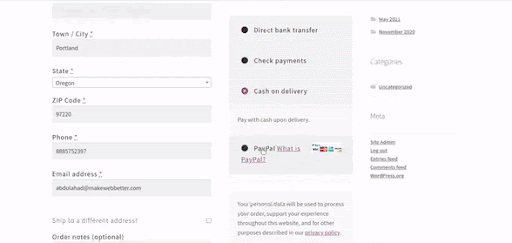 One-click Upsell on the post-checkout page
While creating bump offers and upsells you have to be careful in choosing the products you'll be offering in each strategy. Here's a golden rule you can follow:
If the offer can be explained within 4 lines then keep it for order bump. If you think the offer needs a dedicated page then, definitely it's a one-click upsell.
Create Post-purchase Upsell and Cross-Sell Offers to Increase Your Sales!
Our One Click Upsell Plugin will let you create unlimited funnels with different product categories
Frequently Bought Together
Another incredible eCommerce marketing technique is frequently bought together.
Amazon has been rigorously using this strategy to increase its sales, profits, and average order values. So basically, in this upselling strategy, the marketers offer personalized product recommendations to the customers on the product page.

Amazon frequently bought together on the product page
Based on a shopper's purchase history and buying habits business owners offer an add-on or a product upgrade that lures him/her into adding both products to the cart. As a result, you can scale your sales and skyrocket the average order value.
So these were the two prominent techniques that are quite similar to eCommerce order bump offers. Now that we're familiar with the concept, let's see some of the scenarios where offering order bump offers can be a game-changer for your business.
6 Amazing eCommerce Order Bump Ideas
An eCommerce order bump is one of the marketing and selling strategies that skyrocket profits while maintaining a long-term customer relationship. But here's the thing you have to decide wisely choosing the products for the order bump WooCommerce offers.
I'll be sharing 6 ideas where eCommerce order bump can be used:
1. Providing A Product Or Extended Services
The simplest way is to offer a product to the customers when they are about to checkout. The offered product should be relatable to the user's product in the purchase. In this way, the customer won't be hesitant to accept your offer and you'll be able to increase AOV on every purchase.
Also, it does not have to always be about selling something; you can also offer something complementary. It will help in increasing your loyal customer base and add value to your customers' carts.
Best Buy's AppleCare+ for MacBook is a good example of order bumps. If someone's buying a $950 MacBook, he would like to keep it safe and secure. Thus, he won't think much to spend additional 250 bucks to protect it from accidental damage or something.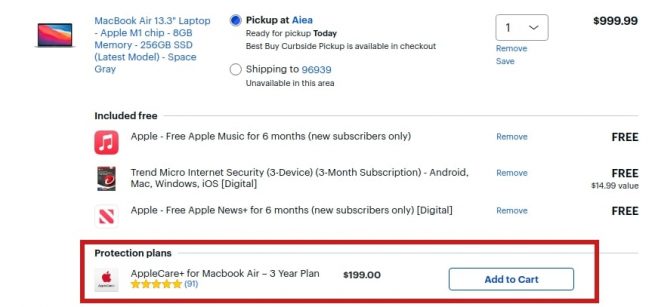 Best Buy bump offer on the checkout page
Sell Goods That Sell Together!
2. Fast Delivery Options
If you don't have a product or any services to offer, you can always count on shipping. Providing an express delivery option can be a great option to offer as an eCommerce order bump eCommerce offer.
Providing fast delivery can be a great choice for an eCommerce order bump offer. Believe me, everyone loves to access their favorite products as soon as possible.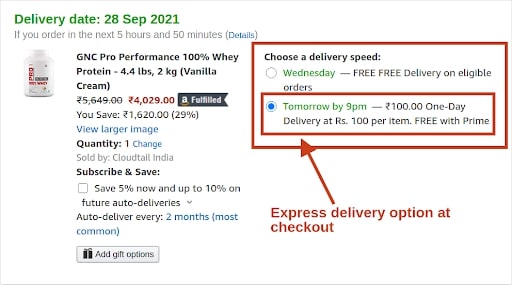 Fast delivery option by Amazon
Like every other thing, Amazon has been successful in increasing its AOV by providing a fast delivery option as an order bump WooCommerce offers.
3. Offer Subscription Programs
Offering a subscription program or an automated delivery service as a bump offer is another great move.
It works best if an eCommerce website sells products that require repeated purchases, for example, medication, food items, household supplies, etc. On the checkout page, you can ask your customers to subscribe to these products on a monthly or weekly basis through an order bump.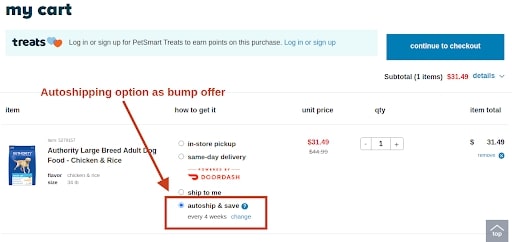 PetSmart offers an auto-ship option at checkout
The above image is from PetSmart, when a customer is at the checkout page PetSmart offers its customer an 'Auto-shipping' option. Also, if a customer chooses this they get an additional incentive for subscribing to their products.
4. Maintenance Plans
Products like electronic gadgets like laptops require regular maintenance and order bump offers can be a great way for promoting maintenance plans.
NewEgg uses the order bump WooCommerce approach for selling its data recovery services to customers whenever they buy a new laptop. On top of that, they also give the shoppers higher discounts based on the number of years purchased.

Maintenance plan by NewEgg at checkout
5. Membership Program
Have you ever thought about selling membership programs as a bump offer?
If you have a membership program on your website that can offer extra value to your customers make sure to pitch it. By making customers join a membership program you can increase the AOV and build a community of loyal customers.
Here's how Wine.com does it: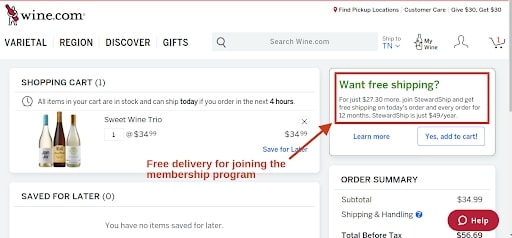 Wine.com offers a membership program on the checkout page
Wine.com asks the customers to join their StewardShip membership program for just $27.30 more and in return, you get free shipping of your favorite Chardonnay.
Learn To Build A Membership Website With WooCommerce!
Know how easily you can start your membership website using a membership plugin in two simple steps.
6. Bulk Discounts
As an avid online shopper, I love to buy my favorite products in large quantities. Therefore, if a brand offers me bulk discounts it's a deal-breaker for me. If you sell products such as snacks, packaged food items, pharmacy products, or any item that can be sold in additional quantities, you can offer bulk discounts as bump offers.
Walgreens uses this approach for increasing its average order value.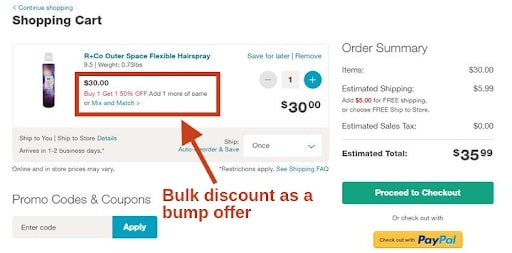 Bulk discount by Walgreens
As you can see in the above image the customer needs to just perform a single click to add an additional quantity of the current product to the purchase. As a result, the customer can buy two bottles of hairspray at a discounted price.
Tips For Creating Perfect eCommerce Order Bump Offers
Once you've planned the order bump offer strategy and decided on what you are going to pitch to your audience— it's time for implementation. But before you go ahead with the action here are some simple tips that you can follow to increase the efficiency of your eCommerce bump offers.
1. Keep It Simple And Relevant
Your bump offer section should catch the attention of the customers. But, remember not to stuff it with lots of design and colors.
I say keep it simple. Along with simplicity, make it relevant to the main product. For example, if a user is buying a book from a series, you can offer them the next book of that series with a discount.
2. Use AIDA Approach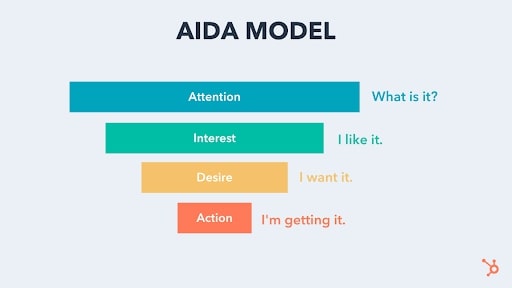 Image Source: HubSpot
The AIDA Model describes the four prominent stages of a customer's journey namely:
Attention
Interest
Desire
Action
While creating the copy of your bump offer use this model for:
First, grab the attention of your customers.
Secondly, generate their interest in your bump offers.
The third step is to prompt the desire in them for that product.
Lastly, your copy should compel the shoppers to take action and grab your eCommerce bump offer.
3. Maintain A Good Price Ratio
If a customer is buying a $100 product, offer him a bump product whose value is 20-25 dollars.
There's a fair chance that a customer will ignore your offer if it is overpriced or over-valued. Therefore, make sure that the eCommerce bump offer should be reasonable and shouldn't be a burden on the pocket.
Get the top strategies to boost your eCommerce sales!
Email marketing, email pop-ups, strategies..all that you need to know is covered here.
How To Create eCommerce Order Bumps For Your WooCommerce Store?
Okay so now you know everything about order bump offers for your eCommerce store. This section is specifically for WooCommerce users.
At WP Swings we understand that average order value is a very important performance metric for businesses. Therefore, our team of experts has developed a simply amazing offer for WooCommerce store owners – Upsell Order Bump Offer For WooCommerce.
If you've any one of the versions (free or premium) of our plugin, you can create upsell order bump offers by following these simple steps.
Step #1 Selecting Target Product / Category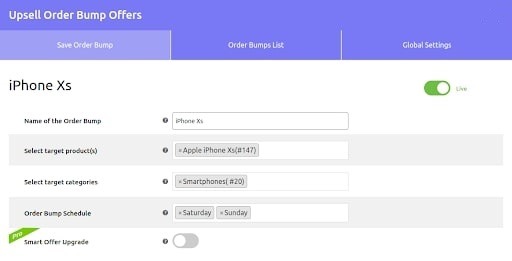 Once the plugin is installed and activated, you can check the settings from the admin panel of your WordPress website. To visit the settings trace the following path Order Bump → Order Bump List.
On this page, you'll see a button that says, "+CREATE NEW ORDER BUMP". Click on this button for creating a new bump offer on your WooCommerce store.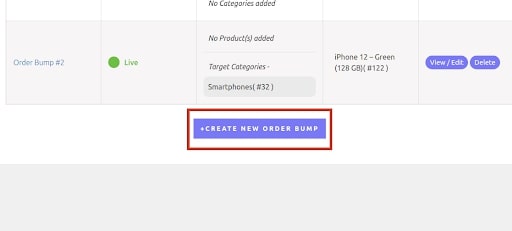 On clicking the button you'll be prompted with some configurations where you've to select the product or a product category.
What is a target product or a target category?
The product for which you want the bump offer to trigger is known as a target product. If you want the offer to trigger for a category then you've to add the target category.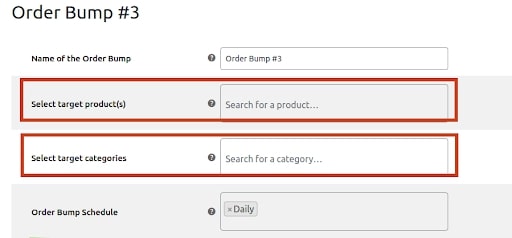 After adding the target product/category you can schedule when your bump offer funnel will trigger. You can either select daily or choose the selected days of the week.
Step #2 Offer
Now the next step is to add the product that you want to upsell as a bump offer on the checkout page.
Scroll down to the Offer Section where you'll find some configurations. Under this section you've to provide the following information to the plugin:
Fill in the product you want to give your customers as a bump offer.
The offered product will be shown to the customers on the checkout page as soon as they add the target product/category.

In the text box, beside the Offer Price/Discount option enter the discount you want to give your customers on the bump offer product.

Step #3 Offer Bump Templates
Upsell order bump comes with 5 pre-built templates that are fully customizable.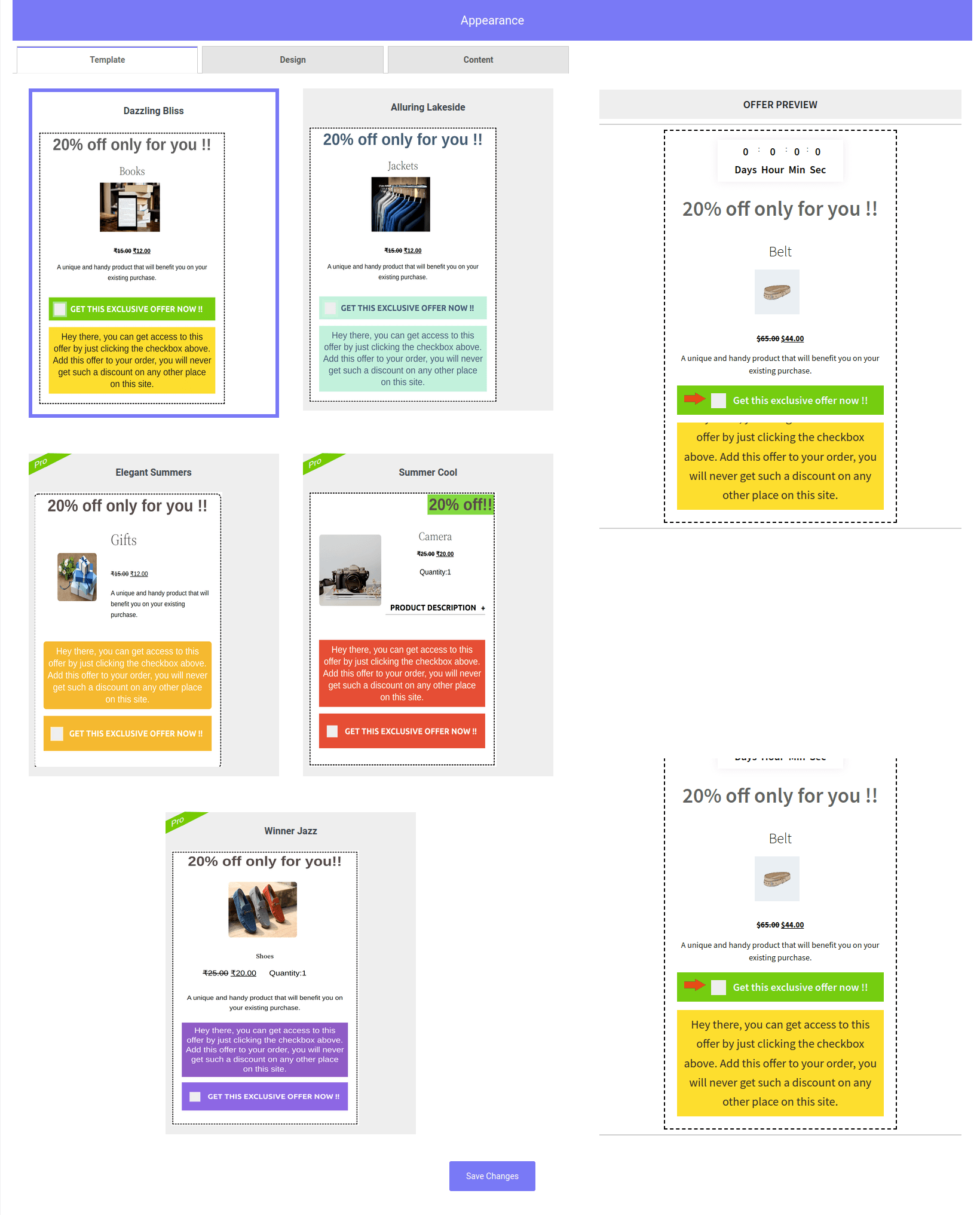 Under the Appearance section, you'll find the template, design, and content tabs that let you configure the appearance of your bump offer on the checkout page. You can edit your bump offer templates with the help of Elementor too.
So with the help of these 3 steps, you can create a bump offer on the checkout page and instantly boost your AOV.
Over To You…
Bump Offers are like icing on the cake. The customer is already paying you, but you can add more value by providing them with something beneficial to their existing purchase.
An enticing offer will help you increase customer retention and if it's just one click away, it'll ease the customer's shopping experience.
Create & Revamp Your WooCommerce Store With WP Swings.
Build your eCommerce website from scratch and append additional functionalities to your online store.
From improving Average Order Value to boosting sales, order bumps can do all. Therefore, it helps you grow your online retail business. Implement it and tweak it according to your needs and let the results speak.