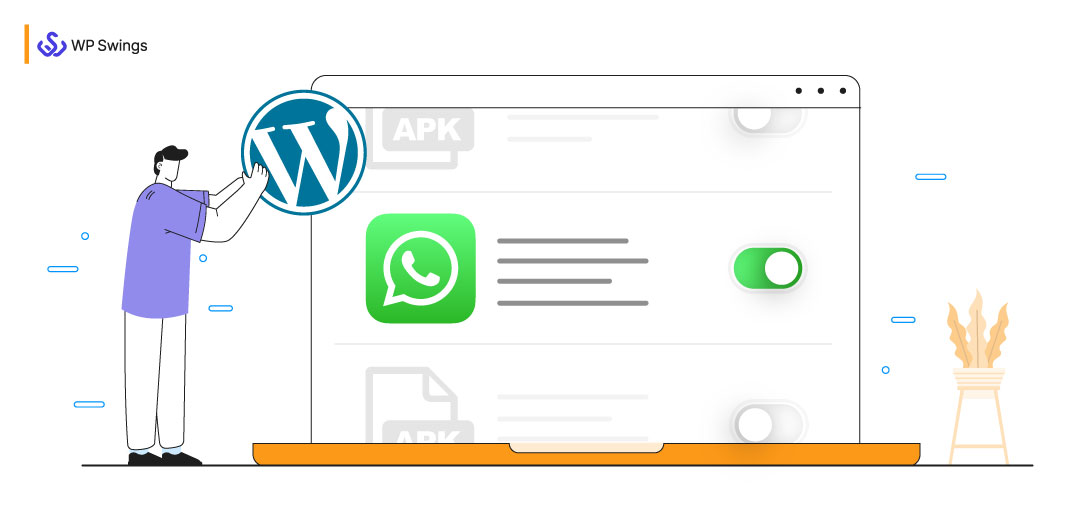 Before diving into the details of how to enable WhatsApp on your WordPress website, let's verify the reach of both platforms.
WhatsApp and WordPress are both giants in their realms.
WordPress is the most popular CMS and is used by 43.0% of all websites.
On the other hand, WhatsApp is the most popular global messenger app with 2 billion monthly active users.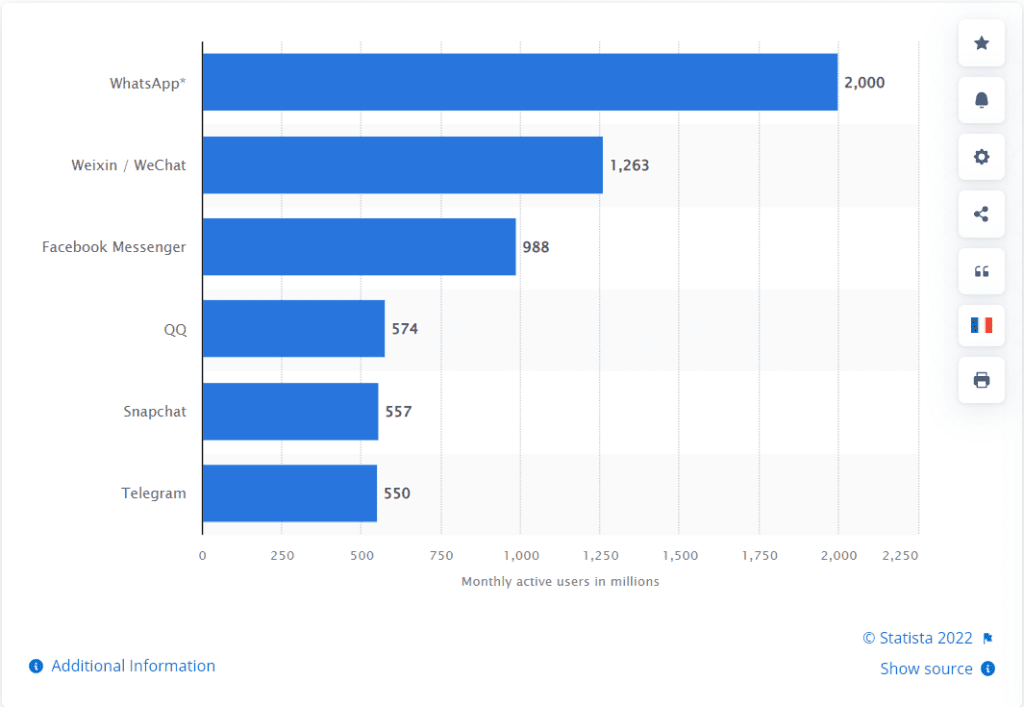 [Source: Statista]
An integration of both platforms would undoubtedly maximize your reach, ease of use, and improve user experience. As customers interact with WhatsApp more often, they are likely to share your content and access other WhatsApp-related features of your WordPress website.
Yes, there are services available to establish communication with your users like phone, number, email, ticketings, SMS, Messenger, etc. But WhatsApp is the easiest to operate.
WhatsApp for WordPress is beneficial for both small and large businesses. In this article, I'll discuss the different ways to enable WhatsApp on your WordPress website and their benefits for your business.
Different Ways to Enable WordPress on Your WordPress Site
There are two major ways to establish integration between your WhatsApp and WordPress:
1. WhatsApp Chatbot
2. WhatsApp Business API
You can add different features of WhatsApp both manually and by using WhatsApp for WordPress plugins available to establish a seamless integration.
Before we proceed further, let me explain what WhatsApp Business App and WhatsApp Business API are and their basic differences.
What Is WhatsApp Business App?
WhatsApp Business App is a free messaging app designed for small businesses. It is available on both Android and iOS.
This app enables merchants to easily interact with their customers in a personalized way. It is capable of doing everything the WhatsApp mobile app does. You can send photos, videos, documents, take calls, etc.
It includes the following features:
Maintains a WhatsApp Business profile with the company's address, email, and website.
Labels to organize and easily find your chats and messages.
Messaging tools to quickly respond to customers.
Create a product catalog.
However, this app is not scalable. Only one person can access it at a time, which makes it impossible to manage all the queries. It offers no integration with existing CRMs and is also not GDPR compliant.
What Is WhatsApp Business API?
WhatsApp Business API is a set of APIs for medium and enterprise businesses that can help you manage your marketing and sales through WhatsApp. To use these WhatsApp APIs, you need to connect with any of the official Business Solutions Partners of WhatsApp.
It allows greater automation when compared with WhatsApp Business App. It is highly scalable and allows integration with CRMs to expand the functionalities.
Unlike the business app, the WhatsApp APIs are paid solutions. You will have to pay a certain amount per message.
So, these are the major differences between both WhatsApp services.
Now, let's view the implementation of the WhatsApp business solutions.
How to Add WhatsApp Chat to WordPress?
The easiest way to add WhatsApp chat is by using a plugin. To add this functionality, I use the Joinchat plugin by CreamCreame. It is the most popular WordPress plugin for WhatsApp.
Joinchat helps you seamlessly connect your 'WhatsApp' and 'WhatsApp Business' number with your WordPress website to help your customers contact you easily. With this plugin, you can add a floating WhatsApp Chat button and open a chat interface based on the users' device when clicked.
For mobile users, it launched WhatsApp mobile app. For desktop users, the Desktop app or WhatsApp Web. Or displays a QR code.
Features of the Joinchat plugin
Customize your logo, profile picture, or even an animated gif.
Select the display page and on-page position of the WhatsApp chat button.
Define tooltips and create message CTAs.
Show a notification balloon on the chat button.
Customize the introductory message.
Integration with WooCommerce.
You can read more about the features on the product page. Let's continue the setup process for this plugin.
Download the plugin, upload it to your WordPress website, and install and activate it.
Then go to Plugins from the admin menu and click on Joinchat settings to add your WhatsApp number.

 In the General Settings tab, you can add your mobile number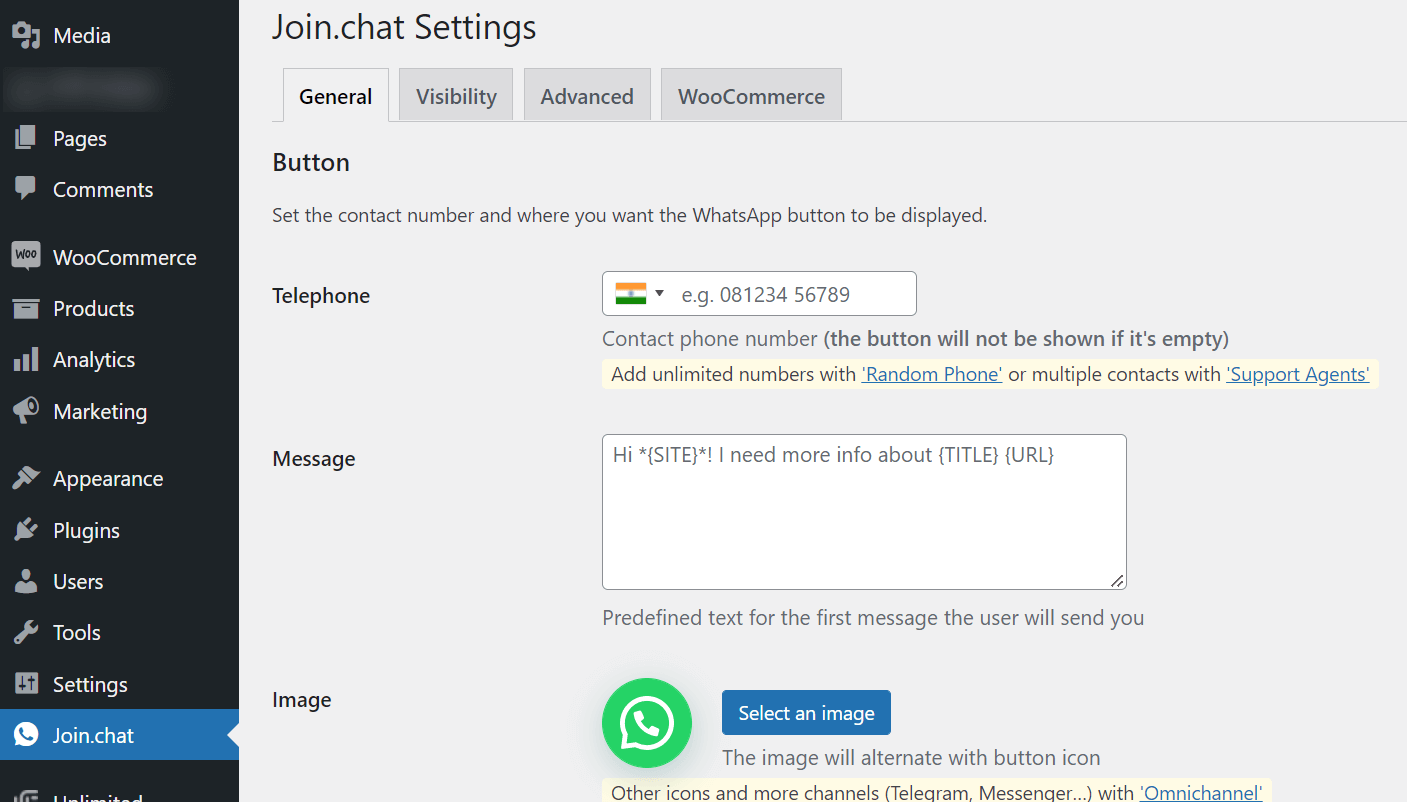 The chat button won't display on the front end if a number is not connected to the plugin.
Furthermore, you can customize the user message, chat button image, tooltip, select position on the screen, button delay, and select the chat mode (desktop, mobile, or QR code).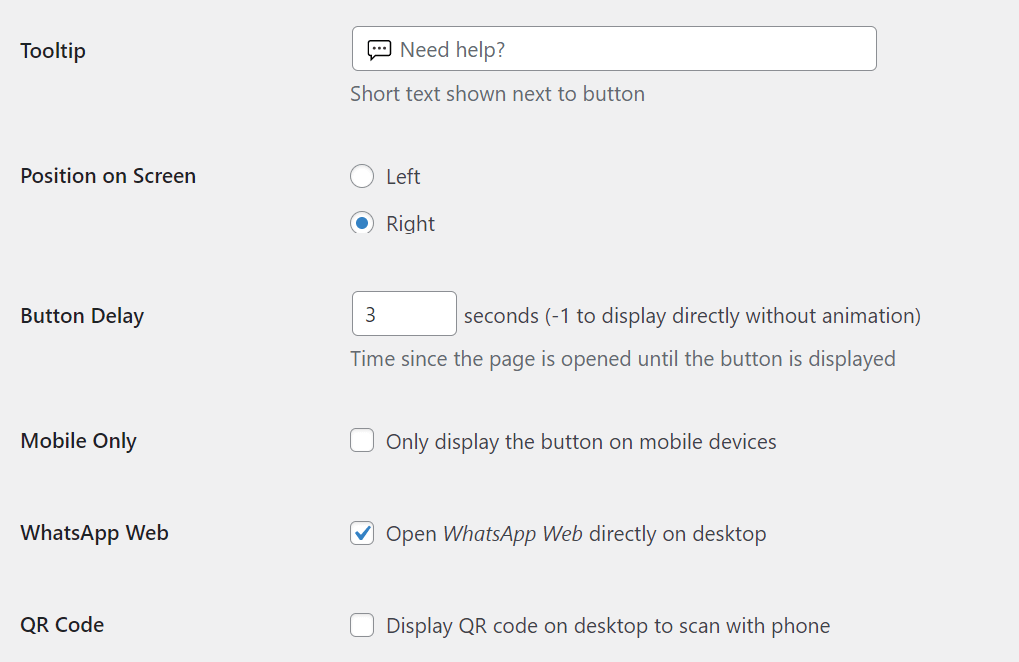 From the General tab, you can also customize the WhatsApp chat window.
Go to the Visibility tab to determine the display pages of your WhatsApp chat button.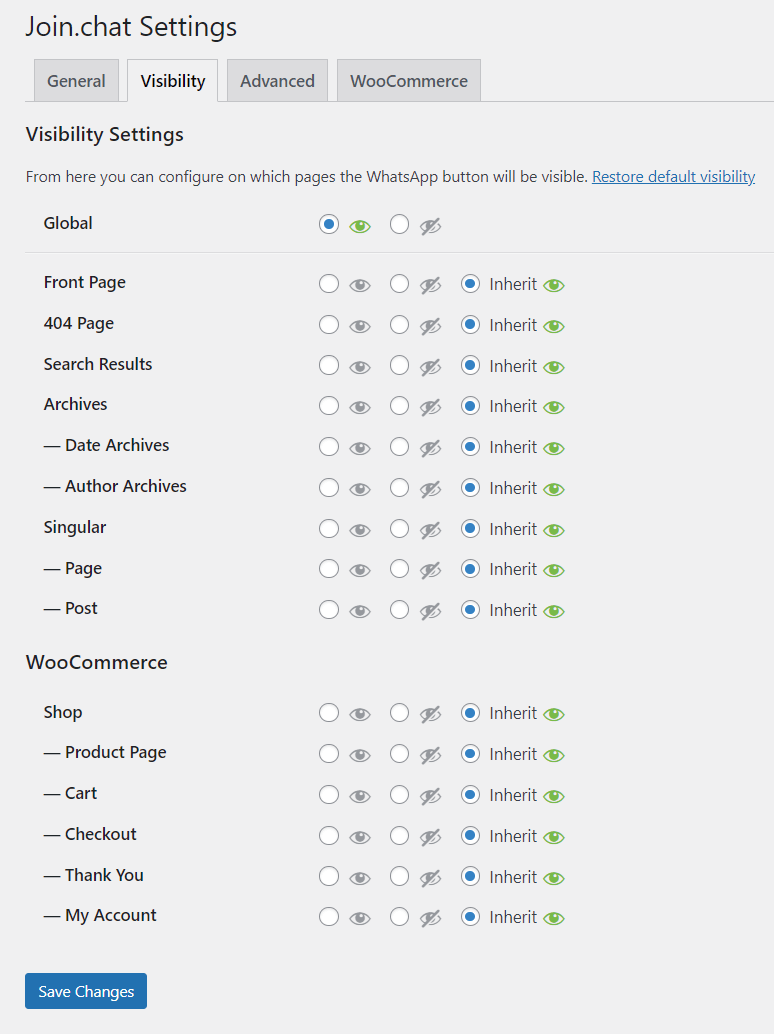 By default, it is displayed globally, but you can change that with a simple click. Here is how the chat button works in the front end.
You can use this option to gain users' consent before receiving your messages. It is an optional step though.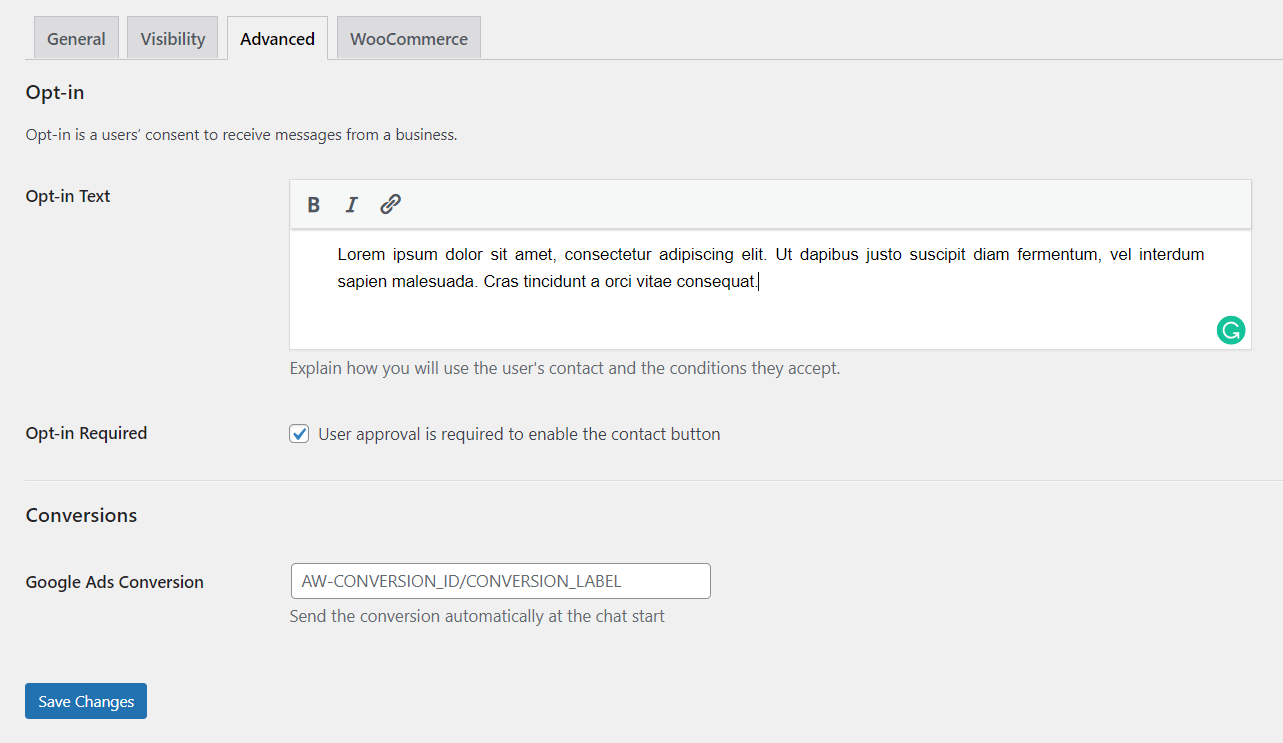 Customers will see an opt-in message when they click on the WhatsApp for WordPress chatbox.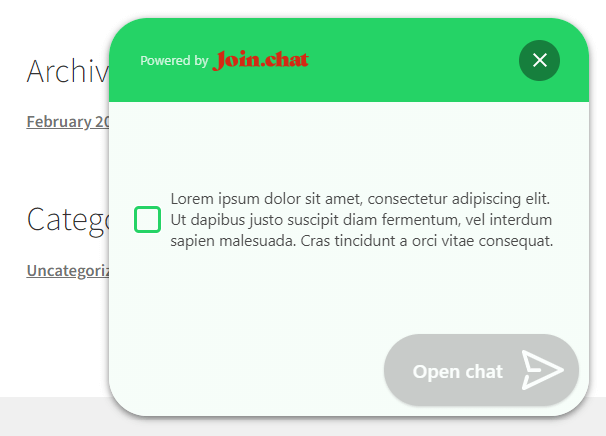 Lastly, you can configure the WooCommerce tab. The WooCommerce WhatsApp integration will allow you to send product offers in the chat. You can also define the text your customers will use for asking product-related questions.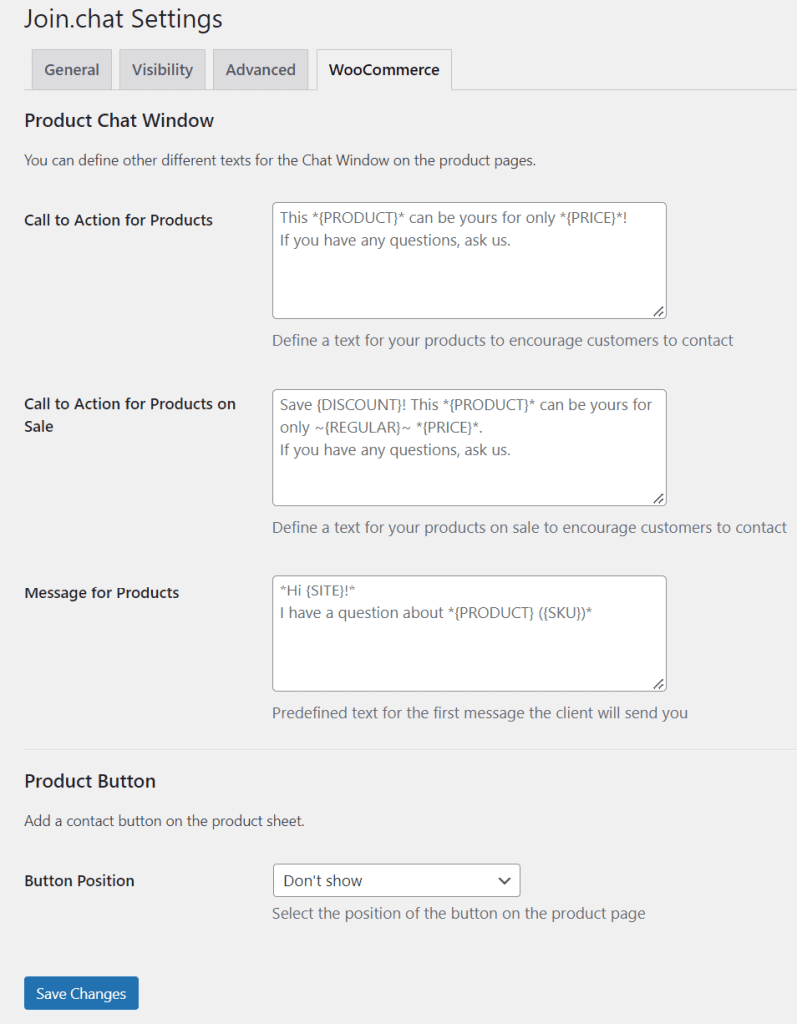 As you can see, this WhatsApp for WordPress plugin is fairly easy to use. Plus, it offers customizations for most of the features. There is a pro version also available.
But WhatsApp plugins only work for small or medium-sized businesses. If you are looking to use WhatsApp for Enterprises, then WhatsApp Business API is the appropriate solution for you.
How to Integrate WhatsApp Business API With WordPress?
For medium and large businesses, the WhatsApp Business API powers your communication with customers all over the world, so you can connect with them on WhatsApp in a simple, secure, and reliable way.
These business-worthy features are present in the WhatsApp Business API:
Automated WhatsApp Notifications
WhatsApp Business Templates
Contacts Management and Bulk Contact Upload
Green Tick, verified WhatsApp Business profile
Multi-agent access for customer support
Messages Broadcast for bulk notifications
In this section, I will guide you on how to connect with WhatsApp BSPs.
Find a WhatsApp Business Solution Partner
Keep your business needs and budgets in mind while selecting a BSP to integrate with your business. You can select a WhatsApp Business Solution Partner from here.
Next, click on the Contact button of your preferred partner and submit your request. After your request is approved, your BSP will prove the link to initiate the signup process.
The steps may differ depending on the intricacies of the review process.
Log in to your Facebook account from your BSP's Website.
Enter your email address and password and click on continue.
To proceed further, you would need Facebook and WhatsApp business profiles, create your WhatsApp Business profile and verify your WhatsApp Business Number.
Step 1. Create Your Facebook and WhatsApp Business Accounts
If you already have a business account, it will display in the options. You have to select the Facebook and WhatsApp business accounts and click on 'Continue' to proceed.
If you don't have a Facebook Business account, then you create it easily.
Select the 'Create new Facebook Business Account' and click on Continue.
Enter the following details: Legal Business Name, Business Phone Number, Business Website, and Business Email Address.
Click on Continue and fill the required fields: Corporate Street Address, Corporate Street Address, City, State, Country, Postal Code, and Time Zone.
Next, click on Continue, and wait for Approval.
Follow these instructions, to create a WhatsApp Business account:
Select the 'Create new WhatsApp Business Profile' option and click on continue.
Enter the WhatsApp Business Display Name and click on Continue.
Enter your Category and Business Description.
Click on Continue to submit.
Step 2. Verify Your WhatsApp Business Number
You can use an existing number or register a new one. I would recommend registering a new number as you won't be able to use the business number for any other purpose.
Follow the instructions, to register a new business number:
Select the Register a new number on WhatsApp and enter a number of your choice.
Select the Verification method.
If you select the Text Message method and click on continue, then you will receive a code on your number.
Enter the verification code and click on Verify. Then, click Ok.
This will allow you to use your BSPs WhatsApp API tools effectively. Initially, you will only be able to send a limited number of messages to a limited number of users. To upgrade, you will need to get your business verified. This is the easiest way to access and use the WhatsApp Business APIs.
Read the WhatsApp API documentation to learn more.
Now, let's take a look at the various plugins that allow you to add WhatsApp to your WordPress website.
What Are the Different WhatsApp Plugins Available for WordPress?
There are many WhatsApp for WordPress plugins available, both free and paid. The list below contains only the free versions.
These WhatsApp plugins work smoothly with WordPress's latest versions. These plugins can help you add a simple chat button to your WordPress website or carry out the complex marketing tasks essential to your business.
You can choose the plugin based on your requirement.
Some of the WhatsApp plugins are:
1. Social Chat (WhatsApp Chat)

WhatsApp Chat for WordPress adds a chat button to your website and enables your users to initiate a chat directly to your WhatsApp phone number.
With this plugin, you can set a predefined first message, which will be sent automatically to start the conversation.
Social Chat Features
Add a WhatsApp button
WhatsApp contact box
WhatsApp button and box colors
Add a custom icon on the button
Two-button layouts
Hide the button based on post types and taxonomies
Add rounded or square borders
Vertical and horizontal position
Custom button text
Custom user message2.
2. Click to Chat WhatsApp Plugin

This WhatsApp for WordPress plugin offers to connect both WhatsApp mobile app and the WhatsApp Business app. It can connect directly to the WhatsApp mobile, desktop, or web version.
It has several advanced features like pre-filled messages to help the users to start chatting easily, 8 pre-defined designs, custom image upload, shortcodes, customer elements, etc.
Moreover, you can add the Click to Chat plugin on WooCommerce product pages. You have special pre-defined texts and CTAs for single product pages. With features like this, customers are easily able to connect with you.
3. Add Chat App Button
The Add Chat App Button plugin allows the admin to add a customizable WhatsApp chat button on the WordPress website.
The plugin also enables customizations for the button color, label text color, button type, and more.
But the most unique feature of this WhatsApp for WordPress plugin is the Live preview screen, which allows the admin to see the real-time rendering of the chat button. It also auto-detects the user device and serves links accordingly.
4. WP Chat App

WhatsApp Chat plugin for WordPress allows you to add a WhatsApp floating button, stationary button, widget, and web beacon to your website.
You can add multiple customer service agents, sales reps, technical support, and more. This enables you to seamlessly sell products to your customers and offer direct support. It also works with WooCommerce and has a shortcode for the in-page display of the WhatsApp Button.
5. Cresta WhatsApp Chat

The Cresta Help Chat plugin allows your customers to contact you on WhatsApp with a simple click on the chat button on your WordPress website. Customers can connect with you on the WhatsApp web or WhatsApp mobile application.
You may add the floating button at the bottom right position of your site or add it in-post/page using the shortcode. This WhatsApp for WordPress plugin is compatible with WooCommerce and WPML.
6. Simple Web WhatsApp Plugin
The Simple Web Chat plugin is true to its name. It is a simple WhatsApp for WordPress plugin with limited features.
With this plugin, you can add a floating button to let your customers contact you and a share button that allows customers to share your site on WhatsApp. It also has four designs for the floating button. You can place the floating button anywhere you like and create WhatsApp Groups.
7. Chat Button- Leads and Order Over Chat
The WhatsButton plugin helps to add both a WhatsApp floating button on your WordPress website and a WhatsApp Order button for WooCommerce products.
This plugin will capture leads and generate sales via WhatsApp. You can also add animation for the floating button, configure chat button visibility, set chat agent picture and name, and more.
8. Chat Button by GetButton.io

The WhatsApp Help Chat button plugin routes the users directly from the WordPress website to WhatsApp and allows them to communicate with you on chat.
This plugin is a versatile solution as it also supports other apps like Facebook Messenger, Viber, Snapchat, Line, WeChat, and Telegram.
You can position the floating button on the button left or right of your website, customize the chat button color, and change the CTA text.
9. Buttonizer

Buttonizer is the most versatile floating button plugin for WordPress as it allows you to choose from 30+ click actions. You can add a button for WhatsApp Chat, Phone Calls, SMS, Email Messenger, Social Media Sharing, and much more.
You can configure the floating button visibility for mobile/desktop, specific user roles, categories, pages, etc. It also allows you to track your performance through Google Analytics and even add labels to the floating buttons.
10. Floating Chat Widget

Chaty is also a versatile WhatsApp for WordPress plugin with a plethora of chat channels. With this plugin, you can display a call widget, Whatsapp button, email button, SMS button, TikTok, Google Maps button, Vkontakte button, Line.me button, Viber button, and other chat widgets.
You can select the display page and on-page location (bottom-left/right) of your WhatsApp button, add custom CTAs, implement animation effects, customize button color, change the widget size, and much more.
So, these were the ten free WhatsApp for WordPress plugins. You can't only implement a chat channel but also use WhatsApp to sell your product and services. The paid version of the above plugins is also available.
Benefits of Integrating WhatsApp on Your WordPress Website
The biggest benefit is obviously the combined user base of both Whatsapp and WordPress. But let's look beneath the surface and find out why you should use WhatsApp for WordPress.
Whatsapp Is Free and Easy to Use
The reason behind WhatsApp's massive user base is it has all the features for free. You can send international messages and make calls without burning a hole in your shallow pockets.
WhatsApp users readily engage in sharing various types of media files with individuals and groups. An appealing content spreads like wildfire.
Bottom line: People of all ages absolutely love using WhatsApp.
With WhatsApp for WordPress plugins and WhatsApp API integrations, you can make a presence on the platform and have greater brand visibility.
Plus, people would be more comfortable communicating on WhatsApp, rather than SMS or email. It will help you improve your customer service.
Lastly, when you are selling items on WhatsApp, doubtlessly customers would share the product images and your profile with their knowns, which would result in increased reach and sales.
Highest Potential for Gaining loyal Customers
Unlike most apps, where people add strangers left and right without a care in the world, WhatsApp contacts are mostly people we know personally.
As it is linked with your mobile number, you are much more careful about the people you add on WhatsApp.
Apply the same logic to your customers. When you are a verified business selling products and providing support services on WhatsApp, the customers are going to share your content such as product offers, videos, images, coupon codes, and contact numbers with their friends and family members.
This means they are more likely to convert and become your loyal customers.
Global Audience Reach
As I mentioned before, WhatsApp has a 2 billion active monthly user base. WhatsApp for WordPress business solutions are essential to scaling your business and achieving your global ambitions.
With WhatsApp Business API, you can message your thousands of leads and customers in bulk with lucrative offers irrespective of where they are located.
With WhatsApp and WordPress integration, you have got the world in your hands.
And that's it. These were the major benefits of integrating WhatsApp with your WordPress website.
Attention! Attention! – WP Swings has been selected among the Top WordPress Development Companies by Designrush.
On a Final Note
WhatsApp is the most popular instant messaging app. And Its integration with WordPress is a boon to your business. This is a match made in heaven because both platforms are at the top of their game.
In this article, I have explained the difference between WhatsApp Business App and WhatsApp Business API. Also, I've shown the registration process for WhatsApp Business API with BSPs
If you implement the methods and tools mentioned above, you will be able to seamlessly integrate WhatsApp with WordPress. It will give a convenient communication medium to your clients and boost your conversion rates.
And hey, check out our blogs If you want to learn more about best eCommerce practices.