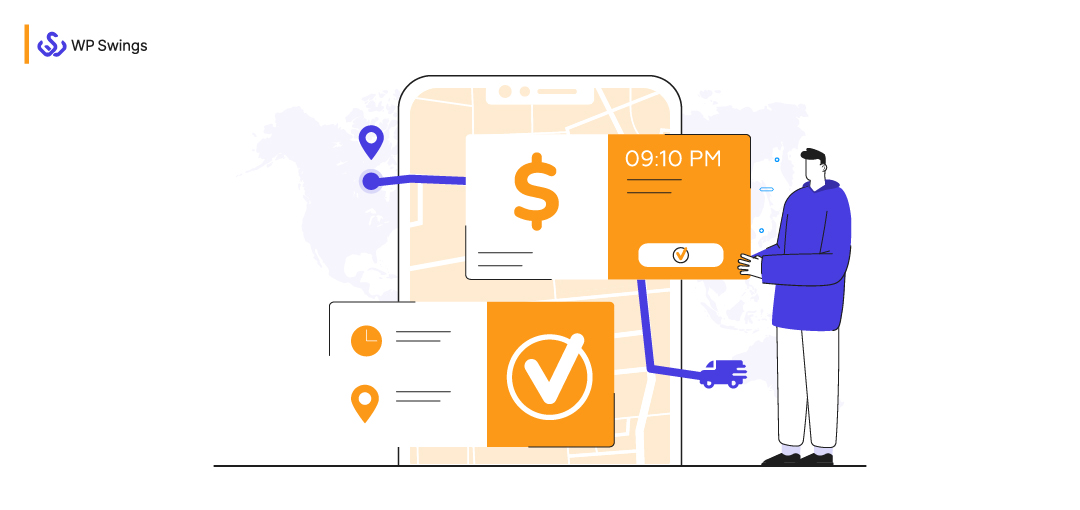 No matter whether your WooCommerce store is small or huge, you strive to make sure that your consumers have a pleasurable interaction. Isn't it??
You evaluate each and every aspect keenly from images, to propose adjustments to your business, and compose communications with the motive of achieving happiness for your customers.
But when it concerns Shipping, nevertheless, it could really seem as though you're entrusting your business to a stranger.
Really??? Yes, that's the case actually…
Brands usually overlook the importance of the Shipping mechanism and the strategy behind that. Whereas, shipping is a crucial component of your brand. It's the juncture at which customers perceive your product for the first time, and that's so it is also a substantial investment for your brand.
So, what are we here for?? Definitely, we're here to deliver some of the fundamentals of shipping your products and debunk some of the myths surrounding this complex topic. Learn how WooCommerce can help you streamline your shipment, and tools to make it all smoother.
Because the world of shipping and fulfillment can be confusing to those unfamiliar with it, we've put up a quick guide to everything you'll need to know to make the right decision for your company.
Let's start then…
Guide's Outline
What Exactly are WooCommerce Shipping Costs?
Delivering an item from your store or warehouse to a customer's door involves incurring direct expenditures, such as shipping. These expenses consistently include, but are not restricted to, the following:
The cost of boxes, wrapping, tape, and stickers
The price of hiring a worker to pick, pack, and ship an item.
The expense of sending a courier to pick up and deliver a package
Import/export costs when shipping overseas
Why is Calculating Shipping Costs an Important Process?
WooCommerce store owners need to consider both their budget and customer needs when figuring out shipping expenses. Charge too little, and your margins will be eroded, and your business will not last. If you charge too much, you run the risk of losing clients to your rivals.
Many of your competitors may be providing free delivery or shipping discounts. While it may seem alluring to do the same, it's quite likely that they've gone through a thorough process of calculating shipping costs to be able to offer such discounts. Ideally, you should follow suit.
Consumers expect retailers to deliver an instant shipping quote at the checkout when they know their shipping prices.
What do the Latest eCommerce Shipping Statistics and Trends Say?
To meet customer expectations, it can be a challenge to offer affordable and fast shipping options without a proper fulfillment strategy in place.
Fortunately, there are ways to offer better shipping incentives, such as free shipping, while simultaneously reducing shipping costs and speeding up transit times even if your customers are scattered across the country.
What are the Hidden Benefits of Offering Free Shipping?
68% of US online shoppers surveyed, stated they didn't make a purchase more than half of the time if the brand didn't offer free shipping. Based on this data, it's clear that offering free shipping is worth it if you want to boost your sales and reduce cart abandonment.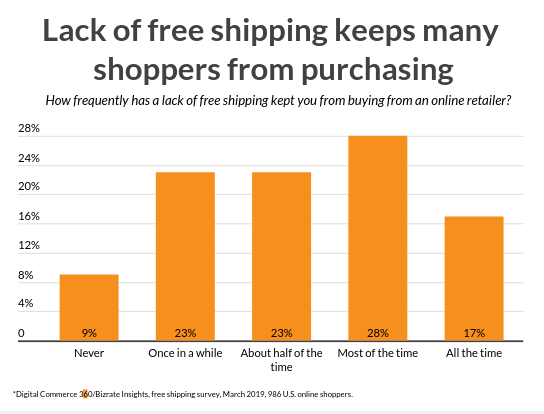 Bundles upsell, or a minimum purchase threshold is often offered in exchange for free delivery as a way to mitigate the costs.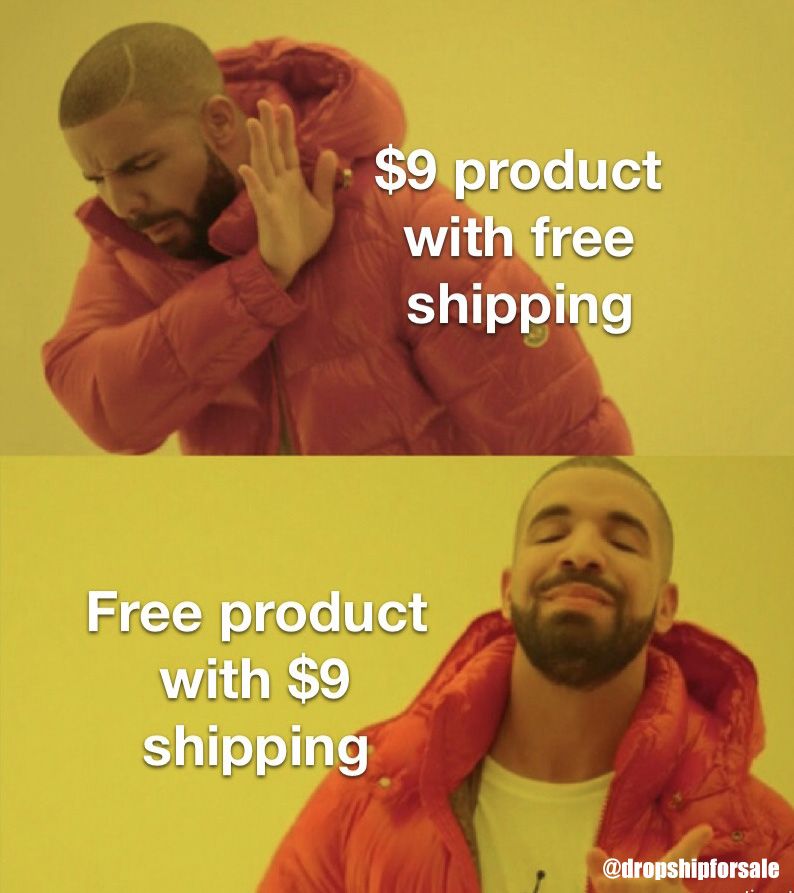 Shipping is one of the most important aspects of an eCommerce business. Customers are directly influenced by the shipping services you provide in your store, based on which they will make decisions on future purchases.
Some of the problems clients face with delivery are out of your hands because of the carrier service you selected and other logistical procedures. It's your job as a store owner to keep these problems to a minimum and ensure that your consumers have a positive WooCommerce shipping experience by meeting the estimated delivery date.
What are the Possible Benefits of Offering Shipping Management?
WooCommerce Shipping solutions provide a number of advantages to both customers and businesses. Deliveries are critical in today's market, there is no doubt about that.
Modern shipping management skills let you exceed client expectations while also managing your own business requirements at every level of the order and delivery process. Let's head on to the efficacies of the shipping business-
1. Higher Customer Trust and Loyalty
For a successful business, building client trust is essential. Your WooCommerce shipping policy guarantees that you and your customers are on the same page regarding shipping policies.
Transparency and Straightforwardness when setting expectations help clients decide whether or not to buy from you, and when the unexpected happens and your business operations alter, your shipping policy helps you preserve that hard-earned confidence.
2. More and more Returning Customers
Shipping has a huge impact on the shopping experience and purchasing behavior of customers, as you know as a consumer.
Indeed, more than half of customers have decided not to complete an order because the delivery options did not satisfy their requirements. If your shipping strategy is on top, this clearly means more and more returning customers.
Holiday Shopping Season Is Near—Check Out This Powerful Social Media Strategy Now?
Pull up your socks and buckle up because the HOLIDAY SEASON is almost here. The best time to start preparing your 2022 holiday content is right now.
3. Lower Probability of Cart Abandonment issues
According to Sendcloud's research, 65% of customers abandon checkout because the delivery prices are too high.
Consider this, if you buy something from the internet, you know that you may have to pay a modest fee for shipping. However, if the price is not apparent or is excessive, you may reconsider making the purchase.
As a result, hefty shipping costs result in many shopping carts being abandoned. So, plan a well-streamlined strategy today and avoid such issues effectively.
4. Can take Advantage in the Market
No one can afford to ignore customer needs when the number of internet businesses grows every year. If you don't fulfill your deadlines, someone else will. Because of this, 66% of customers have admitted to picking one store over another just due to the company's shipping alternatives.
5. Ensure the Effectiveness of Operations
Investing in shipping management solutions is the best decision for business productivity. Trying to meet customer shipping needs without the proper infrastructure can put a major strain on the organization, affecting everything from operational efficiency to cost-effectiveness.
6. Gaining Knowledge and Optimizing
Shipping and delivery, like any other service or business decision, can only be optimized by using important insights gleaned from comprehensive data sets. To guarantee shops are employing the best and most cost-effective couriers, shipping management software connects them to all the information they need in one central area.
Service teams may use order history and reports to better serve customers, while businesses can use customer insights to make changes that better serve both customers and the business.
7. Can Offer a Greater Variety of Options with Ease
More variety and ease of use are always at the top of the list of customer expectations when it comes to service. Shoppers expect shipping to work with their schedules, whether they're searching across borders for the perfect product or want to determine the exact time and location of their delivery.
Business owners of smaller firms can compete with the industry's major players while also setting their operations apart from the competition.
What's Next Then???
I guess now you've made up your mind for setting up shipping for your WooCommerce store…
Interested in setting up your shipping strategy, if yes….please continue reading.
What Steps Might You Take To Offer Shipping on Your WooCommerce Store?
One of the most crucial eCommerce pillars is Shipping and Handling, therefore it's important to go through all the options. If done incorrectly, it can lead to abandoned shopping carts, dissatisfied customers, a decline in sales, negative reviews, and result in huge losses.
We'll start with the basics and detail till the advanced ones here, so let's head on-
With over 20 million active users, WooCommerce is one of the most widely used WordPress plugins. A web pushcart and a wide range of additional features are included with this e-commerce plugin. Product catalogs, checkout pages, order management, and customer support are all included, giving you everything you need to start an online store. In order to make your WooCommerce store run as smoothly as possible, a plugin is crucial.
It makes managing your WooCommerce store easier, to put it simply. When a product order is received by the WooCommerce store, the actual work in an eCommerce business starts. Unless you have the right team and resources, managing product shipments for a WooCommerce store is one of the most challenging tasks.
A. WooCommerce Default Shipping Methods
In total, WooCommerce is used by more than 3 million online shops. And the vast majority of them offer real goods for sale, therefore shipping is a critical part of the ordering procedure.
Depending on the country, WooCommerce offers three standard delivery methods that can be customized under the shipping zone feature.
We'll concentrate on using WooCommerce's standard shipping options to set up shipping in this section. Following four easy steps, you can create each of these options within your WordPress dashboard—
Step 1: Introduce New Shipping Zones
Offering visitors from various geographical regions specific shipping options is possible with WooCommerce. These areas are referred to as shipping zones in WooCommerce.
WooCommerce previously provided "US" and "Non-US" as its default shipping zones. All you have to do to create your first WooCommerce shipping zone is go to WooCommerce > Settings > Shipping and click Add Shipping Zone.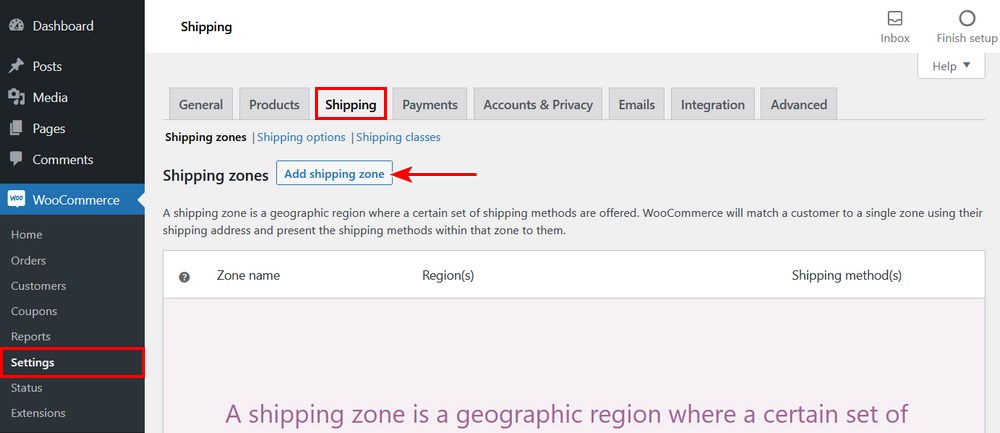 You must first re-enable shipping settings if the Shipping tab is not present in the unusual circumstance that it is. To do this, return to the General tab and look for the section labeled "General Options."
Choose any other option in the Shipping location(s) field besides Disable Shipping & Shipping Calculations.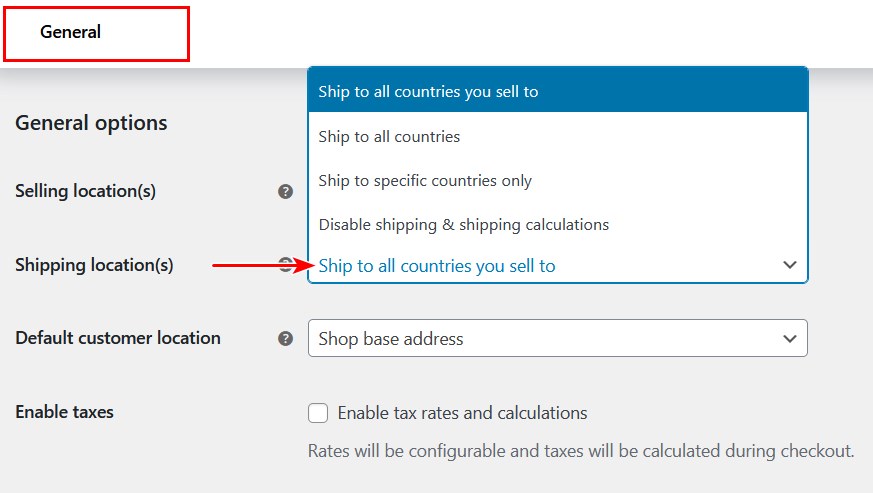 Return to the page with the shipping options. You will be taken to a new shipping zone editor page after selecting Add Shipping Zone. Fill out the fields on this page according to your needs.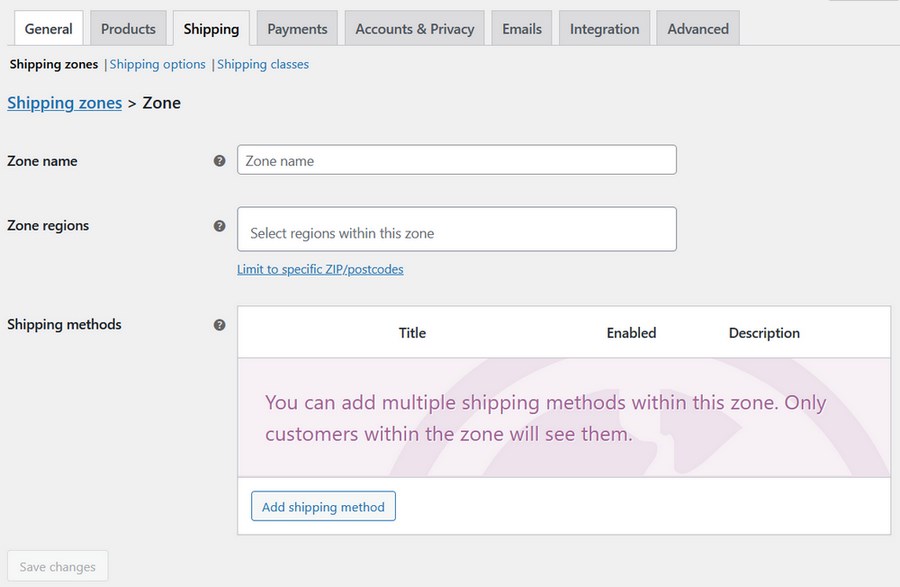 The Zone name is a short, succinct description that you can use to refer to your new shipping zone. Enter a specific location in the Zone regions form by typing it in or choosing it from the extensive list of places offered.
The choice may be a city or state, a nation, or a whole continent. The same is true for adding specific postcodes or a numeric range, such as 90210–99000.
Shipping Methods: Add and Update
Apply the shipping methods you want to make available for this zone after adding all the necessary locations to the zone. Then, select Add Shipping Method to complete this. The shipping options are then displayed in a pop-up menu for your selection.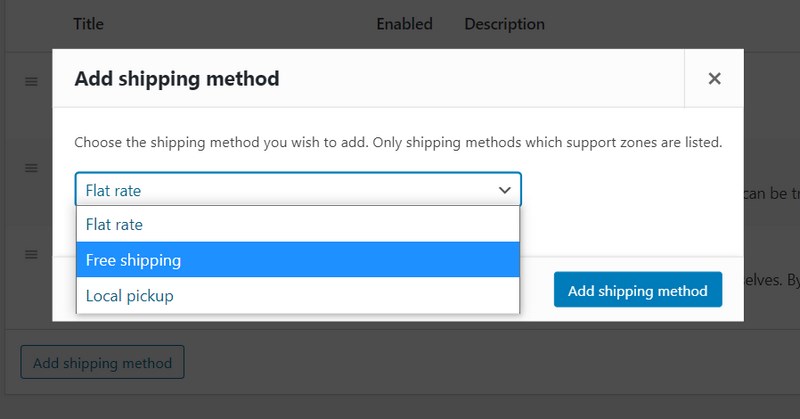 Click Add Shipping Method after selecting any choice. All 3 shipping options can be added to a zone.

After adding a method of your choice, you can toggle it on and off. After finalizing your zone settings, click Save Changes to finish creating your first shipping zone.
You can also change your shipping options if you so choose.
To do this, merely click Edit after hovering over the method. Depending on which shipping method you're editing, the pop-up settings menu will display different options.
For Flat Rate Shipping, you could specify the title of the shipping method (for the front-end) or the tax status in addition to the fixed shipping cost for that zone.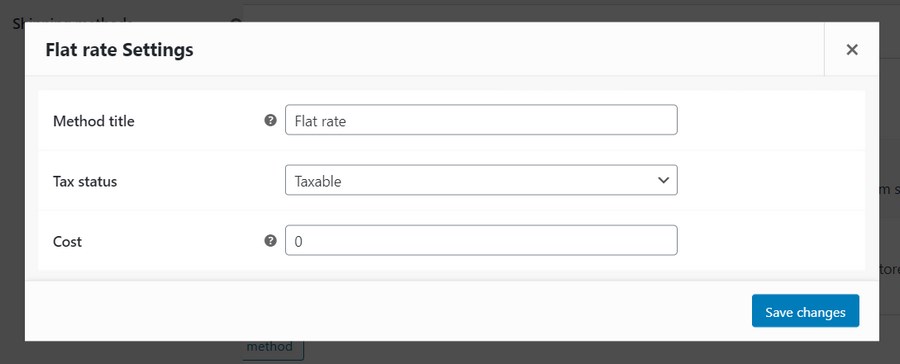 You can enter variable values to apply sophisticated cost rules for customer orders in the Cost field. Here are some helpful examples—
Standard Flat Rate Shipping: Enter a single digit, such as 10, to apply a fixed rate to all orders coming from that region (shipping will be $10).
Additional Fee per Item Quantity: Put in 10 + (2 * [qty]). For each item in the cart, shipping will cost $10 extra $2.
Additional Fee Equal to Percentage of Cart Total: Enter 10 plus [fee percent="2″ max fee="100″]. The base shipping charge is $10 plus 2% of the total in your shopping cart; the maximum additional charge is $100.
Click Save Changes when you're finished.
Step 2: Create Shipping Classes
In addition to shipping zones, WooCommerce shipping costs can also be calculated using pre-defined groups of related products. These teams are referred to as shipping classes.
Usually, you want to place items in the same shipping classes that are similar in weight or size.
Click Add Shipping Class under WooCommerce > Settings > Shipping > Shipping Classes.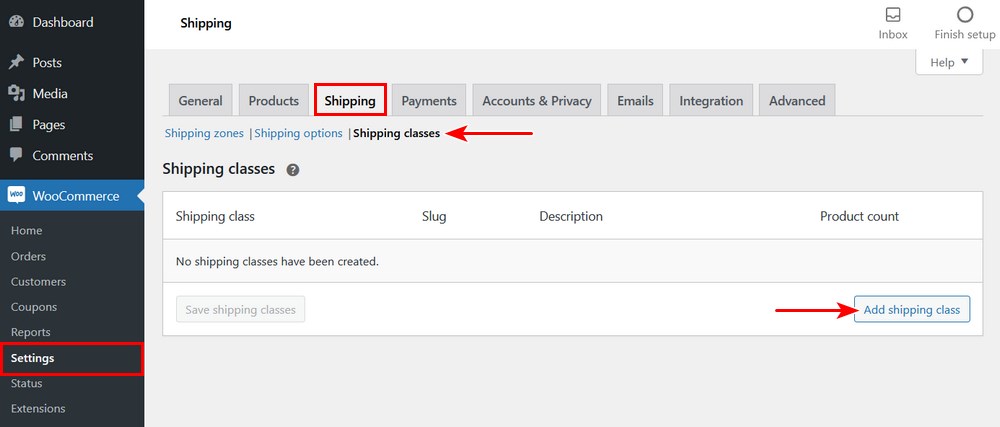 The shipping class name, slug, and class description can now be entered. A slug is only a distinctive identifier. If you want the system to generate a slug for you, leave the field empty.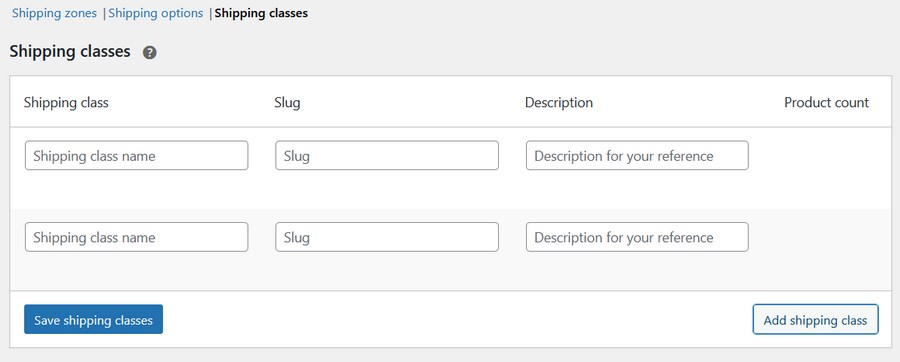 The Add Shipping Class button can be clicked more than once to add more than one shipping class. Click Save Shipping Classes to save your progress after that. You can now add specific flat rate shipping costs to each shipping class after you've added it.
Return to WooCommerce > Settings > Shipping > Shipping Zones and click Edit while hovering over any existing shipping zone to accomplish this.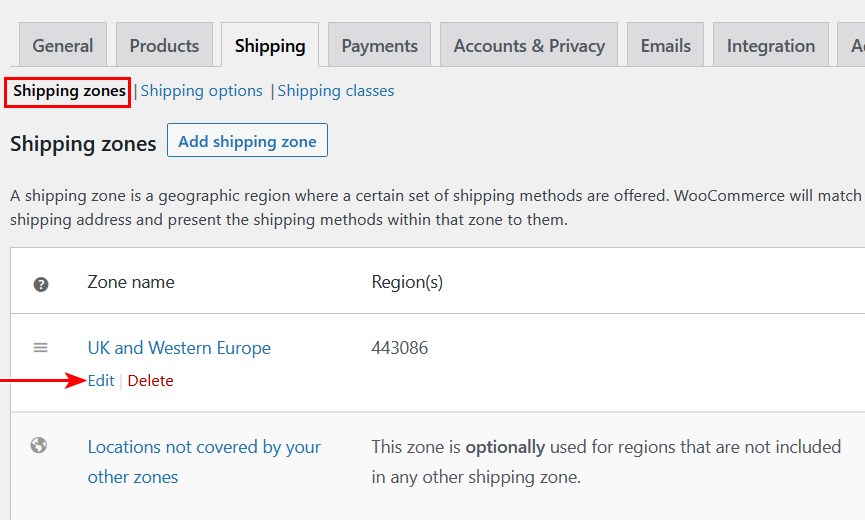 Click Edit next to the Flat Rate Method in the Shipping Methods section on the following page.

For each of the shipping classes you've created, you can now add more Shipping Cost Rules.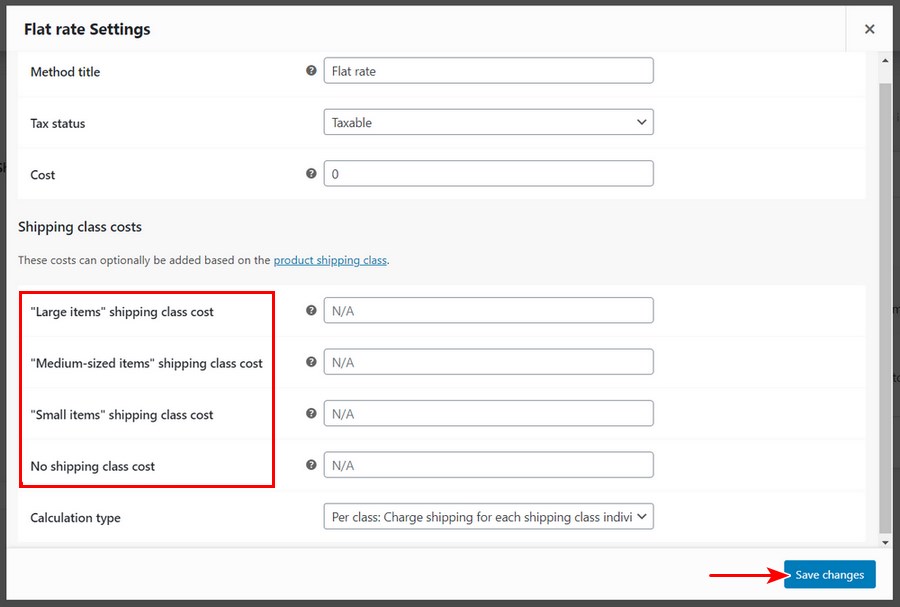 As you can see, you can also provide every product without a shipping class a specific shipping price. Click Save Changes once you're finished.
Step 3: Create or Modify a Product, Then Assign Shipping Classes.
Having set your shipping zones and classes to meet your needs, it's time to assign these shipping options to individual products. If you have already added products to your store, you can easily edit them.
Otherwise, assign these shipping options directly while adding a new product. To do this, locate your product settings by going to Products > All Products or Products > Add New.
On the product settings page, scroll down to the Product data section. We're only concerned with the Shipping tab.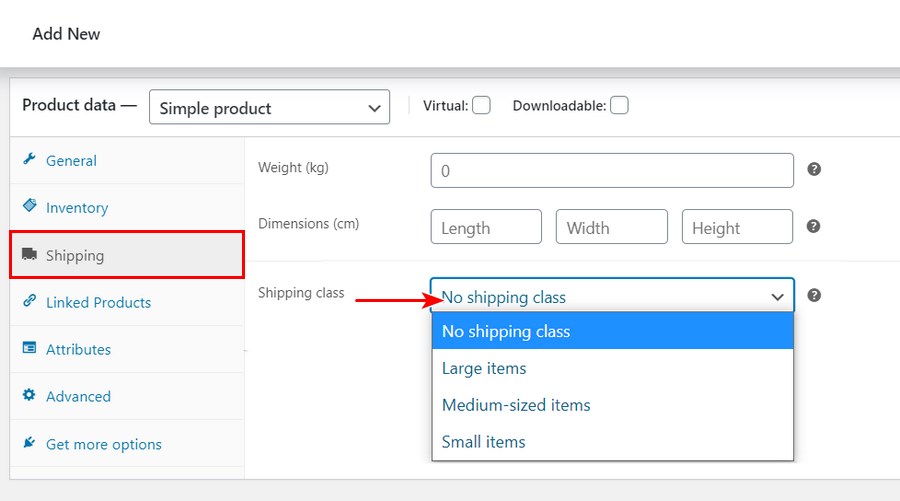 You can choose any shipping option for the merchandise on this screen. This will immediately apply the product to all of its flat-rate cost rules. Additionally, while bulk-editing multiple products, you can add a shipping class to each one.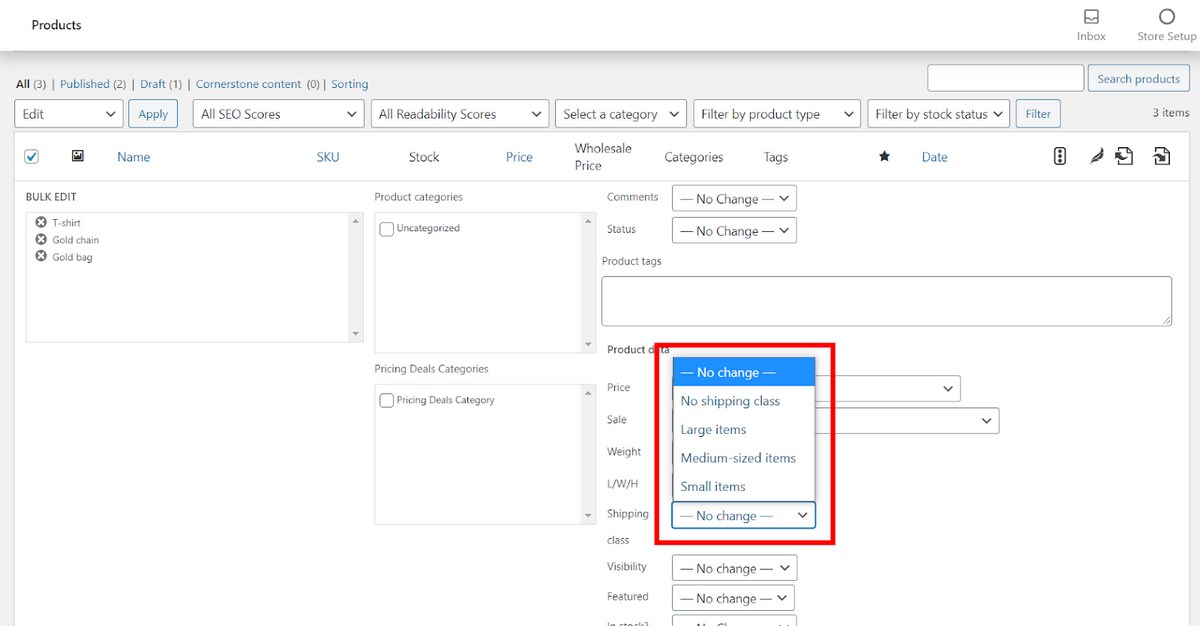 These are the only two methods available right now for categorizing products as shipping classes. In the future, hopefully, we'll be able to edit a shipping class while adding products to it.
Step 4: Evaluate Your Shipping Setup
It's crucial to do a test of your store before introducing your new shipping options to customers. This will enable you to assess the effectiveness of your shipping plan from the standpoint of the user.
In order to find shipping-related errors, testing your shipping configuration typically entails simulating the typical user flow on the front-end. The following are some crucial areas you should pay close attention to–
1. Zones and Classes for Shipping: You need to make sure that they perform as necessary because these are the main criteria that determine shipping settings. Test at least one item from each shipping category, and limit your shopping to one store in each shipping region (a VPN can come in handy here.) Make sure the shipping costs are accurately shown in each situation on the checkout page and in the cart.
2. Grouped  Products and Cart Sizes: This is a good time to check any free or discounted shipping rules you may have set up based on product combinations or cart size.
3. Integrating Third Parties: You should make sure that all the necessary technical concerns are taken into account if your website uses any third-party shipping plugins. Are crucial details like accurate real-time shipping costs, tracking details, and return policies synchronised?
4. Information Availability Ease: Are important details like discount alerts and free shipping based on cart size readily available to site visitors?
5. Checkout Process in Full: To make sure nothing goes wrong during the process, you should finally finish the checkout in its entirety.
You can start shipping your products once these essential components have been fully addressed.
If what You're Looking for These Days Is Custom Services- Refer This
Why wait to begin creating your online store when you can start doing so right away by using WooCommerce services? Team WP Swings would be honoured to work with you, help you reach new heights, and be your partner forever.
B. WooCommerce Automated Shipping Methods
Likewise the basic ones, automated WooCommerce shipping methods also assist you in determining the shipping cost. As they are custom developed they offer multitudes of features that a basic method cannot even think of.
All of the default shipping options in WooCommerce have already been discussed. To better service your consumers as your store expands, you'll probably need additional flexibility.
More shipping options and functionalities are frequently needed because of a greater range of consumers and website visitors. The topic of shipping is broad. You don't just give your customers the option to choose a shipping method. In an ideal world, customers would also like to be able to track their orders, select from a list of carriers, and view dynamic shipping costs.
You might also think about using a third-party extension or plugin to improve the shipping and order fulfillment experience with WooCommerce. These tools come in a huge variety, including the following:
1. WooCommerce Shipping
You can print shipping labels right from the dashboard of your website with the help of this useful extension i.e. WooCommerce Shipping. It not only allows you to print labels for USPS and DHL, but it is also free to use. By removing the need for you to manually enter the details of each order into your labeling software, this Jetpack-powered plugin can hasten the order and fulfillment processes for you.
This plugin establishes a direct connection with WooCommerce, taking care of all the laborious tasks on your behalf. If you're interested in the plugin, get it from here.
2. Shipstation Integration
You can also automate your WooCommerce fulfillment and shipping processes with a free tool i.e. Shipstation Integration. With it, you can automatically import orders from Amazon or other online retailers like WooCommerce. Then, by utilizing USPS rates and discounts, you can connect to a long list of carrier options.
Additionally, you can brand the tracking page, shipping labels, packaging slips, and notification emails with your company's logo.
3. Table Rate Shipping
This Bolder Elements tool has been purchased over 20,000 times on CodeCanyon from Envato and has a solid 4.67 rating. Pretty simple to understand why. This plugin enables you to create countless shipping rules with more than 15 conditions. Some of the most popular ones are the subtotal of the cart, the shipping class, the size of the package, the product category, and even the day of the week.
With Table Rate Shipping, you can create intricate shipping cost rules based on a number of conditions, and these rates will be displayed simultaneously on your front end.
4. Advanced Shipment Tracking for WooCommerce
Advanced Shipment Tracking for WooCommerce is without a doubt the go-to plugin if you're searching for the Swiss Army knife of WooCommerce shipment tracking.
You can manage and view tracking data from more than 150 carriers using the tool's full functionality. By creating a tracking link that contains all the tracking information variables, you can quickly suggest a shipping provider or add your own. Both through email notifications and the account pages, you can provide thorough tracking information to your customers.
The functionality and features of your WooCommerce shipping operations can be expanded by using a variety of plugins, including these two. You can access WooCommerce > Extensions from your dashboard to learn more about your options.
Why Is Automating Shipping Using Plugins Even Required???
You might think, why is there so much hype about the plugins and automated methods when WooCommerce is offering shipping options for free. So my friend– Here's your answer…
Shoppers enjoy having options, so the more you offer, the more likely they are to make a purchase. WooCommerce shipping extensions come into play in this situation. They're perfect for including any shipping option on your website. Here are some additional shipping features plugins can deliver:
1. They can instantly obtain accurate third-party carrier rates. You can now directly connect shipping services to your store using an API thanks to WooCommerce. Shoppers can view accurate shipping costs when shopping, whether you're using DHL, USPS, or FedEx to deliver your goods.
2. The capability to buy and print shipping labels directly from your dashboard is a helpful tool. You may aid with it by using extensions like WooCommerce Shipping.
3. In essence, customers for your goods and services may be located anywhere in the world. Additionally, in this kind of scenario, you may face intense competition from other online shops and websites. Even so, all purchase requests must be fulfilled by the owners of the website or online store. A good WooCommerce plugin can therefore support both domestic and international shipping methods.
4. You must ship the goods to the customer's location due to the online store and business websites. Additionally, when you ship them, the shipment Tracking tool becomes crucial for you. Additionally, every customer anticipates this kind of fundamental feature from every online retailer.
We Can Help You Here…
Tracking is the final step in the shipping procedure, and you may need an extension to complete it. This element is critical for a positive user experience. While a few of the plugins listed above handle some tracks, the 3 solutions listed below focus completely on shipment tracking and provide more robust tracking capabilities. Let's check out-
A plugin like WooCommerce Order Tracker will allow you to set WooCommerce shipping to be free after a specified cart value has been reached.
a.) WooCommerce Order Tracker
Your shipping plan must include a focus on providing top-notch shipping services. As a result, tracking is necessary if your goal is to provide high-quality WooCommerce shipping services.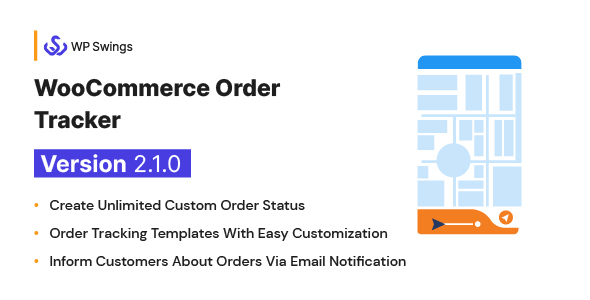 When it comes to improving the shipping experience for your customers, maps are a must-to-have. WooCommerce Order Tracker, can provide your customers the ability to track their orders on Google Maps by adding a feature to your product utilizing numerous order tracking templates that offer easy customization as per your needs and requirements.
5. All of these online shops selling tangible goods must pay close attention to the shipping process. Due to the fact that the owners of online stores or websites must coordinate a number of factors to guarantee delivery to the destination. Having a flexible shipping solution is crucial for this reason.
Best Practices you need to Look Over…
The eCommerce industry is continuously changing, but WooCommerce continues to observe the following WooCommerce shipping and delivery best practices worth pursuing based on the latest industry trends and aggregated statistics from the last few years-
1. What COVID-19 has taught us is that tracking carrier trend is critical, and it is a recommended practice worth pursuing going forward to assist customers to stay informed.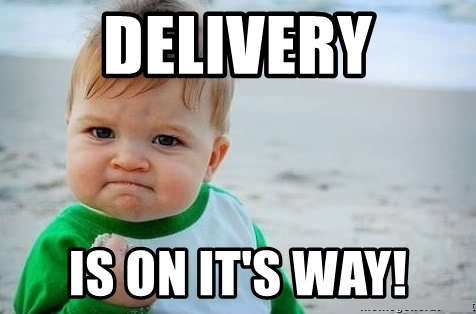 2. It's vital to give clients with delivery options that are both speedy and affordable. Establish a dispersed inventory architecture to match customer expectations while lowering shipping costs and transit times.
3. As the global eCommerce market expands, you'll have more options to expand your company worldwide.
4. Increase the usage of non-contact delivery options like lockers and pick-up locations. Make sure consumers are tracked and communicated in real-time to help reduce disruptions.
5. Use dynamic pricing solutions to ease supply chain bottlenecks during the crisis and analyze capacity limits and their influence on service levels.
6. Research shows that figuring out how to provide free shipping increases sales and decreases cart abandonment.
7. Establish a personal connection with clients so that they can express preferences and learn about acceptable delivery techniques. Develop a personal connection with customers. Inform them about the benefits of online buying and delivery, such as the increased security and convenience.
To Sum Up…
No matter what you sell, how you ship, or where your packages go, WooCommerce has a solution for your store.
WooCommerce offers a wide range of shipping options to suit your needs, whether you're selling locally or internationally. WooCommerce Shipping has always been a seamless alternative for shipping from the United States to domestic areas and soon will offer worldwide deliveries through providers like DHL etc. You'll also get fantastic savings, automation, and other time-saving features.
Set the correct Expectations for your customers by Being Transparent about your Delivery Policies.
Please let us know if that makes any difference to you. You can only be certain by observation and experimentation.
Stay connected if you'd like to get further information or assistance.
Good Luck!