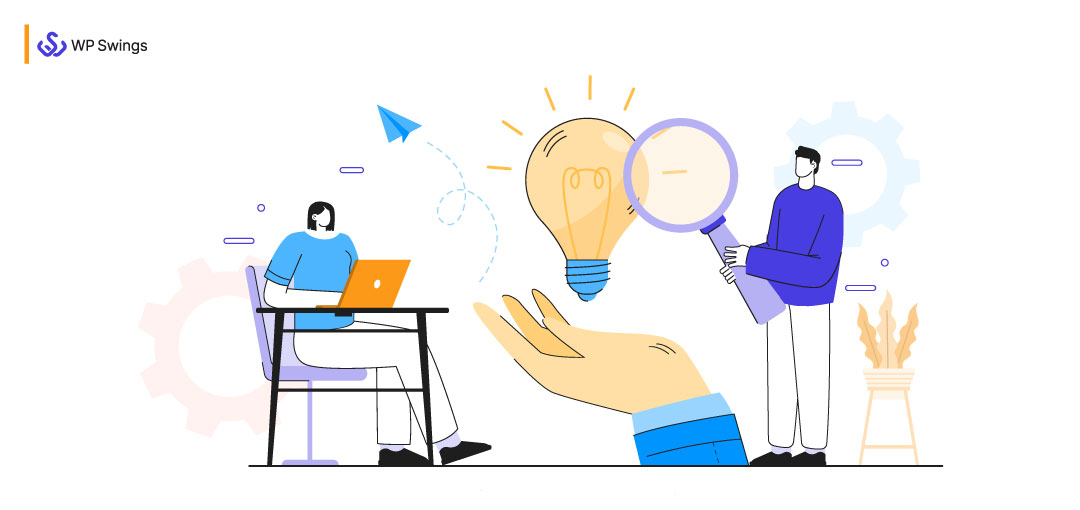 Will 2022 be your best online business year?
Every year, you've considered it.
You've probably looked into a number of online business prospects and envisioned how different your life would be if you could quit your job and work from home.
You may easily travel the world, create a comfortable life for yourself and your family, and achieve financial independence. You might be able to finally break free from the confines of a 9-to-5 job and control your own schedule.
But what happens after that? You just mull over the ideas for a bit before returning to your usual routine.
The Reality Of Running An Online Business
Running an online business has its advantages, but it also comes with its own set of difficulties. The truth is that beginning a business of any kind necessitates a significant amount of effort.
In essence, "online" is merely a means of linking businesses and customers. This is a powerful tool that allows you to contact people from all around the world. It's still about pairing the appropriate clients with the right items when it comes to starting a business with it.
Many people have already made the decision to start their own business. You can achieve the same if you have the correct ideas and put in the effort.
Segmenting your customers into different categories and pitching them with what interests them the most is the real deal. Customer segmentation benefits in structuring your marketing strategy for your online busine00ss ideas. The next is the user behavior analysis and conversion rate optimization processes that follow for a successful business.
This isn't about learning a single simple method that will transform your life. When it comes to beginning an online business, a bit of effort and strategies may be required. We've compiled a list of basic online business ideas that you might pursue to help you locate a product or online company concept that fits your lifestyle.
Here is the stats of number of searches for online business compared to business ideas:

How Do You Come Up With Online Business Ideas?
When you're looking for a new job, things are a little different. Choosing a brand new career path comes with loaded difficulties and uncertainty. But, with the flexibility of online work or doing your dream career, that's just the price you pay for having the job you want. If you're not sure where to begin, consider the following questions:
What do I excel at? What natural talents, skills, and information do I have that can be utilized to create money?
The chores that I can do all day, every day, without getting tired?
How much money do I have for a start-up?
The Most Innovative Online Business Concepts
Do you need some assistance deciding which unique business concepts are best for you? Here's a list of the best internet business ideas, as well as the tools you'll need to get started.
1. Offer Your Artwork For Sale On The Internet.
Whether you're a painter, photographer, or musician, a well-designed ecommerce website can help you launch an online store and turn your latest creation into a source of income.
If you're good at painting or photography, Printify or Printful can help you sell your work as prints, canvases, and framed posters. This is a great way to turn your art into a tangible product that people can actually take home. And if you enjoy music…you may sell digital copies of your beats, songs, samples, and more.
2. Influencer On Social Media
With the rise of social media marketing, influencer marketing, particularly on Instagram, grew in popularity with the year passing by. Instagram influencers are those who have a business account on Instagram and a large number of followers.
Influencers on Instagram have developed a reputation and, as a result of their trustworthiness and sincerity, have the ability to influence others and their followers.
When it comes to earnings, it differs from one account to the next. However, social marketers have seen that the range fluctuates from $80 to $200, with no upper limit.
Learn More About Instagram Influencer Marketing With Our Social Experts!
3. Blogger And Writer
Blogging is becoming increasingly popular among freelancers and enthusiastic individuals. Since the advent of content and conversational marketing, connecting with and sharing your experiences with targeted readers has resulted in a sizable profit.
People are fascinated by hearing about one's sentiments, adventures, and problems. It's interesting to consider how and what to communicate. For example, if you enjoy traveling and learning about various cultures, you can start a travel blog, or if you enjoy cooking, you may start a food blog.
Mr. Money Mustache began his successful personal finance blog in this manner. What started as a movement has evolved into a successful internet business concept that has received national attention.
Hundreds of successful bloggers make around $50,000 each year just by providing high-quality information with catchy headlines.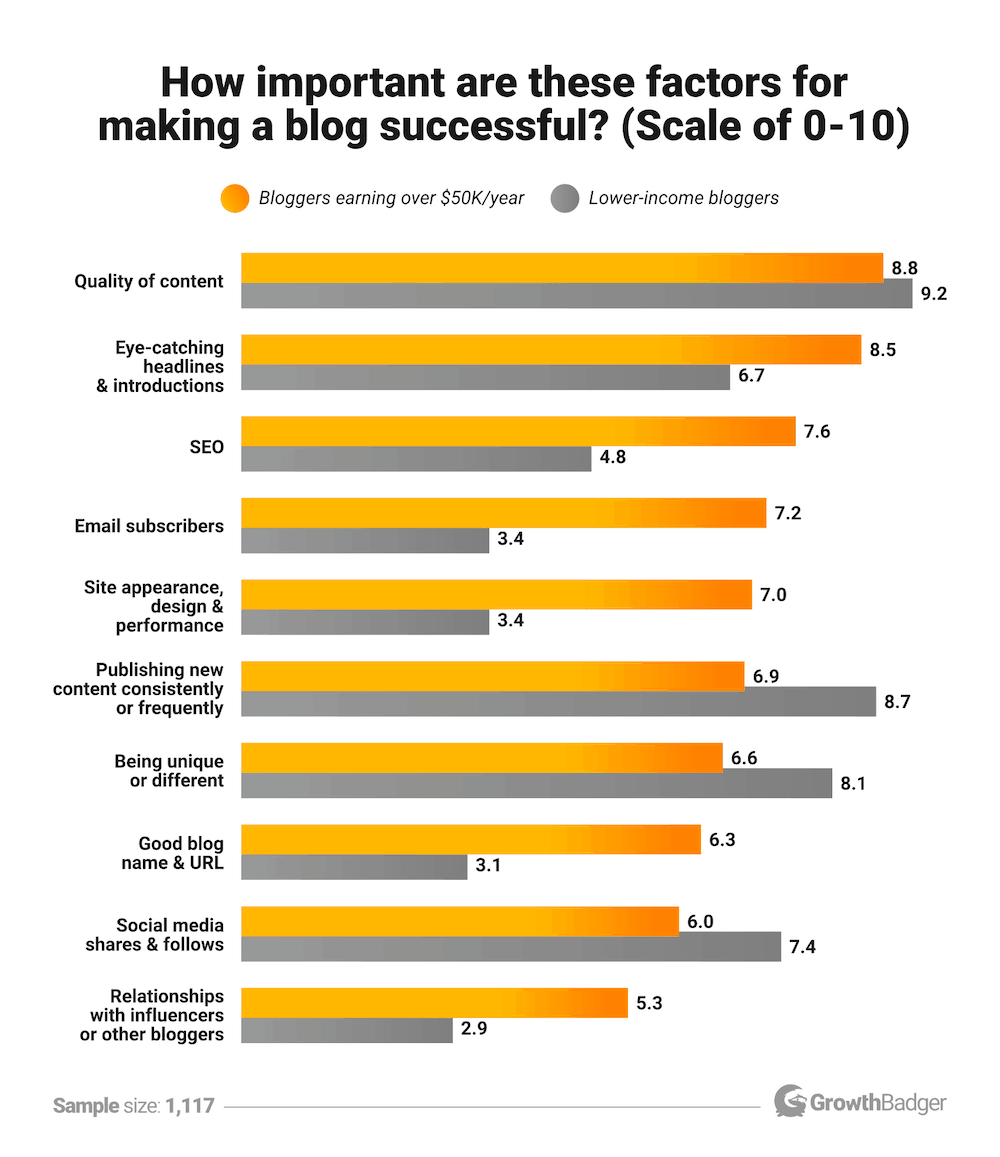 Source: Growth Badger
Not Sure How To Start With Blogging?
We will guide you with every step.
4. Photographer Or Videographer
The artistic mind and creativity sense the uniqueness in even the most ordinary objects. And the photographer's job is to turn the photographer's unique perspective into a vision for others.
Without a question, the photography market has reached new heights in 2021 and will continue to do so in 2022. This is something that the smartphone industry is well aware of. As a result, they are now focusing more on the photography features and lenses included into the handsets, because users use their smartphones for quick snaps.
For instance, animal videos, comedy routines, and news teasers. Someone with a keen eye and knowledge of filmmaking may make a lot of money providing content for brands who need it, via social media posts or product trailers.
Making a reel of your best work might help you get started. This serves as your portfolio, which you may exhibit to potential clients to evaluate if your style is a good fit for them. You might wish to do some pro gratis work for business references, just like with content writers.
5. Freelance Writer, Designer, Or Developer
Writers, graphic designers, and programmers can all use their skills to start their own enterprises. You'll be able to put your skills to good use as a freelancer by assisting others all over the world with their tasks (while making some money yourself, of course).
Freelancing does not imply that you must commit to month-long projects that consume all of your free time. It's a terrific internet business idea because you can simply take up bite-sized assignments that fit your schedule.
Try freelancing markets like Upwork and Fiverr to find folks who need your help.
6. Affiliate Marketing
If you have a successful online channel, such as a popular blog or YouTube channel, you may "loan" your audience to other businesses through affiliate marketing, a subtle type of advertising. You may prefer sponsored content out of a variety of formats out there as it is the most frequent form of affiliate marketing today.
To put it another way, affiliate marketing is when you promote a product or service on your blog, social media, email list, website, or other platforms. You can earn a commission every time someone converts using your unique referral link or code.
If you run a blog, for example, other businesses might pay you to post pieces they've written about themselves, or even simply a link to their site with a positive remark. Sponsored content is one of the most subtle forms of web advertising; it produces more natural-looking ads that are less likely to be ignored.
Affiliate marketing is an excellent way to make money without making any after-effects.
7. Launch A Podcast
Consider recording your own voice for a podcast if you enjoy listening yourself. Podcasts, like starting a blog, are one of the best unique internet business ideas with many monetization alternatives.
Follow the following and get started with your podcast:
A top-notch microphone
Software for recording audio
Software for recording phone calls
To help market your podcast, invite well-known personalities to be guests. Encourage your listeners to leave reviews and share your podcast with their friends and family.
Podcasts are becoming increasingly popular. 55 percent of Americans have listened to a podcast, according to Podcast Insights.
A successful podcast can lead to a slew of opportunities, including turning your episodes into a blog, requesting sponsors and advertisers, and creating connections you couldn't make previously.
8. Create a Digital Product or Course
Writing an eBook is similar to a digital product or course, the only difference is that it is written in a digital format. You're generating income via your expertise by teaching it to others.
But you'll need to promote yourself via your own website, email lists, and maybe affiliate relationships. You'll also need to create an enticing sales page to convince customers to buy from you.
If you don't already have a following, you might want to start by self-publishing on WooCommerce. You'll be able to test your course concept, establish your email list (just make sure to add an email opt-in at the front and back of the book), and create a rough draught version of the course (since it will probably be similar to the book).
More Suggestions For Internet Businesses
You couldn't come up with a good idea? Here are a few more internet business concepts to think about:
Create an app
Create a channel on YouTube or Twitch.
Coaching for your career, fitness, or life
Advertisement on the internet
Marketing on social media
Offer an online course for sale
Make a game for the internet
Begin an online business
Website or software development
Online tutoring or tutoring
Assistant on the internet
Researcher
3D printing
Online job postings
Work with music or voice overs
Conclusion
As said- It's never too late to go after your ambitions! Thanks to all of the new social media platforms and communication technologies, it has become much easier to do what you love and make money from it. Not only does the new technology make working remotely more viable, but it also allows you to work for people all over the world through the communication network.
Just remember to think about branding and design as you launch your new online business. It's fine if you're not an expert in the field of design. You may always employ a professional designer to help you stand out with your website and brand