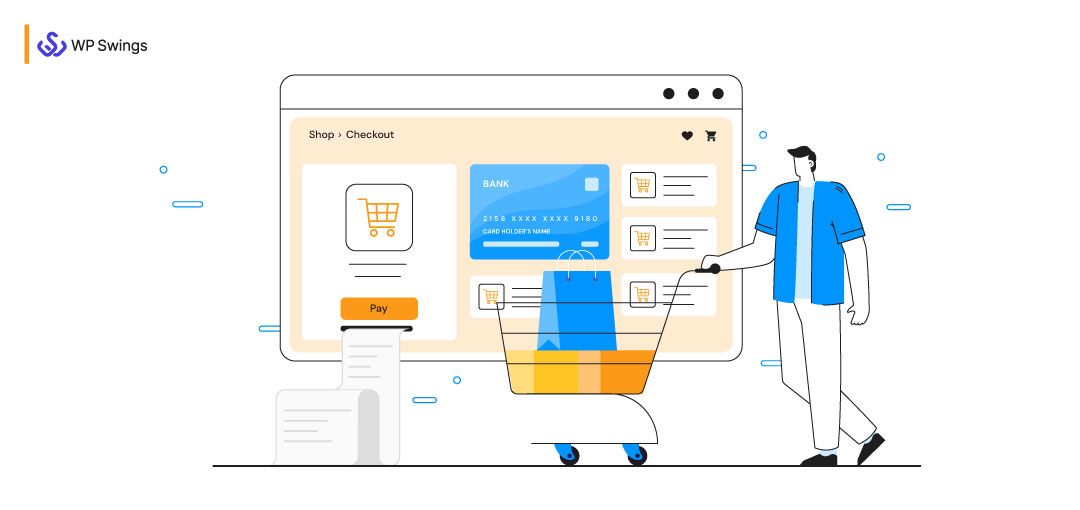 Checkout pages are crucial for all WooCommerce stores as the customers complete their purchase on it. So, your checkout page needs to be functional. Apart from that, you should focus on the appearance of your checkout page. Improving your eCommerce shop will help you encourage more people to make purchases. It is one of the best ways to grow your business and become successful.
Approximately 7 out of 10 people simply leave your website after adding items to their cart and it is almost to the finish line!
What can convince your customers strongly so that they can come back to you? If you are facing a lower conversion rate at your WooCommerce store, I have something that can bring a smile to your face.
Any Guesses?
Here, I am going to share some of the best ways to create WooCommerce checkout pages for higher conversion rates.
So, let us understand briefly.
Ways To Create WooCommerce Checkout Pages For Higher Conversion
1. Clean And Simple Layout
There is no thumb rule to design a good WooCommerce checkout page. It entirely depends on what kind of products and services you are selling.
High converting WooCommerce checkout pages are simple. They are made with minimal design, less diversions, and streamlined. Your checkouts should not be overwhelming.
I mean avoid complexities while designing a converting WooCommerce checkout page such as additional promotions or other recommendations. Simply put the checkout page button at the top and bottom of your page. Don't put multiple buttons and misaligned texts. As it deviates the mind of your customers and tends them to click on the back button.
If you want to recommend something to your customers, do it on your cart page. Put cart summary on the right side of the page to provide the best user experience. You can mention item details, item quantity, total number of items, shipping charges, total savings, etc. on your cart summary.
2. Create Product Specific WooCommerce Checkout Pages
As the product, so the checkout. It's quite obvious that an online store consists of multiple products which belong to different domains and categories.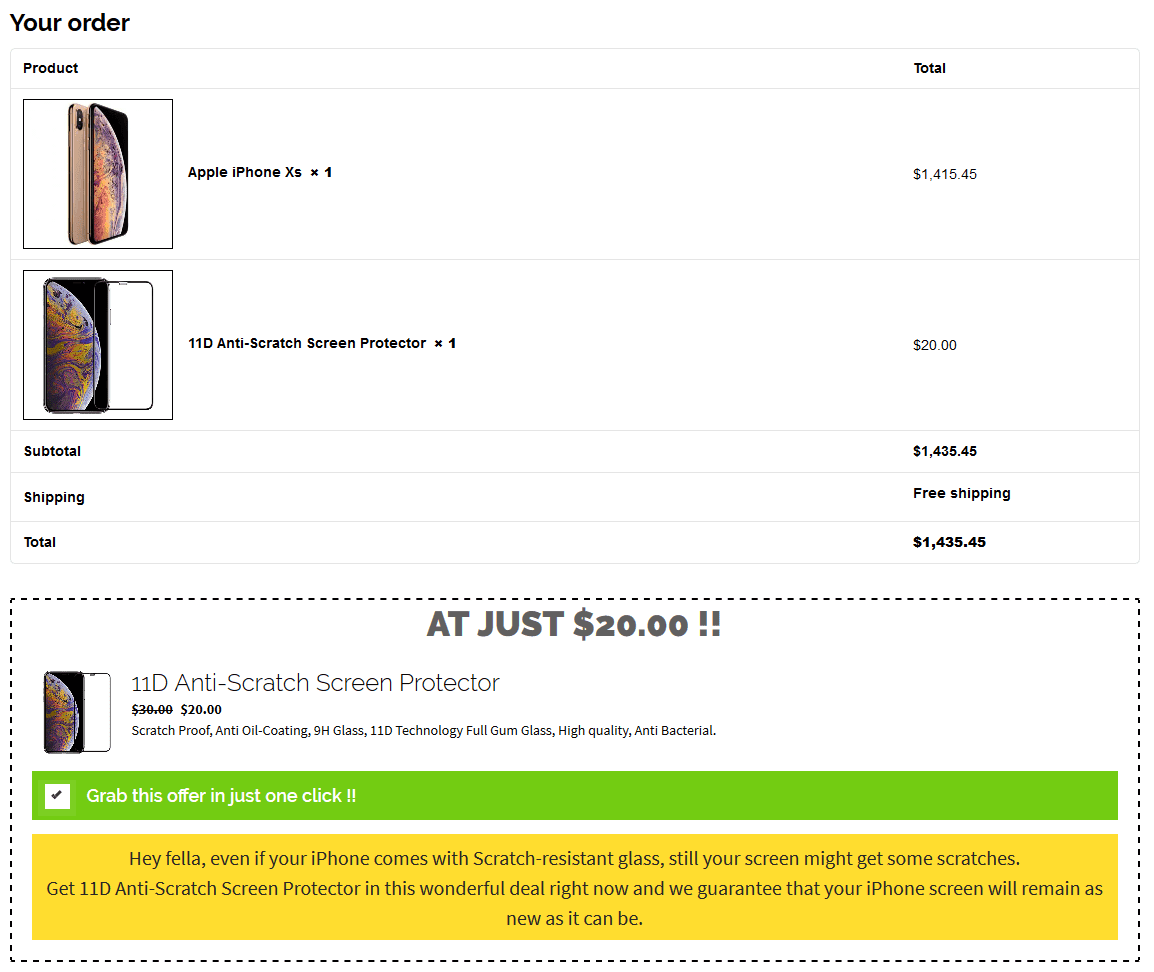 One design doesn't fit everywhere. For high converting checkout pages, create separate WooCommerce checkout pages for every product you choose, giving a fantastic look irrespective of the product quantity. For instance, for differentiating the WooCommerce checkout pages, you can build them with different colors.
Create, Sell And Manage Gift Cards On Your WooCommerce Store
3. Build Trust With Security Seals
If you cannot earn customer's trust, then you will definitely lose the battle. Baymard Institute found that 18% of American shoppers abandon checkout, because they don't trust the website with their credit card information.
Display the badgers and security seals transparently on your website. In case you have SSL certification, just put it on your WooCommerce checkout page. If your store has a policy regarding purchase, return or exchange then display it. It will build customer trust.
In case a customer faces any problem during checkout or has any query, for that provide a live chat option on your checkout page. You can also provide the contact details such as phone number and email address.
4. Add Order Bumps
Save your sales bumps from getting spanked. Why not try these order bumps for your customers before experiencing the down sales torture.
Order Bumps are a great way to promote the products at the time of checkout. Add relevant offers as order bumps in order to get the perfect WooCommerce checkouts.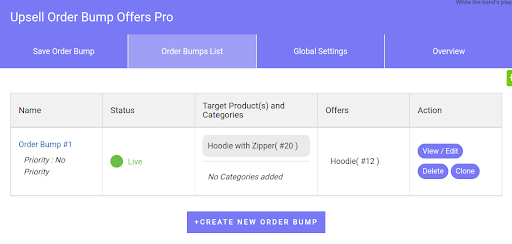 Add additional products to your WooCommerce checkout page to boost your sales and get successful purchases. It is yet another strategy to upsell your products and services at the same checkout page.
5. If No Upsell, Then Downsell
If your customer declines the upsell offer, then it doesn't mean that your order is lost. Make a try on downsell of a "lite" version or a shorter subscription period. This will give your customer a feeling of upselling for less. This lets you make more money on an order regardless if it isn't quite as you expected.
6. Customize WooCommerce Checkout Pages
High converting WooCommerce checkout pages are customizable to a great extent. Choose different templates for different orders and products. You can show your coding skills to add custom code to the checkout pages.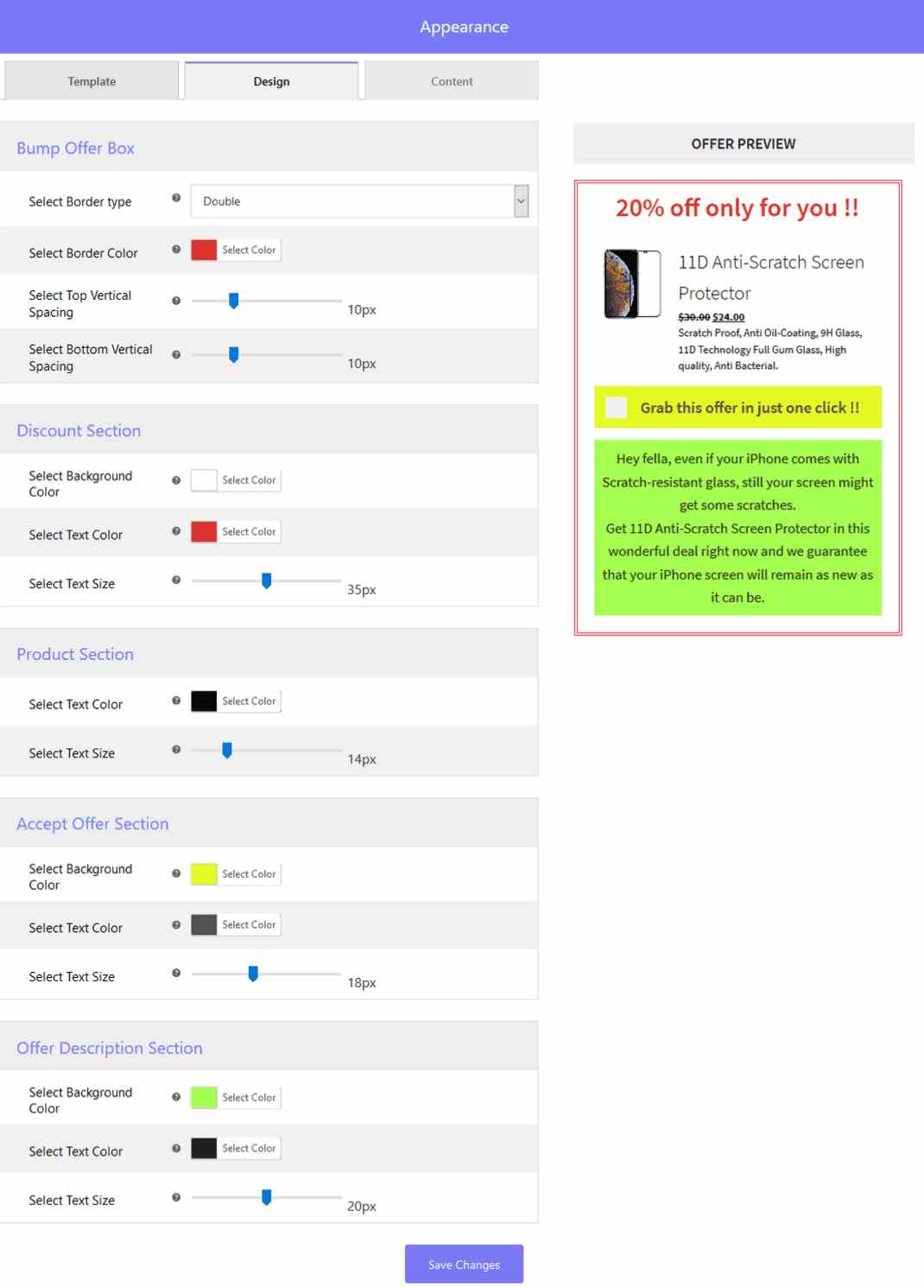 You can set unique design templates for your WooCommerce checkout page to choose from. Customize your template as much you want – add product title, description, image, testimonials.
Not only this. You can even edit colors of the fonts, logo etc. If you are a good coder, then add custom CSS and custom JS.
Setup WooCommerce Subscriptions On Your eCommerce Store
7. Modern Templates– Elegant Fonts
Never keep your WooCommerce checkout pages dull and null. Try some good templates which contain unique designs, modern fonts, and a pinch of responsiveness.
This adds customer retention, frequent purchases, and customer loyalty to your eCommerce website.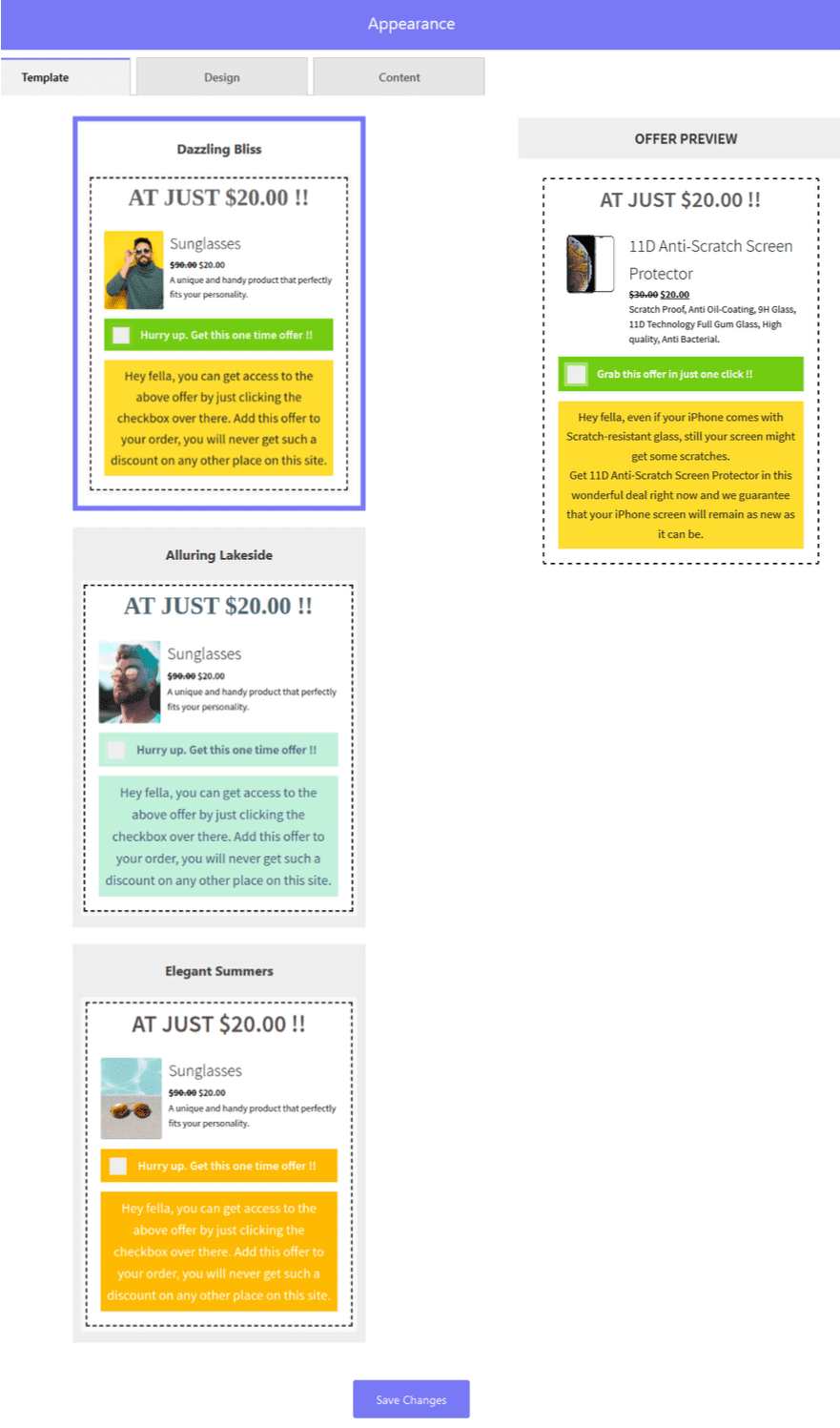 Always highlight the benefits you are providing. So that your prospects can choose you over others. Such as faster checkout, personalized shopping, free shipping, offers, and discounts, etc.
You can even give something in return for subscribing and registering, such as early bird offers, etc. Your ultimate motto should be new accounts rather than checking out as a guest. So, why not make that option more appealing?
8. Provide Payment Options On Your WooCommerce Checkout Pages
Suppose a customer wants to buy a product with his favorite card, but the store owner has not provided that card option. What will happen?
The customer will definitely skip the checkout and go to another store where the option is available.
In order to avoid such a situation-always include the payment options on your WooCommerce checkout page. These options include credit card, cash on delivery, wallets, bank transfer, EMI options, etc. You can put credit card logos on your eCommerce website.
9. Optimize Your WooCommerce Checkout Pages For Mobile Devices
According to the transaction, 79% of the customers order online using a mobile device. Design your WooCommerce checkout pages in such a manner that they can be compatible with mobile small screens.
For providing the best user experience on mobile devices, optimize your page speed. Reduce your page loading time. So that your customers can easily proceed to checkout without facing hurdles.
How To Style Your eCommerce Store With WooCommerce Converting Checkout Pages
Create the most important pages of your eCommerce website based on the products you sell and get more sales with WooCommerce converting checkout page. Provide the best upselling offers to your customers with a high degree of customization without hiring the developers.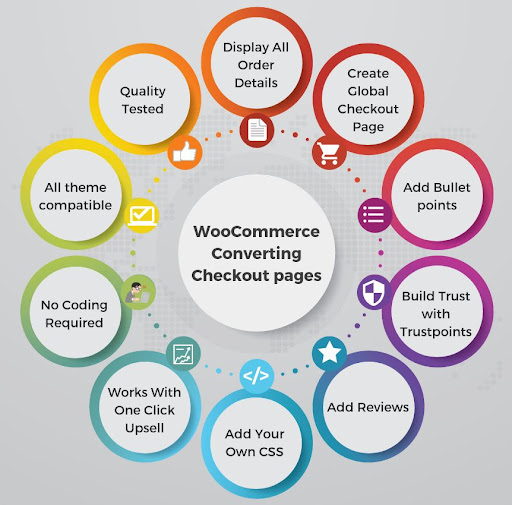 Here are some ways with which you can do so:
Display Entire Order Details
You can show the complete information of the orders including order number, taxes, shipping info, discounts at extreme right side of the page. Additionally, provide the continue shopping option on the checkout page, save cart option and add to Wishlist for the user's excellent shopping experience.
Create Global Checkout Pages
Create a global checkout page that can be used for all checkouts.
Point out some of the best features of your products by displaying them in bullet points. In this manner you can precisely elaborate the details of your products  and services.
You can set and update all your security, privacy, shipping, and guarantee related texts with your "Trust Points" settings.
People always check the product reviews before buying the product. Approximately, 78% of consumers refuse to purchase when they didn't find any product review. Show some of the best product reviews on your WooCommerce checkout page along with its feature image. You can include your product ratings as well.
Coders head up! Simply add your code. You can add custom CSS and JS to your WooCommerce checkout page. However, it's completely optional.
Works With One Click Upsell
A plus point for all those who are using one-click upsells in their online stores. If you want to boost your sales and revenue. It works with that. WooCommerce store owners can use one-click upsell on their checkout page.
You will not need to hire the technical employees for the sake of adding additional code. WooCommerce checkout page building process is very simple and obstacle-free.
WooCommerce converting checkout pages works with any WordPress theme. You can create checkout pages with your preferable WordPress theme.
Quality Tested By Experts
With WooCommerce checkout pages, you will not need any further assistance. They provide unbeatable and bug-free functionality which is truly made for modern marketers.
Improve The UX Of Your Online Store!
Final Words
These were some of the tactics which I have discussed with which you can increase your conversion rates of WooCommerce checkout pages. There are also other various methods to do so.
It is not a very difficult task. It needs your hard work and extra efforts. Precisely analyze your checkout process. Think where you are lacking and implement the things accordingly.
Provide an incredible shopping experience to your customers. It will definitely increase your sales and increase the customer retention.