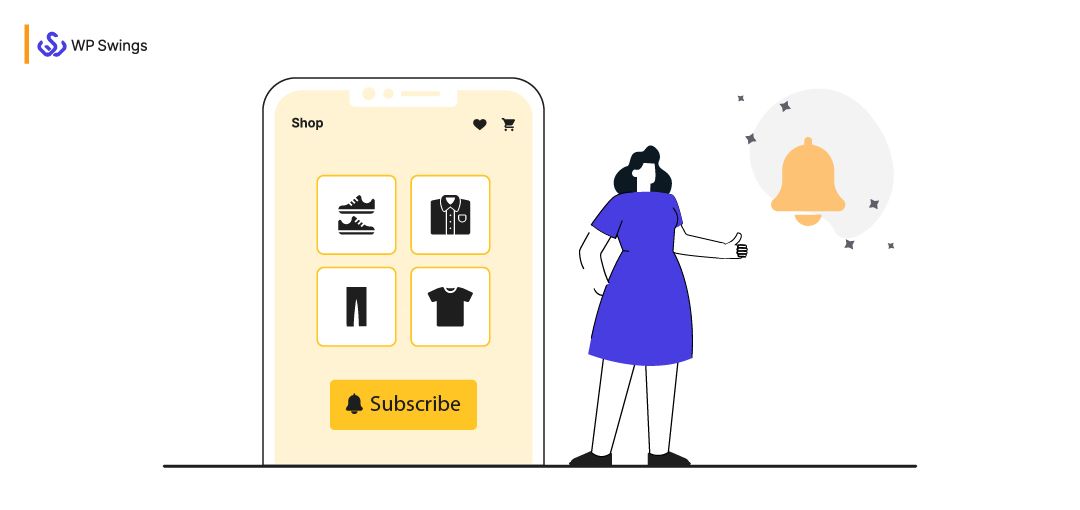 Sell subscriptions online to engage leads, turn them into recurring customers, and stack your share of regular income. How satisfying? Well, if not satisfying, at least that sounds like a promising strategy not to let competitors outsell you.
Subscriptions have been into play ever since we didn't know how convenient they can be. We all know Netflix. We use it mostly because we pay for it once and enjoy the overall month.
Imagine if you have to pay for every movie or series you want to watch. Even pay for it every day. The subscription business model is a far-fetched strategy that has its own benefits. How well would you connect with your customers if they had regular interaction with you?
It can be lead nurturing to some extent. Subscription is not new to begin with. You don't have to turn your WooCommerce store upside down for starting one subscription website.
Instead, you are going to do a favor for your WooCommerce store by setting a billing schedule.
But, is it a subscription product or service? It can be both. You will find two types of subscriptions models:
First are the ones which give access to content. For example, a subscription to an online course provides you e-content within a stipulated term or Spotify premium.
Second are the ones which offer a repeated service. For instance, subscription boxes or gyms.
WooCommerce doesn't support recurring payment to a greater extent. But, with the help of certain efficient plugins you can provide subscriptions-based products and services.
This article is for those people who own a regular WooCommerce store and want to sell subscriptions online. We will discuss how with the help of the Subscriptions for WooCommerce plugin, you can easily sell subscriptions online.
Why Should You Sell WooCommerce Subscriptions?
Let us have a look at this WooCommerce stats: According to Zuora, the Subscription Economy Index has grown 4.6x faster than the S & P 500.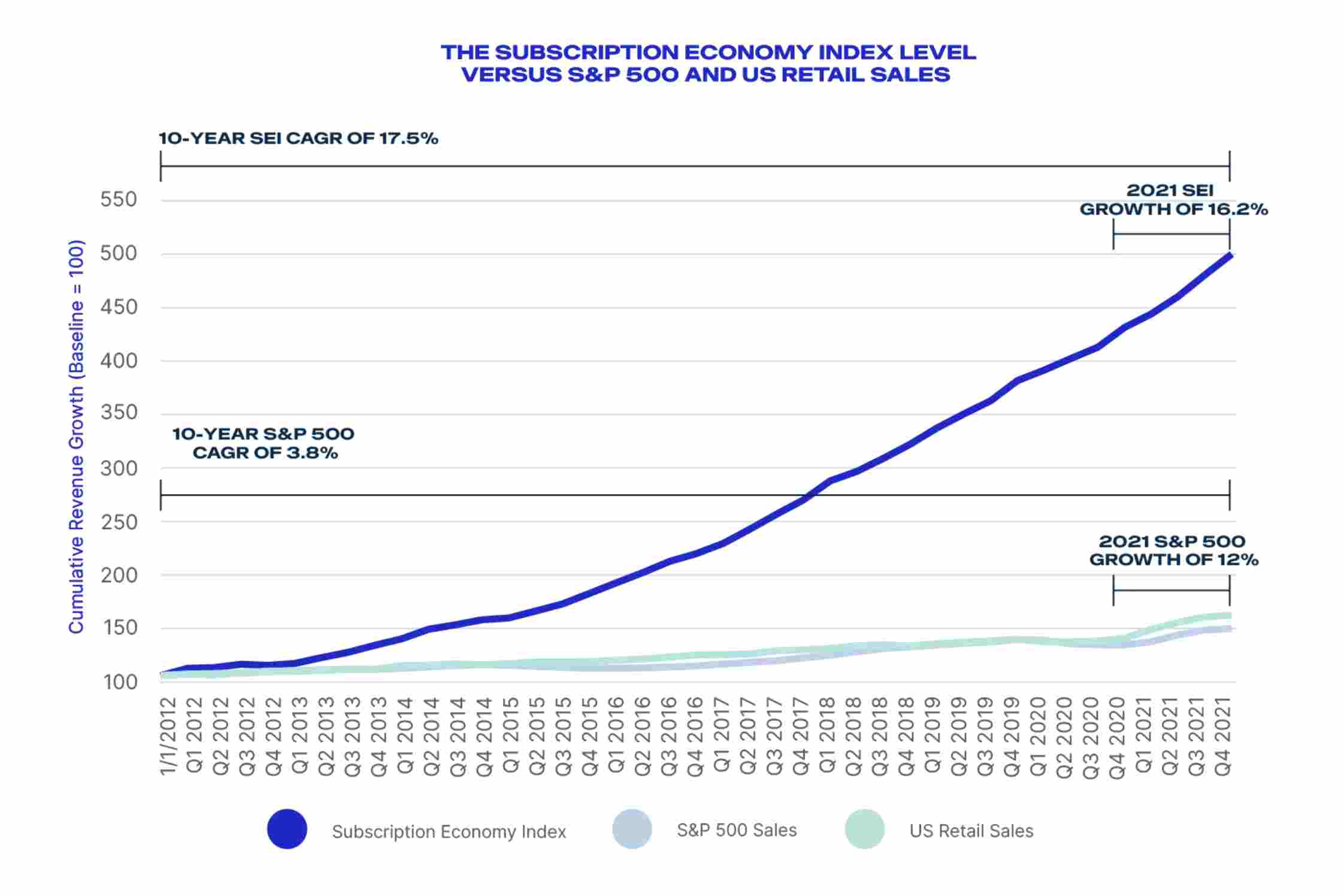 For DTC (Direct To Customer) businesses, this is a thriving option. Honestly, subscriptions are just like any other amenities. For instance, think like you're going to the grocery store to buy all your things once a month.
The only difference is, that you have to sign up for subscriptions and involve in recurring payments with your favorite store. You will get what you want.
This doesn't need to be a physical product or service. Netflix has generated $6.14 billion in 2021. It provides subscriptions for watching movies and web series. Spotify, Hotstar, and Amazon Prime are other such examples.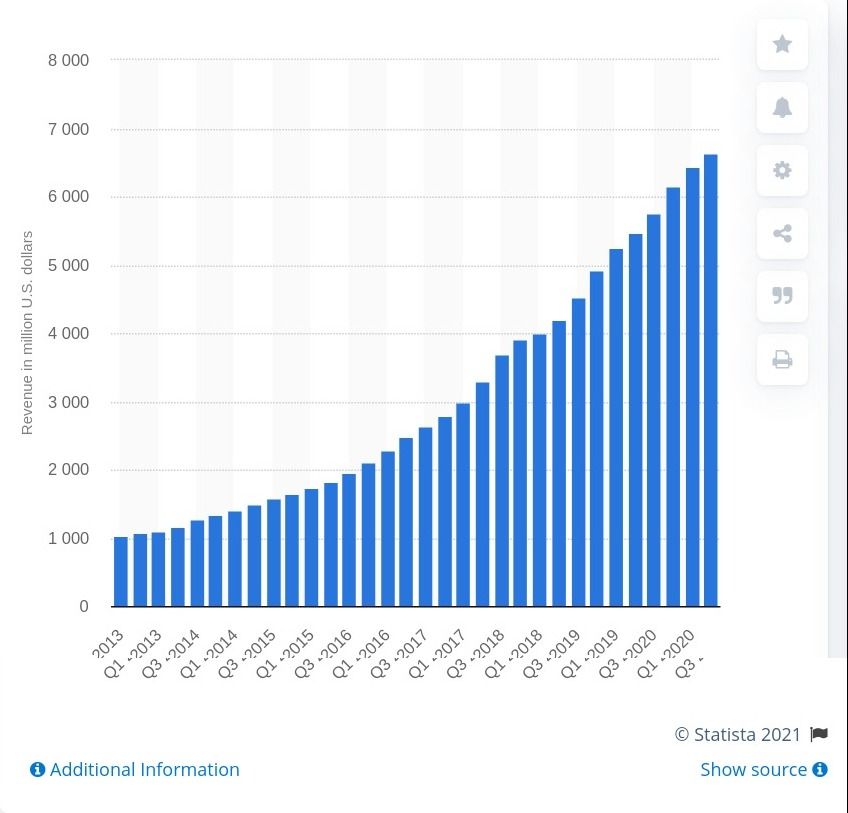 COVID-19 has majorly impacted the future of subscription-based payments and services. Overall 27% of consumers said that they would increase their number of subscriptions.
Whether it is digital or physical. There are hardly any households that do not possess a single subscription. As per their answer to whether they would increase or decrease subscription services, the data shows:
63% of overall subscription users will neither increase nor decrease their number of subscriptions.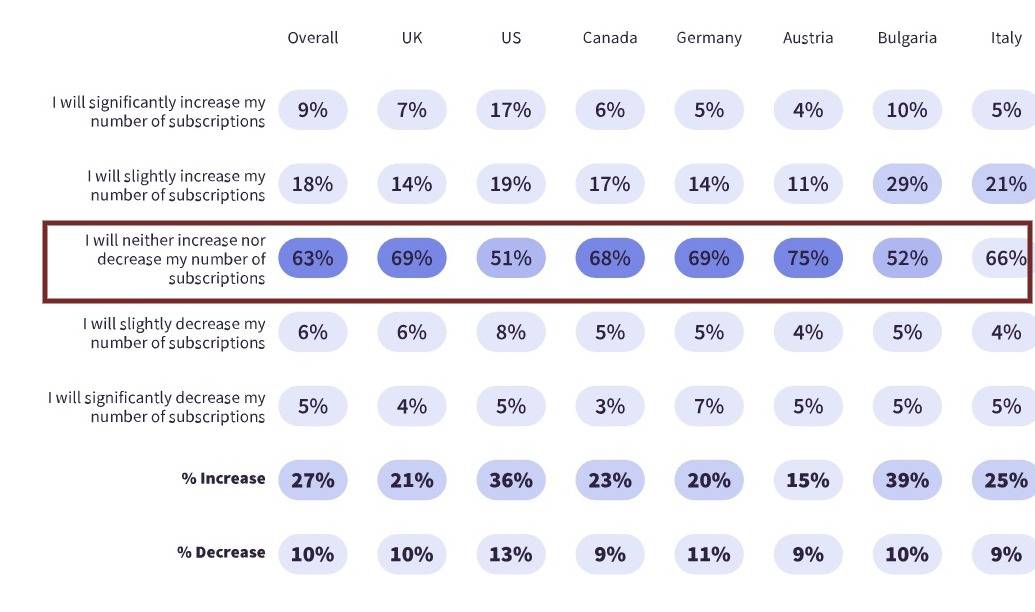 53% of subscription users strongly agree that subscriptions are the most convenient method of paying for goods and services they regularly use.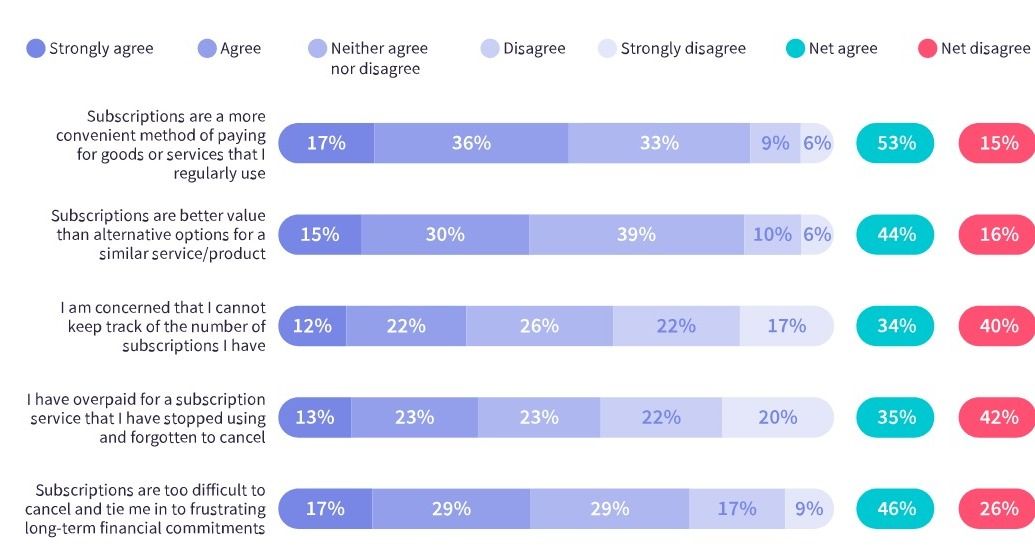 Hence, selling subscriptions online can be a smart strategy for you in order to maintain a consistent flow of income.
Choose the Best WooCommerce Theme for Your Store
Get a fair idea of free and premium themes, their selection, pricing, installation, and much more.
Benefits of Selling WooCommerce Subscriptions on Your eCommerce Store
Subscriptions have several benefits. Sell subscriptions online:
Receive WooCommerce recurring payments that improve your eCommerce store's cash flow and give rise to new revenue streams.
When it comes to subscription websites, you can sell physical or virtual products as well. These days WooCommerce digital subscriptions are very popular.
You can automate the billing process of your store.
Subscriptions can also sell services.
WooCommerce subscriptions secure brand loyalty along with customer retention.
There will be minimum payment errors and less payment delays.
WooCommerce simple subscriptions can be outstanding for upselling opportunities.
Setup recurring payments for your eCommerce store to sell subscriptions that can help you create memberships.
Also, subscriptions help you allocate marketing efforts and resources in the right direction.
Secures Brand Loyalty and Customer Retention
When you sell subscriptions online, you build brand trust among your customers. Thus, increasing their loyalty with the best customer service and experience. If the customer is delighted with your WooCommerce subscription products or services, they are more likely to be loyal to your brand.
Why do you think store owners prefer to sell subscriptions online and consumers want to sign up for them? We can see here:
| Benefits | Consumers | Store Owners |
| --- | --- | --- |
| Savings | eCommerce store owners usually sell WooCommerce subscriptions at a discounted price. Also, there are special bonuses, reward points, perks, etc. | When they sell WooCommerce subscriptions, consumers are more likely to buy products at a discounted price than single WooCommerce products at different prices. |
| Convenience | Subscriptions save consumers time and money. Recurring payments are more convenient than daily expenses. | Automated recurring WooCommerce payments for the store owners make revenue collection a breeze. |
| Renewal | Regularly replenished services need renewal. So, renewal works for the users requirements. | Renewal of service or product ensures revenue security for store owners. |
Improves Cash Flow, New Revenue Stream, and Recurring Payments
Offering a new product might not necessarily bring you more revenue. But, your cash flow improves when you sell subscriptions online. For example, a subscription box with required kids protein powder, vitamins, and essential oils at a discounted price for signing up for three months is more likely to be bought by the users than offering a new kids protein powder alone.
For maintaining a healthy WooCommerce Subscription store, cash flow regulation is crucial. Creating a WooCommerce subscription store adds recurring payments, giving an extra stream to your revenue. You will no longer have to wait for the festive season. So that you can get an extra stream of income or profit.
Allocation of Resources and Marketing Efforts in the Right Direction With Opportunities to Upsell
When you sell subscriptions online, you already have a set of customers whose activity and intent you need to analyze. This analysis helps you to understand the worth of every customer individually, which allows you to upsell. Customers will often buy outside their WooCommerce subscriptions.
You will be able to do better inventory and subscription management. Subscriptions for physical products will assure you the need for pre-defined goods. So, you would know the quantity of a product you need for your customers. Unlike the times when you will have a deficit or excess of goods in your inventory.
Selling monthly subscriptions with WooCommerce will help you build a long-term relationship with your customers. They will give their honest opinions and feedback.
Reduces Customer Churn Rate
Churn rate is a hero metric if you sell subscriptions online. The churn rate is the percentage of subscribers or users lost in a particular period or in the rate of recurring payments.

Suppose the subscription-based services perpetually provide value and quality to their users. In that case, there is a possibility of reducing the churn rate. Sticking to 0% may not always be practical. But considering the revenue subscriptions website generation, striving for lesser unsubscriptions is also critical. Consequently, value coupled with quality and garnished with discounts make unsubscribing WooCommerce subscriptions resistible.
Thus, this results in increased customer retention and engagement.
Examples of Websites That Sell WooCommerce Subscriptions
With the growing popularity of subscription business models, it is becoming a trend to sell subscriptions for WooCommerce websites. There are existing eCommerce stores that are selling subscriptions ideally.
Below are a few examples of websites that sell subscriptions for physical products and get recurring payments:
FabFitFun sells subscriptions for physical products related to beauty, wellness, fitness, and fashion.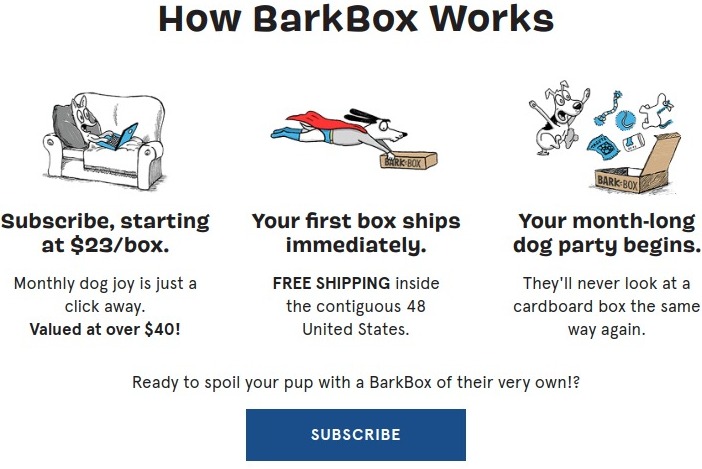 JUSTFAB is a traditional eCommerce store selling footwear that is upgraded with subscriptions.
Did you notice that these are not OTT platforms? Instead, they are just like other regular eCommerce platforms refurbished to sell WooCommerce subscriptions.
Similar to them, you can revamp your WooCommerce store to generate recurring revenue. Let us dive into how you can do it.
How To Sell WooCommerce Subscriptions on Your eCommerce Store
Firstly, if you own a physical store and plan to begin online. Then, WooCommerce is your way to go. You can completely set up your online store with WooCommerce. Further one may wonder,
'Can I provide services on WooCommerce?' Yes, you can.
'Can WooCommerce do subscriptions?' Double Yes.
'How do I sell my monthly subscriptions?' You will know what exactly you need to do in the next part.
Subscriptions for WooCommerce Plugin
Subscription for WooCommerce plugin lets store owners offer subscriptions options for products and services.
In order to sell subscriptions online, all you need to do is install the Subscriptions for WooCommerce plugin. This is a free plugin designed to update your WooCommerce store. An excellent plugin that is suited for selling subscriptions online for your store.
Amazing Features of the Free Subscriptions for WooCommerce Plugin
Here are some amazing reasons of Subscriptions for WooCommerce plugin:
Subscriptions for WooCommerce plugin gives you the ability to start selling simple subscription-based products and services free of cost.
The revenue collection of recurring payments is made more accessible through Stripe payment integration.
Build trust among leads by offering free trials with Subscriptions for WooCommerce Plugin. Turn them into loyal customers with your quality services.
Regulate the frequency of the free trials while selling subscriptions for WooCommerce products. In this way, you can escape being exploited from the unlimited use of your free service or product. Offer unlimited subscriptions as well.
Implementing initial fees on subscription-based products is a primary requirement. But, with Subscriptions for WooCommerce, you can add the initial costs for your WooCommerce subscription plans.
Cancel WooCommerce subscriptions facility is for both the admin and user.
Subscriptions for WooCommerce plugin is integrated with the WooCommerce PayPal Payment Gateway.
Above all, the Subscriptions for WooCommerce plugin helps you in the complete subscription management of your store.
Start Selling Subscription-based Products on Your WooCommerce Store in Four Easy Steps
You can sell subscriptions online in four easy steps:
Install Free Subscriptions for WooCommerce Plugin
Enable Subscriptions on Your WooCommerce Store
Assign Subscriptions to Single Product
Product Subscriptions Settings
Step 1: Install Free Subscriptions for WooCommerce Plugin
To begin with, installing the Free Subscriptions for WooCommerce plugin is similar to installing any other WooCommerce plugin. You can download this plugin from the plugins section of WordPress.org.
To install free subscriptions for WooCommerce:
Firstly, go to the dashboard of your WordPress website and from the sidebar of the admin panel navigate to plugins.
Secondly, go to Menu > Add New.
Next, on the 'add plugins' page, you can either browse the name 'Subscriptions for WooCommerce' or upload the zip file that you have already downloaded.
Finally, click install and your WooCommerce store is now ready to sell subscriptions online.
Step 2: Enable Subscriptions
After installing and activating Subscriptions for WooCommerce plugin, you need to enable subscriptions. So that you can sell subscriptions for physical products or virtual ones. The steps are:
Begin with going to Plugins > Installed Plugins > Subscriptions for WooCommerce > General Settings.
Then you can enable WooCommerce subscriptions by ticking on the check box 'Enable/Disable Subscription.'

Don't forget to click 'save settings.' Then, the subscriptions will be enabled on simple products.
If you decide you don't want subscriptions on your website anymore, you can disable WooCommerce subscriptions by unchecking the checkbox.
Step 3: Assign Subscription To Simple Products
Once you install the plugin successfully, you can sell WooCommerce subscriptions for simple products with a single click. But before that, you need to assign subscriptions to simple products.
From your dashboard, go to Products > All Products.
Next, choose the services or products you want to make available as a subscription product.
On the product data of a simple product, a subscriptions checkbox will appear. You can tick the subscription check box.

The service or product will be displayed as subscription-based on the frontend now.
Step 4: WooCommerce Product Subscriptions Settings
The subscriptions settings for the products will be displayed when the subscriptions have been assigned to the products.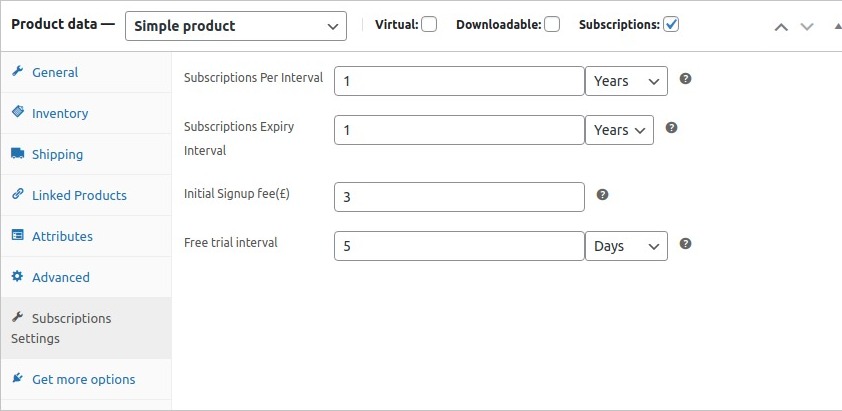 You can continue to configure subscription settings in this chronology only. In the subscriptions settings, you will get the following set of fields:
Subscription Per Interval
This field is for recurring payment intervals. In other words, you can decide when you want to collect your recurring payment for selling subscription-based products or services. Subscription per interval also sets your billing schedule. If you wish to sell monthly subscriptions with WooCommerce, you can set it to a month. However, you will have options of days, weeks, and years. Recurring payments will come to you after the subscription per interval.
Subscription Expiry Interval
Subscription Expiry Interval decides how long the subscription needs to be continued for a subscription-based product or service. As per the requirements of the customer, you can determine the subscription expiry interval at once. After this subscription expiry interval, the subscription will terminate automatically. So, feed the number of weeks, months, or years you want to continue the subscription.
Initial Fees For Subscriptions
It is the sign-up fee for subscriptions that adds to the first recurring payment. It is only taken once as a signing-up fee. So, mention the amount you want to charge for selling monthly subscriptions with WooCommerce. Thereafter, the frontend will show the initial fee for a subscription-based product or service.
As the name suggests, the free trial is for capturing the user's attention. It is up to you to set the free trial interval frequency. For instance, you can give a trial for a week or for a few days. Such free tests are helpful for various subscription business models. For example, gyms, dance classes, sports clubs, etc. They can be limited period free trials, which also works as a great marketing strategy.
WooCommerce Subscriptions Details
Well, as far as subscription settings are concerned, you are pretty much ready to roll out your subscription-based products and services on the WooCommerce store. But, here are a few general settings provided in the free Subscriptions for WooCommerce plugin. You can:
Edit the 'Add To Cart' text and 'Place Order' text replacing it with your desired text.

Enable the functionality to cancel subscriptions anytime. Customers and admins both can cancel WooCommerce subscriptions whenever they want.

Get complete details of all the subscription plans in the Subscriptions Table tab.
Also, we provide Subscriptions for WooCommerce Pro plugin which possesses extraordinary features. This plugin will make it much easier for you to sell WooCommerce subscriptions on your store.
Are You Looking for a Free Subscriptions Plugin To Give a Try on Your Online Store?
Our plugin helps to provide hassle-free subscriptions services. Avail recurring payment and consistent flow of income.
Integrated With WooCommerce PayPal Payment Gateway
With the Subscription for WooCommerce plugin, customers will not need to install the WooCommerce PayPal payment Gateway plugin separately. The plugin is successfully integrated with it.
The first-time user will be able to see wps-paypal in the multistep form.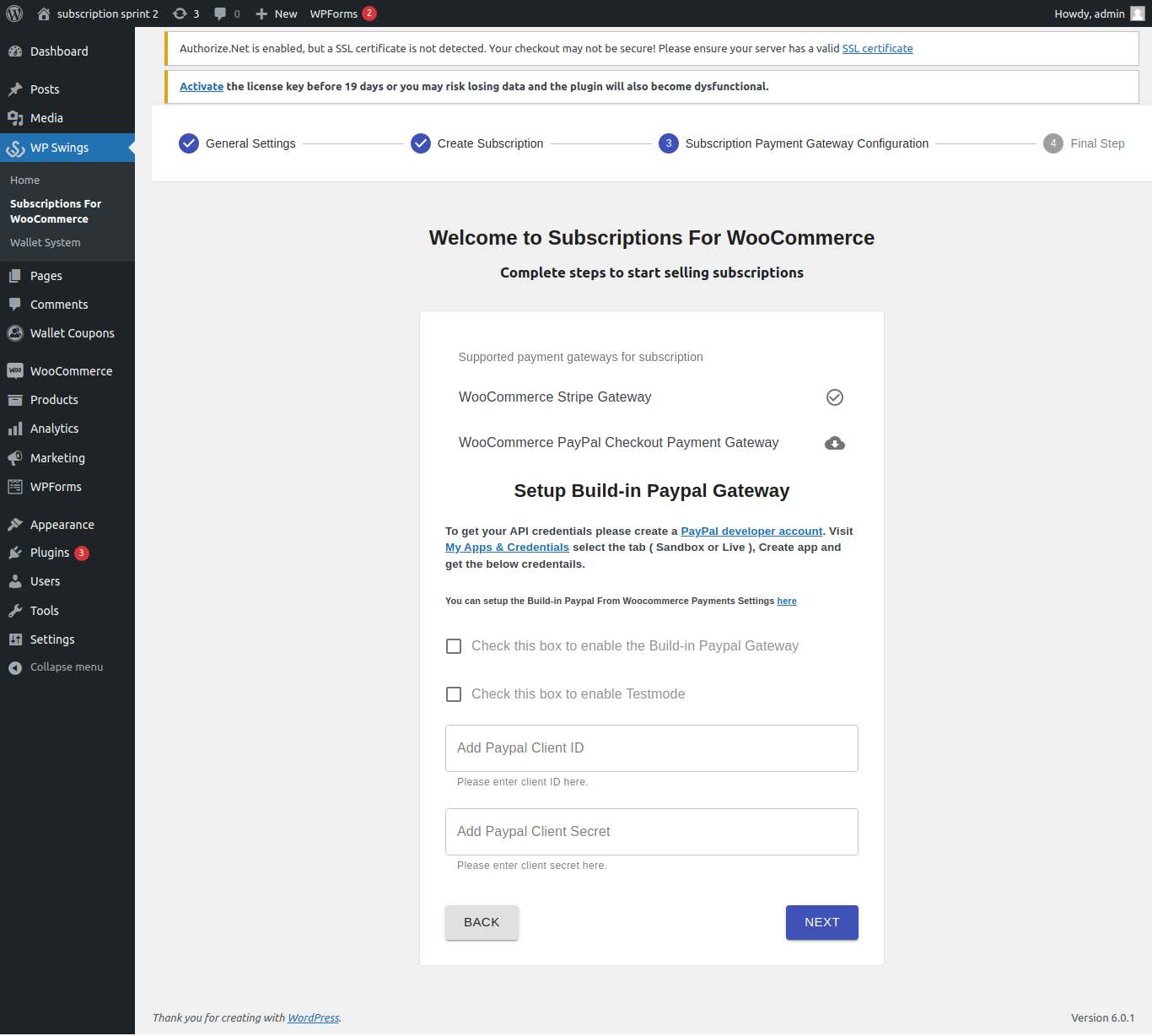 Whereas, old users will have to fill in the Client ID as well as Secret ID in the payment section of WooCommerce.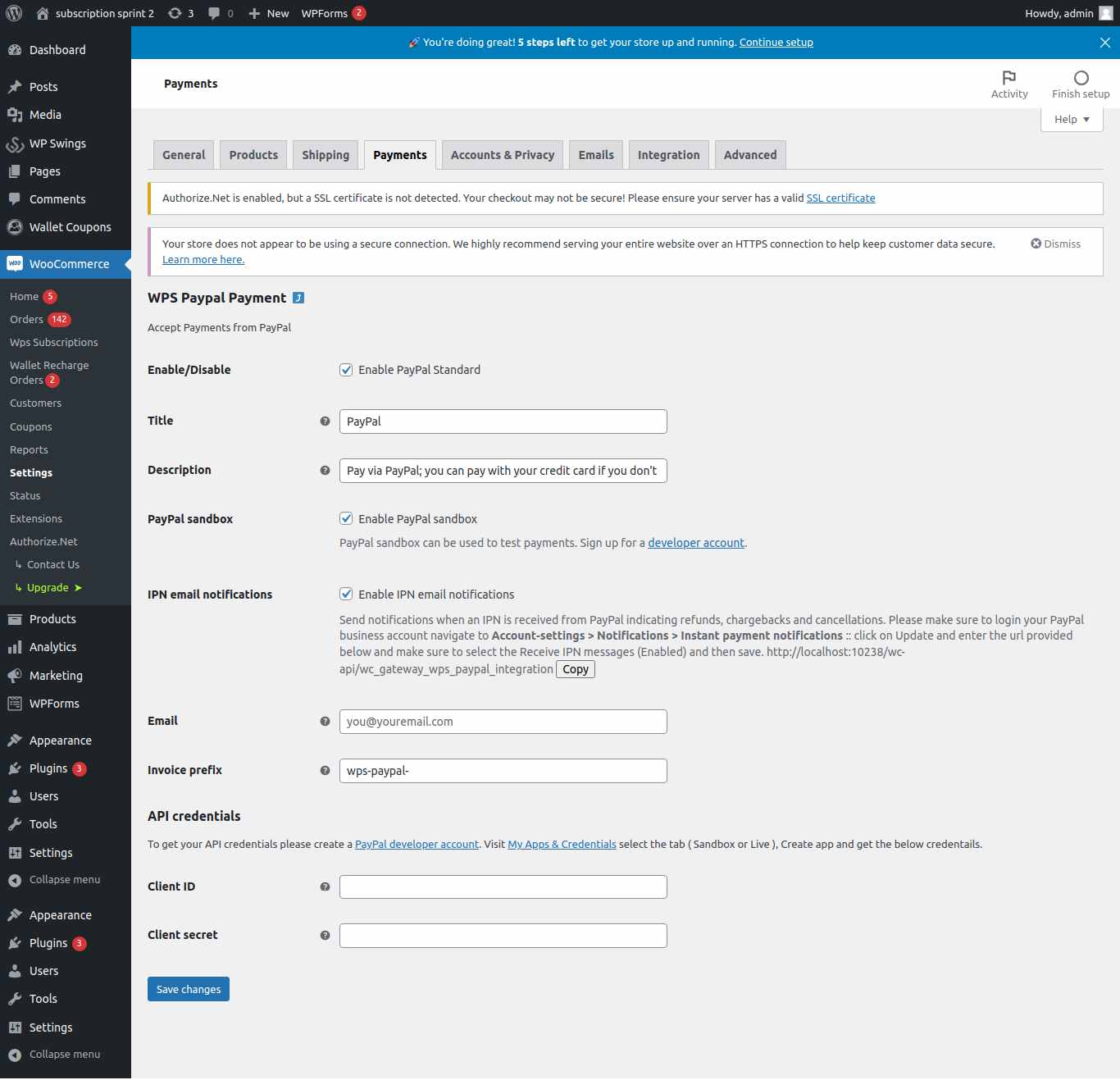 Offer Subscription-based Products & Services With Our Subscriptions for WooCommerce Pro Plugin!
Try Our Plugin..
Other Plugins Useful for Store Owners Providing Subscriptions
PDF Generator for WP Pro
PDF Generator for WP Pro plugin enables merchants and store owners to generate and download PDF files of live posts, pages, or products from the WordPress site itself.

This helps to store information offline. So that the store owners can effectively perform branding of their products and services across different channels.
In this manner, a store owner can download all its subscription product data offline in the form of PDF. On the other hand, the users will also download their bought subscription product information in the form of PDF offline.
Also, this plugin allows you to customize the PDF templates utilizing the Gutenberg Editor through customizable footer, header, and other body settings.
Features
Convert pages, posts, blogs, and products into PDF files
Admin can send pdf files to user's email addresses
Upload custom font file for the generated PDFs
It possesses multiple compatibility
Membership for WooCommerce Pro
Membership for WooCommerce Pro plugin enables store owners to sell and manage membership plans. It enables admins to provide attractive offers to special members. In this manner, store owners can use this plugin for creating an effective WooCommerce membership site and collecting recurring revenue.

Also, store owners can easily offer multiple plans in one membership. They can send emails to customers for membership plan actions. They can add categories, tags, and sections that are selected for WooCommerce members only.
Features
Send membership plan actions associated with emails
Provide multiple membership plans into a single plan
Customers will be able to cancel membership anytime according to their choice
Admins can send emails to customers informing membership plan expiry, completion, and cancel
Do You Need Assistance in Setting up or Maintenance of Your WooCommerce Store?
We are masters in providing WooCommerce Services!
Final Words
Selling WooCommerce subscriptions is a superb way to stay in the loop of payments and purchases. And it greatly helps in the speedup of eCommerce stores.
Subscriptions for WooCommerce plugin enhances the eCommerce functionality of your store to notch up its performance. With more cash in hand and predicted revenue, you won't need to spend more on new customer acquisitions.
So, what are you waiting for?
Just install the plugin and sell WooCommerce subscriptions on your store without facing any difficulty.