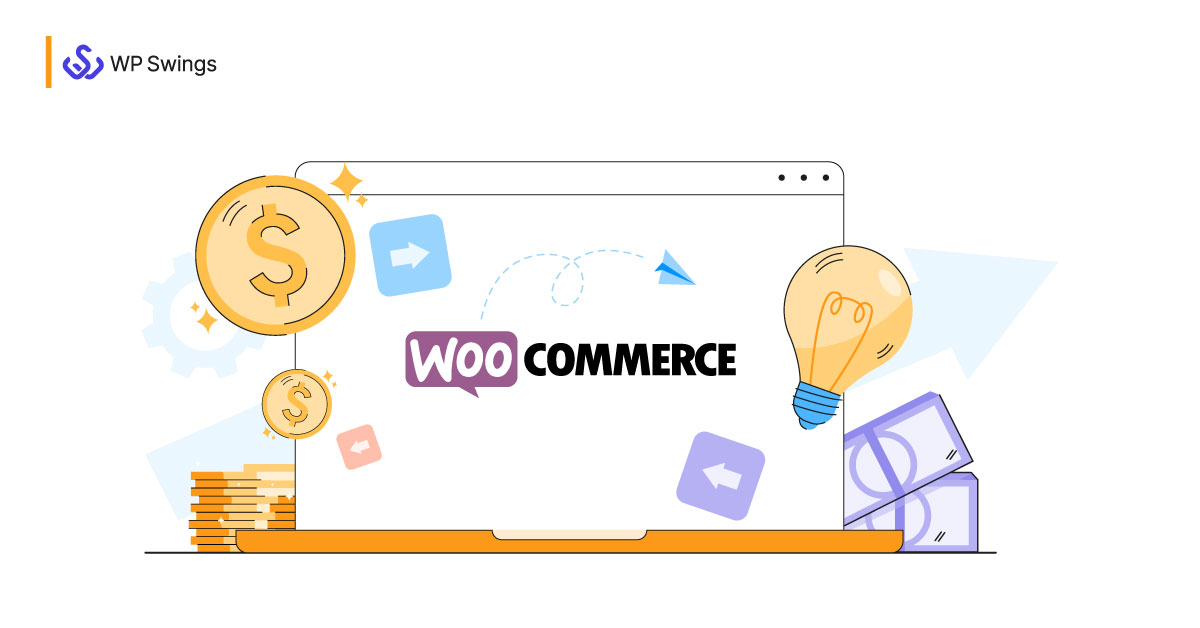 WooCommerce and WordPress is a perfect blend of code and content with never-ending customization.
Want to open an online store?
What first thing comes to your mind?
Deciding the most optimum platform for your business, right?
There are numerous options available to you if you run a service-based business and wish to sell services online. Finding the best one for you can take some time as you sort through all of them. You might even question whether the advantages are worthwhile given the learning curve, effort, and cost.
With the rise in the number of eCommerce platforms many businesses find it difficult to choose the finest one for their online store. Top-performing eCommerce platforms include Magento, Shopify, Bigcommerce, and many others. And among all, when it comes to choosing an ideal eCommerce platform for every type of business — WooCommerce is the ONE supported by a large user base.
WooCommerce was created specifically to sell tangible products.
For practically any service-based business, WooCommerce offers a highly configurable option.
It is the most recommendable one because of its special features and flexibility.
Read on and know the several reasons why WooCommerce is a fantastic choice for service-based business.
Some Facts about WooCommerce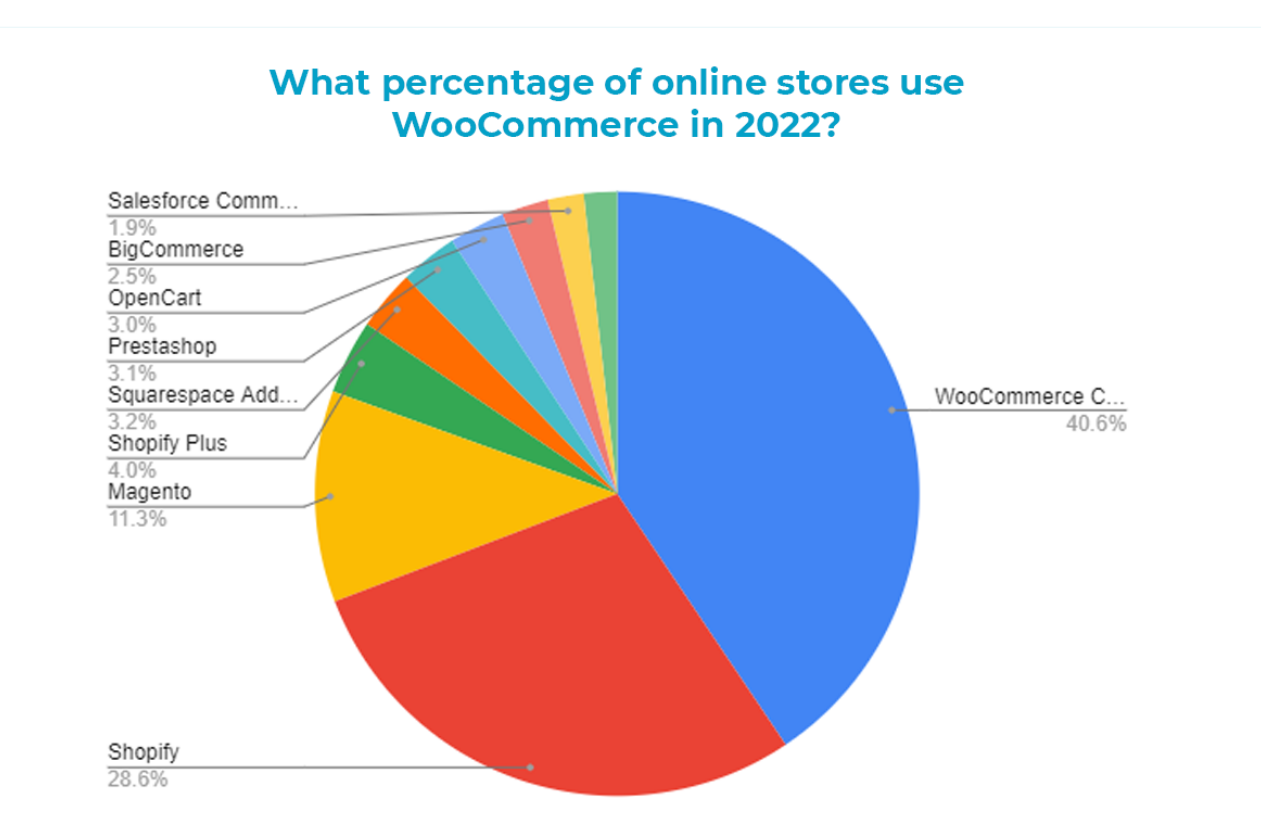 Source: Barn2
WooCommerce is a strong and adaptable eCommerce tool. WooCommerce has made it simpler than ever to convert your website into a store by following in the footsteps of WordPress.
How large is the e-commerce platform, though?
To demonstrate this, we've gathered some WooCommerce statistics. Here are some figures to help you feel motivated:
6,719,294 live websites are currently using WooCommerce.
WooCommerce has more than 27% market share and powers almost 13% of all e-commerce sites on the internet.
WooCommerce powers over 30% of all online stores.
Around 24% of the world's top million sites are using WooCommerce.
WordPress powers over 40% of the websites on the entire internet. And according to a W3Techs report, 20.3% of all those WordPress websites use WooCommerce.
WooCommerce is the most popular plugin/module on the entire internet – with 68% usage distribution.
There are over 1400 WooCommerce themes and templates on ThemeForest alone.
There are 980 plugins for WooCommerce on WordPress.org alone(Source: barn2)
There are currently 765 extensions in the WooCommerce library. (WooCommerce)
There are more than 1 million WooCommerce stores that have made at least one sale. (WooCommerce)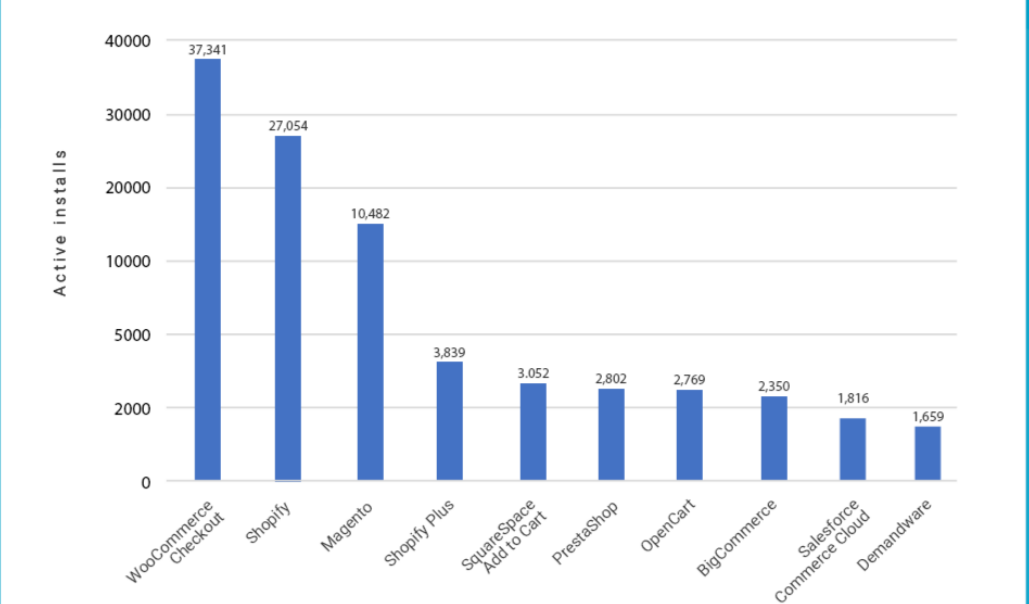 But here is the kicker.
Do you know, apart from selling physical and digital products, WooCommerce is also a great fit as a service-based business?
Now you must be pondering:
Need to Know What is WooCommerce and its Basics?
WooCommerce is a customizable, open-source eCommerce platform built on WordPress.
What Is a Service? How Can One Sell Services Online?
"Service is basically the act of helping others in maintaining or doing their work."
This means service is to work or help that we do for an individual person or for any business organization.
And when we talk about service-based businesses, it is a firm with a team of professionals and experts who deliver work for the benefit of customers.
Services are basically all those things that a company or firm provides its customers to make them more satisfied.
Selling services is slightly as common as selling products. Services are basically the products you are offering to your customers. As the products have variety, in the same way, there are different types of services also that a service-based business offers.
With this in mind, you must be thinking:
Can We Sell Services Online?
The answer is "yes".
We can sell services online by separating the sales and amenities of services.
Likewise the products, services can be sold online.
For example, when it comes to selling service, it can be an hourly service, booking service, monthly service, etc. It could be a housekeeping service, doctor appointments, parlor appointments, etc.
Excellent Informational Source to Help You Choose a Top-Notch Scheduling Support System for Your WooCommerce Store!
Utilize the appropriate WooCommerce plugin and say goodbye to those onerous appointment management responsibilities.
And you will be very surprised to know that WooCommerce offers a host of plugins or extensions named "WooCommerce Booking Extension" that are helpful in performing these types of service.
But when it comes to providing digital services, such as logo designing, content writing, or any project consultation, you need a group of plugins to sell the services.
Why Should You Sell Services Online?
Selling services online will allow you to connect with more people and increase your outreach of service-based business than ever before.
It will allow or build a system that will be helpful for your customers to find you easily. Leads can gear up your company via creating a pipeline that is full of converted leads and customers would be impatient to buy your services.
Benefits of WooCommerce Service-based Business
Most people are aware that WooCommerce is free among other eCommerce platforms, but because of its comprehensive features, free and premium plugins, and extensions, it has become the most popular platform for online stores, powering 30% of them.
Want to learn more about WooCommerce and its features in-depth?
Here, we'll go over several key justifications for business owners choosing WooCommerce when building an alluring and engaging eCommerce website to display their products online.
One of the biggest advantages to choose WooCommerce over another service-based business for selling services is; it is highly customizable. You can personalize your design and can add endless extensions or functionality to your site.
You can use the extension library and WooCommerce expert plugins to build an excellent, personalized solution for every customer.
Various other benefits that make WooCommerce service-based business best are:
Various other benefits that make WooCommerce service-based business best are:
1. WooCommerce is Cost-effective
One of the usual considerations for a company while launching a new online business is pricing. eCommerce platforms like Shopify, WooCommerce, Magento, Big-commerce, etc. are widely available on the market. Some of them are rather pricey, while others only require a small investment. Therefore, WooCommerce should be your first choice when building an online store if you're seeking for an eCommerce platform that offers high-quality services at a reasonable price.
WooCommerce is one of the adaptable and trustworthy eCommerce platforms that can assist you in creating a top-performing and highly responsive online store within your price range. It is a cost-effective eCommerce platform because of its cutting-edge functionality, plugins, and free themes. By building an eCommerce website using WooCommerce, even a small firm may increase the audience visibility of its products.
Need Help With WooCommerce Development?
Employ best-in-class custom WooCommerce development services and its benefits.
2. Storefront Customization
WooCommerce runs on the popular CMS platform WordPress. And, WordPress enables you to modify the themes as required to personalize your storefront. WordPress offers both free and premium themes that work with WooCommerce.
The style and appearance of your online store are crucial components of online product sales. All different kinds of businesses can access and modify WooCommerce's more than 40 free themes. You may construct and configure your storefront using WooCommerce's extensive capabilities to match the expectations of your site visitors. To increase the profitability of your eCommerce store, you can choose from the amazing themes and templates offered by WooCommerce.
Users of WooCommerce are able to change the theme's CSS and colors to personalize their storefront.
3. Advance Built-in Features and Plugins
When your company starts to grow to its full potential, you can employ WooCommerce's premium add-ons.
It comes with a number of integrated tools and cutting-edge plugins that can assist you in setting up, managing, and optimizing online storefronts. WooCommerce offers more than just free plugins and features; you can run a large online store with the help of its cutting-edge premium plugins and extensions.
The proprietor of a WooCommerce store can take payments through PayPal and Stripe. Users can also make payments through Cash On Delivery, bank transfers, debit cards, and credit cards using its per-installed payment channels. If you have a different premium payment gateway, you can install it in WooCommerce to make it easier for users to make purchases.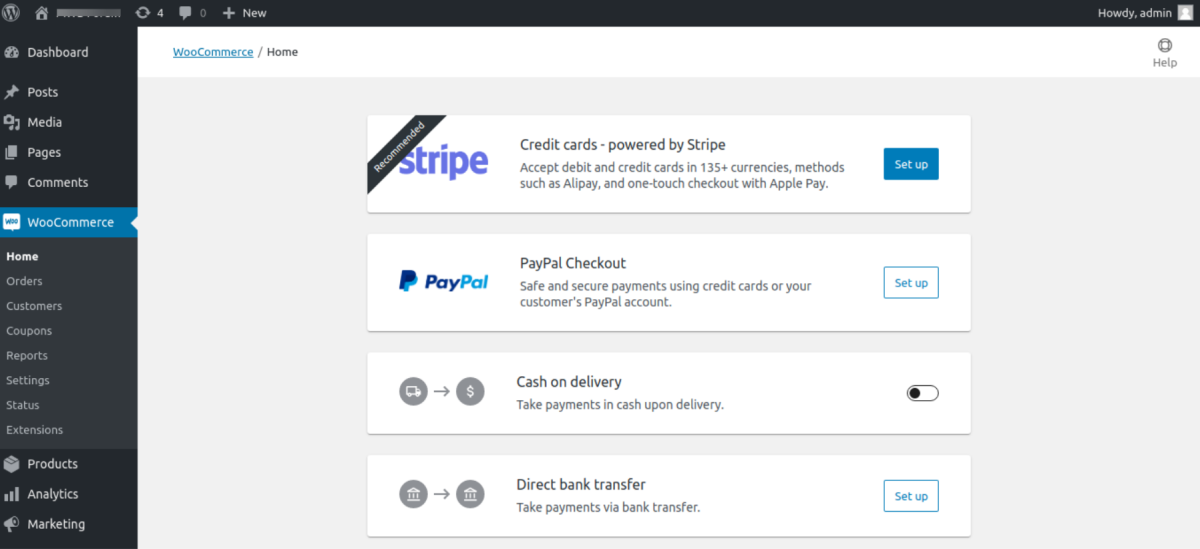 Additionally, WooCommerce's strong built-in capabilities support multiple currencies and locations. Its sophisticated function enables store owners to automatically identify geolocation, which makes it simple for them to determine the shipment location and compute the taxes in accordance with the regulations of the various nations. WooCommerce has a number of built-in currencies that make setting the default currency simple.
Its built-in capabilities also speed up page loading so that users don't need to do so every time they make adjustments or put something new in the shopping cart.
4. Search Engine Friendly Platform
A website's placement in the search engine results page (SERP) is greatly influenced by SEO. Getting your product and website listed in SERP is crucial if you want to increase the amount of traffic to your online store's merchandise.
WooCommerce and WordPress work well together to make it simpler for businesses to rank their products. You may improve the SEO of your e-commerce website by following a few guidelines.
Do include product description for each product.
Always make sure to improve your page title
The navigation of your website should be simple and hassle-free.
Put a meta description for each product.
Improve your images with alt text.
Avoid repeating text on many pages.
To evaluate how well your page and product are performing, use SEO plugins like Yoast SEO.
5. Marketing
Until it is thoroughly promoted, an eCommerce website won't be effective and efficient.
Marketing is one of the essential elements of any business that helps to spread awareness and draw in new customers. With the help of WooCommerce capabilities, you may market your store's merchandise by holding various sales to boost your company's revenue.
You may run coupon campaigns, create discount choices, and advertise your products' sales using WooCommerce tools. In order to run a profitable business, WooCommerce make sure that their users don't cut corners when it comes to selling their products. Even free delivery alternatives can be made available through coupons to draw more customers to your online company.
Reviews are crucial in persuading customers to purchase your goods. You can utilize a variety of plugins in WooCommerce, such as Smart Coupons, Cart Add-ons, Social Media Integration, Follow-up Emails, etc. in addition to adding coupons and customer labels. These add-ons will support your product marketing efforts.
6. Inventory Management
Effective inventory management is essential for any online store. It can help store owners determine and keep track of stock levels. Many times, the inventory of many businesses' online stores is managed for hundreds of thousands of dollars. However, paying those astronomical amounts makes it difficult for a startup company to maintain its inventory.
But WooCommerce's unique and well-liked inventory management system allows you to keep track of stock levels and update stock reports after returns and transactions. When a product's stock is low or out, WooCommerce inventory management can send you notifications. Through built-in management, an out-of-stock item is automatically concealed from the store.
7. Powerful and Effective Analytics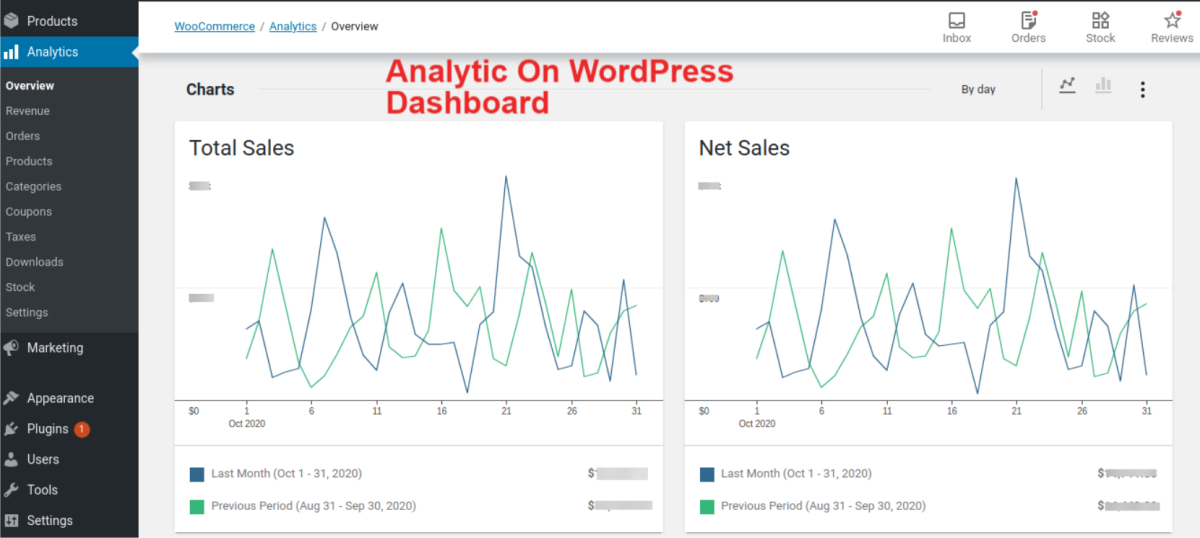 WooCommerce has built-in analytics. You can see the stats on who is purchasing your services, which product sale is best, on your WordPress dashboard.
This will make you aware of your best plans and your faults on where you are lagging behind and make your business more successful.
WooCommerce analytics offers a simple and intuitive user interface that enables all kinds of enterprises to recognize the activity and information of their potential customers. It aids business owners in understanding how prospective clients are interacting with their business and products.
WooCommerce enables you to obtain analytical reports pertaining to overall sales, sales by date, average orders, site visitor activity, and much more. The key benefit is that it offers an analytical report that any business owner can simply comprehend. You don't need to engage a different person to look over your online store's report.
8. Stable Platform with Excellent Customer Support
A sizable developer community can use the open-source systems WordPress and WooCommerce. Because of its customer service, it is the most user-friendly e-commerce platform in the entire world. With its aid, you can set up and outfit your store. There are times when you can run into trouble maintaining your inventory or setting up the payment gateway. You don't need to worry because WooCommerce offers FAQs and video tutorials to assist users in resolving any issues they may have when setting up their store.
9. Easy to Use and Flexible
WooCommerce was created with the intention of selling real goods, but because of its flexibility, it can also be used to sell services. Services can be purchased by the hour, day, or month.
Additionally, you can provide one-time services or ongoing subscriptions. Additionally, a tonne of plugins and extensions are readily available to give even more functionality and flexibility because WooCommerce is based on the WordPress platform.
WordPress, which is renowned for being user-friendly, serves as the foundation for WooCommerce.
WooCommerce should be simple for you to set up and use, even if you are not tech-savvy. Additionally, there are a tonne of resources like manuals, support forums, and video lessons that you may access if you need any assistance along the way.
10. Product Bundle or Up-sell and Cross-sell
Bundling WooCommerce service-based business is an excellent way to upsell what you are offering to your customers and convince your customer to use the service that will give you more profit.
You can use this by jumbling two or more services together using the extension WooCommerce Product bundle.
For instance, you can create a bundle of services like;
3 weeks of project development $200+ 1 hour of project consultations + other services.
In this way, you can attract more customers and ensure more profits for yourself.
One example of bundle is shown in the image below: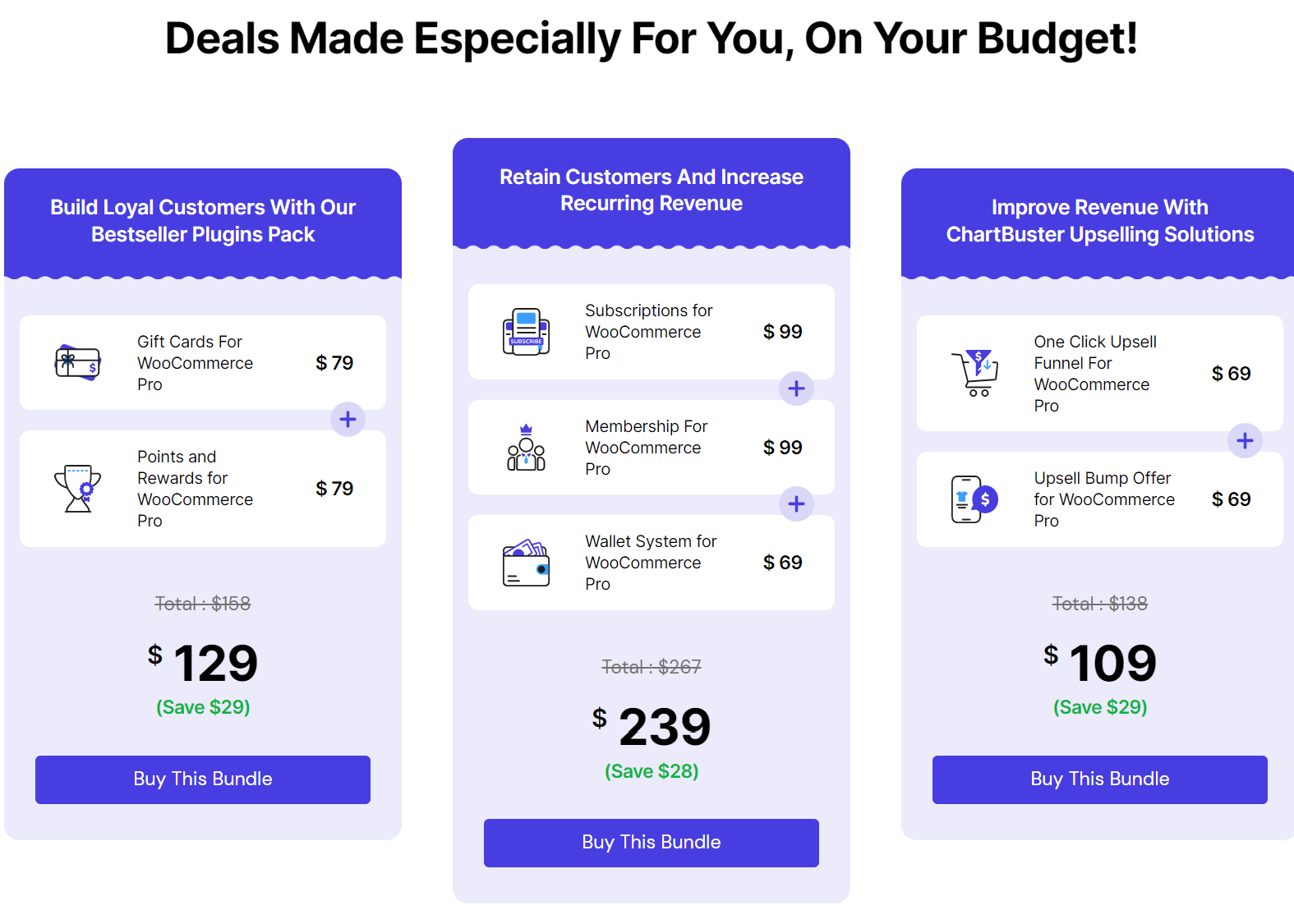 Besides this, without even installing or adding any extensions, WooCommerce service-based business offers you the ability to display the related services with upgraded plans while checking out.
To create upsell and cross sell offers in just a click, you can refer to the below links.
11. Manage Customers via CRM (Customer Relationship Management)
Despite providing service, it is very important to manage customer data. It will help you to give a personalized experience to your customers which will enhance your user experience.
By managing the data of your customers, you have the opportunity to promote your services and brands by using email marketing.
WooCommerce is easily compatible with so many CRMs like Agile, Salesforce, and many more.
12. REST APIs for Scalability
Developers are able to access and use site data outside of the WordPress interface thanks to Representational State Transfer (REST) APIs. They communicate between two systems, and in the case of REST APIs, those systems may not be WordPress or WooCommerce. Your development team may use this functionality to produce a new, personalized front-end, a wearable technology app, or an Internet of Things (IoT) solution, such as a smart refrigerator.
You have the option to scale your business so that it may be used on the newest technology without the requirement for a web interface. With REST APIs, your WooCommerce store's data and content may be distributed in any medium that works for your business, regardless of the final purpose.
How to Sell Services Using WooCommerce?
1. Install WooCommerce Plugin On Your WordPress Dashboard
To set up services using WooCommerce, start by installing the plugin.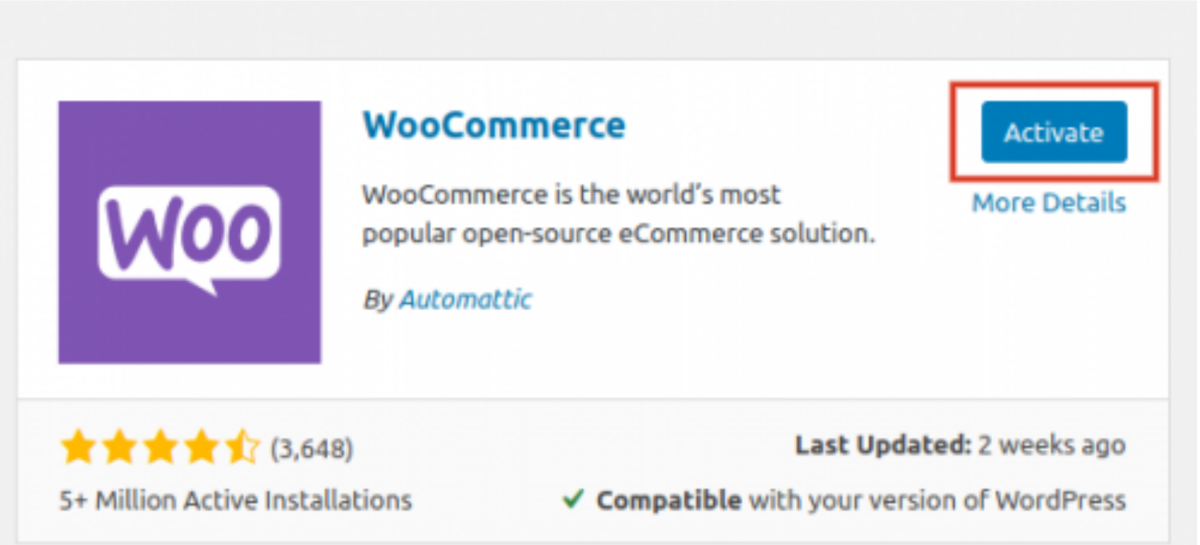 Follow the steps.
Go To Plugins> Add new
Type WooCommerce In Search Box
Click on install now
Click Activate now.
After completing the installation process, now you are ready to create the services.
2. Add Service Product To Your WooCommerce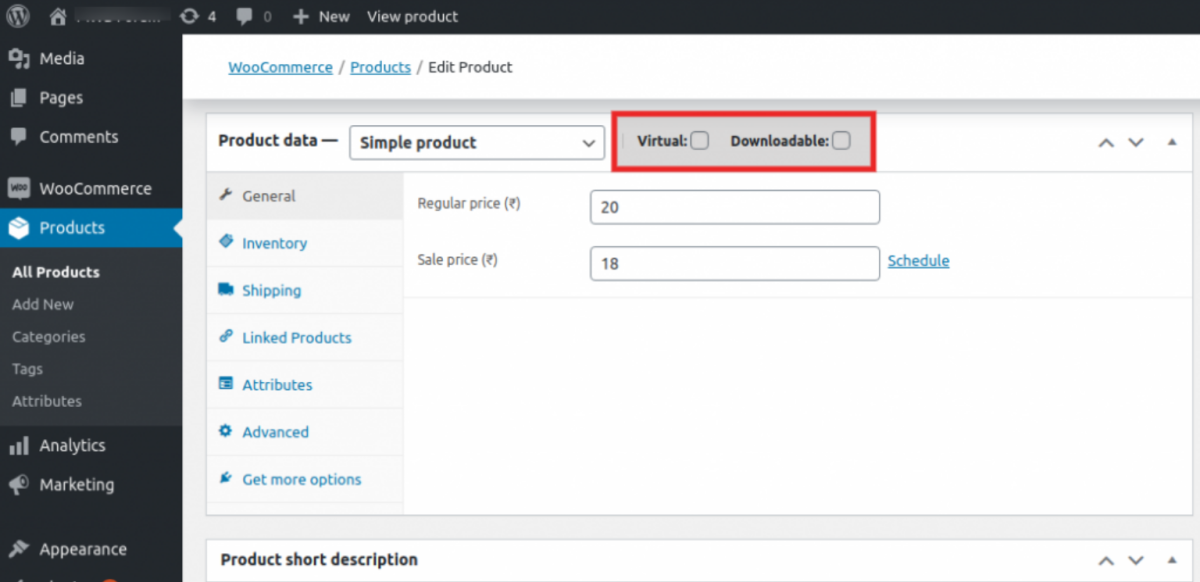 You can see the Add product screen, from here you can add services to sell in WooCommerce.
Click on "Product" >Add New. In the product name field, set the name of the service you are providing. Add a description and a short description.
If related to your services-based business, you can add product images relevant to your service on the right side of the WordPress dashboard page. There, you can also add your product description, categories, tags, that you can use to organize your service so that it is easily accessible by your customers.
For example: If you have digital marketing services, you can do SEO, SMO, social media marketing, link building, etc.
Move the Product data section and check the box "virtual" and add the price of your service.
Use the inventory tab to limit the number of services that users can buy from you in WooCommerce.
Lastly, click on "Publish". Repeat the steps for each service you want to sell in WooCommerce.
3. List The Services You Are Offering On Your WordPress Site
In this section, we need to put the service products that we want to display on the front end of the website. This is a very important part because users view your service on the frontend and buy them online.
WooCommerce comes with built-in functionality for displaying products.
But if you want to choose another layout. You can use the WooCommerce Product Table extension to display the service.
In this way, the services will be arranged in a well-mannered way; one can easily find the service they want by just typing the name of the service in the search bar.
Here, customers can view prices, choose options, and add service directly to their cart.
For instance, see the below image: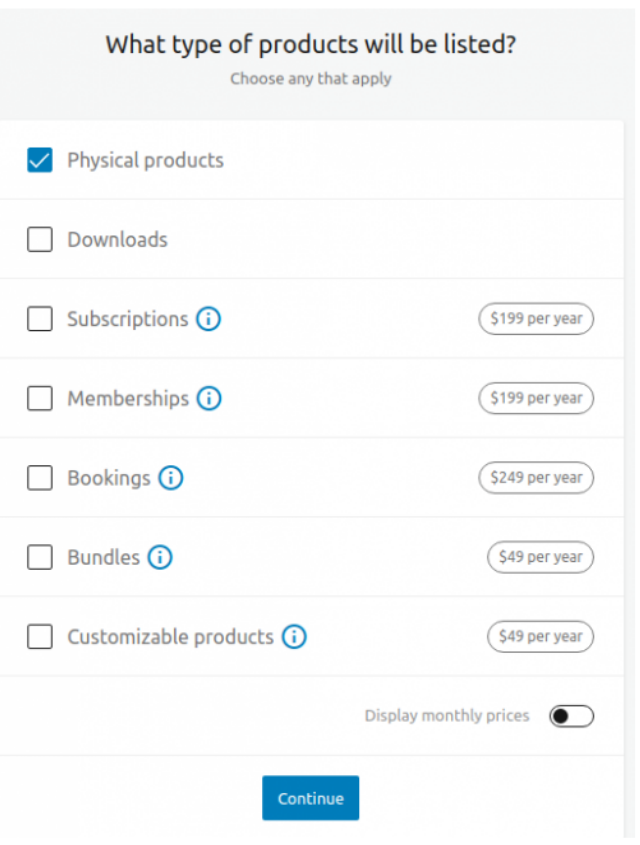 4. Use Product Variation To Select Different Choices Of Services
WooCommerce also gives you the option to create a variety of product services. You have a product variation option to select the product type.
To do this follow these steps:
Go to the "product data section"
Select product type "variable product"
Create Attributes from the "attribution" tab
Add price in "virtual box".
For instance, see the below image: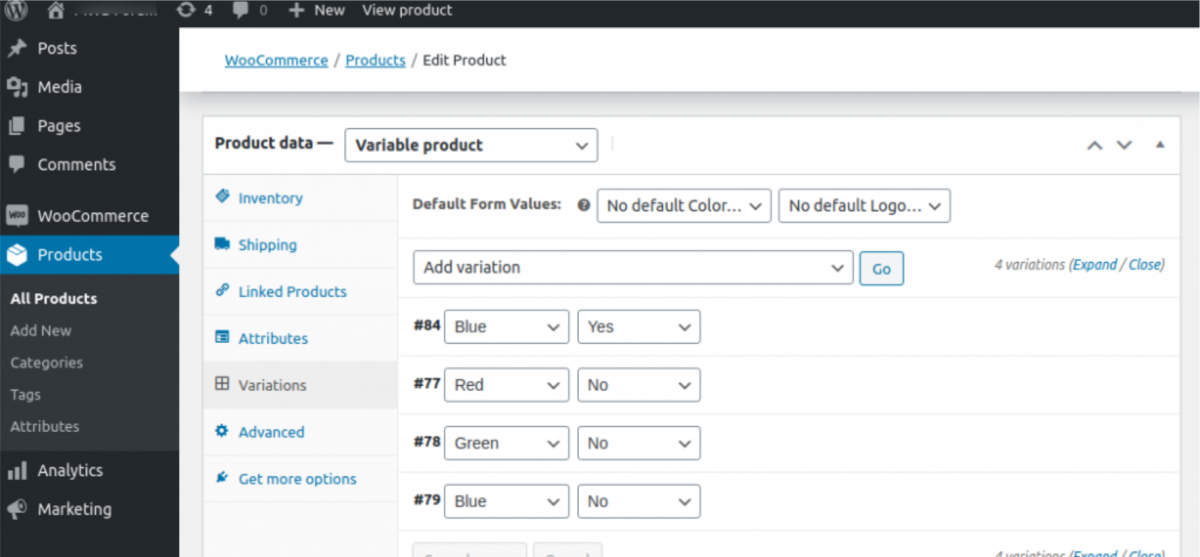 5. Use Subscription Of WooCommerce To Sell Service
The subscription-based business is a great extension for the business that makes recurring product services.
When you offer a subscription as a service to your customers, you are offering your user a benefit from recurring subscription services.
And as it is for a fixed period of time i.e. 1 week, 1 month, etc. So, users feel a sense of security and trust. Thus, they spend heavily and feel a great and guaranteed deal.
Now, it's time to understand WooCommerce subscriptions.
And here is the extension for the same, you can use the WooCommerce Subscription that integrates perfectly with WooCommerce.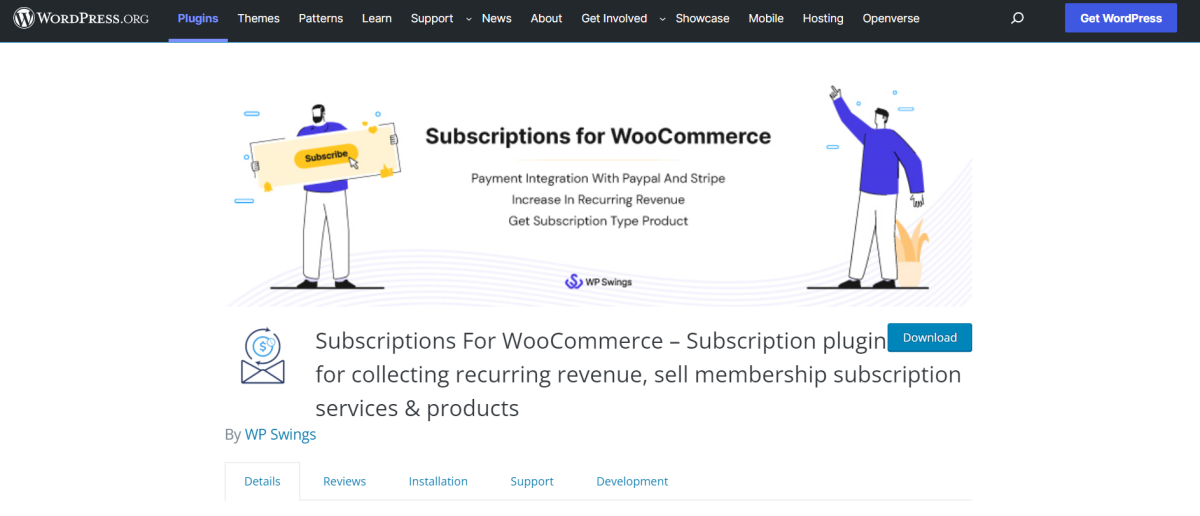 Install and activate it.
Then, your WooCommerce subscription plugin is ready to use.
This will set all ongoing payment gateways or subscriptions for your every service. Users will be automatically checked out using their payment gateways.
6. Use Product Add-Ons
The WooCommerce product ad-ons plugin allows you to select the ad-on services for yourself.
You can select your own extra optional service in WooCommerce. This option appears along with an add to cart button, offering attractive deals for the customers to add more services to their order.
WooCommerce also offers you ad-on services for your service-based business.
Here is an example from Urban Clap depicting the same.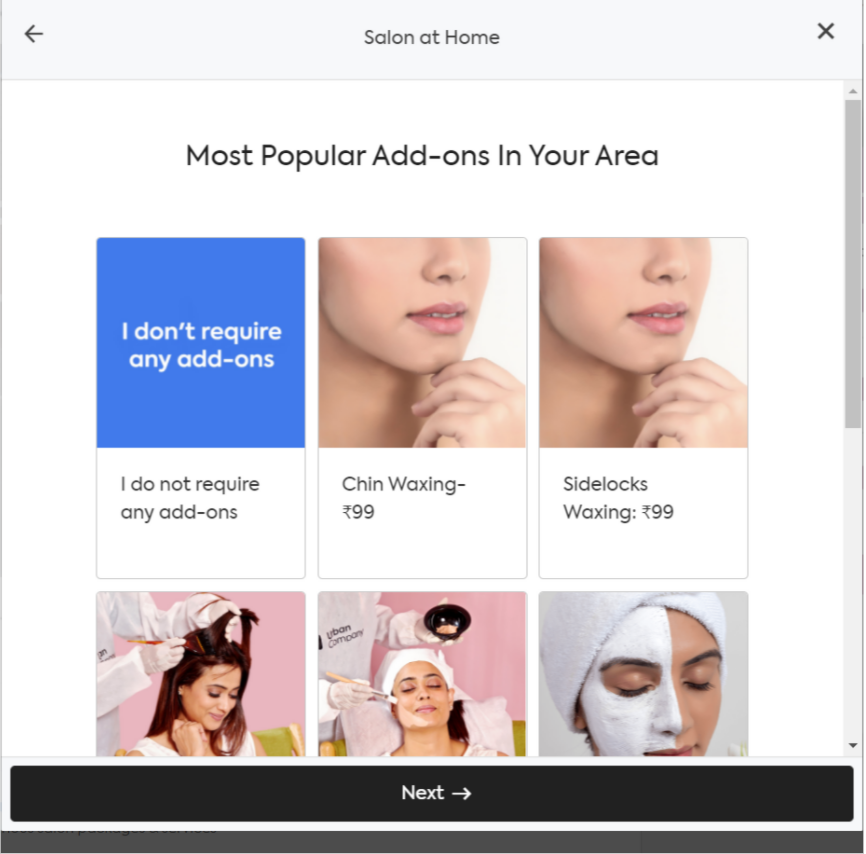 Planning to Start your own WordPress blog or WooCommerce business?
Check out these WooCommerce Services best for your eCommerce Platform.
WooCommerce is a Winner for Enterprises
If you are still reading this, I would like to congratulate you on understanding the concept of a service-based business and how to do it on WooCommerce.
I hope I was able to keep your interest and you would have grabbed some actionable takeaways from this article. To know more about WooCommerce service-based business.