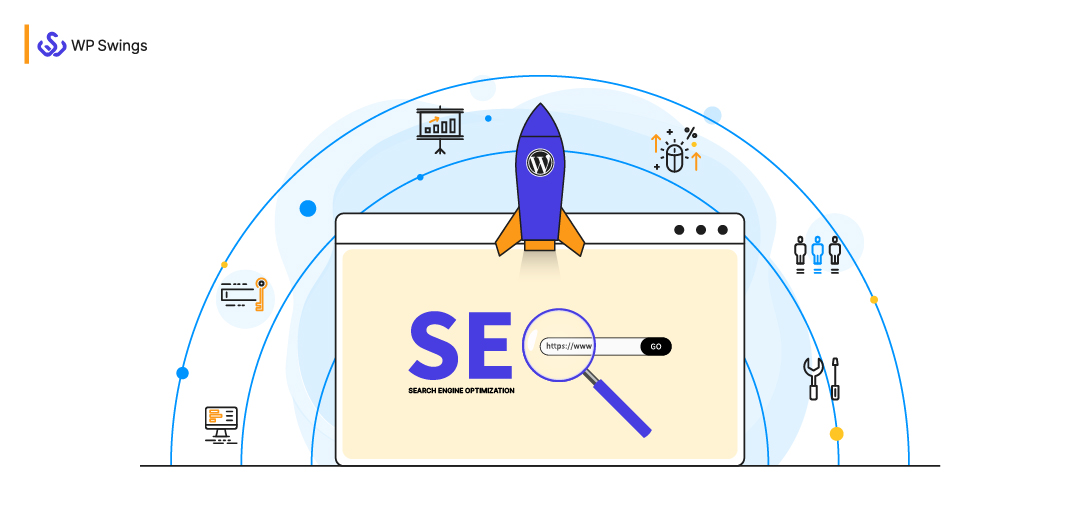 "WordPress SEO is like a resume, you polish it so you have your best foot forward" — Matt Cutts
The beauty of WordPress SEO is that, rather than pushing a marketing message to people who don't want to hear it, you can reverse—engineer the process to discover exactly what people are looking for, create the right content for it, and appear in front of them at the exact moment they are looking for it. It pulls as opposed to pushing.
You want as many sights as possible on your website, whether your purpose is to entertain and enlighten readers, advertise your work, offer your products and services, or, you know, provide the greatest web hosting in the world. Simply, the more visitors you have, the easier it will be to create a reliable and exemplary audience.
There are several methods for driving traffic to your WordPress website, but one of the most efficient is Search Engine Optimization (SEO). SEO is a set of methods and procedures that are designed to help your site rank higher in search engine results. This boosts traffic to your store and can help it truly take off.
The Holiday Season Is Knocking on the Door!! Get Ready With the SEO Tips You Must Apply in Your Ecommerce Store…
What are you waiting for?
More and more businesses are becoming aware of the tremendous growth that can be achieved by ranking well on Google. While SEO is the top priority for 61% of businesses, every organization in the remaining 39% must prioritize WordPress SEO if they want to stay current and expand.
Furthermore, even if you're a complete newbie, there are several simple techniques to increase the SEO of your WordPress website. In this piece, we'll look at 13 tactics you may use right now!
Introduction to SEO!
Consider this. When you want to locate something on the internet, you go to one place: a search engine. This implies that if you want to get your website discovered, you'll need to make sure it shows in Google and comparable searches. Most essentially, you'll want your site to appear as close to the top of the list as feasible.
The easiest method to do this is through Search Engine Optimization(SEO), which is a broad set of techniques and actions based on what we know about how search engines rank their results. There are several advantages to optimizing your WordPress website for search engines, including:
A site with a high ranking in Search Engine Results Pages (SERPs) has better visibility and the best possibility of increasing visitors.
A site with a high ranking seems more reputable and trustworthy.
Because SEO focuses on providing excellent content, you will provide visitors with more helpful and relevant information.
Don't freak out if you're completely new to SEO. You've already made a significant step forward by building a WordPress website, as the platform is well-optimized for search engines. Furthermore, there are several straightforward and beginner-friendly methods to propel your WordPress website to the top of the results. Let us now look at those ways.
What Is WordPress SEO?
WordPress is not a substitute for a sound SEO plan, and although there is no disputing that the CMS saves you time and allows you to stick to best practices without prior knowledge, you must recognize that you must put in the work to rank your website on Google.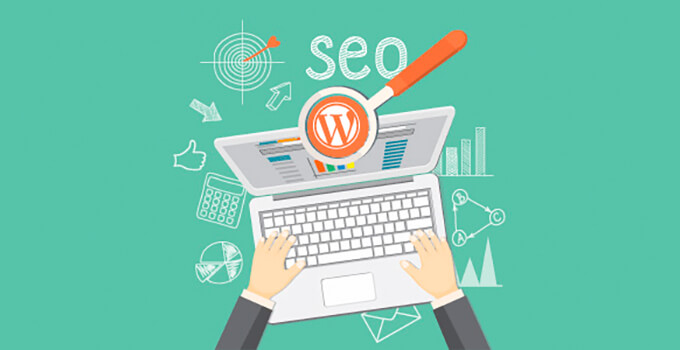 Unless your site has major technical flaws that prevent it from being crawled and indexed, your CMS choice has little bearing on whether or not you can rank high. You should not believe that WordPress is a magical weapon that can be used without extra work; it takes time and effort. SEO can quickly become technical, but the beauty of WordPress makes it easily accessible to those who aren't experienced or who don't consider themselves to be technically savvy. Getting Started: WordPress SEO Fundamentals.
Before you learn how to correctly optimize your WordPress website and start increasing organic traffic, there are a few fundamentals you need to cover to ensure that you are working with a strong build.
Alex will explain to you about the WordPress SEO and every aspect one should know to revamp their websites in the best possible way:
Fundamentals of WordPress SEO
1. Select a Reliable Hosting Provider
"First, you must ensure that your site is hosted by a reputable provider – site performance, uptime, and security are all important factors to consider when choosing a host," said Mr. Alex, an SEO expert at WP Swings.
Site speed has a direct influence on the SEO performance of your WordPress website, and both downtime and security vulnerabilities can lead to site quality concerns. Mr. Alex explained… "Don't be tempted to go with the lowest choice because you'll be more likely to experience performance difficulties."
WordPress recommends two hosting companies, and it makes sense to look at these possibilities if you are unsure where to begin.
The second step you must follow is to…
2. Install an SEO-Friendly WordPress Theme
Further, Mr. Alex says, when you initially install WordPress, you will see the platform's default 'Twenty Twenty' theme. However, chances are you won't want to utilize this for your site.
You will see hundreds of free themes accessible directly from the dashboard, as well as many more paid themes; but, you must select wisely or you may wind up with one that is not SEO friendly.
While many themes promise to be SEO-friendly, it is typical for themes to come packaged with scripts and plugins that you will not use, causing your site's speed to suffer. Run a theme's demo using Google's web.dev tool before installing it to gain insight into potential performance and SEO concerns.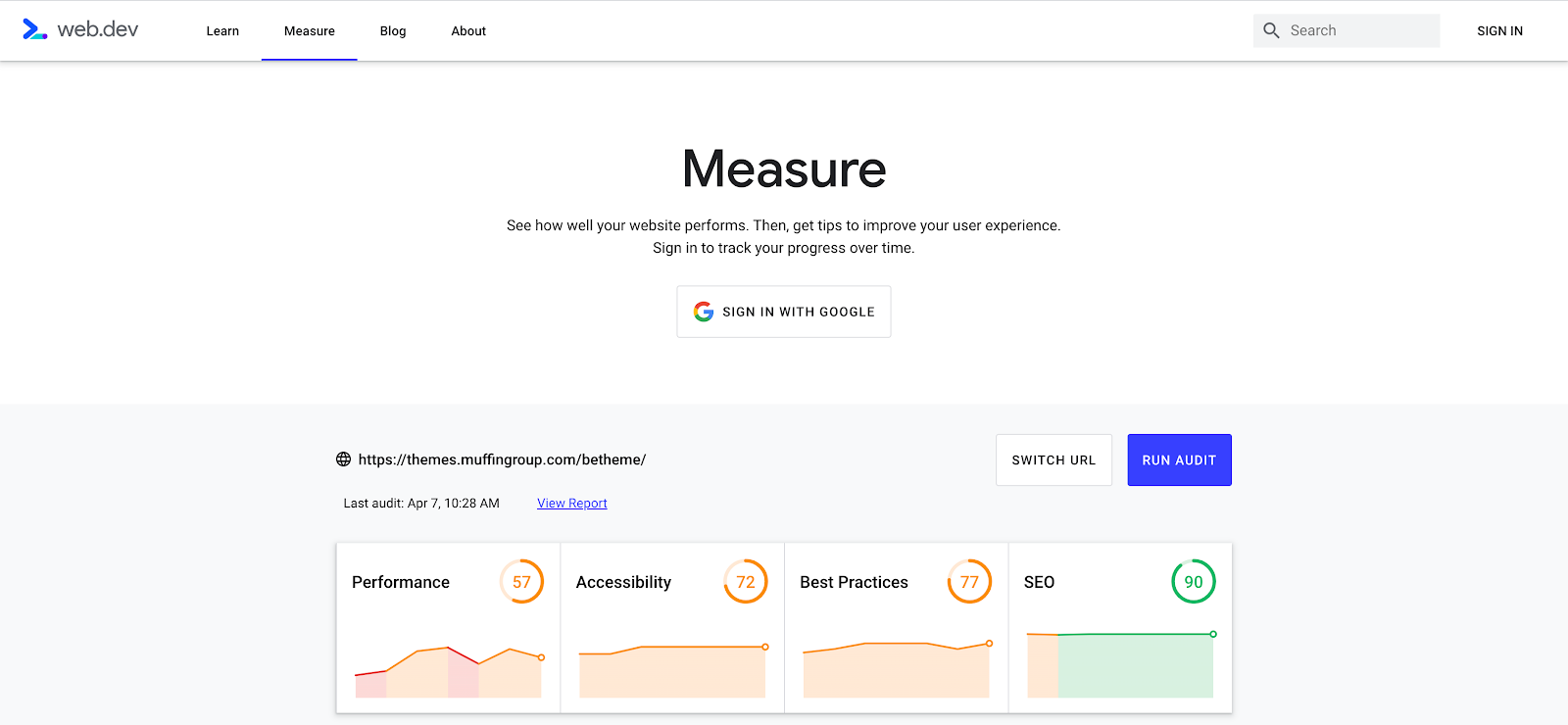 This should at the very least offer you confidence that you are selecting a theme that will not hold you back.
3. Install a Free Version of SEO Plugins
Next, you have to… "Install an SEO plugin before you begin optimizing your site" instructs Alex. Fortunately, there are two primary solutions that are widely regarded and are both free to install:
We'll be using Yoast for the sake of this post, but check out our top WordPress plugins for SEO guides for both free and paid solutions.
Mr. Alex — "Please keep in mind that a plugin will not optimize your site for you; it will only make it easier for you to perform blog SEO and follow best practices."
Next "Log in to the admin panel and navigate to the 'add new' plugin page along the left-hand menu to install a plugin on WordPress: Plugins > Add New"
Once there, look for the plugin you want to install and click 'install now'.

You must activate the plugin after it has been installed. As we move through our top WordPress SEO strategies, we will install more SEO plugins.
4. Set Your Preferred Domain
As Mr. Alex shared his experience. "It makes no difference whether you use https://domain.com or https://www.domain.com for your chosen domain; however, you must ensure that your site is available on just one of them, as Google considers these to be separate URLs."
Go to Settings > General. Here you may select your favorite domain:

Also, he said that the alternative domain version will subsequently be routed to your desired domain. If you are starting a new website, you can use any choice, but if you are replacing an existing site, make sure you select the same version you have previously used.
As a side note, ensure you have an SSL certificate in place and that your website uses HTTPS. If you don't already have a certificate, contact your hosting provider or developer, or look into the free Let's Encrypt option.
5. Check Your Site's Visibility Settings
WordPress allows you to 'discourage search engines from crawling' your site, which means it won't rank. This is widely used by developers to prevent a site from being indexed while its pages and content are incomplete.
This block is more common than you may imagine being left in place after launch. Check your site's visibility settings by going to Settings > Reading.
At the bottom of the page, you'll see a checkbox:

If this box is checked, it must be unchecked.
6. Enable SEO-Friendly Permalinks
WordPress has a variety of alternative options for how URLs are constructed, and you must use the most SEO-friendly one… said, Mr. Alex.
WordPress utilizes URLs like this by default: https://domain.com/?p=123. These URLs do not search engine friendly, and there is no way to tell what the website is about just by looking at the URL.
Fortunately, you can customize your URL structure by going to Settings > Permalinks.
For most sites, you should use 'Post name' for your permalinks.

7. Submit Your XML Sitemap and Verify Your Site With Google Search Console
If you haven't already, you'll need to validate your site with Google Search Console. If you've never done this before, our official Google Search Console tutorial will show you how.
Follow the verification processes and select the "HTML tag" technique. Then navigate to the Yoast plugin: SEO > General > Webmaster Tools.
Then paste the HTML tag's contents into the 'Google verification code' box: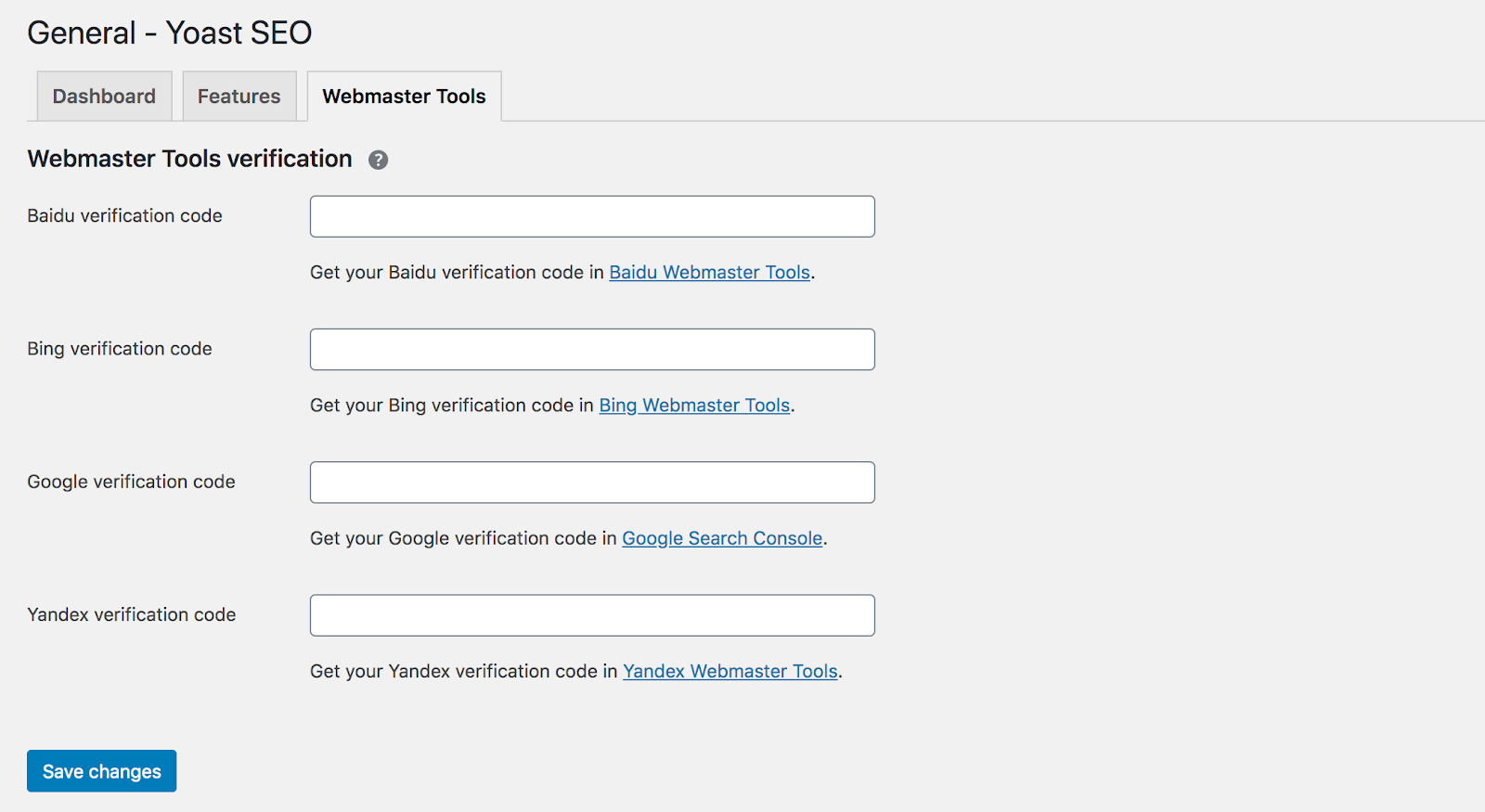 After you've confirmed your site, go to the 'Sitemaps' page and submit your XML sitemap. (By default, Yoast creates an XML sitemap — see domain.com/sitemap.xml)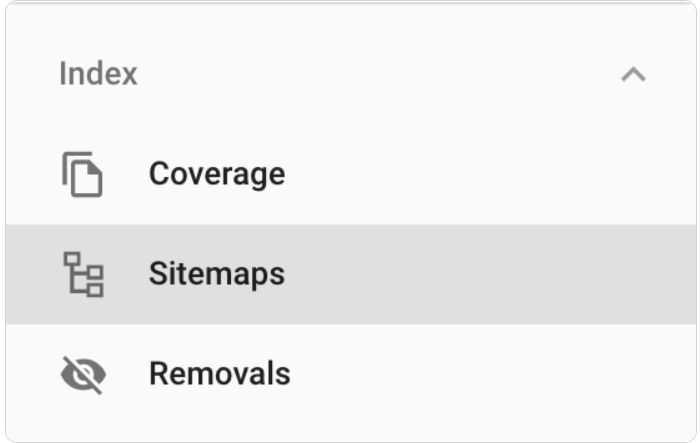 After that, you may submit your sitemap location (sitemap.xml):

Tools/Plugins of WordPress SEO
As Mr. Alex also mentioned above the two most popular plugins for SEO are All-in-One SEO (AIOSEO) and Yoast SEO.
Let me elaborate on the SEO plugins with their features and pricing plans. So that you can easily get to know which plugin will be best for your WordPress website.
1.  All-in-One SEO (AIOSEO)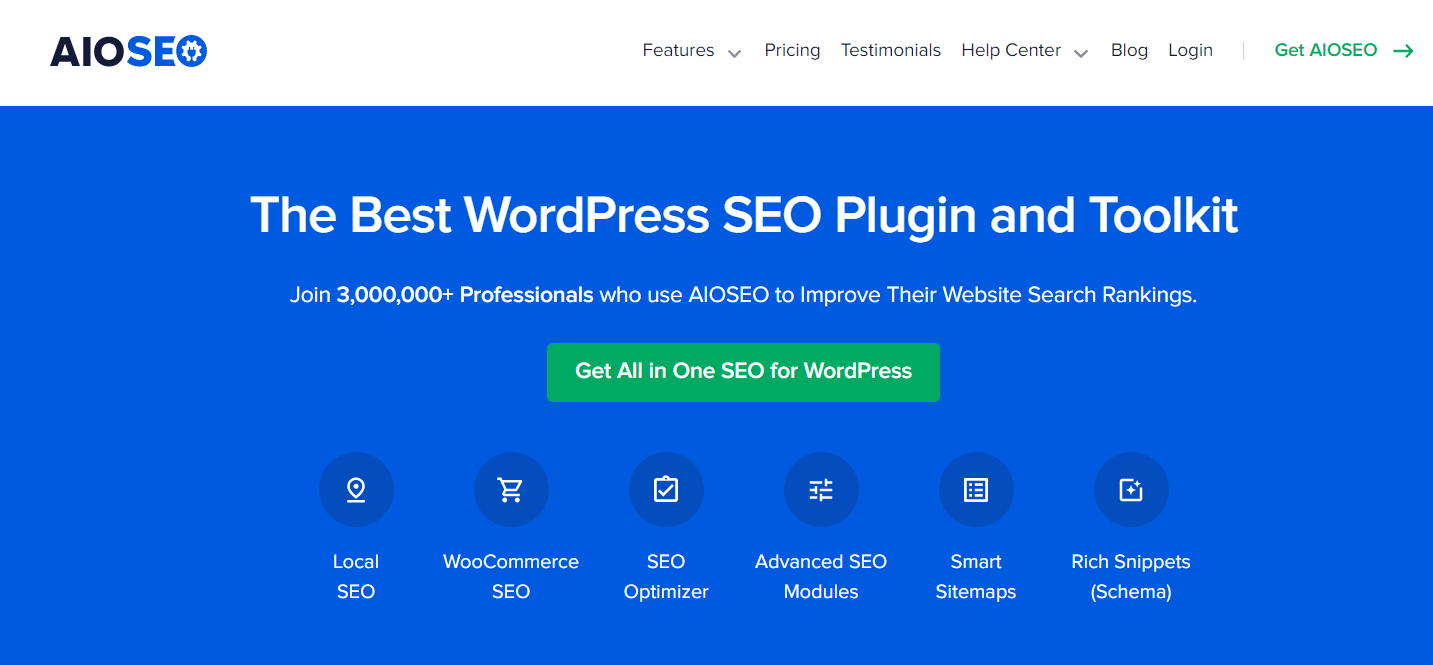 AIOSEO Statistics: 3,000,000+ downloads
Ratings: 4.6/5 stars
Ideal for: corporate websites and online marketplaces
Price: Freemium, premium plans begin at $49.50 per year.
All in One SEO (AIOSEO) is a great SEO plugin for small to medium-sized websites, particularly for SMEs. AIOSEO is appropriate for customers with little SEO understanding due to its user-friendly interface and dashboard.
After downloading this WordPress plugin, just follow the six simple steps to quickly optimize your website. To optimize product pages and other content, AIOSEO interacts seamlessly with webmaster tools and WooCommerce.
The free edition is ideal for individual or small company websites. The price plans, on the other hand, provide more sophisticated features:
Basic – $49.50/year for one website
Plus – $99.50/year for up to three websites
Pro – $199.50/year for up to 10 websites
Elite – $299.50/year for up to 100 websites
Features
Controls how your content and thumbnails appear on social networking channels like Instagram, Facebook, Twitter, LinkedIn, etc.
Sitemap – produces and updates RSS, HTML, and XML sitemaps automatically to alert search engines of changes.
On-page optimization – generates an actionable optimization checklist for each page and post.
Disadvantages
You will need to establish an AIOSEO account in order to use its features.
2. Yoast SEO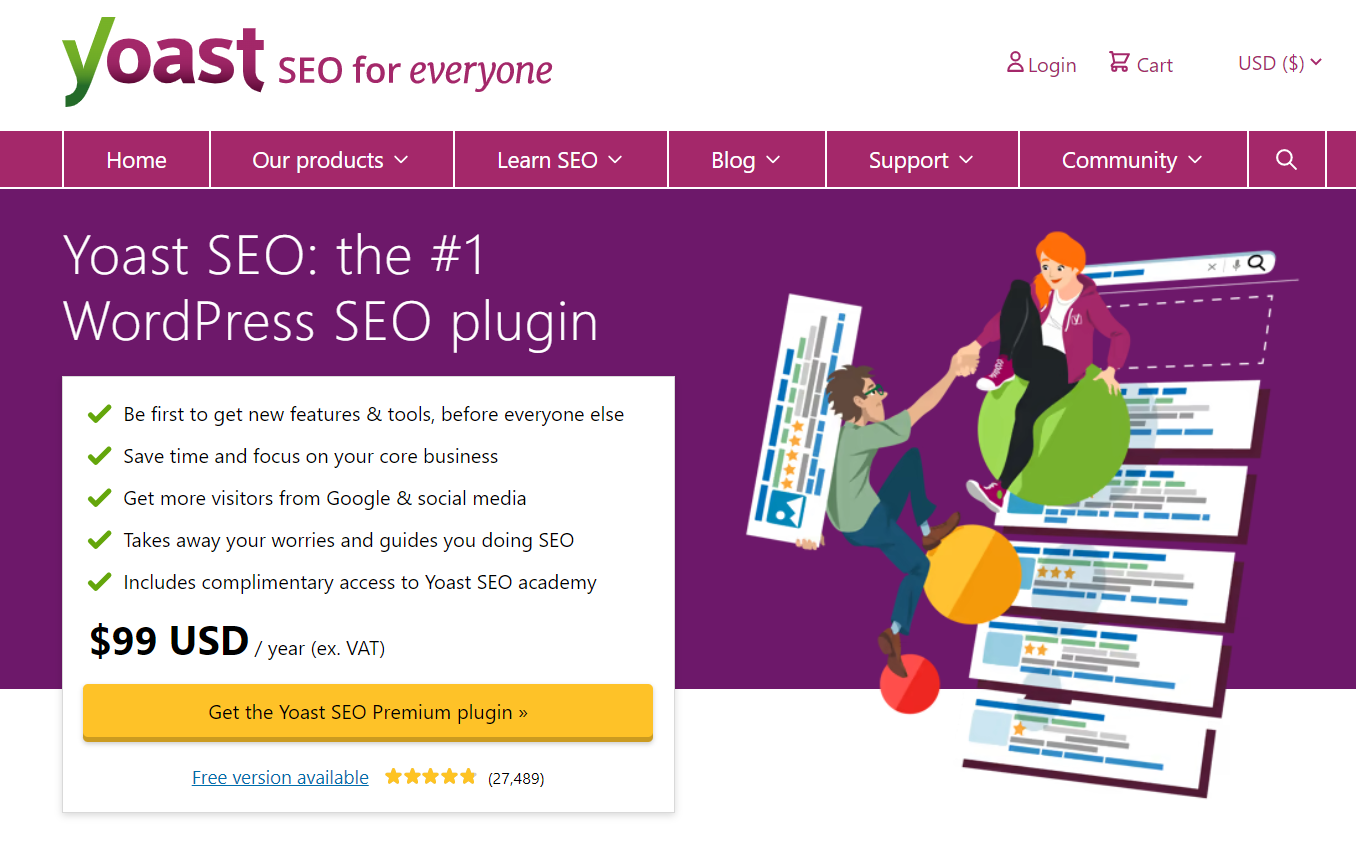 Yoast SEO Statistics: 5,000,000+ downloads
Ratings: 4.8/5
Best for Personal and business websites.
Price: Freemium, premium plan costs $99 per year
Yoast SEO is a popular plugin for both personal and professional websites. This SEO plugin focuses on on-page and off-page optimization and has an easy-to-use interface. Use the SEO workouts function of Yoast SEO on WordPress.
The Yoast SEO plugin works nicely with major systems such as Semrush and Elementor. Its most recent connection with Wincher additionally tracks your Google Search ranks.
Yoast SEO's free edition has adequate capabilities for modest to medium-sized websites. Yoast SEO Premium, which costs $99 a year, is better suited for websites with a lot of content because it has more features.
Features
Schema controls – Adds schema markups to your articles and pages automatically in order to target rich snippets in search results.
Internal connecting blocks – Use five internal linking blocks to assist visitors to locate additional material on your WordPress website.
Redirect manager – Avoids 404 errors by redirecting users when they move or delete material.
Disadvantages
Incessant Notifications – The Yoast SEO plugin sends out constant notifications, which might interfere with users' activity on their dashboard.
After discussing SEO plugins Mr. Alex also wants to talk about some effective tools he uses to gain traffic for his WordPress website…
1. Ubersuggest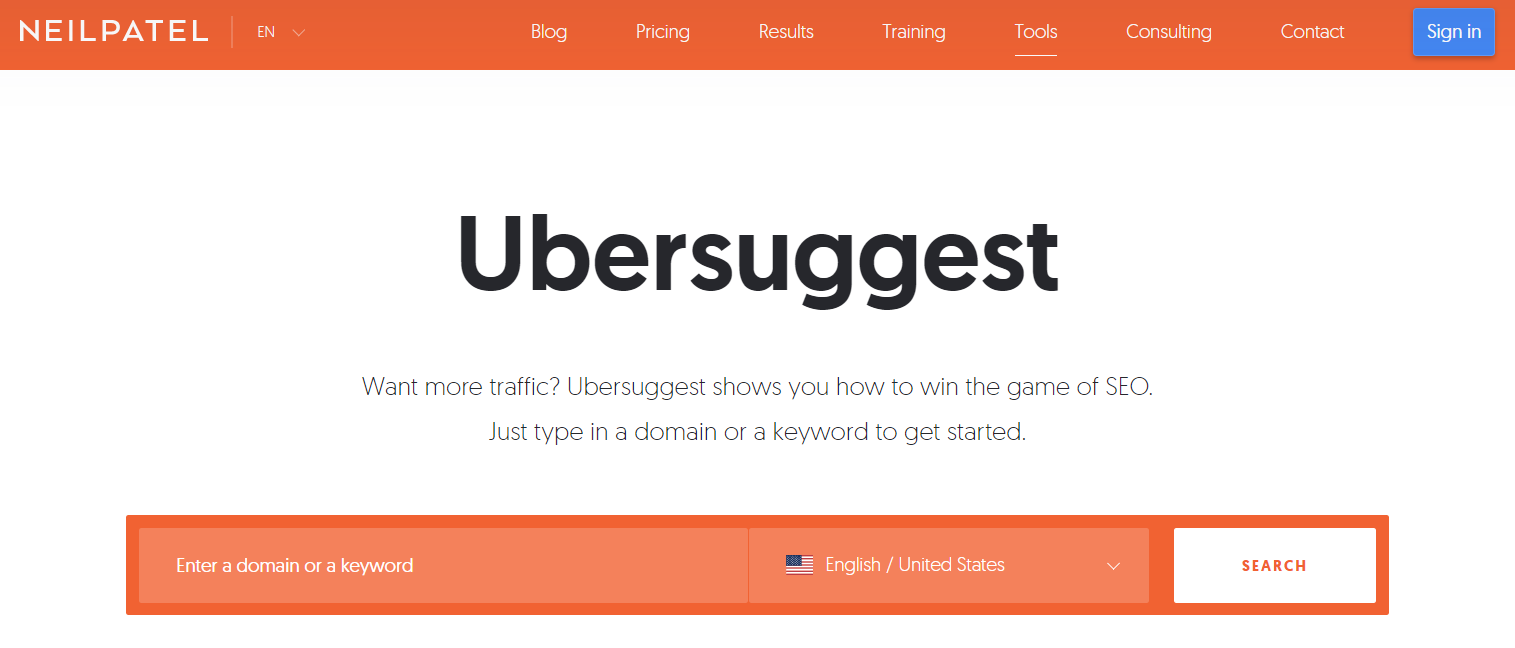 Ubersuggest Statistics:
Best for Personal and business websites.
Pricing Plans: Starting at $29 per month.
Ubersuggest is an SEO software and marketing solution designed to help personal and commercial websites improve their rankings. This program provides a large database of keyword research and content recommendations.
This premium tool is available for a seven-day free trial. Then, the premium price is mostly determined by the number of websites:
Individual plans: begin at $29 per month for one to three websites.
Business plans: begin at $49 per month for four to seven websites.
Enterprise or Agency plans: start at $99 per month for up to eight websites.
For Ubersuggest Alex told us that "this tool examines your website for SEO flaws, keyword possibilities, and competition." The plugin also includes a free Chrome extension that displays the monthly search volume and cost-per-click for a term (CPC).
Features
Domain overview – reveals which keywords your rivals are ranked for and how many backlinks they receive.
Top SEO pages – shows which sites rank for various keywords as well as how much traffic they receive.
Site audits provide error reports for your website as well as recommendations for how to improve them.
Disadvantages
Difficult to use – the Ubersuggest interface is incredibly tricky to use.
2. Ahrefs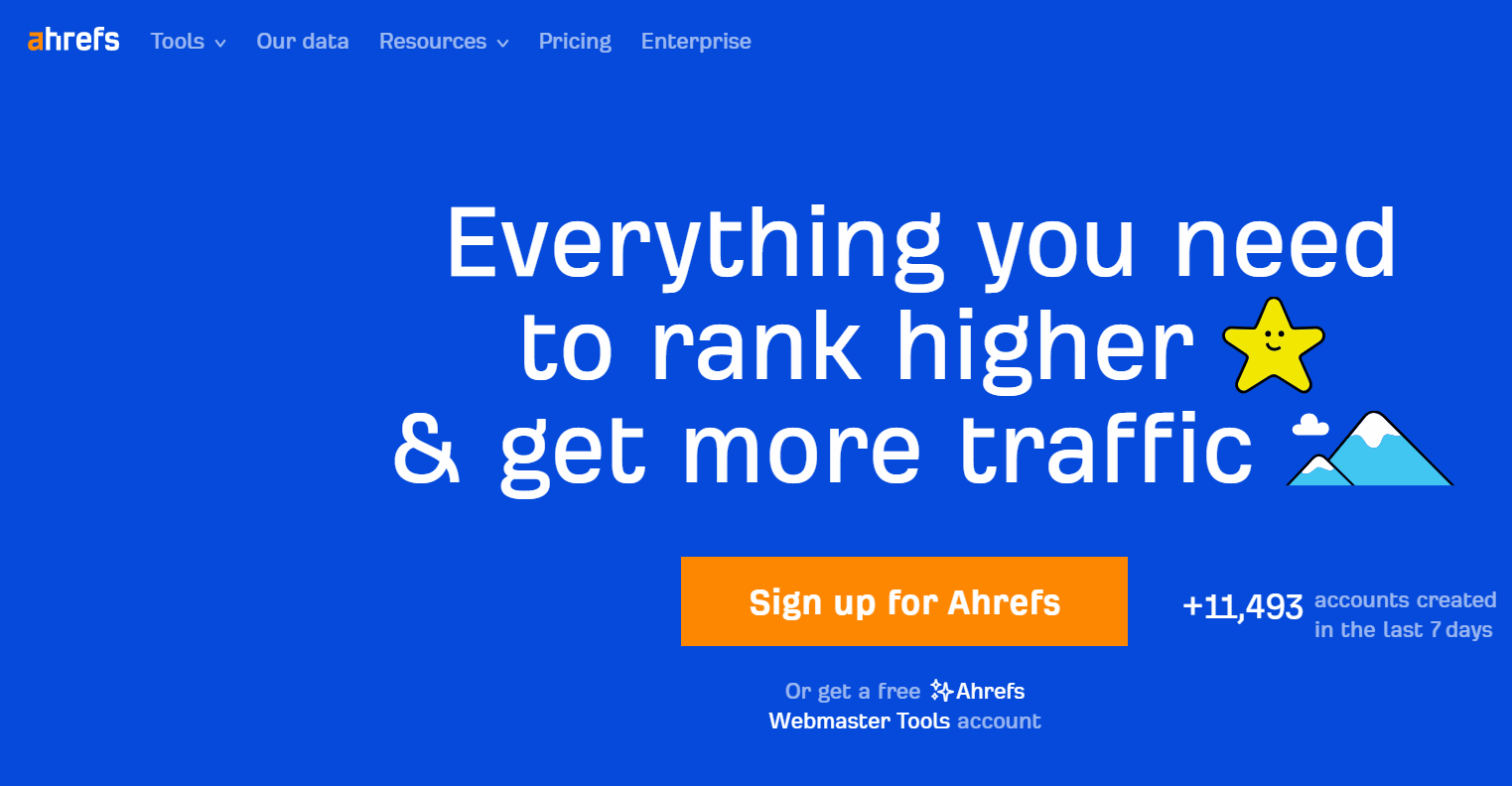 Ahrefs Statistics:
Best for: medium to big company websites
Starting at $99 per month
According to Mr.Alex ahrefs is an excellent tool for detecting broken links, tracking rankings, and optimizing keywords. This tool assists and examines your whole SEO strategy, which is particularly useful for medium to big corporate websites.
Ahrefs price options vary depending on your website type and demand as a premium tool:
Lite – $99/month for up to five keyword lists
Standard – $199/month for up to 50 keyword lists
Advanced – $399/month for up to 100 keyword lists
Enterprise – $999/month for up to 250 keyword lists
"This program provides a comprehensive analysis of your web pages and industry. It's jam-packed with information that you can't acquire from other tools" said Mr. Alex. In continuation, he also said that Ahrefs also includes a tool for comparing your keywords to rivals in order to better your SEO efforts.
Features
Site Explorer – provides an in-depth view of organic search traffic statistics, allowing you to do backlink analysis on any URL.
Rank Tracker – tracks keyword rankings over time and compares your performance to the competition.
Keyword Explorer – examines the difficulty level, search volume, and traffic potential of terms.
Disadvantages
Expensive – Ahrefs' pricing levels are more expensive than those of other SEO tools.
After the Tools and SEO Plugins, we moved forward with some tips for our customers who want to know more about WordPress SEO…
Tips for WordPress SEO
The first point Mr. Alex discussed was the importance of images with us. In any WooCommerce Store or WordPress website, image plays an important role.
As we all know…
"One Picture is worth a thousand words"- Albert Einstein
So with this, he listed his first tip and so on:
1. Optimize Image
Another tried-and-true method for increasing your site's speed and performance is to optimize your photos, as these are one of the most prevalent causes of slowness.
If you include a lot of photographs and rich media in your content, the size of the page may expand substantially, although this is usually due to images that are not well optimized. A typical picture problem is utilizing one that is significantly larger than the size at which the image will actually appear — this is an indication that the image was not optimized.
The good news is that you can use the Smush Plugin to instantly optimize your WordPress website's entire media library, as well as any future photos you submit.
2. Install a Cache Plugin to Boost Site Performance
While WordPress clearly provides good performance nearly out of the box, there are site speed enhancements that almost all sites can make, especially given that site speed is a key ranking factor.
You may get quite technical about boosting the performance of your site, but one of the most efficient approaches is to use a caching plugin to cache your posts and pages as static files. These static files, rather than being dynamically produced each time, are served to your users and can considerably enhance speed.
W3 Total Cache, WP Super Cache, or Cache Enabler are all recommended by WordPress.
3. Use Schema to Mark Up Your Pages
By giving context to your content and data, schema markup can assist to improve your SEO efforts. It helps Google comprehend your material and deliver it in new and relevant ways, improving the searcher's experience.
Simply said, by providing context to your sites, you increase the likelihood of not just ranking better but also receiving clicks when your page obtains impressions.
Thankfully, Yoast 11.0 creates a comprehensive structured data graph for every post or page on your site, but there may be times when you will wish to mark up certain blocks inside WordPress. You can accomplish this by selecting a 'Yoast Structured Data Block' when creating a new block, which you can learn more about here.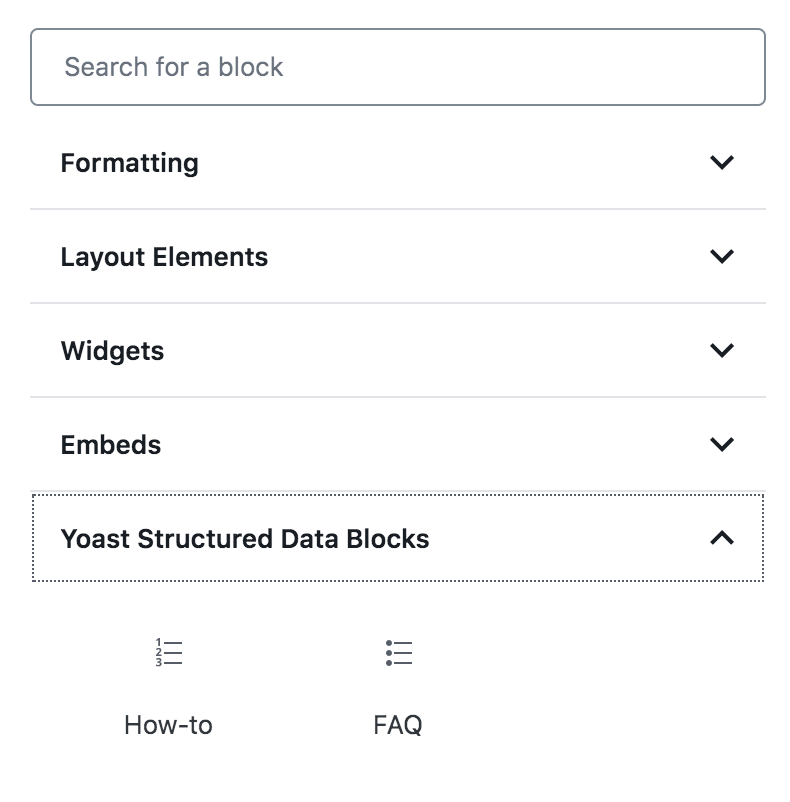 4. Make Use of 'Last Updated' Dates
You should update your evergreen material on a regular basis to keep it current and relevant, but a common concern is whether you should change the original posting date of your pages and posts, remove dates entirely, or do something different.
Use 'last changed' or 'updated on' to display users and search engines when your material was last updated, giving them confidence that the information is up to date and relevant right now. Fortunately, the WP Last Modified Info plugin allows you to effortlessly add the last modified/updated information to your WordPress pages and posts.
5. Noindex Tag Pages and Other Low-Value Content
WordPress employs a variety of page taxonomies, including categories and tags. Categories are quite useful, especially when it comes to putting information together.
Tags are seldom beneficial to visitors who haven't already visited your site. From an SEO standpoint, these sites seldom provide anything of value, and you don't want Google to index and send traffic to them (traffic quality is low).
The same is true for media pages and other post types supported by WordPress. You usually don't want Google to index these, and you can add 'noindex' tags directly inside Yoast.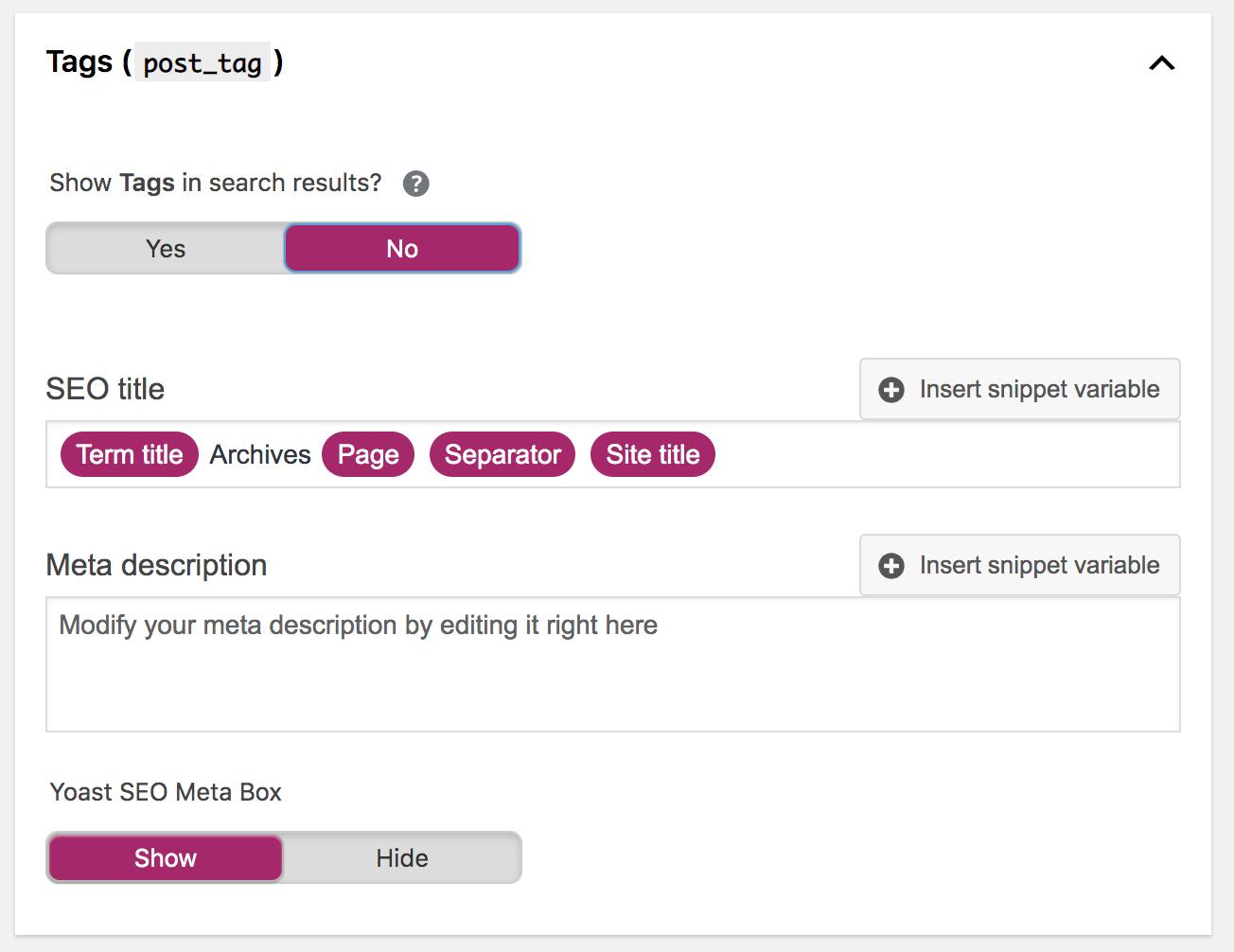 Not only Tips, but Mr. Alex also gave us the 'Secret Mantra' for improving SEO which he used and got positive results.
He also quoted that "customers visit several websites to know the techniques but still not get the result" so today I will let you know what are the points one should keep in mind to improve the WordPress SEO.
Just dive into the ways…
7 Ways to Improve SEO for Your Website
"There are obviously many additional approaches, but this is a good place to start. Remember, you don't have to employ all of these (though you definitely may) – even a couple should help your WordPress website rank higher in search results" said Mr. Alex.
In addition, he said, "we'll focus on Google-specific recommendations because it is by far the most prominent search engine and exposes the most information about its algorithms."
As a suggestion, he also mentioned that "many of these tactics should benefit you in improving your WordPress SEO."
1. Emphasize High-Quality Content
When Google and other search engines develop sophisticated algorithms for ranking websites, their objective is to ensure that the most relevant and valuable sites rank highly. The particular ranking elements and their consequences change over time, but the basic idea does not. If you want to see success with your SEO efforts, you should concentrate on providing high-quality content rather than attempting to game the system.
We've already spoken about long-form content, which is an excellent approach to improve the quality of your articles and pages. However, there are other options for achieving this purpose. Consider what your target readers want or need the most and work on supplying that with your content. Also, remember to double-check and edit anything you post on your website — details matter!
2. Try to Create Long-Form Content
When Google's algorithms decide how to rank material, they take duration into account. That is not to say that shorter material does not score well. Longer content, on the other hand, has an advantage since search engines believe it is more likely to be beneficial. Furthermore, the more detailed your material is, the better it communicates its topic to crawlers through keywords, headers, and so on.
Longer content is also more helpful to readers, may boost your perceived legitimacy, and encourages people to stay on your site longer. So, when generating information, strive to be as detailed as possible. There are other approaches to this, but the 'skyscraper strategy,' which involves building on current information by making yours better and more complete, is one worth considering.
3. Create Content Based on Keywords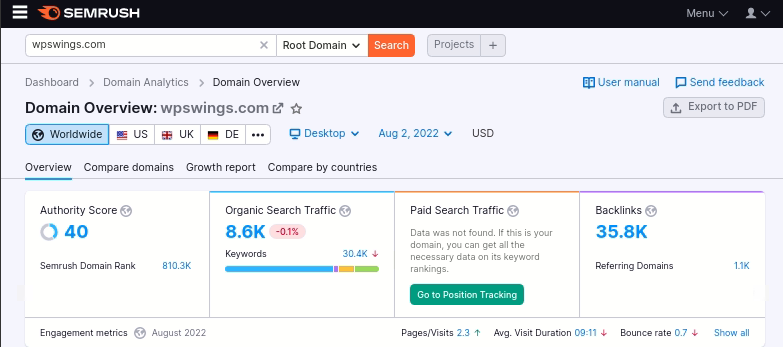 You've probably heard of the term "keywords" before. These are brief phrases that explain the topic of your material. For example, for a blog article about basic recipe possibilities for novices, you might use the phrase "easy recipes." You're projecting that many people will put the keyword into a search engine while seeking this sort of content by doing so.
Choosing a keyword for each post or page and utilizing it in several places — such as the title, headers, and text — is a typical strategy to communicate your topic to search engine crawlers and boost the likelihood of your material appearing in relevant searches.
Of course, you must use caution when employing this tool. For example, it's preferable to avoid 'keyword stuffing,' which is when you force your term into too many places and it seems unnatural or spammy.
There are other excellent SEO tools available to help you get started, but Semrush is a reliable one that we suggest. Its robust capabilities tick all the boxes for most websites and businesses: fantastic keyword research tools, the ability to analyze your rankings over time, sophisticated backlink analysis, and you can even inspect your website for SEO concerns and get useful tips.
4. Try to Use Responsive Design for Your Site
More individuals than ever before are accessing the internet via mobile devices. This implies that your site should appear and run well on any device a visitor may be using. You may do this by following the responsive design approach, which entails creating your site such that it reacts and adjusts to each user's device.
Google employs responsive design as a ranking criterion since it is so crucial. Your site's chances of ranking high on SERPs will improve if it is responsive. The best method for WordPress users to get started with responsive design is to choose a WordPress theme that supports it (which many, if not most, now do).
Finding Difficulty in the Selection of a WordPress Theme for Your eCommerce?
Don't Worry… We are here with some amazing Tips That Fit Your Business Style
5. Modify the 'Permalink' Structure
Permalinks are permanent URLs that lead to specific articles, pages, and other material on your WordPress website. They are what people will use to refer to and connect back to your website, thus their attractiveness is important. Clear, detailed links that define their content are easier for search engines to understand and tend to improve their rating.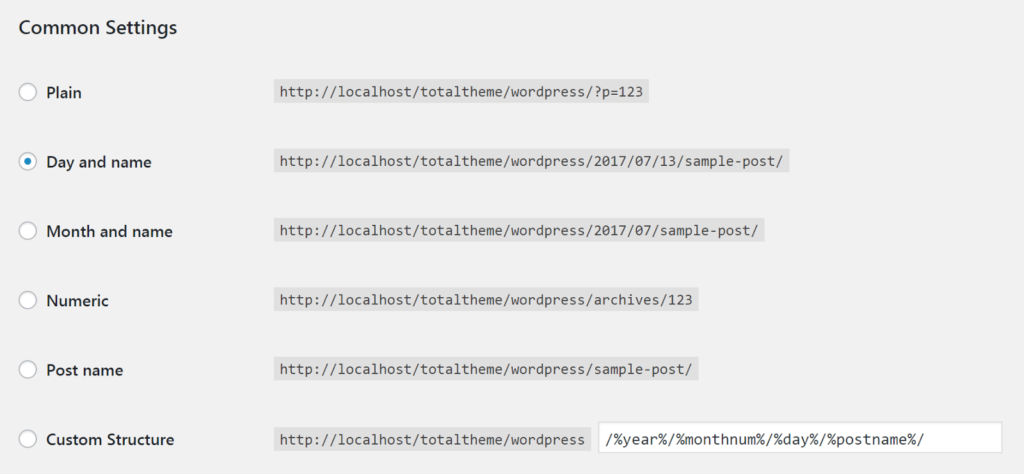 Some (such as the Plain and Numeric alternatives) are based on numbers, which isn't ideal because they provide little helpful information to search engines. Instead, the Post Name structure is preferable since it indicates clearly what the linked material is about. By accessing your site's back end and heading to Settings > Permalink, you can quickly update your permalink structure (or build a new one).
6. Include Relevant Internal and External Links
Google and other search engines do not evaluate your website in isolation. Instead, they assess how well it is linked, both internally and with other sites. Including several links across your articles and pages informs crawlers about how they relate to related material. It also encourages others to link back to your site, which tells search engines that your material is worthwhile!
As with keywords, this is an approach to be used with caution. Your search engine results will certainly suffer if you stuff too many links into your content or utilize a lot of links that refer to useless pages or exist just to advertise things.
Instead, aim to include links where they naturally belong and to direct visitors to high-quality websites that currently rank high in SERPs. Smart usage of internal and external links is essential for attaining the greatest SEO results.
7. Throughout Your Content, Use Heading Tags
A sitemap is important for showing search engine crawlers how your site is arranged, but it does not assist them to understand the particular content. You'll need to use heading tags for this. These are formatting choices for section heads on pages and posts.
These options are listed as Heading 1, Heading 2, and so on in your WordPress editor.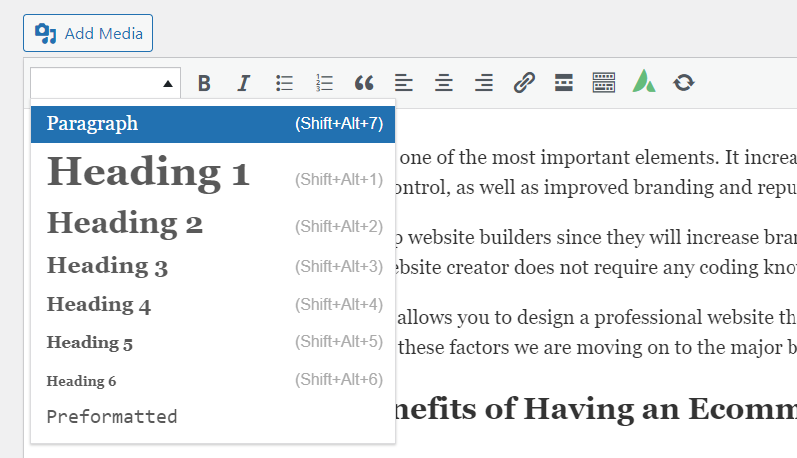 When you use these headers to organize your material, you accomplish two things. It adds visual interest to your content by splitting it up and making it simpler to read. Crawlers also pay close attention to headlines, utilizing them to determine how your material is arranged and what it is about. Don't forget to use WordPress' header choices frequently and consistently while generating posts and pages.
These all were the POVs of Mr. Alex that he shared with us for our customers. I am very thankful to him as he gave us his precious time from his busy schedule… I hope he will keep sharing these words of wisdom in the future and also we can have many more discussions related to SEO. So, for today that was all from his end.
Now, let me have some words from my end to my customers and readers.
Epilogue!
Starting an SEO strategy from the ground up might be intimidating. There are several phases involved, and the entire procedure needs meticulous attention to detail, yet the benefits may transform your organization. The notion behind WordPress SEO becomes simpler if you grasp how all of its components may operate together.
Concentrate your efforts on certain keywords (both long-tail and regular phrases), and you'll start seeing genuine results on Google and in your business. The necessity for a high-quality WordPress SEO plan has never been greater, and it is critical that it be taken seriously. If you do not, you can guarantee your rivals will!
We hope you found this explanation of search engine optimization useful, and if you want to learn more about WordPress SEO and how it can assist your business, please contact the WP Swings team to speak with one of our specialists.