Bookings for WooCommerce Pro
START BOOKINGS RIGHT AWAY WITH BOOKING RESCHEDULING, CANCELLATION/APPROVAL, EARLY BIRD DISCOUNTS, FACEBOOK SHARING, EMAIL/SMS REMINDERS, CALENDAR LISTING, COMPATIBILITY WITH RMA & WPML.
Bookings for WooCommerce Pro is an outstanding approach to turning your ordinary WooCommerce store into an effective booking solution provider. Leveraging the WooCommerce bookings features we would easily build an online booking solution that meets all of your customers' expectations.
Get our WordPress bookings, and easily create an online booking system that provides versatile booking solutions with flexible booking slots, easy booking management, and a lot more…
With the WooCommerce booking & appointment plugin, you can:
On the

WC order listing panel,

there is a separate booking list with a dedicated

Bookings tag

for simple sorting.

It is simple to establish a specific number of days for

booking cancellation

and processing.

In wordpress booking plugin using render options, you can easily

show/hide the additional booking form

details.

Early Bird Discount

coupons are simple to offer.

You will receive

email and SMS notifications

before the service is accessible.

Using the

shortcode widget

, efficiently create a

Bookings Search page

.
Top Features of WooCommerce Bookings Pro
1. Automated Booking Status Update
Using WooCommerce Bookings plugin's functionality, now you can effortlessly automate your customer's booking request status.
In order to set up, navigate to the General Settings tab and utilize the two toggle alternatives available there, Change Status to Processing and Change Status to Cancelled, to specify the precise days.
2. Fully Configurable Date/Time of Bookings Start and End
Using the Configuration Settings > Availability Settings tab in the configuration settings, admin managers can now easily configure the exact date/time of their booking's Start and End conveniently.
Using precise day slots like Start, End, and Lunch Hours as well as day periods, store owners may effectively define the available slots for the booking requests filed weekday- and month-wise. Additionally, they can precisely specify the maximum booking/hours and Unavailable Days, or a list of holidays, for their bookings service.
You can now select multiple day slots for a particular booking product and mark them unavailable with ease. For that, you need to make changes in the Product Data> Availability tab settings.
3. Enable Booking Location
Provide simple bookings that involve an additional location within. Assume your company offers a booking service that requires customers to show up at the service site at a specific time, such as salon or doctor booking appointments. Then this particular feature of the WooCommerce booking plugin will surely benefit you.
With just one plugin, you could effectively arrange travel, adventures, events, a guided tour, a museum visit, and a themed dinner, and much more…
4. Color Codes to Display Availability
As an admin, you can now allow your customers and visitors to view the availability and unavailability of given slots with the help of color codes in the date picker calendar. This will automatically enhance the user experience that you will give your customers.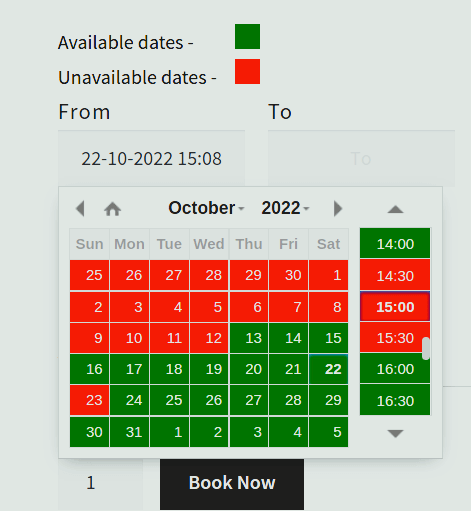 Using the latest version of our Bookings for WooCommerce plugin, you can set display availability of dates with custom colors as per your ease in the date picker calendar.
5. Easy Booking Refunds with RMA
Customers whose booking requests have been cancelled by the admin or cannot be fulfilled can receive overdue reimbursements or refunds with ease using the Best WooCommerce Plugin i.e. Bookings for WooCommerce PRO plugin.
Refunds can be managed manually or using the RMA Return Refund & Exchange For WooCommerce Pro plugin, which automates the process.
6. Export Bookings Orders Data
You can now effectively export your bookings order data with ease just by referring to the name of that particular WooCommerce Appointment product. Yes, you heard me right. If you are in need of your data related to booking orders for a particular booking entity then just export it and thereby you'll receive a .csv file for the same.
7. Avoid Unwanted Bookings
The admin managers can easily determine in advance the maximum amount of bookings that can be made for a given day. They can also identify upcoming holidays that will render bookings unavailable and explicitly define the set one day off every week.
In order to manage bookings for their services, avoid scheduling needless booking appointments, and instantly indicate periods that are unavailable, store managers can do so.
8. Booking Management on Behalf
Admin managers can now effortlessly manage their registered customers' bookings on their behalf from the backend.
This option allows you to serve your customers, being their booking agents. To do so, you need to traverse towards the plugin's back-end settings tab i.e. Add Booking Order, and easily manage your customer bookings.
9. Email/SMS Reminder for Bookings
With WooCommerce Calendar Booking you can send reminder emails and SMS on the day of your booking is available as a feature in the plugin.
The reminder email/SMS can be sent with ease by utilizing the unique template and the shortcodes available on the WooCommerce bookings plugin backend Reminder Settings tab.
10. Define Global Cost Rules
Admin managers can now easily define multiple global rules for their booking product costs. In order to create such a rule, just traverse to the plugin's Global Cost Settings tab in the backend.
Global Cost Rules defined can be applied for each and every booking service or product offered on your website utilizing the + Create New Rule button and delete using the X Delete Rule button.
11. Easy Facebook Sharing
Using the outstanding Configuration Settings > Integration Settings tab from the plugin backend, now you can effortlessly share your booking product using your Facebook handle with ease.
In order to make this sharing feature into action, create an Application in your Facebook Developer profile and input your credentials such as App ID, App Secret, and Access Token here in the Integration Settings tab.
Now, you can now easily share your Appointment booking solutions on Facebook and gain mass engagement with ease.
12. Unveil Booking Policy on Frontend
Admin managers can easily display their booking policies on the website along with the booking form.

To do so, they just require you to navigate- Plugin Settings > Configuration Settings > Booking Form Setting, turn on the Show Booking Policy toggle button, and then input your booking policies there in the Booking Policy text box.
13. Unpaid Bookings Rejections
Admin managers can now effortlessly reject their unpaid WooCommerce booking requests after a certain number of days. The General Settings tab's Change Status to Cancelled toggle option can be used to enable this WooCommerce bookings functionality.
To cancel an unpaid reservation, just turn On the toggle and input the number of days required with the online reservation plugin.
14. Booking Cancellation Allowed
Admin managers can easily offer booking cancellations for their customer's bookings orders on specified order statuses by utilizing the Cancellation Allowed settings in the product backend.
You need to define the cancellation setting Order Status, so that whenever a customer places a booking cancellation request on that order status.
Benefits Of Bookings for WooCommerce
Bookings for WooCommerce Pro turn your ordinary WooCommerce store into an effective booking solution provider. Making use of bookings plugin features, you can create an online booking appointment system that caters to all your customer's requirements with ease
Freely Accept/Reject Bookings: Our WordPress plugin for reservations makes it simple to refuse or accept unpaid reservations. Automated booking request approval settings. Store managers may quickly display availability on a daily basis and prevent making unnecessary reservations. Set a limit on how many days a booking can be cancelled or processed.
Early Bird Discounts Offerings available: To encourage early booking, we have a booking plugin. To offer early bird discounts, use your coupon management system.
Quick SMS & Email reminders: Customized email/SMS templates for various company models. Simple SMS reminders for your consumers. Customers receive personalized pre-booking emails and SMS reminders.
Facebook Sharings allowed: By using the plugin feature of the booking appointment plugin, you can quickly share your booking products on Facebook, which not only increases interaction for your booking product but also aids in effectively targeting your designated market with visitors.
Merchants can also assist you with your booking orders: Our bookings plugin gives you the option to act as your customers' booking agents and provide more support for your privileged customers with the Bookings WooCommerce or appointment plugin, without using another gateway, one may use a booking agency.
Outstanding Booking Location feature available: The Booking Location feature, when enabled, makes it simple for customers to find services and, in a small way, saves time for your customer care staff when giving instructions. Customers may easily find their way to the service location by enabling the Booking Location option, which makes navigating simple.
Increase the transparency of your clients' booking availability: A booking order listing calendar is accessible with complete booking information. Setting availability and unavailability for reservations is simple with the WordPress appointment plugin. The booking list displays the Bookings tag from the WC Order Listing panel.
Offer Linguistic Translation facility: Our WooCommerce Appointments plugin makes it simple to customize and translate information within the plugin. Its exceptional compatibility with WPML ensures that everything runs without a hitch, regardless of where you are from or what linguistic dialect you understand.
Booking Search Widget is offered: Our outstanding bookings appointment plugin offers a fantastic search widget to make it simple for your customers to choose the WooCommerce appointments that best suits their requirements.
Easy refund processing is provided via RMA Compatibility: When a customer's booking order is unsuccessful or cannot be performed for unknown reasons, our WordPress bookings plugin can offer simple reimbursements to the consumer.
WooCommerce Bookings Plugin Compatibilities
1. Compatible With RMA Return Refund & Exchange for WooCommerce
WooCommerce Bookings plugin is compatible with RMA Return Refund & Exchange for WooCommerce Pro and Return Refund and Exchange For WooCommerce Free.
With this compatibility, customers whose booking requests have been canceled by the admin or cannot be fulfilled can receive overdue reimbursements or refunds with ease using the Bookings plugin.
2. Compatible With WPML & Multisite
The Bookings for WooCommerce is compatible with WordPress Multilingual i.e. WPML plugin and Multisite.
3. Integration With Twilio SMS Reminder Service
We have a Twilio SMS Reminder Service compatible with our booking plugin, you can integrate your Twilio credentials in the Integrations Settings tab and send SMS reminders using the service.
Free vs Pro
| Features | Free Version | Pro Version |
| --- | --- | --- |
| WC Orders Table Listing for Booking Orders with Bookings Tag | ✔️ | ✔️ |
| Allows Simple Booking Cancellation Requests | ✔️ | ✔️ |
| Booking order admin confirmations can be specified | ✔️ | ✔️ |
| Schedule Detailed Booking Order Listing | ✔️ | ✔️ |
| Set Up Additional Booking Fees for Ordering Products | ✔️ | ✔️ |
| Limit Daily Maximum Number of Bookings & Orders | ✔️ | ✔️ |
| Time Slots for Booking Start & End Can Be Specified Easily | ✔️ | ✔️ |
| Easy to Find Early Bird Discount Coupons/td> | ❌ | ✔️ |
| Define multiple days off in a week and list of upcoming holidays for unavailability. | ❌ | ✔️ |
| Booking service location navigation map available on product description page | ❌ | ✔️ |
| Automated Booking Rejection after Specific Amount of Days | ❌ | ✔️ |
| Widget Shortcode-based Separate Booking Search Page | ❌ | ✔️ |
| Resource's daily maximum number of bookings can be made. | ❌ | ✔️ |
| Easy Booking Rescheduling Available | ❌ | ✔️ |
| Determine the number of reservations made at most per hour | ❌ | ✔️ |
| Create and Manage Bookings for Customers like Agents | ❌ | ✔️ |
| Export Booking Order by Booking Name | ❌ | ✔️ |
| Display Booking Policy on Booking Form | ❌ | ✔️ |
| RMA Plugin for Simple Manual & Automated Refunds | ❌ | ✔️ |
| Easy Booking Product Facebook Share | ❌ | ✔️ |
| Smart Pre-Booking Email/SMS Reminders | ❌ | ✔️ |
| Select custom Color codes to display Unavailability/Availability in Date Picker Calendar | ❌ | ✔️ |
FAQs
Is There a Setting in the Plugin Backend That Automates the Booking Status Update After a Specified Number of Days?
sanjeevmaurya
2022-01-20T08:47:24+00:00
Yes, you can easily automate your customer booking request status utilizing the plugin features. To set up just head towards the General Settings tab and make use of the two toggle options available-
Change Status to Processing automatically updates the status to processing after specified days given in the text box below.
Change Status to Cancelled, which automatically updates the status to canceled after specified days given in the text box below.
Still in doubt? Refer to our Knowledge Base and learn more about the Bookings for WooCommerce plugin.