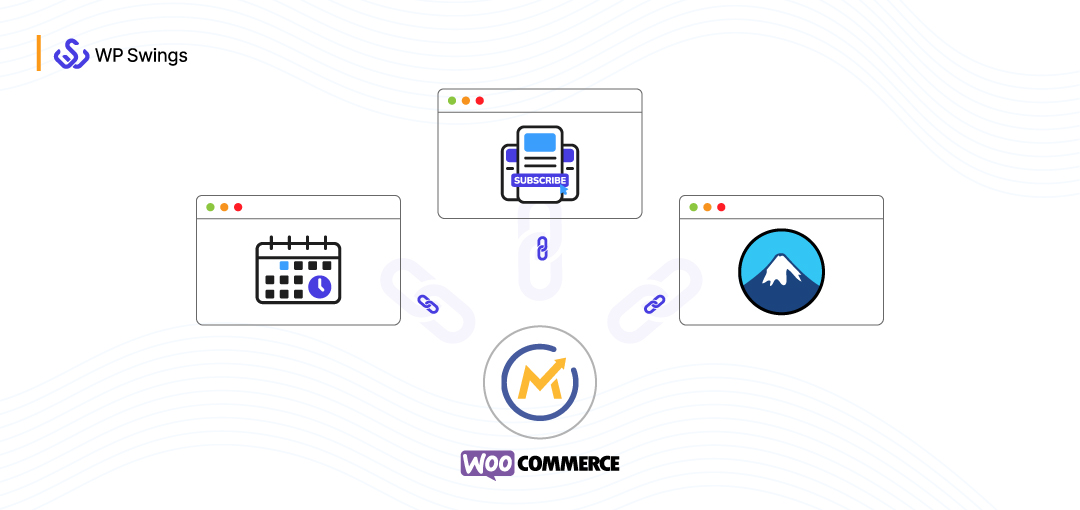 In the fast-paced world of eCommerce, streamlining your customer data and marketing efforts is crucial to stay ahead of the competition.
This is where the integration of Mautic, a powerful marketing automation platform, with WooCommerce, the popular eCommerce platform, comes into play.
By seamlessly syncing customer data and automating marketing campaigns, businesses can significantly enhance their lead generation, sales, and customer engagement strategies.
In this article, we'll explore the key features and benefits of the Mautic WooCommerce Integration, highlighting its compatibilities with other plugins and how it can drive eCommerce success.
How Does the Mautic Integration for WooCommerce Work?
Think of it as the data pipeline that connects your WooCommerce store with Mautic. With this integration, you can organize your WooCommerce customer data, launch smart automated campaigns, and effortlessly rescue those abandoned shopping carts.
It's like having a one-stop tool for your business, boosting leads, sales, and conversions. And the best part?
It works flawlessly with Event Tickets Manager for WooCommerce, CF7, WooCommerce Subscriptions, and HPOS, enhancing your marketing and operational capabilities to the max.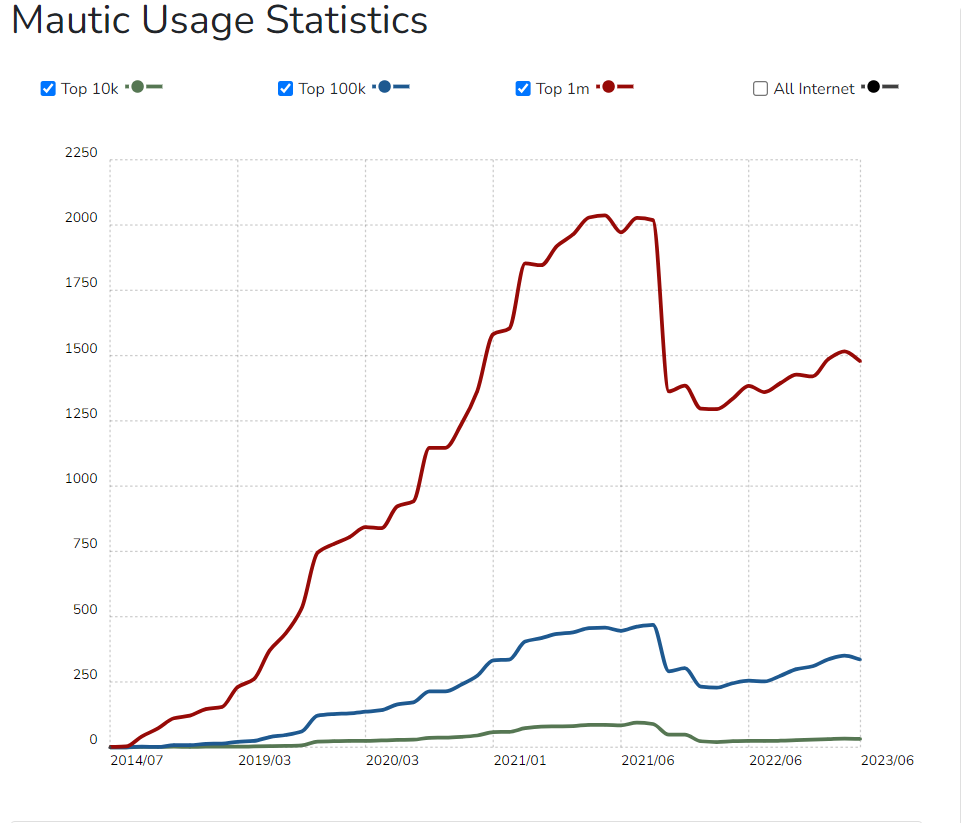 [Source: BuiltWith] 
WooCommerce Mautic Integration improves the following factors:
1. Data Fragmentation: Without integration, customer data is scattered across different platforms, making it challenging to create personalized marketing campaigns and track user behavior effectively.
2. Manual Effort: Manually transferring customer data between WooCommerce and Mautic can be time-consuming and error-prone, leading to inefficiencies in marketing efforts.
3. Lost Opportunities: Abandoned carts and unsegmented customer data can lead to missed sales opportunities and reduced customer engagement.
Unlock the power of data-driven marketing with Mautic Integration for WooCommerce by WP Swings!
Supercharge your online store with real-time customer data syncing, RFM analysis, email personalization, and dynamic segmentation.
Mautic WooCommerce Integration Usage
The integration process is user-friendly and involves a few simple steps:
 Installation: Download the plugin from your WooCommerce account and upload it to your WordPress admin panel.
Configuration: Connect your Mautic account by providing the Mautic Base URL, Client ID, and Secret ID. The integration also offers compatibility with other plugins like Event Tickets Manager, Contact Form 7 (CF7), and WooCommerce Subscriptions.
Custom Fields: Create over 70 custom fields to capture customer data, order information, and more. These fields allow for effective segmentation of customers.
Segments: Utilize segments to categorize customers based on custom field data. This enables targeted marketing campaigns tailored to specific customer groups.
Coupon Codes: Generate dynamic coupon codes based on customer behavior and assign them to specific segments, encouraging conversions.
RFM Settings: Assign scores to customers based on recency, frequency, and monetary value, aiding in personalized campaign creation.
Site Tracking: Embed Mautic Tracking Code on your website to track user activities and behavior.
Error Tracking: Monitor errors in API interactions during form submissions and receive notifications for timely resolution.
WooCommerce-Mautic Integration Compatibilities
The Mautic Integration for WooCommerce is compatible with three of the best solutions that extend your business capabilities:
1. WooCommerce Subscriptions Compatibility
The compatibility seamlessly syncs subscription order data, enabling businesses to manage subscription-based sales effectively.
Key Steps to Sync Subscription Data: Install and Activate WooCommerce Subscriptions Plugin: Begin by installing and activating the WooCommerce Subscriptions plugin on your WooCommerce store.  With this plugin in use, businesses can manage recurring payments, subscription plans, and customer subscriptions seamlessly.
Navigate to Custom Fields: Access the Custom Fields tab within the WooCommerce Mautic Integration Plugin settings. This is where the magic happens, as you're able to establish the connection between subscription data and your Mautic CRM.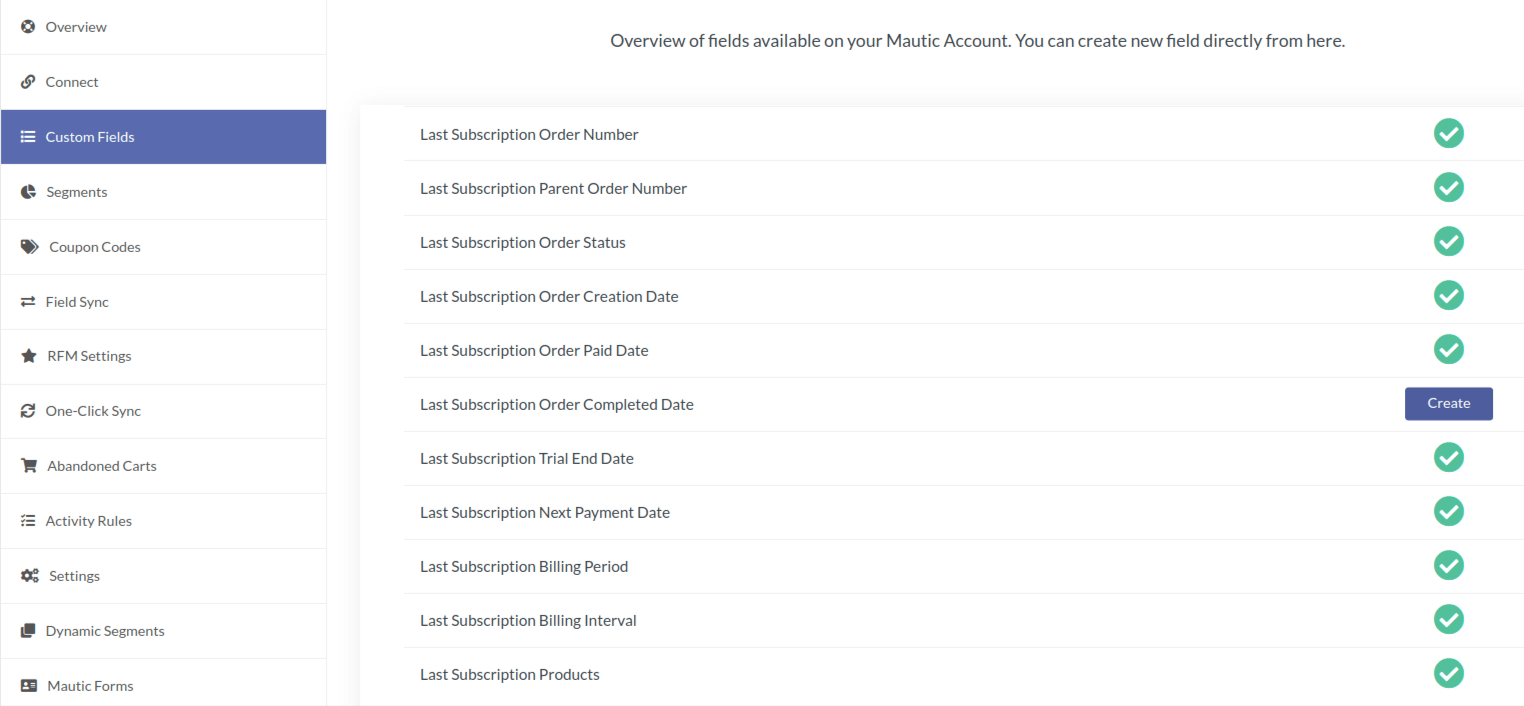 Create Custom Fields: Scroll down to locate the custom fields specifically designed to capture subscription order data. By clicking on the "Create" button, you're initiating the setup to feed this valuable information into your Mautic CRM.
Log in to Mautic Account: With the custom fields in place, log in to your Mautic account and navigate to the Contacts section. This is where the comprehensive list of customer orders resides.
Filter and Access Order Details: Filter the list of orders using the email address associated with the customer's subscription order. Once you've pinpointed the desired order, proceed to open its details.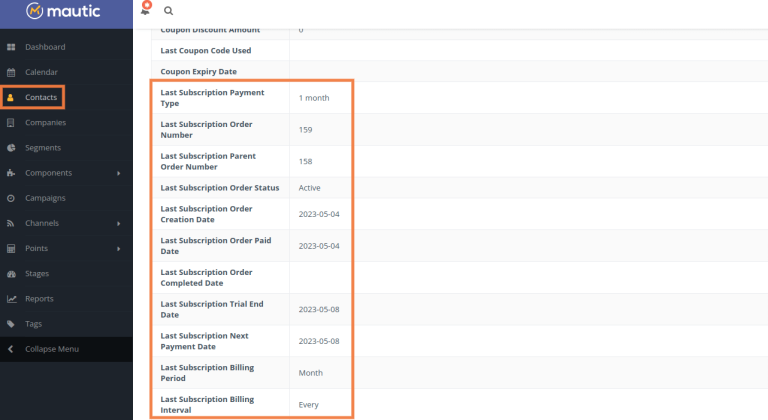 Retrieve Subscription Order Data: Within the order details, you'll discover the custom fields containing the subscription order data. These fields hold key information about the subscription, allowing you to gain a comprehensive understanding of each customer's subscription journey.
2. Mautic-CF7 Compatibility
Integrate Contact Form 7 submissions with Mautic, streamlining lead generation and customer communication.
You can connect the Contact Form 7 (CF7), a widely used WordPress plugin for form creation, with the Mautic marketing automation system.
It helps you sync contact form submissions from CF7 directly to Mautic, all while adhering to custom-defined field mappings. The synchronization process can be broken down into key steps, each contributing to the overall effectiveness of the integration:
Configure Mautic CF7 Functions
Feeds and Field Associations:

The process begins by selecting the desired CF7 form within the plugin's "Feed" tab. Users can establish field associations, mapping CF7 form fields to corresponding Mautic fields. This ensures the data flows easily between the two platforms, facilitating a comprehensive understanding of customer interactions.

Feed Details Configuration:

Within the "Feed Details" section, users can pinpoint the specific CF7 form they wish to integrate. This step also involves choosing whether the data should be associated with "contacts" or "companies," aligning with the business's needs and objectives.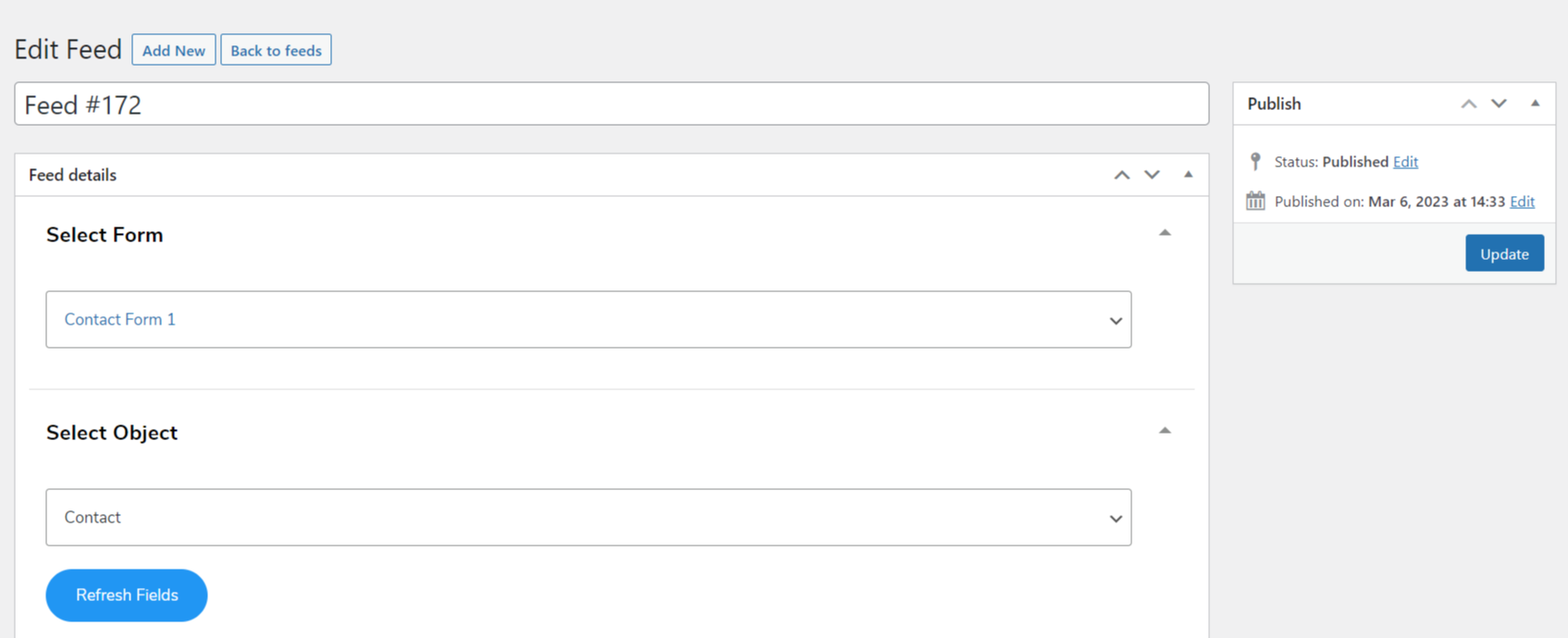 Field Mapping:

The "Map Fields" section becomes pivotal, enabling users to match Mautic fields with CF7 form fields. These mappings, categorized as standard or custom values, ensure that information is accurately transferred between platforms, minimizing discrepancies and data loss.

Expansion through New Fields: Businesses seeking additional insights can leverage the "Add New Fields" feature,  which facilitates the introduction of new fields to the selected CF7 form. This added flexibility further tailors the integration to match evolving data requirements.
Customized Conditions:

To fine-tune data synchronization, the plugin offers conditional statement capabilities. Businesses can implement AND/OR conditions to filter form submissions, ensuring that only relevant data is forwarded to Mautic. If conditions aren't met, no logs are generated. 

Log Entries and Insights:

As each successful form submission occurs, an automated log entry is created. These entries provide comprehensive insights into form submissions, including details of the submission itself and the corresponding response from Mautic. The log entries offer a holistic view of customer interactions and marketing campaign effectiveness.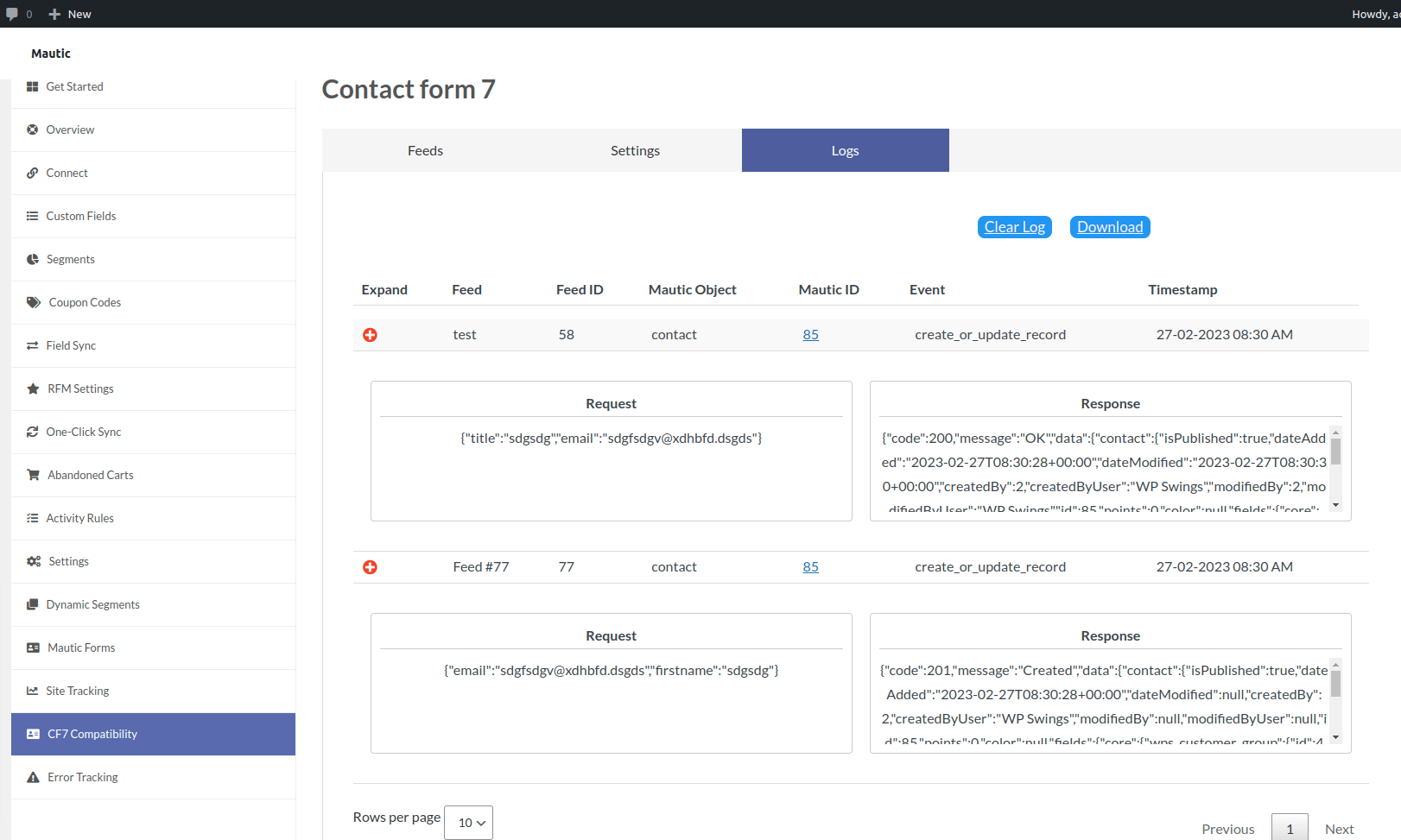 Control and Settings:

The plugin's "Settings" tab empowers businesses to fine-tune their integration experience. Enabling features such as automated log creation, email notifications for API errors, and scheduled log deletion after a set number of days provide customization over the integration's main features.
Compatibility With Events Ticket Manager for WooCommerce
The Events Tickets Manager for WooCommerce Pro plugin also works suitably with our Mautic WooCommerce Integration. This compatibility takes your event management to the next level, providing a comprehensive solution for handling your WooCommerce events data.
Effortless Event Setup:

Simplify event management with Events Tickets Manager Pro. Set up events, customize tickets, and seamlessly integrate them into your product categories.

Customer Notifications:

Enhance customer satisfaction with automatic event notifications. Attendees receive timely, relevant information, boosting engagement.

Smooth Ticket Delivery:

Deliver tickets via email for easy access, improving the overall customer experience.

Capturing Essential Event Data:

After an event order is placed, the integration captures crucial data points related to the last event attended. These data points include: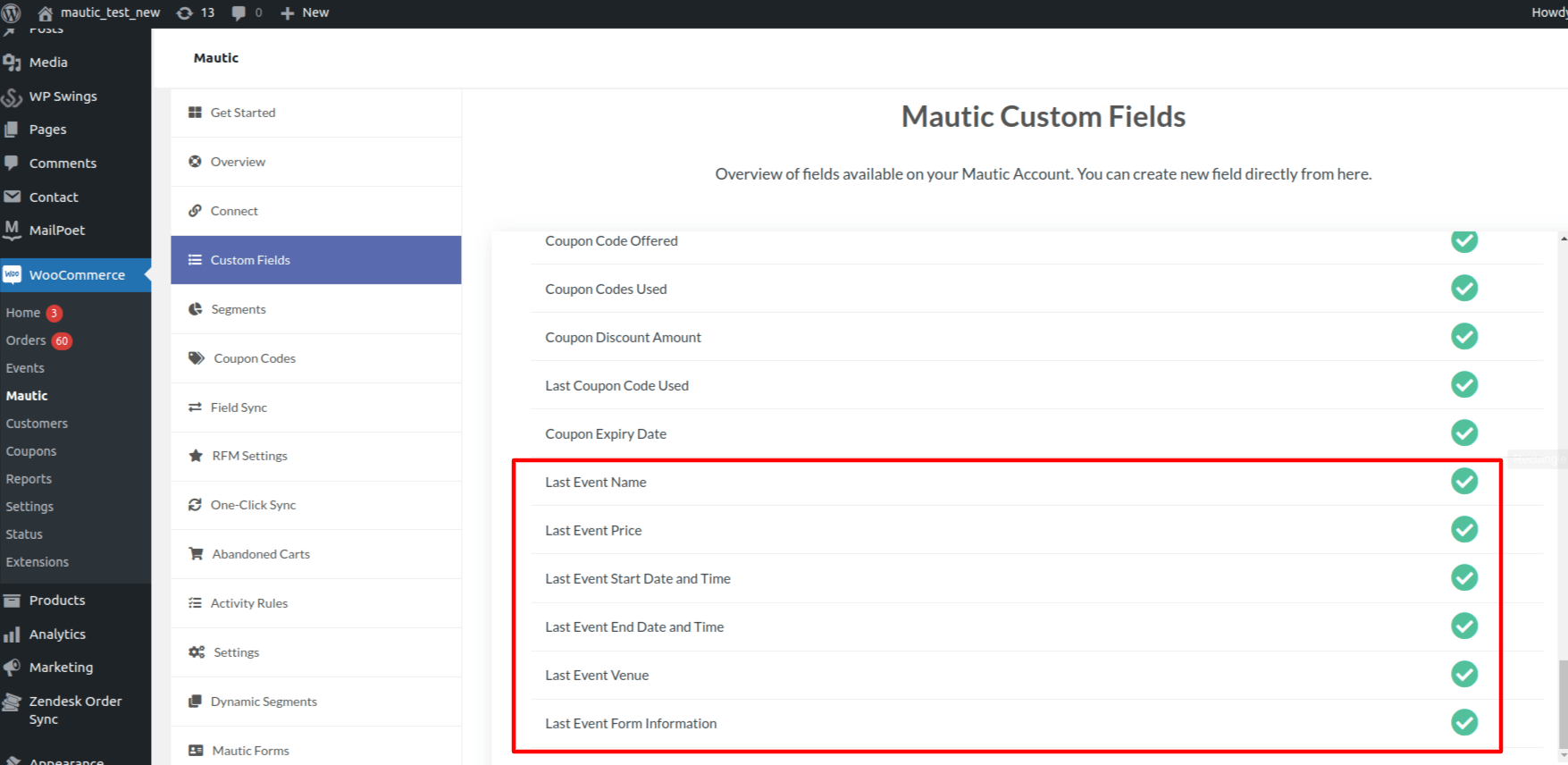 Last Event Price: The cost of the last attended event.
Event Venue: The venue where the last event took place.
Last Event Start Date and Time: The date and time when the last event started.
Last Event End Date and Time: The date and time when the last event concluded.
Event Form Information: Details about the last event form submitted.
You can harness Mautic's marketing automation capabilities to craft highly targeted and personalized campaigns based on attendees' past event interactions.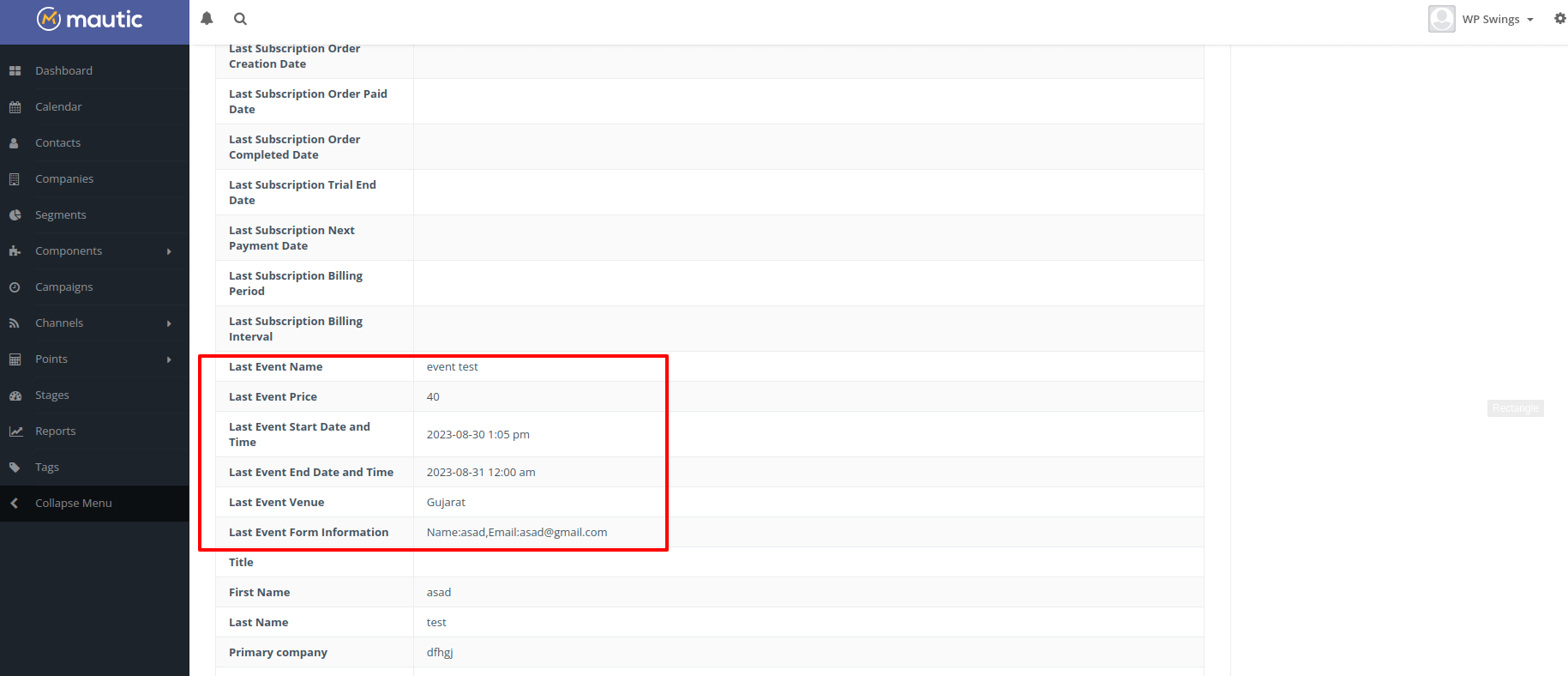 In conclusion, the Mautic Integration for WooCommerce, when paired with the Events Tickets Manager for WooCommerce Pro and the free version, streamlines event management, enhances customer experience, and leverages valuable data for more effective marketing campaigns. It's a powerful combination that maximizes your ROI while minimizing complexity – all within the open-source Mautic framework.
Unlock the Power of Events with Events Tickets Manager Pro!
Create, Customize, and Share Event Tickets Effortlessly. Get Started Today and Elevate Your Event Experience!
Key Benefits of Mautic WooCommerce Integration
1. Seamless Lead Generation and Management
The integration between Mautic and WooCommerce offers a seamless solution for lead generation and management. By effortlessly capturing every lead generated through WooCommerce and accurately segmenting them in Mautic, businesses can reap a multitude of benefits:
Enhanced Targeting: With precise lead segmentation, businesses can craft highly targeted marketing campaigns. This means that you can tailor your messages and offers to specific customer segments, ensuring that your marketing efforts resonate with each group.
Personalized Customer Experiences: Armed with detailed customer data, you can personalize interactions and recommendations. This personal touch not only fosters customer loyalty but also significantly boosts conversion rates, as customers are more likely to engage with content that speaks directly to their interests and needs.
Improved Engagement: Engaging with customers at the right time and with the right content is crucial for building lasting relationships. The integration allows you to automate engagement workflows based on customer behavior, ensuring that you stay connected and relevant throughout the customer journey.
Data-Driven Decision-Making: Having all your lead data centralized in Mautic empowers data-driven decision-making. You can analyze customer behavior, track campaign performance, and refine your strategies based on real-time insights, ultimately leading to more effective marketing initiatives.
In essence, the seamless lead generation and management offered by this integration result in more targeted, personalized, and effective marketing efforts, leading to increased customer engagement and higher conversion rates.
2. Empower Your WooCommerce Subscription Business
For businesses utilizing WooCommerce Subscriptions, the integration takes subscription management to a whole new level. It empowers your subscription-based business in several impactful ways:
Streamlined Subscription Data Management: With custom fields and segments in place, you gain a comprehensive understanding of your subscribers. This means you can easily identify loyal subscribers, track their subscription journeys, and gain insights into their preferences.
Targeted Renewal Campaigns: Armed with data about subscription start and end dates, you can create automated renewal campaigns. These campaigns can be tailored to engage subscribers at the right time, increasing the likelihood of subscription renewals and revenue continuity.
Enhanced Customer Retention Strategies: Subscription businesses thrive on customer retention. With detailed subscription order data at your fingertips, you can develop targeted retention strategies. For instance, you can offer personalized incentives, discounts, or exclusive content to keep subscribers coming back for more.
Data-Backed Growth: The integration's ability to capture and manage subscription order data ensures that you have the insights needed to drive business growth. By analyzing subscription trends and customer behaviors, you can make informed decisions about expanding your subscription offerings and scaling your business.
In summary, the integration empowers WooCommerce subscription businesses to operate more efficiently, increase customer retention, and make data-backed decisions that lead to sustained growth and profitability. Furthermore, It transforms subscription management from a manual process into a strategic advantage, helping businesses thrive in the competitive eCommerce landscape.
3. Accurate Event Sales Tracking
With the seamless integration of Events Tickets Manager for WooCommerce Pro and the WooCommerce Mautic Integration, you gain the upper hand in tracking event sales accurately.
Accurate Event Sales Tracking: By synchronizing order data and monitoring behaviors, gain deep insights into customer purchasing patterns. This accurate data can be leveraged to create data-driven marketing strategies, thus ultimately boosting sales conversions.
Capturing Essential Event Data: After an event order is placed, the compatibility captures vital data points related to the last event attended, including the last event price, venue, start and end dates and times, as well as form information submitted. This data wealth becomes a powerful asset for crafting personalized marketing campaigns.
Moreover, you can harness the power of Mautic's marketing automation capabilities to craft highly targeted and personalized campaigns based on attendees' past event interactions.
In conclusion, the Mautic Integration for WooCommerce, when paired with Events Tickets Manager for WooCommerce Pro and the free version, simplifies event management, enriches customer experiences, and empowers data-driven marketing campaigns. This formidable combination maximizes your ROI while minimizing complexity – all within the open-source Mautic framework.
Conclusion: Get eCommerce Success with Mautic WooCommerce Integration
In today's competitive eCommerce landscape, providing a seamless and personalized shopping experience is essential for business growth. Moreover, the Mautic WooCommerce Integration bridges the gap between customer data and marketing efforts, thereby offering a comprehensive solution to streamline lead generation, customer management, and sales tracking.
By doing so, businesses can create a unified platform for success by combining the strengths of Mautic's marketing automation capabilities with WooCommerce's eCommerce functionalities.
Furthermore, from capturing leads to nurturing customer relationships, the integration empowers businesses to make informed decisions, enhance engagement, and drive revenue growth in the dynamic world of eCommerce.