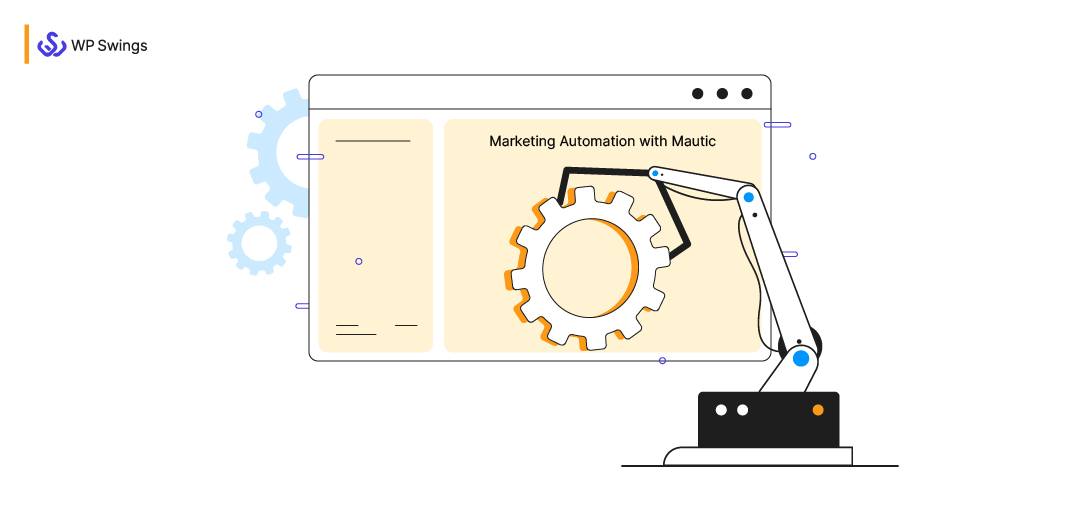 The changing technology and trends are prevalent in every industry. Now, nobody wants to perform manual repetitive tasks anymore. Everyone is looking out for the tools which can help them automate their business tasks.
Marketing Automation is one such method that is leading over the marketing industry at a much faster pace. All the marketing automation tools are not free and easy to implement. But, Mautic is one of the best open-source marketing automation tools that can certainly fulfill your requirements.
There's always another side of the coin too. Marketing automation can be superlatively beneficial for your business. Still, few people have queries and doubts about the need for marketing automation. It is important to make this confusion clear before we proceed to learn more about this open-source marketing automation tool- Mautic.
Automate Your Online Business Market With Mautic, Today!
So, if you're still asking "Why do I need marketing automation"?
Here is the answer:

Marketing automation boosts your productivity by 20%.
58% of the marketers use marketing automation tools to draft their upsell strategy and bring it into action.
I think these reasons are enough for convincing you to use marketing automation. I mean who doesn't want to increase qualified leads and productivity?
So, in this article, we'll elaborately go for open-source marketing automation. But before moving towards it, let's first clear some basics.
What Is Marketing Automation?
Marketing Automation is a technique that helps marketers automate their repetitive marketing activities such as email marketing, lead nurturing, ad campaigns, etc. with the help of tools and software.
Marketing Automation can help you boost your sales, generate qualified leads, nurture them, and convert them into customers.
So, let's begin understanding the software. Then, I shall discuss how you can use it for your business. Additionally, I shall explain to you its extraordinary features and how it can help in improving the overall user experience.
What Is Mautic?
Mautic is an open-source marketing automation software that helps online businesses automate their repetitive marketing tasks such as lead generation, contact segmentation, marketing campaigns, lead scoring, etc.
Mautic helps sales and marketing teams to bring open-source marketing automation back to the center of their stack. It gives them immense power to create a more personalized experience for audiences across all the digital platforms and channels. Since it's an open-source tool, it is a free, flexible, and versatile tool built according to the needs of modern marketers.
Why Is Mautic So Popular?
As we talk about marketing automation tools, the main cause of the marketer's ignorance is the cost of marketing automation tools. It's evitable that not all marketers and businesses are willing to spend hefty amounts on some tool.
This is one of the biggest advantages of using Mautic as your marketing tool. Mautic, being an open-source marketing automation tool is free and it is packed with several features. Mautic features include easy-to-build email campaigns, personalized messages, A/B testing, abandoned cart recovery, tracking, and measuring results.
14 Features That Prove Mautic Is The Best Open Source Marketing Automation Software
1. Lead Generation And Contact Scoring
Lead generation is one of the most important jobs for every business. If you don't have leads, who would you target or persuade to buy your product?
Here, Mautic's lead generation and contact scoring features come into play.
We can use Mautic forms, focus items, tracking scripts for lead generation and assign scores. This can be done on the basis of lead's behavior and activities on the website like page visits, reading an email, opening an email, etc.
Once you have analyzed and assigned scores to the leads, you can segregate them into different segments.
Lead scoring helps you generate more targeted, personalized, and relevant content that the customers can relate to. 78% of U.S. consumers say that personally relevant content boosts their purchase intent.
2. Campaign Building
The best thing about Mautic is its campaign builder. It allows you to create campaigns or workflows with several decisions, conditions, and actions. All of these workflows are well displayed and easily understandable that no one faces an issue while understanding the working of the campaign.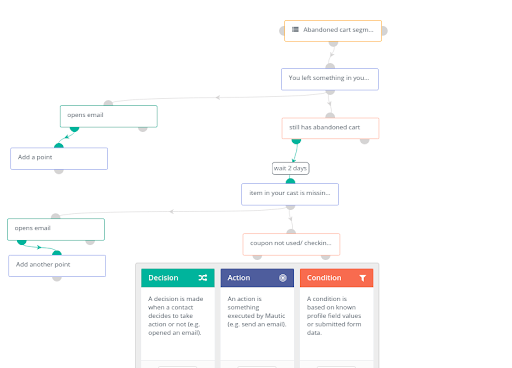 You can simply use the drag and drop feature, select & add conditions, actions, decisions and give them a suitable name.
For example, if you are creating a campaign for abandoned cart recovery. You can add an action of sending an email reminder to cart abandoners. Then you can add a condition such as when they open an email, check if they're eligible for a coupon code. If yes, send an email with the coupon code after a few days. The created campaign looks something like this in the Mautic CRM.
3. Contact Segmentation
Segmentation helps you divide your customers into specific groups based on different criteria such as age, gender, location, company size, income, etc.
With Mautic, you can also perform customer segmentation to create highly converting and targeting campaigns. Mautic collects the users information through automated forms and pop-ups which can be used to create campaigns that offer what exactly a user needs.
WebEngage gives a sheer example of customer segmentation with this picture. It explains how a jewelry store will segment its female customers and how you should do it.
By selecting the relevant field in your marketing automation software- Mautic, you can easily get the segmented list of all those customers who match the selected criteria. Then you can pitch the campaigns you created for them.
4. Focus Items
Focus Items is a good feature that helps out merchants in different ways such as increasing their traffic on a specific page. It helps merchants to capture and increase the number of leads.
Focus Items let a merchant select what they want to focus on like data collection, displaying a notice, or emphasizing a link.
For example, if your site is going on maintenance, you can select the focus "Display A Notice " to display a popup. It will tell your website visitors about the time and other details of your site maintenance. This feature can also be used to display sign-up forms or to redirect visitors to a product page.
Once you have selected the focus, you can select how you want to engage the visitors like on their arrival at your site, or after how many seconds you want to show the popup.
You can select the type of style you want to use to engage visitors. Such as if you want to display a bar across the header, a full-page window, a notification, or a popup?
This feature can help you increase the number of leads, sales of a product or service.
5. Email Builder
Emails are still the most preferable type of communication method when it comes to business. They're used to nurture your leads, bring back the users to complete the purchase, update the readers about your newly published articles.
People may buy your products if your emails and the content inside them are well-written and designed.
This is where the Mautic email building feature comes in handy. It provides you several email templates you can use for your campaigns. With these templates, you can write dynamic content that can be changed as per your needs. This feature makes it very simple to build attractive and elegant emails. You just need to use the drag and drop feature to create emails that attract users, drive conversions, and grow your email list.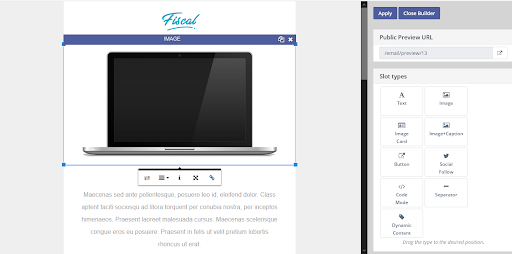 6. Page Builder
One of the most significant features of Mautic is Page Builder. Mautic page builder lets you create landing pages for your offers, promotions, programs, and campaigns. Create responsive landing pages by using the easy drag and drop interface.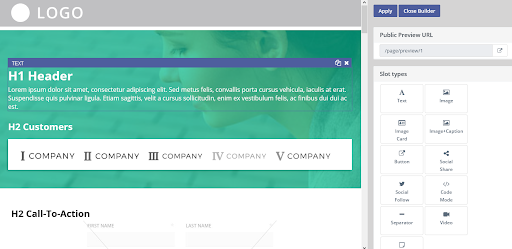 You won't face any technical issues while creating your landing pages with Mautic. Furthermore, you can also run A/B tests on these landing pages and add forms to capture leads.
Add forms that play a valuable role in Mautic. They help merchants to collect, organize, analyze data, and customer behavior with ease.
7. Lead Nurturing
Do you know, approximately 96% of users visit your website without an intention to buy something?
Nurturing is needed to convert them into your customers. Lead nurturing is essential for every business. It consistently turns your prospects into customers. It can turn your customers into brand advocates. Mautic does this job pretty easily and automatically.
By creating email campaigns- you can nurture your leads, engage them, and move them forward in your marketing funnel. All you need to do is to create content that resonates with the user's stage. This software will deliver that content to every single user in that particular stage.
If you keep the customer stage in your mind while creating the content, you'll make it more personalized. Nothing nurtures a user better than consistent and personalized content.
8. A/B Testing
You have enough time to test your marketing strategy, sales pitch, and emails to make sure they perform well.
Mautic helps you figure out the best online promotional and automated marketing strategies for your business. It has a built-in A/B testing feature for both emails and landing pages.
Use Mautic's A/B testing to assess which one out of two automated marketing campaigns is more effective in terms of CTR or conversion rates in pages.
In an A/B test, you can set up two variations of the single campaign and send them a part of your total recipients.
Mautic allows you to test a number of different elements so that you can test which content is engaging your target audience. It can be an email subject line, email body or an active CTA.
9. User Activity Tracking
With Mautic, you can track the users activity that help you identify their interests. You can do this by simply adding a code to your Mautic CRM. Once you have done this, it will track which product page a user is visiting, what is he purchasing, and what's not.
This helps you get a better understanding about in what type of products a customer is interested. So that you can create your campaigns according to it.
10. Dynamic Content For Personalization
Before discussing anything on this, let me show you data about personalized content.
People love to open emails that are created just for them. Mautic allows dynamic customization in emails, forms, and landing pages for specific customer segments, groups of leads, and prospects.
It can be anything like you're working on your welcome email series, dynamic content, or another marketing automation technique. This effective marketing automation tool will definitely help you.
11. Customer Retention
As per the reports, 5% increase in customer retention can lead to an increase in profits of between 25% and 95%. Moreover, customer retention also plays a significant role in driving retail revenue.
Here's how Mautic can give a boost to customer retention.
It employs triggered messaging which is a perfect way to suggest testimonials, ask for product reviews, feedback, send referrals, rewards, and incentives. This engages customers and increases the chances of retaining them.
Moreover, it uses post-sale customer nurturing that offers cross-sells and upsells, sends targeted and personalized messages to your customers, and monitors their behavior.
Every marketer wants new customers and puts all of their efforts into nurturing them. But, they forget to nourish their existing customers and lose a big part of their sales. Consequently, it is a well-known fact that customer retention is highly valuable to your business.
Free marketing automation software platforms like Mautic enables teams to acquire, nurture, close, and retain sales qualified leads(SQLs).
12. Crucial Campaign Run
Effective marketing automation makes it easier to pick up an understanding of your procedure adequacy and marketing spend. For a small business with limited resources, this can be more challenging.
The most useful marketing automation features are Analytics and Reporting (52%), campaign management (46%), and lead nurturing (46%). It becomes obvious that analytics and reporting resonate with so many.
Marketers run various email marketing campaigns that drive sales as well as prove their campaign's success.
But, if you don't have any data to measure, how would you accomplish this?
An effective Marketing Automation platform includes reporting and analytics features that provide all the valuable data you need to run your campaigns. Mautic fits into these criteria. If you connect your WooCommerce store with Mautic, you can:
Sync your customer's data over Mautic in real-time
Track email performance
Increase online sales
Convert abandoned cart into sales
Delight customers with dynamic coupons
Use your data to stay effective and adaptable. You'll start seeing results quickly. If a small business can determine what strategies are effective, they can double down on what works and what doesn't. It means they can win more sales and grow their revenue.
13. Saves Time
Time is money. A free marketing automation platform saves your time and money to an extent. Lesser overheads, lesser email marketing preparation, lesser time spent reporting on stats, creating new and high-targeting campaigns.
Mautic reduces the overall long-time taking task. You can use Mautic features including dynamic content, campaign decision, and conditional logic to win customers with the right content at the right moment. All this requires less and one-time effort. You just need to set up the things once and the rest will be done without your efforts.
14. Works Even When You Sleep
Mautic is about automation. It will never ever rest. If you're busy with other tasks, attending an important meeting, or enjoying your vacation. Your marketing automation software will still work at your place. Everything from automated emails, contact segmentation, or social media postings will be done automatically.
Create WooCommerce Plugin From Scratch!
How Can You Automate WooCommerce Sales And Marketing Using Mautic?
This can be done easily by integrating your WooCommerce store with Mautic. There are plenty of third-party extensions that let you do that. Just make sure the plugin you will use must require minimal manual effort.
If we're talking about a plugin that checks all the boxes when it comes to marketing automation, the plugin I recall is Mautic WooCommerce Integration. It integrates your WooCommerce store with Mautic within a few simple steps. Synchronize your stored data in real-time on Mautic. Extend the segmentation criteria so that you can bifurcate your contacts on different measures for infallible targeting.
Here's how you can automate your WooCommerce sales and marketing with this plugin.
1. Converting Marketing Campaigns
We spend or in fact waste, loads of hours on creating, running, and observing the results of our campaigns. Campaigns that don't convert, don't drive traffic, aren't worth your labour.
A reason behind your marketing campaign failure can be that it doesn't deliver customers what they need. With Mautic WooCommerce Integration, you can analyze your customers' behavior by tracking their activities on your site.
This helps you understand what they're interested in. When you know that, you can create campaigns to show them ads they can resonate with, deliver personalized content, etc. to persuade them to purchase.
2. Email Marketing Automation
Emails are still one of the primary marketing channels. 81% of SMBs still bank on emails for customer acquisition. The most prominent data about email marketing is that brands can generate up to $42 on every $1 spent on email marketing.
However, handling all the email-related activities becomes a tough cookie for brands when they have a good number of users.
Here, Mautic WooCommerce Integration can help business owners by providing them email marketing automation capabilities. This makes it easier for brands to connect with their customers. Simultaneously, it drives better results for the brands.
3. Inbound Marketing
Inbound Marketing is a method that supports customers across their journey. It helps you create a complete strategy from a prospect to a user, a user to a customer, and a customer to a brand advocate. When you use Mautic WooCommerce integration, you can automate the process required at each stage of the customer journey.
Moreover, it generates leads that are more aware, educated, and interested in your brand and products. Hence, you don't need to do too much to convince them to make a purchase.
Mautic WooCommerce Integration plugin helps you create precise inbound marketing campaigns that persuade the prospects best. You can attract users through landing pages, segment customers as per their activities, nurture them with targeted content, retarget customers, etc. This backs your inbound marketing and brings more qualified leads to your brand.
Marketing Automation with Mautic WooCommerce integration helps you create highly effective marketing campaigns to grow your business. This Integration passes all the customer data from your WooCommerce store to Mautic. This data includes order information, abandoned carts, average order value, and much more.
At the time of installation, this integration will take care of the custom fields that are required for your automation. It creates custom fields in Mautic CRM. Based on the customer's activities, it syncs these fields from your WooCommerce store to Mautic. This integration also creates a high level of customer segmentation based on customers buying frequency, monetary value, and their total average order amount.
With the help of Mautic campaigns, you can automate your marketing to keep customers engaged.
Over To You
Mautic offers a different level of open-source marketing automation which enhances the overall customer experience. Additionally, it doesn't cost you anything and lets you use free marketing automation for your business. Moreover, three things that come to my mind at once about Mautic are – it's Free, Secure, and Robust.
It's high time, come– be the part of automation. Don't waste your time and money in doing tasks which can be easily executed by spending a very small amount of time and money.
If you have really gotten influenced, you can contact us anytime. However, if you have used Mautic before, tell us about your experience.