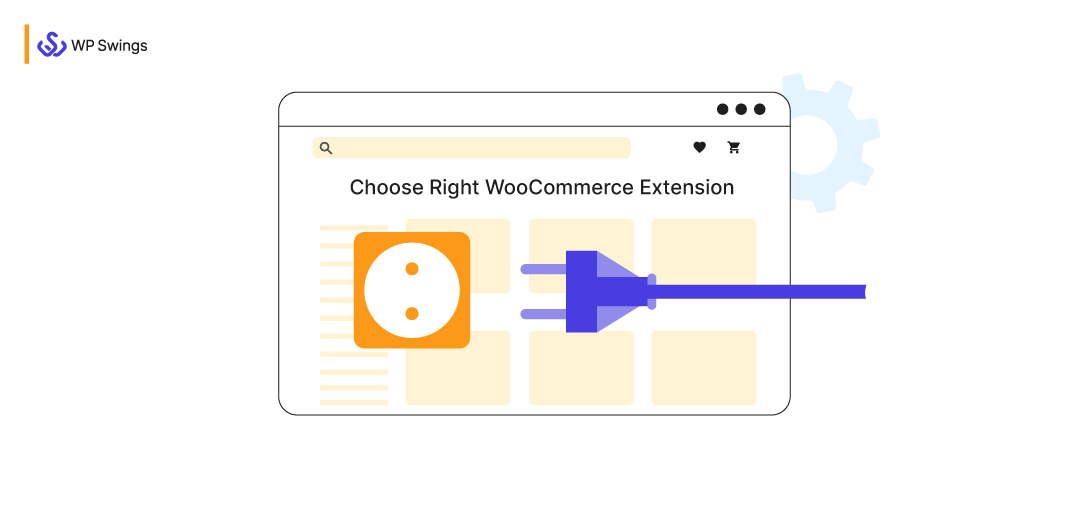 WordPress allows you to design any kind of website and lets you build a robust online store with its best plugin, WooCommerce. WooCommerce is the best platform for online store owners; firstly because it's free and secondly, because it provides a wide range of added functionality through various extensions.
Currently, the all-time download history of WooCommerce extensions is 136,722,243 and is growing with each passing day.
Choosing the right WooCommerce extension is the foundation for your store and the right fitting extension will not only increase the productivity of the store but also build a sense of reliability in the customer's mind. Covering over four million active installs, WooCommerce is a reliable platform for adding shopping functionality to your WordPress sites.
With numerous plugins comes the difficulty of choosing the one plugin that is the best for your store. Your selection process will be effortless and devoid of any risks linked with installing new extensions if you buy your WooCommerce extensions from trustworthy sources like WP Swings.
Moreover, check for conflicts that might arise in the future before fully evaluating them on a live website.
Choosing a reliable source, taking a look at the version and summary of the plugin, knowing the originator, tracking the download count, considering the page speed, the price of the WooCommerce extension, its documentation, etc. are all significant factors that will lead your store matching up with the best suitable plugin.
All this will ensure that the best results occur and will lead to increased website traffic.
What Are WooCommerce Extensions?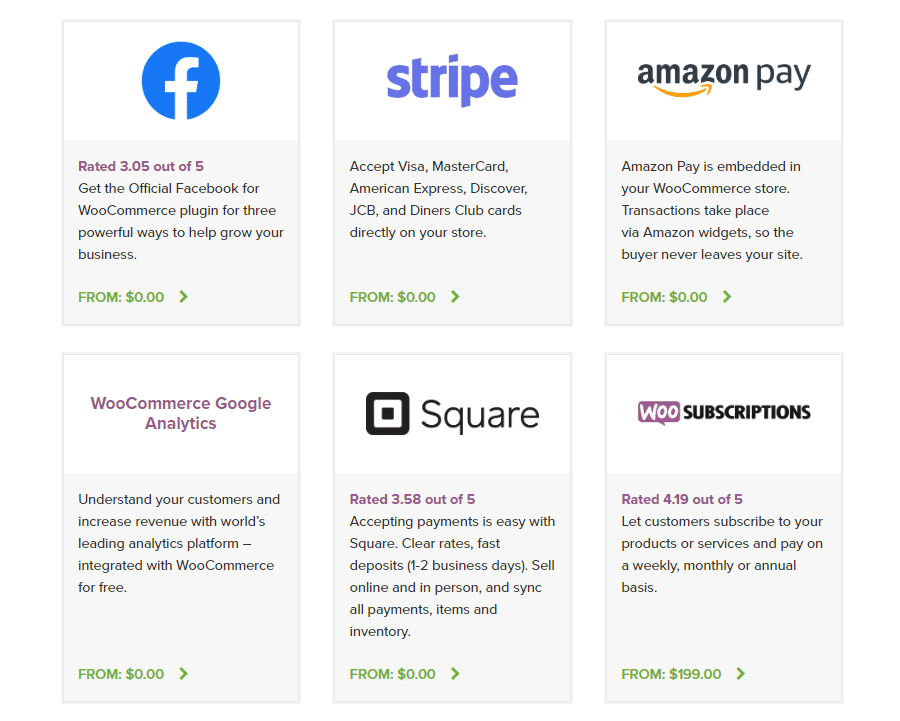 While the platform delivers a lot of out-of-the-box functionality, it might not be able to cover everything you may require. Bloating the base program with functionality just some stores can utilize would make WooCommerce tough to navigate and hard to know.
That is where third-party WooCommerce extensions arrive. Identical to WordPress plugins, WooCommerce extensions add additional attributes to your store. They might possess new kinds of products like memberships or subscriptions, integrate with postal service APIs to track shipping, or permit you to buy via new payment gateways. Some add a single trait, while others are more like complete renovation.
You can discover WooCommerce extensions on their official website and different third-party extension repositories.
Why Do People Require WooCommerce Extensions?
While the free primary plugin will perform well for many individuals, it might not contain everything you need to design the store that you are visualizing. As if you like to include optional add-ons to a product such as gift-wrapping or form dynamic pricing that replies to aspects like user roles?
The WooCommerce Extensions Store has multiple significant payment integrations available for free. It permits you to accept credit cards, PayPal, or Amazon Pay. You will require to install an extension at a point, even if it is only one of the free payment integration plugins.
By downloading the third-party WooCommerce extensions to your website, you are opening up a potential security risk if they are coded poorly. Furthermore, they are not shielded by WooCommerce support, so if something comes up, you are on your own.
However, extensions are the most effective way to acquire the key traits for your store.
WP Swings is the most trusted WooCommerce plugin store!
WP Swings has everything you will need related to WordPress and WooCommerce
How WooCommerce Extensions Are Helpful for Businesses
Below, you will find the reasons why WooCommerce extensions are ideal to grow your online business.
You can customize stores based on different user roles with restricted category access. It lets you create highly customized functional eCommerce stores without any requirement for coding work. It helps you to restrict access to a class of products based on users or user functions.
Extensions allow businesses to concentrate on creating sales via affiliate marketing and letting another business handle the shipping and administrative parts. It also lets you offer your affiliate products on a catalog-style site and promote them in your store.
For keeping the shoppers engaged, businesses can use an extension that can help in engaging the shoppers on your site. WooCommerce Products Slider is customizable to provide shoppers to view images and product information and add products to their shopping cart right from the carousel.
Some extensions let you create custom WordPress themes and page layouts without editing any code. With the use of SeedProd, you can build product pages for your WooCommerce store, and other pages like coming soon, maintenance, webinar, etc., without adding a single line of code.
Sometimes customers add too many products to the carts or don't have the resources for purchase. Instead of removing the products from the cart, you can use the Save Cart Later plugin. With the use of this WooCommerce extension, you can add functionality that permits shoppers to save their cart without the requirement to edit the whole cart page.
When Do We Require What Type of WooCommerce Plugins?
Here are some points mentioned below that can let you know when you need the WooCommerce plugins:
Adding an Integration
If you require to integrate with another platform, like your CRM or email service, you can probably see a plugin to enable the connection.
Enabling Marketplace Channels
If you like to add Amazon or other marketplace selling channels, there are plugins to let you handle marketplace listings from your WooCommerce admin.
Adding Functionality or Design
If you need a function or design change that is not feasible with your existing theme, a plugin can solve the problem. Stores usually use plugins to add product filters, advanced checkout, product sliders, or shipping options.
Scaling your online business requires solutions tailored to your business needs
Points to Remember While Choosing WooCommerce Extensions
Understand your website's purpose. It's important to know what your online store is about, and what it wishes to offer to its customers, and then choose the WooCommerce plugins accordingly.
Prepare a budget, to know if you're in a position to buy WooCommerce plugins and add extra functionality. Think about an ideal amount that you're willing to put at stake and then make a decision upon making a purchase. This will allow you to work according to your plans. And will keep things on track just the way you want them to be.
If a plugin puts extra demands on your customer service, logistics, or overall business management that you're not ready to deal with, in such a case you should reconsider. If it reduces your sales, makes the checkout process complicated, and slows down your site, then it's evidently lowering the value of your business.
Following are tips and strategies that will help you make the right decision and make the right choice of selecting a WooCommerce plugin.
Tips to Choose the Right WooCommerce Extension
1. Reliable Sources To Choose Extensions For WooCommerce
Throughout this blog, I'll let store owners know about the importance of choosing a dependable source. Multiple sites offer free versions of premium plugins and these versions are often obsolete.
One can easily be allured to use these nulled versions to simply avoid paying the license fee and to have an idea about the plugin's features. Nulled versions here refer to premium WordPress plugins or themes that have either been hacked or carry modified codes that are designed to cause harm and collect information. These usually come from a third-party website (not the original author) and are made to work without a license key.
This can be harmful to your website in the long run. One good way to identify a genuine author is that they provide return policies for the plugins. In case a plugin doesn't work out for your store, you can request a refund.
2. Summary of the Plugin
Gaining knowledge about the plugin by reading about it can help massively in hitting the needful. Some simple plugins do not require to be updated every now and then. However, complex plugins that work with other areas need to be updated regularly.
A good way to identify the quality of a plugin is to check the reviews given by customers already using the plugin. You might come across reviews lamenting that a plugin is not compatible with a theme or another plugin. These problems can arise from a number of factors. It may include an old version of PHP, server issues, poorly coded themes, and caching features.
But it's not always true that great reviews for a plugin will necessarily suit your store's needs. If a plugin doesn't work on your store, it's either a low-quality plugin or there is a problem with your website. For that, keeping a check on whether the originator has been in the industry for a long term or a short term is another thing to be paid heed to.
Plugins bought from inexperienced developers might get you into compatibility issues, probably because they did not have the time and resources to update their plugins. So, it's better to settle a deal with developers who have been staying in for a long time in the field. One of the best available websites to provide updated and good-quality plugins are WP Swings.
3. Ratings and Reviews
There is a rating of 1 to 5 for every plugin that can give you a fair idea about the plugin's quality. It's not something you would rely on completely but it can be used as an indicator. It's advisable to go for plugins with ratings of 4 and above but you still need to be mindful.
A study by Bright Local, states that 93% of customers read online reviews before making a purchase. 91% of 18-34-year-olds trust online reviews as much as they would trust an acquaintance's recommendation.
Therefore, to determine if the plugin is of good quality you should check the vendor's review page. Reading and going through reviews and feedback that are put in by customers that have used the plugin already will help you a lot in making a choice for your store. This will also make you aware of the common problems faced by customers on a particular extension.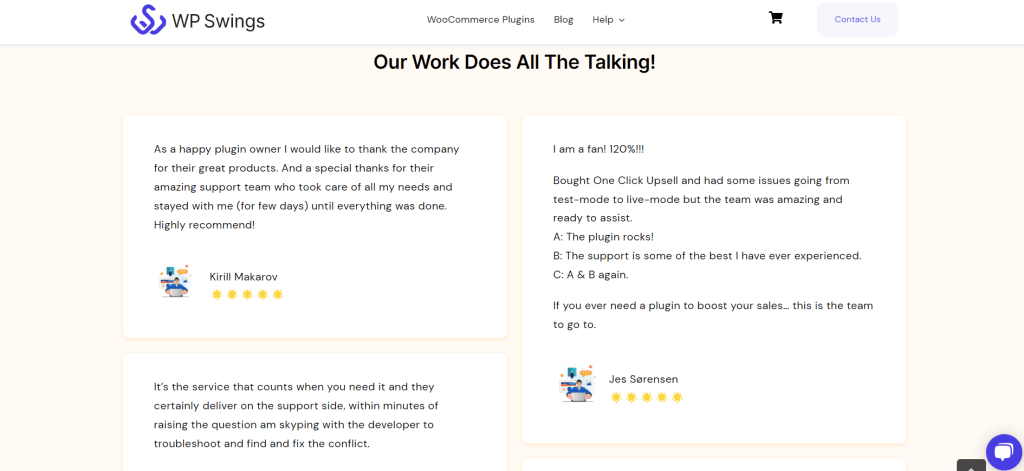 4. Version
Using an obsolete plugin can deprive your store of the newest updates and transitions, which can further affect efficiency. The version number of a plugin is an indicator of its development status. The ones that are under development hold 0.1.x to 0.9.x numbers. Whereas the first stable and complete versions are put as 1.0, 2.0, 3.0, etc.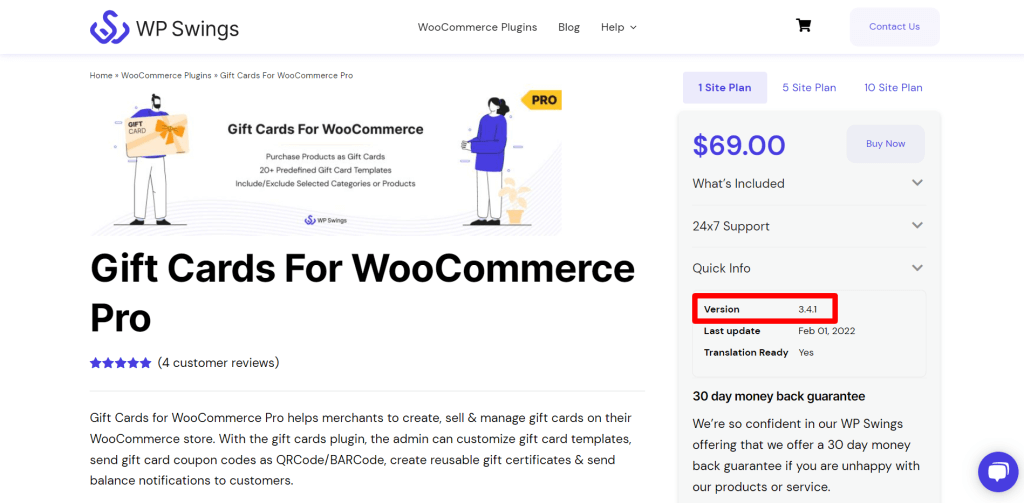 5. Downloads
Plugins that have a huge download count indicate their popularity and thus their effectiveness. The number of downloads may indicate popularity but it's important to know the latest status. For that, checking the plugin's stats is a great way of knowing the current trends.
For instance, a plugin has 40,000 downloads in total but currently is not being downloaded. Whereas another plugin's total download is 10,000 but the number of downloads taking place per day is much higher than the prior one.
6. Page Speed Insights
The loading speed of your page is very crucial. It is interconnected with the plugin you choose. Some reports state that if your website takes more than six seconds to load, you're losing around 25% of the traffic to your website.
Your website will have an increased amount of bounce rate because most people using the internet are looking for faster solutions and are completely impatient with slow websites. The appearance of your website will not matter at all if it takes an eternity to load.
Page speed is a very significant factor for site optimization and rankings. You can install applications that allow users to measure how fast their website loads. These applications also provide insights into all the things that need to be corrected to make your website as fast as possible. One such application to measure page speed is Page Speed Insights by Google.
7. Compatibility with WordPress
Again it's super important to keep an eye on the plugin's compatibility with WordPress. As WordPress keeps changing with new releases, you should keep updating the plugins with it simultaneously so it works appropriately.
8. Price vs Priceless
WooCommerce is a free-to-use open-source platform that provides both paid and free plugins. All these plugins have a good set of features and a good support team. A paid plugin might not always mean a better one but it will surely bring reliability to the scene. A paid plugin might cost anywhere from 30-100$. And after the commencing cost, you're supposed to pay for major updates only.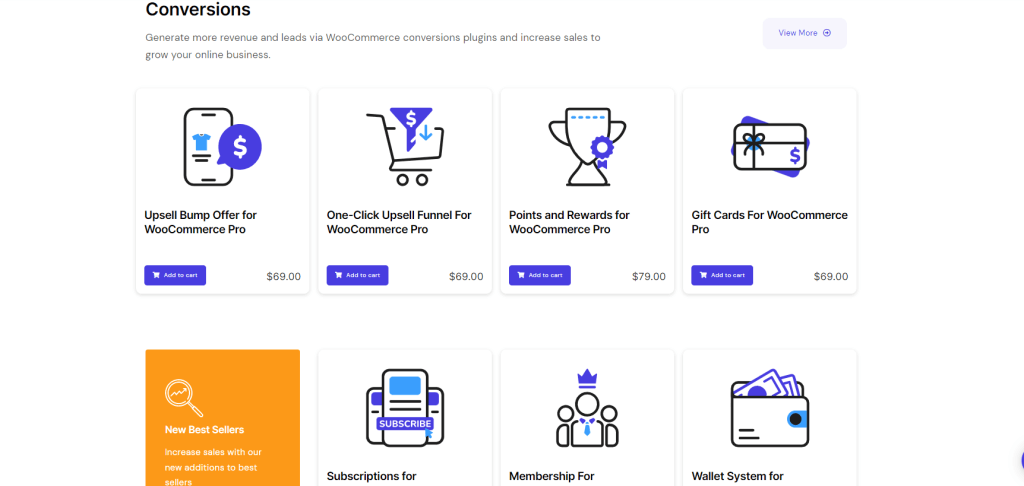 With every plugin, a support team works on the problems faced by users and keeps the plugin up to date. With the help of this, the users save time.
9. Documentation & Demo Detailing's
Reading through the documentation before purchasing a plugin is a must. If the documentation is incomprehensible, it's better to not go for that particular plugin. And even if the documentation is comprehensible, it's important to check that the developer is providing a good level of support. Here's an example of how WP Swings elucidates details about every plugin and lightens the customer's burden.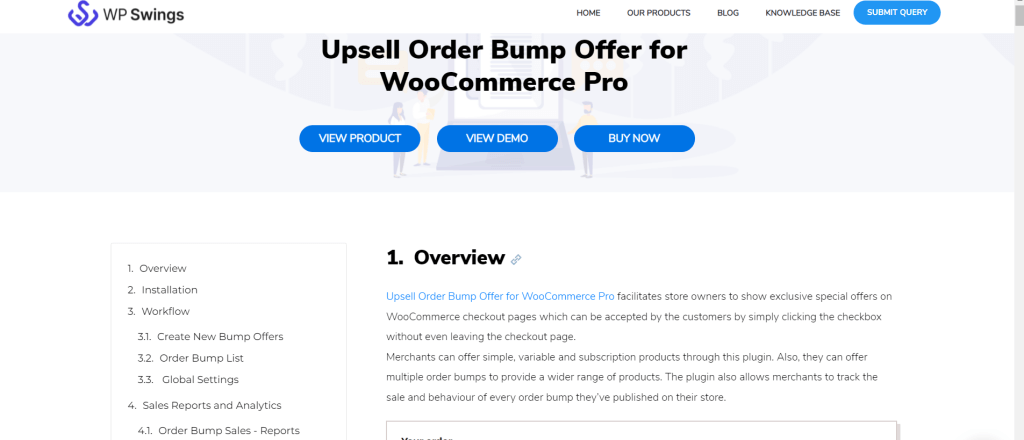 The documentation might be in the form of a forum, a ticket-based system, or both. In the case of a support forum, see how many posts have been made, how recent they are, and how many of them are marked as ''cleared''.
If a ticket-based system is being used by the author, you need to read their FAQ and contact them to track their response time. The developers might respond between 24-48 hours if it's a premium plugin and for free ones, the time might exceed quite a bit. If multiple requests haven't been cleared yet, you may want to give using that plugin a second thought.
Create and customized special upsell offers on the checkout page
10. Customer Base
Just by looking at the popularity of a thing, you can't speak for its quality. But this is not the case with plugins. Conversing about plugins; the bigger the user base, the more likely it is to perform well. However, this also doesn't mean that you should completely ignore new plugins. It's of great possibility that some plugins might be valuable to only certain sites. And your site can be the one suitable for it. But it's still better to settle for those plugins that have already been used, tested, and worked for people.
11. Design of the WooCommerce Extension
Focusing only on the design of a WooCommerce extension and looking for those that are the most spectacular looking is one thing that should be avoided. Not that design is not an important aspect but the user-friendliness and functionality of the plugin should outweigh it a bit. An ideal site should consist of all the features that your audience needs without having them wait for the pages to load. The focus should be more on the functionality rather than the aesthetics of the plugin which can be customized later on.
How to Install WooCommerce Extensions
WooCommerce extensions installation procedure differs from usual WordPress plugins that you can get off the plugin repository.
Foremost, download a WooCommerce extension.
If you want to install it from WooCommerce's official store, you have to first log in to WooCommerce with a WordPress.com account. You would not be able to download plugins from the  Extensions Store or WooCommerce > Extensions > Browse Extensions without an account.
When you have selected your plugin, click Download Now or Buy Now if it is a premium extension.
Sign up to your WordPress backend and proceed to WooCommerce > Extensions > WooCommerce.com Subscriptions. Link your WordPress/WooCommerce account to be able to handle your extension subscriptions.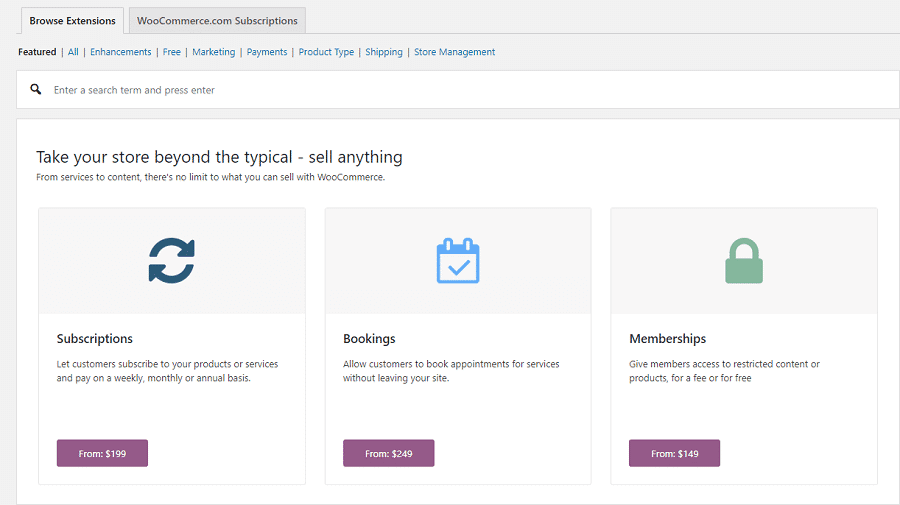 If you have purchased premium extensions, they will appear in a list here. Just click the Download button next to them if you have not installed them yet.
If you are getting an extension off a third-party repository, simply download the file they have provided. It will be mailed to you after you have purchased it, or you may require to log in to your account on the repository.
Even if you download it from a third-party store or WooCommerce, you will end up with a zip file.
Proceed to Plugins > Add New and click Upload Plugin. Then upload the plugin zip file you have downloaded.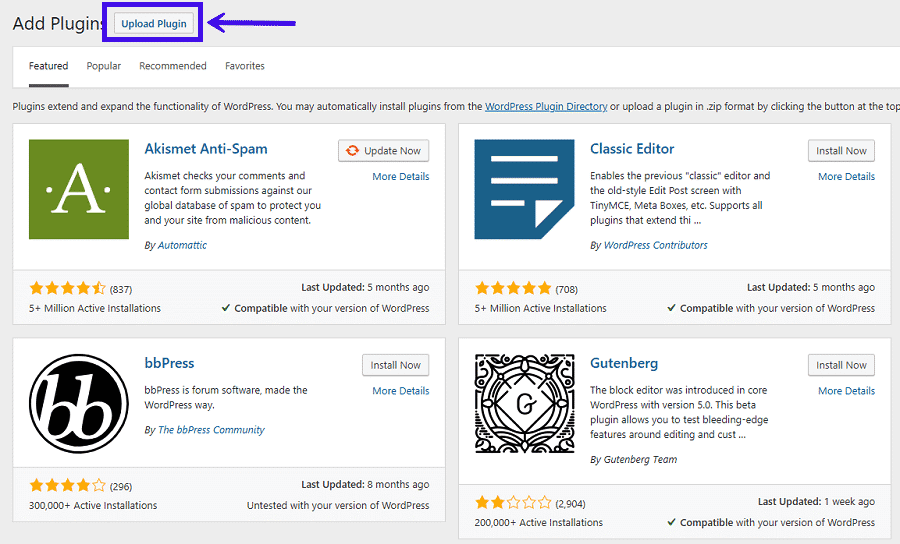 If you acquired the plugin from WooCommerce's store, go back to WooCommerce > Extensions > WooCommerce.com Subscriptions and click the Inactive toggle to activate it.
If you brought the plugin from a third party, go to Plugins > Installed Plugins and click Activate.
The new extension should now be active. There will be a custom settings page under WooCommerce > Settings where you can configure it.
The Best Places to Find WooCommerce Plugins
You will not find any difficulty in finding a plugin that can meet your requirements due to the popularity of WooCommerce. WooCommerce has a bigger selection of plugins than many other eCommerce platforms. Here are some recommended WooCommerce extensions.
YITH WooCommerce Wishlist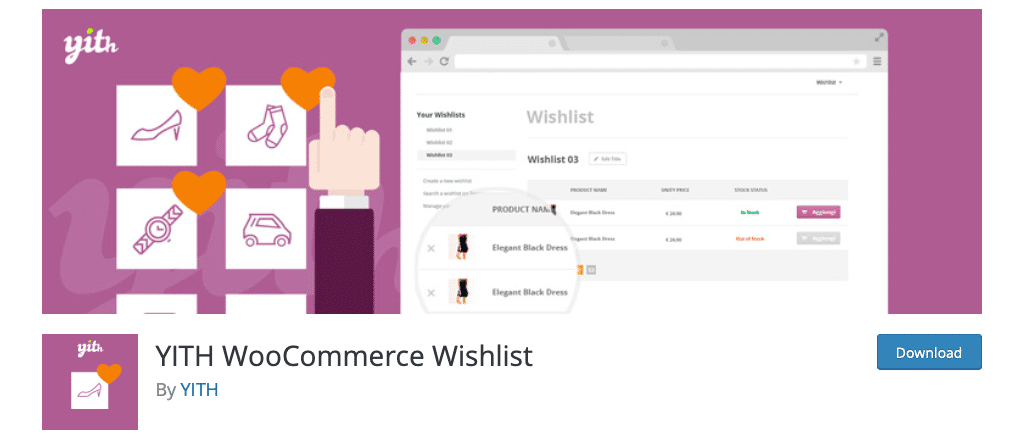 With YITH WooCommerce Wishlist, you can make it simple for buyers to save their choices and share their wish lists on social networks. This plugin allows buyers to add products from the WooCommerce store to their wish list page. They then can efficiently add those products from the wish list to the cart.
WooCommerce Multilingual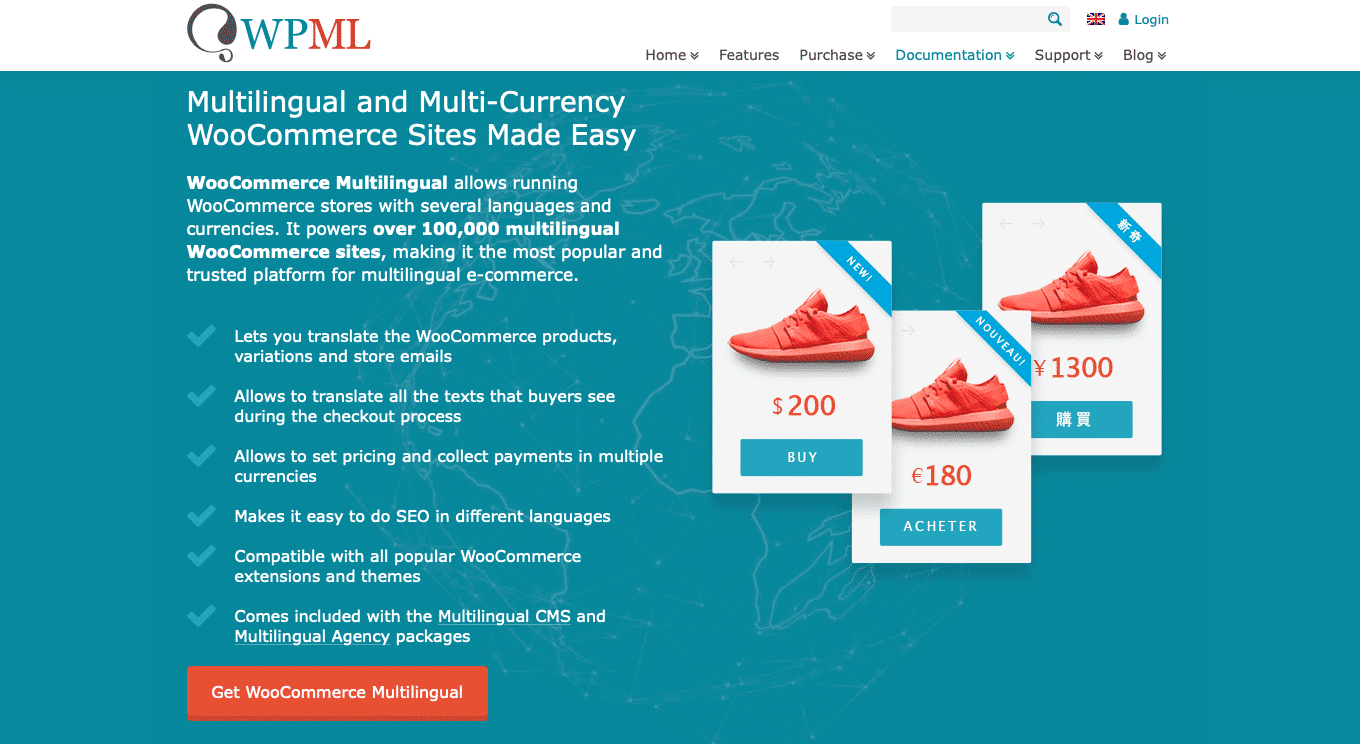 The WooCommerce Multilingual makes it viable to drive multilingual eCommerce sites using WooCommerce and WPML. It will allow you to save the same language through the checkout procedure, mail to clients and admins in their native language, and more with this one powerful plugin. This plugin is compatible with popular WooCommerce extensions like WooCommerce Bookings, WooCommerce Subscriptions, and WooCommerce Product Add-ons.
WooCommerce Colors and Swatches for Variations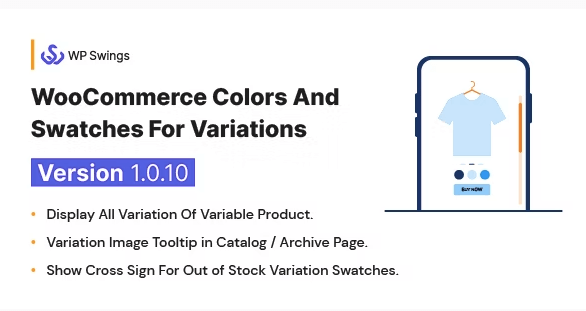 WooCommerce Colors and Swatches for Variations plugin replaces the traditional variation dropdown lists with easily operated product swatches. This change of adding variation swatches to your WooCommerce store enables your customers to check out the product variations with more comfort.
Booster for WooCommerce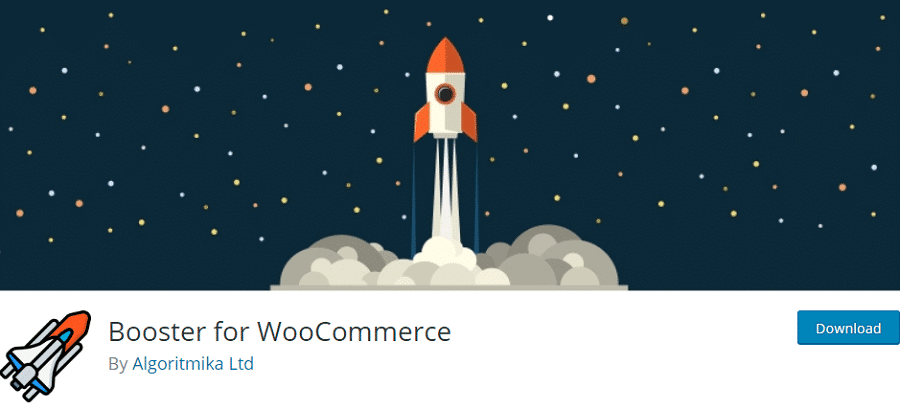 Booster for WooCommerce allows a collection of traits that you may have seen missing during your usage of WooCommerce. The traits are bulk price converting, global discounts, currencies, and tools for allowing your buyers to offer their pricing.
The list of additional and unique traits goes on and on. You will see traits for payment gateways, products, checkout, and more. Altogether, it is worth trying before opting for a premium plugin that only solves one issue.
WooFunnels by FunnelKit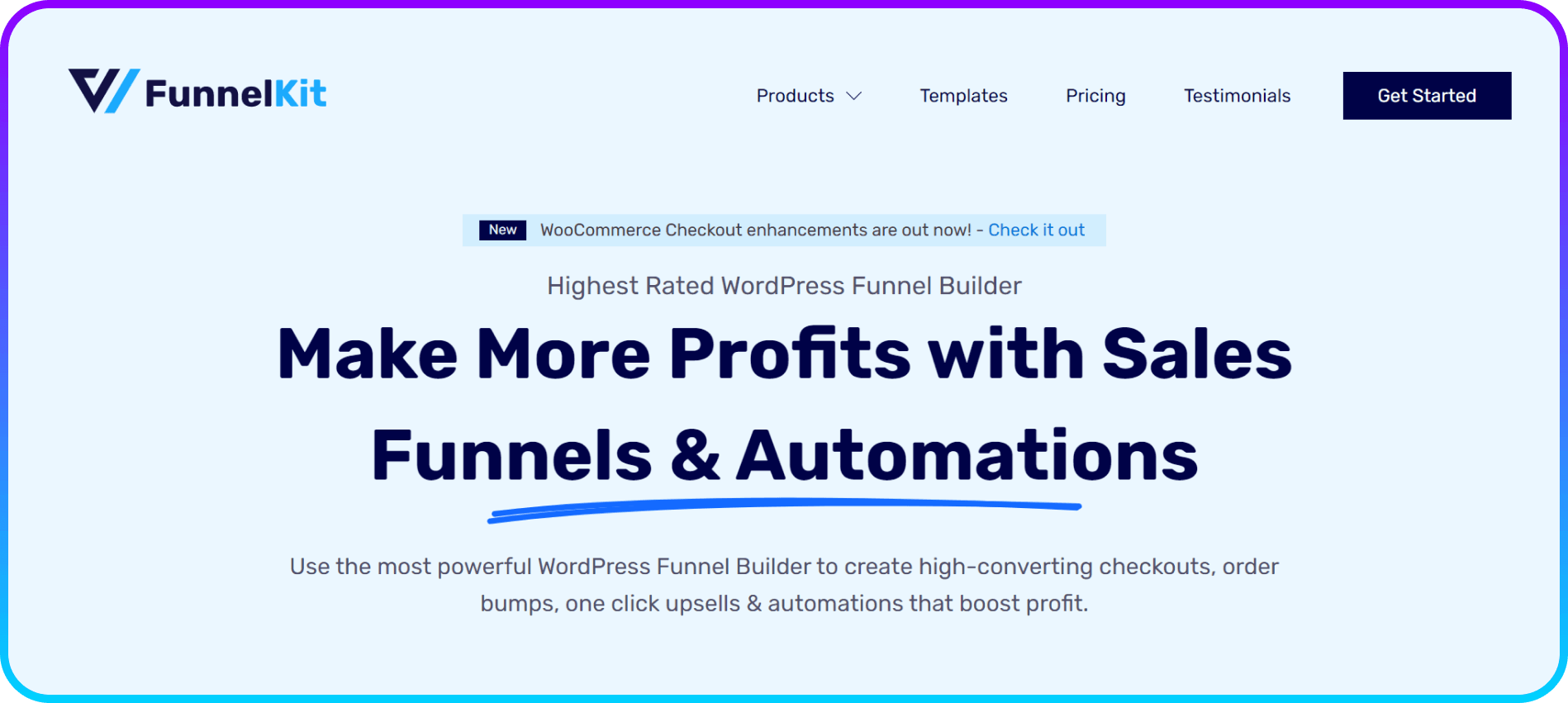 WooFunnels is a decisive lead funnel builder that lets you efficiently make high-conversion sales funnels via faster checkouts, one-click upsells, order bumps, and automation to increase profits. This plugin delivers functionalities like capturing lead data, increasing order value, sending broadcast alerts and notifications for timely follow-ups, and providing actionable analytics.
One Click Upsell for WooCommerce Pro

One Click Upsell for WooCommerce Pro plugin enables merchants to create a one-time offer instantly after their buyer's purchase. It even allows them to boost their average order value by 10%-25%.
The merchant only requires to add the most attractive product onto the funnel offer and is free to add further discounted products on the skip button. Therefore, buyers are constantly shown the most suitable offers that are tough to resist.
WooCommerce Stripe Payment Gateway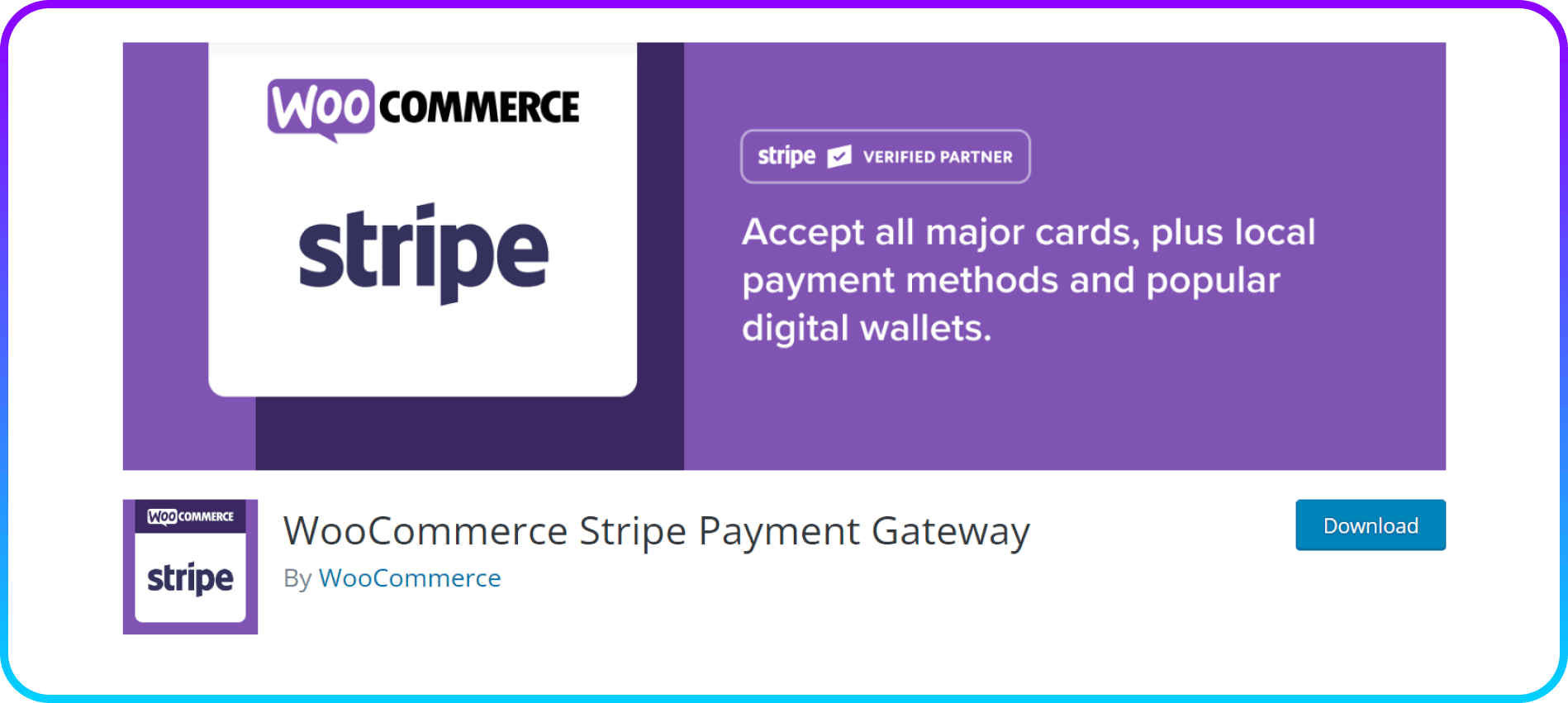 When it is regarding payment options for your customers, it is adequate to provide numerous flexible choices. Losing a high-intent customer who is almost to complete a payment, merely to have them abandon it only because a secure, easy, and widely used payment gateway was not available, can have long-term detriments for your business. The WooCommerce Stripe Payment Gateway plugin is one of the most widespread payment gateways for online shopping. Through this plugin, you can allow the Stripe payment gateway for your website.
Advanced Coupons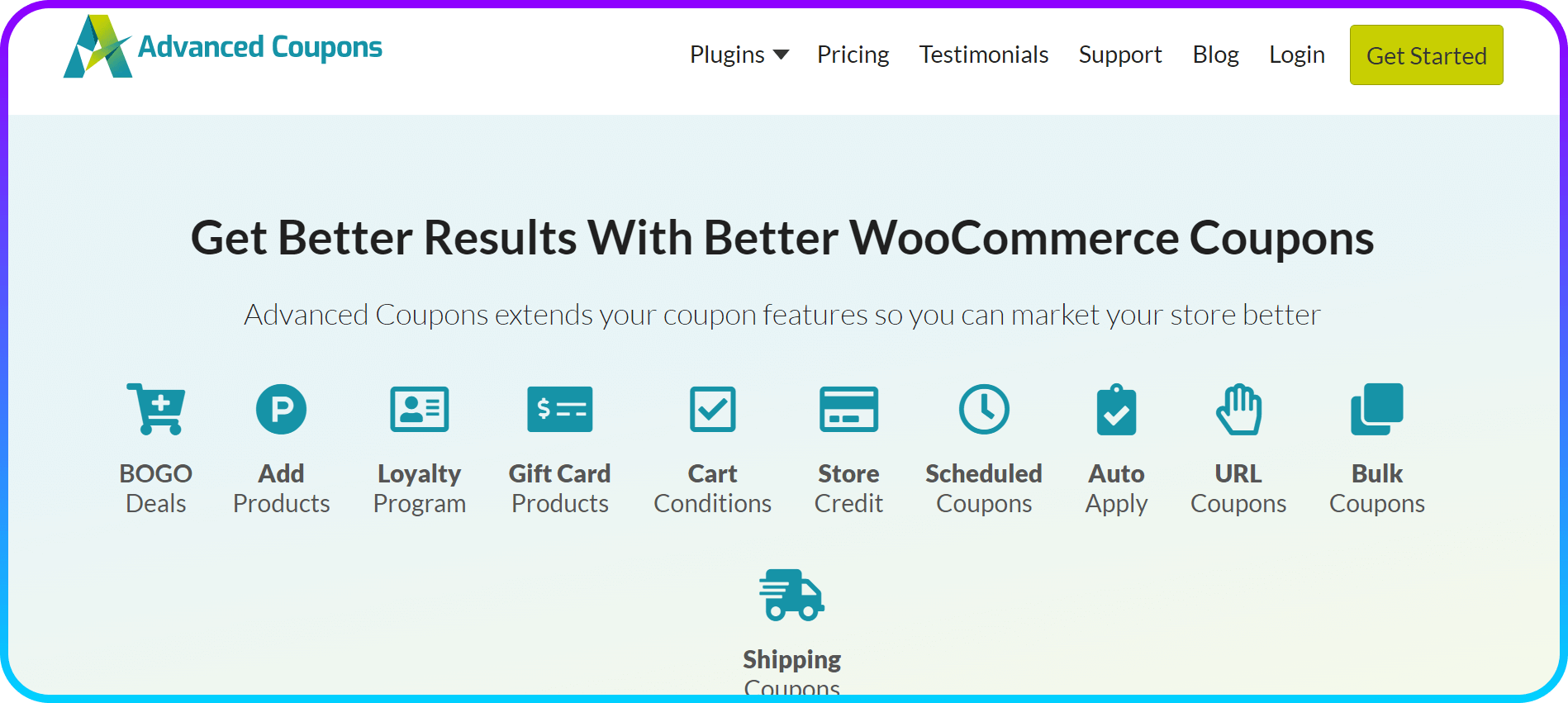 Coupons are an excellent way to engage buyers and improve their chances of making return purchases. The advanced coupons deliver the best coupon code plugin for your website by extending WooCommerce's basic coupon functionality and letting you make better coupon offers. The extended coupon attributes contain Buy One Get One offer, scheduled coupons, coupon URLs, auto-apply coupons, shipping coupons, and more.
 WooCommerce Order Tracker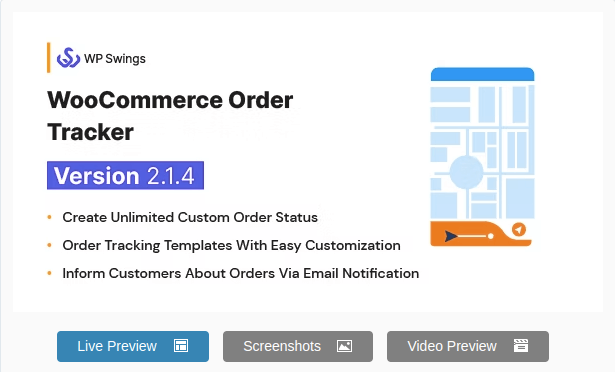 The most pleasant aspect for a buyer is when the product reaches their door. The WooCommerce Order Tracker plugin shows order status with interactive graphics and lets buyers track their estimated delivery. This allows your shoppers to get a streamlined idea of their ordered products and break the suspense of when they can enjoy their products.
WooCommerce Wholesale Suite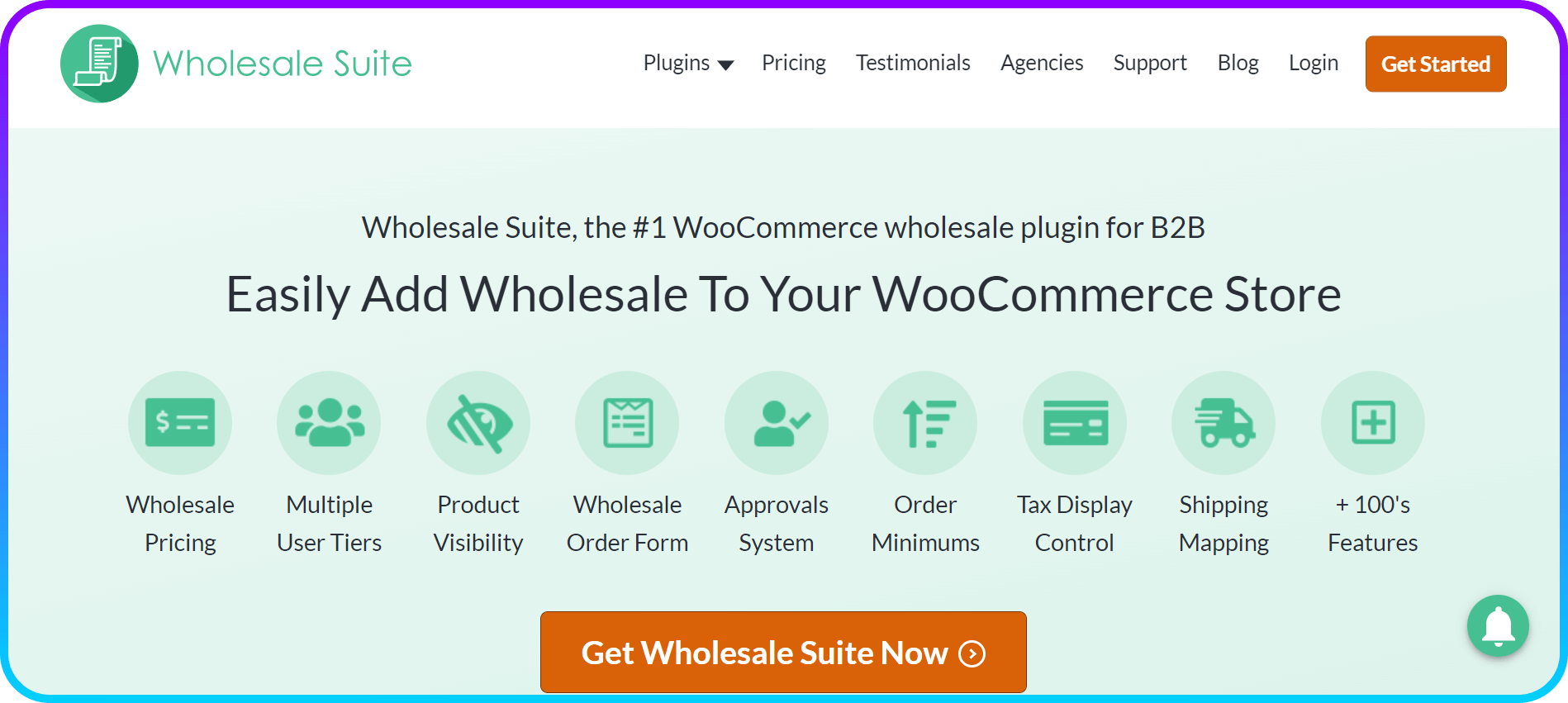 With the growing popularity of wholesale B2B eCommerce, specifically post-pandemic, traditional B2B brick-and-mortar businesses along with multiple B2C eCommerce businesses, are extending their operations into the online wholesale industry. With the WooCommerce Wholesale Suite, you obtain a bundle of three plugins to effortlessly put wholesale pricing on your WooCommerce store for bulk purchases and other functionalities for online B2B wholesale.
WordPress PDF Generator

Each merchant looks ahead to sharing their brand value with their customers through invoices, newsletters, posts, etc. While owning a customized cover page enables the merchants to advertise their brand's awareness and vision.
A WordPress PDF generator plugin lets users and admins convert all the posts, blogs, pages, and products into a PDF format. This plugin even offers highly personalized templates that the admin can utilize for branding.
Which WooCommerce Plugin Do You Like?
Deciding which WooCommerce plugin is most suitable for your website relies on your business, site settings, and themes. We cannot make a conclusive recommendation without knowing more about your website. But we have gathered our most repeatedly recommended plugins to show you a starting point.
Plugins for user experience, engagement, checkout, email, and product management, read our post on the 35+ best WooCommerce plugins to boost your eCommerce business.
For adding subscriptions, we suggest the Subscriptions for WooCommerce Pro plugin. Check out our how-to set up a WooCommerce subscription on your store for more details.
If you like to add drop-shipping to your website, our choice for the best drop-shipping plugin is DropshipMe.
Conclusion
With the help of WooCommerce, you can virtually create the online store of your dreams.
Want to Buy a WooCommerce plugin?
Install from one of the hundreds available at our Marketplace.
I have written this to the best of my knowledge. If you consider all the above points, the chances of your online store matching all its requirements and also being compatible with WooCommerce plugins are high. This will make the online selling experience less stressful and will make your online store a customer's best place to shop from.
All the points from choosing a reliable source, knowing your plugin inside out, checking customer reviews, prices, download history, etc are essential for coming up with the best WooCommerce extension suitable for your store.
I hope the content I have curated through this blog will help you in making the right decision to buy a WooCommerce extension. If you have any queries about searching for the right WooCommerce extension, let us know below. Any suggestions or comments from your side are more than welcome.