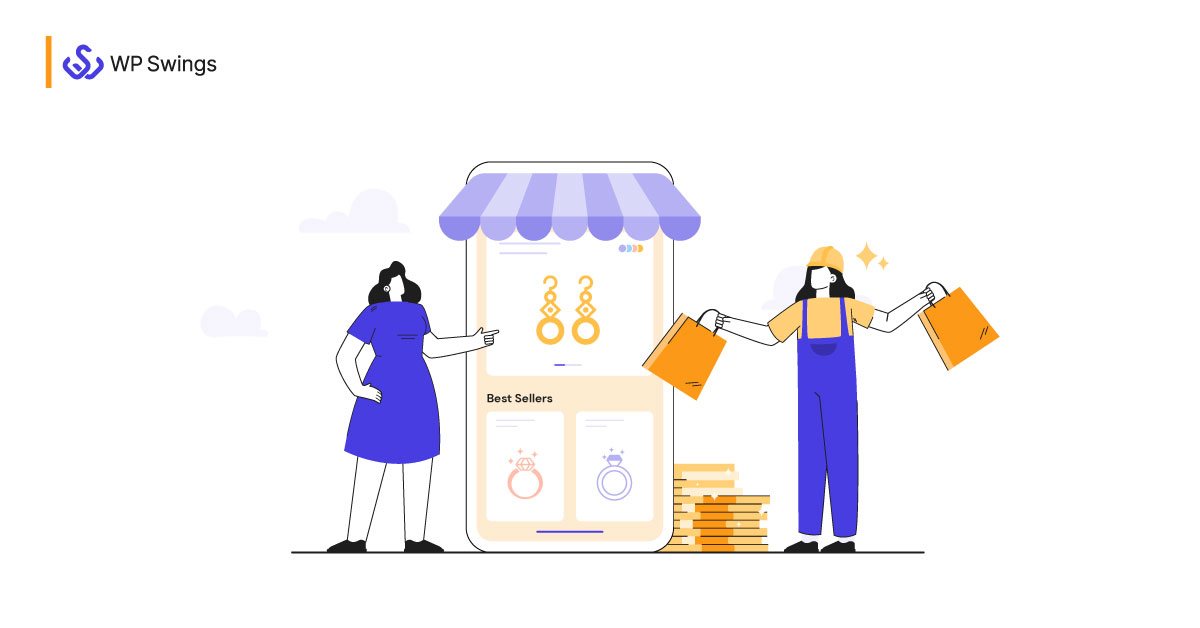 WP Swings is, by all means, the most trusted WooCommerce plugin store. Once you have read this blog, you will understand why.
However, let us first enlighten you with two important questions and their answers.
What is WooCommerce? and
How can you use it?
So first things first.
WooCommerce is an open-source eCommerce plugin for WordPress. It is designed and developed for small to large-sized online merchants who use WordPress. The launch took place on September 27, 2011. It gained momentum quite fast and became popular majorly for its simplicity to install and customize and for the market position of the base product as freeware. And of course, it is open-source! Also, around 8.7% of all the websites on the internet use WooCommerce.
In response to the second question:-
WooCommerce is the easiest to use. All you need to do is choose a hosting, install WordPress, activate WooCommerce, and you're good to go!
For those of you readers who don't know, we recently migrated our WordPress and WooCommerce wing from MakeWebBetter to WP Swings. It was a much-needed shift. The urge to have a separate domain specifically for everything WordPress and WooCommerce always poked us.
We wanted to devote more time to the betterment of our WordPress and WooCommerce products, customer experience, and enhanced future solutions, to streamline the life of all online store owners around the globe. (Yes, you may thank us later for the move:))
So, we finally decided to come up with a dedicated abode for all things WordPress and WooCommerce, WP Swings.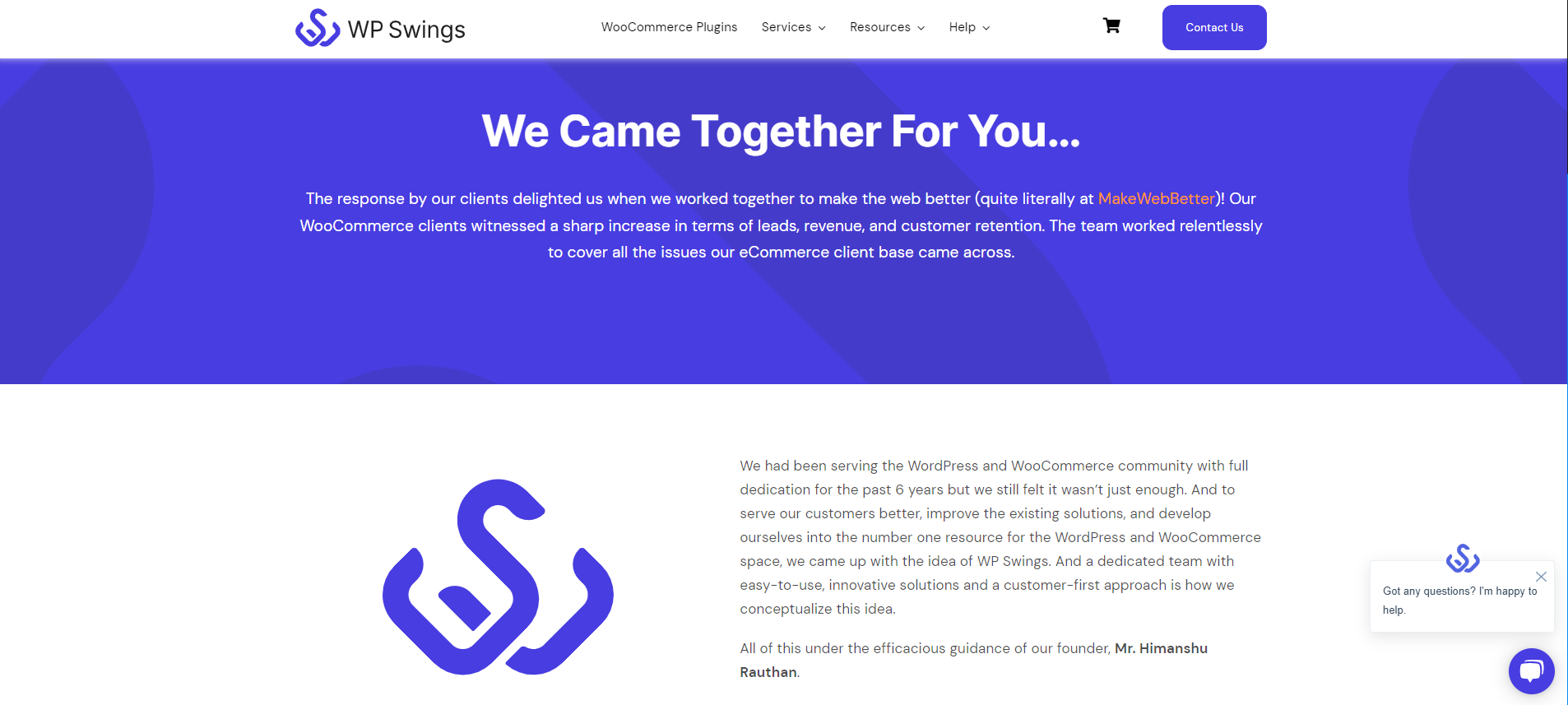 At WP Swings, we have everything you will need related to WordPress and WooCommerce. Be it plugins, integrations, services, tutorials, etc. You name it and we have it covered just for you.
Table Of Contents
Authenticity and Reliability
In the absence of good customer service, an online WooCommerce plugin store may suffer. Customer dissatisfaction, low conversion rates, and missed opportunities for marketing will arise.
In such a case, WooCommerce plugins are great tools to pair with the e-commerce platform. This will help you improve your customer's experience and increase conversions. Additionally, you can optimize your WooCommerce store into an online shopper's dream by using a variety of plugins.
But first, let us emphasize the fact that not all WooCommerce plugin stores offer authentic and reliable products.
To get the best results from your plugins, make sure you select only those that are relevant to your target market. You must also keep in mind that a cluttered user interface and poor site performance can result from overloading your WooCommerce plugin store.
So to the rescue our plugins at WP Swings are 100% authentic and reliable. We curate products that are tailored to your exact needs and preferences. Also we keep in mind the security and maintenance of your website.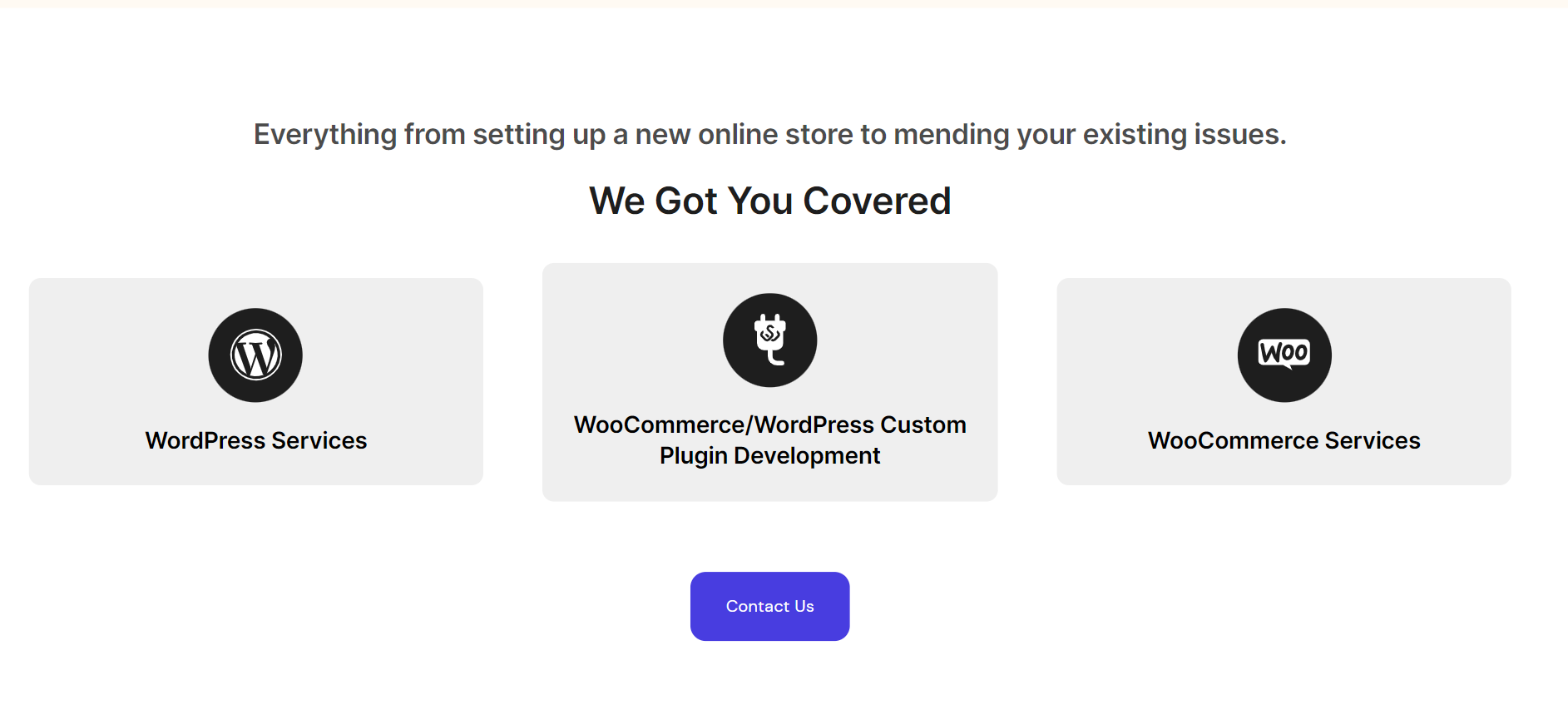 There are a number of issues that you may encounter if you use a poor quality plugin, I have mentioned a few of them below:
Nulled plugins and themes are immensely dangerous for the overall security of your website. Many of them contain malware. The malicious code has the capacity to spread across different files. It disguises itself which further makes it extremely arduous to detect and fix when your website is hacked.
Chances of losing your site data in the hack process becomes high. Moreover, your site may get de-indexed from search engines for distributing malware.
Bad quality themes and plugins can destroy your WordPress SEO completely. They have the power to add spam links to your website. They can also hijack your users and redirect them to spammy websites. Also, these activities are hard to detect as the links are adroitly hidden in the code. That will result in the search engines penalizing your website by lowering your search rankings or deindexing it entirely.
It may take months to recover your website's SEO rankings. And sometimes you may have to create a new website from scratch.
A lot of themes and plugins are open source. But some of them are also sold with mixed licenses. The reason for this is that some parts of the code are protected by copyright laws. So if you are using a nulled theme or plugin, you do not have permission to do so.
Pirated plugins and themes can result in data theft, data loss, distribution of illegal material, etc. Moreover, all of these can lead to legal proceedings where you might end up paying hefty sums to lawyers.
No Access to Updates and New Features
Most plugins and themes are made better by launching new features, innovating the product, making changes to fix bugs, and more. And simply a bad quality plugin or theme means you will not be able to have any access to the new features or any new updation as they don't have a valid license.
These new updates can greatly improve your website and help you make more revenue online. Nevertheless, you will be totally unaware of these changes. Moreover, this will end up leaving your website with an outdated version of extensions.
At WP Swings, we take care of all these little details so that you enjoy the most flawless WordPress experiences.
Fuel WordPress Growth, Not Complexities. This is what we believe in at WP Swings. link
Customers Love Us!
We've been serving our customers for the past 6 years now. Every year has been a journey full of highs and lows. Also, we remain steadfast with our highs due to the hard work and dedication of our entire team.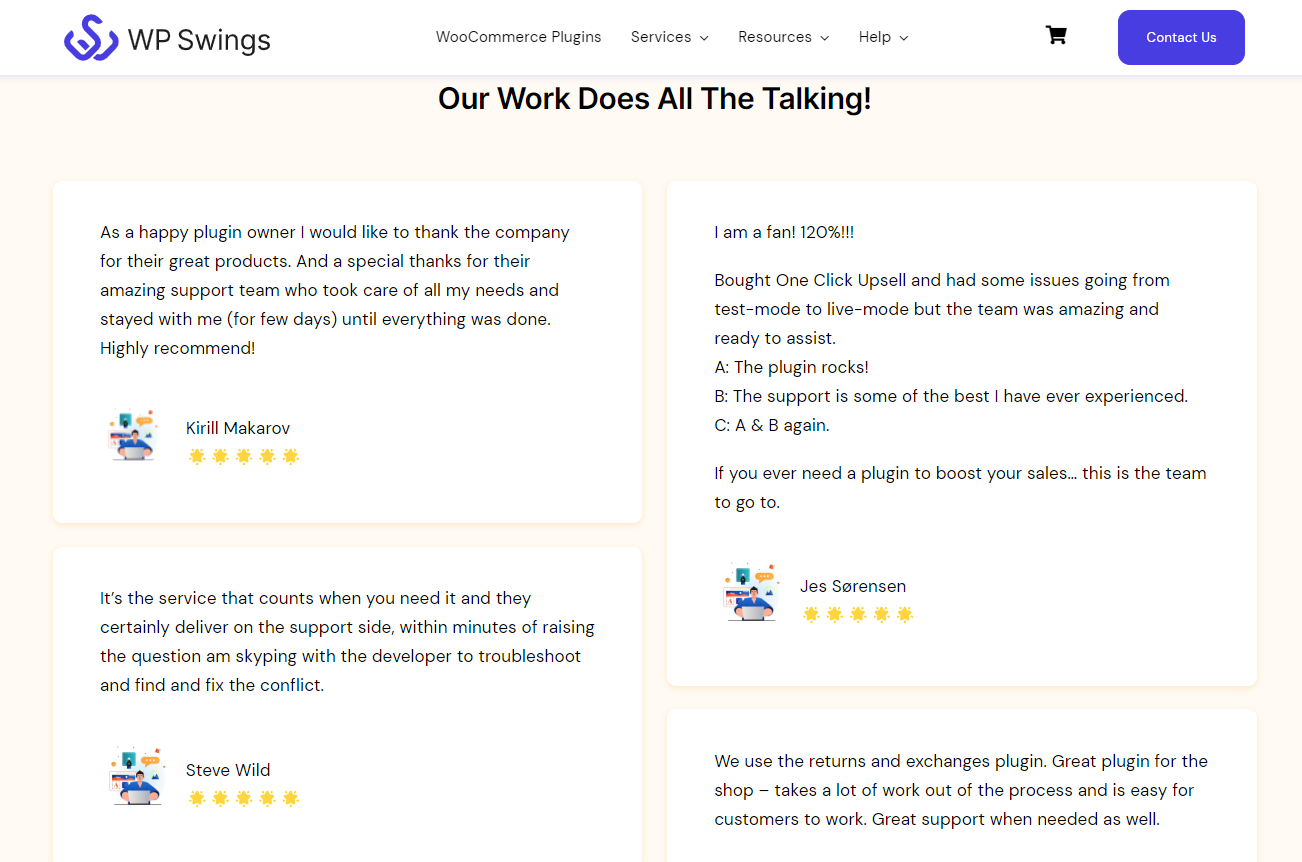 We adhere to all coding standards, proof check our code, and perform strong testing so that our clients receive the best of the best.
Our only goal is to help you achieve your goal and continuously pour out in-demand features to fulfill your needs for product updates.
Professional products are backed by a range of useful resources which include our demos, documentation, knowledge base, forums, emails, blogs, and more.
Our products can easily be customized; we provide end-to-end work updates and excellent customer satisfaction.
Our team is available 24*7, to assist our clients and clear their doubts. We are available for anything and everything, and at any time of the day.
We provide premium WordPress and WooCommerce facilities. Also, read our blogs to know everything and anything WordPress and WooCommerce.
Our Marketplaces
We have our products listed at various other marketplaces which include the following:
WordPress.Org
We are a team of WooCommerce experts with the mission of streamlining online business processes. Our clients absolutely love the products we have curated for them! We are here to help and solve difficult problems. Moreover, proper code, timely updates, a plethora of helpful resources, easy customizations, and 24*7 support with a dedicated support team are things we abide by.
At WordPress.org, we have a wide variety of plugins and themes. These versions are absolutely free. All you need is to download them to your WordPress dashboard and you're good to go. Our plugins here provide all the latest features. Also, these features help your website become more attractive, user-friendly, etc.
Furthermore, integrating these world-class plugins into your website/store will definitely increase your conversion rate, boost sales, and attract more customers.
WooCommerce.com Plugin Store
We offer expert eCommerce solutions for one of the best online selling platforms – WooCommerce. Our Woo experts are available 24*7 to help you at every step of your eCommerce journey. Also, around 5,106,506 live websites are using WooCommerce.
We create quality WooCommerce plugins which enhance and emphasize any eCommerce store's growth and its website features. We've been working with WooCommerce for a long time now. And love to be a part of such a terrific community. Our plugins are a reflection of WooCommerce's open-source environment. Moreover, our plugins are the epitome of reliability, customization, flexibility, and everything you need to become the best online business.
CodeCanyon
We also have a handful of products listed at CodeCanyon. Our main focus is on building innovative solutions, and a client-oriented approach. Where every eCommerce store owner gives their best and gets the most out of everything they have. As a group of experts we're trained to anticipate future issues. We work and help you through the problems you tell us. And also the ones that you yourself are unaware of. Moreover, possessing an approach like this, we've been serving our customers for quite some time now with 100% accurate results.
We are the lead author at CodeCanyon with the following batches:
Copyright Ninja– Protection of Envato market against copyright violations.
Elite Author– Sales of more than $75000 on Envato market.
Featured Author– Inducted into the Author's Hall of Fame.
Featured Item– An item featured on Envato Market.
Feedback Guru– Participated in a focus group/interview aimed at improving Envato's customer experience.
Free file of the month– Submitted a free file of the month.
Milestone member– Earned $1 billion in community earnings.
Weekly top seller– An item that ranked among the weekly top sellers across the entire marketplace.
Trendsetter– An item that was trending.
Exclusive Author– An author who sells exclusively through Envato.
Collector Level 2– Collected more than 10 items on Envato.
Author Level 8– Sold more than $125,000+ on Envato.
Community Health – Participated in Envato's community health research inititaives.
5 years of Membership– Part of the Envato market community for 5 years.
Here are the plugins we have at CodeCanyon:
Services
As mentioned earlier in this blog, we own solutions to everything WordPress and WooCommerce. We're a team of robust experts and are always available to provide eCommerce solutions for every issue.
Having worked on more than 60+ best selling products previously, we help in developing, designing, flexibility and customization. Our main priority is to provide our clients with efficient and effective results. Which are long-lasting, and which will eventually help in a better conversion rate. We are a family of 13000+ satisfied customers. 10k of the number used are our HubSpot WooCommerce Integration alone. Moreover, with the perfect mix of our plugins, tools, security, and professional counseling, anyone from anywhere can create the website of their dreams. Here are the different services we offer:
WordPress Services
Blogs
Blogging has become the mainstream marketing approach since the beginning of the eCommerce industry. WordPress is undoubtedly the best content management system. It powers 43% of all the websites on the internet. Are you confused about thinking of a domain name? or making a decision for the best cloud service provider for your website? If yes, this is the place for you.
Following is an image depicting the percentage of websites using subcategories of WordPress.
How to Start a Blog- A Beginner to Pro Complete Guide
Plugins
WooCommerce is most suitable for WordPress sites. It is an open-source eCommerce platform which is fully customizable. Also, it is the one of leading platforms with 23.43% of the market share worldwide.
Moreover, the custom plugin developers at WP Swings are all prepped up to assist you choose the right kind of extension for your store.
WordPress Theme Selection Tips That Fit Your Business Style In 2022
Migration
Migrating to WordPress is a typical process and you definitely can't take a chance to do anything wrong, as it might cost you your precious business data.
Our team at WP Swings are here to assist people in moving seamlessly from any existing platform to WordPress. First things first, we closely analyze and evaluate the requirements of users and make sure it is in alignment with the market trends. Moreover, whether it's content stored in databases or PSD templates, our team always has your back.
Security
WordPress security is super important as:
The backend, performance, security, and maintenance all contribute to the success of any website. Also, we deliver optimized codes and understand the necessity of analyzing the website on a regular basis which will help avoid speed issues and streamlining the flow of customer's WordPress site.
Want to Know How to Secure snd Protect Your Website?
WooCommerce Services
Store Setup and Development
We will help you with the installation of WooCommerce. For setting up a WooCommerce store and making it ready to sell you will need a hosting software, domain name, and an SSL Certificate. Also, we will help you assemble all the necessary things.
How to Setup Your WooCommerce Store?
WooCommerce Security
Our experts will help you beware of all the mishappenings, malware, threats to a WooCommerce plugin store. Also, we will tell you the ways you can be safe from hackers and maintain your site credibility.
WooCommerce Migration
We help you migrate in a way which will not affect your site's functionality and performance. Moreover, our team of experts will migrate BigCommerce, Shopify, Magento, or any other platform you are using while maintaining overall efficiency and scalability.
WooCommerce Custom Plugin Development
Our repository contains numerous extensions providing different features which will enhance your website. Also, we will suggest extensions best suited to your website's needs even accept your WooCommerce custom extension development specifications.
Bestsellers
There is no doubt that WooCommerce is the OG of plugins in the WordPress community. The official WooCommerce plugin is downloaded around 161,908,802 times from WordPress.org and counting. It is a cost-effective platform which is compatible with the world-leading CMS platform WordPress. Also, it comes with a pre-installed payment gateway, geolocation support, advanced inventory management, effortless tax calculation and many more things that are the reason it is the best eCommerce platform in the market. Following are a few of our bestsellers:
Gift Cards for WooCommerce Pro

Gift Cards for WooCommerce assists merchants to create, sell & manage gift cards on their WooCommerce store. With the help of this plugin the admin can customize gift card templates, send gift card coupon codes as QRCode/BARCode, create reusable gift certificates & send balance notifications to clients. Moreover, it also provides a vast variety of features to share gift vouchers through WhatsApp, Emails, SMS, and downloadable PDFs for offline printing.
One Click Upsell Funnel for WooCommerce Pro

One Click Upsell Funnel For WooCommerce Pro allows the merchants to create post-purchase upselling, cross-selling, and down-selling offers. Using this plugin, the client can use the power of upselling to boost average order value (AOV) and eventually increase sales and profit. Moreover, the clients can streamline the Post-Purchase Upsell And Downsell Offers, optimize funnel to enhance performance, take charge of consumer behavior, access the funnel sandbox mode, securely accept payments from multiple payment gateways, and much more.
PDF Generator for WordPress Pro

PDF Generator for WordPress Pro helps and assists the admin and users in generating and downloading PDF files from WordPress sites. It helps assemble all details of a product into one PDF which can be shared across different channels in a single click. Also, using this plugin, users can use fully customized WordPress PDF templates with the help of Gutenberg editor. This editor comes with a customizable header, footer, and body settings.
Wallet System for WooCommerce Pro

Wallet System for WooCommerce Pro allows the registered customers to use a digital woocommerce wallet on their eCommerce store. The customers can purchase products and services using the digital wallet amount. With the help of this plugin, they can add or remove funds from customers' wallets in bulk. View & download wallet transaction history, and send email notifications. Moreover, the Wallet can be used as a payment Method Also, it be used to avail discounts, generate Wallet QR Codes, export wallet transaction history, etc.
Points And Rewards For WooCommerce Pro

Points and Rewards for WooCommerce Pro plugin allows merchants to create a Point-based loyalty program in order to reward the customers. This reward system includes earning and redeeming store credits as points and discounts coupons on activities performed by the customers. It is a customer-oriented solution that aims to increase and enhance customer engagment. Moreover, using this plugin the merchant can reward loyal customers. For activities they perform which include signup, purchase, referrals, and other actions that can be redeemed for discounts on future purchases.
Conclusion
WordPress and WooCommerce are platforms that are easy to integrate with but can also put you in a fix at times. Hence to solve all your issues related to WordPress and WooCommerce we've worked on a number of things. In order to enhance your customers' online shopping experience and your online visibility, we list our products on WooCommerce.com, WordPress.org, and CodeCanyon.
Our repository is a treasure trove of everything you will need to build an eCommerce website. We can proudly say that not only are we a trusted WooCommerce plugin store but also provide assistance with related WordPress and WooCommerce services. Go ahead and see for yourself. Contact us, and leave comments below. We value your feedback.