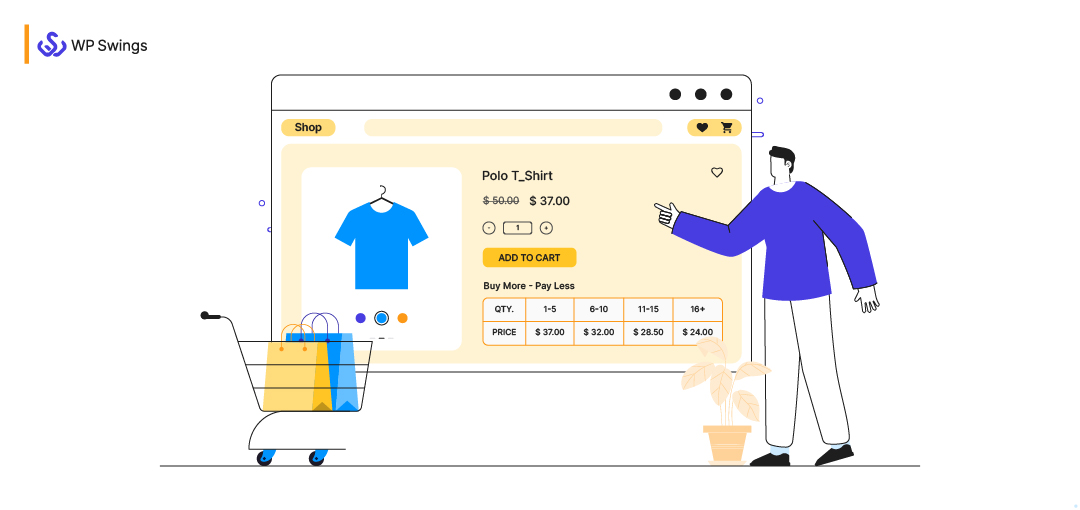 I was on Amazon recently to buy a jacket that I had an eye on for quite some time now, and that is when something hit me. They were charging me more than what they were yesterday. And I had a million questions about this. WooCommerce Dynamic Pricing or Dynamic Pricing was the sole answer to all my questions.
Just like me, I know there are individuals and marketers out there, who are confused about this particular concept. And, this can be a major problem statement because if the customers are unaware they might get confused. On the other hand, if the marketers are not in touch with this strategy they are missing excellent revenue earning opportunities.
In this particular blog, I am going to put forward all my research about this, and explain this once, and for all. Clearing all the doubts for good!
Learn More About…
(Jump to the section that interests you the most!)
What Is Dynamic Pricing?
Before moving forward, it is crucial to address the elephant in the room. What is dynamic pricing?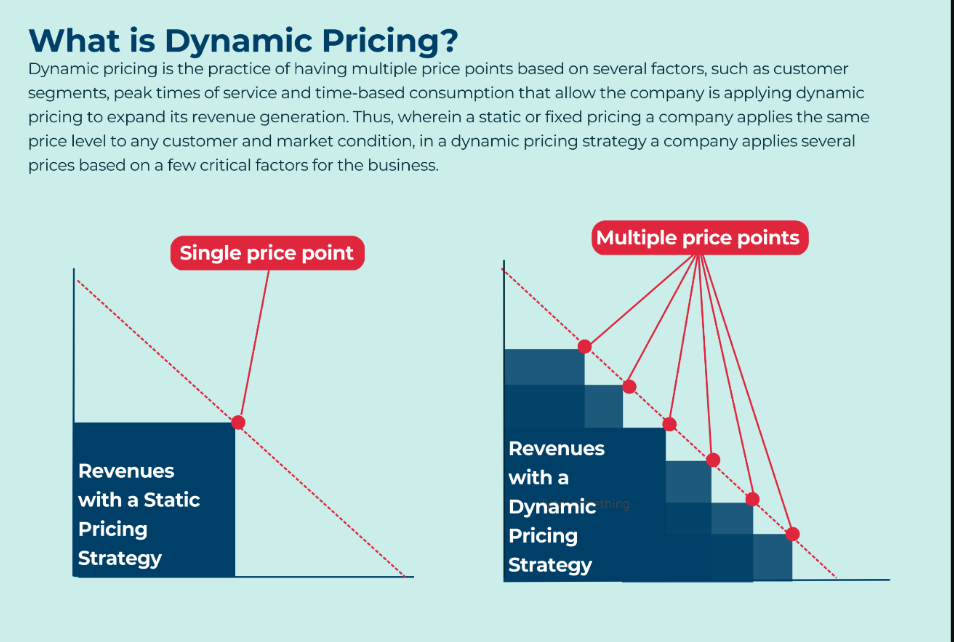 In simple terms, it is a pricing strategy that utilizes variable prices instead of fixed ones. The main idea behind the dynamic pricing model is to sell the same product at different prices to different groups of people.
It is also commonly known as "real-time pricing", the concept of setting the price of a product or service which is highly flexible.
There are four main types of dynamic pricing: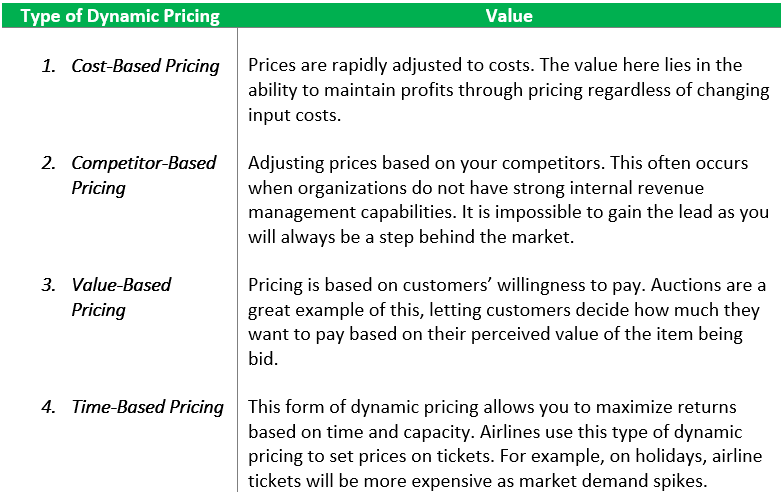 To sum up— dynamic pricing is the practice of having multiple pricing strategies for different situations and individuals.
Now that we are well-versed with the concept, let us jump right into the topic for today — "WooCommerce Dynamic Pricing".
Facing Problems With WooCommerce Development, And Need Instant Assistance?
Click the button below, and Resolve Your Issues TODAY!
What Is WooCommerce Dynamic Pricing?
In plain simple terms, it is a dynamic pricing strategy for your WooCommerce store. We all are aware of the fact that discounts and personalized service are the driving force behind increasing your sales and revenue.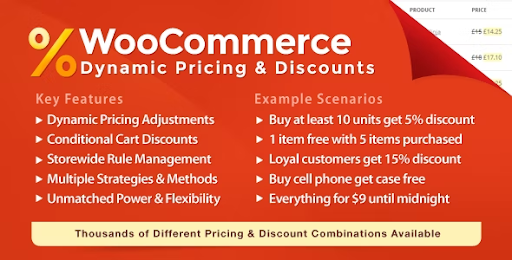 Many individuals prefer online shopping for the variety of discounts and different pricing points that they have to offer.
"Price changes actively based on the rules we create."
This is the gist of the concept of WooCommerce Dynamic Pricing. There are different kinds of variations that the merchant can explore:
Buy one, get the second at a 40% discount
Buy 5, get 10%, Buy 10, get 30% discount
Buy Product A, and get a discount on Product B
Buy 2, get 1 free, and many more…
Dynamic Discount Strategies For Your WooCommerce Store
With variations in pricing strategies comes a fair chance to provide your loyal customers with interesting discounts. The merchants have the liberty to explore as much as they like.
Keeping this in mind, we have listed some of the full-proof discount strategies that you can adopt and upscale your business.
Bulk Pricing Discounts
Purchase History Pricing.
Bulk Product Pricing Discount
Shipping Region Offers
Category-Wise Pricing Discount
Percentage Discounts
Product Bundles Dynamic Pricing
Subtotal & Free Product Rules
User Role-Based Pricing
Cart Discount
Bogo Discount
 Coupon-Based Dynamic Discounts
Step-By-Step Guide To Set Up WooCommerce Dynamic Pricing On Your Website
All of us have this one particular Core Memory of our fathers or a significant family member teaching us how to ride a bicycle. We used to hop on it and they were supposed to walk beside us for support. And, let go of us when we're ready to ride it yourselves.
Well, this is the exact same situation. The only difference is— we are not leaving your side. We are going to run along with you, explaining the entire process of setting up WooCommerce Dynamic Pricing on your Website.
One step at a time in three simple steps, making it as simple as possible!
Let us dive right into it…
STEP 1:  Choose the Right Plugin (WooCommerce Dynamic Plugin)
We are taking the liberty to assume that you already have set up your WooCommerce Store.
Hold On! If you have not done it yet? Be At Ease!
We have a Complete Guide to Set-up Your WooCommerce Store
One of the most popular plugins for dynamic pricing is "WooCommerce Dynamic Plugin". From creating single product pricing, and order pricing, to roles pricing, and categories pricing, you say it and this plugin/extension delivers it. Not only this, but it also offers you several options.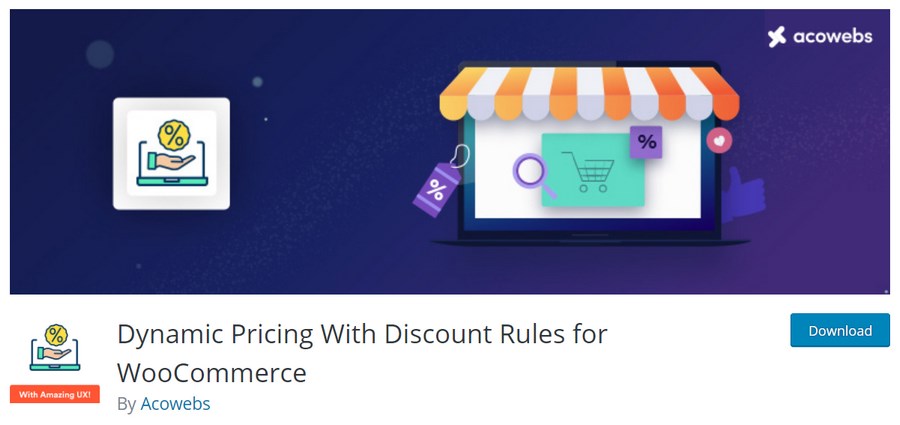 There is a FREE and a PREMIUM option for this plugin. The PRO option is $129 per month. But the FREE version should also work just fine.
Now, head over to WordPress's Dashboard < Plugin < Add New, for installing and activating this plugin.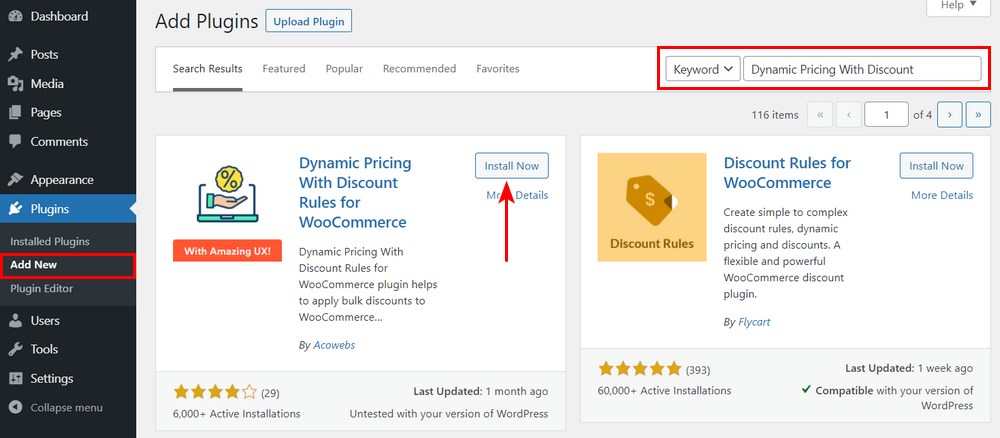 For this blog, we'll be demonstrating the FREE version of this plugin. But there is also a Premium version of this plugin as well that you can try out!
STEP 2: Determine the Pricing Rules
We can move forward to the next step— Configure the Pricing Rules. Start by setting up simple dynamic rules.
Click on Pricing Rules > Add New Rule in your dashboard:

For now, there are no new forms created. But, you can create one easily by clicking on button, to add a new rule instantly.
After selecting this option, the users will be at the disposal of a lot of choices. At this moment, you must take a deep breath, and just follow this guide!
Now, you will start by creating a new rule under the "Discount Tab". The user can activate and set the priority in this tab.
For example, you set the high priority option. The user will get a chance to override the other settings. Say, you have multiple rules created. You can set the priority of each rule from this tab.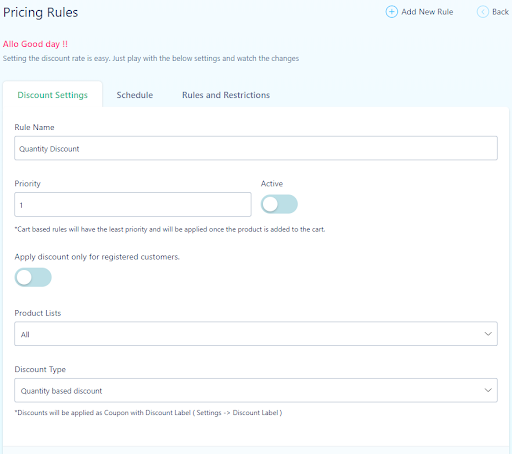 We will focus on the "Discount Type" settings before anything else. The options are pretty straightforward. If you want to offer a bulk discount, for example, you can select a Quantity-based discount.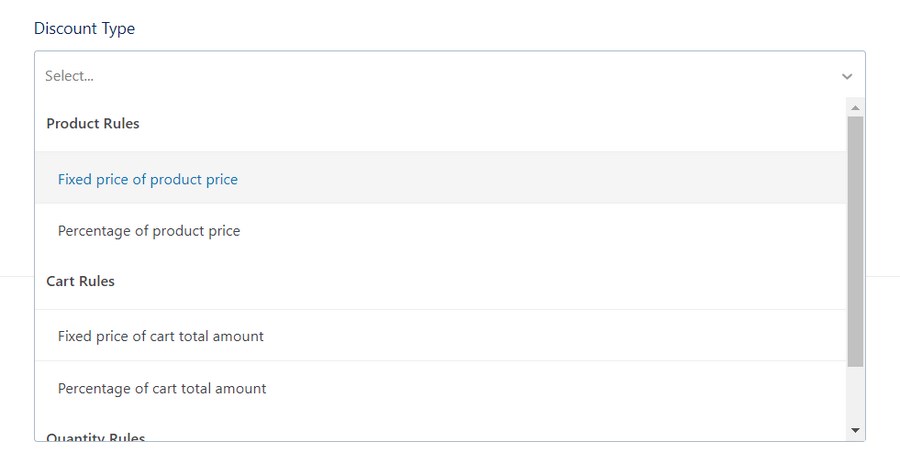 As we have selected "Quantity-based" discount. If you choose this option, you'll see the following other options!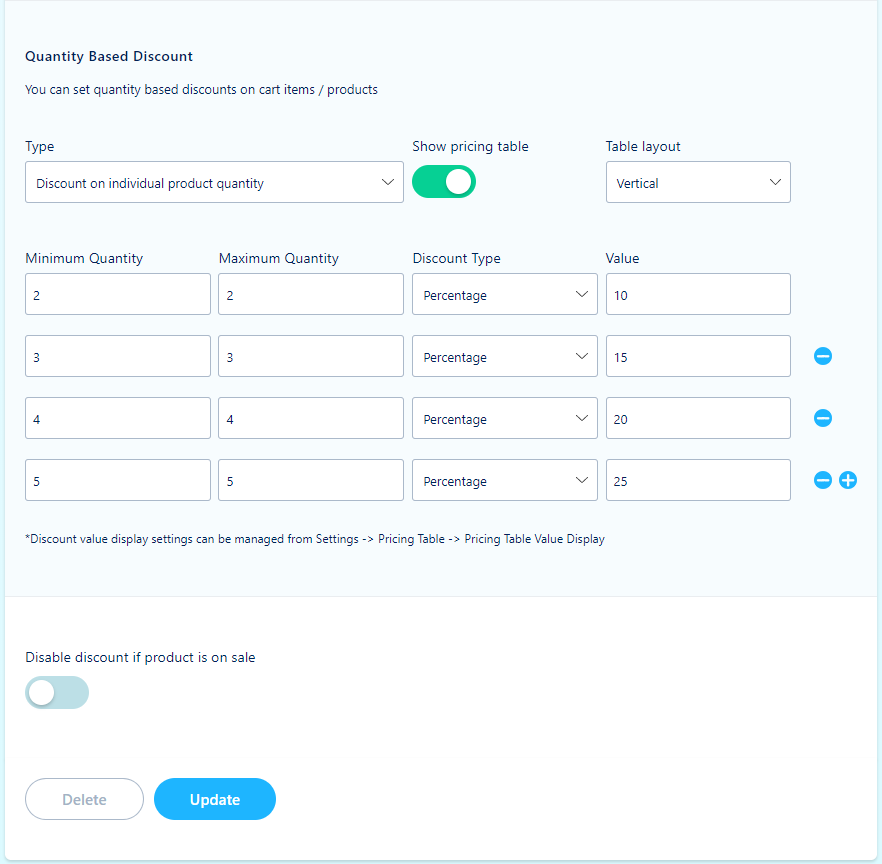 After choosing the options as per your requirements. You can publish it directly or move over to the "Schedule Tab".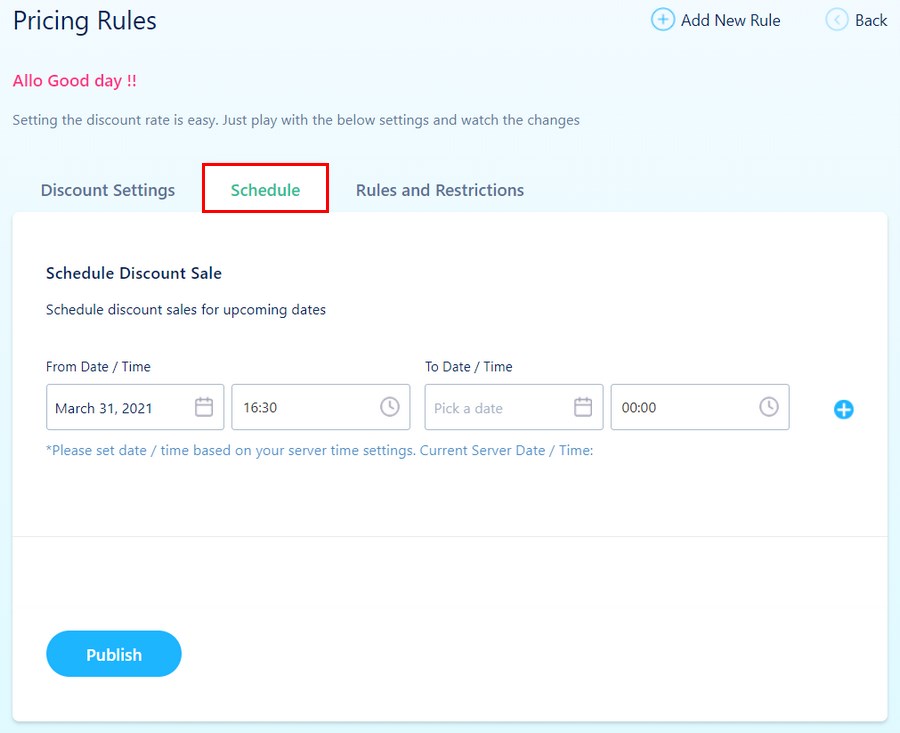 This is a pretty self-explanatory tab, but we are here to uplift the promise that we've made— to guide you through everything!
Under this tab, you can select the start and the end date for the offer.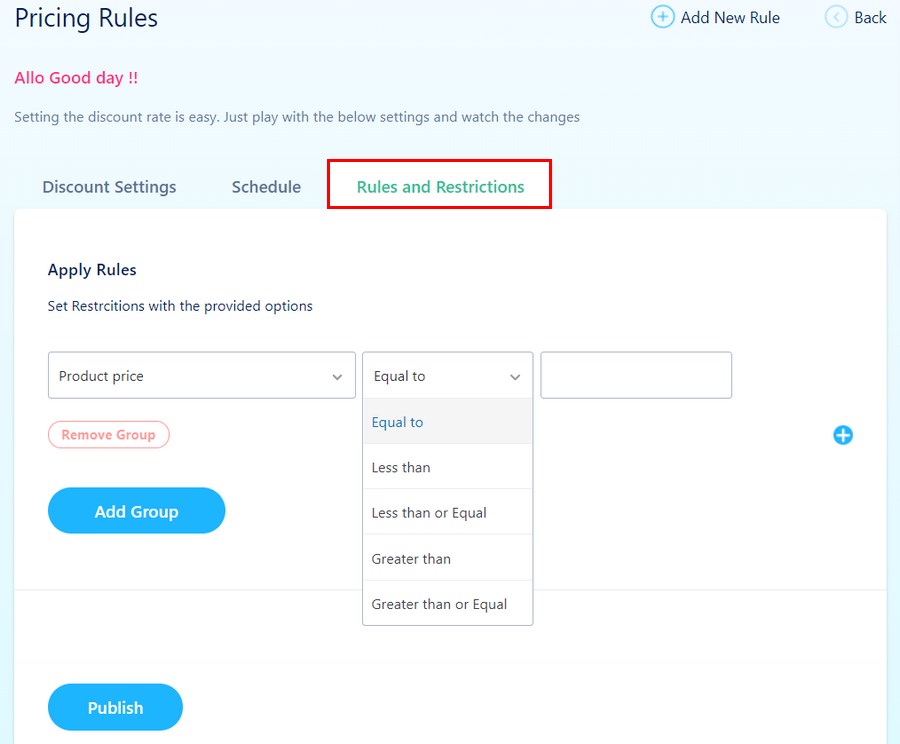 We will now move on to the next tab i.e., Rules and Restrictions.
For instance, you can create a discount rule based on product prices as per the pre-defined conditions. You do this with the cart as well.
Once you are done click on "Publish".
You are just a step away from completing this step. You've Got This!
Enable the status under Pricing Rules > Pricing Rules.

We are now ready to move forward to the last step.
Step 3: Test your discount rules
When you're shopping, you always try the clothes before buying, right? This step is exactly the same.
You'll simply go to your Product's Page, and you'll see the quantity discount table there.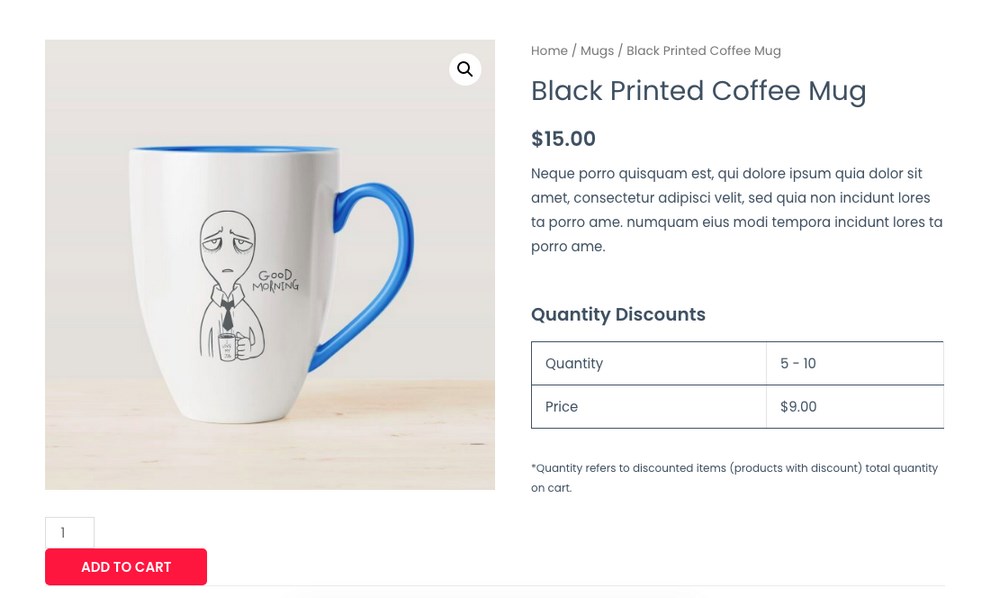 This shows the discount that you had selected previously.  Now, if you or your customer have selected the minimum quantity. The cart will look something like this, after the discount: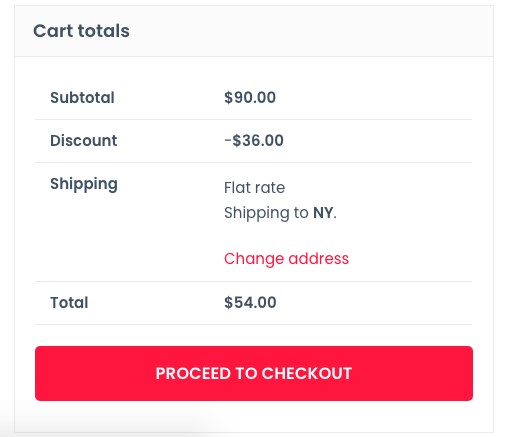 Well, it was not as difficult as you thought! Right?
In the next section of the blog, we are going to punch some myths out with some actual facts about WooCommerce Dynamic Pricing. And you'll really be surprised!
We also have an interesting resource for WooCommerce Payments, which can be useful for readers.
We Have Curated — A Definitive Guide For WooCommerce Payments
WooCommerce Payments: What Is It, And How Will It Work In 2022?
Myths Vs Facts For The WooCommerce Dynamic Pricing
There are a lot of different myths related to WooCommerce dynamic pricing, and these myths can prevent you from growing in this industry.
I take this opportunity to quote Barbara Streisand,
"Myths Are A Waste Of Time. They Prevent Progression."
There is no lie in this particular quote, which is why we'll be breaking myths with facts for the readers to read, and be careful about the same!
Without Further Adieu! Let's Dive Right In!
#Myth 1: Dynamic Pricing is Discriminatory Pricing.
These are two different kinds of pricing, and individuals or websites tend to use them interchangeably. This practice is wrong on so many levels. It is not only misleading but also creates confusion.
Debunked: Discriminatory pricing is when the prices are affected by factors like online behavior, geographical origin, or demographic profile. Whereas dynamic pricing is when the prices are flexible and are changed as per the requirements of the business, market behavior, or sales forecasts.
In this case, this myth has arisen due to the confusion between the two concepts. But you can say dynamic pricing is more refined.
#Myth 2: " My Customers Will Get Confused About Buying From My Website."
We have heard this particular sentence a lot. And this is really surprising to hear. Well, customers are not as dumb as you believe, they are. They are well aware of the fact that the prices are flexible, and may change.
Debunked:  You can NOT just abandon this pricing strategy, just because you are scared to scare your customers away. We say "Try it before Knocking out". Customers are used to paying flexible prices for services. For example hotels and airlines. The prices keep fluctuating as per the current market. But customers still buy these services. Don't they?
Let's not forget that a part of a successful implementation of dynamic pricing is pre-sales. If the customers are clear, they'll have less confusion. They must be updated regularly and clearly that the price they pay varies day to day, and to always "buy in advance and save". Clear Communication is the key and by doing this you'll see them quickly adapting to dynamic pricing as the norm.
#Myth 3: "It Is All About Charging More Money From The Customers"
Dynamic pricing can be anything but the statement mentioned above. It is not just about increasing prices and squeezing money out of customers.
Debunked: All dynamic pricing does is align the prices per the current market conditions. So, those people pay high prices who can afford to do so, and others pay low prices as per their affordability.
We have now understood that all these myths were nothing but growth-preventing tactics. Dynamic pricing is an excellent tool if used effectively. It benefits your customers and business.
Top 4 Best WooCommerce Dynamic Plugins To Use in 2022
After my thorough research, we have jotted down the 6 best WooCommerce Dynamic Plugins that you can use to increase your sales and thereby your revenues. Let's Jump Into It!
 1. YayPricing – Dynamic Pricing, Cart Discounts & Checkout Rules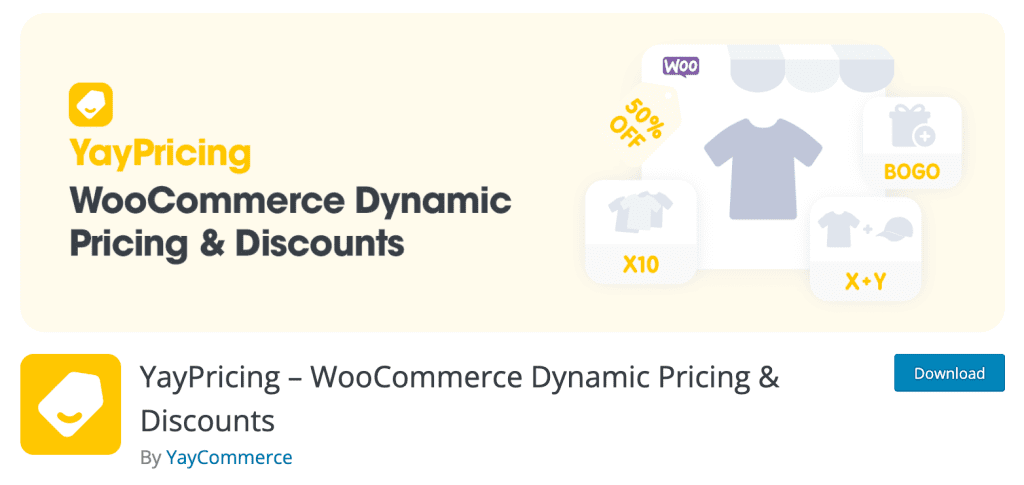 YayPricing is a WooCommerce dynamic pricing extension that allows you to set up different prices for different users, user roles, and customer order history. It is a powerful tool that can help you increase your sales and improve your customer experience through smart pricing.
Some of the cutting-edge features of YayPricing:
Easy to use with a simple interface.
Pre-defined discount templates.
Scheduled discounts.
User role based pricing with advanced conditions.
Display discounted products using shortcode.
PRICING:
Single Site: $49/year
3 Site: $99/year
Unlimited Sites: $199/year
 2. WooCommerce Dynamic Pricing and Discounts by RightPress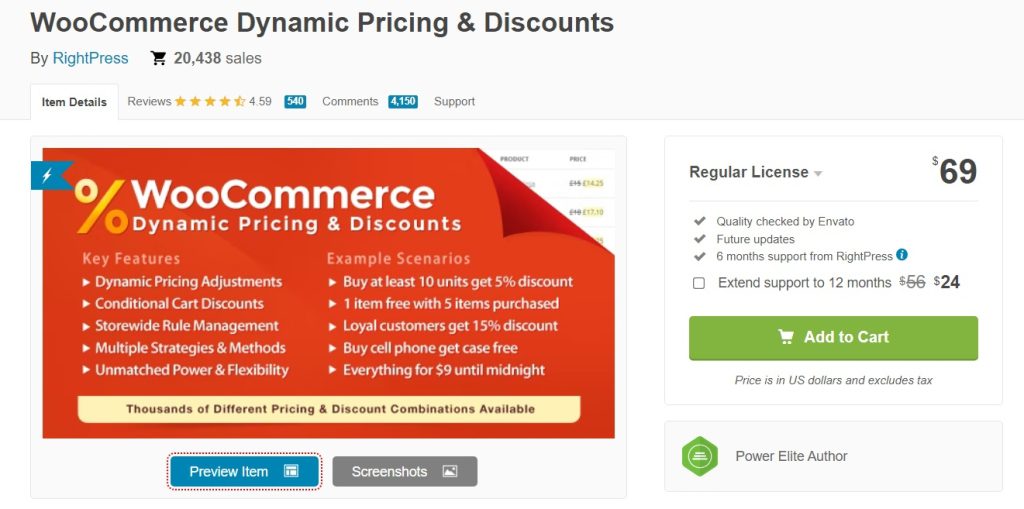 You have heard the name "RightPress" as it is among the popular plugin developers of CodeCanyon. WooCommerce Dynamic Pricing and Discount is another popular dynamic pricing plugin that is effective and efficient for increasing sales and revenue. Some of the features are
BOGO (Buy-one-get-one) deals
Bulk prices
The merchants can make product groups based on the quantity purchased.
PRICING:
Regular License: $69 (6 months support).
Extended License: $299 (6 months support).
3. WooCommerce Dynamic Pricing & Discount Rules by Woosuite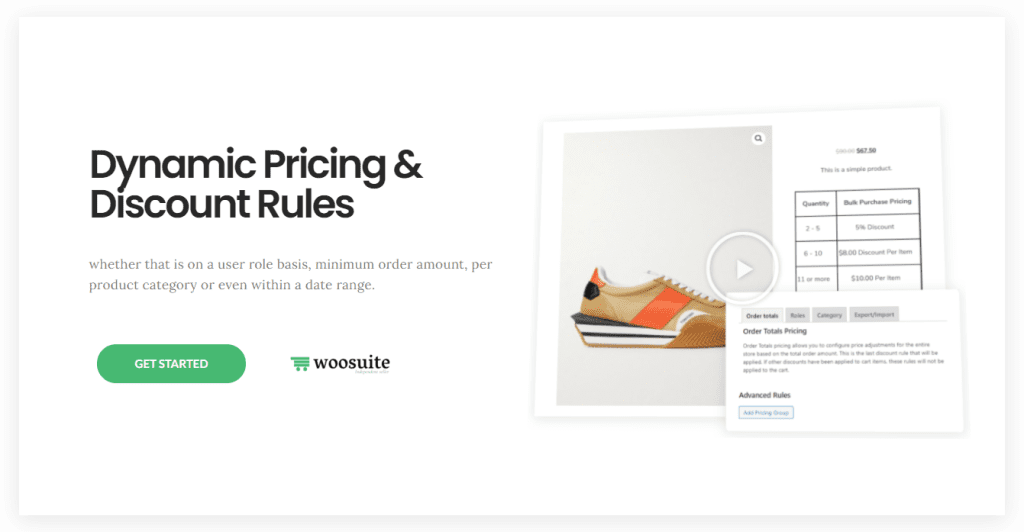 WooCommerce Dynamic Pricing and Discount is a plugin introduced by Woosuite. All WooCommerce takes great pride in using this particular plugin. The merchants used this plugin to create dynamic pricing and promotions for their stores.
Some of the top-notch features are
The merchants are free to create scheduled promotional offers
You can also import and export the pricing rules
The merchants also opt for volume pricing
PRICING:
Basic –$8.25/month.
Professional – $12/month.
Premium  – $29/month.
4. YITH Dynamic Pricing and Discounts for WooCommerce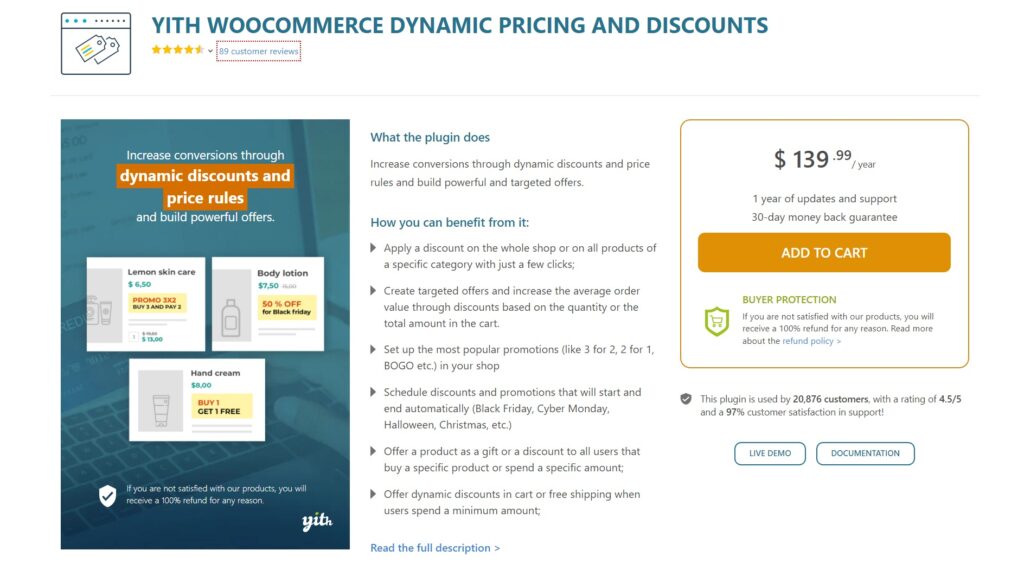 YITH is a popular WooCommerce Dynamic Pricing plugin. It offers you a wide variety of features like
Merchants can offer free products using BOGO
You get the flexibility to use the price table horizontally or vertically
Schedule offers as per your convenience
PRICING:
Available for $139.99/year.
Over To You,
We have very well established the fact that dynamic pricing can be complex, but if you do your research well, it is a cakewalk. Like in this particular blog, we have divided the topic into different segments, and those segments into different categories.
As this concept and process are vast, you are not expected to do it manually. It is advised to use a plugin because it eases the job out, and automates the process for you.
I am sure, you won't be needing our support anymore, and you are finally ready to ride the cycle alone! Well, All the Best for all your future endeavors.
Happy Pricing :)