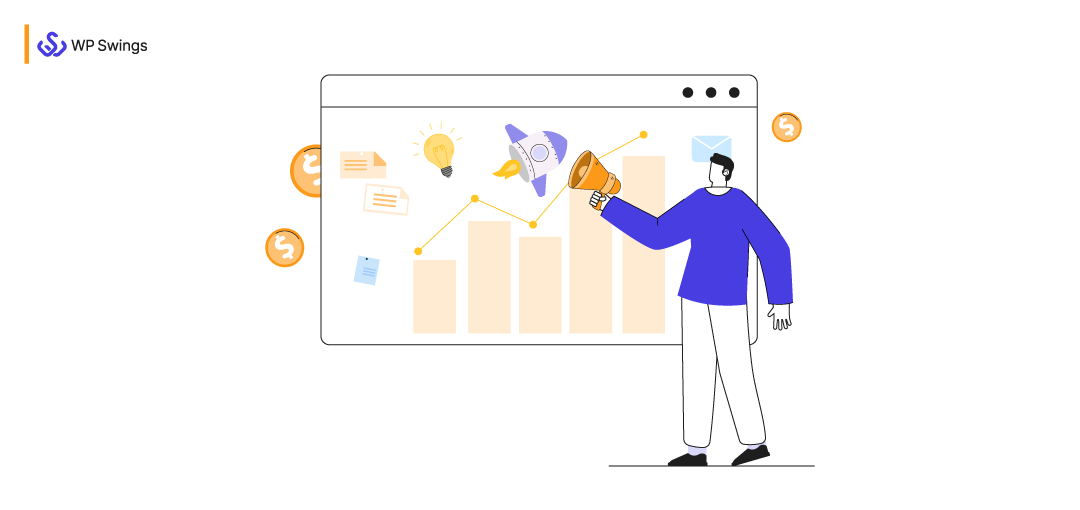 During the Covid Pandemic, many people lost their jobs as well as their businesses. But as we say life goes on and now everything again returning to track. People are again establishing their businesses from zero and trying to promote local businesses.
Now, even small businesses or local businesses are also coming in limelight with the great support of people around them. Recently, I visited a mall where many of the local business owners had put their stalls and they run an online business. We had a great experience there and learned many things. Everyone there had a unique business as well as issues.
However, a common issue among all of them was promoting their local business online. Most of them want to do it but because of the lack of familiarity with the virtual world, they hesitate to do so.
Thus I'm writing this blog to make you understand how to promote local business online. I'll mention tips that are cheap, easy to understand social media management tools are abundant and execute.
So let's discuss the points you came on this blog for.
13 Economical Tips to Promote Local Business Online
1. List Your Business Online
If you want your business to get popular in your locality, you should provide a medium people can use to find it. And in the online world, these mediums are called local business listing platforms. This method comes out as a free yet most effective method to promote local business online.
I've mentioned some of the best listing platforms here so let's get to them real quick.
Google My Business
Google My Business(GMB) is a tool that allows marketers to list their business on Google so the users can find your store easily with Google Maps or search. This tool is completely free and is very helpful for both customers as well as merchants.
Customers can use it to find out your store whereas merchants can use it to give searchers every possible information about their business that can drive them to their shop.
The best part is that it's super-easy to list your business on Google My Business. You just have to go to google.com/business.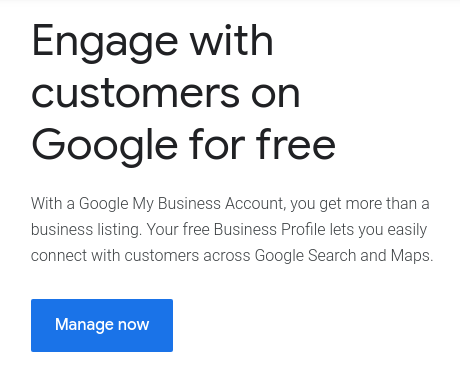 Click on the manage now button. Enter your business name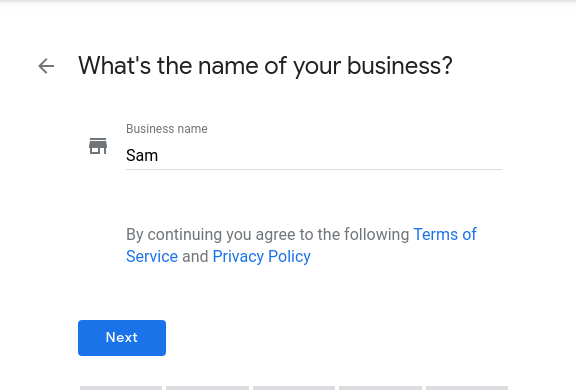 Then it will ask you to add your business category, location, area, region, contact details, etc. Once you add all the information you'll need to verify it to make sure everything is correct. You can verify your details either via email or Phone.
Choose the preferred option you want your information to be verified with. You'll receive a mail on the email you entered while setting up your account. If you choose phone verification, you'll get an OTP on your registered number.
Google can take up to a week to verify your account. Once verified, you just need to add minor but crucial details about your brand like your working hours, descriptions, etc.
Your Google My Business profile will look like this once created.

Bing Places for Business
If you've listed your business on GMB, it doesn't mean you should not list it on Bing. Try to leverage as many sources as you can to drive traffic to your store. Go to bingplaces.com. Choose from the New or existing user.

If you've set your GMB profile, it becomes much easier for you to list your business on bing places. You can simply import your business profile from GMB and it will be added automatically on Bing places. If you don't have the GMB profile, you can list your business manually. It'll ask the same details as Google My Business.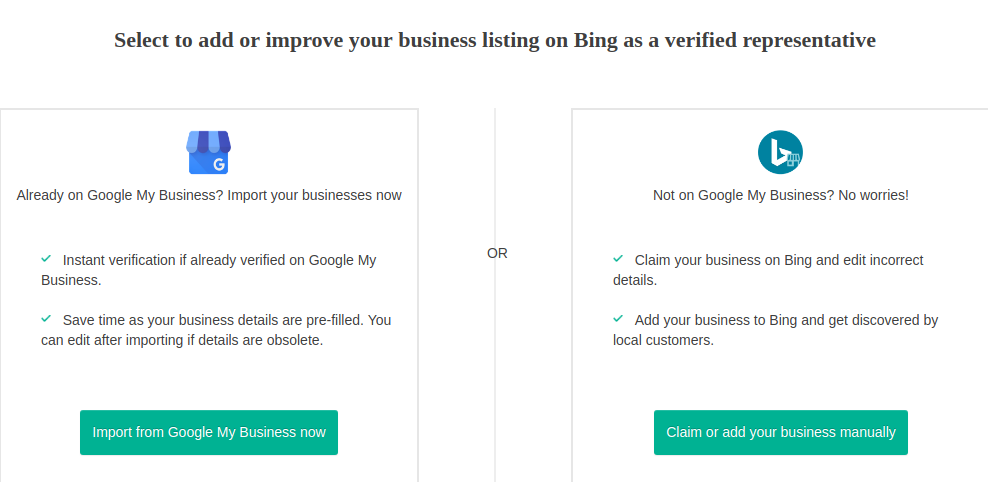 Along with Google and Bing, Facebook is another good option to list your business.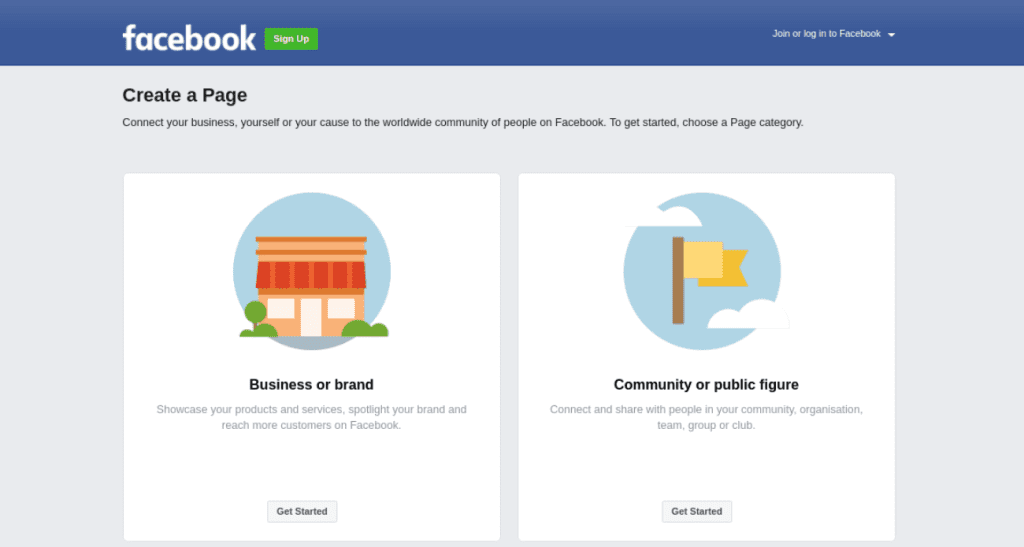 Over 30% of the world's population uses Facebook. This makes it a vital source of traffic. Brands are moving their businesses towards it and if your brand has a Facebook Page, you spread your brand's awareness to over 2.7 billion people.
Create a Facebook business page. Fill in every necessary detail about your brand like its location, open hours, working days, etc. to provide as much information as possible. You can also use your page to interact with the audience by uploading posts, pictures, etc.
2. Leverage Social Media
Social Media is about making friends, sharing pictures, videos, that's all.
A few years back I was thinking the same. But if today you think like that, you're grossly mistaking.
Social Media now can also be used to find prospects, convert them into leads, then customers, then brand advocates. This is how it goes, doesn't it?
To make the most of these platforms, you need to prepare your social media strategy for the platforms you're going to use. Every platform has a different way to operate so using similar tactics may not be effective.
You can check out this Sproutsocial blog on social media tips for different platforms to get a better understanding.
There are a plethora of platforms that can be used for social media marketing. But some of the best ones I'd suggest are:
Facebook(2.7B users)
Twitter(353M users)
Linkedin(310 Million)
Instagram(1.15B users)
Tiktok(689M users)
I'm not mentioning YouTube here because we'll talk about it in the next point.
You can create short videos to promote your products through Instagram Reels or Tiktok. On the other hand, LinkedIn will be the best choice for posting long-form content and engaging users. Also if you have a B2B business, LinkedIn would be more suitable.
Facebook can be perfect for your business if you want to build a community or you want to be more specific on what audience you target.
If you want to interact with your audience directly, create a loyal audience base, generate and nurture leads, or be in trend, Twitter is for you.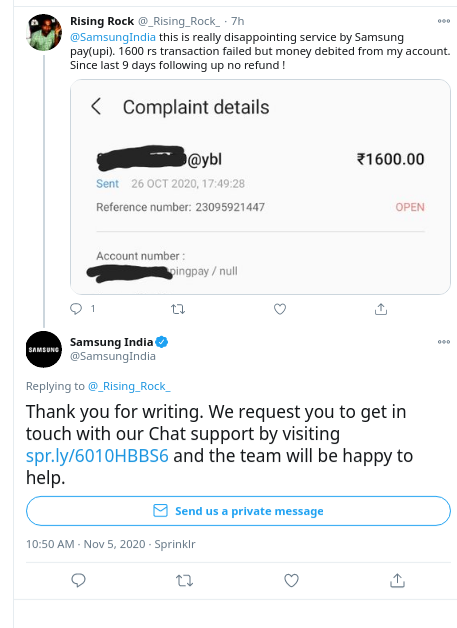 Now some of you may say, I don't have enough staff to handle all these social channels altogether. And you don't even need it.
Just like social platforms, there's an abundance of social media management tools. But since we're talking about low-cost tips Buffer, Hootsuite, and Crowdfire will be the perfect choice for your business. They are free and easy to use, and even a single person can handle multiple platforms using these.
Fun fact: We also use Buffer for our social media management.
3. Promote Your Business on Video Platforms
Nothing can help you promote your local business more than videos. And not only promotion, but videos can also get you conversions, traffic, and above all things, revenue.
Now you may think, how can I promote my local business through videos. Well here's the answer.
Assume you own a Car Wash in Albuquerque (like Walter White from Breaking Bad). You can create videos on it. And in the tags, descriptions, title, etc. you can add Albuquerque car wash.
If people search car wash in Albuquerque, they have a chance of ranking on the search engines. Here's an example for better understanding: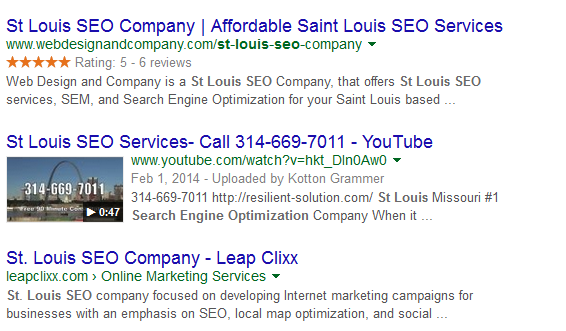 So start making videos if you don't already do it. Post it on different video platforms like YouTube, Vimeo, etc. YouTube has the 2nd biggest active user base after Facebook.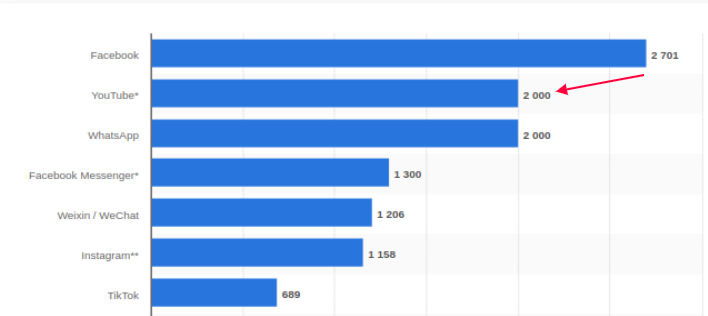 This makes Youtube one of the most lucrative platforms for business promotion. The best part is you don't need to pay(until you're running YouTube ads) anything to promote your local business of yours. Just a channel will do the work for you.
However, YouTube can be quite competitive and it's hard for small creators to rank on top there. So besides YouTube, you can also use other video platforms like Vimeo, Dailymotion, Twitch, etc. to promote local business.
4. Set up Your eCommerce Store
If you want to promote your local business online, it's better to have an online store. I mean without an online store, where would you drive users from your online marketing.
Now you may think, building an online store isn't economical. And to be honest, among all the other tips, this requires some investment. Of course, building a running online store is not completely free. However, if you play smart, this won't hurt your pocket.
If you execute all the above-mentioned points precisely, you'll generate enough revenue to build a website. But the concern is that many local business owners think building an eCommerce store requires great coding knowledge. Honestly, it doesn't.
There are many platforms these days that simplify the creation of an eCommerce website so much that even my grandma can build her online store in a few steps. Just Sign Up on any of these platforms and customize your virtual shopping store.
Some of the best platforms to build an eCommerce store are:
WooCommerce
Shopify
Squarespace
Wix
BigCommerce
Read the article on how to set up a WooCommerce store, it will help you understand the process of establishing an eCommerce store.
If you're a beginner, I'd recommend you go with WooCommerce. It's free, flexible, and provides great customer support. And above all, it has the biggest market share among all eCommerce platforms.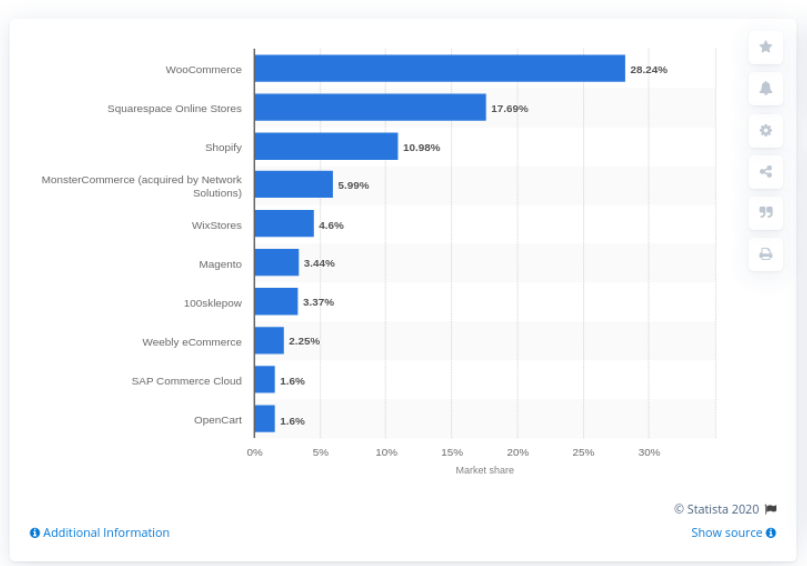 You just need a WordPress website(which is also free) and install WooCommerce to turn your site into an eCommerce store.
Get your favorite free WooCommerce plugins and also you can install them to add more features to your store.
5. Generate Content Around Your Brand
So now if you've created your website, you can start generating content on it. And this doesn't require any investment at all. Just a blend of creativity, research, and ideas will do the job.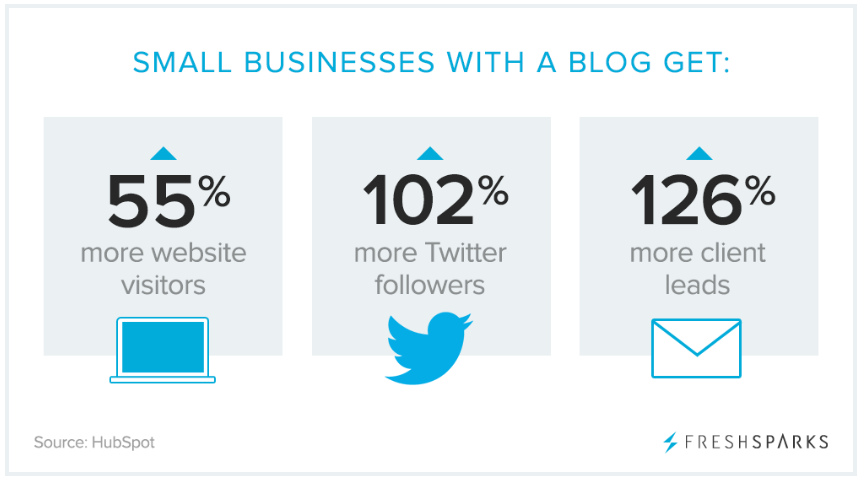 The above image shows the benefit of blogging for small businesses. But I'm not talking only about the blogs here. You can create:
Videos
Podcasts
Infographics
Freebies
Email templates
Press Releases to spread brand awareness in the audience.
Note: Press releases do not get more eyeballs until you're posting on paid platforms. So make your decision wisely whether you should write to them or not.
Blogging gets easy for those who have a website. But if you don't or don't want to create one, you can use many popular and free blogging platforms and publish your blogs there. Some of the most popular blogging platforms are:
You can simply sign up on these platforms and write content to promote local business online. The best part is you can also earn money on these platforms.
6. Join and Be Active in Online Communities
It's all about giving and taking. The more you add value to others, the more they'll do it for you.
Being active in communities is the same. It can help your business build a loyal customer base in your local region. And can also be a vital part of your local business promotion. There are many communities you can join but since I assume you own a local business, here are the best options for you.
In the above business communities, Slack communities are most effective. You can interact with them easily, schedule meetings, make video/con calls, collaborate with others, and more. It's a great alternative to email, messaging, and can be accessed on desktops or mobile devices. Hence I suggest you join slack communities to market your local business.
While joining communities on slack, don't start targeting whatever comes in front of you. Search for relevant communities, check if they're private or public, and filter them accordingly.
Apart from these, you can also join communities on social media like Facebook. People create groups there related to their work or passion. Engaging with others there can also help you cement good relations with others.
If you're growing well, you can also create your communities to engage with others. You can check out this video to get a better idea.
7. Influencer Marketing Is the New Normal
Once you've built your website, you should promote it so you can get traffic on it.
And these days, one of the most trending ways of marketing is influencer marketing. Whenever I watch a video on YouTube, I find creators promoting some kind of app, cosmetics, electronic products, and many other things.
This is something you can also try on a really low budget. Just find some influencers that are popular in your potential audience base. Connect and negotiate with them and they will promote your products.
In some cases, I've also seen creators contacting brands for their product promotion. This shows that this is not a one-way method. Even the influencers are always on a hunt for brand collaborations.
In the beginning, you should try to promote local businesses in your area. Find a person who has a kind of fan following in your region and convince him to promote your local business.
You can use tools like Awario, Followerwonk to find influencers. There are many other and better tools also but these are the ones that cost you minimal.
You can also provide promo codes to the influencers so that if a customer applies their code while shopping, they can get an extra discount. This increases the chance of purchase as well as helps you track which influencers or basically source is driving more sales.
Thinking of integrating influencer marketing into your strategy?
.
.
Check out these stats 👌 pic.twitter.com/R1BaWGobjQ

— Larry Kim (@larrykim) May 13, 2019
Make sure to check out the above stats related to influencer marketing before you implement it in your business.
8. Make Others Sell Your Product with Affiliate Marketing
Affiliate Marketing is a technique where merchants approach promoters to sell their products. Promoters get a commission for selling each product and brands get promotions.
There are 2 different ways to sell your product through affiliate marketing.
Affiliate Networks
In-house Program
Affiliate networks are an open program where merchants can register their products and promoters can reach out to these networks and find the best products to promote. Some best affiliate networks are:
An in-house affiliate program is when you set up the affiliate program on your website. Promoters can reach out to your website and pitch you if they are interested in your products.
You can also use sources like YouTube channels, blogs, etc for affiliate marketing. There are thousands of influencers/creators you can approach and tell them about your product. If they're interested, they might promote your product.
9. List Yourself on Local Business Directories
Just like business listing platforms, you should also list your business on the local business directories. These directories are a list that contains all the necessary details of a business in a local area.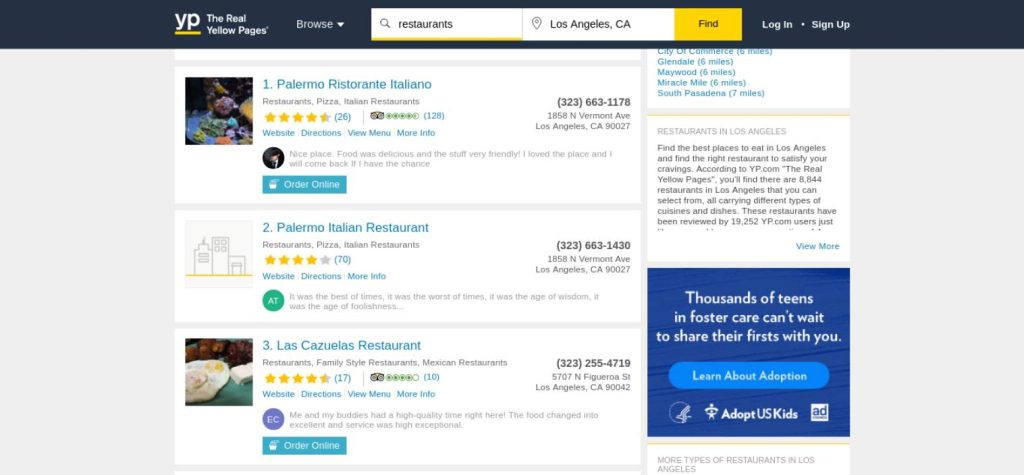 Some of the best local directories for small businesses are:
Foursquare
Yellow Pages
Manta
Local.com
Thumbtack
Just like GMB, Bing, etc., you can list your businesses for free on these platforms. These directories are really helpful for people to find small local businesses that are not popular enough on Google maps and other big platforms.
Since there's an abundance of local business directories and you may want to list your businesses on each one of them. Here are a few things you should take care of before listing your business.
While listing your business, make sure the business information doesn't differ from each other. If you're updating any sort of information, do it on every platform otherwise it will misinform the users. For example, if your working hours are 10 AM to 4 PM on Yelp, make sure it is similar to Yellow Pages.
Also do not forget to add images, videos, contact numbers, and links to your online store on these business listings.
10. Never Compromise with Your Customer Service
The cheapest, fastest, and most effective way to promote local business.
If you want to grow your business to see steep growth (in the least possible time), customer service should be your top priority.
No business likes one-time customers. And customer service is something that can turn your one-time customers into returning ones.
A HubSpot research found that 93% of customers are likely to make repeat purchases with a brand that offers great customer service.
So everything boils down to the improvement of customer service. And how would you do that? Here's how.
Improve your listening skills: If you don't listen and understand what customers' problems are, you won't be able to solve them.
Get to know your products inside out: If you're not sure about the features of your product, you can't tell its benefits to the customers.
Personalize your content: Instead of sending them emails like "Hello user" send them personalized messages like "Hello Sam".
Respond quickly: Customers don't like to wait. If you get a query, try to respond in no time because if you make them wait, they may not come back ever.
Reward customers with a referral program: Employ a referral program that rewards customers for their loyalty and other activities at your online store.
Smoothen your refund, return, and exchange process: Make sure your customers can easily return, refund, or exchange products if they're not happy with them.
If your customer service is great, people will prefer you even if your brand value is not as big as others.
11. Optimize for Local SEO
This is a method that gives you sure-shot results.
Optimizing for local SEO is a practice that can get more local eyeballs at your online store. If you want the local users to find you more often on the internet, you should start utilizing the techniques of local SEO.
Most Important Ways To Improve Local SEO 2020–2021.
😍😍👇

💥Google my business account
💥Get Reviews Regular
💥Add Info
💥FAQ
💥Mobile Format Website
💥Social Media Signals Add
🤠👌#SEOexpert #DigitalMarketing #mondaythoughts #Trending #MondayMorning #Localseo #seotechniques pic.twitter.com/WjcGC96uoC

— Ellie Leah|SEO Expert | PPC Expert | Link Building (@EllieLeahSEO) November 9, 2020
And what are these techniques? Let's see.
Create content that is based on any local activity like a local event, news, or something.
Optimize your website for mobile since 75% of the searches with local intent result in a store visit in 24 hours.
Target keywords with local search intent. You can use tools like Google keyword planner to find out such keywords.
Share your local listings on social media.
Add your business location on the pages of your website.
Listing your business on business directories, GMB, Bing, etc. also comes under local SEO practice. But since they were a wide topic, I explained them as a separate point.
12. Collect and Respond to Reviews
So now your business is running and users are appreciating your products. Now what? Would you sit back on your rocking chair until somebody complains or suggests improvements to you?
If you're planning to do this, drop this plan right away and start replying to the comments, reviews, or feedback you're receiving for your products.
Your job does not end after listing your products successfully on business directories. You should also keep an eye on the reviews or feedback and respond to them immediately.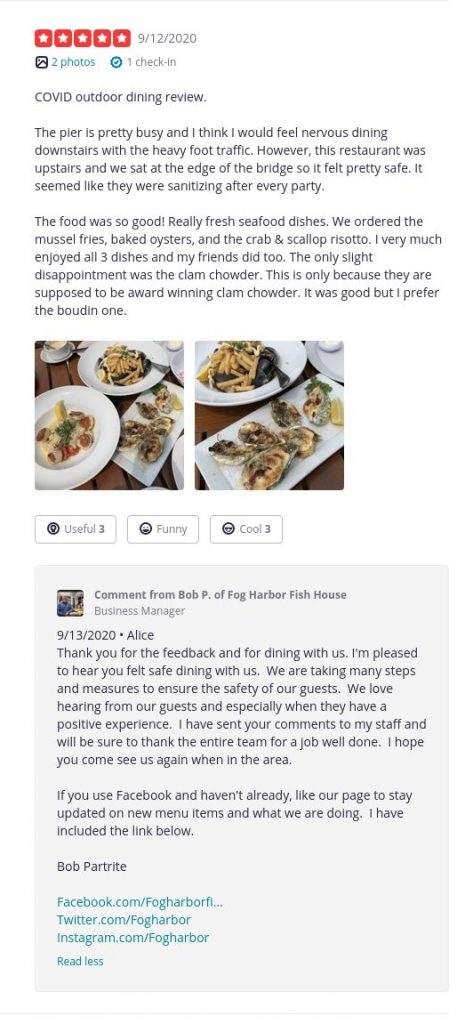 Similarly for your website, if you receive reviews on your website, try to provide an instant response. And not only the positive ones, embrace and reply to the bad reviews as well.
Responding to reviews makes users think that you listen to them and will make improvements if suggested. And the brands that listen to their users have a better success rate than those who don't.
This also prompts users to share word-of-mouth about your brand since they know you'll listen to them in case of any conflict. Which of course results in your store's promotion.
13. Spy on Your Competitors
Competition is important for growth. It pushes you to make more efforts and also provides you with great insights for improvements. And I'm quite sure you also have competitors in your local business.
And if you do, the best thing you can do is to check what they are doing. In marketing terms, you can call it competitive analysis. In competitive analysis, you check what your competitors are doing, their top-performing pages, best-selling products, marketing platforms they use, keywords and keyword gap, etc.
After analyzing what your competitors are doing, you can try things that have already worked for them. But remember, I'm not telling you to copy your competitors.
I'm asking you to get an idea about what they're doing and then create something better than them. For example, check their best-selling product and create one with better features that can solve more problems of your users and add more value to their life.