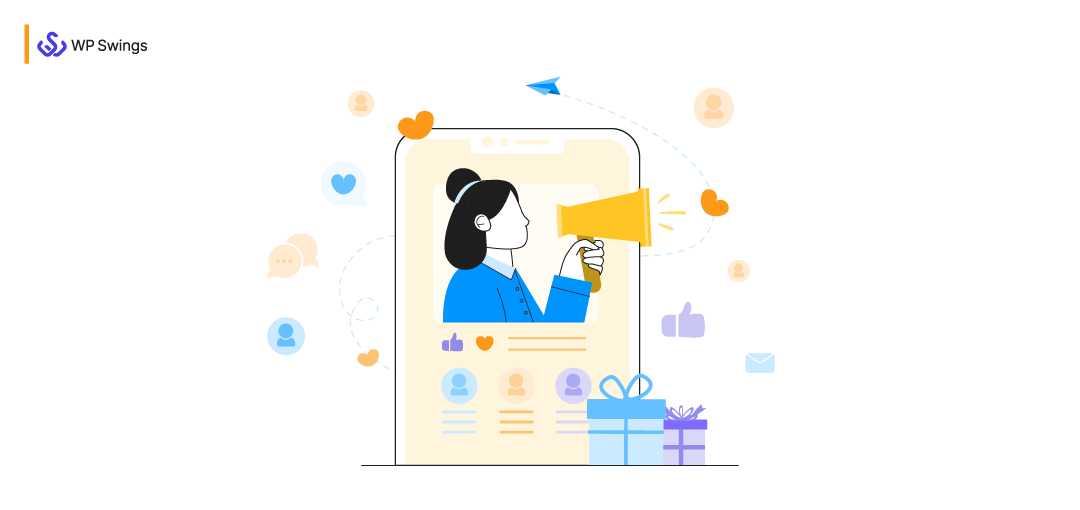 In sales, a referral is the key to the door of resistance.
~Bo Bennett
Referral Marketing has brought traditional word-of-mouth marketing gimmicks to modern marketing methods. Physical marketing has always promoted merchants to target existing customers to grow their customer base eventually. And referral marketing does the same.
Though marketing activities these days are so versatile and unique, referral marketing has still managed to help online marketers in the most unimaginable ways.
Let's check out how Referral Marketing helped online marketers!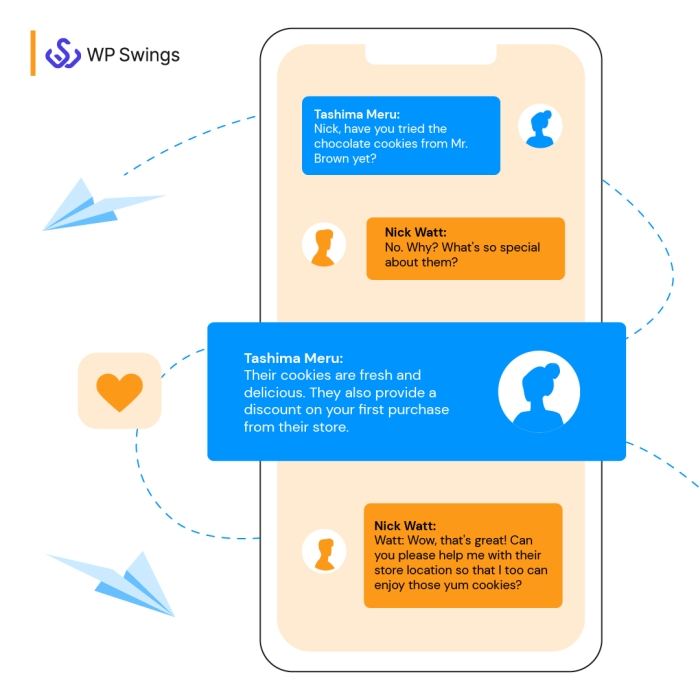 The conversation in the above image is a basic example of word-of-mouth marketing and/or referral marketing. I hope you have understood the idea behind referrals, let's now understand it as per the industry standards.
Building Your Own Referral Promotions!
What is a Referral Marketing Program?
Referral Programs are created and promoted by marketers to enhance their business presence and optimize their ROI from the queue of online marketers. In referral programs, marketers reward both the referrer and the referred with the purpose to turn them into loyal and trustworthy customers.
Moving back to the conversation between Tashima and Nick, Tashima was the one spreading the information and is termed as a referrer in technical aspects. While on the other hand, Nick is the referred user or referral.
The referral system works on the basic concept of mutual benefits. If Tashima is an active member of Mr. Brown's referral program, then referring Nick will benefit both of them. They both will earn some kind of reward for their contribution towards Mr. Brown's bakery.
Tashima will get rewarded for referring to Nick Watt whereas Nick will earn a discount for making his first purchase in the store as Tashima's referral.
People purchase from the referred shop because they trust the referrer. The belief that the referrer would never suggest something wrong or misleading is the basis of referral marketing.
Referrals Have Become Inevitable…
The concept of referral marketing or to say word of mouth has spread at such a vast level that every other business owner has started implementing this for their own business.
Referral Program simply stands on two words. That is—Invite and Earn. Invite more to earn more!
But the irony is that marketers didn't even realize when it has entered into their lives and become so compelling for their business success!
The twist came in the referral methodology when businesses started clubbing it with other loyalty programs. Some mixes worked wonders for a considerable season while others failed beyond imagination.
One such mix by marketers was combining coupon discounts with referral marketing. It may seem the go-to strategy today but when this idea was proposed, many doubted the outcomes.
Coupons and referrals are both together in the same boat! 🤨
When marketers were asked about their inspiration behind such a mix, they gave a really simple yet interesting explanation. They explained the importance of increasing new customers to grow their business. Now, attracting new customers every day is definitely a hard job. But, asking the existing customers to get their friends and relatives to know about them is fairly easy.
Referral marketing works on mutual benefits while coupon marketing attracts customers looking for attractive deals. This combination of coupons and referrals was, hence, aimed to bring in the mutual benefits from both of these individual programs.
And that's how the Coupon-Referral Program was framed!
Get The Best Coupon Referral Program Plugin Now!
The plugin allows you to implement the little details in your referral program to keep your customers engaged
Coupon Referral Program: The Ultimate Marketing Mix!
The coupon referral program works similarly to referral marketing. The base idea is still the same, i.e., invite and earn. The more you invite the more rewards you earn. Pairing it with coupons, the referral rewards are now categorized with various referral coupons.
For example, you earn 1 coupon with a 10% discount on referring 10 new customers after they make a visit to your store or make a purchase.
Seasonal Campaigning Using Referrals
It is common sense that most buyers look for the best deals around the festive season to optimize their expenses. So do I and I am sure, you do too! So why not provide them with your referral coupons when they actually want them?
Another reason for targeting seasonal marketing campaigns is that people have a tendency to spend more during the holiday season. You can easily deploy your referral campaign for a couple of months and expand your customer base substantially for the next holiday season.
Note: Do not forget to run loyalty and membership programs to hold on to your expanded customer base!
India celebrated the most awaited festival in the past week, Diwali! Marketing events did not lack in pomp and show either. Many apparel brands attached a referral promotion code with their tags, so you can avail of the 20% discount by referring your friends the next time you shop with them.
When running seasonal campaigns, it is best to keep in mind the following points:
1. Engaging Copy:
You can never underestimate the power of convincing marketing copy! Be it your ad copy, or a heading for your referral campaign, you ought to be attractive and on-point. The best is when you can cover the What, Why, and How your customers can make the most of what you have to offer. It does not have to include complicated words—just a simple headline will do. Always remember, sophistication lies in simplicity!
2. Timing Matters:
You do not want your customers to run away due to aggressive marketing campaigns. Therefore, your referral can wait until they make a purchase and arrive at the thank you page! All you have to do is highlight your customer referral program since the right time to make them come back is the thank you point.
3. Referral Landing Page:
It is great when you can convey all your offers in one go. It should also have a user-friendly interface- including shareable buttons, a copy-to-clipboard option, social media share buttons, and so on. Adding an FAQ section for creating a referral program for your visitors will help them resolve their issues even before they arise. Make sure you take care of these little details and revenue will come running to you!
4. Discoverable Referral Program:
While I advocate not going too aggressive with your marketing efforts, it is also important that your referral promotion code is at least discoverable. Explore all the channels you drive your customers from, be it your blog, email newsletter, or social media platforms. Without interfering with the 'decision-making' stage, you should go all out to target available opportunities to promote your customer referrals.
Benefits of Coupon Referral Programs
The coupon referral program works in multiple dimensions for your business:
Customers trust referrals
It improves RoI in minimum TAT
Makes the audience aware of your brand
Enhances brand reputation
Easy to implement
Builds customer loyalty
Increases audience engagement level
Referrals are easy to market and promote
After knowing all the benefits, the next thing is to implement a referral coupon campaign for your business.
How to Setup Coupon Referral Program?
Set up or build a referral coupon marketing program, there are two alternative approaches.
Approach 1: Hire an agency or a developer and get your website customized which involves a good time duration too.
Are You Already Looking For an Agency to Assist You in Launching Your Customer Referral Program?
Approach 2: Get the Coupon Referral Program plugin, configure the settings and you're ready to go in 10 minutes.
You can go with whichever approach suits you the best. To me, approach 2 is easier and more convenient than approach 1. Following approach 2, one can buy a decent coupon referral program plugin that serves the features you need to implement. Install & configure the plugin. And, your coupon referral program is created.
Also, understanding the plugin setup process can be a perplexing task for beginners and the ones with no technical knowledge. And, so, you can follow through with the documentation and create your coupon referral program as directed there, step-by-step.
How Implementing a Coupon Referral Program Helps You Achieve Business Objectives?
An online business often faces several issues in running and growing a business venture:
Countable number of employees
Not acquiring traffic and engagement on site
There is no word like your existing customer loyalty in business
Not reaching the right audience at the right time
There is no brand recognition
Making your business an open book to a third party is not an easy thing but, believing and maintaining faith in your decision to implement a referral coupon using a third-party plugin will definitely bring you better results.
Let's see how creating a referral program helps businesses to accomplish their business objectives:
1. Builds a Comprehensive & Vigorous Customer Base
Coupon Referral Program provides coupons to users when they sign-up or refer their friends and family members to your website. Nowadays shoppers prefer to shop from those websites that elevate variations in the form of providing coupons.
This plugin helps marketers elevate those coupon variations for their customers and that's how they manage to acquire and retain customers and make their customer base vigorous.
Through the Coupon Referral Program, marketers can decide whether they want to offer coupons on sign-up to ALL USERS or ONLY TO REFERRED USERS.
Not only on sign-up but, this plugin also provides coupons on referral purchases. That is when the referred user makes any purchase from your shopping site, the referrer will also earn some kind of reward in the form of coupons for sharing the referral link.
By offering variations in coupon marketing you and your marketing team can climb mountains of trust and loyalty for your customers.
2. Builds Relationships With a Strong Social Presence
Social media is all about building relationships!
Social media giveaway campaigns attract massive customer interest. Therefore, giving out coupons on referrals using social media is a great way to accumulate more potential leads.

Coupon Referral Program truly knows and understands this fact and that's why they help marketers like you in establishing a healthy and friendly relationship with their customers.
This plugin enables its audience to share the referral link on social networking sites like Facebook and Twitter. Moreover, marketers can also leverage email marketing to enhance brand reputation among their audience. This means that with WooCommerce Referral Program your audience can share the referral link via Facebook, Twitter, and Email.
This is how Coupon Referral Program helps marketers in creating their business's online presence, building brand reputation, and relationships with their audience!
3. Coupon Referral Program Enables You to Leverage Loyalty Reward Points as Well!
By using the Coupon Referral Program you can increase your customer acquisition and customer retention rate in a minimum time. This ultimately benefits you in improving your overall business revenue.
The coupon referral program provides coupons to the referred users when they sign-up and rewards to the referrer when their referred customers purchase from the same online store. In this way, the Coupon Referral Program keeps both users gratified and happy.
Online shoppers want coupons for their shopping. The WooCommerce referral program is simply fulfilling this requirement of online shoppers and thus helping you in increasing and enhance your revenue day by day!
You Can Setup up Coupons with the Points & Rewards Loyalty Program!
Read along the following section to learn how you can use these points and rewards to increase your referral promotions
Tips to Choose the Best Refer-a-Friend Rewards
You can follow these tips for running the best referral programs:
Make sure you are running a double-sided customer referral program. This will enable your customers to effectively continue the chain of referrals.
It is important that you plan your rewards strategically. Considering your budget and inventory, you can consider building your referral rewards program. These rewards should include coupons offering either of the following:
Discounts, Cashbacks, Free gifts, Store Credit, Gift Cards, Free Subscription periods, and so on!
A tiered reward structure can prove to be a hit for your referral promotion code. For instance, Google promoted its payment service "GPay" in India by introducing a game to collect energy. The more you use the app for payments, referring to the game, and inviting new GPay users, the more the users would earn energy!
As they would reach newer levels (or tiers), they were rewarded with coupons. This not only promoted their application but also built a habit of going back to the app by the users.
Is Coupon Referral Program Supposed to Be Your Success Secret?
Every passionate businessman and marketer rejoices in having a loyalty program for their business. And, it's even better when it's a coupon referral program. Building a coupon referral program that can elevate positive results for your business is easiest and most achievable with team WP Swings (formerly MakeWebBetter) standing beside you.
Let us know what you think about coupons, referral marketing, and coupon-referral marketing together. Share your thoughts in the comments below.