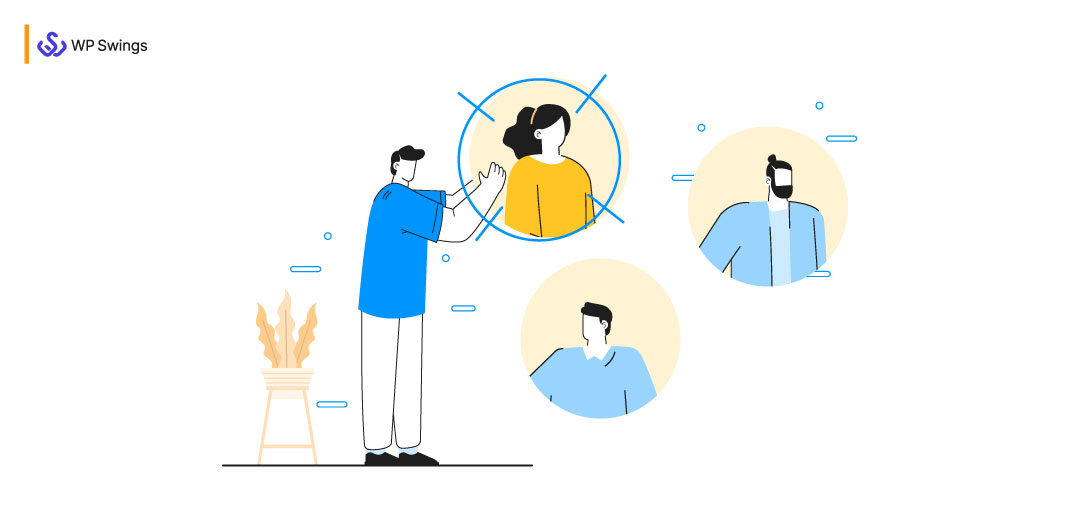 Segmenting your customers for your brand is crucial but understanding its advantages is much more vital. The benefits of customer segmentation will help your business grow towards better opportunities.
You must have heard a proverb- "Every shoe fits None". Well, this saying perfectly fits here.
Customer segmentation is a multi-level that gives us a better opportunity in understanding a customer's:
Preferences
Behavior
Demographics
Financial capacity
And much more…
It basically, encompasses all the metrics that are necessary for building a personalized eCommerce shopping experience.
Before we bifurcate the customers into different segments, many constraints have to be considered. These considerations include factors like demographics, geographical preferences, psychological behaviors, etc.
While there are several benefits of customer segmentation, it critically impacts your Ads costs and other marketing expenses. And I'm sure you wouldn't mind saving any extra penny that isn't bringing you results.
According to a study, 77% of the returns generated come from targeted campaigns built with the help of customer segmentation.
In short, with customer segmentation, you can focus on a specific group. Thus, all your resources are invested in building a highly relevant marketing strategy. To sum up, you get to cater to customers' tastes & preferences while getting an idea of niche marketing.
Group Your WooCommerce Customers For Better Store Management!
Customer segments/groups are far-reaching resources for building impactful marketing strategies. To learn more about how you can segment your customers strategically into WooCommerce groups, check the link below.
Further in this blog, we will be reading and exploring
What is customer segmentation and its
Types of customer segmentation
Followed by its benefits.
What Is Customer Segmentation?
Every customer journey is different…
And so are the marketing strategies to convince them to buy.
Customer Segments Definition
The customer segmentation process refers to audience segmentation and targeting.
To clarify, the whole concept is about the skillful categorization of the target audience and loyal customers. By categorization I mean:
Dividing customers into various segments and creating targeted marketing campaigns.
Customer segmentation begins with understanding the specific requirements of a customer. Then, compare them against metrics like demographics, budgets, needs, etc.
Lastly, divide your customers into categories based on the decided metrics.
Grouping customers in segments helps in mindfully organizing your marketing resources. It makes communication with the marketing team highly efficient and, helps in scaling revenue and retention.
We often talk about multiple types of customer segmentation (usually metrics-based categories). However, there are three most crucial, yet basic forms of customer segmentation. They are –
Post Hoc: It refers to categorizing customers sharing similar characteristics, interests, and demographics. Post Hoc is one of the most-frequently-used segmentation forms.
Needs-based: Every customer is different and so are their requirements. Need-based customer segmentation is done on the basis of reasons for purchasing a product.
Value-based: Here value doesn't concern the customers' perspective. By value, I mean the returns your business makes.It can include either regularity, monetary or loyalty values. And, categorizing customers based on the value brought is called value-based customer segmentation.
How To Do Customer Segmentation In Marketing With Mautic?
Mautic is a marketing automation tool for performing efficient customer segmentation. The best part – it is very easy to use.
Types of Customer Segments In Marketing
"Segmentation" is in itself a whole concept that brings a division of areas, functions & ideas. This gets segregated in the context to customers as –
Demographic (age, gender, religion, sect, family size, family size, and more)
Geographic (location and where they work)
Psychographic (social class, lifestyle) and
Behavior (spending, consumption, habits, and more).
Other than the types of customer segmentation mentioned above, there is one more crucial metric that is now overly used for customer segmentation – Sociographics or Social Media.
The social media platforms account for the huge crowd of your customer base. And as said earlier, all customers have their choice of social interaction and are not subject to a single platform.
Not Sure How To Identify Your Ideal Audience?
What Are The Benefits Of Customer Segmentation For My Business?
As already discussed above, customer segmentation techniques help you to categorize your customers into various segments based on different criteria that you decide. It eventually helps you to connect your customers better by targeting them with their individual demands and requirements.
This blog further informs you of the 7 most crucial benefits of customer segmentation of all time.
Read on…
Benefits Of Customer Segmentation
1. More Customer Retention
A conventional marketer will always prioritize its existing customers more than the new customers. Why?
About 75% of satisfied customers are more likely to remain with that organization that regularly meets up their needs.
Because it is easier to connect and understand the existing customers and also because they add value to your business's image. A loyal customer always is your advocate among the vast crowd. Hence, retaining valued customers will make your business stand stronger for longer.
Segmenting customers based on their value will help you in retaining them easily with the targeted strategies and campaigns.
2. Enhances Competitiveness
The more customers retained, the more revenue generation. And all of this will enhance your competitiveness in the market. How?
Segmenting the customers helps you in targeting a specific audience for the campaign consequently, saving you from bugging all your customers. As a result, your customers will be more inclined towards your marketing efforts.
This will eventually give your marketing campaigns a better response than expected and enhance your competitive spirit in the market as well.
3. Establishes Brand Identity
By segmenting your customers, you can make them well aware of your brand. Identifying your brand will help your customers to directly engage with your products. This will increase your goodwill in the market & a brand value will be established among your other competitors.
4. Better Customer Relationship
Better Customer segmentation will lead to developing a better relationship with your prospective customers.
This will leave for developing a better relationship with your client base.
Communicate with your customers on their queries & requests. Regular communication will make you updated about the new upcoming changes & opportunities to be availed.
5. Leads To Price Optimization
Segmenting the customers on the basis of their expenditure will help you in analyzing their spending limits. As a result, you can price your products in a way that fits your customers' budgets.
On a bigger scale, financial analysis saves you from losing customers because your products are too pricey. This case can be vice-versa too, i.e., pricing too low will make your customers doubt the quality of your products and services.
Thus, it is correctly said that:
Price optimization can make or break your business forever.
Try to understand the social and financial status of your customers. This data will assist you to pace up with the price optimization accordingly.
6. Best Economies Of Scale
Customer segmentation helps in better allocation of resources which in return helps you to gain economies of scale.
Economies of scale mean when you can achieve your desired goal and that too at the most efficient cost.
This can be done through customer segmentation. Therefore, try to focus on a limited number of resources that will help to serve with resources.
7. Improves Channel Of Distribution
Customer segmentation will improve your channel of distribution. By knowing the right number of customers you can direct the right channel of distribution. This will remove confusion among your team members about whom they have to deliver the product & at what time.
You will be able to choose a precise channel of distribution & that too at minimal cost which eventually serves the best needs of your customers.
Are Customer Segmentation And Market Segmentation Same?
Often people confuse these two terms – Customer Segmentation and Market Segmentation. But, they're not the same.
Customer segmentation vs Market Segmentation can be a long debatable session of facts and figures. Customer segmentation is a detailed study of data specific to customers only. While market segmentation talks about customer segmentation, it is only a small part of customer segmentation.
Market segmentation involves the market as a whole and each data about the market and its participants – competitors, customers, trends.
Market segmentation might give you an overview of your customers and target audience. But, customer segmentation paints a properly structured and detailed buyers persona. Consequently, giving you a clear idea of your ideal audience.
However, the customer segmentation and market segmentation strategies work together to prepare a wholesome marketing plan for your business to soar high like falcons.
In A Nutshell
To sum up, customer segmentation should be done very carefully as your whole business plan depends upon your target audience only.
In this blog, we have discussed everything related to customer segmentation, why you should choose customer segmentation, and the benefits of customer segmentation. Choose wisely your customers & make a marketing plan to accomplish their needs & desires.
How much profitable your customer segmentation is? Please share your thoughts with us in the comment below.