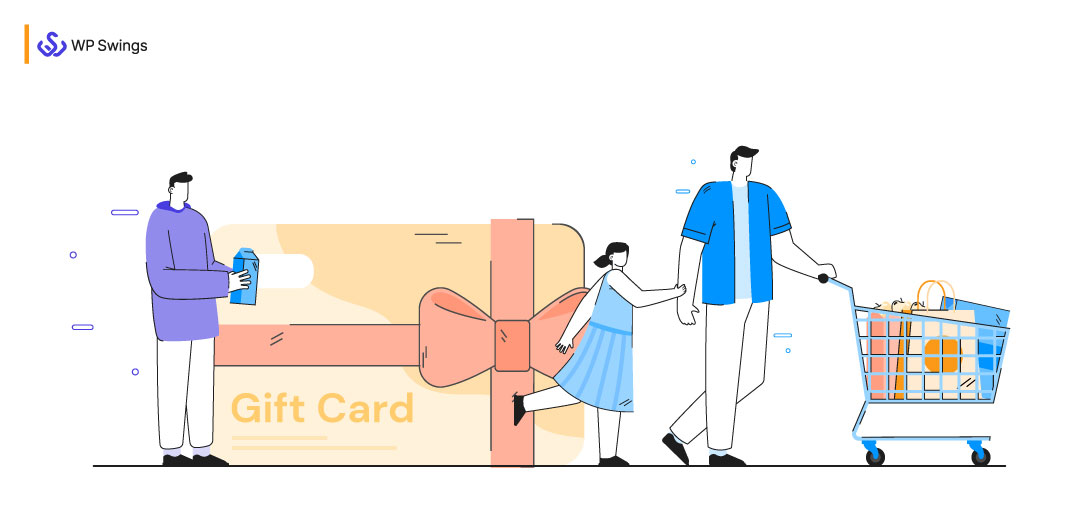 Amid the COVID-19 crisis, the global market for Gift Cards estimated at US$767.4 Billion in the year 2020, is projected to reach a revised size of US$1.4 Trillion by 2026, growing at a CAGR of 11.1% over the analysis period. – Research And Markets
Gift cards propose a big business opportunity because your customers love exchanging gift cards.
Although selling gift cards isn't a new sales flavor in the retail business. However, it is widely growing and is appreciated in all industrial sectors.
Especially, the eCommerce sector is rapidly implementing gift cards as a leading marketing and sales strategy.
The reasons for its popularity are simple, gift cards are easy to purchase, and they take away the stress of selecting a personalized gift. Also, gift cards sell throughout the year, even more in the holiday season.
If you are planning to start your gift card program, learn more about the purposes of having gift cards in your eCommerce business.
In this article, I'll discuss also discuss seven key roles of gift cards and the implementation of gift cards on your WooCommerce store.
Table Of Contents
Purpose Of Gift Cards In eCommerce Business
Ideally, gift certificates are sold considering your purpose of sales, enabling you to track and analyze sales or make payments using the gift cards. With such fully integrated gift card solutions, your customers can use gift cards in many ways.
If your gift card program is integrated with your purpose to sell gift cards, you can track gift card sales and redemption through your retail metrics and analytics. This makes it easy to judge how successful the program is for your business and how your shoppers are responding to the program.
Why Online Gifting Is Important For eCommerce Business?
So, eCommerce gift cards serve the following purpose too in advancing the business endeavors:
a.) Brand Visibility
eCommerce gift cards programs have captured the attention of major industry players and their audiences because they enhance brand visibility in the market sphere.
The customers purchase gift cards from their favorite stores and give them to their dear ones. The receiver may or may not be aware of your brand, but after availing of the services of your gift card program, they know about you and will also visit you to redeem their gift certificates.
Also Read: Enhance Your Business With WooCommerce Gift Cards
b.) Customer Loyalty
For businesses, investing in gift cards business is a highly riskful plan because their customers have to trust them and be loyal to them for purchasing the gift cards. But it has also been seen that gift cards play an important role in enhancing the customer behavior towards the brand and proving their loyalty too.
Boost Your Business Sales With Customer Loyalty Program
c.) Special Benefits to Customers
Gift cards are personalized and unique giftings for dear ones. And businesses promote gift card selling, considering the benefits it has. eCommerce gift cards are the source of additional benefits for the customers too, not limited to the business only.
Usually, people purchase gift cards to give them to their special ones, but in rare cases, it is also seen that people do buy gift cards for themselves to purchase during a time of crisis or for leveraging additional discounts.
d.) Increase Repeat Business
The repeated business term refers to the concept of selling gift cards to make the customer return back to your store to redeem the gift card value. Purchasing or gifting gift cards to the customers bound them to return to your store to acquire the benefits of gift cards. Hence, they help you build the customers that are regular and visit you repeatedly.

7 Key Roles of eCommerce Gift Cards In Promoting Retail Businesses
Is your business ready to leverage the benefits of eCommerce gift cards?
eCommerce gift card programs are easy to implement and affordable for businesses of all sizes. Consider these seven key roles of gift cards in promoting your business.
1. eCommerce Gift Cards Are True Revenue Boosters
Gift cards double your sales and revenue. The first round of revenue is generated when the gift cards are purchased by your customer. When they(customers) come back to redeem gift cards, it also generates revenue.
A study estimates that 95% of all American households have either bought or received gift cards, with the average 5 gift cards per shopper annually, spending an estimated $256 in total. – Blackhawk Network
2. Gift Cards Attract More Traffic And New Leads
The ease of deliverability and the cash flow benefits of the property of gift cards help the store owners in attracting better traffic every year. Better traffic implies the opportunity of having new leads and potentially loyal customers in the future.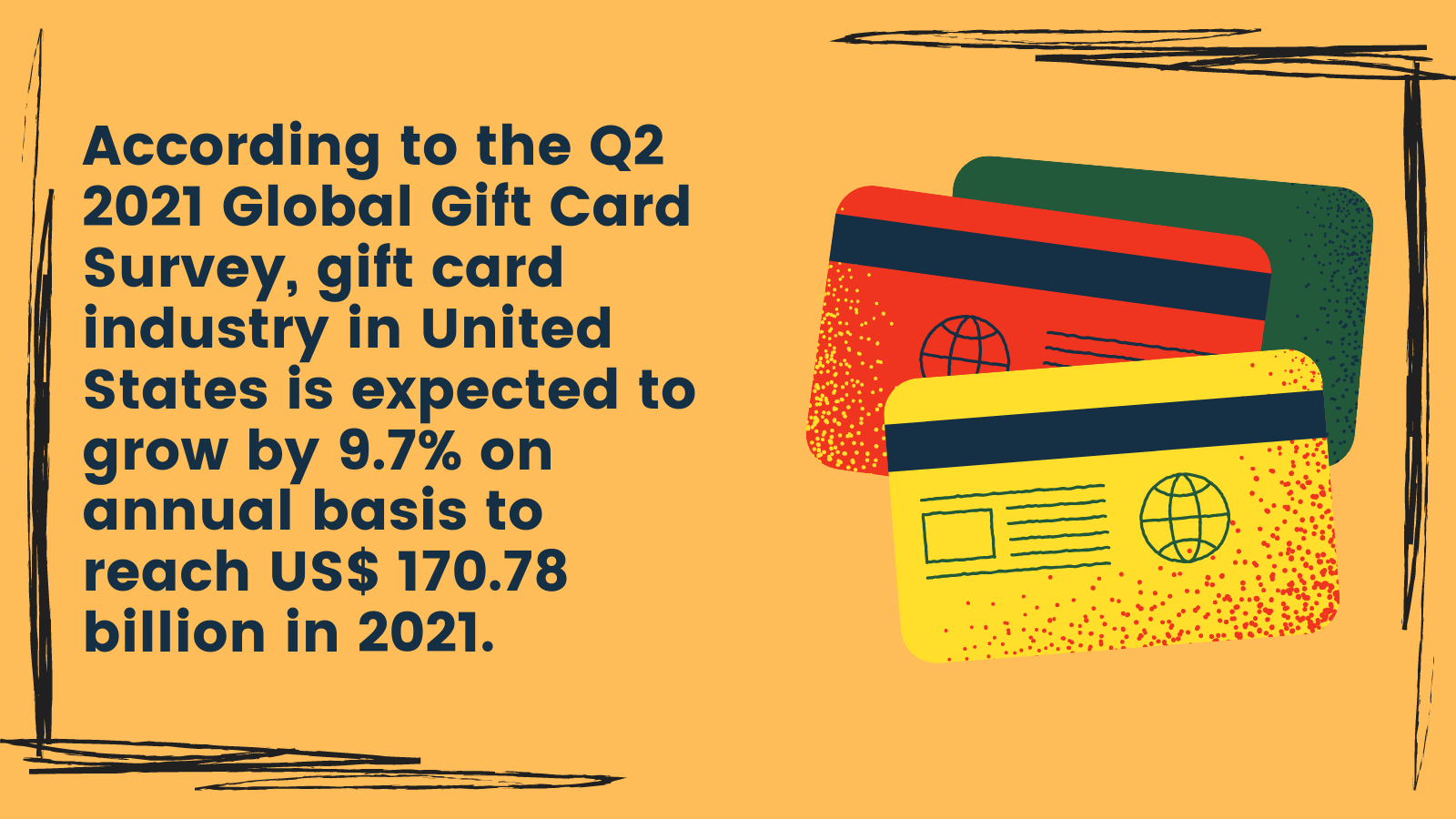 3. Gift Cards Promotes Customer Loyalty
Many eCommerce retailers offer gift cards programs during the holiday spree. The aim is simple – to increase loyalty with current customers. Giving away offers like-
A free $10 gift card to customers who purchase $100 in the x-product category
$20 gift card to the customers who purchase $150 gift cards, etc.
These offers might convince your customer to spend more, increasing your average sale of gift cards. You can make these bonus gift cards a bait to attract your customer post-festive season to increase your off-season sales.
4. Easy Alternatives For Refunds, Returns, And Exchanges
Although holidays and festive seasons witness exponential sales. But it is a hard truth that the same businesses often come across the bundle of return/refund requests also.
There can be many possible reasons for the postseason refund/return requests but how the businesses can take this as an opportunity to reboot their customers and make a fair deal for themselves is a point of consideration.
And this is where the gift cards check in. To convert your return requests into an opportunity to improve sales, provide your customers with a gift card of similar value as the return along with a personalized apology message to make them feel empathy towards you and your brand.
5. Gift Cards Helps You Compete With Major Retailers
Since gift cards simulate repeat business, it improves brand awareness and visibility. They are the equally important organic source to compete with major retailers from your niche too.
eCommerce gift cards are robust and have the potential to lure in customers from your competitors. It's just how you plan to sell and market them without making it obvious.
6. eCommerce Gift Cards Are Catalysts To Increase Holiday-Season Sales
eCommerce businesses also experience a holiday sales rush. And gift cards are a great support for all business types to keep their holiday sales spirit high.
Gift cards make the holiday sales brighter for everyone, from the gym and spa subscriptions to restaurant and club memberships. Not limited to memberships only, gift cards are the best choice for last-minute buyers and the women on a shopping spree.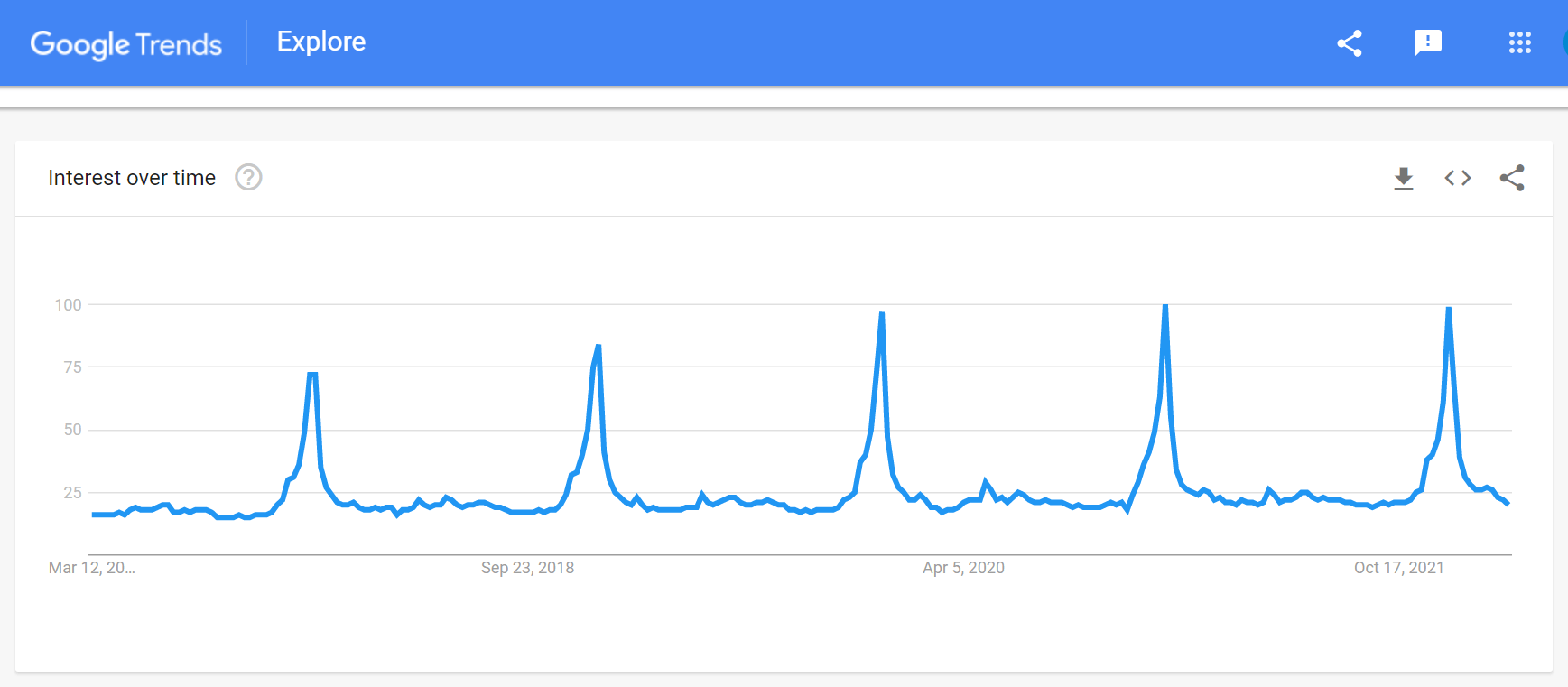 Since gift cards are preferred, they play a major role in increasing holiday sales. Even Google Trends of the last five years show an increase in gift card demand during the Christmas season.
7. Gift Cards Multiply Off-Season Sales Too
Birthdays-Anniversaries-Achievements and moments of celebration never come watching the clock. They happen when they're meant to be. And when there is a moment of celebration, giftings automatically skate in.
Thereby, eCommerce gift cards are always trending in special digital giftings. Surely, one does need a reason or occasion to share gifts. But one doesn't need to wait around the year for the holiday season to share the gift cards.
Now, as you are well aware of the roles that gift cards play in growing a business, it's time to learn the implementation.
Explore Gift Cards For WooCommerce Pro
Gift Cards for WooCommerce Pro are a complete gift card solution to help your business grow. This gift card plugin delivers you a variety of features and options to grow your sales and revenue in explicit ways without restricting yourself or your customers.
It also helps you with the easy management of gift cards and tracking their performance and usages with time. Our WooCommerce Gift Cards is a genuine solution to serve all your business needs.
How To Setup Gift Cards On Your WooCommerce Store
Gift Cards for WooCommerce Pro are a complete gift card solution to help you sell gift cards on your online store and grow your business.

This gift card plugin delivers you a variety of features and options to grow your sales and revenue in explicit ways without restricting yourself or your customers.
It also helps you with the easy management of gift cards and tracking their performance and usages with time. Our WooCommerce Gift Cards is a genuine solution to serve all your business needs.
Features Of Gift Cards For WooCommerce Pro
Share gift vouchers through Emails, WhatsApp, SMS, and downloadable PDFs for offline printing.
Create customizable gift cards that allow customers to upload their banner images and add custom messages.
20+ pre-designed Gift Card Templates for all occasions
Create gift cards with four different pricing types: Default Pricing, Price Range, Selected Price, and User Price.
Analyze gift card performance with WooCommerce Reports
Include/Exclude Selected Categories Or Products
Personalized gift card
Schedule gift card delivery
Automate gift card balance updates
Explore All Features Of Gift Cards For WooCommerce Pro
Here is a brief overview of the gift cards plugin settings.
a) Gift Card General Settings
Click on the 'Enable WooCommerce Gift Card' check box to enable the plugin. Then enable all the other settings as per your requirements.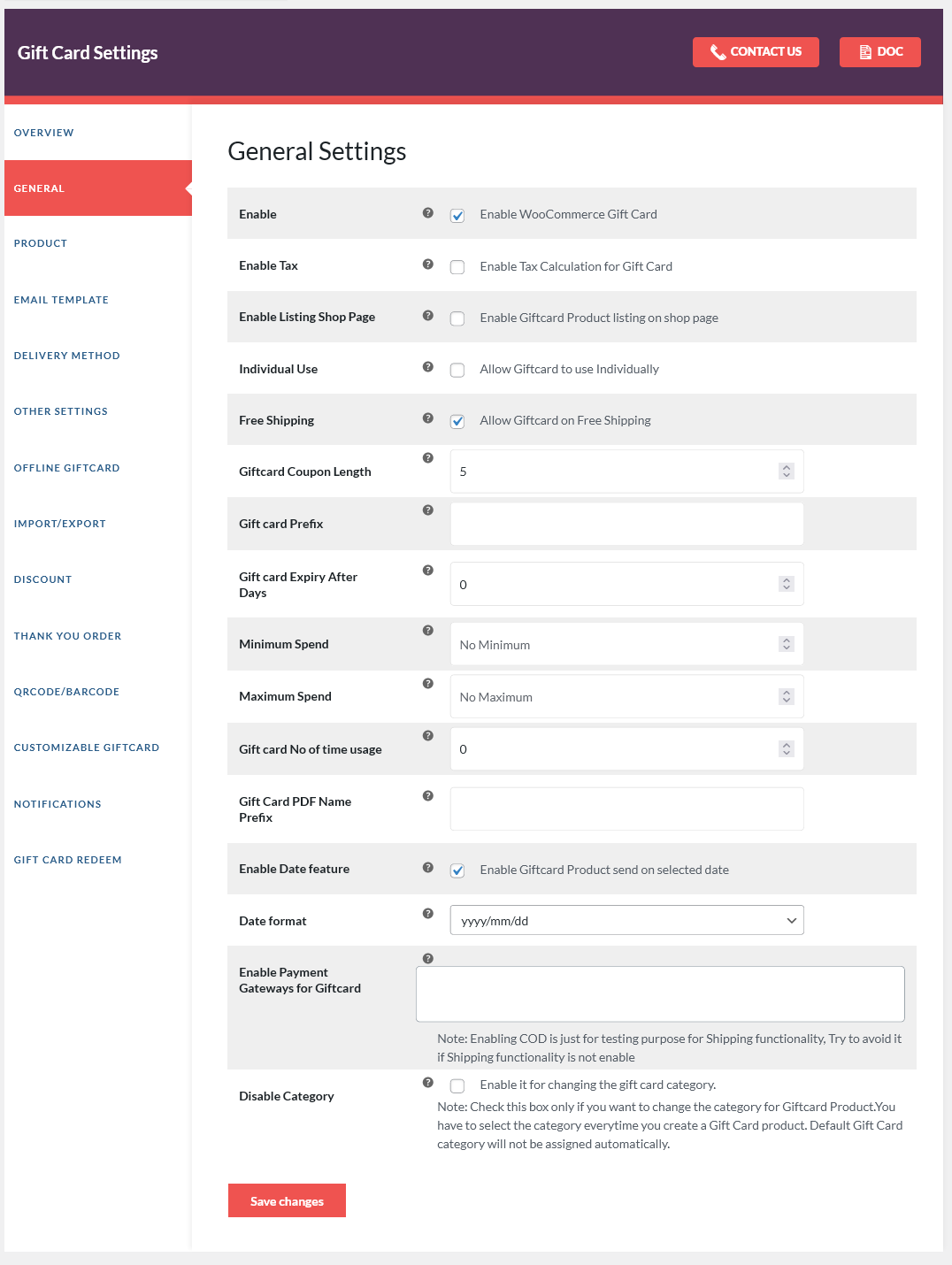 You can configure the following settings:
Gift card Coupon Length
Gift card Prefix
Enable Tax
Enable Listing Shop Page
Individual Use
Free Shipping
Gift card Expiry After Days
Minimum/Maximum Spend Limit
Gift card Number of Time Usage
Gift Card PDF Name Prefix
Enable Date feature
Date format
Enable Payment Gateway For Giftcard
Disable Category
To enable them, click on their respective checkboxes. And to disable them, uncheck the checkboxes.
b) Product Settings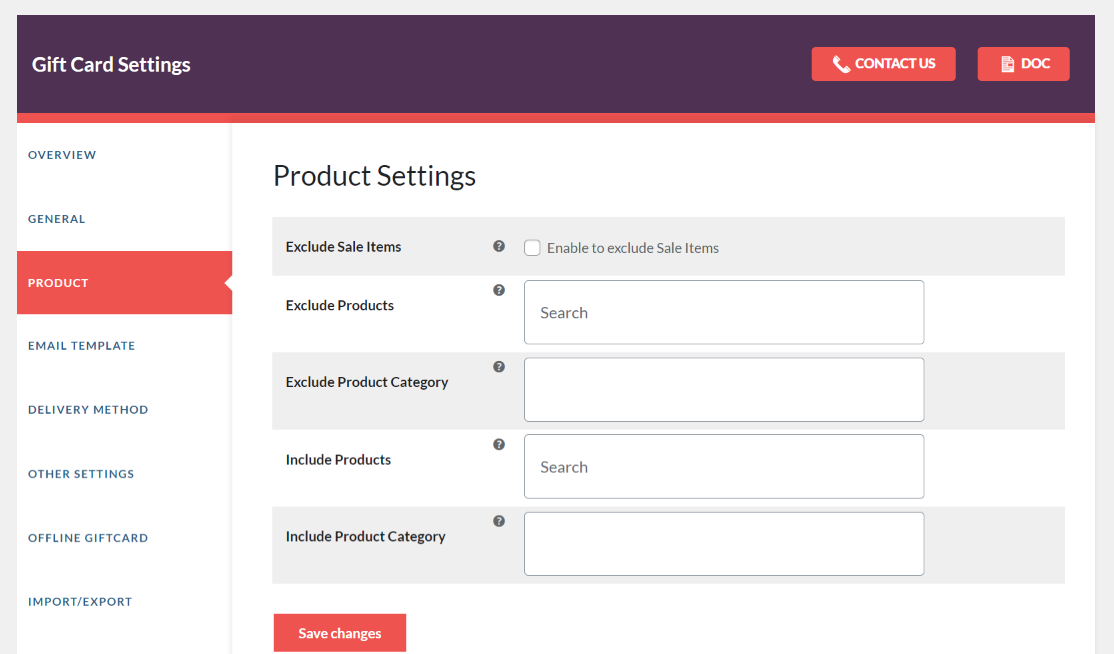 This section has three major setting options on gift card applicability. You can select the following options under this setting to exclude the sales items, particular products, or product categories from the gift card discounts.
You can also decide to include the products and categories upon which the gift card will be applicable.
c) Email Templates
This section contains three types of customizable email templates:
1. Gift Card Email
2. Gift Card Acknowledgement Email
3. Left Coupon Amount Mail
You can customize the gift card email template that is used for delivering gift cards to the recipient, acknowledgment email, and gift card coupon usage email notification.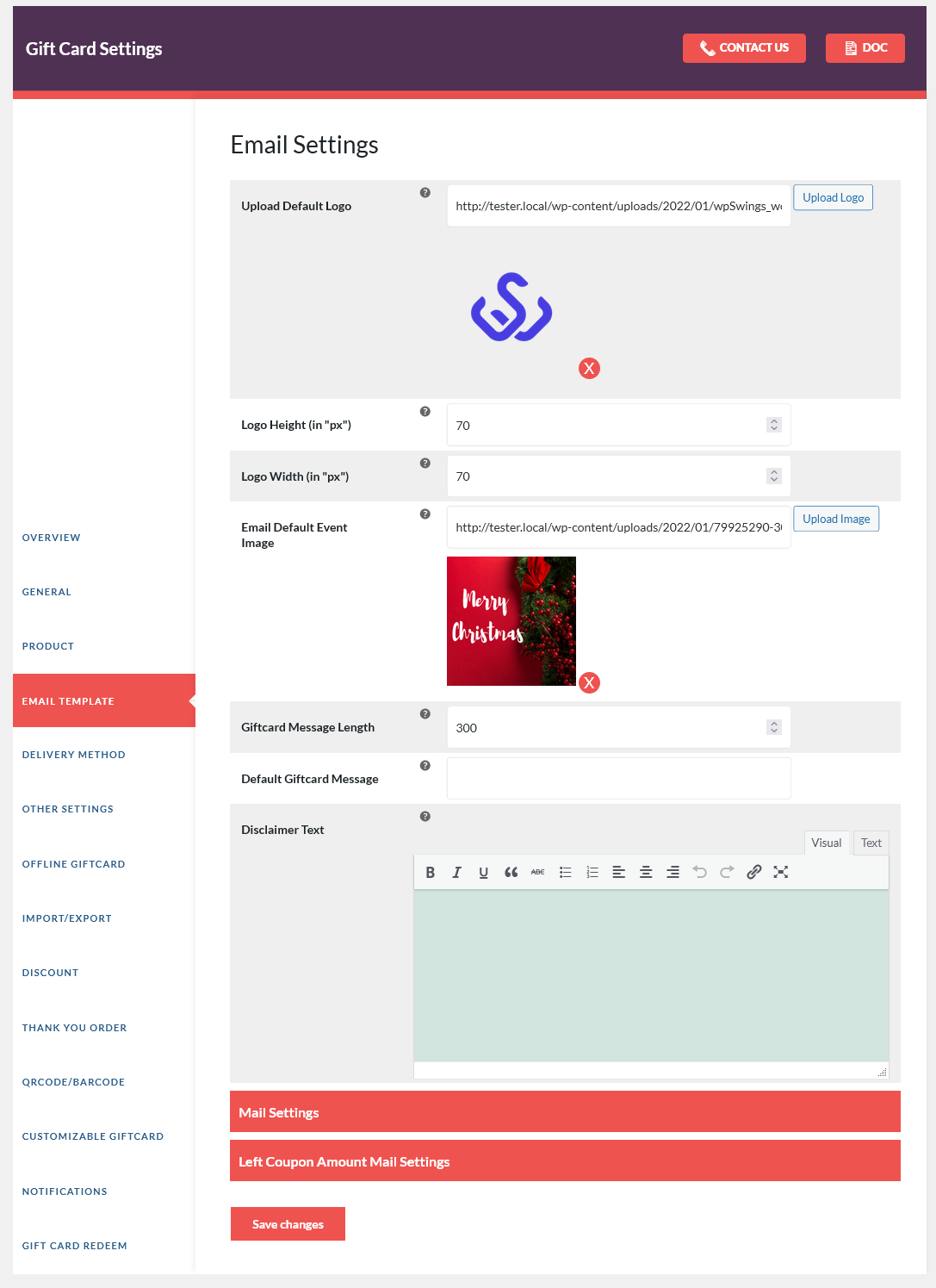 d) Delivery Method
Delivery method settings can be used to determine the method of delivering gift cards i.e. Email to the Recipient, Enable Downloadable, and Enable Shipping on Gift Card.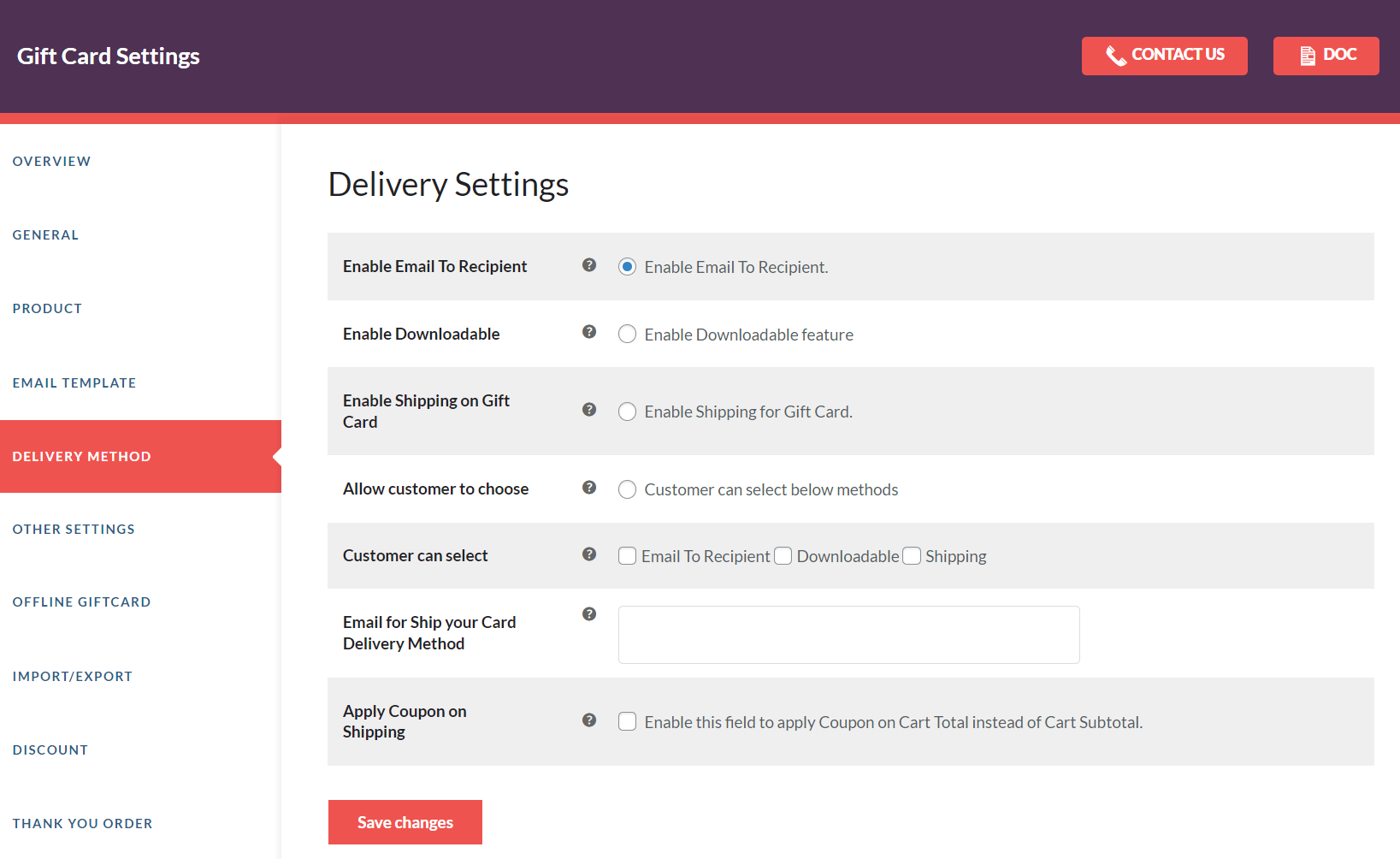 There are many more options available regarding the email, template designs, deliverability options, coupon settings, import/export options, etc. To learn more, you can rely on the documentation.
Our plugin is a complete gift cards solution. It has all the features needed to run a successful gift cards program. In case you need to add a special feature, you can contact us.
Wrapping Up
Gift cards are a must-have for most businesses, especially those in the retail sector. Customers love buying, gifting, and re-selling their gift cards.
In this article, I've discussed the importance of selling gift cards, their seven key roles in retail business growth, and also shown you how to implement a gift card program on your WooCommerce Store.
If you want to learn more about WordPress, WooCommerce, and eCommerce, then please check out our other blogs.