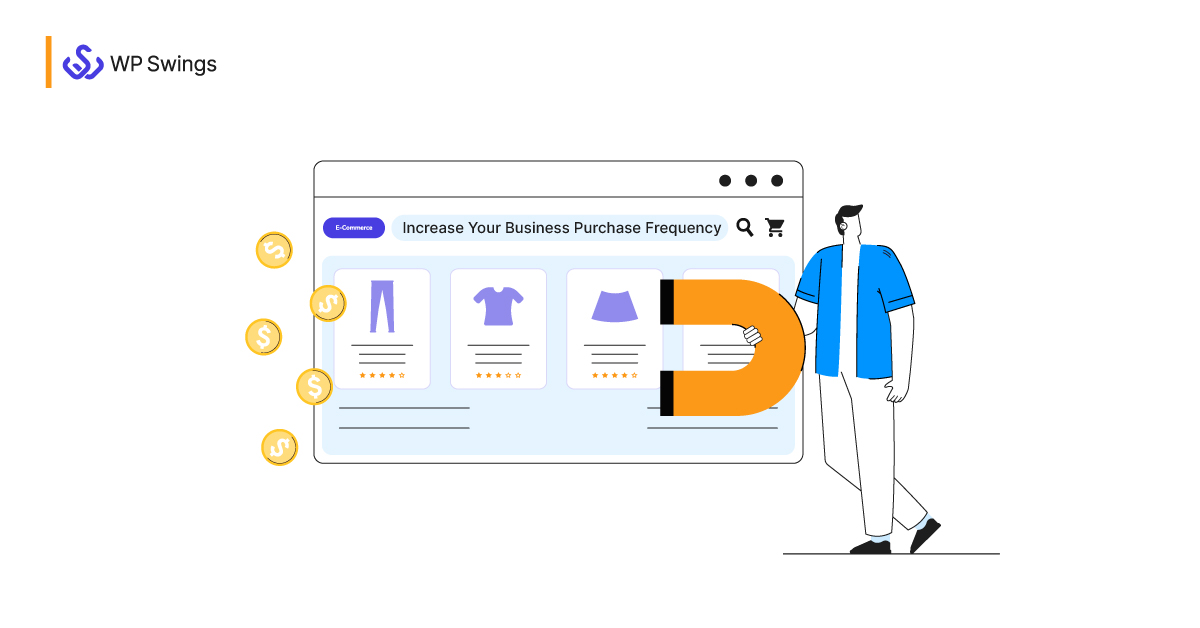 "From stock-ups to online orderings, COVID-19 has remarked on the behavioural shift in the purchase frequency of vivid shoppers."
COVID-19 pandemic has eventually impacted every aspect of living and business. The people who were once into physical shopping only have positively accepted digital platforms. Traditional retailers are closing down while consumers are looking differently at products and brands across the globe. Amidst all the chaos, digital marketers and online retailers are continuously planning their safe sales marketing strategy to increase purchase frequency for their stores. Online retailers are also aiming to increase the repeat purchase frequency of their customers to analyze the monthly subscriptions on daily necessities.
Although the eCommerce industry was leveling up gradually. The coronavirus has reshaped the growth rate of the eCommerce-based consumer goods industry in real-time.
This doesn't come as a surprise that over 80% of consumers are buying goods online. However, retaining customers and focusing on their purchasing frequency during the prevailing crisis will help you to gauge the post-pandemic business trends.
Have you Ever Heard About Repeat Purchase Frequency?
"You just need to streamline repeat purchase, average order, use customer accounts, garner customer service, start-up with a customer program, push out engaging emails to customers, and much more."
Well, it is the most efficient yet difficult part of your sales marketing strategy. To increase purchases you should be generous enough to initiate sales, discounts, and offers to your store. Because these are called repeat purchase frequency tools for your dear customers.
Over the search engines, you must be getting thousands of content on 'How to increase repeat purchase?' But have you wondered what this will answer you about how to increase purchase frequency? Yeah, this will ultimately work for your business.
So, let's get started with a pinch of smartness that will double your sale with no extra cost coupon.
"The biggest risk is not taking any risk… In a world that is changing really quickly, the only strategy that is guaranteed to fail is not taking risks."   – Mark Zuckerberg
As festivals have started making their rounds with the year start, let's lace up our average repeat purchase rate and grab the nerve of the festivals ( Rio Carnival, Brazil | St. Patrick's Day, Ireland and New York | Kings Day, Amsterdam | Snow Bombing, Austria, Stars of the White Night, Russia to St. Petersburg) and much more.
Well, now you must be thinking, "How to increase repeat purchases?", for your eCommerce store customers. This blog further guides you through 10 ways to increase repeat purchase frequency.
10 Ways to Increase Purchase Frequency & Earn More Ticket Sales
1. Use Local Language to Pitch
To increase purchase frequency, you shouldn't mean that you have your customers intact on your board. Maybe, they might be just there as guest users and thereby 'Sayonara' after that.
Remember when to increase purchase frequency, your tone of the copy for marketing should be as per your client. Your tool for this can be a telephone, message, emails, SMS, and more.
Pitching across in native/local language is the greatest tool to increase repeat purchases because then you can know what your customers want actually.
By this, I can know that I have answered the question- "How to increase customer frequency?"
Now, it is you who will be pitching in…
2. Extend Special Offers for Repeat Purchase
To increase purchase customer retention, you need to do something big for your customers. Be it any special offer or handing them with gift cards and vouchers so they could get the link to come again and shop from your store. This symptom is called a repeat purchase. You should always encourage repeat purchases in the name of festivity, yearly occasions like birthdays, and anniversaries so that your store and worthwhile buying could be remembered by your customers in the long run.
What is a repeat purchase?
According to Business Dictionary, the purchasing of a product by a consumer of the same brand name previously bought at another event. Repeat purchase is often a measure of loyalty to a brand by consumers and is often taken into consideration by marketing research professionals to evaluate a business.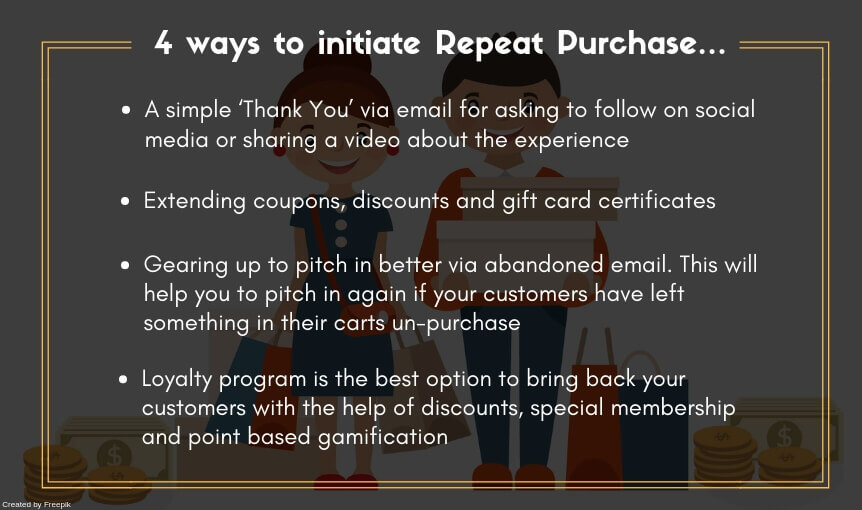 3. Sustain your Customers for Long Run
Only a handful of organizations ever extended long-run offers to their customers to increase repeat purchase rates. Because there is an uncertainty that customers would seriously buy products on a six-month, membership, year-wise, or multi-year or longer program basis. As these are due in the long run. But you should include offers that are short-term like gift cards, discounts, and offers. Well, through these types of purchase frequency formulas you can include new things for your store.
Want to Retain your Customers?
Learn how to Increase Repeat Customers by analyzing Customer's behavior.
4. Lock Sales in Advance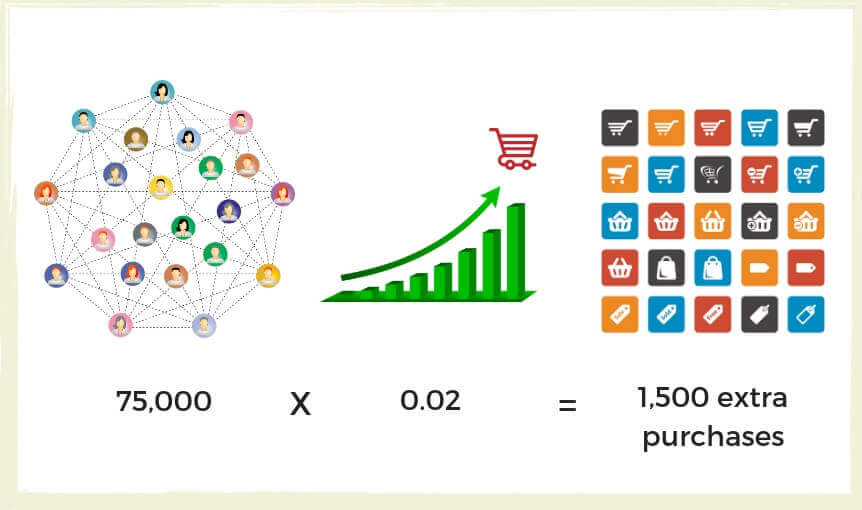 So many businesses react to their customer's needs but sadly fail to bear the pressure. This festivity doesn't be slight in making it happen with good SEO tactics and digital coupon code in 2022. Well, instead of just waiting for the next customer's call or query, or simply getting new sign-ups for the program where you supply your product or service automatically at predefined intervals.
It can be such an easy process to make the transition from selling single product or service transactions to ongoing, long-term services that let your buyers get swayed towards your competitors.
Till the time, you take the responsibility of educating your customers about this process and the expected results which you want to fetch from it.
5. Develop Back-end Products and Services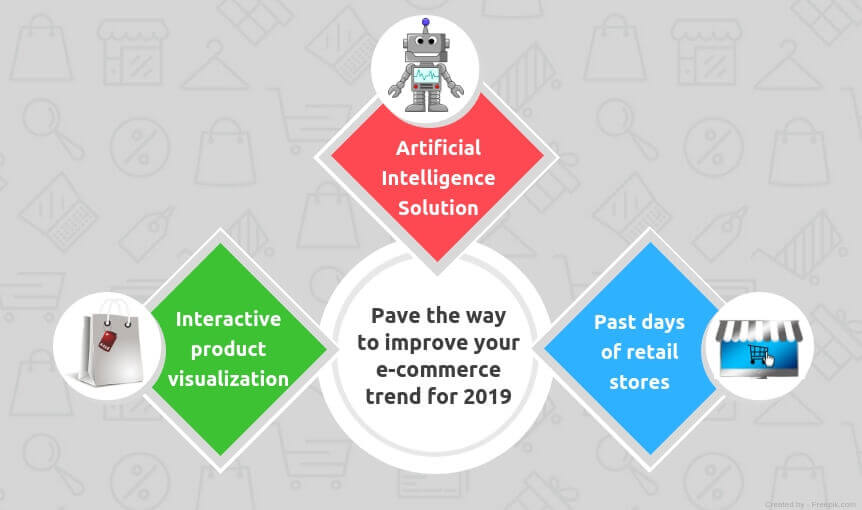 Many of the customers spend time, money, and effort trying to attract new customers. Even to sell out the product so to make that little transaction… Well, it will be good to know that you then are at a higher margin than before because you no longer possess the same selling cost.
Likewise, you must be having many of the products or services that you could supply as a backend extension of things that will be like the cherry on the cake.
Well, these are nothing more than a mere extension of your main product and services which are just complimenting the main product.
6. Bounce Back Offers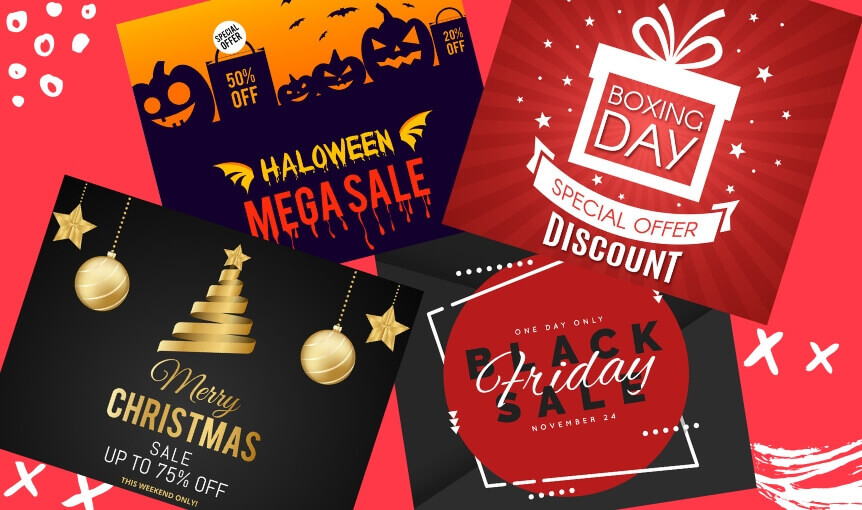 Who (sellers) on this planet does not admire double or even triple purchases just after the first selling of any product and service. Running a business is not a joke and it is not yet when you can sit back, and enjoy your chilled watermelon juiced by the seashore after having just 'a single sale'. You can even multiply your sale thereafter too. How about using an upsell funnel offer after purchasing in this festivity.
Being a human is difficult when it comes to feeling accomplished with their desires. The same is the story of merchants. He or she cannot satiate with one or two sales. There should be enough sales to cover the whole year. To increase purchases, you need to encourage more sales which simultaneously generates significant additional income from the hottest of buyers with virtually no extra marketing cost.
So, grab your customer to buy every possible thing from 'YOUR' store or else they will move to some other store.
7. Encourage Loyalty Programs
Customer programs have become the buzzword in the market presently. What not you do to satisfy and keep your customers as active buyers of your store.
So this holiday season makes it BIG with frequency builder programs that will motivate your customers to purchase over and over again. Not only that, your customer will steadily become your client in no time.
So offer special festive offers and incentives to customers with better purchase frequency. Projects can take numerous structures that incorporate point aggregation projects, sticker or punch card programs, correspondence programs, " favored client" rebates and deals, extraordinary "individuals just" points and rewards, and blessing endorsements or refunds dependent on use.
These projects convey you closer to your clients, reinforce your situation in the commercial center, protect you from value rivalry, and help you get a bigger cut of the cake. They likewise enable you to gather information on your clients which will bond your client connections by focusing on unique offers to their particular needs.
8. Lower the Product Pricing for Increased Customer Frequency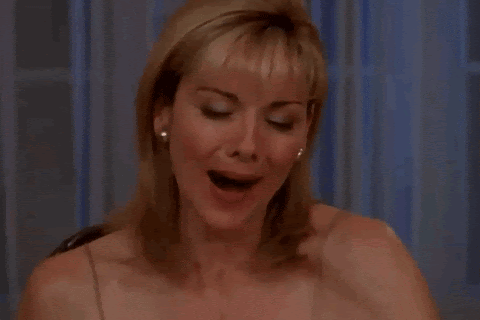 Purchase frequency is the main essence of the selling process because the number of times your customers visit your site and make positive purchases matters.
So, make it a rewarding process that tends to buy things more than once from your store.
In the months to come, you must be floating out many offers and great saver deals. Motive them to buy things which can save them from spending much.
You can offer lower costs for pre-installment or the long haul or "till further notice" duties or you can offer contract costs to high volume clients. You can give value motivating forces, rewards, premiums, redesigns, discounts, or credits to clients who assure you to maintain a frequency of purchase of a base volume in a year.
9. Promote Other Products or Services
It would be very foolish to say 'buying and selling opportunities only to stay till an active selling transaction does not carry out. It is much more and is like the universe. Trust is the vital thing that will make your business grow and earn its name on other fronts as well.
This provides you with a huge chance to offer other individuals' deliberately chosen items or administrations to your clients through support. This will ordinarily result in an endlessly more noteworthy reaction than if your clients were drawn nearer "chilly" … without your underwriting or proposal. It requires next to no time or exertion to embrace different items or administrations for your clients.
10. Upcoming Job Recommendations
You ought to save enough for the following festive deal opportunities which are aligned. For whatever length of time that your clients are content with your item or administration, your most straightforward deals will be to your present clients.
They definitely know you, they've put sincerely in you, they've gone out and purchased from you. They know regardless of whether you've conveyed what you guarantee. If you have, you'll procure their devotion.
All things being equal, your clients don't know all that you can do to help them… except if you let them know. So, let them know about your next move that will prepare your customers to make active purchases from your store and save big chunks of their pockets.
Knowing your products better will boost your retention rate….
Wrapping Up!
Customer retention is the first and most important thing when talking about increasing purchase frequency, which every business owner looks for. Framing out customer experiences that facilitates technology and business data that will help to achieve reality.
So, I hope my blog has catered to your search and now you know how you should go away to earn maximum this festive season by increasing purchase frequency with these details.