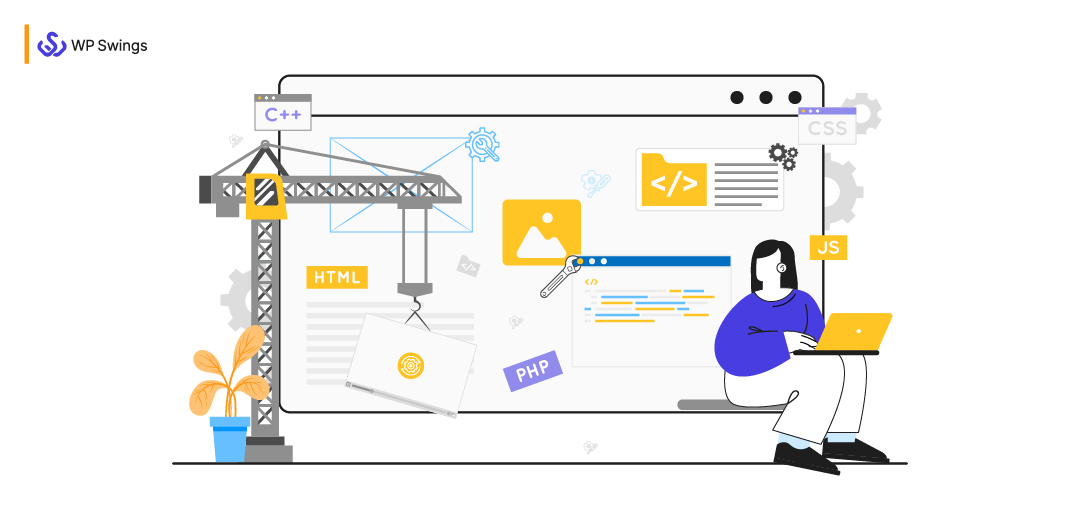 For small businesses, having a website is one of the most important elements. It increases customer trust in your brand. It provides organizations with more flexibility and control, as well as improved branding and reputation.
Small businesses can benefit from the top website builders since they will increase brand awareness and sales. It is simple to operate and may be used by anyone. The company website creator does not require any coding knowledge.
The website builder for small businesses allows you to design a professional website that not only meets your needs but also includes features like eCommerce and marketing. With all these factors we are moving on to the major benefits of having an eCommerce website.
What Are the Major Benefits of Having an Ecommerce Website?
As we all know that the eCommerce sector is developing, every business owner should consider having an online presence in order to offer his or her goods and services. Without a question, it is a growing, result-driven platform. It has the power to gradually raise small businesses to incredible heights.
So you've got plenty of justifications to present. There are other benefits to eCommerce websites as well, and they are just too powerful for you to overlook!
Here Are Some Benefits of Using an Ecommerce Website
User-Friendly Platform
You may even add outstanding features to your website to attract more customers and boost sales. Your website will provide a positive eCommerce user experience for your customers because they will be able to find what they are looking for in a matter of seconds. All you have to do now is make sure you give your consumers a variety of purchasing methods, a place to leave feedback, a variety of variant options to choose from, and a speedy delivery option. Customers become loyal to the shop as a result of all of these advantages of an online store.
Attract Global Exposure
As a business owner, you don't want your company to get caught in a rut; you want it to develop. If you had to operate just one store for the rest of your life, you wouldn't want that for yourself. You obviously want to sell your items all over the world.
With an eCommerce website, you can accomplish this and run your business at the speed you've always desired. All of this is impossible to do with just one store on a plot of land. Ecommerce is the platform that brings your business to new areas, thus you'll need a clever eCommerce website to extend your market. Allow your customers to buy your products the way they want, in just a few clicks, from the comfort of their own homes.
Happy Customers
Because of the increasing sales competition among business owners and businesses, they must come up with effective discount offers to entice their clients. You can solicit feedback in the form of reviews and ratings for your product or service. Customers believe your product provides them with good value for money, thus product reviews and ratings play an important role in boosting sales. As a result, it's critical to obtain as many reviews and testimonials as feasible. This would undoubtedly assist you in attracting more customers to your online store.
Easy in Analytics Monitoring
Organizations may simply analyze all of the data that is kept with an online selling system to determine the success of sales, learn about customer behavior, understand marketing strategies, customer engagements, and much more.
Build Connections With Targeted Customers
Communication with a specific audience always yields a result. To do so, you'll need the potential customer's email address and personal information. You should also be aware of their online behaviors, likes, and dislikes. You'll need to construct a registration page on your website to get all of that information. Once you have access to all of the information, you can convey all you want to tell them about yourself and keep them up to date in order to persuade them to buy from you.
Level up With a Fast-Growing Market
Approximately 79 percent of Americans purchase online, and a higher percentage of people favor online shopping because it is the most convenient option. In fact, 78 percent of online shoppers take into account product reviews from other customers, which encourages them to continue shopping online. So, in order to keep up with the fast-growing market, it's critical to understand people's shopping habits and capitalize on them by developing your own eCommerce website.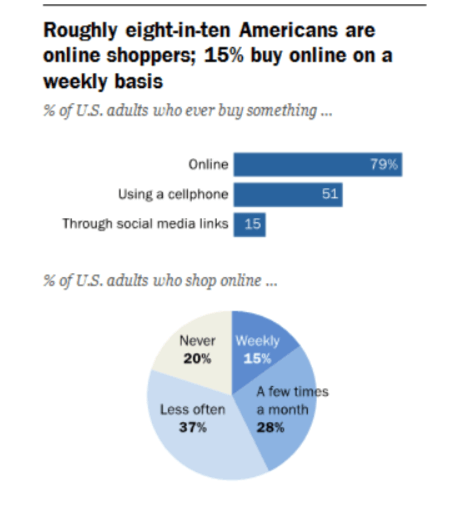 After knowing these benefits of having a website, I hope your mind is struck with the thought of 'build my own site'… If that happened then you should definitely give a try website builder for eCommerce to create your fully-fledged website.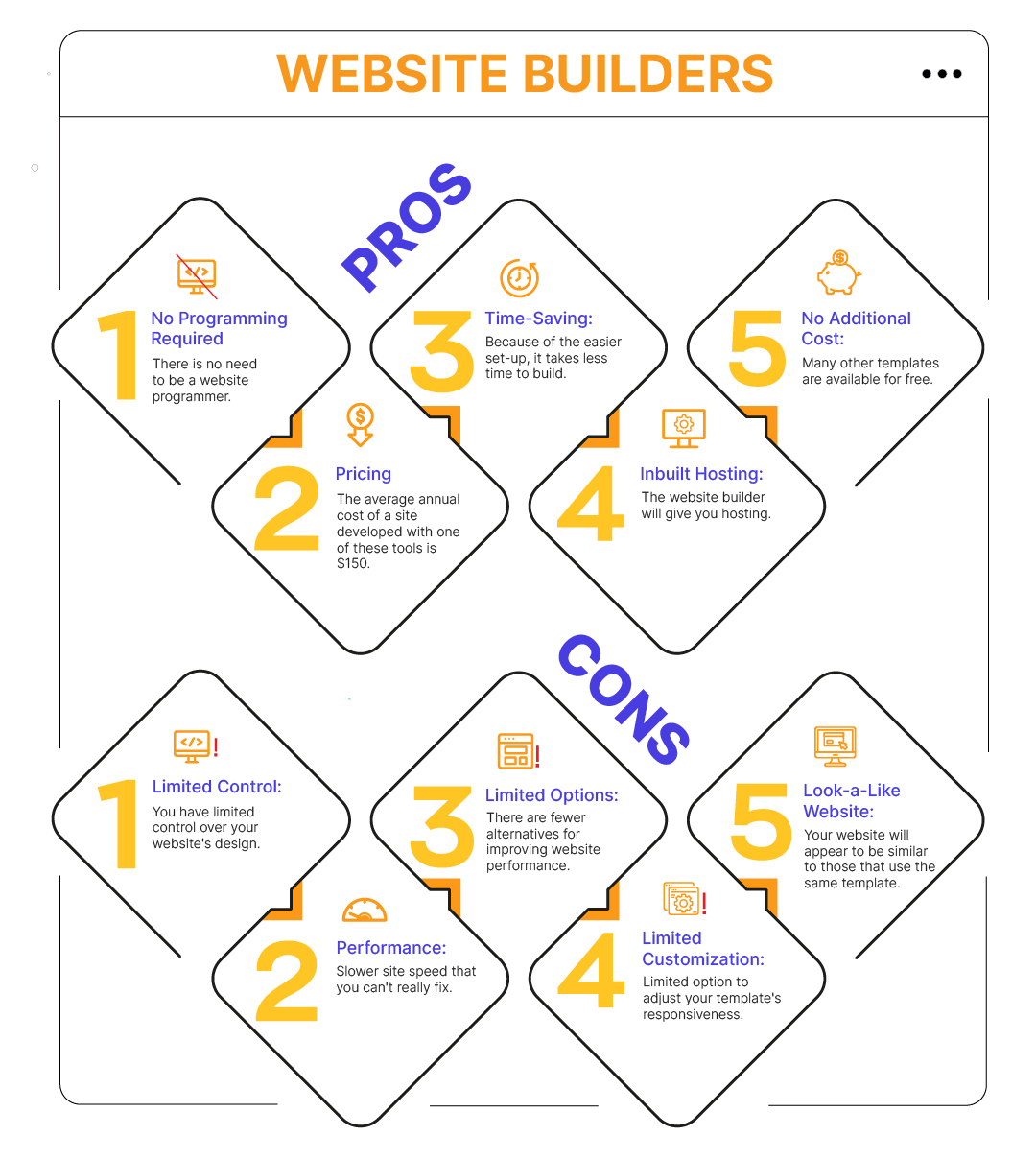 So in this article, I will discuss the top 7 website builders for small businesses:
Top 7 Website Builders for Small Businesses
1. WordPress.com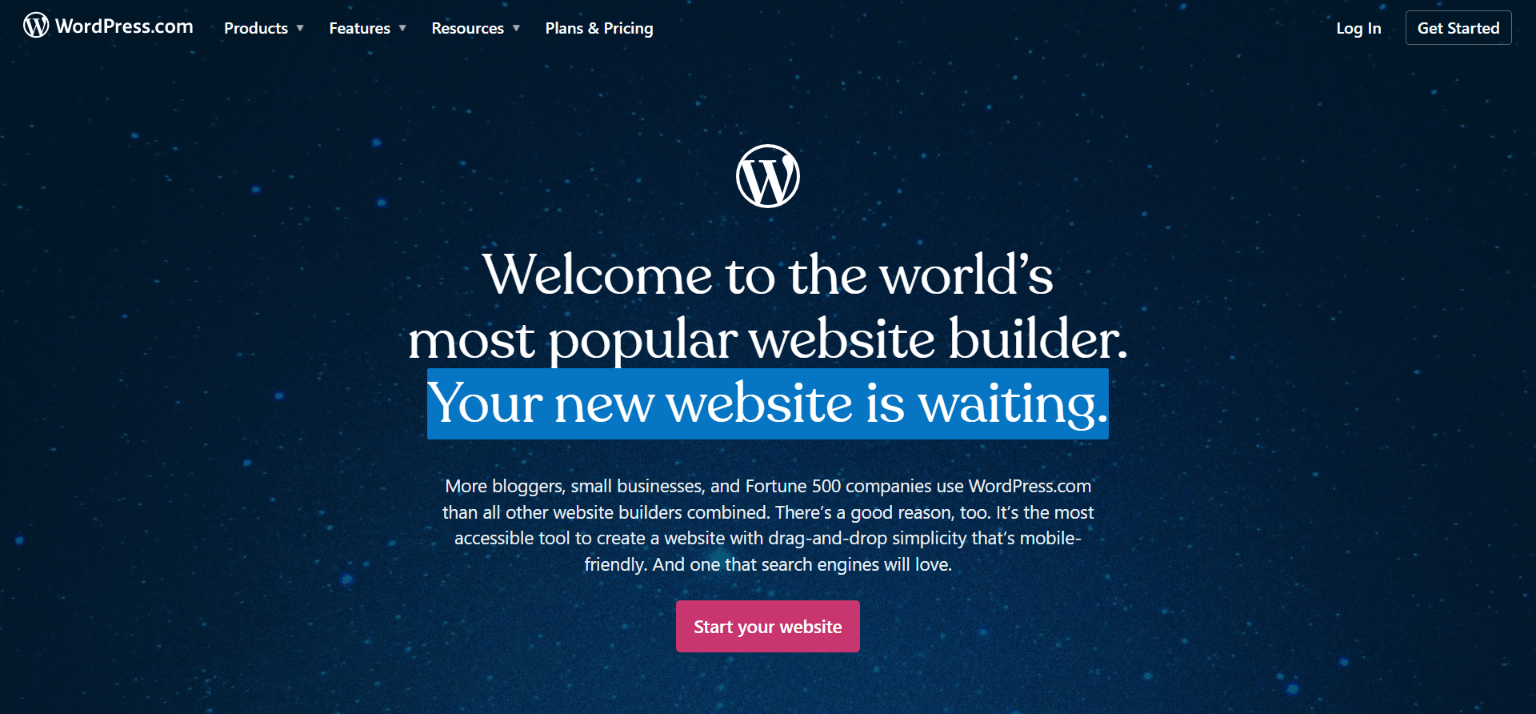 1.1 Overview
WordPress.com provides you with all of the necessary components for creating a website for any form of business. WordPress is used to power 43% of the internet and is beneficial as a website builder for small businesses. WordPress is used by more bloggers, small enterprises, and Fortune 500 companies than any other platform. Choose from 60 different styles based on the content and functionality you require — as well as the needs of your website. They're also simple to link with existing services like Eventbrite, Pinterest, OpenTable, and Calendly, as well as Mailchimp, YouTube, and others.
1.2 Features
You Can Customize it
Create your own online area with a custom domain that you can administer from WordPress.com. Custom layout options for your website might help you dial up your brand. Default settings keep things simple.
You Can Share Your Work
WordPress.com makes it simple to put your work out there, with capabilities for practically any content format, from blogging and podcasting to exhibiting a portfolio or service or even delivering seminars or events. Then distribute it to your friends and followers, send it out as a newsletter, or syndicate it across social media and content platforms. As your community grows, engage with it. The finest part is that you control everything, from content to audience.
You Can Monetize Your Website
Begin for free. Upgrade to gain access to more extensive customization, security, and SEO features. Alternatively, you can choose to be free! It's now time to start making money. The WordPress.com Payments Block makes things simple and transparent. Create and integrate payment buttons for credit and debit cards directly onto your website. Then, on your website, securely accept payments for almost anything – physical goods, digital downloads, subscriptions, services, donations, and even tips.
1.3 Pros and Cons
| | |
| --- | --- |
| Pros | Cons |
| Because it's open-source, it's compatible with most web hosting platforms, including Bluehost. | Setting up a website can take some time, but there are numerous WordPress for beginners resources and tutorials available. |
| WordPress plugins allow you to extend the functionality, optimization, and features of your site for maximum customization (like custom contact) | You're responsible for maintaining your website (backups, security, upgrades, and more) unless you have managed WordPress hosting, which may or may not be part of your business plan. |
| With an eCommerce store, you can easily accept credit cards and generate money online. | If you're trying to do things that aren't part of your theme, website design can be difficult. |
| It's simple to add Google Analytics to your WordPress dashboard. | NA |
Want to Set Up Google Analytics for Your Ecommerce Store!
Don't Worry… You are one step close to the solution.
Not only this but WordPress is also equipped with a free website builder for small businesses. So what are you waiting for! Just go and grab the service at WordPress.org.
1.4 Ratings

1.5 Pricing
Select the plan that is best for you.
| | |
| --- | --- |
| WordPress Starter | WordPress Pro |
| $4.90 per month billed annually | $11.60 per month billed annually |
1.6 Example
Here's an example of a fantastic WordPress website that pushes the envelope and breaks the mold in terms of design and functionality.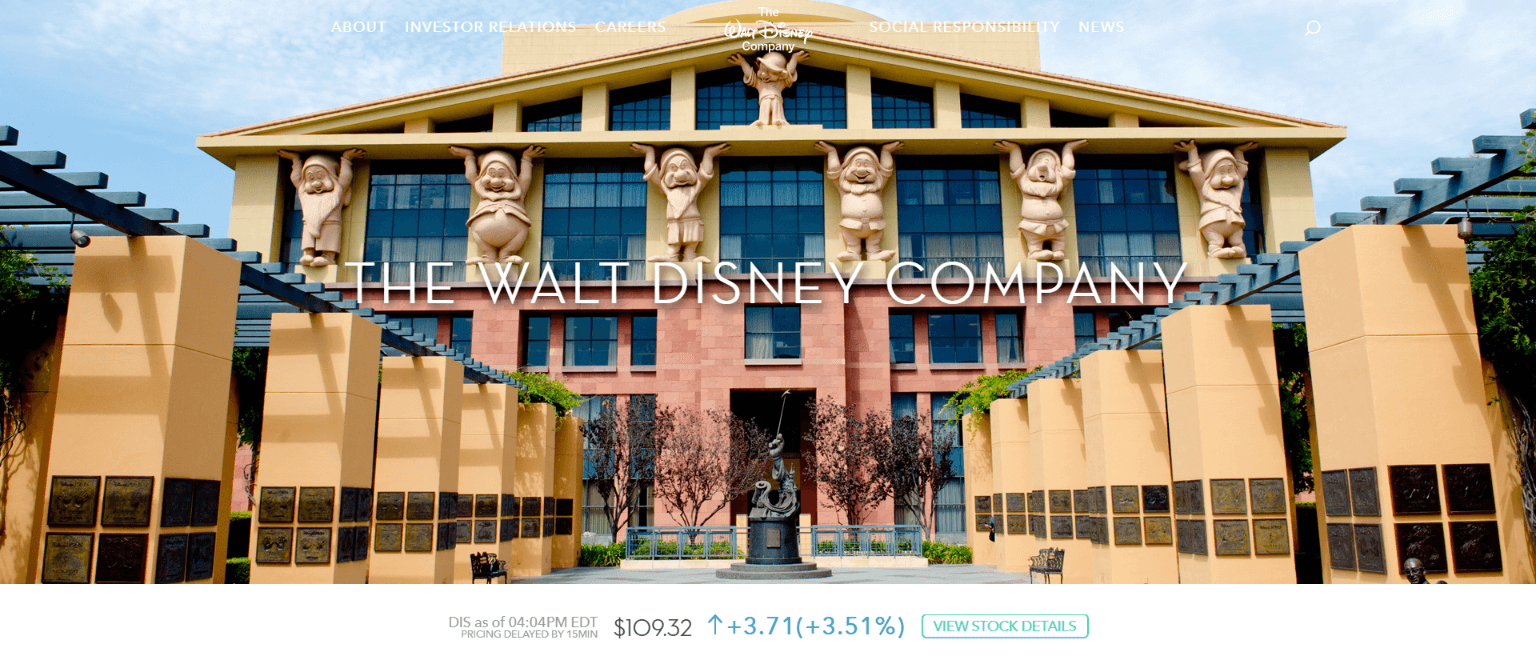 The Walt Disney Company uses WordPress to promote its brands and display a wide range of content, services, and products.
Why Choose WordPress as a Website Builder!
2. HubSpot Website Builder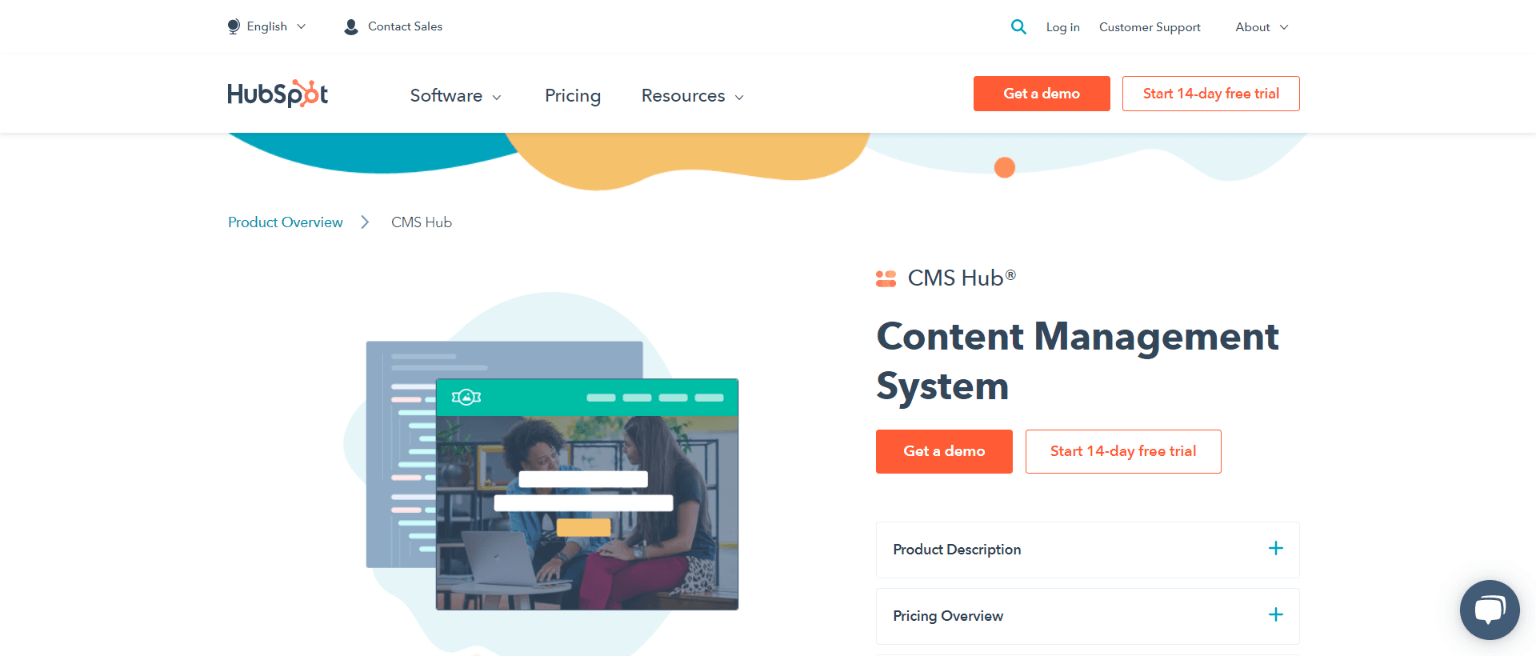 2.1 Overview
Build a powerful website with HubSpot Website Builder that is optimized for all devices, customized for each visitor with HubSpot CRM data, and integrated with all of your marketing tools – straight out of the box. The content management system you'll need to quickly develop and personalize website pages for each individual visitor, all while ensuring that they're optimized for conversion on any device. You are free to rely on developers as much or as little as you choose. Hubspot website builders can become a helping hand to small businesses.
2.2 Features
Fully Integrated CRM
Using CRM data, track every visitor to your site in one location and develop personalized digital experiences for them. Your website becomes a growth engine for your business when you use the HubSpot CRM platform.
Adaptive Testing
Easily optimize your website on a regular basis. Choose up to five different variations of a page, and HubSpot will track and deliver the most effective one.
SEO Recommendations
With the SEO tips home screen, you can quickly discover how you may optimize your site and take action, all in one spot.
Contact Attribution Reporting
Investigate which content types, sources, and campaigns are generating the most leads to evaluate the impact of your website and enhance your approach.
Website Themes
Use one of HubSpot's pre-built website themes with custom development options. Build a site with a consistent look and feel without having to worry about mismatched designs, logos, or navigation.
Drag-And-Drop Editor
Without the assistance of a developer or custom code, you may update and create pages. It's never been easier to publish modifications on the fly.
2.3 Pros and Cons
| | |
| --- | --- |
| Pros | Cons |
| Personalize website content based on a user's location, source, device, language, or any other HubSpot CRM field. | Depending on your current website builder, moving your current site to CMS Hub may be tough. |
| Conversion-optimized website templates that are pre-built. | There is no free version available (but CMS Hub does have a trial available) |
| SEO tools, extensive analytics, email marketing, live chat software, multi-language content support, and more features are included. | NA |
| Adaptive testing allows you to keep track of up to five different versions of a web page and serve the one that performs best. | NA |
2.4 Ratings

2.5 Pricing
Select the plan that is best for you.
| | | |
| --- | --- | --- |
| Starter | Professional | Enterprise |
| $45/mo | $800/mo | $3200/mo |
2.6 Example
HubSpot enables you to provide visitors with personalized content. Here's an example of a Coca-Cola Beverages Northeast created by the Hubspot website builder.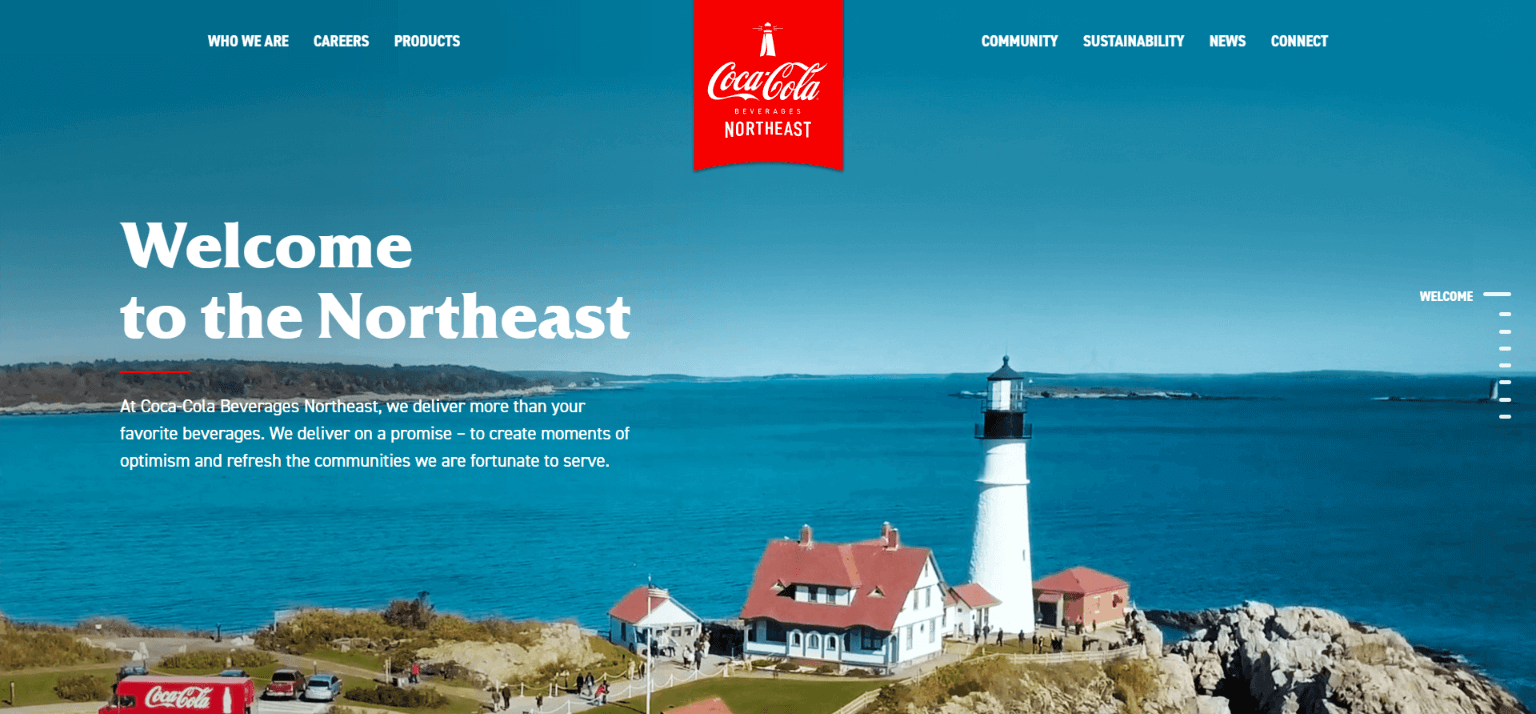 3. BigCommerce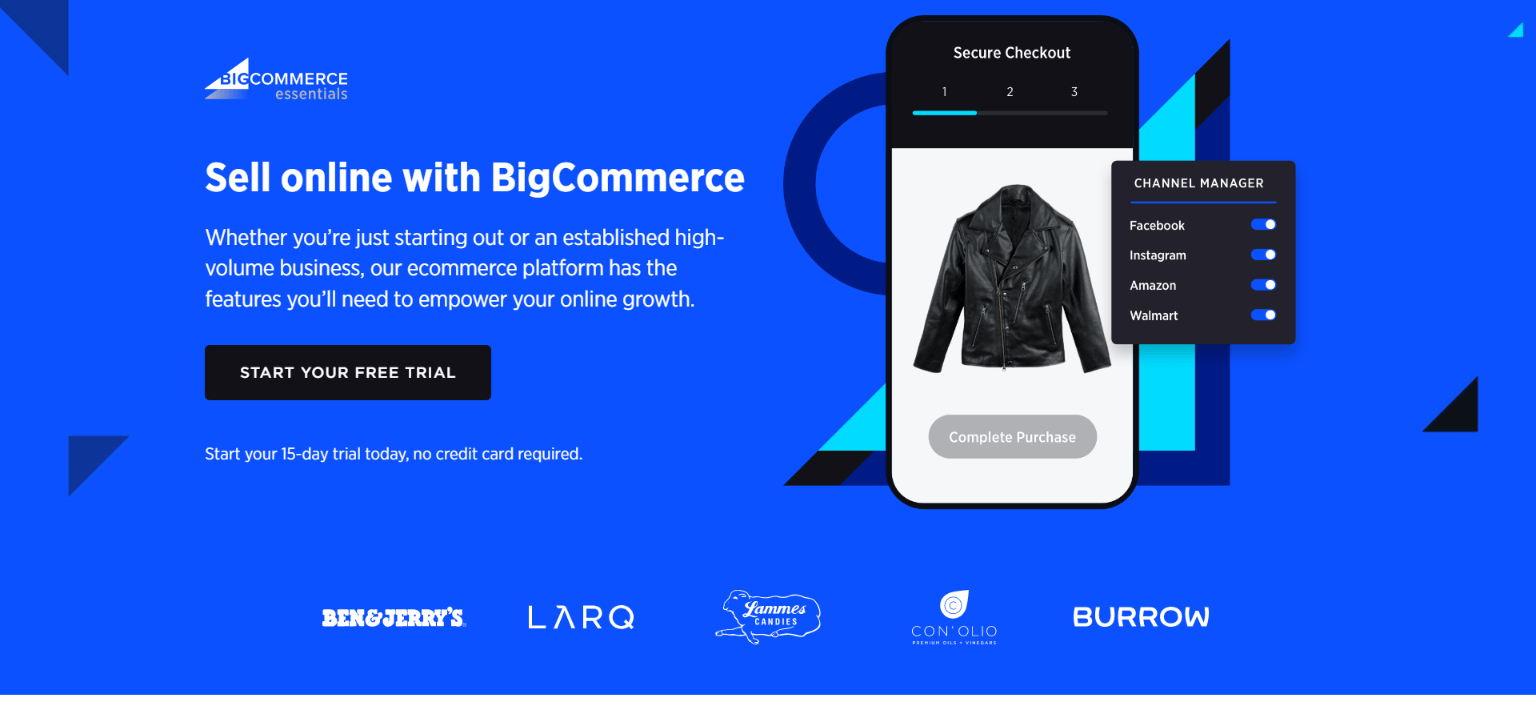 3.1 Overview
BigCommerce is a platform of eCommerce for a new era. You can build a business website that's ready for anything with the flexibility of open SaaS. BigCommerce had progressed faster than other platforms in terms of developing capabilities such as headless commerce connectors and multi-currency support.
3.2 Features
Design With Freedom
With design tools that know no limitations, you can spark creativity and create attractive shop experiences.
Feature-Rich Platform
How LARQ (LA Ruche Québec Organization) is using BigCommerce to expand its long-term business.
Operate Without Worry
Worry-free operation Reduce operational complexity with a simple, secure platform that is always available when you need it.
Outperform The Competition
Provide customers with lightning-fast shopping experiences that keep them coming back for more.
3.3 Pros and Cons
| | |
| --- | --- |
| Pros | Cons |
| When it comes to building a website, you don't need to be a technical wizard. | Outside of the Constant Contact extensions, you won't be able to install any third-party extensions. |
| Protect your credit cards and financial information from hackers and DDoS attacks. | It's not free, and you'll have to pay for other features like credit card storage. |
| They provide chat, email, and phone support 24 hours a day, seven days a week, which is extremely beneficial to small business owners and staff. | NA |
| With stunning templates, you can easily create and design your own eCommerce store. | NA |
3.4 Ratings

3.5 Pricing
| | | | |
| --- | --- | --- | --- |
| Standard | Plus | Pro | Enterprise |
| $29.95/mo | $79.95/mo | $299.95/mo | Custom Pricing |
3.6 Example
Get ideas for your own BigCommerce store by looking at the attractive Skullcandy BigCommerce website example.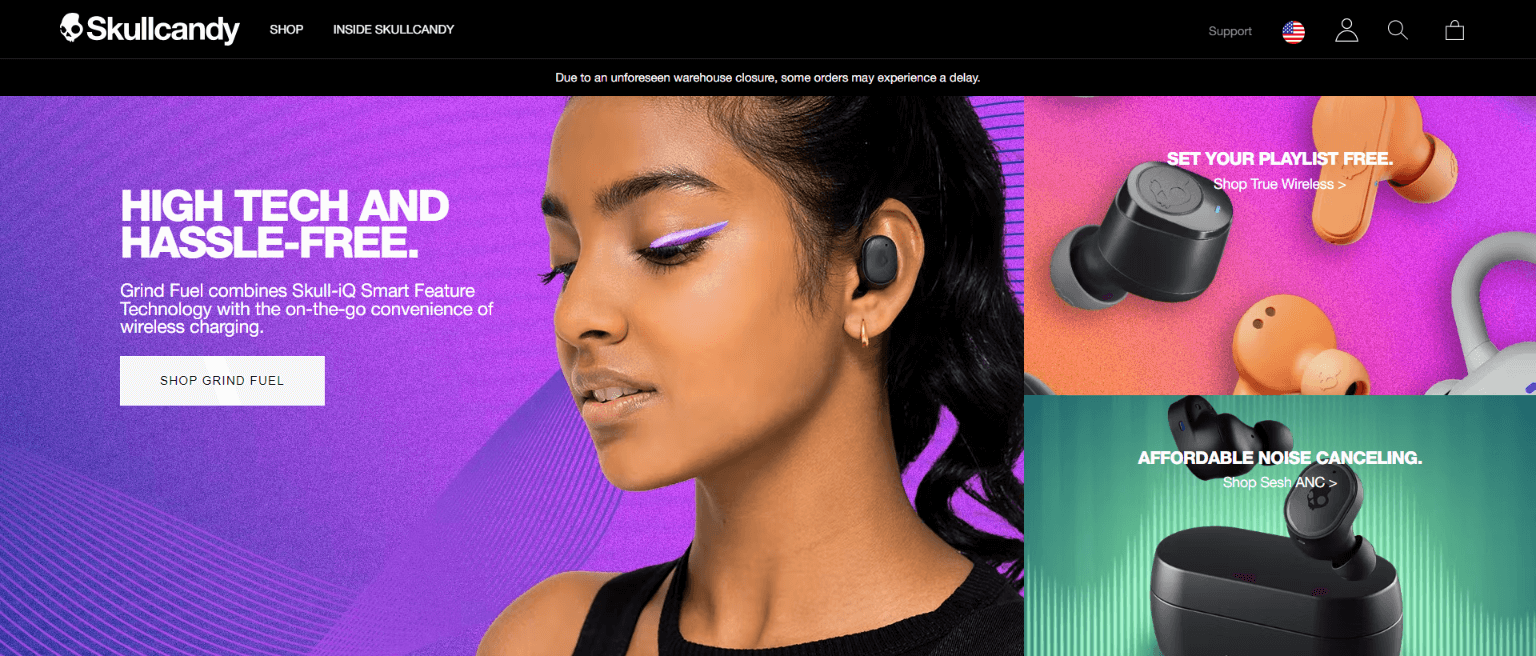 4. Shopify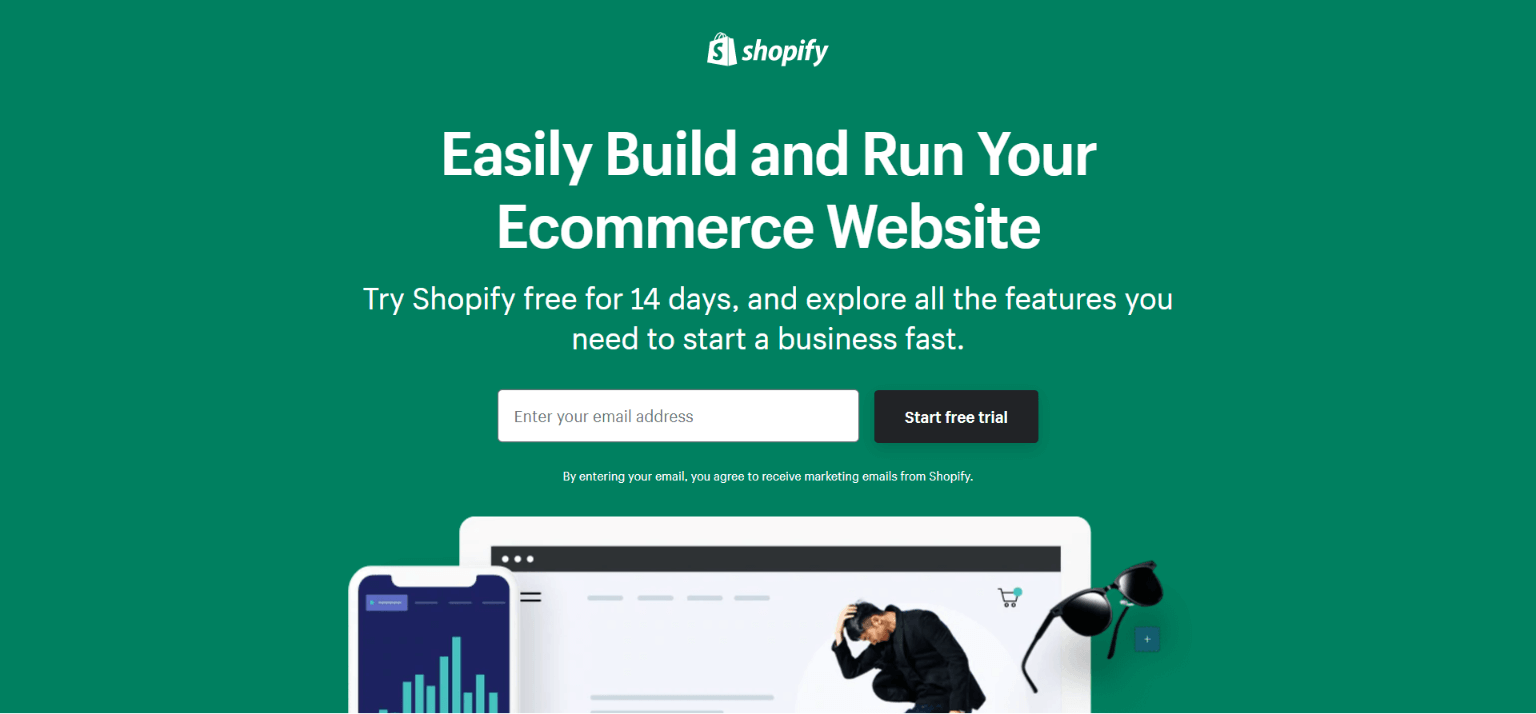 4.1 Overview
Shopify is a well-known eCommerce platform designed specifically for online retailers and small business eCommerce websites. This robust site builder tool is used by over 500,000 businesses and has helped sell over $40 billion worth of items.
4.2 Features
Drag-And-Drop Website Builder
There are over 70 professional and free store templates to choose from. Colors, graphics, and fonts can all be easily customized. No prior experience in design is required.
Customizable Templates
Free website templates to help you get your store up and running quickly.
A safe And Efficient Platform
Shopify is trusted by millions of users to manage their online stores.
All In One
From marketing to payments to secure transactions and shipping, Shopify handles everything.
4.3 Pros and Cons
| | |
| --- | --- |
| Pros | Cons |
| Shopify has a point-of-sale system that allows you to sell things both in-store and online. | Moving your site away from Shopify is complicated. |
| You don't have to worry about software updates or backups because it's an all-in-one managed solution. | The costs are greater than those of most other website builders for small businesses, which may be an issue. |
| They provide hundreds of amazing pre-built designs to help you create a professional-looking online business. | Shopify charges transaction fees of.5 to 2% each transaction if you use an external payment gateway. |
| Even beginners will find the drag and drop website builder simple to use. | NA |
4.4 Ratings

4.5 Pricing
| | | |
| --- | --- | --- |
| Basic | Shopify | Advanced |
| $29/mo | $79/mo | $299/mo |
4.6 Example
You can see the example of a Houseplant website built by a Shopify website builder for small businesses or for a startup.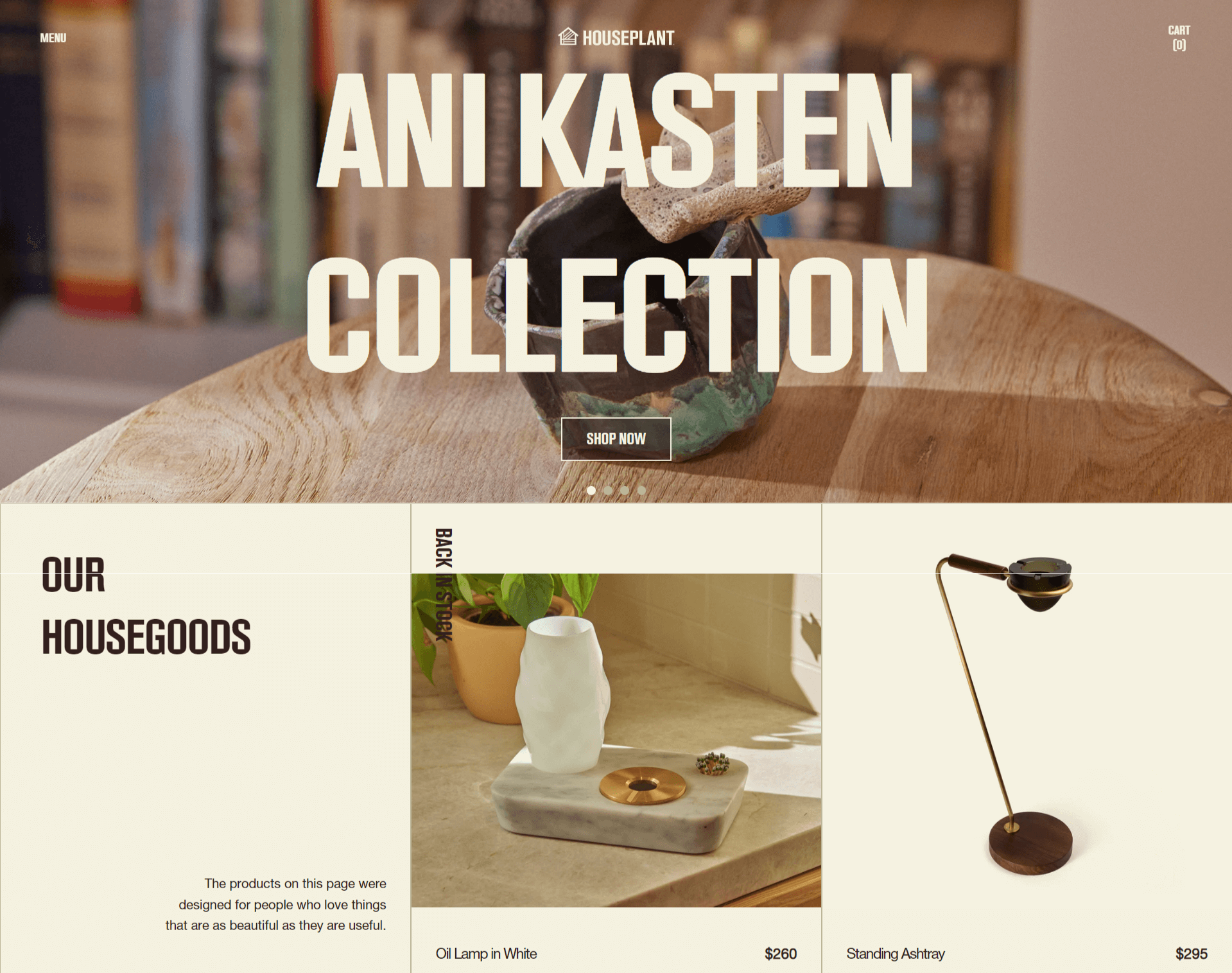 5. GoDaddy Website Builder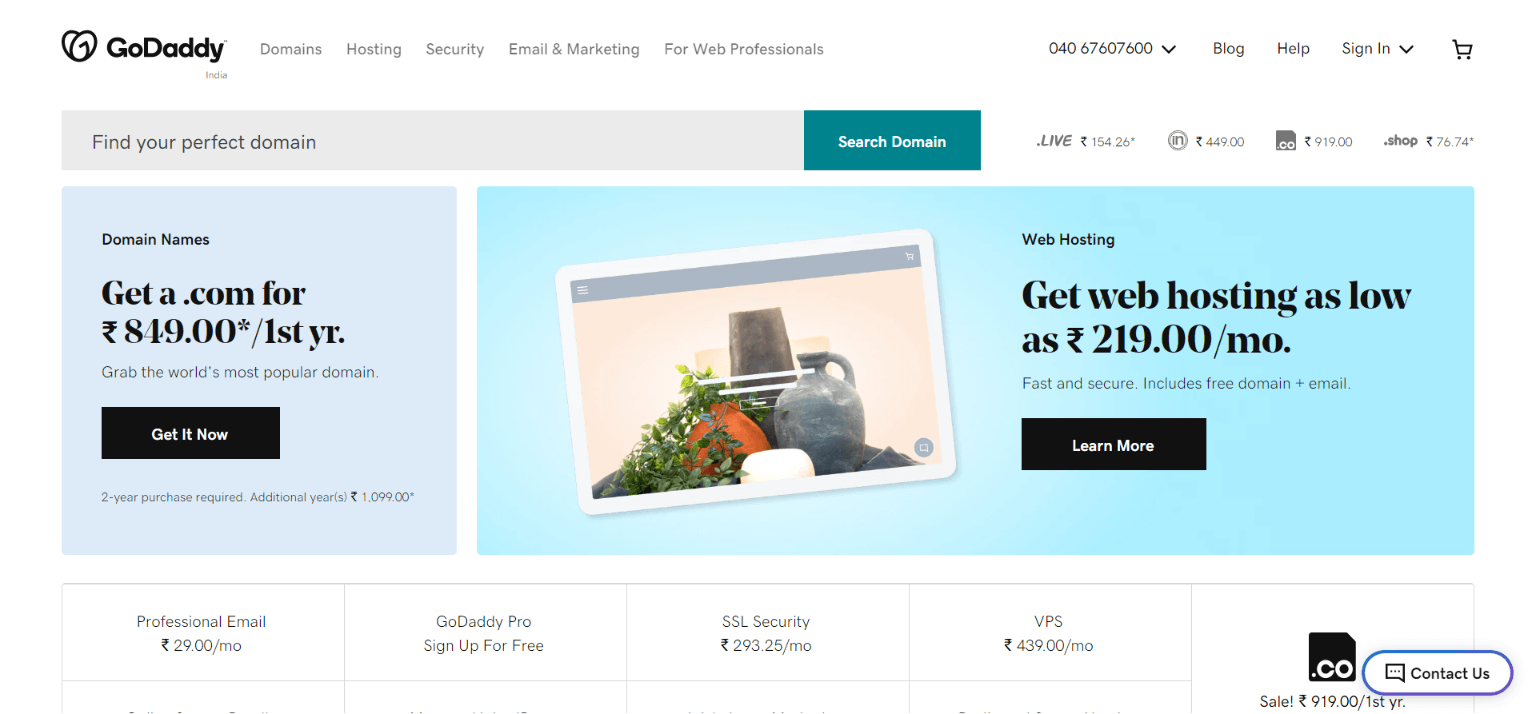 5.1 Overview
GoDaddy Website Builder is a product of GoDaddy, one of the world's most well-known domain name and hosting service providers. Of course, GoDaddy hosting is included in this simple online website builder. It's an excellent choice if you want a simple website that's quick to put together and doesn't require a lot of content.
5.2 Features
Simple, Easy to Use
Beautiful, configurable themes, as well as content-creation tools, ensure that your site looks great on every screen.
Built-in Marketing Tools
With built-in SEO and email marketing tools, you may find new consumers (with paid plans).
No Experience Is Necessary
Coders are welcome, although they are not needed to code. With drag-and-drop tools, you may start designing your site for free.
5.3 Pros and Cons
| | |
| --- | --- |
| Pros | Cons |
| Smaller screens, such as tablets and mobile phones, are supported. | There are fewer design and customization options, as well as a limited number of functions. |
| You'll have access to a Getty Photography image collection that you may use on your website. | Moving your website away from GoDaddy Website Builder is complicated. |
| Has a drag-and-drop website builder that is simple to use. | NA. |
5.4 Ratings

5.5 Pricing
| | | | |
| --- | --- | --- | --- |
| Basic | Standrd | Premium | eCommerce |
| $2.56/mo | $6.42/mo | $9.00/mo | $12.86/mo |
5.6 Example
You can see the example of Coco River Organics website built by GoDaddy website builder for small businesses or for startups.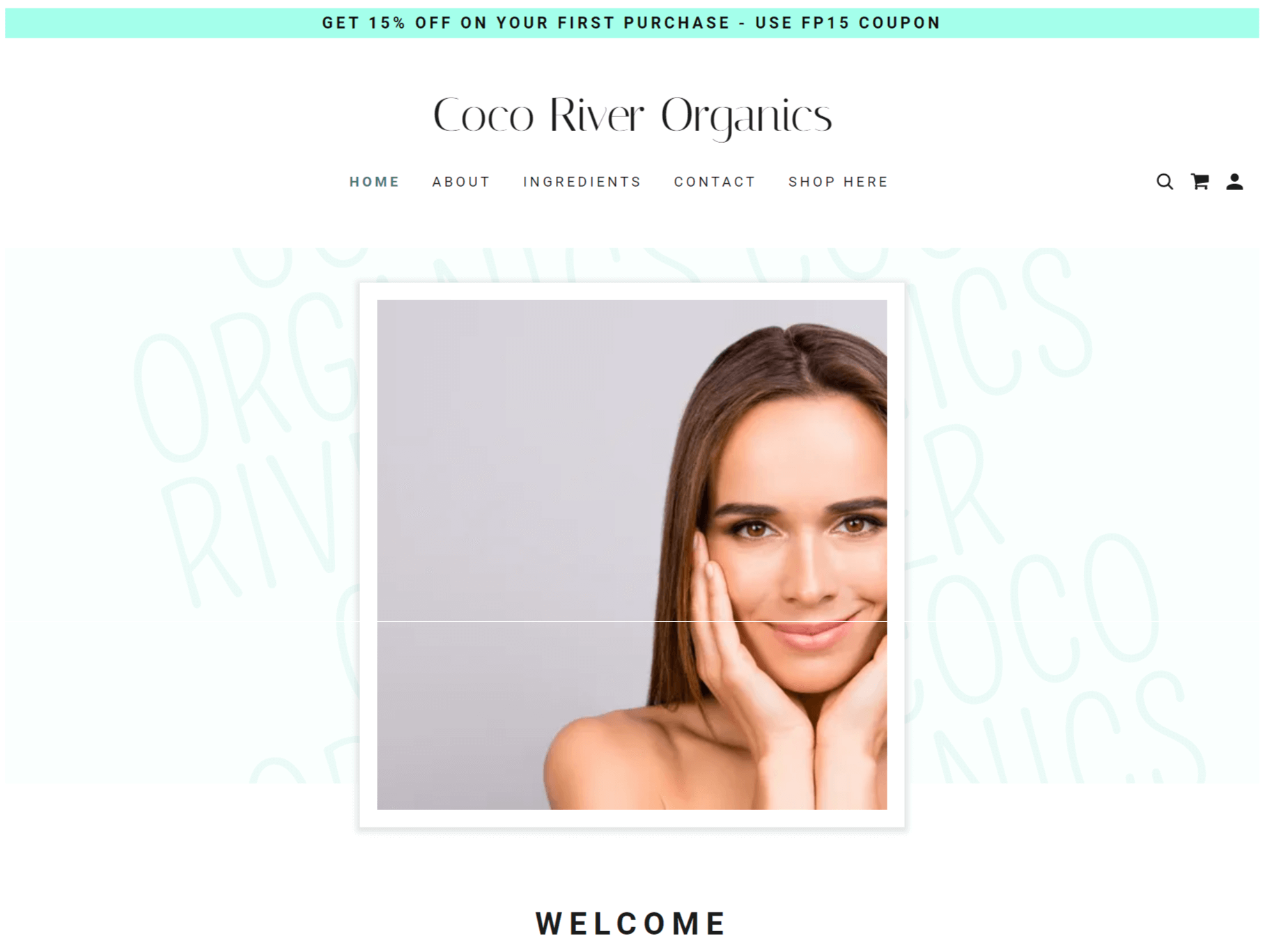 6. Wix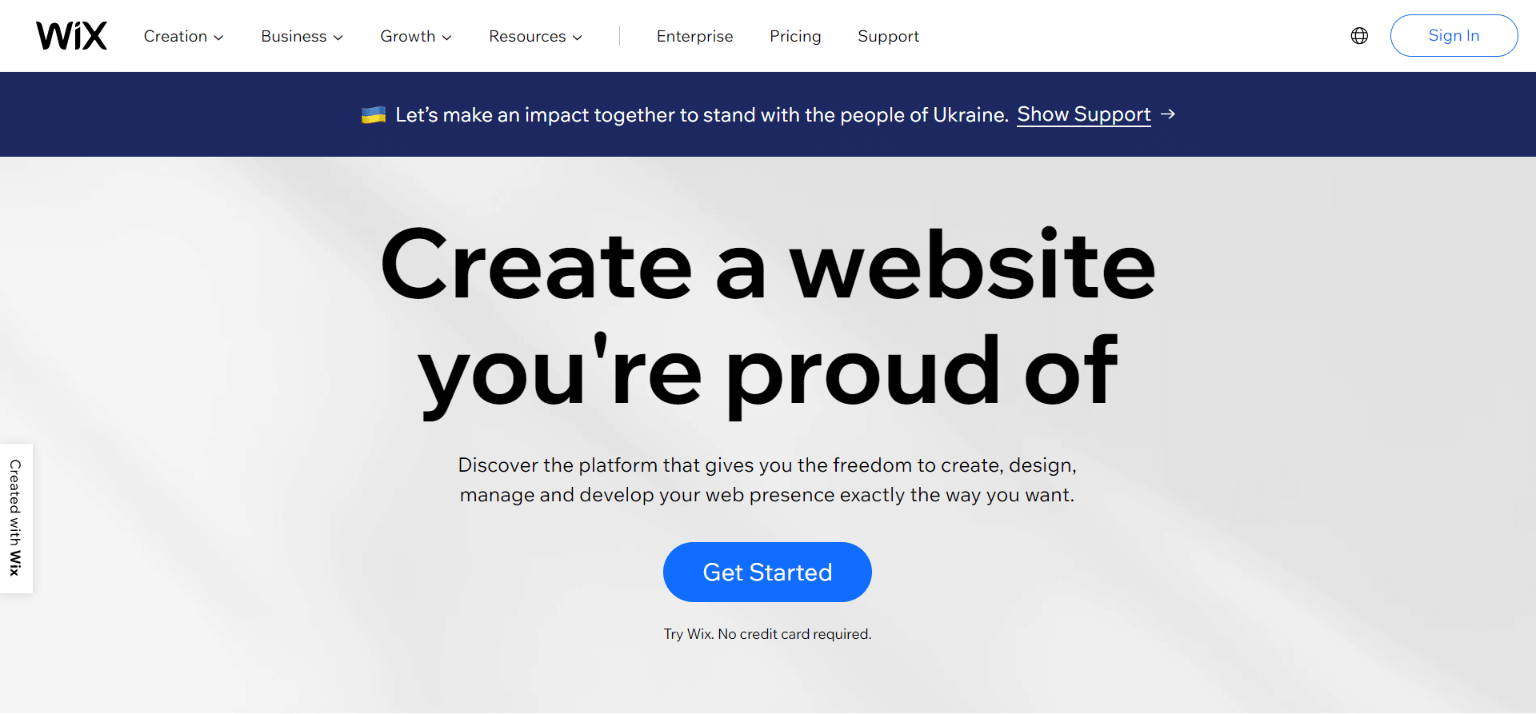 6.1 Overview
Wix website builder helps you to create and maintain high-quality websites on your own. Whether you're advertising your business, showing your work, creating a store, or beginning a blog, the Wix website builder can help.
6.2 Features
Professional Blog
To expand your reach and establish a community, start a blog with built-in features.
Custom Domain
Obtain a professional domain name that corresponds to your company's and brand.
Online Store
With a powerful eCommerce platform, you may start selling online and develop your business.
SEO Tools
With a full suite of SEO capabilities, you can improve your search engine presence.
Logo Maker
Create your own professional logo and establish your online brand.
Online Scheduling Software
Let clients book appointments or services and pay online.
6.3 Pros and Cons
| | |
| --- | --- |
| Pros | Cons |
| The site Speed is Good. | You can't transfer your website. |
| Countless Template Collection. | Interchangeable Templates are not available. |
| Easy Ways to Promote Your Website. | Only single-site premium plans are available. |
| Wix App Market can let you expand the features of your website. | A paid plan is required for tracking and analytics. |
6.4 Ratings

6.5 Pricing
| | | | |
| --- | --- | --- | --- |
| VIP | Unlimited | Combo | Connect Domain |
| $4.19/mo | $2.38/mo | $1.61/mo | $1.03/mo |
6.6 Example
You can see the example of the Mane Ethical Hairdressing website built by the Wix website builder.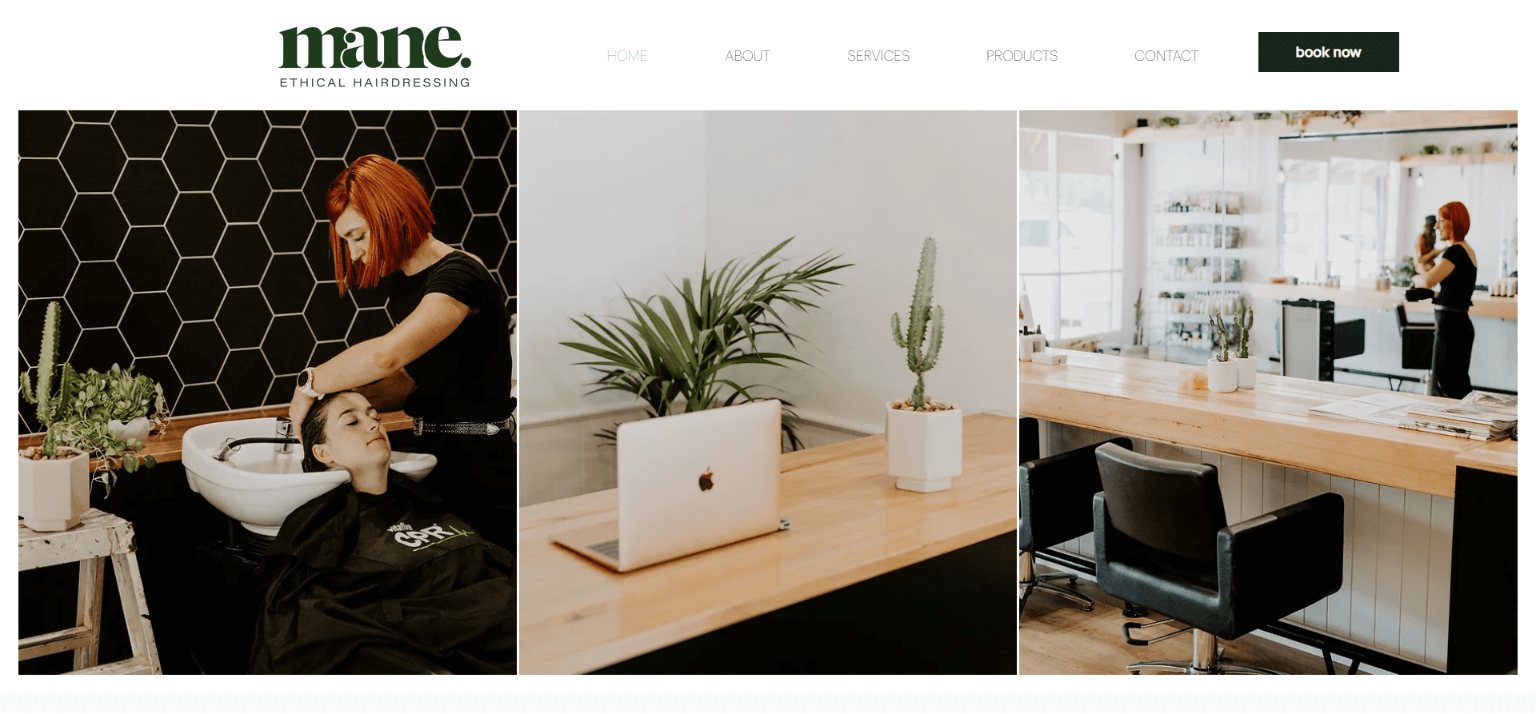 7. Squarespace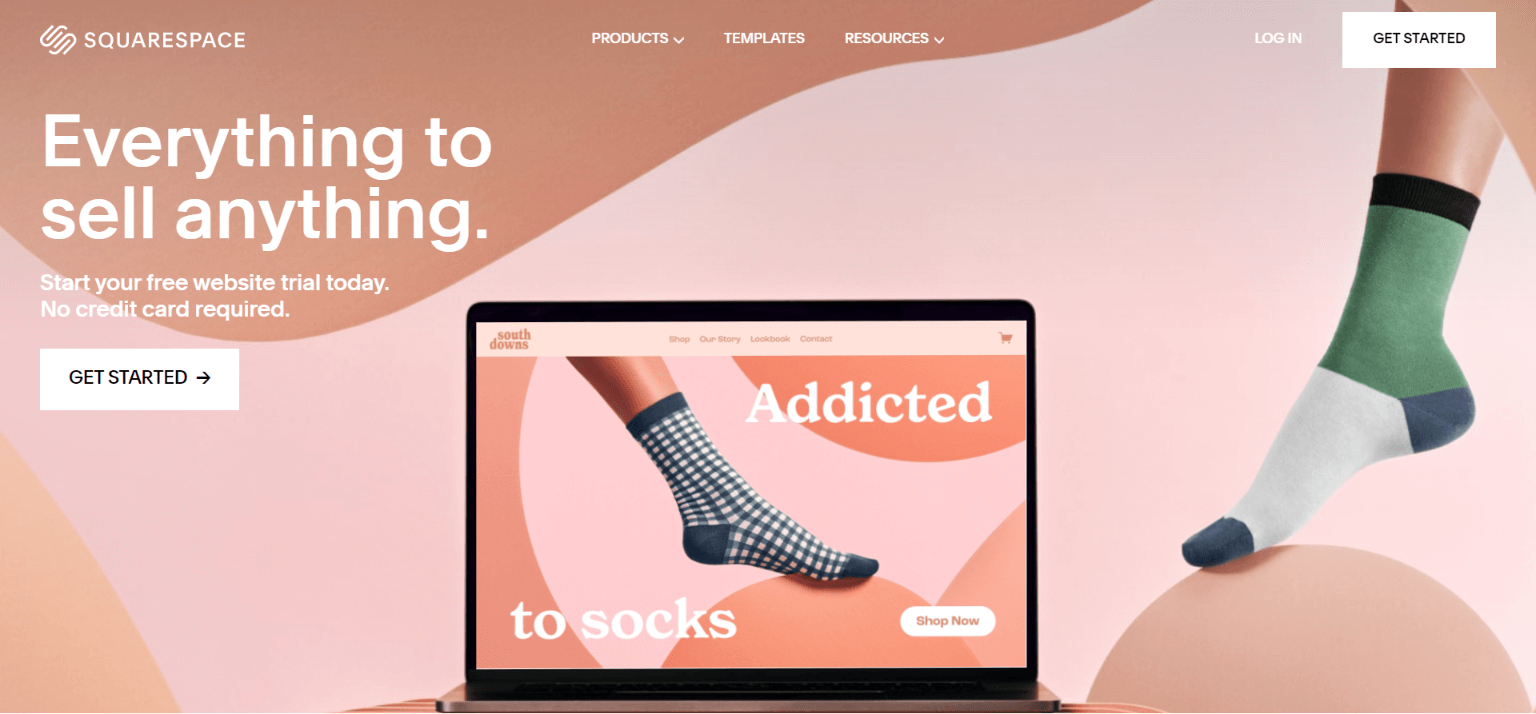 7.1 Overview
Squarespace is an all-in-one platform for starting and growing an online business, regardless of its stage. It has templates that can be customized. Squarespace website builder for small businesses is as simple as eight steps.
It allows many forms of information to be contributed to the website, such as text, photographs, audio, and so on. It allows you to replicate pages and parts, which speeds up the website creation process.
7.2 Features
E-Commerce Made Easy
From merchandising through checkout, you'll find everything you need to power your online store and exhibit your items or services to their full potential.
Manage Appointments and Sell Classes
Allow clients to view your availability and schedule appointments directly from your website.
Expand Your Site With Extensions
Easily integrate with third-party extensions to manage, optimize, and improve your website.
Reach and Retain Customers With Email Campaigns
Set up email campaigns that incorporate your site's aesthetics, products, and blog entries so that your messages are always on-brand.
Elevate Your Social Presence
With the Unfold app, you can create gorgeous, professional-looking social media material. Hundreds of layouts, as well as unique filters, typefaces, and stickers, are available.
7.3 Pros and Cons
| | |
| --- | --- |
| Pros | Cons |
| If you want to add an online store to your site, it has eCommerce options. | They have a restricted number of payment gateways via which you can accept money. |
| The most basic premium package includes unlimited storage and bandwidth. | Most third-party programs are inaccessible, which can be a major roadblock to expanding your business online. |
| They handle the hosting, which includes a custom domain. | NA. |
| With their drag and drop builder, it's quite simple to create a high-quality-looking site. | NA. |
7.4 Ratings

7.5 Pricing
| | | | |
| --- | --- | --- | --- |
| Personal | Business | Basic Commerce | Advanced Commerce |
| $14/mo | $23/mo | $27/mo | $49/mo |
7.6 Example
You can see the example of the Jones Bar-B-Q website built by Squarespace website builder for small businesses as well as for establishing one.
For Quick Details Check Table
| | | | |
| --- | --- | --- | --- |
| Website Builders | Features | Starting Price | Ratings |
| WordPress | Hosting and an infinite number of plugins are included. | $4.90 per month | |
| HubSpot Website Builder | Track every visitor to your site in one place using CRM data and create tailored digital experiences for them. | $45 per month | |
| BigCommerce | Larger stores benefit the most. | $29.95 per month | |
| Shopify | For simple e-commerce, this is the best option. | $29 per month | |
| GoDaddy Website Builder | The best no-frills choice. | $2.56 per month | |
| Wix | Overall, the greatest website builder (and best for free). | $4.19 per month | |
| Squarespace | Prepackaged design of the highest quality. | $14 per month | |
How These Website Builders Will Help Ecommerce Businesses to Grow!
The ideal website builder for you is determined by your individual requirements. There are so many possibilities that combing through all of the free providers for a simple website and all of the eCommerce website builders for a more sophisticated corporate website might be overwhelming. Because of the industry's complexity and growth, you have more options than ever before, and you may simply locate the finest website builder for your goals and needs.
Furthermore, we've laid out all of the facts you'll need to make an informed decision on the best website builder so you can get on with the fun part of creating your own professional website for yourself or your small business. We looked at whether the builder had a strong customization option, eCommerce facilities, marketing tools, and an SEO tool, among other things. We also looked at the customer service and eCommerce functioning of the organization.
Conclusion
Website builders for small businesses make it easier for them to have an online presence at a lower cost and with less time and effort. The top systems for building a website for small businesses are Squarespace, Shopify, Wix, GoDaddy, and WordPress. The finest overall solutions are Squarespace and Shopify, Wix is simple to use, and WordPress gives you complete control.
Features, price of the solution, customization possibilities, availability of templates, responsive solutions, and ease of use are all things to consider when selecting the best small business website builder. Another significant element to consider is the customer service provided by the organization.