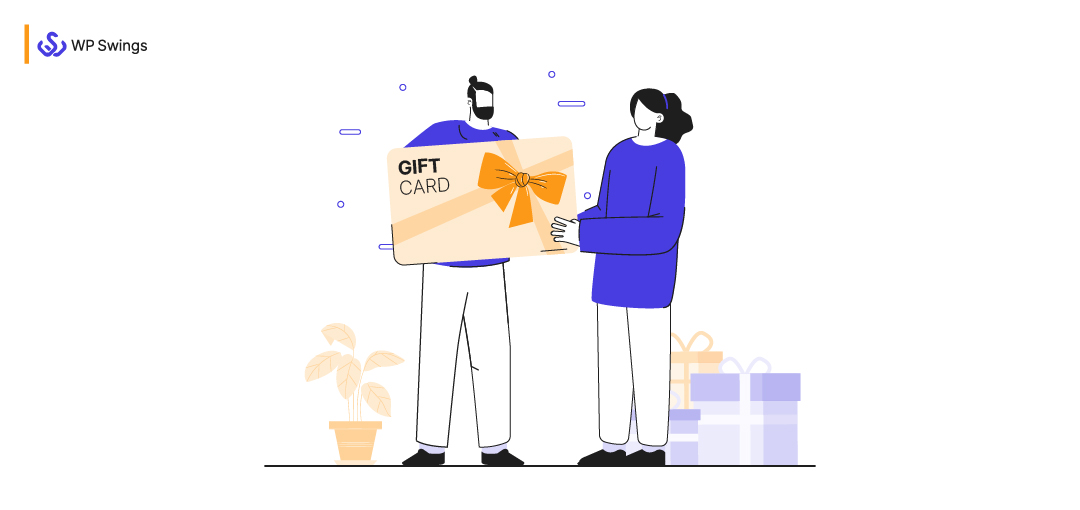 Gift cards have captured the global market like a storm. Almost all types of retail businesses offer gift cards to their customers.
The Global Gift Card Market is estimated to be USD 845.39 Bn in 2022 and is expected to reach USD 2021.64 Bn by 2027, growing at a CAGR of 19.05%. [Source]
It comes in physical and digital forms, making it a great marketing tool to boost your AOV (Average Order Value) and ROI (Return On Investment).
Any business owner can embrace a Gift Card program for their business. However, selling gift cards requires strict brainstorming as it is technical work.
That's why only a few can successfully execute it. You need a robust and pre-planned strategy and a bit of technical know-how to set up a sure-shot Gift Card campaign.
Many merchants consider mind-twisters, but it's not when you assemble all the puzzle pieces together.
So, how do you put together the pieces to create a successful Gift Card program? You'll find it right away.
Table of Contents
Why Do Consumers Buy Gift Cards? What Makes It The Ultimate Present Nowadays?
Gifts are symbols that signify our compassion for the recipients. They are essentially a way to express yourself.
However, self-expression is a complicated matter for most people.
And so, gifting can be stress-inducing. With every gifting opportunity comes the dread of finding a perfect gift.
You have to consider factors like the recipient's characteristics, likes and dislikes, the strength of your bond, budget, and the list goes on.
There is a certain amount of competition as well. You want to make sure your gift is unique and creates an impression on the giftee.
Things aren't much different on the receiving end either. Getting an expensive gift puts the recipient in place when they have to give an equally zealous reaction to it. Hell, there is no option when the gifter is recording you in 4K.
Moreover, the receiver is under pressure to give a gift of equal value.
In conclusion, traditional gifting is not feasible for most people. That's why there is a market for selling gift cards.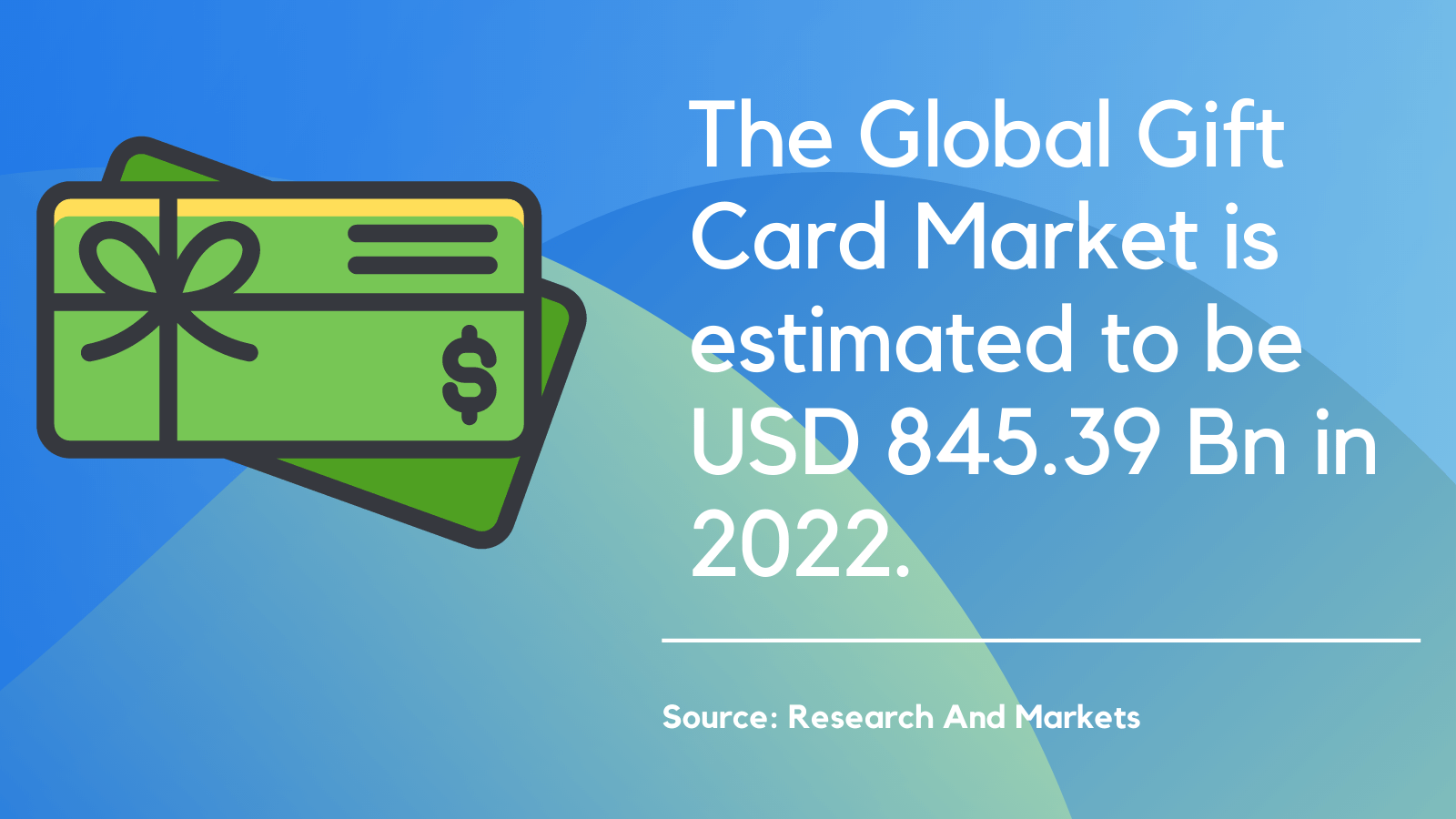 Gift cards take away the stress of gifting. You essentially let the person decide what they want to buy using the card value.
The giftee is also relieved of the responsibility to return an equally valuable gift.
A successful gift card program brings happiness to all parties involved. You are not just selling a product, but a solution that saves time, money, and reputation.
What Do You Need for A Successful Gift Card Program
1. Obtain Gift Cards
Selling gift cards require resources that most online businesses don't save. So, the easiest option is to ask someone else to create gift cards for you.
You can contact vendors or third-party suppliers that can provide you with various gift cards. Make sure to select Gift cards that suit your strategy and allow customizations.
To avoid future shortages, buy a sufficient amount of cards to target all customers.
You can also sell e-gift cards for your business. They are relatively easier to redeem on an online store and offer better security than physical cards.
According to a report, the E-gift cards industry generated $258.34 billion in 2020. And that's a large number.
So, you can understand how profitable it can be if you use it too.
However, buying gift cards from third-party vendors may result in security issues, lack of customization, hidden charges, etc.
Running an in-house gift card program is the safest bet, granted you have the right tools and skilled professionals.
Setup A Professional Looking Gift Card Program
Create a featureful in-house gift card program with our plugin and sell gift cards on your WooCommerce store.
Note: Selling e-gift cards can benefit you, but providing options with physical gift cards will fulfill different customers' needs.
2. Marketing Your Gift Card
Strategizing a marketing plan is the biggest roadblock to selling any product.
It doesn't matter how great the product is; people won't buy it if they don't know about it.
It's tough to market products, especially if you don't have a big brand name. But if you promote your products the right way, you open infinite doors to success.
Use smart marketing methods to grab users' attention and take advantage of every platform like social media, email marketing, blogs, etc., to let your customers know about your Gift Cards.
But it doesn't mean you start spamming their email folders and feeds.
Simply provide a permanent link in your email template to your gift card page or on your website's cart page. Or you can send a dedicated email to acknowledge them about it.
Don't be hellbent on selling gift cards. It's a common mistake that can scupper your chances to grow, and it may lead customers to start avoiding you and your brand.
3. Gift Card Discounts and Rebates
Discounts are the best part about shopping.
It is one of the most crucial factors for converting leads into customers. Most shoppers diligently wait for big discount days to purchase their products.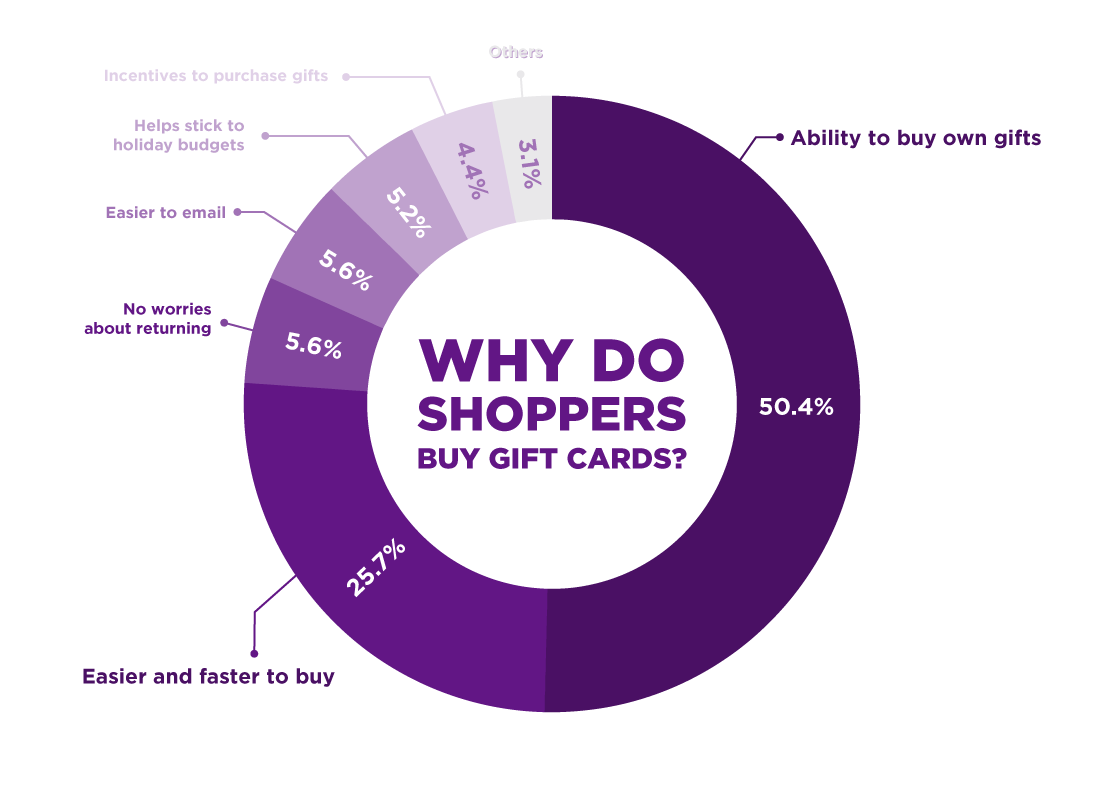 [Source: Mageplaza]
Rebates and discounts are shoppers' best friends. Provide these offers or free gift cards on a purchase of a designated amount to retain customers and turn them into repeat purchasers.
For example, you can offer free gift cards during the holiday season to get customers to shop at your store. Or you can give a $10 gift card when they spend up to $100.
You may think it'll cost you a lot, but consider it a future investment. If you offer free gift cards to consumers, they'll come to shop at your store. You should know that 72% of the buyers spend more than 20% of the gift card's face value.
Selling gift cards also help you build a customer loyalty program. If you give discounts and rebates to your customers, they'll come back to your store and may tell others to shop at your place, which means organic promotion or word-of-mouth.
4. Set Goals
Goal setting is the foremost part of your successful Gift Card strategy. Evaluating your resources, audience types, and marketing mediums before launching a program is crucial.
A data-driven approach will ensure that your gift card program is realistic and does not derail your other marketing efforts.
Without setting goals, you cannot move further in your campaign or stay firm against the ups and downs you'll face in your card program.
Setting a target will allow you to compare your performance with your goals. It'll help you identify your weak and strong points. Promptly Checking your achievement will give you a clear idea of your ongoing strategy and how to improve it.
5. Target Holidays and Events
The occasions of gifting are present throughout the year like birthdays, anniversaries, and farewells. But the holiday season injects steroids into the gifting frenzy.
Hence, the demand for gift cards is the highest during the festive season. People do like to receive a gift card during the holiday season instead of electronics, clothing, or other items.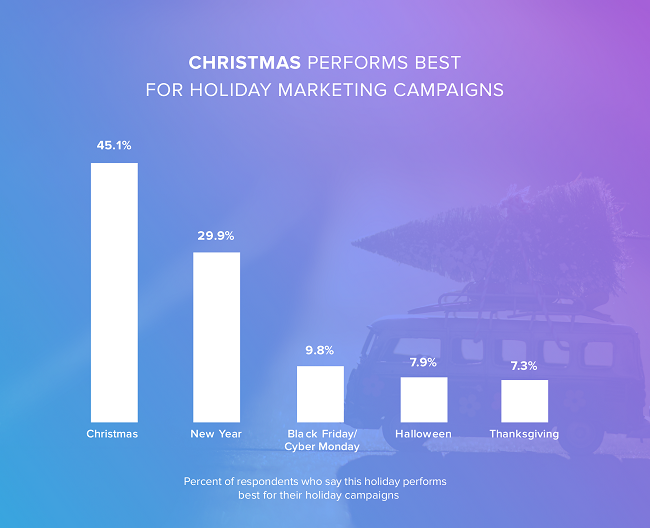 [Source: Social Media Today]
This means more than half of the customers prefer gift cards as their first choice as a gift. So, launch holiday marketing campaigns to encash more opportunities of enticing existing and new customers. Selling gift cards during the holiday season is highly profitable.
Don't miss out on any events too.
Holidays are for a limited time, but occasions are perennial.
Remind your customers to buy gift cards for their loved ones at their housewarming, marriage, baby shower ceremonies, etc. It is much easier if you have a self-sustained gift card platform.
You can set up an automated email for special days. For example, if a customer bought a gift card on 15th July on his colleague's b'day, you can send an automated email scheduled on the same day next year.
You can also remind the receiver of the gift card to buy a gift card on the sender's b'day.
Targeting an audience during the holiday season and in events will let you make more with gift cards. The more effectively you do it, the more sales it will generate.
Run A Gift Card Program For Free
If you are interested in creating & selling attractive gift cards for free, please try our free gift cards plugin.
6. Creative Design
A thing of beauty is a joy forever. – John Keats
Outward appearance is a key factor for gift card sales.
That's a simple rule of thumb to remember while selecting the gift card design for your campaign.
It must be attractive with the perfect color combo, design, and all. Ultimately, It must draw customer attention.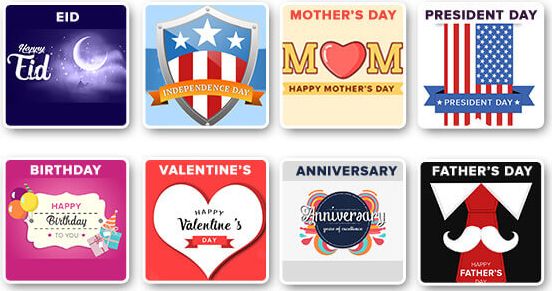 These are only a few designs from the many gift card templates you get with our plugin. You can select any of these or upload the artwork you want on your cards.
Try to create an appealing design for your cards because customers will hold them in their hands. It may look like a minor factor, but from the customer's perspective, it's a big deal.
Don't forget to use your contact details like your email, social media handles, and your free phone number on the cards so that your consumers can reach out to you whenever they're in a dilemma.
7. Analyze Metrics
Periodically analyzing your metrics can provide a clear picture of your campaign. You can analyze your gift card sales data quarterly, biannually, or annually to identify and improve what's pulling you back.
Examine your gift card data deeply to understand what's going on, what's working, and what's not. Don't limit yourself only to your store. Keep an eye on your competitors, as having an idea about your competitor's strategy can help you.
Try to be updated with all the trends related to gift cards. You may need to change your strategy according to the directions if needed. So some flexible options should be there in your arsenal.
8. POS Systems (for Offline Stores)
If Gift Card is a cake, the POS machine is a microwave.
Without a Point of sale (POS) system, you won't be able to bake, or I should say, redeem gift cards at your retail store.
A POS machine can ease your redemption process if you own a physical store. You can sell gift cards based on what kind of POS machine you have. You have suitable options like a QR/BARCode scanning machine or a swiping machine.
So, acquire a POS system if you don't have one, and if you do, you've all the strings in your hand, start the play.
Are You Eligible To Use Gift Cards?
Research from National Retail Federation(NRF) and Prosper Insights showed that these were specific sorts of gift cards people bought during the 2016 holiday season:
Restaurants (35% of buyers)
Departmental stores (33%)
Visa/MasterCard/American Express (22%)
Coffee shops (21%)
Entertainment (17%)
Even if you don't own this type of business, you don't have to sit with a long face. Gift cards can be used by companies like Gyms, Spas, barbershops, etc. You've to propose the right offers and services to your customers to make them buy your gift cards.
How To Sell Gift Cards On Your Online Store
As a gift to you, I have a one-stop solution that can take care of all the factors responsible for running a successful gift card program.
Enter, Gift Cards for WooCommerce Pro.

Gift Cards for WooCommerce Pro helps merchants to create, sell & manage gift cards on their WooCommerce store. With the gift cards plugin, the admin can customize gift card templates, send gift card coupon codes as QRCode/BARCode, create reusable gift certificates & send balance notifications to customers. The recipient can also recharge/redeem these cards at an online or retail store.
It is one of the best gift cards plugin out there with features you will fall in love with.
Features of Gift Cards for WooCommerce
Share gift vouchers through Emails, WhatsApp, SMS, and downloadable PDFs for offline printing.
Offer QR/BarCode secured gift cards
Customizable gift cards allow customers to upload their banner images and add custom messages.
20+ pre-designed Gift Card Templates for all occasions
Create gift cards with four different pricing types: Default Pricing, Price Range, Selected Price, and User Price.
Analyze gift card performance with WooCommerce Reports
Include/Exclude selected categories or products
And more. Read the product page to discover all features.
Wrapping Up
Gift cards aren't just a product. You can use gift cards as a marketing tool to do your branding.
From promoting your business to retaining customers, it can do everything for your brand growth.
All you need is a firm strategy to plan how and when to do what's best for your success.
There are no criteria to use or sell gift cards; you can leverage them for your brand. Whether it's small businesses or established names, gift cards are beneficial for both.
If you have a website, you can simply start with it, and if you're a WooCommerce store owner, you've got the best solution to execute all the above acts with this one WooCommerce Gift Card plugin.