Learn how both website traffic and sales count surge above 75% for Cast Iron Chef. Use Ultimate Gift Cards for WooCommerce Like Cast Iron Chef Chop House & Oyster Bar!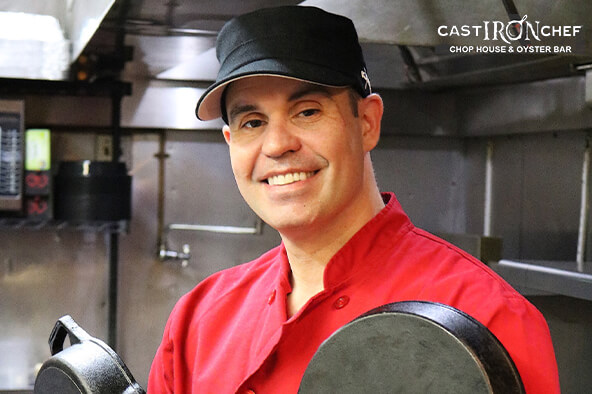 Key Features: Customizable Gift Cards, Pre-defined Gift Card Template, Offline Gift Card PDF Support, Share Gift Card via Email
What the company is all about?
Cast Iron Chef Chop House New Haven is a fine dining cuisine with exceptional service! Running a steak restaurant with exceptional flavors and innovative cooking styles for 30 years and delivering the best of food and services to their customers. Their master chef Attilio Marini has spent 24 years honing his culinary talents and is skilled to bring consistency and excellence to every meal served.
They have multiple customers coming in from all over the city to relish their traditional steak menu and special recipe "Porterhouse for 2" with its delectable aroma.
What Were Their Challenges?
They have been in the restaurant business for 30 years now and have served multiple customers throughout. However, they were unable to take a step forward as their customer growth graph was stagnant for new customers. The major concern was to increase the customer engagement rate to boost the overall sales.
What Is The Solution And Where Did They Get That?
Greg started using the Ultimate WooCommerce Gift Cards and eventually found that the pro version Gift cards for WooCommerce Pro by WP Swings was a perfect fit for him to increase customer engagement rate. Thereafter, he observed a few immediate benefits of our plugin.
How Does Ultimate Gift Cards for WooCommerce Plugin Help Them Achieve Goals?(Most-Relevant Rated Features As Per Use)
Customizable Gift Cards –
Using this feature attracts more eyes towards the gift card program as food gift coupons with personalized messages are loved by all their customers.
Redeem/Recharge Gift Cards –
The customers got a convenient choice to redeem or recharge their gift cards either from their outlets or online.
Gift Card Templates –
The pre-defined templates in the gift card plugin gave an upper hand to them to add seasonal and occasional gifting options.
Gift Card Pricing Options –
This feature helped them in creating variations in gift cards based on pricing. Hence, giving more choices to their customers while purchasing gift cards depending on their budgets.
Gift Card Reports –
This feature helped them to track the progress of each gift card like when & how they're used by the customers. It gave them a clearer picture of their customer's preferences.
Share via Email –
The gift cards shared via email helped them to connect with clients on email and provide the customers with a more personalized environment. The customers who got gift cards on email reverted faster than the ones who received gift card codes on text messages or in PDF format.
How These Features of Ultimate Gift Cards for WooCommerce Plugin Helped In Their Store's Growth?
According to Greg Morehead, they have witnessed a massive increase in their customer engagement rate, traffic and sales rate after implementing a gift card program with our plugin.
Also, with a better understanding of their customer's behavior and interests regarding offers and coupons they run together with gift cards, they can focus more on their efforts and the results they achieve.
A Short Quote From Cast Iron Chef
"My business took a drastic leap in almost every aspect. This gift card plugin is very well bundled with so many features. I'm highly satisfied with their plugin design and its ease of use. Their suggestions on various customization requests gave a great boost to the way we use gift cards for extending our outreach to our customers."

– Greg Morehead
Is the Ultimate Gift Card for WooCommerce Plugin Worth Recommendation?
"Yes! I love the GC plugin and will continue to use the plugin and recommend it to other clients. Our experience with the team WP Swings from the first interaction to date has been an exceptional collaboration journey. Kudos WP Swings."