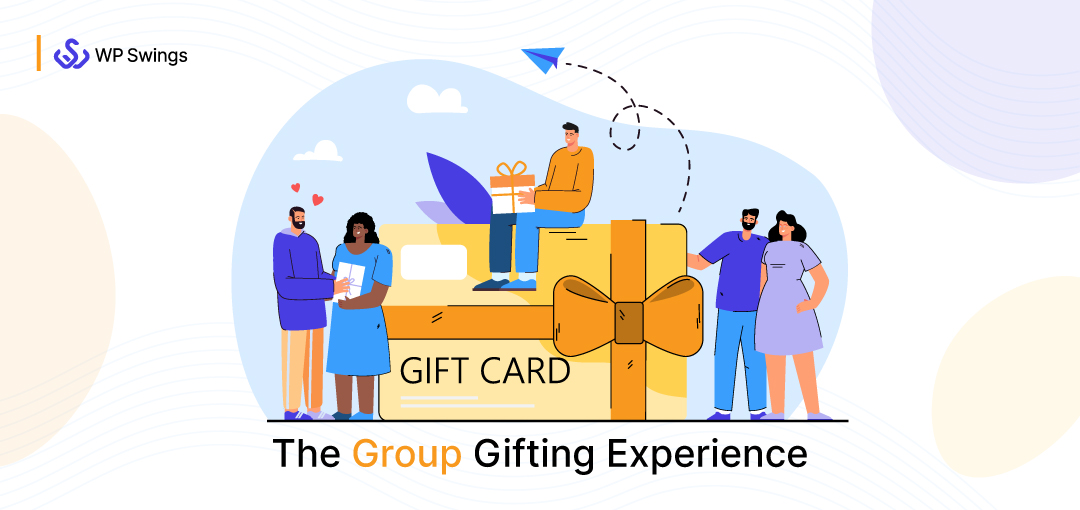 Group gift cards turn gifting into a collaborative effort, giving people a chance to come together and celebrate the special days with their loved ones. 
In an ideal world, gift-giving should be regarded as a skill considering the effort people put into it. So, gift cards were introduced to make gifting easier.
In today's digital age, eCommerce gift cards have revolutionized gifting, offering recipients a personalized experience with minimal effort. But what happens when you find yourself short on funds to purchase separate gifts? You pool your resources, combining your finances to purchase a collective, meaningful gift. This concept is now seamlessly embodied in WooCommerce group gift cards.
This article explores the rise of group cards, highlighting the psychology behind them and the benefits they bring to both merchants and recipients. Additionally, it will provide a comprehensive step-by-step guide on how to set up WooCommerce Group Gift Cards, enabling businesses and individuals to embrace this innovative gifting solution fully.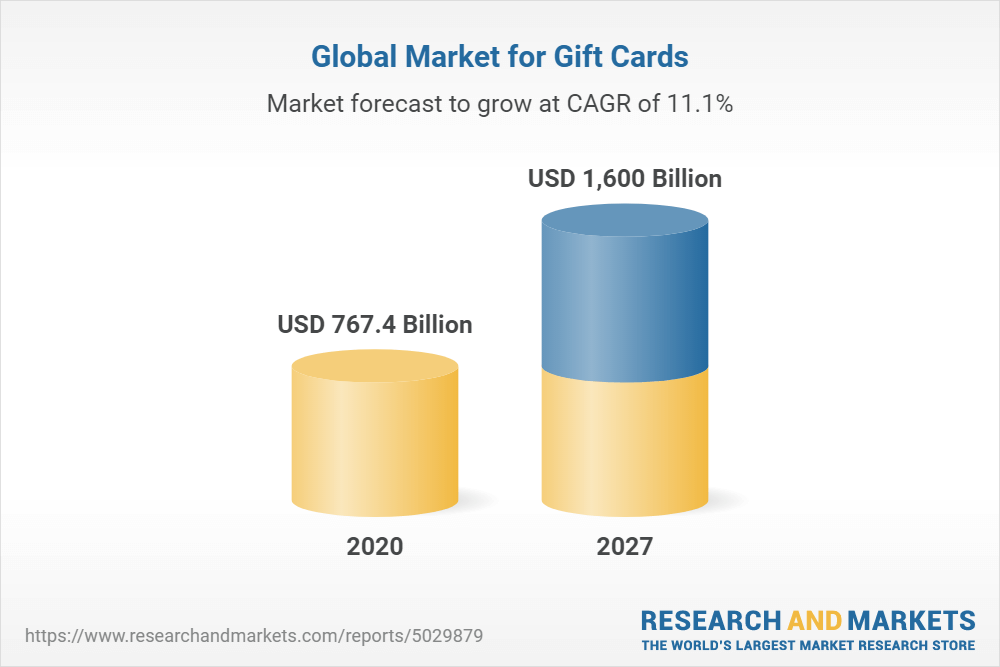 [Source: Research And Markets]
Table of Contents
2. How Group Gift Cards Cater To Collective Gifting
Collective gifting, facilitated by Group Gift Coupons, leverages group dynamics to strengthen social bonds. It shares the financial burden, deepens emotional connections, adds surprise, and allows for higher-quality gifts. This trend enhances meaningful gift-giving experiences.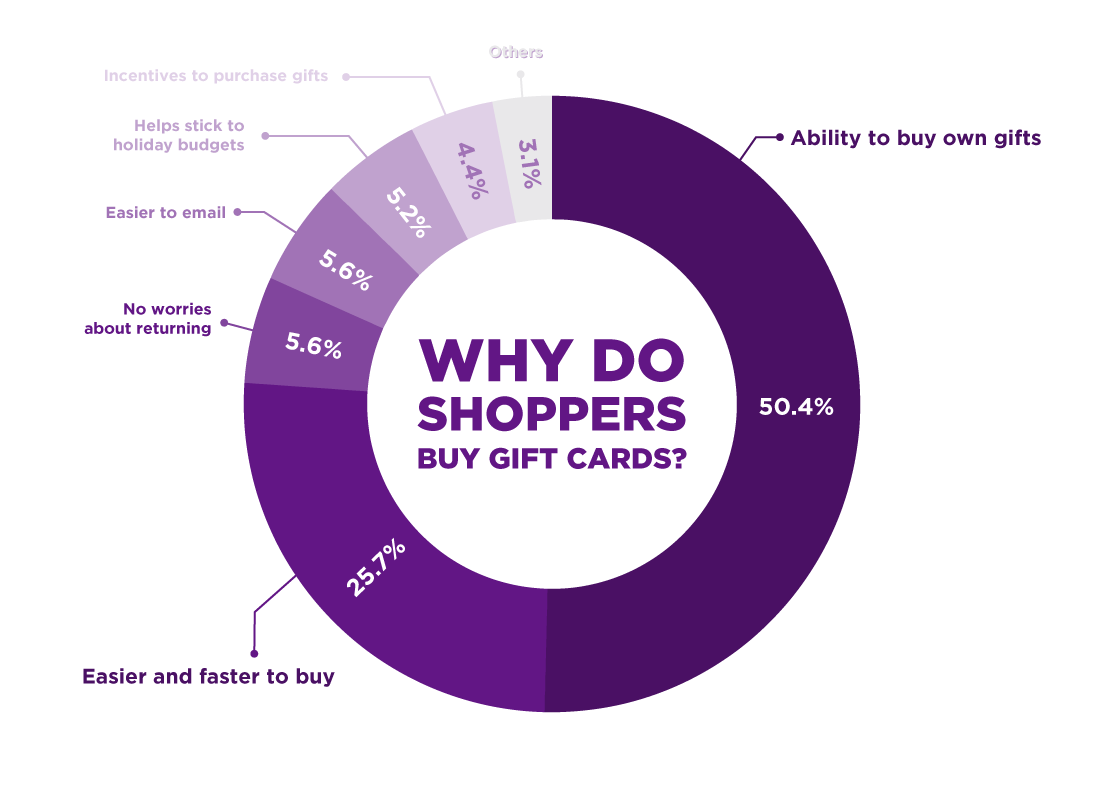 Group gifting cards are a powerful tool that aligns perfectly with the collective gifting concept:
Shared Contribution: Group gift cards allow multiple people to contribute funds towards a single eCommerce gift card. This shared contribution reinforces the sense of collaboration and shared responsibility.
Personalization: Participants can often include personalized messages or notes when contributing to a group gifting card. This personal touch adds emotional value to the gift.
Flexible Redemption: Recipients can use the group gift card to purchase products or services of their choice, offering them the freedom to select something they truly desire.
Easy Organization: The group eCommerce gift cards sender can set up the gift card, and invite contributors, reducing the logistical stress associated with group gifting.
In summary, collective gifting, fueled by group gifting cards, taps into the psychological need for social connection, shared responsibility, and meaningful user experiences. It enhances the gift-giving process by making it more collaborative and affordable.
It will add wings to your sales during the holiday and festive season if you promote your group gifting products sufficiently.
3. How to Sell Group Gift Cards on Your WooCommerce Store?
The Gift Card for WooCommerce Plugin allows you to create and sell group gift cards in your store. The organizer can add multiple contributors while purchasing a gift card and each contributor will receive a gift coupon email with a payment link.

They can pay their share of the gift card amount before the scheduled delivery date, allowing the recipient to receive a collective gift on time.
Additionally, our eCommerce gift cards plugin offers these features:
Digital and Physical Gift Cards for Convenient Gifting Options.
21+ Creative Templates for festive store customization.
Custom Template Upload for brand alignment.
User-Customizable Gift Cards.
Bulk Sending of Gift Certificates.
Product Promotion on Gift Certificates.
Service-specific Online and retail Gift Cards.
Multiple Templates for a single product.
Faster Redemption with QR/Barcode.
Downloadable Gift Cards as PDF Attachments.
Get Gift Cards for WooCommerce Pro Plugin Now!
Gift Card for WooCommerce Pro is the complete solution for selling, redeeming, & designing gift cards.
To sell gift cards with group gifting on your WooCommerce store, follow these steps:
a) Setup Your Gift Card Plugin: Download & Install
Start by choosing the right gift card plugin for your WooCommerce store. In this example, I'm using the Gift Cards for WooCommerce Pro by WP Swings.
Download the plugin to your computer.
Log in to your WooCommerce store's admin panel.
Go to "Plugins" > "Add New" in the WordPress dashboard.
Click the "Upload Plugin" button and upload the plugin file.
After uploading, click "Install Now" and then "Activate."
b) Configure the Gift Card Plugin for your WooCommerce Store
Before creating online group gift cards, configure plugin settings for enhanced customer experience. Utilize plugin documentation for effective setup guidance.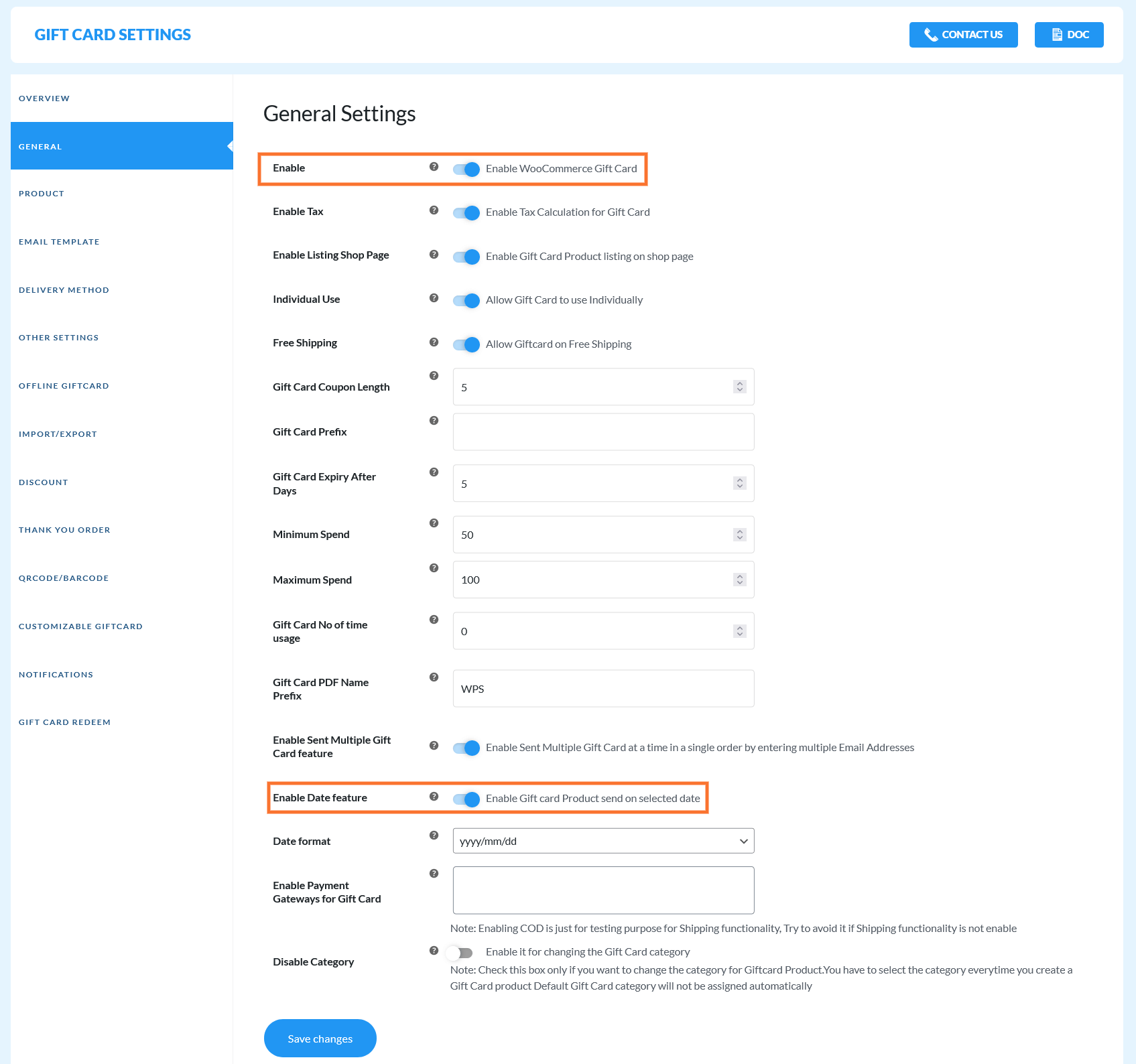 Begin your gift card sales journey with the WooCommerce Gift Card plugin. Configure settings like coupon length, prefix, tax, and more. You can enable these features by checking the checkboxes next to each one. Additionally, explore various tabs to fine-tune settings tailored to your specific gift coupon business needs.
c) How to Create Group Gift Cards for Your Business
Go to Products > Add New. From the Product Data dropdown select Gift Card. Or you can modify an existing card listed in your product list.
Note: You can only use the group gifting feature if you enable the option to send give cards on a selected date from the general settings.
Choose a pricing type and set the price of your gift card.
Select a gift card email template. You can choose more than one template.
Select a default template from the multiple options.
You can modify gift card coupon usage for your products and categories by adjusting settings to include/exclude specific items or categories, and tailoring discounts as needed.
After adding all the required details, click the group gifting checkbox and update or publish your product.
Add recommended products to promote them via your gift certificates
Set an expiration date.
Check the Group Product option.
Configure the delivery options and
Lastly, update or publish your product to create a group gift product on your WooCommerce store. For a better jist of things, you can view the demo.
d) How Will Your Customer Purchase Gift Cards With Group Gifting Feature
The group cards are listed on the shop page and gift card page on your store.
Customers or organizers can enter the customer delivery date and message for the recipient.  Also, they can send the contribution request to multiple users via email while purchasing the group gift coupon.
The contributors will receive an email with a contribution link that will redirect them to your store. Afterward, they can pay their contribution for the group gifting.
Once the required contribution amount is achieved, the recipient will receive the group gift.
Note: To send emails to contributors, you need to change the order status of group gifts manually from On Hold to Processing
The group gifting organizer can send the card before the scheduled date from their Orders tab in the My Account section.
So that's how our group gifting feature works. To get into the nitty gritty, you may use the documentation.
In conclusion, this feature not only enhances the shopping experience but also boosts gift card sales and customer engagement in your online store.
5. Benefits of WooCommerce Group Gift Cards
WooCommerce Group Cards offer several significant benefits for both organizers and online businesses while enhancing the overall gifting experience for recipients:
1. Convenience for Gift Organizers:
Simplified Organization: Gift organizers can easily create and manage Group Gift Cards on their WooCommerce-powered websites, streamlining the process of collecting contributions from multiple participants.
Reduced Stress: Organizers can alleviate the stress associated with finding the perfect gift by allowing contributors to share the responsibility and contribute funds toward a meaningful present.
Personalization: The organizer can personalize the group contribution gift card and invite friends and family to contribute, adding a personal touch to the gifting process.
2. Enhanced Gifting Experience for Recipients:
Freedom of Choice: Recipients have the flexibility to redeem the Group Gift Card for products or services of their choice, ensuring they get something they truly desire.
Surprise Element: The collective nature of Group Gift Cards often means that recipients are pleasantly surprised by the gift, as they may not know the specifics until it's presented.
Emotional Value: The thoughtfulness and effort put into a collective gift can create a deeper emotional connection between the recipient and the contributors, making the gift more meaningful.
3. Boost for Online Businesses:
Increased Sales: Online businesses using WooCommerce can benefit from the increased sales associated with group gift certificates. The feature encourages more significant purchases, as contributors pool resources for a single gift.
Customer Loyalty: Offering Group contribution gift cards can enhance customer loyalty by providing a convenient and enjoyable gifting experience, which can lead to repeat business.
Word-of-Mouth Marketing: Satisfied customers who have experienced the convenience and effectiveness of group gifting cards are likely to recommend the online store to others, driving new business.
In conclusion, WooCommerce group gift cards offer a convenient and effective solution for gift organizers, enhance the gifting experience for recipients, and provide a boost to online businesses by increasing sales and fostering customer loyalty.
5. FAQs: Common Doubts Regarding Group Gifting Cards
In this section, we address common questions and doubts regarding group gifting cards, providing clarity and guidance to ensure a seamless group gifting experience for both shoppers and organizers.
Q1. What is group gifting on Amazon? How can you add group gifting to your store?
Answer: Group gifting on Amazon refers to a collaborative way of purchasing a single gift item with contributions from multiple individuals. To enable group gifting for gift cards on your WooCommerce store, follow these steps:
Select a Plugin: Choose a suitable plugin designed for group gifting. We recommend the Gift Card for WooCommerce Plugin.
Create Group Gift Cards: In the WooCommerce dashboard, navigate to "Products" > "Add New." Choose "Gift Card" from the Product Data dropdown. Configure pricing, email templates, and coupon usage. Mark the "group gifting" checkbox.
Enhance Offerings: Promote related products, set expiration dates,
Enable Group Gifting: Check "Group Product," and configure delivery options.
Publish: Click "Update" or "Publish" to create your group gift product.
Contributor Engagement: Organizers can buy the group gifting cards. Afterward, contributors receive an email with a contribution link to pay their share.
Recipient's Reward: Once the required contributions are met, the recipient enjoys a collective and timely gift.
Q2. How does a group gifting card work?
Answer: The group gifting gift card operates by allowing multiple contributors to collectively fund a single gift card purchase. Customers or organizers choose a gift card, set a contribution goal, and invite others to participate. Contributors receive a payment link and can individually contribute funds. Once the target amount is met, the recipient receives the gift card, ensuring a collaborative and timely gift-giving experience.
Q3. Can anyone contribute to a group gift card?
Answer: Yes, anyone can contribute to a group gifting card as long as the organizer has included them as a contributor. Also, they need to have the payment link to add their share of the money.
Q4. Can the Customer choose the amount they want to contribute to a Group Gift Card?
Answer: Yes, they can choose the amount they want to contribute to a group card. The total amount contributed by all participants must meet the value of the gift card.
5. Can I contribute to a Group Gift Card anonymously?
Answer: This is determined by the website or webstore where the group card is listed. Some sites allow you to give secretly, but others demand you share your name.
6. How will the recipient receive the group giftcard?
Answer: The recipient will typically receive the gift certificates digitally via email containing the code/ QR/ Barcode that can be redeemed in your store.
7. What happens if the total contributions do not reach the desired amount for the group gifting card?
Answer: If the total contributions do not reach the desired amount for the group gifting, the gift certificate may not be issued or may have a lower value than anticipated. If you are manually overseeing your giftcard program, please issue clear group gifting guidelines for customers.
8. Can I contribute to a Group Gifting Card after it has been sent to the recipient?
Answer: No contributions are allowed past the scheduled delivery date by contributors if you are using our WooCommerce gift cards plugin. However, some platforms may allow additional contributions even after the gift card has been sent to the recipient.
So, these were the commonly asked questions regarding how to sell giftcards with group gifting. If you didn't find your doubts cleared here, you can get in touch with us.
On a Final Note
In conclusion, WooCommerce Group Gift Cards introduce a dynamic and collaborative dimension to the world of online gifting. Powered by the Gift Card for WooCommerce Plugin, this feature simplifies the process of creating and managing group gifts, benefiting both gift organizers and online businesses while enhancing the overall experience for recipients.
For organizers, gift cards with group gifting offer unparalleled convenience, reducing the stress of finding the perfect gift while adding a personal touch to the gifting process. This innovation empowers them to bring friends and family together, creating a more meaningful and memorable gift.
Recipients, on the other hand, relish the freedom of choice, as they can redeem their collective gift for products or services of their preference. The surprise element and emotional value associated with these gifts create lasting connections between recipients and contributors.
Online businesses using WooCommerce stand to gain significantly from this feature. It not only boosts sales but also fosters customer loyalty through a convenient and enjoyable gifting experience. Satisfied customers are likely to become brand advocates, driving word-of-mouth marketing and attracting new business.
In essence, it exemplifies the power of technology in enhancing the age-old tradition of gift-giving, making it more collaborative, meaningful, and enjoyable for all parties involved. As businesses embrace this innovative feature, they can look forward to increased sales, enhanced customer relationships, and a brighter future in the world of e-commerce.