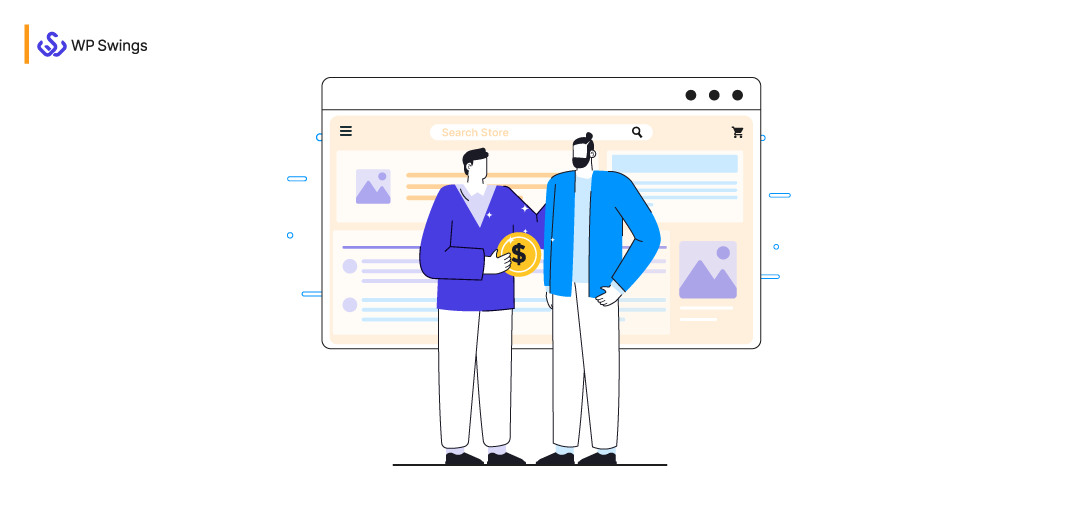 Joining an affiliate marketing program is perhaps the most popular method of generating passive income in today's time.
Everyone wants to make money with minimal effort. Affiliate marketing lets you do just that. All you have to do is promote a product or service to its relevant audience and wait for the sales commission.
If you follow the right affiliate marketing strategies, you can make money while you sleep.
So let's talk about the basics and then move further.
What Is Affiliate Marketing?
Affiliate Marketing is a process where affiliates promote the products of other brands and earn commission on sales. The brand rewards the affiliate with a commission whenever a customer purchases the product with the affiliate's link.
Affiliate Marketing is growing rapidly year over year, and marketers, as well as creators, are embracing it with open arms.
Affiliate marketing spending in the United States from 2010 to 2022 (in billion U.S. dollars)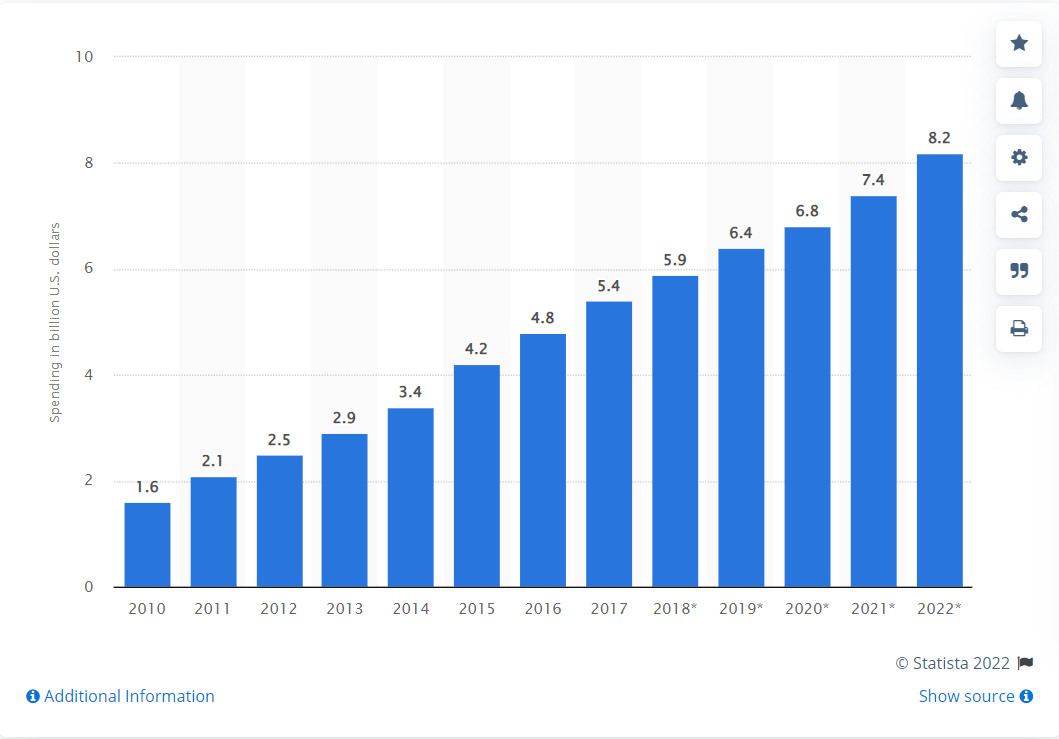 [Source: Statista]
As you can see for yourself, affiliate marketing is growing exponentially.
If you have made it through the introduction, then stick around to learn the process of affiliate marketing and its various benefits. Also, I'll tell you how to make money with affiliate marketing.
Table of Contents
Ways To Do Affiliate Marketing
All affiliate marketing programs follow either of the two basic structures, Affiliate Network and In-house Affiliate Network. Let's learn these in detail.
Affiliate Network
An affiliate network is an open program that works as a bridge to connect both affiliates and merchants. Merchants can reach out to these networks and register there to sell their products and publishers can go on these platforms to find a suitable product they can promote in their content. Moving on to the second type is
In-house Program
The In-house program is basically a private affiliate network where you create an affiliate marketing program for your own website. Here the customers approach you or you pitch them to ask whether they want to be a part of your affiliate network.
And if we're talking about an in-house affiliate program, I just can't resist myself to share our affiliate program with you. I'm not imposing it on you but it comes with so many benefits that it may lure you once if you go through it. If you don't have enough time to explore our complete plan, let me share some of its benefits with you real quick.
Our In-house Affiliate Marketing Program offers: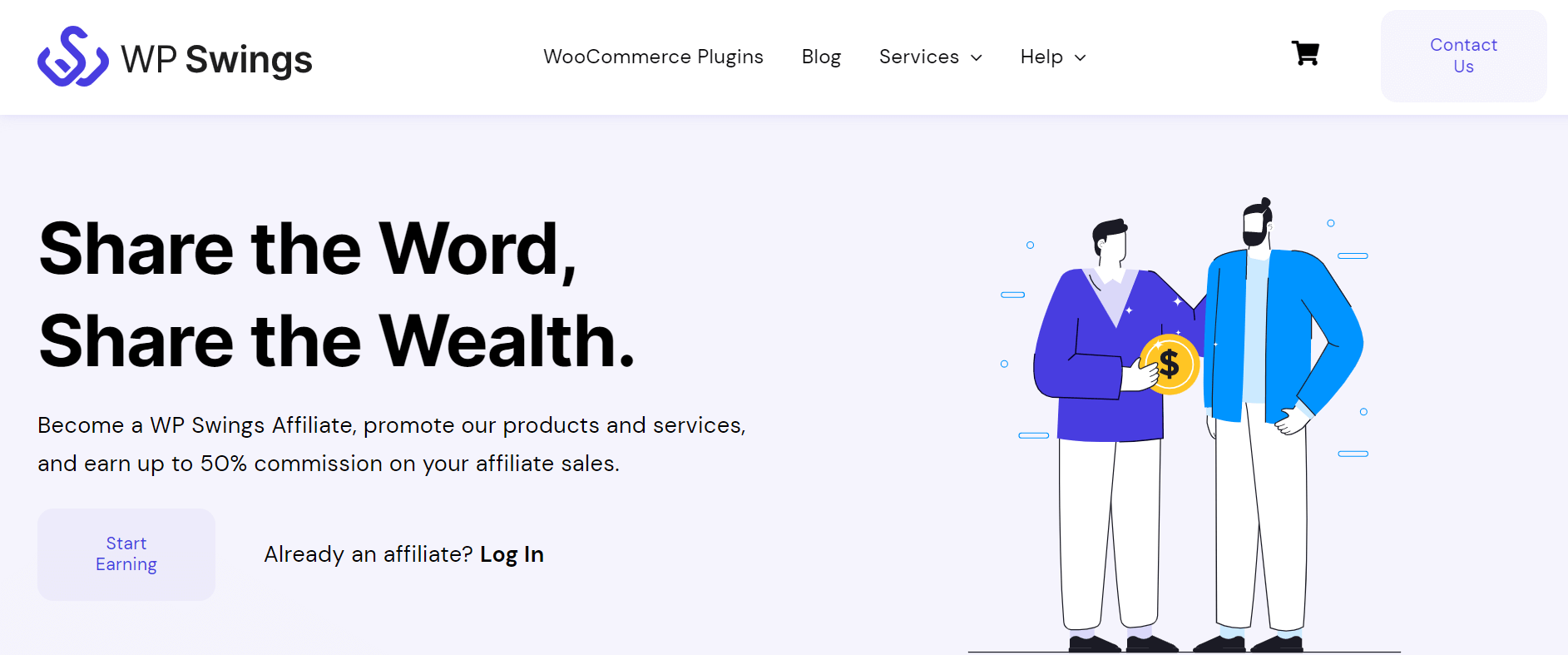 Best in class payout model (up to 50% commission).
Sophisticated WordPress/WooCommerce solutions
Fast Compensation
Thorough Marketing Support
Entities Involved In Affiliate Marketing
The entities involved in affiliate marketing can vary depending on the program structure, but the following user roles are most common:
Affiliate Program Owner
These are the people who are creators of their products. Means, companies or merchants whose one & only perspective is to generate sales of their products. They are always in a dilemma about what extra they need to put to scale up their sales whether it's a start-up firm, partnership, sole proprietorship, or any best fortune company. Therefore, they take the help of affiliate marketers who act as promoters of their products.
Affiliate
These people act as mediators between the company & its customers. They only create a marketing scenario that ends up finally persuading a visitor to make purchases. The company provides them URL links of their product pages which they ultimately use on their promotional sites, landing pages, blogs & in return for their efforts, the company rewards them with a commission.
An affiliate marketing business has the capacity of producing hundreds of millions of dollars.
Affiliate Networks
I've already explained above what affiliate networks are so here are some examples of a few most popular affiliate networks:
Amazon Associates outclass all the other affiliate networks by a huge margin, you can see it here: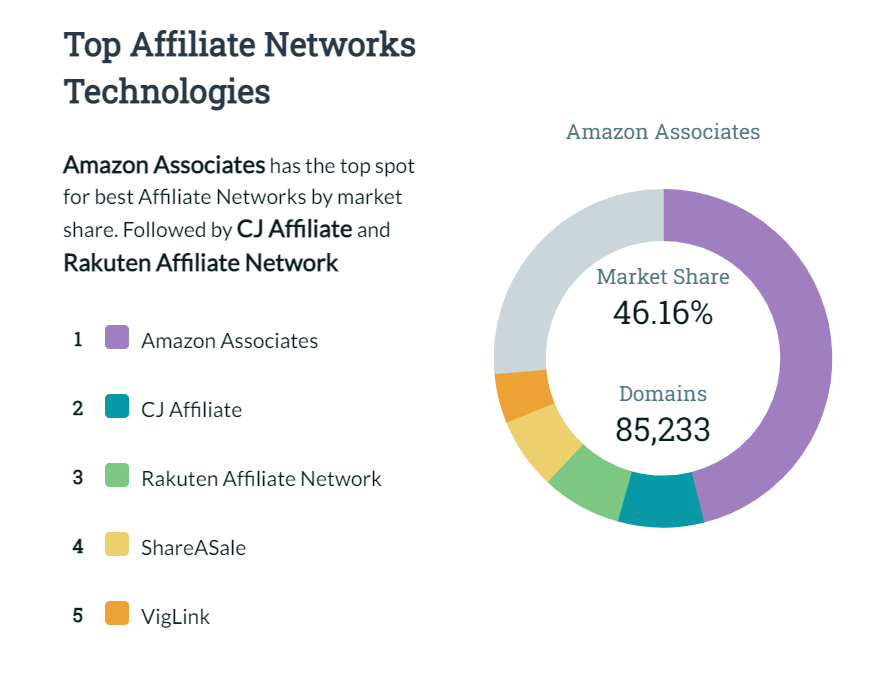 [Source: Datanyze]
Benefits Of Affiliate Marketing
The allure of affiliate marketing lies in its ability to generate passive income, but there are other beneficial factors too.
Easy Earning
Earning as an affiliate requires marketing. It becomes even easier if you have a large loyal audience. They will buy through your affiliate link to support you. It is essentially the easiest way to monetize your following.
Passive Income
Passive income is the most significant benefit of affiliate marketing. Publishers can make money while sleeping, watching their favorite sport, or dancing at a party.
Relationship Establishment
Affiliate marketing concretes the relationship between an affiliate and a brand. It extends the audience base of the company and generates loyalty among the audience for a brand.
Userbase Expansion
As your participation increases in an affiliate marketing program, so does your audience. The Affiliate owner may get the customers, but you get loyal users that are monetizable. The more loyal users you have, the more successful you'll be in your affiliate journey.
Well, that sums it up. Now it's to learn how to make money with affiliate marketing.
How To Start Affiliate Marketing
Starting affiliate marketing requires an intimate understanding of your audience and its potential for monetization. Also, you have to recognize the possible ways of promotion and may need to acquire new skills to expand your reach.
1. Choose Your Affiliate
a) Your Niche Of Expertise And Interest
A niche is a special market(non-generalized). Within the niche, you can target a specific group of customers to sell your products and services.
Selecting a niche comes down to the nature of your pre-existing audience and your marketing skills.
The future of your affiliate marketing career will depend on the niche you select. You've to pick it carefully if you want to run a successful affiliate marketing campaign.
To select the most suitable niche for your affiliate marketing program, you can do these things:
Find out what field you're interested in. If you're interested in cooking, you can check its worth on affiliate networks like ClickBank. If you're interested in cooking, you can click on Cooking, Food & Wine to get the list of products that are sales-worthy within that niche.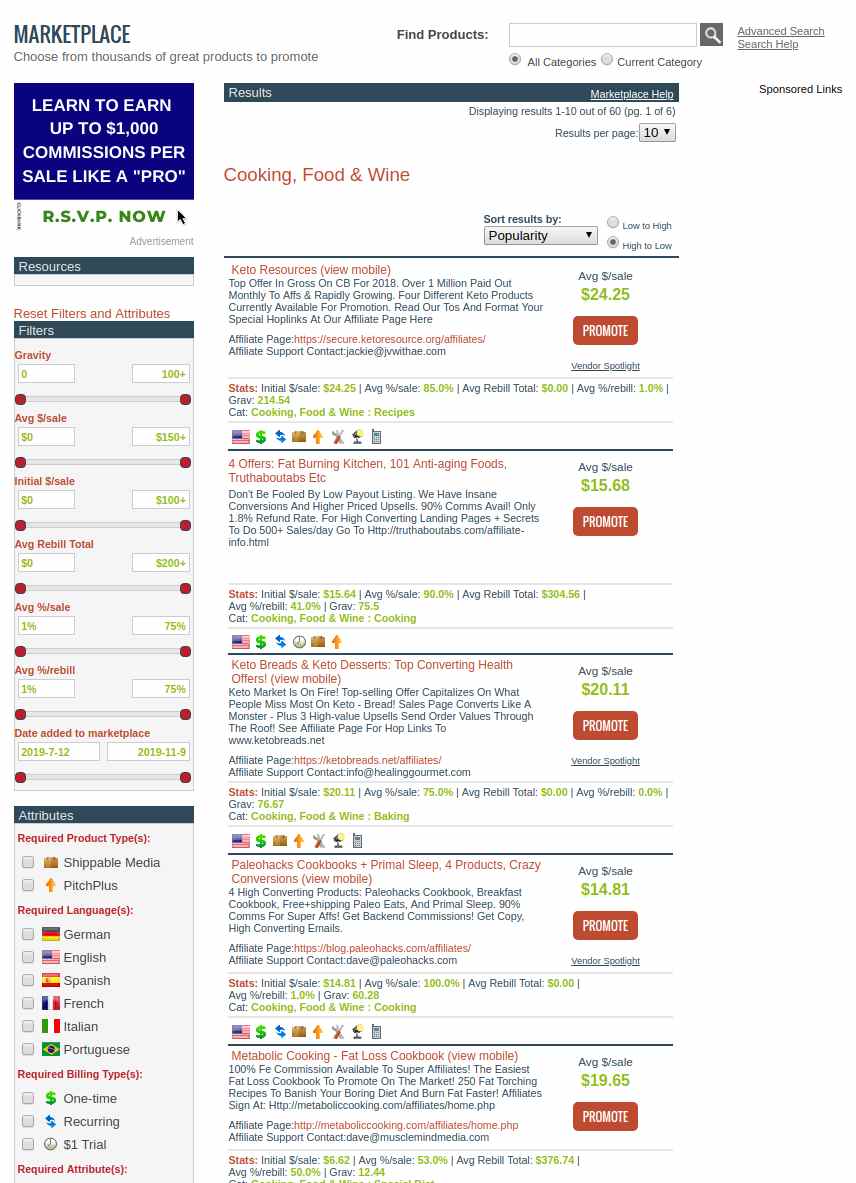 b) Knowledge Of Products And Services
Once you get the list of the products, you can sort the list by popularity, Avg. $/sale, Gravity, etc. Use filters accordingly to refine the list of products you think can be bestsellers at your site.
There's also a search bar in the above screenshot. You can use it to search for any product you want to sell. It's recommended to sell products that you've already used and have knowledge of as you'll be able to more accurately explain those products to your audience.
c) Payout Model
There isn't a universal payout model for affiliates. Different brands use methods to pay their affiliates. Some of them pay affiliates on the basis of clicks, others pay when an affiliate qualifies a lead. However, the most common payout models brands use are CPA (Cost Per Acquisition) and PPS (Pay Per Sale).
In CPA, advertisers pay affiliates whenever a customer takes the desired action on the affiliate's recommendation. This action can be a sign-up form, a purchase, or an ad click that ultimately leads to a conversion.
In PPS, companies pay affiliates a share of the product or service's cost when a customer buys a product from the affiliate's link. This share depends on the product and its category. Some brands offer commission from 1-4%, some offer 10%, some even go up to 200%.
d) Should Be Free To Join
Though affiliate networks are not completely free, you should still look for the networks that are free to join like ClickMeter. Once you join the program, you can move forward to the next step.
e) Marketing Resources And Support
Check that the affiliate program owner offers marketing resources like text ads, banners, videos, coupon codes, etc. Marketing resources and supports are essential to a successful affiliate journey.
2. Promoting Your affiliate
a) Blogs
Promotion is the key to selling more affiliate products.
Blogging is the major part of content creation. You can post blogs on your site and add affiliate links to them. This is will help you effortlessly promote products.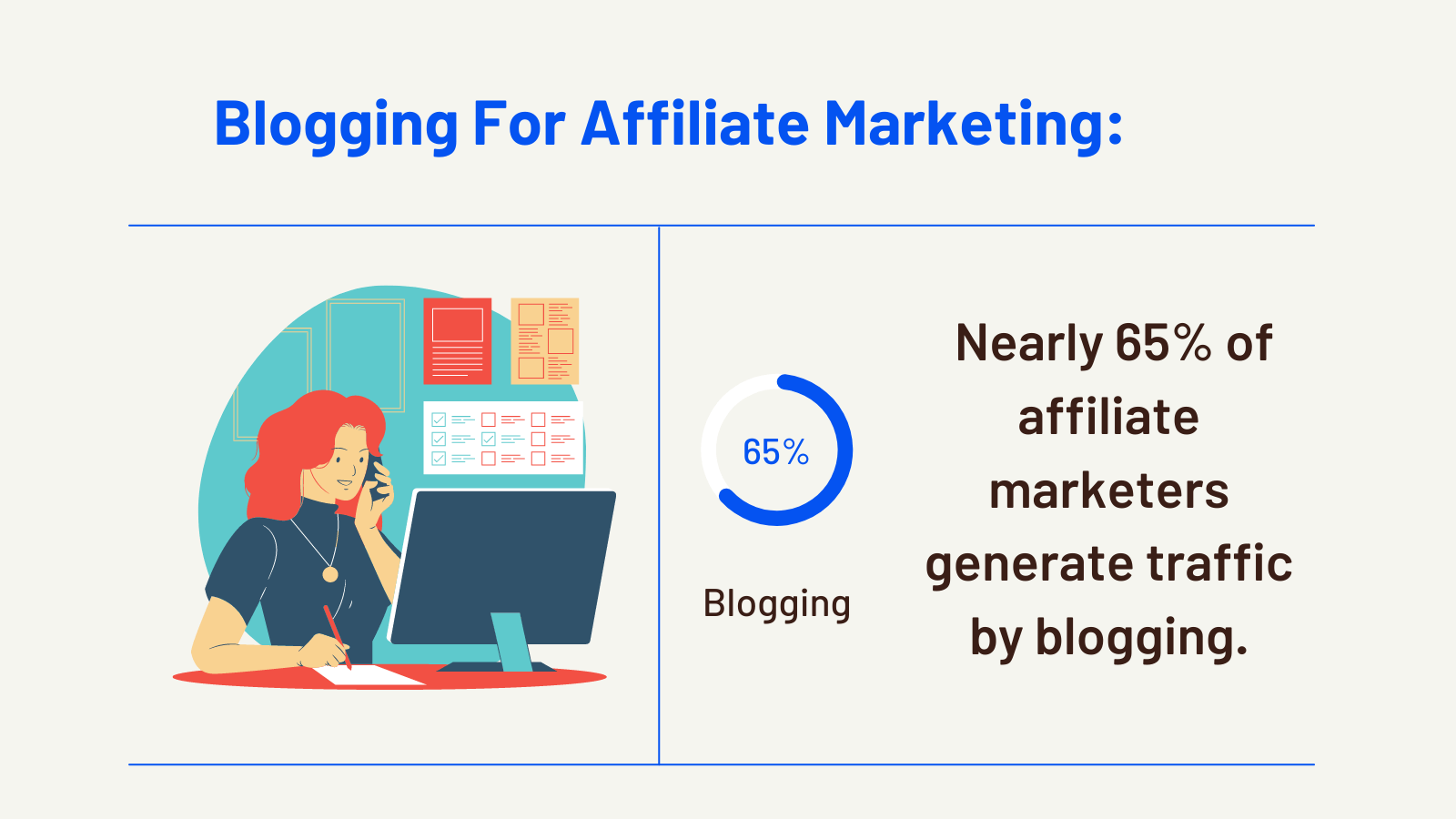 [Source: Truelist]
If your blog satisfies the user intent, people will be more likely to read it, and the more people read it, the more they will click on your affiliate links and ads to buy the products.
If you're familiar with affiliate marketing, you must know Pat Flynn. You can read his blogs on affiliate marketing on his website Smart Passive Income and take ideas if you need them. Though there are other affiliate marketers too, Pat Flynn is the best.
b) Emails
72% of customers prefer email to communicate with businesses and it gives an average return of $38 on every $1 spent. Run email marketing campaigns and send emails to customers to communicate with them and notify them about your affiliate products.
There are several websites over the internet you can use to create great emails. One of them is Reallygoodemails.
c) Social Media
Nothing's better than social media to connect with people directly. You can make posts on Facebook, Twitter, or LinkedIn to promote your affiliate products. It'll grow your brand and attract new customers. Few things you can do to leverage social media to enhance your affiliate system are:
Make your posts eye-catching with pictures, videos, and well-written content.
Use short and understandable links that are easy to type and remember for customers if they forget it.
Stay engaged with the audience and other affiliate marketers and connect with them actively. If you stop being active, your audience will vanish in no time.
How Social Media Can Enhance Loyalty Program?
c) Product Reviews On Youtube
Youtube is the 2nd biggest search engine and everyone loves to watch a video to learn something instead of reading about it. I've seen many creators promoting products on YouTube and earning a good amount with it.
A poll found that 52 percent of customers are more likely to buy a product reviewed on a YouTube video.
If you're promoting a product, try to post a tutorial video about it on YouTube. Add your affiliate link in the description of your video or in the cards. Make your YouTube videos short and explain all the deep details that other YouTubers haven't. Make sure your audience knows the product just as well as you do.
Want To Be An Affiliate?
Are you a WordPress/WooCommerce enthusiast and looking for an affiliate marketing program you can join? Or you're on the hunt for a program that has strong marketing support and an attractive payout model.
I would like to invite you to join WP Swings In-House Affiliate Program. All you have to do is market our WordPress/WooCommerce products &services and earn up to 50% commission on affiliate sales.
Benefits Of Our Affiliate Program
Performance-Based Structure: Our affiliate marketing program follows the pay-per-scale model. The more you sell, the higher your commission will be.
A Team Of Experts: We have a team of WordPress/WooCommerce enthusiasts who have years of valuable experience in the field.
Marketing Resources: WP Swings affiliate marketing resources include pre-designed banners, coupon codes, and logos.
Complete Marketing Support: we recognize our affiliates as partners and are committed to helping you excel in this program. You can contact us to request assistance.
Services And Software Solutions: We have 30+ plugins and integrations that solve several intricate WordPress issues. You can also promote our services for WordPress, WooCommerce, and eCommerce.
If you're interested, then you can click here to learn more and make passive income. Other crucial guidelines are covered in the affiliate terms and conditions.
On A Final Note
The Affiliate Marketing business has already helped countless marketers make millions of dollars. If you want to make money too, you can follow all the above-listed points or join the listed affiliate program, the choice is yours.
But whatever you choose, do remember that this will not take effect overnight. A well-planned affiliate marketing strategy with time dedicated to it will give you desired results.
This is also the con of affiliate marketing that you don't have control over it. All you can do is to keep up the good work and wait for the results.