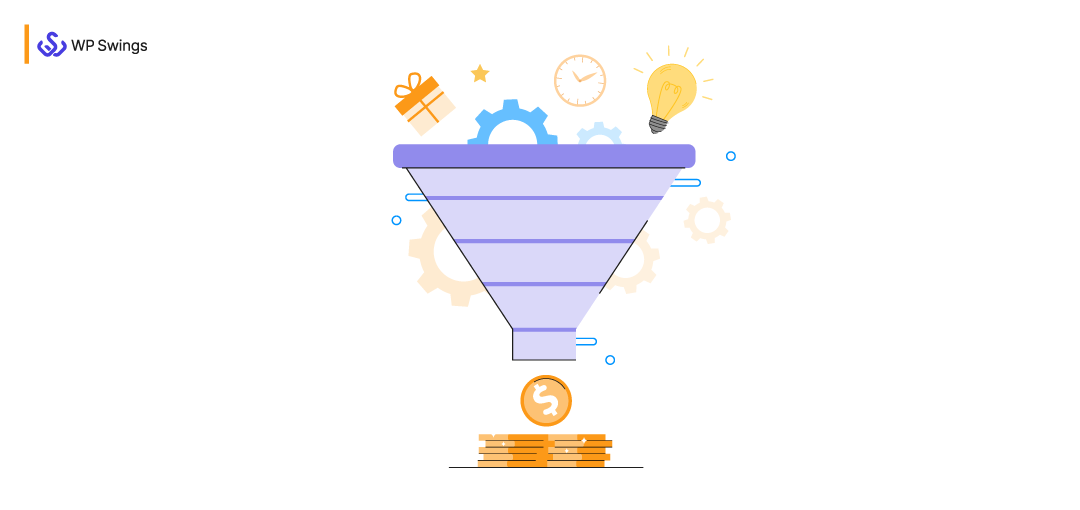 Generating traffic but no sales?
You're not the only one. There are thousands of other merchants that are sailing on the same boat. And the worst part is they still don't know the actual reason(s) behind it.
The reason that is stopping your visitors from becoming paying customers?
This leads you to perform Google searches like "why is my conversion rate so low". Or "I'm getting high traffic but low conversions".
If you're a Youtuber, views and traffic may fascinate you. But ultimately if you're running a startup or have an online business, only traffic will not bring ROI. You'll need conversions for it.
There can be many reasons why your prospective customers are not ready to spend on your website. It may vary from a landing page URL to compelling CTA (Call-to-action) or the website navigation, everything matters!
So by the end of this post, you will get the most real-time solutions to the major reasons for the low conversion rates of your eCommerce store.
I'm going to diagnose every aspect of why your eCommerce store is getting high traffic but low conversions. Or simply the reasons for low eCommerce conversion rates.
Let's dive in.
Table Of Contents
1. Ditchy Trust Signals

Trust signals are for building trust. But if your trust signals are not trustworthy, people will visit your website but will hesitate to pay.
Let me show you a simple example of this. I'm giving you 2 options to choose from. One is a secured website and the other is not. Which one would you prefer?


The secured one. If you care about security.
And just like you, if your website's trust signals are dubious, users will prefer a more secure site just like you did in the above example.
You should also know that security matters more on eCommerce websites. Because these websites involve transactions. And nobody wants to make a payment from a website that cannot guarantee the security of your payment details. You may drive traffic, but as usual, you won't be able to convert them since they'll not pay.
So you need to make sure your website is secure and you should display it using reliable trust signals.
How to Use Trust Signals to Gain Customers' Trust?
Use different types of trust signals like money-back guarantee signals, trusted by brand signals, etc.
You can also add a few trust emblems on your footer
Make sure to put trust signals on transaction pages
Don't clutter your pages with an ample number of signals
Make sure your website is secured with SSL Encryption
You can also use positive social reviews and customer testimonials as trust signals. People believe others more than anything so if your customers are appreciating you over the web, you must flaunt it.
2. Poor Website Navigation
Website navigation may not catch your attention but it can decimate conversions at your eCommerce store.
A hard-to-navigate website can annoy customers and also prompt them to leave your online store. In research from Clutch, 94% of the respondents selected easy website navigation as the most useful feature of a website.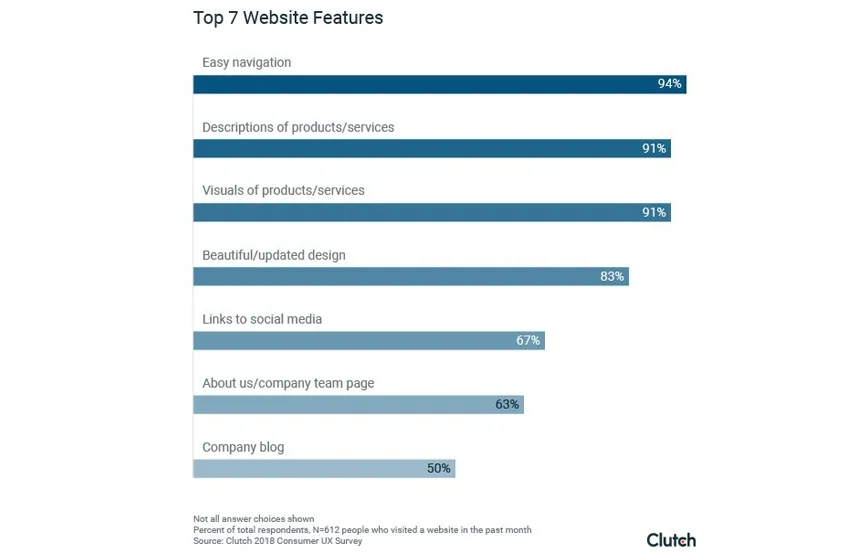 The website I find most easy to navigate is Impact. They have a sticky navigation bar, a sidebar menu with a clear footer that clearly describes where you'll be redirected to.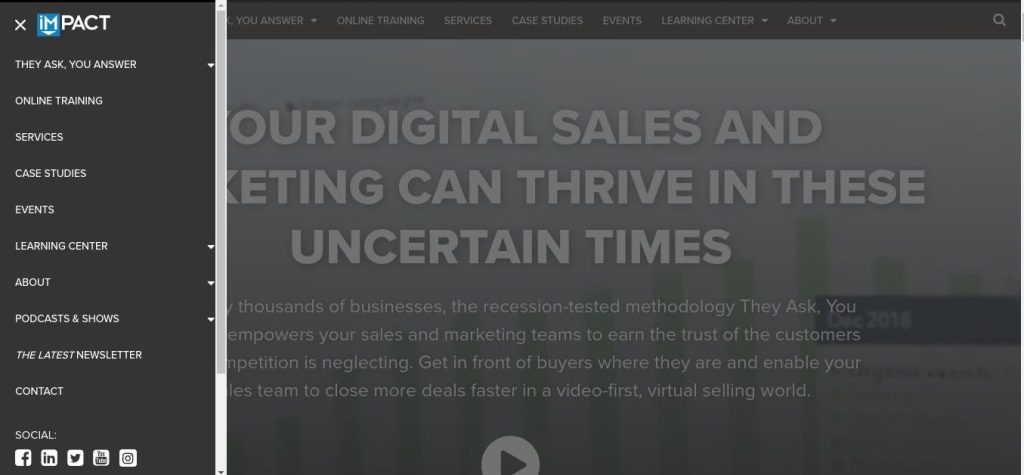 How to Make Your Website Navigation Easy
Create a blueprint for your website navigation before building the design
Keep your navigation bar at the top
Clearly define and divide all categories
Ensure your website navigation is responsive
Make use of fat footers but don't stuff it with futile links
Don't forget to link your logo to the homepage
Add a working and easily find the search bar
Avoid drop-down menus
These are a few tips you can use to make your website navigation easier. If your site visitors find things easily, they will have a better experience which can also persuade them to buy.
3. Addressing The Wrong Traffic
Let me share an example here because I love examples.
We recently attended Inbound 2021 where HubSpot hosted several sessions on different topics. And as a content marketer, I was focusing on content-oriented sessions.
In one of the sessions, AJ Beltis, HubSpot's Content Marketing Manager talks about "Retiring Empty Traffic". This simply means you need to abandon and stop focusing on the traffic that is not going to convert.
Addressing wrong traffic could be a major reason why you have high traffic but low conversions. If you are not targeting the right audience, you won't witness the desired conversion rates.
So the question comes, "How to fix it?" or "How to target the right audience that converts?"
Well, you're quite fortunate that I've got the answer to this question. Let's find out what it is.
How to Target the Right Traffic?
Here are some best practices you can follow to target the right traffic.
Target a Smaller (Niche) Market

If you're trying to sell your products to every possible user, you will waste your precious resources and convert very few users into customers.
So instead of targeting and selling to every possible user, narrow down your market and target a smaller group of people.
For example, if you have a website that sells dog products, your target market should be the people who have dogs, rather than each pet owner. Targeting users who already have dogs have more chances of conversion.
Tips to Find a Niche Market:

Find products you know inside out which are also passionate about you.
Find out what your customers need.
Look for the problems you can solve. Use social platforms like Quora where users ask for solutions.
Examine your competitors. Check what they're selling, their bestsellers, etc.
Create and Know Your Ideal Buyer Persona

This is the point where many businesses find themselves stuck. They find it hard to identify and create a buyer persona which affects their targeting and doesn't give them the conversions they look for.
However, if you want to target an audience and convert them well, you must know them before you reach out to them. And for that, you'll require a buyer persona.

How to Create a Buyer Persona?

Want to generate a better #ROI? Then you need to know who to target. Here's how to create a buyer persona: #MarketingTips #BusinessTips https://t.co/g0UHgysxlP pic.twitter.com/vyNUn6ZJ3o

— Lilach Bullock (@lilachbullock) October 7, 2020

Ask yourself these questions

What is your potential buyer's age, gender, income, etc.?
Where do they reside?
What do they do?
What are their pain points?
Which all social platforms do they use?

Analyze what kind of leads you generate
Conduct surveys and talk to your customers on social platforms
Coordinate with the sales team and ask about the user's requirements.
When it comes to a buyer persona, I think it's hard for any brand to beat HubSpot. You can check out this HubSpot blog on how to create buyer personas to get an idea in detail.
Use Google and Facebook Ads to Collect Insights

If you're planning to get conversions with paid ads, Google and Facebook Ads can be a great help. You can use these tools to identify demographics, purchase frequency, in-market audience, affinity audience, and a lot more.
These insights can give you a better view of your target audience. And it will also help you create ads that can grab more clicks.

Analyze Your Existing Data

You can't imagine how useful your existing data can be to provide meaningful insights. If you're not examining your existing data much, you should start doing it more.
You can create a Google Search Console and Google Analytics account to track your eCommerce store data.
Few Metrics You Need to Track at Your eCommerce Store
Impressions
Cost per Acquisition or CPA
Cart Abandonment Rate
Behavior Flow
Churn Rate of Customers
Geographical Data
Average Order Value or AOV
eCommerce Conversion Rate
Product Return and Rate
Customer Retention Rate
Customer Lifetime Value or CLV
Number of Returning Customers
These metrics can give you a great idea about the user behavior on your eCommerce store. And it will also help you identify the cause for high traffic but low conversions.
4. Targeting Irrelevant Keywords
Great article on "Reasons Why Your Traffic Isn't Generating Sales & How to Increase Conversion Rate"
Reasons:
-Targeting the wrong keywords
-Overly focusing on desktop
-Being a one-man teamhttps://t.co/dp95Mufzao#website #trafiic #Keywords #conversion #SEO @StartGrowthHack pic.twitter.com/uQGlYgtBcl

— EvokeDigital X (@EvokedigitalX) April 3, 2019

Precise targeting is not only restricted to the audience. You also need to target perfect keywords for better traffic as well as conversions.
Targeting irrelevant keywords can be a huge reason why your eCommerce store gets high traffic but low conversions. Think of it this way, you sell audio products at your eCommerce store and you're targeting keywords like "Mobile Accessories", "Accessories for laptops", etc.
If you start ranking on these keywords, you may get a big amount of traffic since these keywords have a huge search volume. But, the people who reached out to your site because of these keywords may not purchase anything. It's because they might be looking for other accessories like USB cables, OTG, etc. and you only deal with audio products.
So the things boil down to the point that you need to target keywords according to your niche.
How to Target Relevant Keywords?
Find keywords around your niche
Don't try to target keywords that have high search volume but fewer chances of conversions
Use tools like AnswerThePublic to find questions around a topic
Find out semantic/related keywords and use them in your content
Understand the intent behind the keywords and craft your content accordingly
Targeting high search volume keywords with less possibility of conversion and even doing vice versa doesn't assure good results. Everything depends on your business model. But if you want to convert your traffic into sales, the above tips can be a good help.
5. Confusing Homepage
What's the most important and predominant page on your website? If you ask me, I'd always say HOME PAGE.
It's because the home page is where a visitor first interacts with your website. It depends on your home page whether the visitor will stay on your site or not. Also, the home page can impact the customers whether they'll end up buying or just leave your store.
On average, over half of the users spend less than 15 seconds actively on a web page.
This shows if your home page is not good enough to engage users for 15 seconds, they'll leave you. And what's worse is they may not even come back, EVER!
Here's an example of a confusing homepage: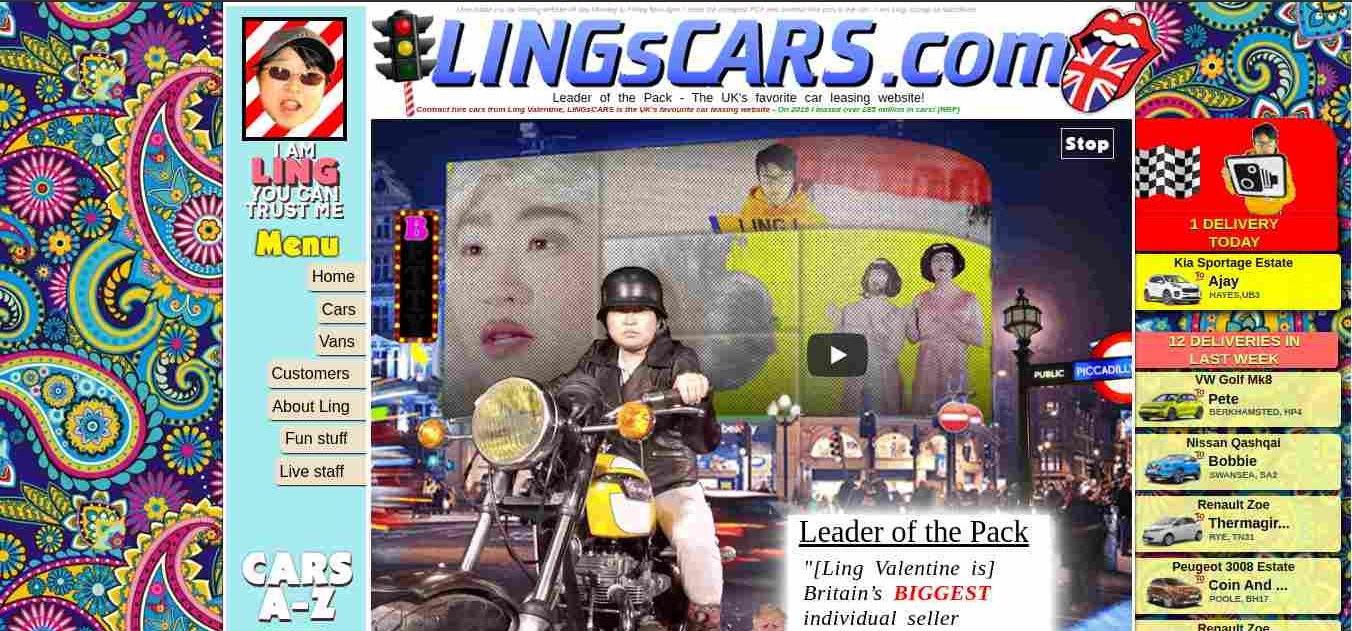 It's quite tacky but to be honest, I'm not going to click anywhere on this page. Instead, I'll leave it right after reaching it.
So, if your home page is driving high traffic but can't hold site visitors for long, you will witness low conversion. Thus, you need to update your home page for a better conversion rate.
How to Improve Your Homepage?
Don't clutter your homepage with too much content or other elements
Add a small video on your homepage that describes your brand
Write less but concise content on what you are, what you do, and how do you help people
Make sure your homepage is as fast as flash (or quicksilver if you're a marvel fan)
Don't forget to make your homepage (in fact the whole website) responsive
Add your contact information above the fold
Make sure your homepage has a CTA since 70% of small businesses websites don't add one
So now your homepage is up and running. But your website is still not converting. Hmm, what's the reason? Read further to know.
6. Complex Checkouts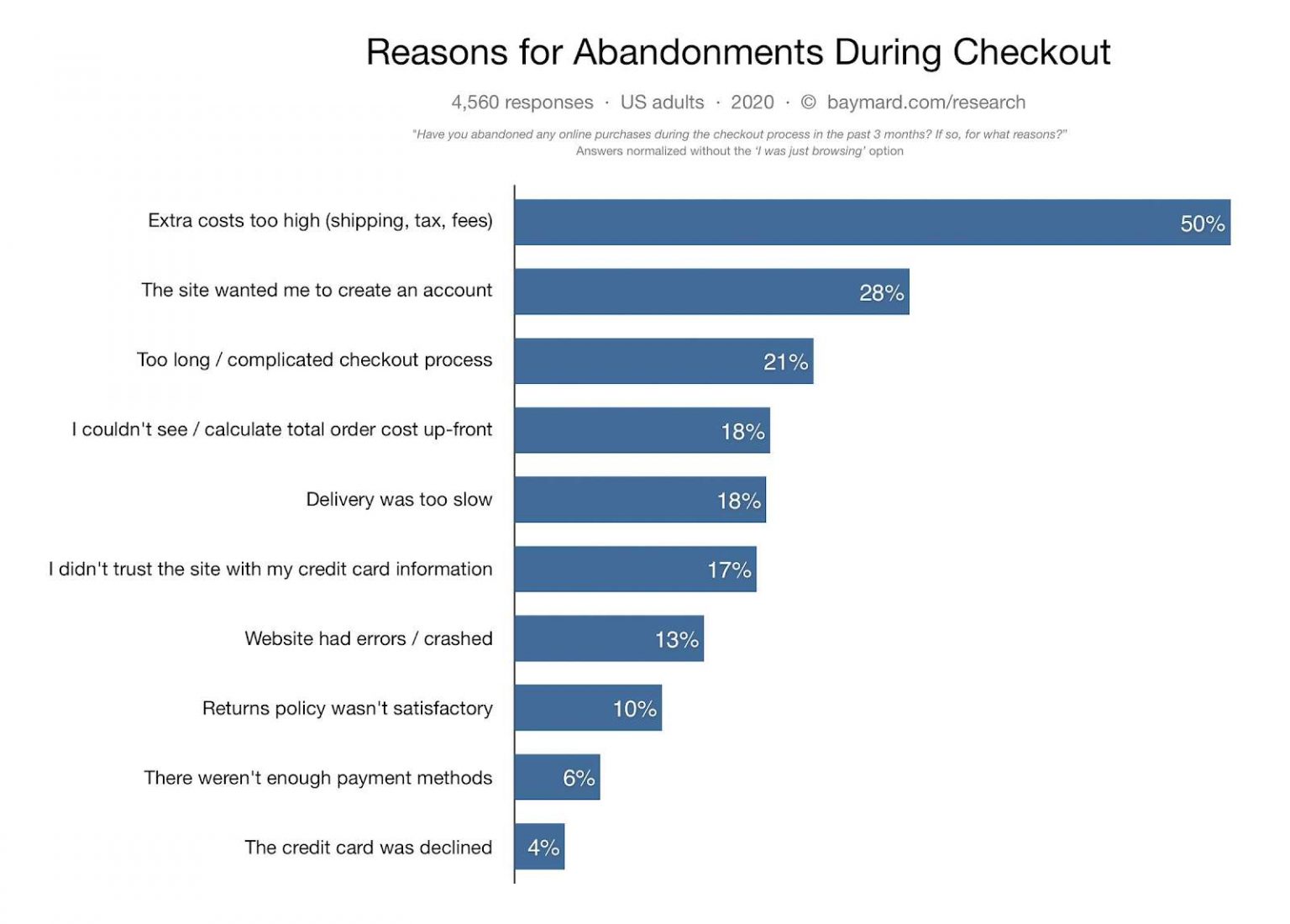 Complicated checkout can become a hindrance to 26% of your customers. This means, if your checkout process creates friction for customers, over a quarter of them may not complete their purchase.
So you may drive a good amount of traffic but you will struggle in converting them. Thus, you need to optimize your eCommerce checkout process to eliminate every possible element that creates friction.
How to Optimize Your Ecommerce Checkout Process?
Analyze Behavior Flow with Google Analytics to check what's driving them to the checkout page and where they're going afterward
Add guest checkout and social login features for checkout
Remove distracting elements from your checkout page
Use real product images instead of animated ones
Add a progress bar to show the checkout progress
Do not ask users to register at the beginning
Use data validation and autocomplete in your form fields
Maintain a good ratio between the product's price and shipping cost
Several other factors affect the checkout process. I've created a separate blog post for that and added the link above so you can check that out. Just make sure that your checkout process is super smooth and doesn't make users think twice before completing it.
7. Dishonest Product Pages
Honesty is the best policy. You all have heard it.
In business, it is the best policy you can embrace. And if you're not incorporating this policy on your product pages, you can see high traffic but low conversions.
Still Confused! Check out the best example of the Product Page.
In simple terms, you just don't need to make any false claims on your product pages. Write and show the things your product can really do. If there is something your product can't do, don't mention it at all.
How to Create Honest Product Pages?
Check and update your outdated product pages. Old product pages have the most chance of containing wrong information
Collaborate with the required teams while writing a product description. If you're writing about an app, collaborate with its developer
Write product descriptions, features, and benefits that the product do have
If your product is available in free and premium versions, don't confuse one with another
If you are explaining the features of your product, do not hesitate to add more and more content.
The more you explain your features, the more chances you create for conversions
Remember, product pages have the amazing potential of converting users. You can't afford product pages that make false claims, are not properly formatted, and do not explain your product. Updating them consistently can increase conversions at your store.
8. Unconvincing Copies
If I start telling you about content marketing stats here, this blog will become an eBook. Thus, I'm mentioning some of the most effective stats you need to know.
Content Marketing generates 3x more leads and is also 62%; cheaper than traditional marketing.
Small businesses that blog generate 126% more leads than those that don't blog.
61% of U.S. customers made purchases after reading recommendations in a blog.
Content is king! You all know that. And this king can win great marketing wars and let you expand your brand's kingdom at a vast level. But if your king is uncreative, cruel, and can't solve its audience's (readers) issues, it will be easily dethroned by some other rival.
Therefore, you need to strengthen and fortify your content through different strategies like writing convincing copies, etc. The more you improve and update your content, the better conversions you'll acquire.
A quick example of good and bad content: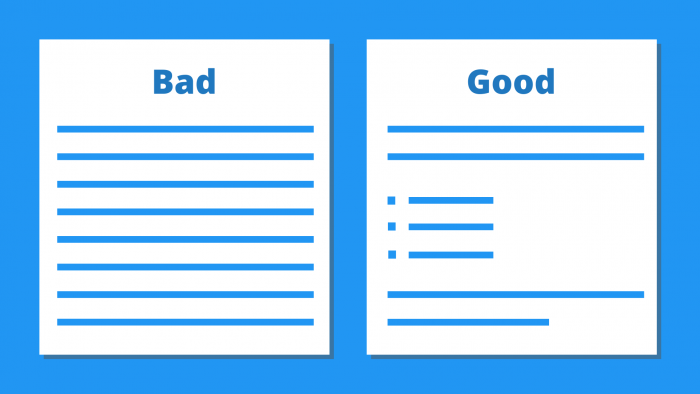 How to Write Copies That Convert?
Keep track of your pages. If the existing content is outdated or the product receives a new update, update the product page content immediately
Explain all the details of your product's features without thinking about the content length. People won't buy your product if they don't know what it does. So explain every feature comprehensively
Use tools like Hotjar to identify the points on your pages or content where users are getting stuck
If possible, replace generic CTAs like "Buy Now", "Check It Out" with some creative CTA messages.
Try to create a perfect blend of power and action words that instigate readers' emotions
Final Thoughts
Let's do it!
These 8 reasons aren't exhaustive. They're just a starting point to help convert your site traffic into conversions. But many small changes like this can make a big difference.
And at last, for those who don't scrutinize the content and skim it like me, let me just give a quick rundown of this blog.
So here are a few things you need to do to turn your traffic into money-spending customers:
Address Right Traffic that has a high intent of conversion
Target Relevant Keywords that can convert traffic
Make your website navigation easy
Use trust signals to build credibility
Don't let your homepage confuse site visitors
Make your checkout as smooth as possible
Avoid false claims on product pages
Write copies that can persuade visitors to take action
If you take the time to improve in each of these key areas, you'll be well on your way to increasing conversions and growing your eCommerce business.
So those were some of the few concerns among many. Are you also dealing with high traffic but low conversions? Or what else do you know or do to convert your traffic? I'm eager to know your secrets if you can tell me in the comments section.