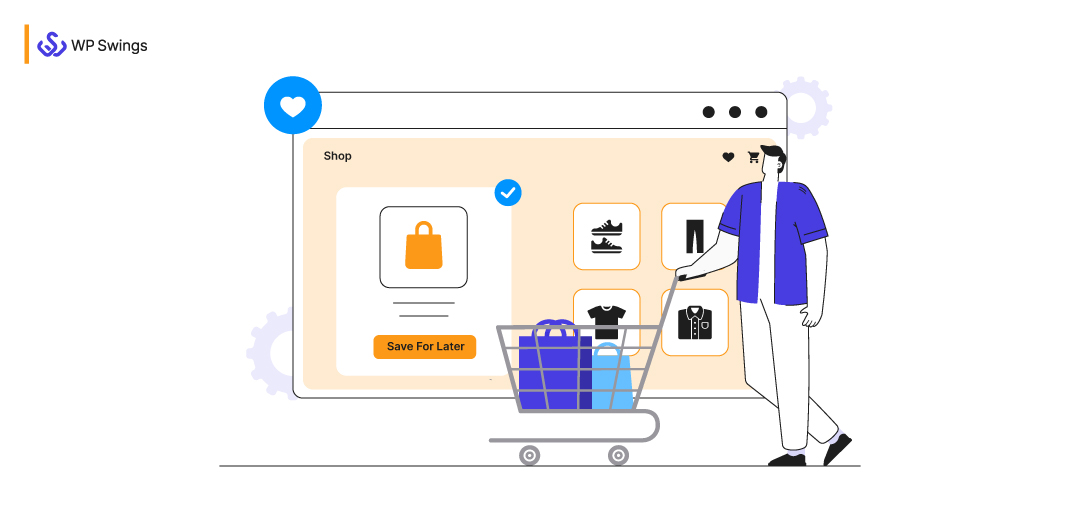 Hello Folks! Hope you all are doing well and celebrating valentine's week…
As we all know, Valentine's Week has started… Even if your company doesn't directly serve the sectors that typically profit from Valentine's Day, this occasion is a great opportunity to connect with your clients. And I know you people are eagerly waiting for the Valentine's Day sale… To shop the items you saved in the wishlist or in the save cart later.
I am damn sure that you all encountered the following situation:
You add a few things to your shopping basket, continue to browse, and then you see the final total:
"$300!?"
After all, there are certain things that can wait until later. You store these things by selecting the "Save Cart Later" option on the shopping page.
Exclusive Valentine's Day Deals! Grab Flat 15% OFF
Use Coupon: WPSLOVE23
That is how Amazon and many other well-known eCommerce platforms operate.
Consider how it would be without that button.
If your consumers have to remove products from their shopping carts because they can't readily store them for later, they'll probably entirely forget about the products when they will come back. Even worse, they can completely forget about their cart.
In other words, allowing customers to store products for later will significantly increase the overall volume of items they buy.
The good news is that you can add "Save Cart Later" buttons to your website using top-notch WooCommerce plugins.
As I have mentioned, Save the Cart Later… Let me explain it to you!
Introduction to Save Cart Later
With the Save Cart for Later option on online shopping sites, customers may keep the items in their shopping carts for later purchases without completely deleting them from the cart page. Both logged-in users and guest users can utilize the one-click cart saver option.
If you are a store owner, then the cart saver option on your shop page may lower your cart abandonment rate. By letting your customers move items from their shopping cart that they aren't going to buy right away to a Save for Later list, the Save Cart Later feature is intended to lower shopping cart abandonment.
Here is the video to clear all your doubts about Save Cart Later:
I hope this video helped you well…
Now let's move on to the next and important part of the article
How Does Save Cart Later Increase Conversion Rate?
Before completing a purchase, many potential customers will visit your website at least twice. Some people may put items in their shopping baskets. You may send them automatic cart reminders if they have begun the checkout process. However, only a small percentage of customers who add items to their carts proceed to the checkout pages. As a result, the majority of site visitors who abandon their carts do so without providing their email addresses. It turns out that there is still another efficient method to lower the rate of cart abandonment.
You may assist cart abandoners in completing the transaction by displaying a "Welcome back, we saved the cart for you" type message to them when they return to your website after a few hours or days. And it doesn't have to be difficult. Check out Skates.co.uk's inactivity campaign: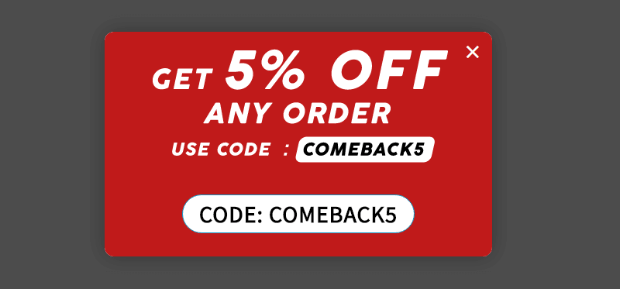 I hope this example helped you well to understand what I am trying to explain… Well, the motive for explaining with an example is to make you aware of the impact of saving a cart later on the cart abandonment rate.
So, let's move on to the next part of my article…
Letting Buyers Save Their Cart For Later Can Reduce Cart Abandonment?
In eCommerce, cart abandonment is inevitable. No matter how efficiently you streamline your checkout process or how transparent you are about shipping charges, some customers will decide not to finish a transaction after adding products to their cart.
Your bottom line may be significantly impacted by those losses. More than 88% of shoppers abandon their carts on average. In other words, just 120 out of every 1000 clients who add products to their online shopping cart actually make a purchase.
To put it another way, 8300 more customers add goods to their cart for every 1000 customers you convert.
Buy Now and Pay Later on This Valentine's Day…
I hope you are aware of the buy now pay later process… If you are not then here is the article you must know…
This is why many eCommerce businesses use tactics like retargeting advertisements and cart reminder emails to lower and recover abandoned carts.
Customers may use the "Save Cart for Later" function to save their shopping carts for later, so they can go back to them and finish their purchases then. Due to the fact that saving the cart addresses one of the primary causes of cart abandonment—a lack of time—its effect on the rate of cart abandonment can be substantial.
Customers may finish their purchases at a more convenient time by having the option to keep their carts and come back later, which lowers the risk of abandonment. The consumer may also feel that their demands and preferences are being honored, which may foster trust and a good working relationship.
Overall, adding Save Cart Later can decrease friction in the purchase process and give customers more choices in their shopping experience, which can reduce the likelihood of cart abandonment.
Here are some pointers to consider when implementing Save Cart Later to reduce cart abandonment rates:
Make it simple to use: It should be simple to locate and utilize the Save Cart Later function, with clear instructions and a simple procedure for storing and returning carts.
Reminders: To entice consumers to come back and complete their purchases, send them reminders about their stored carts via email or in-app alerts.
Personalization: To improve the probability that a client will return and make a purchase, customize the feature for them by, for example, adding the things they have saved in their basket.
Secure Cart: Ensure that saved carts are safely kept and accessible to customers when they return.
Feature Integration: For a smooth and customized shopping experience, use the Save Cart Later option with additional tools like wish lists or product suggestions.
Use Testing: To make sure the WooCommerce cart saver function is user-friendly and efficient in lowering the cart abandonment rate, try it out with a sample of clients.
Analytics: Utilizing metrics like conversion rate and cart abandonment rate, analytics may be used to monitor and assess how the Save Cart Later function is being used and how it is having an influence on online shoppers.
Are You Getting High Traffic but Low Conversions on your Shop Page?
Here are the tips and tricks to improve your conversion rate on your high traffic…
Set Up Guide for Save Cart Later by WP Swings…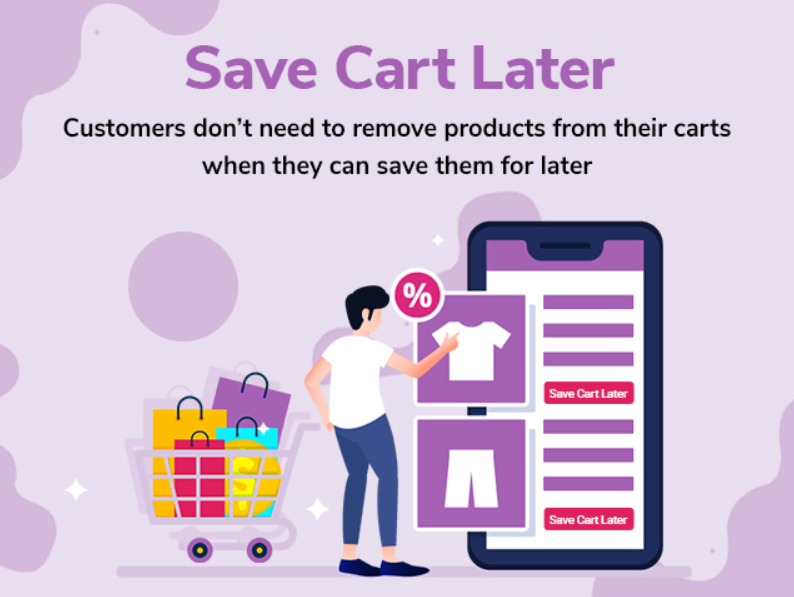 Customers (both logged-in and guest users) may save their favorite goods and buy them later with just one click thanks to the WP Swings plugin Save Cart Later. All saved products stay on the cart page. Because customers' favorite items are always in view and they don't have to repeat their search. This helps you to improve the cart page and lowers the rate of cart abandonment.
Want to Add Items to Your Cart with Save Cart Later by WP Swings…
Here is the information you must know!
For setting up the Save Cart Later plugin on your eStore you just need to follow 3 simple steps…
Step-1: General Settings
The administrator must carry out the below procedures to make the plugin functional after a successful plugin installation.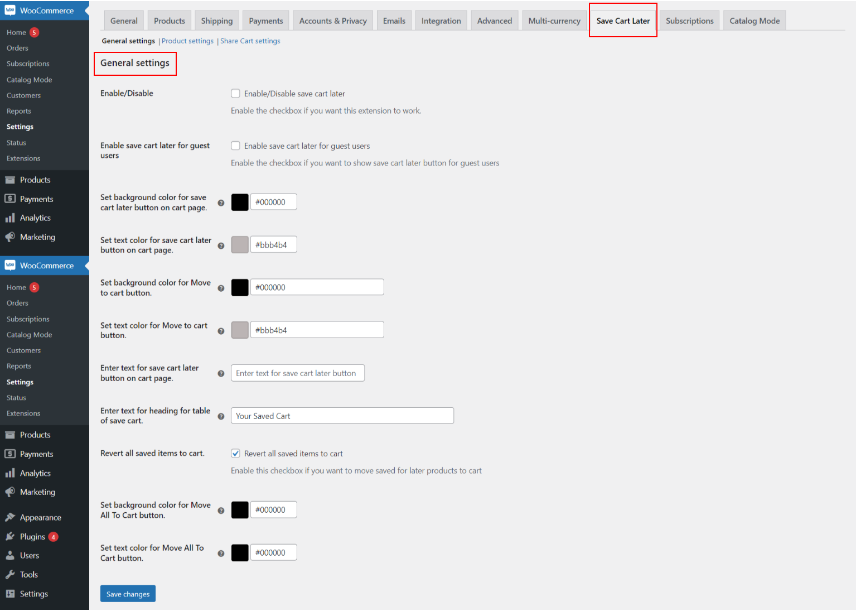 Enable/Disable: Check the box to enable it, then turn on the plugin's features.
Save Cart Later for Guest Users: Enable visitors to store their preferred goods for further purchases.
Dynamic Button of Save Cart Later: Dynamic Button of Save Cart Later includes Set the background color, and setting the text color.
Dynamic Move to Cart Button: Dynamic Move to Cart Button of Save Cart Later includes Set the background color, and setting the text color.
Enter Text for Save Cart Later Button: You may customize the wording that appears on the store page's "Save Cart" button.
Enter Text for Heading for Table: Enter the text for the table's header for the save cart.
Revert all Saved Items to Cart: Enable the option to quickly add goods that were saved for later to the basket.
Save and Proceed: Make your changes live by clicking Save Changes.
Step-2: Product Settings
The "Product Settings" cover the settings related to products in the Save Cart Later.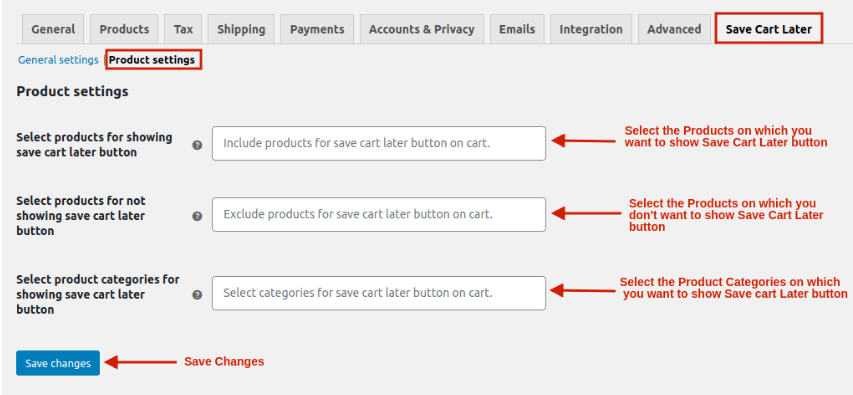 Access the Admin panel.
To save the cart for later, select WooCommerce > Settings> Save Cart Later> Product Settings.
Choose the products and categories that you wish to have the "Save for Later" button show up on the cart page.
Choose the products for which you don't want the save for later button to work.
Make your changes live by clicking Save Changes.
Step-3: Share Cart Settings
The "Share Cart Settings" is all about sharing the saved cart with others.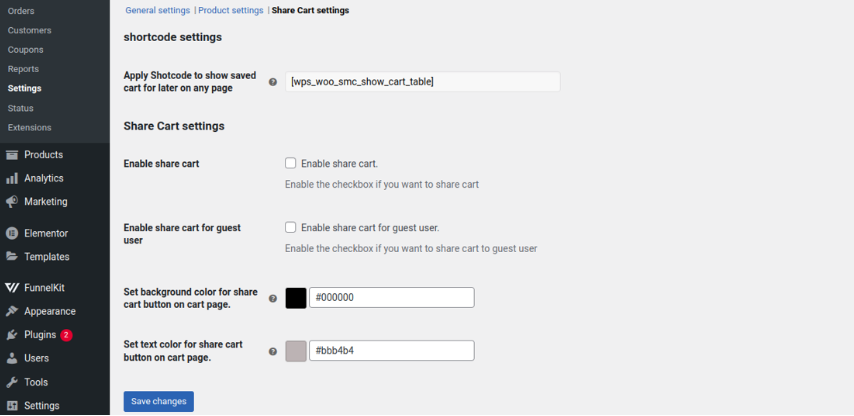 Access the Admin Panel
Go to WooCommerce > Settings > Save Cart Later > Share Cart Settings
Shortcode Settings
Use the shortcode to display your stored cart on any page: You may retrieve the same list of products by copying the shortcode for your products and product lists. After that, you can paste it into the description field in the backend of any page.
Share Cart Preferences
Enable the option to share the cart throughout the checkout process.
If you wish to allow a shared cart for visitor users, select the option that says "Allow Guest Users."
Set the share cart button's background color: Set the share cart button's background color to match your page's theme on the store page.
Set the share cart button's text color: To give your share cart button a dynamic look, change the text color on the cart page.
Why Do You Choose to Save Your Cart for Later?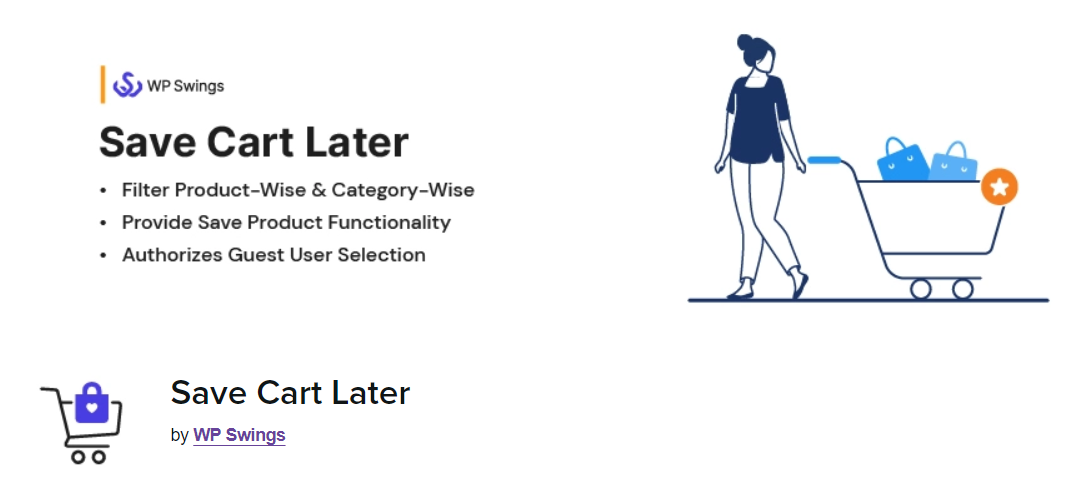 Around 70% of shopping carts are abandoned on average worldwide. The rise in cart abandonment rates over the past five years is evidence that online store owners want a shopping cart optimizer solution, such as Save Cart Later by WP Swings, to achieve better business outcomes. It is a cart optimizer that enables you to improve sales figures without having to deal with cart abandonment. It optimizes your users' carts so they don't have to delete their favorite items from the checkout page.
Wrap-Up Words!
A persistent shopping cart, the option to save carts, abandoned cart alerts, and related cart abandonment applications are all fantastic e-commerce features. It can take a different approach to the problem at hand. While each can help reduce the abandonment rate on its own, firms that use a combination of some or all of them may experience much larger reductions.
Moreover, because various internet users have varied communication preferences, the usage of several cart-saving features can be essential. They have more control over their buying experience. It may tailor to fit their own tastes when they have more possibilities.
Allowing customers to save items in their basket for later can therefore accomplish more than just lowering cart abandonment rates. Offering several ways to save a cart can also boost consumer happiness and, consequently, loyalty.