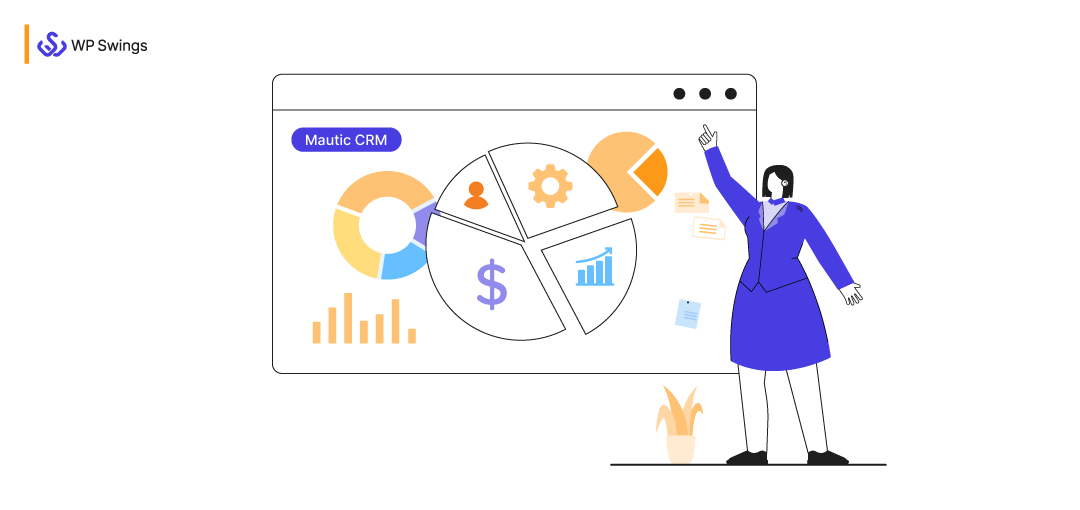 We are witnessing the progressive technology era. There is absolutely no industry untouched by technological advancements. How can the digitally emerged eCommerce industry fall behind?
The eCommerce industry is undergoing a marketing automation phase. It is experiencing different solutions to reduce the manual work and surge through automation processes.
Among the varied pool of solutions and tools, Mautic is the one which contains immense features to support your everyday requirements of automation. It serves your CRM requirements at the same time.
Mautic is a versatile tool and can be integrated with an eCommerce website easily. It can be integrated with WooCommerce, WordPress, Shopify, and more.
Although Mautic is an easy-to-work tool, for a newbie it can be little confusing. Therefore, we have curated this comprehensive Mautic guide which will explain the things you must know.
So, let's begin understanding each concept with this Mautic guide.
What Is Mautic?
Mautic is an open-source marketing automation software that helps marketers automate their repetitive marketing tasks such as lead generation, contact scoring, contact segmentation, marketing campaigns, etc.
This is just a definition of this tool. If you want to comprehend it completely, you must check out the above video created by Mautic itself. However, there are many things Mautic users have to know about. But, let's not confuse things and proceed steadily with this Mautic guide.
Get The Best Free And Premium WooCommerce Plugins!
Why Use Mautic: Benefits You Shouldn't Ignore!
Mautic is beneficial for businesses in number of ways. From saving their valuable time to augment their business growth, it can do a lot.
So here are some of the benefits businesses should use Mautic for:
1. Save Time On Redundant Marketing Tasks
88% of marketers say that automation helps them reduce the time they spend on preparing reports and analysis.
Nothing irritates you more than a tedious task. A task that consumes time but you have to do on a daily basis. You know as a business grows, the priorities grow too. So you have to pick your priorities wisely.
You can't delay your daily tasks. So, here marketing automation tools like Mautic plays significant role. Mautic automates marketing tasks you need to perform regularly. Such as- sending emails to your users, segmenting customers, generating and nurturing leads, etc. So that you can focus on your priorities.
2. Builds Your Email List Faster
86% of business professionals prefer to use email communication for business purposes. Why so? Because it is the 3rd most influential source of information for B2B audiences.
So you know how significant emails are for your business. But they will benefit you only if you've got a big email list. Honestly speaking, it takes an eternity to grow your email list. Hence you should automate this process instead of doing it manually.
With Mautic, you can create forms that appear on your website and capture the user data. You can also analyze this data to understand your users, their needs, interests, etc. You can segment them on the basis of it for better targeting.
3. Create Targeting Campaigns
If you ask me about the most prominent feature of Mautic, I'll say it's the Mautic campaign builder. This feature is a sort of USP of Mautic. Suppose you own a business and create campaigns. If you are oftenly face trouble while creating them. Then, Mautic campaign builder can be your troubleshooter. It'll help you create converting and personalized email marketing campaigns.
You can create multi-channel campaigns with Mautic which are well represented on the tool. The drag and drop feature is also available to ease the process of campaign creation. What you need to do is to add the conditions, actions, and decisions in your campaigns which are clearly distinguished in the tool.
4. Boosts Sales
The eventual but ultimate benefit of using Mautic is that it boosts your sales. We cannot connect this to a specific feature. But, it does that indirectly. Let me tell you how.
Mautic has a feature called A/B Testing. It allows you to create two different versions of a similar content piece or landing page. Once you create them, you can test them by putting them in front of your audience to know which drives more actions or simply converts better.
Once you get the idea about a more converting version, you can go with it. Test it again in the future with different versions and repeat the cycle to get better results.
Another feature is customer segmentation that allows you to create segments for a specific group of users that share similar characteristics. These segments help you create campaigns that are more targeted and convert users into customers.
5. Retains Customers
Mautic helps businesses build long-lasting relationships with customers. It does that by constantly nurturing them and providing personalized customer experience. This helps businesses to boost their customer retention rate and brands grow.
Mautic assures that your email subscribers will get personalized emails that enhance their customer experience. Such as emails for welcome, product launch, ebook, sales, webinars, reviews, thank you, etc. These emails keep your customers updated and feel special.
Remember, if you don't forget your customers, they won't forget you.
Features Of Mautic
Mautic is loaded with several features to serve all your customers and your needs. This section covers the most crucial features of Mautic. So, let us understand them briefly.
1. Lead Management
Mautic helps you in lead management. It means in generating leads, nurturing them, and analyzing their characteristics for targeting. Mautic uses forms to capture leads, emails to nurture them, and reports to analyze their behavior.
2. Contact Activity Tracking
Mautic has a feature of activity tracking. You just need to add a tracking code in the Mautic CRM. Then, it will show you the page your users have visited. With this feature, you can understand the interest of your contacts and target them accordingly.
3. Email Marketing
Perform email marketing perfectly by using Mautic. For this, you can use various predefined Mautic email templates. Also, you can create your own email templates with its email builder feature. This helps you create elegant and catchy emails in which you can add personalized content.
4. Contact Segmentation
As I explained earlier, segmentation helps you segregate your contacts on the basis of their characteristics. Mautic lets you create segments as per your choice. These segments hold the customer data that goes in it after getting filtered by the filters provided by Mautic itself.
Mautic provides 50 filters. These filters are like conditions. Add multiple conditions. If a contact fulfills these conditions, it will be added to that segment.
5. Dynamic Content
Dynamic content is a prominent feature of Mautic that helps you create relevant content for your emails and landing pages. You can analyze the real-time engagement data to understand what type of content your audience needs. You can add code to your email content and personalize it. So that each individual receives a perfect message.
6. Landing Pages
Landing pages generate plenty of leads for businesses. With Mautic, create landing pages. With the easy drag and drop functionality, you just need to pick and place the item at a suitable place on your landing page. No arduous efforts are needed!
7. Focus Item
The focus item feature lets owners decide what they should focus on by displaying a lead capturing form, an important notice, or a link to a specific page.
For instance, if you want to increase the number of newsletter subscribers. In such case, you can select the option "Collect Data". It will show all the details that you need to create a lead capturing form. Once you have created it, you can display it over your website as a bar, notification, full page, or popup.
8. Multi-channel Campaigns
I have talked about multi-channel campaigns. Mautic campaign builder is an amazing feature that lets you create campaigns for different situations to target users. You can simply do this by dragging the options to create your campaign. These campaigns elaborate on the workflow which you are going to target. So that your users can take action upon it.
9. Mautic Forms
There are two types of forms in Mautic- Campaign Form and Standalone Form.
A campaign form can add a contact directly into a campaign whereas a standalone form can add a contact into a segment but not into a campaign.
Select what type of form you want to create. Suppose, if you want to capture your visitors data. In this case, you can create a standalone form and display it on your website with the help of the focus item feature. If you want to create a complete campaign, target, or retarget your contacts, you can create a campaign form.
Learn Why Mautic Is The Best Open-source Marketing Automation Software 2022?
Mautic Vs Other Marketing Automation Tools
Mautic is a new marketing automation tool in comparison to the market rulers such as HubSpot and Mailchimp. Yet, it gained popularity against the marketing rulers by giving them tough competition.
This section will give you a competitive knowledge of the pros and cons of using Mautic over certain marketing automation or email marketing tools.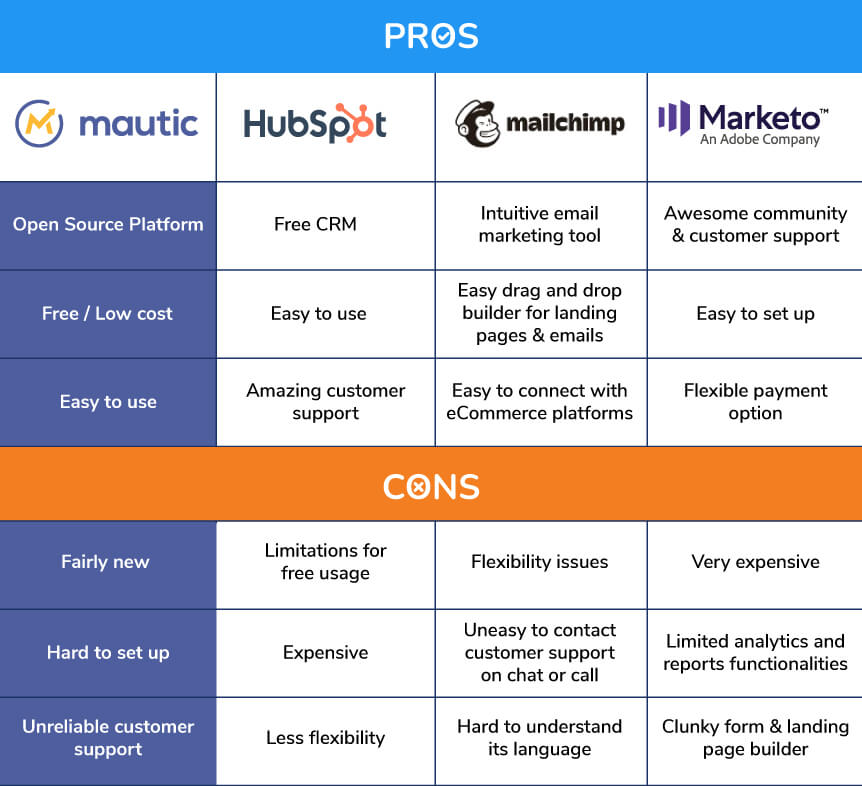 Mautic Pricing: How Much Does It Cost?
Mautic is available in both free and paid versions. In technical terms, they are called self-hosted and hosted versions. Let me clear what they are:
1. Self-hosted Version
The self-hosted version is available on Mautic.org. It is a free version of Mautic. But, remember you will require a server to install this version and that server is not free.
2. Hosted Version
The hosted version of Mautic is available on Mautic.com. It is a paid version. You just have to go to Mautic.com and sign up to request a free demo of Mautic. Once your demo account is created, they will provide some resources or Mautic guide describing how to use it.
If you like the demo you can extend it to a full purchase by contacting them. They don't disclose their pricing but it depends on how many records you want to have in your account.
Read About Types Of WooCommerce Issues And Ways To Fix Them
How To Use And Setup Mautic?
To start using Mautic, you need to install it. So decide which Mautic version you want to use.
Case 1: Use Self-Hosted Mautic Version
For installing and setting up the self-hosted version, you can follow the below steps or checkout the quick Mautic guide:
Download the latest version of Mautic. You might need to fill the form below to confirm the download process.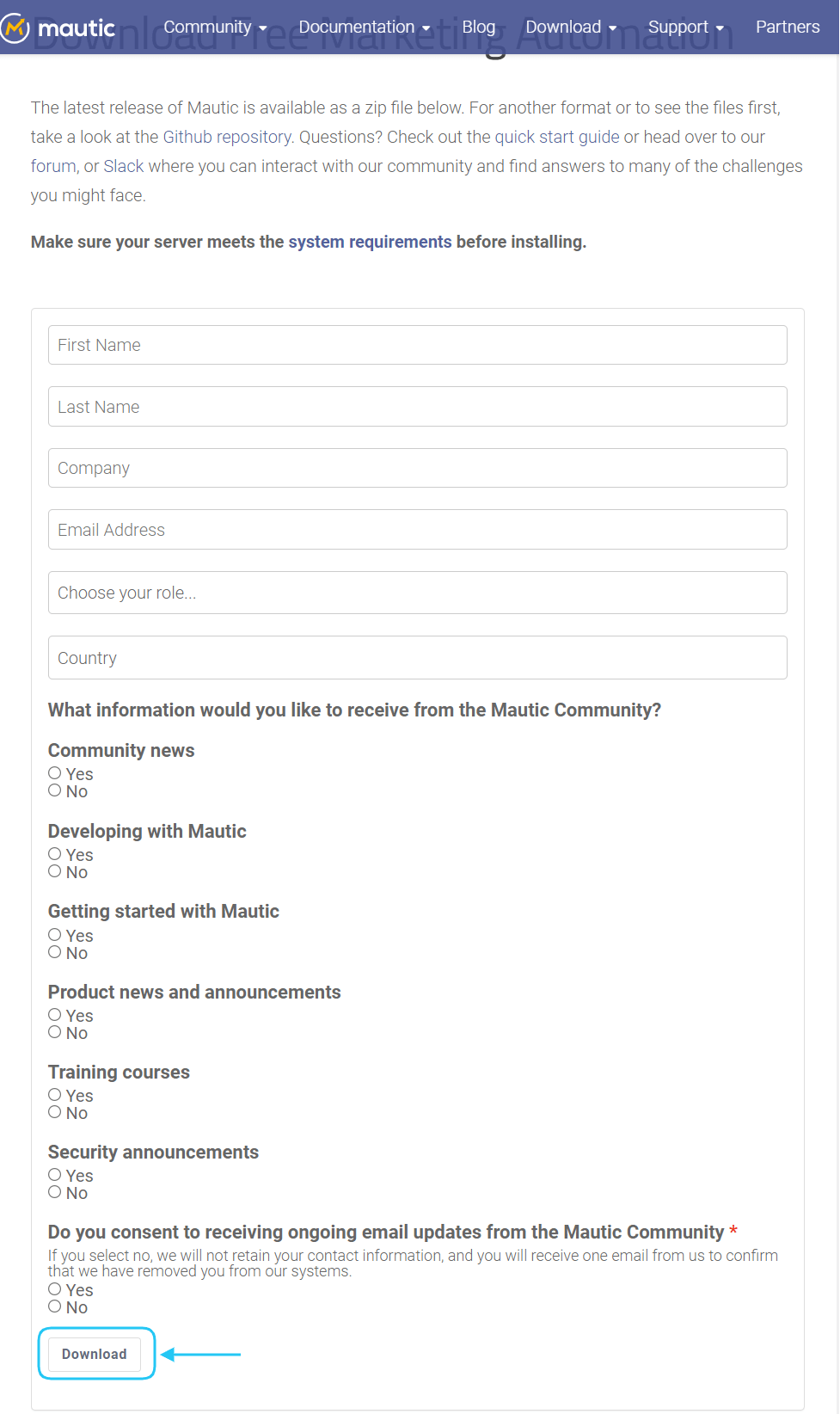 2. Unzip the downloaded Mautic file and transfer it to your preferred installation location in your remote directory using your FTP Client.
3. Setup a new MySQL database. Create a new database in it. Grant all permissions to that new MySQL user.
4. Navigate to your Mautic Installation URL (Mautic.yourdomain.com or yourdomain.com/Mautic) and complete the Mautic Installation Wizard.
5. Once the installation is done, you can start using it.
Still if you have any kind of confusion, read this complete Mautic guide. You can check it to learn about the Mautic installation and setup process.
Case 2: Use Hosted Version of Mautic
For using the hosted version, you don't need to install Mautic. Just follow the steps mentioned below:
Just go to Mautic.com.
You'll see a Request A Demo button on that page.

3. Click on that button to go to the contact form.
4. Fill all the fields in that form to create your demo account.
5. Once your account is created, you will receive the credentials. Use those credentials to login and start using Mautic.
Final Words
I hope this Mautic guide has helped you clear your doubts and gave you an idea of why you should opt for Mautic. Summing up all the learnings from this Mautic guide, here are some quick takeaways for you:
Mautic saves the time you waste on repetitive marketing tasks.
It grows your email list fastly.
It helps brands in customer retention and make strong relationships with them.
You can create high converting marketing campaigns easily with Mautic.
It increases your conversion rates that eventually boost your sales.
It is available in both free and paid versions.
So, if you are looking for a marketing automation tool that can speed up your business growth, you must give Mautic a try. If you still have any kind of confusion regarding this tool, discuss with us in the comments section below.