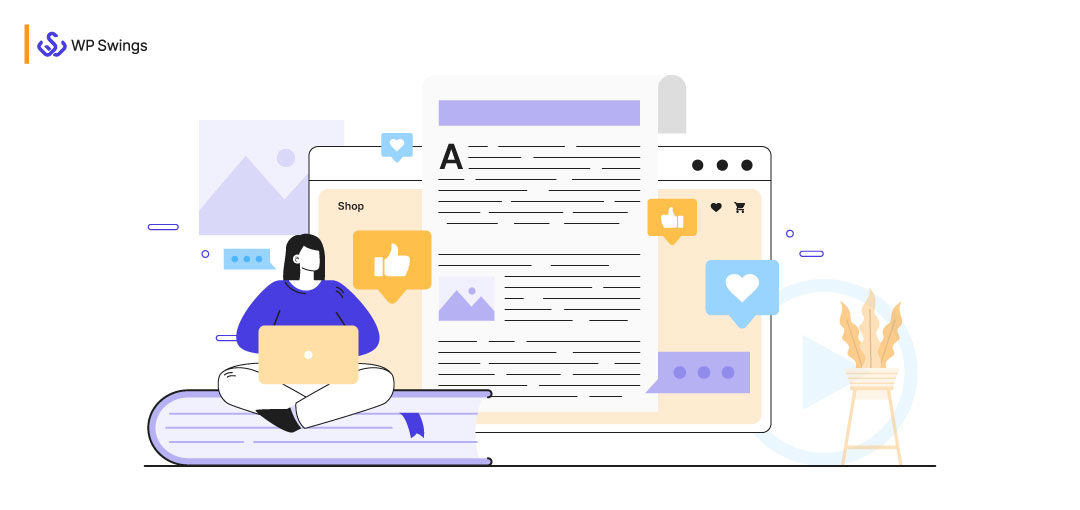 In today's environment, there are a plethora of online stores. Whereas, every entrepreneur aspires to cultivate his or her unique voice. As a consequence, the problem of individuality emerges i.e. how can you differentiate your store besides the competitors in the market, still sustain, and grow well?
Cognitively saying- this can only be possible with efficient tools and most significantly by targeting customers with smart strategies.
Consider a situation- you are running your business with your market relevant tools, along with efficient and automated processes. Still, you lack a strategy to reach out to your customers directly or indirectly. So, how do you make sure that your customers would be aware of your presence and engage with your business?
Surely, the answer to this question would be- until and unless you have a proper strategized medium, strong target strategy to attract and engage them.
Content Marketing has become one of the emerging marketing strategies to create awareness and gain attention among the customers.
Content Marketing is like a ladder for achieving business success. It is important to have a good content marketing strategy as it- increases customer engagement, enhances brand loyalty, improves customer lifetime value, boosts sales, and many more.
So, let us understand precisely about content marketing.
Content Marketing
Content Marketing is one of the constituents of marketing strategy that mainly emphasizes on developing relevant, valuable, actionable content, and sharing on different platforms in order to target and engage potential customers.
According to technavio, the content marketing market share is set to grow by USD 417.85 billion during the time period 2021-2025, and the market's growth momentum will accelerate at a CAGR of 16%.
Everyone surfs on the internet to find a solution. If you provide relevant content, then the audiences will definitely consider your content and take action upon it. Hence, it acts as a driving factor for your business.
You can provide blogs, newspapers, webinars, podcasts, videos, infographics, articles, product guides, case studies, social media posts, whitepapers, etc. to reach your customers. This will help in attracting leads, converting them into customers, and establishing your online store.
You need to make content keeping in mind your audience's purpose. Plan your content, enhance content quality and choose the particular platform for posting. Make a content posting schedule and follow the best practices.
A good content marketing strategy can be helpful in many ways. It will make a strong bond between you and your customers. You can be in continuous touch with your targeted audiences through your valuable content. Efficiently use content marketing strategy to grow eCommerce business.
Also, always make sure that your content should be written in such a way that it is understandable and your customers can easily grasp it.
The most significant factor about content marketing is- you will not have to pitch your customers. Your audience will definitely get back to you if your content is effective.
Learn How To Improve Loading Time Of Your WordPress Site!
What Is A Content Marketing Funnel?
The content marketing strategy consists of following stages:
Stage 1: Awareness Or Attract
In the first stage, you can create awareness about the brand products and services through your content. You can show your prospects whatever solution you are offering to customers' problems. So that you can attract them towards yourself. Educate your audiences through your content. Create content assuming your customers know nothing about you. You can offer infographics, landing pages, ads, videos, and websites to attract new leads towards your brand.
Stage 2: Convert
Provide the reason to your customers why they should choose you and what difference you are making for them. Make comparisons and show that you are providing the best product and services. You can generate content that increases the interest of prospects (or leads) towards your company's products and services.
Provide content variety to your customers. One piece of content will not work. You can provide- whitepapers, eBooks, blog posts, webinars, case studies, and social media posts to increase the interest of leads.
Stage 3: Close
In the close stage, the leads are converted into customers. Therefore, generate content that influences the customers to purchase more from your store. Build trust and strengthen your relationship with them.
The content used to convert leads into customers is not limited to blogs. You can also create content for social posting, email marketing, PR, and paid advertisements that will surely help to grow online sales.
Stage 4: Delight Or Nurture
Provide the best experience to your customers that they never had. Your content strategy should work in a manner that it always keeps the customers engaged and happy. Reward your customers with special promotions and continuously influence them.
So that they will share you with their friends and families, and on social media platforms.
How Can Content Marketing Be Helpful To Grow Your Online Store?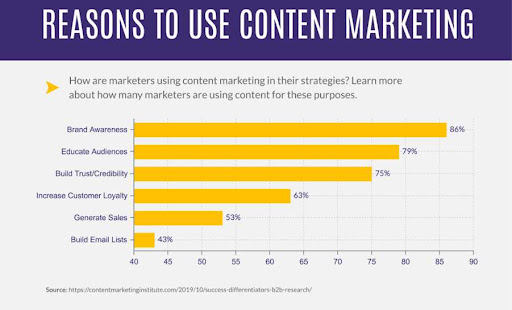 Promotes Your Website And Attracts People
With the help of content marketing, you can promote your online store. In this manner, you can make your online store eye-catching and create consciousness among your customers. Target your audience through your actionable content. Hence, content marketing helps in improving your online store visibility.
For instance- you can use blogs to increase your website traffic. According to FirstSiteGuide, 77% of people perpetually read blogs online.
Also, you can make your blogs more captivating by using an attractive brand image, CTA's, infographics, statics, explanatory internal images, etc.
Guest posting is also another great way to raise awareness among your customers. Search on Google for websites that write similar content like you. Indulge with a similar business domain like you. You can contact other similar websites having high website traffic that post about your niche. Ask them if they can accept your guest post. Additionally, you will get a link back to your website.
These are some best methods to improve your website domain authority. These are the sites where you can do guest blogging-
SurveyMonkey Blog
UpAndRunningBPlans.com
Business-Opportunities.biz
SmallBizTrends.com
Enhances Brand Loyalty
Content Marketing helps to strengthen the relationship between the brand and the customers. Various brands are using content marketing to make themselves distinguished. Spread your content on various channels such as social media platforms, websites, etc. to increase customer loyalty towards your brand.
You can provide a testimonial page on your website sharing explanatory content about customer experiences. This can build brand trust among your customers. Enhance your brand content, send flash sales mails, exclusive offers, redeem gift cards and discounts. Provide appealing content to get more sales.
Wanna Learn- How To Do Branding For Your eCommerce Business??
Increases Customer Engagement
By providing useful content you can continuously update about your new happenings, business goals, and targets. Content marketing helps to engage with the people. So, you can keep in touch with your connections. Send segmented emails to your customers. Regularly post on social media platforms.
You can also actively take part in resolving your customers' queries. Consistently engage with your customers through value-added content. Utilize eCommerce campaign ideas. Start with hot topics, give advice, best solutions, tricks, etc.
Interact with your value-added content so that your customers feel happy, amazed, and become interested. Don't control what is in your mind. Share your views and opinions with no restrictions.
Why Is There A Need To Use Content Marketing?
Through a content marketing plan, the online store owners can fulfill the following objectives-
Brand Awareness
Engagement
Conversions
With this, it's clear that content marketing provides a lot of advantages to enhance their brand reputation.
What Importance Does It Hold For Brands?
High-quality content always helps to establish a brand name and maintain a long-lasting relationship with the targeted customers. You can use content marketing to increase brand awareness.
Content provides you the ease to gain loyal customers for the business. Therefore, we can also say that content marketing plans are the backbone of brands.
Here I am saying that content marketing strategies are the backbone for brands. Because digital marketers are required to generate content for every field whether it's for emails, social media posting, and press releases to accomplish all this stuff.
Begin Your Journey With Content Marketing Through Smart Tactics
1. Spread Impactful Content On Different Platforms
In a competitive market, you need to distinguish your online presence from your content. This can't be possible only by providing the content. Improve content marketing strategy with best practices. You need to follow some good practices such as PPC, SEO, display advertising, email marketing, influential marketing, etc. You can use content management to strengthen your online store strategy.
These practices will provide long-term results. It may happen that they will work slowly. But after a certain period, you will surely see a big change in your site traffic. Also, analyze which platform is working best for you. Utilize the most influential practice.
Influential marketing is also an effective practice to reach targeted audiences. Contact influencers to post your content. You can ask them to write a blog about your products or services, introduce you to their connections, and give reviews.
Be consistent with your content marketing strategy. Regularly share blogs, articles, including visuals, and videos in them. Focus on providing high-quality content.
These practices will surely make your online store distinguishable from others. Your store will be visible in front of potential customers, your conversion rates will increase, and ultimately your revenue will increase.
2. Make Your Customers Satisfied By Answering Their Queries
Answer the frequently asked questions, top search results, and solve the customer's queries. Provide impressive and conceptual answers for resolving the problems faced by your customers.
Also, your way of answering should be clear and simplified. Don't use the same idea provided by others. Answer with innovative and different ideas utilizing solid instances. Share whatever will be helpful for your customers.
You can answer on Quora and engage with the heavy-traffic queries. Comment on blogs, social media posts, videos, etc.
This will also help you make your online store business process functioning more improved. You can look over your weaknesses and where you are lacking. So that you can majorly focus on your improvement areas.
3. Offer Problem To Solution Content
Offer problems to solution content. Provide demo pages, product guides, product descriptions, documentation, learning videos, etc. So that customers can deeply understand the product they are going to buy. You can provide product maintenance tips guides, in-depth product introductions, color charts, and graphs with relevant content, terminology glossary, etc.
Regularly post your new business innovations, updates, and plans you are going to implement. Explain to your customers how you are different from others, how your business methodology works, and how you can benefit your customers.
So that your customers can easily understand your online store business model and consider it.
4. Content Optimization
This is one of the foremost tactics that can be used for making content marketing effective. Be at the top of Search Engine Results (SERPs) by inserting highly searched keywords in your content, blogs, infographics, etc.
Boost your rankings by regularly optimizing your content.
You can look over, analyze and utilize the keywords used by your competitors in their content. Improve your on-page content to increase your traffic. Be at the top of search engines. Use mostly used keywords that can be used by customers to search for their queries. Insert these keywords in your blogs, product titles, product descriptions, images, etc.
Use a title tag for each page of your site and effectively write meta descriptions. Put the keywords in your content headings, subheadings, body texts, URL of landing pages, etc.
The more you use the highly searched keywords, the more your content will appear online. So, enhance your sales and marketing strategy with optimized content.
Refer Here & Explore- Tips For How To Boost Organic Traffic On Your Website!
5. Press Release
Generating PR is another way to increase the brand reputation of the business. Through a press release, you can inform the world about the achievements of your company. That's why generating content for a press release is vital for brand awareness content marketing.
Press releases for content marketing strategy can help you improve your search rankings, building authority and gain visibility among your target audience.
6. Articles
In articles, we try to represent information in 400-600 words. Users like to read articles that provide complete information in a compact form.
While creating an article always keep in mind –
The heading should be eye-catchy
The article should be informative
Article length must be between 400-500
These are some of the platforms where you can post articles –
Facebook Notes
Medium
LinkedIn Pulse
On other people's website
7. Target Your Audiences With Social Media
Enhance your organic social presence by targeting your audiences through different social media platforms such as Instagram, Facebook, Twitter, Pinterest, and LinkedIn. You can share blogs, comprehensive articles, and other helpful content. Include visual content, amazing graphics, short videos, trendy hashtags, and many more to upgrade your content.
You can do online store advertising on social media. Build trust among customers, increase brand awareness and be more attentive towards your followers. Even if you want to offer discounts and coupons, there is no better option than social media. To know how the content on social media should look like then see the below image.
Learn To Enhance Loyalty Programs Through Social Media!
With the help of social media demographics, you can analyze which platform is most engaging. If you are performing well, then invest more time in it and look where you need to brush up.
Also, you can include video-teaching series and hold live sessions on YouTube to make your followers feel touched. Initiate your podcast and offer valuable content to your audiences.
The people who watch a video are more likely to purchase it online than the people who don't. You can provide information about the company's products and services in your videos. This can increase your sales.
Tips while making videos-
The video should not be too long. It should last only for 2-3 mins.
The video content should be enticing and memorable
These are some of the platforms where you can create videos-
8. Send Email Reminders
Email marketing is one of the significant tactics that can be used for reaching the customer's heart. Build strong relationships with your email subscribers and prospective customers. Make people interested in attending your events, sessions, webinars, etc. Regularly send them emails with high-quality content.
Send recent updates, promotional and discount offers, and informative news that can be helpful for them. Through emails, your bond will never break with your customers.
For instance- you can provide a free shipping offer or a sale offer applicable for a limited period through your mails. You can send referral discount mails to motivate your customers to share your products or site with other people. This can help you in reaching more people and increasing web sales through it.
For this, you need to make a standard subscriber list and segment your customers based on various traits.
The email can be like the following one.
Woo-hoo!!! The weekend just got better!!! We are providing our old customers with 500 points!!! Come and SHOP NOW your favorite styles are waiting for you in our store.
Also, make sure that your customers don't feel irritated. Don't flaunt emails again and again. Make a smart and effective strategy for email sending. So that your emails will not be ignored and sent in spam emails.
9. For Website
The website content brings more organic traffic and grows eCommerce sales. You can create content for various events. For example- you can generate content for the holiday season on your site.
Include as many internal links as you want. But remember the links should be at appropriate places to avoid the situation of spam by Google.
10. Build Trust Among Your Customers
Before adopting the product, customers usually go through the product review. Customers conduct research for your website and your business expertise and evaluate your business efficiency.
In order to build trust and show your business excellence, you can include your customers' reviews on your website. Showcase case studies to them- the problem they were facing, how you tackled it, and how they finally achieved success. Also, you can publish content such as blogs, social media posts, etc. featuring your customers.
You can show the domains in which your business is at the master level. Share your business insights and experience with your customers. Introduce the new technologies and tools you are working with. Tell your customers whatever new your business is doing or going to adopt.
Bonus Tip
Identify which keywords your customers are searching on the Google search engine. Create content according to the trending keywords. The following are the platforms where you can search the most trending keywords-

Google Suggest
Google AdWords Keyword Planner
Trending Topics on Social Media
Keyword.io
SEMrush
SpyFu
LSI Keyword Generator
Ubersuggest.io

Create a user-friendly URL for your content to get more organic traffic on your website.
Optimize your images and content to reduce the load time on mobile devices and computers. To check the page speed using the tool PageSpeed Insights.
10 Factors That Can Improve Your Content Marketing Strategy
In this digital world, nothing is static. We need to keep improving and refining our old marketing strategies in order to get more average per order. The below-listed factors will help you to enhance your brand awareness content marketing strategy. By-
Constantly checking the Return On Investment
Keeping the objective of content clear
Focusing on the target customers
Consistently delivering high-quality content
Tracking what other competitors doing
Doing more efforts towards the respective task
Motivating staff towards their task and efforts
Engaging yourself towards loyal customers
Constantly sharing more content on social media platforms
Offering rewards/discounts to loyal customers
Check Which Content Brings More Conversion For Your Business
After doing all the hard work and efforts now, it's time to measure the results. Through Google Analytics you can track which content is contributing more towards your brand awareness content marketing plan. The following factors like bounce rate, sessions, views, etc. shows how Google Analytics helps in accomplishing the task.
Include UTM links to check which content is bringing conversion for your business. With the help of Google Analytics measure the following KPIs-
Bounce Rate: Check which content has a 100% bounce rate and try to improve it.
Session: Session shows for how much time the users bide on the page.
Views: Views show how many people have seen your content and how many new users arrived
Social Share: The number of social shares shows how many people have shared your content on social media platforms.
Conclusion
These tactics are not enough. There are numerous content marketing techniques that you can adopt for achieving business growth. Without traffic, your business will always be like a glass without water. Your online store can't reach success until and unless it is able to attract and drive customers towards it.
Building a successful online store is not very difficult. You need to adopt smart strategies for selling online. Content marketing is like a pillar for the online store. Once you get a grip over it, it can give you the best results.
It is not necessary that every time you publish the content, your customer will surely buy. But, at least they will consider you. It may happen that through your best service knowledge, they will get in touch with you. Also, finally, get connected with you. It is up to you- how you focus and work towards your content marketing strategy.
Pulling customers is not the right way to approach them. Content marketing slowly grows the traffic. But if you remain consistent and continuously work towards it- your online business will surely grow faster and smoother.