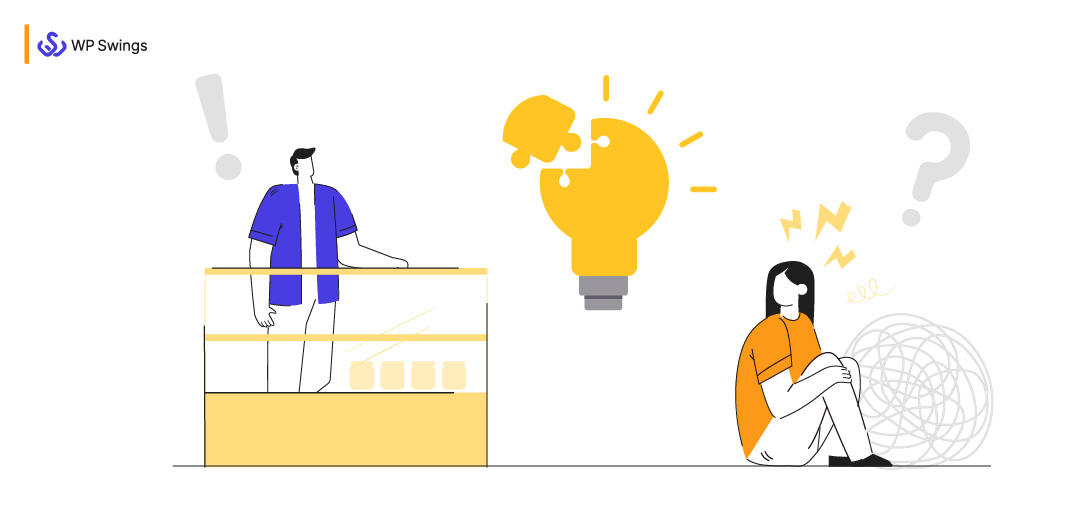 A product is essentially a solution created to solve customers' pain points.
Pain is a signal indicating that something is wrong. It can be triggered by stubbing a toe, using Twitter, slow internet, or flying in a plane with a crying baby.
However, the ideal shopping experience is painless. Obtaining a product should be as simple as plucking fruits from a tree.
The seamless purchase process is standard for both online and offline stores.
In a survey, 70% of consumers said they prefer purchasing solely from brands that understand them and their needs.
As you can see, investing resources into identifying and understanding customer pain points and tailoring your processes to solving them goes beyond ensuring sales. It will help you render the best user experience and increase customer loyalty.
In this article, I will explain different pain points, draw buyers' journeys, and ways to address and resolve pain points.
Table of Contents
What are Customer Pain Points?
Pain points are particular issues that your current and potential customers face in your marketplace. They are responsible for disrupting the interactions between the business and its users.
But It's impossible to know the struggles of every customer personally. Thus, the smartest move is to implement ways to avoid the common pain points in your business strategy.
Types of Customer Pain Points
The pain points differ depending on the business type, stages of purchases, demographics, behavior, etc.
The problem analysis is mostly your job because leads and prospects often don't realize the issues troubling them. Hence, the key to attracting business is to help potential customers identify their pain points and show them how your products and services are suitable solutions.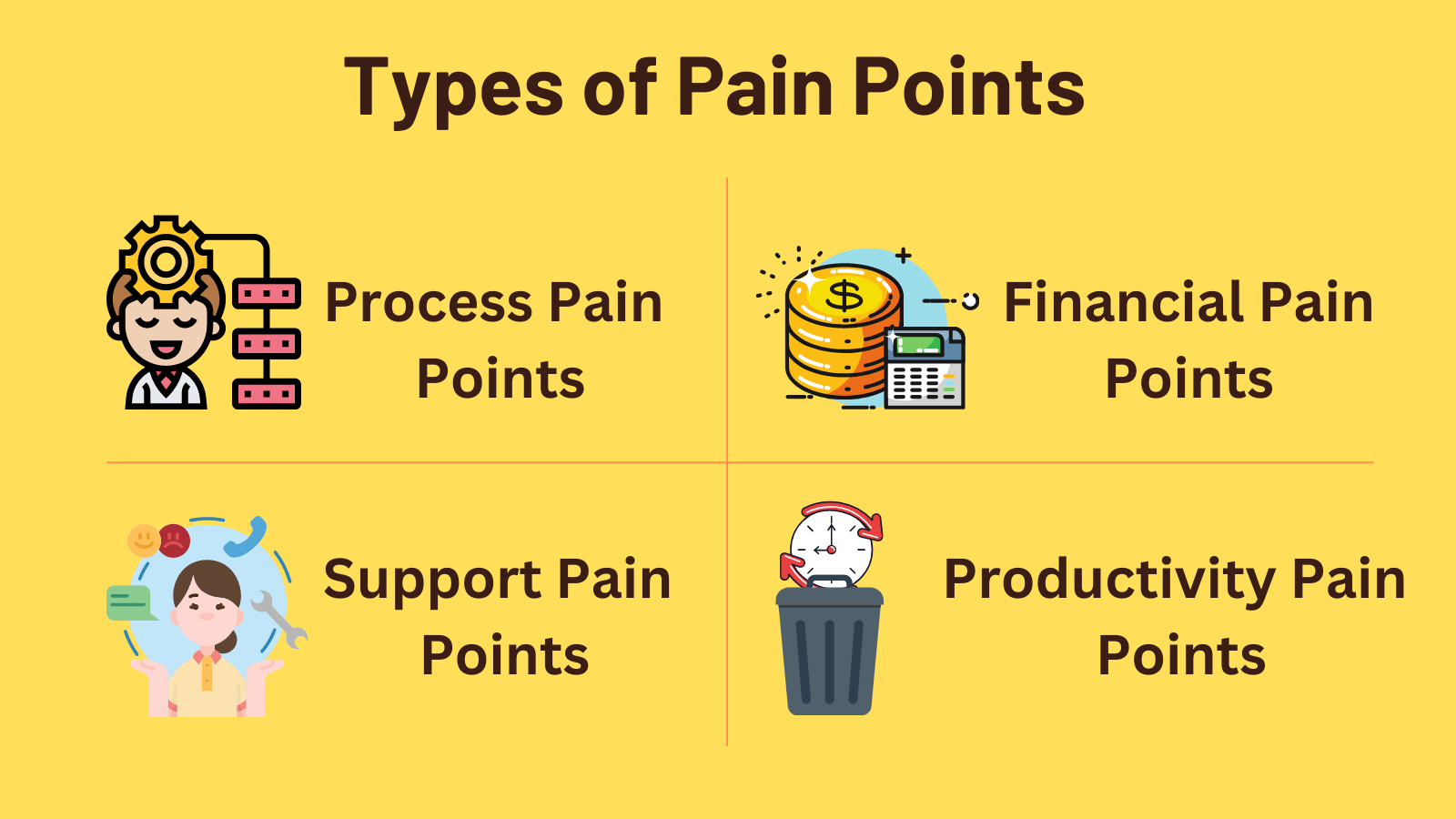 Classifying pain points as problems is apt, but there are different categories to it worth exploring.
1. Financial Pain Points
Financial pain points refer to the excess money spent on the current business, product, or service. The monetary strain is reason enough to break away from a brand. Moreover, the unclear cost structure also creates confusion and delays the purchase.
Membership and subscription products are a bit complicated to sell. Under poor management, it leads to the following user pain points:
High initial fees
No trial period
Deducting subscription costs even after order cancellation
Solution: Follow a reasonable pricing plan for all products and services. Empathize with your customers and provide them with the best value for money. Market research is also important for price estimation.
If you are selling subscription products, I suggest using the Subscription for WooCommerce plugin to manage your distribution and pricing.
It will allow you to set free trials, automatic subscription cancellation, generates log files, monitors recurring revenue, and more.
Setup Subscriptions Successfully
Create, sell, and manage subscription products & services on your WooCommerce store.
2. Process Pain Points
Process pain points relate to the improvement of the internal process of a business. The irregularities arising in the data exchange and strategy implementation cause significant distress to customers.
For example, process pain points include hasty problem resolution, the unorganized workflow of different departments, zero assistance while shopping, etc.
Solution: Businesses should work on streamlining the process and removing any obstruction that hinders their systems from addressing the users optimally. Ensure data sharing between different departments and use automation for fulfilling different roles.
3. Support Pain Points
Contacting customer support is the last option for most users. So, not receiving support at the crucial stages of their buying process is distasteful. It will lead to prospects leaving the business in search of better options. Support pain points include:
Lack of support during the onboarding process,
Poor customer service
Vague directives for refunds, exchanges, and returns
Solution: The best thing you could do is install a live chatbot or AI chatbot on your online store. It will help solve minor customer problems like store navigation, finding particular products or pages, and connecting directly to the right team.
Having an FAQ section on product pages will also be helpful for customers.
Moreover, you can use the RMA Return Refund and exchange for WooCommerce plugin for carrying out hassle-free chargebacks and returns.
You can automate the return process, filter out invalid return claims, set up the minimum order amount for order cancellation, and more. It will streamline the return and exchange process and reduce customer pain points.
Speed Up the Return Order Process
Easily process returns, refunds, and exchange requests, and improve post-purchase UX.
4. Productivity Pain Points
Time is of the essence.
Customers hate wasting too much time on any product or service. Safe to stay, they want to use their time more efficiently and choose productive solutions. Productivity pain points include:
Slow payment processing
Requiring to fill too many forms fields
Faulty product
Solution: There can be two solutions to this problem. First, you have to create products and services that are definite time-savers with simplified workflow and automation elements. Lastly, market these products as solutions to minimize time and effort.
For example, an automatic food processing machine is much preferable compared to a manual food processor.
These pain points categories provide a framework for evaluating and improving your processes, pricing, products, and services. It also allows you to identify the pain points your competitors are neglecting. Thus, giving you the chance to stay ahead.
Speaking of which, let's take a look at the ways to recognize customer pain points.
How To Identify Customer Pain Points
Knowledge is power.
Identifying the pain points creates opportunities for increasing sales and improving your existing business practices. Pitching your products and services as solutions show value addition to your prospects and pique their interest.
Identifying pain points is done through intense self-analysis and competitor evaluation.
Conducting Market Research
Knowing customers' pain points start with in-depth market research. Observing the marketing will reveal what customers truly want and help you accurately map their buyers' journey.
Follow these practices to conduct accurate market research:
Use reports and survey data from trusted sources to note down any figures to conclude.
Do read product and service reviews from the top review websites. It will tell you a lot about the mood of the masses.
Rely on Google search or SEO tools to identify the commonly raised issues related to a particular product or service.
Closely Watch Your Competitors
Keep a keen eye on your competitors and see what they are doing to reduce pain points. It's unlikely they're successfully resolving all issues and offering a perfect shopping experience. Look for the chinks in their armor, and while you are on it, check their pricing strategy.
Here are some ways to conduct competitor analysis:
Read competitors' reviews and ratings
Go through their checkout process and notice the flow
Review the marketing materials such as articles, videos, white papers, documentation, etc.
Observation Through Analytics and Heatmaps
Self-observation is equally crucial for identifying both B2B And B2C pain points.
WooCommerce store owners can access an in-build Reports section to view sales data. But for much deeper observation, you need Google Analytics.
Analytics allows you to view sessions, track user behavior, segment users, create reports with custom KPIs, performance analysis, collect demographic data, evaluate SEO, find out the target audience, and more. Plus, you get to choose the data visualization type other than the tables.
Heatmaps are also a form of graphical representation of data to understand how users interact with your online store. The scroll heatmap can tell you the scroll depth of a page, and a move heatmap shows where the users are clicking.
Thus, helping you identify the underlying issues your customers might be experiencing. The data visualization from heatmaps will also uncover why some pages are underperforming and how to increase engagement on them.
Talk To Sales Team and Customer Service
Customers register their queries to the sales team or the customer service representatives. Contact your team members and ask them to share common pain points raised by customers. If you have access, you can also review the tickets and emails.
Adding an AI Chatbot in your store is also a good idea as it will frequently capture customer queries. So, you can review the chat logs to identify the customers' problems.
Creating Buyer Personas
Create a semi-realistic buyer representing a large chunk of your customer base and use it to understand what's leading to customer dissatisfaction.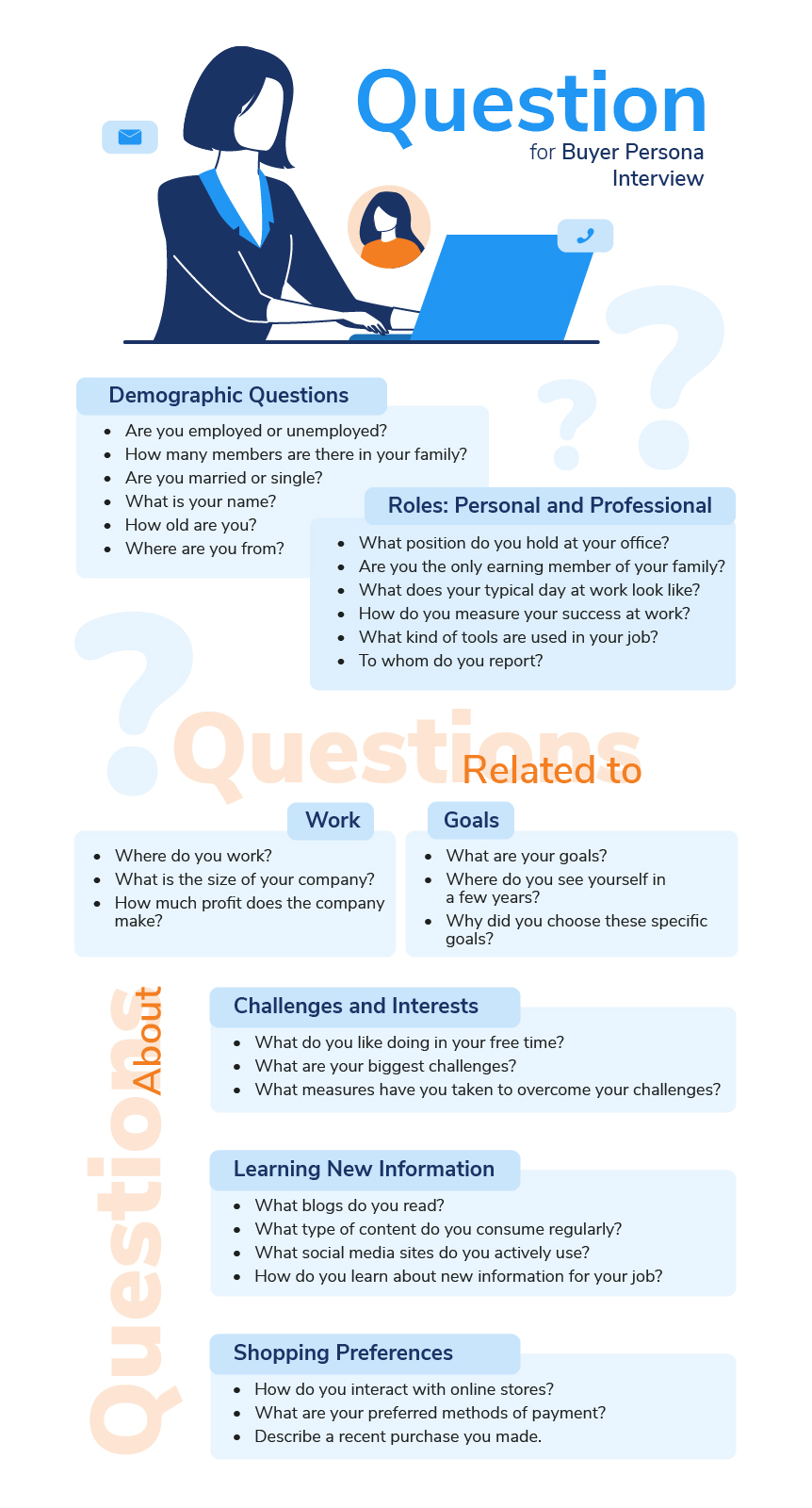 To create buyer personas, collect demographic data, use analytics, conduct surveys, and monitor customer behavior patterns and interests.
Ask the Customers About Their Pain Points
If you want to identify customer pain points, you can simply ask them in an interview or survey. Customers aren't aware of all the issues they face, but they can still outline the most major problems after interacting with a business.
Listening to your customers has several benefits:
Receive direct feedback about your complete buying process and insights on what exactly needs improvement and what is working.
Customers feel valued when you pay attention to their concerns.
It will result in smother problem-solving and a frictionless shopping experience.
Moreover, content plays a decisive role in addressing the pain points. In a direct conversation with customers, you will know what type of content they need throughout their buyers' journey.
For example, if a user is buying headphones, he would need to read listicles and watch videos to decide which headphone has the most features under his budget.
7 Typical Customer Pain Points That Every Business Experiences (and How To Resolve Them)
The buyers' journeys of B2B and B2C customers are different, but the decision-making states are similar. Hence, the commonalities between their respective pain points arise.
Analyze and resolve these problems to ensure a consistent user experience through the buyers' journey.
I have specified the common pain points recorded for most businesses in the list below:
1. Delayed Support Responses
I think we can all agree that nobody likes waiting in line. Especially when it comes to customer support queues. The user is already frustrated as it is and then waiting to be attended to leaves a sour taste in the mouth.
Undermining one disgruntled customer can cost you a lot of money and bad publicity. Inevitably, it will reduce your brand value.
Follow these steps to improve your support response time.
Aim to attend to each customer as soon as you can. Have more sales representatives depending on the volume of user queries.
Install live chat and AI chatbots to resolve minor queries quickly.
Provide co-browsing and video chat assistance to high-priority customers.
2. Hidden Pricing
A common trend most users notice is during the checkout, the total order value of the product differs from the marketed value.
Stores carefully hide these expenses only to charge customers in the order completion stage. Sometimes, the price changes soon as you add the item to your cart.
Sometimes, the discount availed of coupons is negated during the checkout through introduction taxation, delivery charges, or any other expense.
The only solution to this pain point is not being a prick. (It's not that hard)
Show genuine costs to customers on all products and services. Be true to your profession. Expose your competitors if they are following such deceptive marketing tactics.
3. Poor Quality of Products & Services
The quality of products and services is the most defining selling point. All your systems have been built to facilitate the sale of your products.
But what if you have a poor product?
Most people neglect a crucial aspect of marketing — customer feedback.
The story doesn't end with sales. Customers try your products & services, and if they find it what they were promised, you are in for a stern review.
Bad word of mouth is bad for your business. If the thing your marketing doesn't deliver any value, then you are wasting your time and creating a pain point for your customers.
Some ways to solve this problem:
Fix your developmental issues
Reconfigure the design and creation stages
Listen to your customers and align solutions to their needs
4. Weak Knowledge base
Every business needs a well-organized and structured knowledge base that consists of all the resources that customers need.
It should be the central part of your content strategy. Having a weak knowledge base is a common B2C and B2B pain point.
Customers need resources to make a purchase decision, but the decision-making process is far more complex in the B2B market. They need resources like white papers, case studies, pdf guides, etc.
B2C customers usually look for listicles, comparison articles, testimonials, etc.
So, what's the solution? 
You need to build topic clusters that enable users to find all the information they need on your website and ease the research process.
Realize the common content types relevant to your business and include them in your knowledge base.
5. Complicated Checkout Process
A needlessly complicated checkout process is a major turn-off for customers. You can engage your customers and lead them through the sales funnel, but a tedious checkout process will make your efforts vain.
Requiring to fill in too many form fields is also a reason for customers to abandon their carts. Secondly, making signup mandatory for purchases will also lead to cart abandonment.
How can we smartly address these pain points?
Reduce the number of fields to ease the checkout process
Allow guest checkout
Register customers through the purchase process
Allow single-page checkout, and one-click reorder
6. Lack of Security in Online payments
The lack of security around payments is the biggest financial pain point for users across all businesses. Payment frauds are a serious threat because there is no concrete way to recover the stolen money.
The conventional payment gateways are good and secure. But it's your online store that has glaring security holes, allowing hackers and fraudsters to steal your customers' saved payment details and steal their money.
How can you secure your payments? 
Getting a security audit of your online store and securing the vulnerabilities
Install security plugins to prevent suspicious login attempts
Use an internal payment processing system for your online store
Don't save your customers' credit or debit card details
You can use Wallet System for WooCommerce plugin to implement a digital wallet system in your store and process payments internally. It allows registered customers to perform eCommerce transactions using the wallet balance.
Customers recharge their wallets through the available payment methods. And see their transactions history. You can manage the customers' wallets and edit the wallet amount in bulk or individually.
Add a Digital Wallet to Your Store
Implement a fast, secure, and fully-manageable internal payment method.
7. Unprofessional Service Representatives
Customer service representatives are the first point of contact (human interaction) for customers.
So, give special attention to setting up a team of highly qualified and professional services experts skilled in dealing politely with dissatisfied customers.
Often it is the people from other departments who also handle the customer service requests and are inapt in treating customers the right way. Hence, conflicts arise and your brand earns a bad reputation.
Even after earning customers, make it a mission to provide seamless service so that they remain loyal to your brand.
You can solve this support pain point by following these practices: 
Create a dedicated team for customer service
Proper training of customer service representatives
Create troubleshooting resources to help customers resolve their queries
So, these were the most common customer pain points. There are several more points that I can't mention in this article. Vigilantly observe customers' problems and solve them as quickly as you can.
Final Words
Customers want companies to understand their problems and offer tailored solutions. You've to be active in addressing these pain points and help your customers promptly to save the buyer-seller relationship.
In this article, I have explained the types of pain points and ways to identify them. Also, I have discussed the common pain points that customers experience and how to solve them.
The empathetic approach towards your customers will translate into your business growth and increase your brand value.
A frictionless shopping experience is a catalyst for boosting sales.