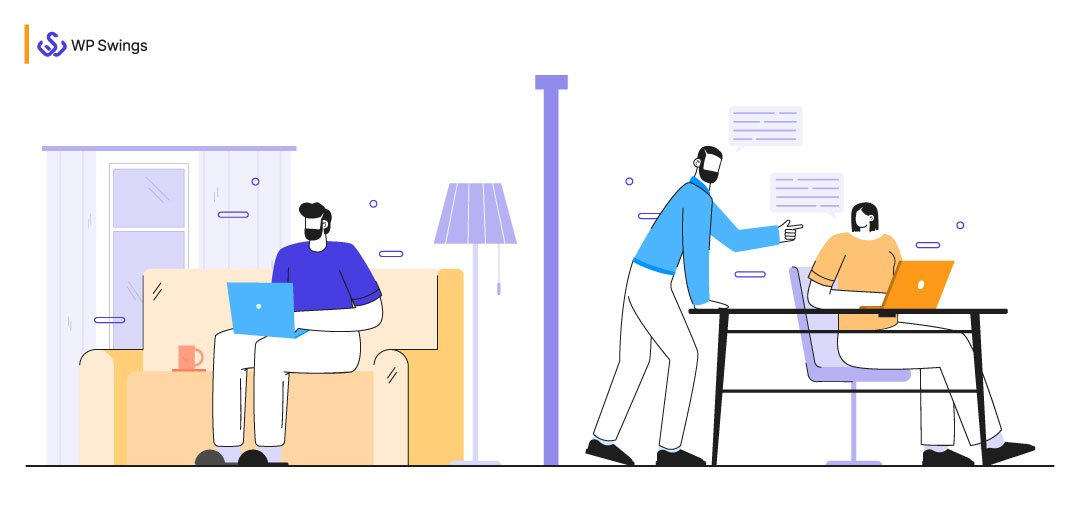 Whether you are going to build a new website or a complex software application, getting started is not easy. In fact, finding the right partner for your work is conceivably the most important and hardest part of the entire process. The dilemma is always about who to hire- agency vs freelancer developer!
In this era of modern technology and day-to-day advancement, the world has shown a remarkable boost in online marketing and eCommerce. People are getting exclusive about choices to be updated about any product or service they love and use.
Today 90% of the world around us is leveraging digital marketing for their business purposes. Because of this, the majority of companies have marked mobile marketing and eCommerce a higher priority. Hence, the job opportunities for web developers have been increasing constantly in the past few years.
Therefore, if you are an entrepreneur, you must have thought about outsourcing the development of your project.
Have you?
If the answer is yes, you must have come across this quandary of what is better:
Linking up with an agency or freelancer developers?
There is no straight answer to this because both of them have their own pros and cons.
Development agencies and freelancer eCommerce developers are working continuously to provide better outcomes to their clients to promote optimum growth.
We will be covering some pros and cons in this article so that it is easy for you to choose the best option. So brace yourselves while we holistically cover the agency vs freelancer developer topic for you!
Let's start
Jump To A Relevant Section Right Away
Working As A Freelancer Software Developer
A freelancer is a self-employed person offering service to many clients at one time and not necessarily committed to a specific employer long-term. Freelancers are sometimes represented by a short-lived agency that resells freelance labor to clients; others work independently or use professional associations or websites to urge work.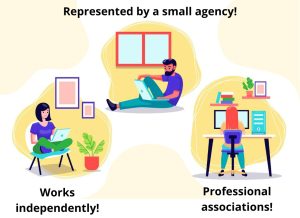 Freelancers earn money on a per-project basis, charging an hourly or daily rate for their work.
Freelancers are responsible for doing all the things themselves like setting hours for their work, tracking the time spent on different projects, managing bills, and business taxes. Companies and corporations do not officially employ freelancers, rather other businesses subcontract them.
Some of the most common freelance jobs are:
Graphic Design
Copywriting
Website Development
Content Marketing
Digital Marketing
Photography
Freelancers developers also work for nearly any sort of service-based industry, like translation, consulting, or catering.
59 million Americans freelanced for different services in the past 12 months and 91 percent of them believe that the best time for freelancers is yet to come. It was since the onsite of Covid-19, 39% of the Gen Z freelancers joined the industry.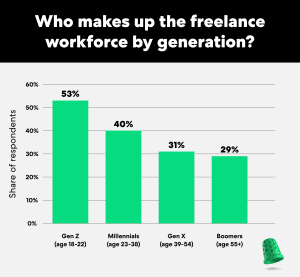 According to Freelance Forward 2021 by Upwork, there is an evolution within the freelance economy. Since the beginning of the freelance revolution, it has evolved so much that some people see it as a full-time career choice as well.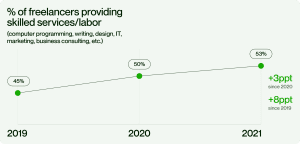 You can also see the increase in the number of freelancers in the United State from 2017 to 2028. It is projected that in 2027, 86.5 million people will choose freelancing in the United States and can frame 50.9 percent of the entire U.S. workforce.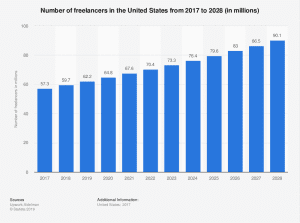 Therefore, we can say freelancing will become a great platform for small businesses to take their business to new heights.
How To Become A Freelancer Developer?
Albeit they have totally different meanings, freelancing and entrepreneurship are closely knitted terms. Often the very first step towards starting a self-sustained business is to enroll as a freelancer and experience the freedom of working alone.
People working their 9 to 5 jobs ask themselves this question over and over again:
What is the possibility of becoming a freelancer? How can it be done?
Here I have discussed some of the important points which will help you to become a freelancer:
Identify whether freelancing is for you or not.
Find the platform
Build your profile (contact everyone you know)
Build your portfolios
Set strategic price
Do the research and pay attention to your competitors
Find work( work for your target clients)
The various platform to become freelancers:
Should You Hire An Agency Or Freelancer For Your Project?
There is no fixed answer to this question and the "one size fits all" logic does not really apply here. It all depends on the project requirement and the time you have on your hands to complete it.
As I previously mentioned that both have their own advantages and disadvantages, it's time to get into the details on Agency vs freelancer developers.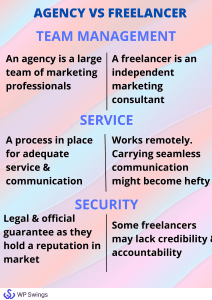 Pros Of Working With A Freelancer
1. Freelancers are affordable and cheaper as compared to digital agencies. At the initial stage of a business, one needs to focus on cost-cutting and expenses. Keeping in mind the discrepancies of a startup business and uncertainty of profit, hiring a freelancer is more economical.
2. Freelancers work as independent developers who provide all the related services for the software development on their own. These individuals have served as experts in the marketing fields and have a great deal of experience as software developers.
3. Freelancers do not follow the traditional working hours and offer flexibility to meet the needs of the customers. It is easy for customers to find freelancers on online platforms.
4. Freelancers can be hired for short-term projects and tasks that require specific specialization such as designing, decoding, etc.
Cons Of Working With A Freelancers
1. Working with freelancers lacks managerial working skills and coordination. A freelancer has to assign different tasks to different individuals while developing software which results in ambiguity in working criteria.
2. A freelancer usually works for many clients and on different projects. Therefore, the project, the task, and the deadline crash on their head sometimes. They become too exhausted working with so many clients at one time. Therefore, it affects their performance. As a result, the project may be scrapped or not properly done. This can bring unsatisfying results to you.
3. One of the biggest problems with outsourcing projects to freelancers is that it lacks credibility and security as they don't sign an official guarantee to the client for completion of the project. Sometimes there are certain reasons and factors which can cause freelancers to quit your project in the middle. And as they are not bound to you by any means, you cannot compel them to stay and complete the work they started.
They are just connected with you via an internet connection. They may disappear, which can cause a great loss to you. You will have to bring in replacements but new freelancers would have to go through the whole process again. And if he will handle the half work it may create confusion for him to continue it.
Based on the pros and cons of freelancers, you should hire freelancer web developers, when:

Your project is small.
You can easily manage two or more freelancers.
You don't need multiple specialists in different working fields.
What Is A Digital Agency?
One-stop solution for all your online business needs.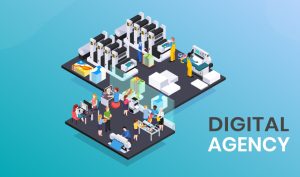 A digital agency is a group of experienced marketing professionals with well-polished skills that are managed by an authoritative system. Where one is not allowed to pick any project on their own; instead the authority assigns them with a particular task to work upon.

Planning To Hire A Reliable Agency To Build Your WooCommerce Store?
There are many people who prefer agencies over freelancers for the completion of their projects. Their decision is influenced by a lot of factors which include the disadvantages of working with freelancers and the advantages of working with a development agency.
I have already covered the former and I will be covering the latter in the following section.
You can see the average revenue of agency vs freelancer developers.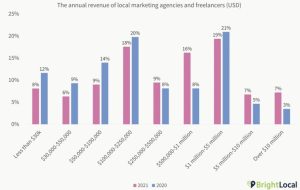 So, we can say hiring web developers can be the best choice for your project because of the different advantages it offers.
Pros Of Working With A Digital Agency
1. An agency developer is a team of specialized individuals with diverse skills who work mostly on complex projects and are quick to handle the complexities of projects which require expertise and precision.
2. Agencies work in a well-organized manner and coordinate which is the key factor of working smoothly without any hindrance.
3. Agencies provide you with a legal and official guarantee and serve exceptionally as it focuses on their reputation.
4. Agencies always keep track of the latest tendencies and learn new technologies and know every aspect of information and provide consultation which is needed for the growth of the business.
5. Agencies have specialists who have professional tech support for performing different tasks while developing software such as decoding, designing, copying and deploying, etc.
6. To remain static with the competitors, agencies always adapt to the latest technologies and implement them on your project. The companies always try to change and adopt new technologies. They are aware of the latest technologies, the trend which they involve in your project.
7. Agencies offer credibility to their clients as it fulfills the assigned task on time.
Cons Of Working With A Digital Agency
1. The best team comes with a cost. developer marketing agencies charge more as compared to freelancers. While hiring an agency, the client may sometimes overpay for the management which results in more expenses.
As they offer you the best team of designers, developers, quality analysts, etc., you have to pay more. Also, the agency has to pay for office spaces, managers, and staff. Those all add to your total amount.
2. Agencies lack flexibility as it has traditional working hours. But, as they are goal orientated, they meet the needs of their customers in the best possible way.
3. An agency works as a team that is accountable for the assigned task. It sometimes becomes difficult for the client to communicate with the person rendering the services and managing the whole task and communication takes more time.
Based on the pros and cons of a digital agency, you should consider an agency when:

The project is complex and you need multiple work streams and phases to manage.
Need multiple specialists.
On a hard deadline.
Not always free to keep eye on the project.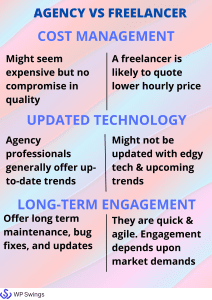 The above discussion must have given you some clarity about the agency vs freelancer developer dilemma!
Conclusion
When it comes to hiring talent for your work there is no "one recipe for everyone". But you can choose between an Agency vs Freelancer Developer by identifying your needs and reading the above article.
To make a choice between working with an agency vs freelancer developer, just come up with your business's needs, jobs, budget, flexibility, and time. However, expertise, industry knowledge, and availability can have a great impact when choosing between two of them.
Look at your requirements and needs, the final choice depends upon the project prerequisite, according to me, The big and complex projects that need multiple skills and a team of professionals are better to be outsourced with web agency developers.
Whereas, smaller projects where you need an individual specialist in a certain field according to your requirements you can choose freelancers.
As mentioned above, both options have their own pros and cons. Therefore, we can say it is very challenging to choose between agency vs freelancer developer. Because both the individuals are making great efforts to fulfill the client's demands.
Lastly, stay tuned for the latest offers, the WP Swings team is coming up especially for eCommerce marketers to get your store ready in 2022!

Build Your Store With Easy WooCommerce Solutions Available In Handy Deals…