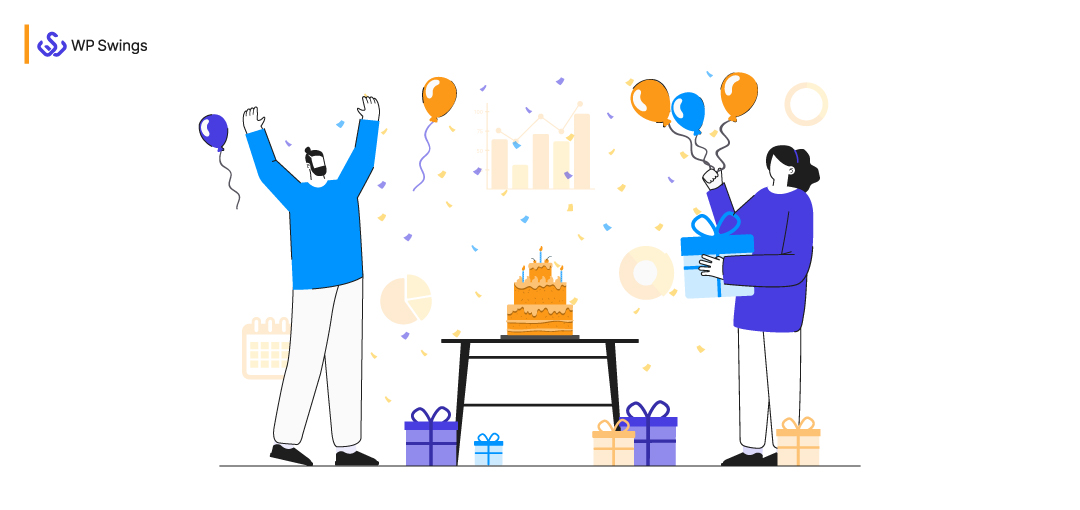 Today marks the day when WP Swings came into existence. The journey from an idea to a website wasn't easy; it took a lot of planning and resources and cost us a fortune. Thankfully, we had all that plus time.
We were formerly a part of MakeWebBetter, but our makers decided to split the website and dedicate MakeWebBetter for HubSpot and WP Swings towards WordPress/WooCommerce Plugins development and services.
We have successfully completed a year in the business sphere thanks to our vision and visionaries. However, birthdays are a time for both celebration and reflection.
So, let's see what our team of eCommerce enthusiasts could build and revisit the highlights of the 365-day journey with WP Swings Year in Review.
Table of Contents
1. How WP Swings Came To Be
As a centralized organization providing services for both WordPress/WooCommerce and CRM Automation with HubSpot, we started as MakeWebbetter.
Our commitment to delivering quality services in the WordPress/WooCommerce space was inspired by the overwhelming responses from consumers worldwide. In February 2022, we decided to spin off WP Swings as a separate entity, focusing solely on WordPress/WooCommerce and allowing MakeWebbetter to concentrate on HubSpot automation services.
Thus, WP Swings was born, dedicated to meeting the growing demand for top-notch WordPress/WooCommerce solutions.
So, all products and their related content plus articles about WooCommerce and WordPress were migrated to WP Swings in three hectic months.
In the process, we had to make several hard decisions.
Minimizing the Product Catalog
The time of WP Swings creation was an opportunity for us to change our existing approach toward product management. And so we decided to update the product catalog
Of course! The strenuous work required the organized effort of content & copywriters, SEOs, designers, developers, BDAs, etc. Soon, we were able to come up with updated WooCommerce plugins with the launch of WP Swings.
The same exercise was carried out for our profiles on WordPress.org, WooCommerce, and Envato Marketplace. We discontinued several free and paid plugins and had to bid goodbye to many customers.
Currently, we have 40+ WooCommerce/WordPress plugins, including integration plugins with CRMs like Hubspot, Salesforce, Zoho, etc., spread across the above-mentioned platforms.
The Tedious Blog Migration
Blogs are the largest source of organic traffic for our website. We post articles based on products, general eCommerce, WordPress, and WooCommerce, which helps us increase brand awareness and credibility.
It was a humongous task, but our WP experts finished gracefully through their methodical approach.
This was the smartest move to ensure traffic flow on our blog. From Feb to April 2022, the successful migration was completed.
Afterward, we began publishing fresh articles based on our new thought leadership strategy of robust problem-solving and subtle promotion.
I'm writing WP Swings year in review with the same intention; I want you to learn from our journey and navigate your business efficiently using our solutions.
If You Need Any Help With Migration, Please Avail of Our WordPress Migration Services
Smoothest Migration With Zero Data Loss.
Redefining the Services
After the inception, we were now an agency solely dedicated to WordPress and WooCommerce. Thus, we needed to redefine our services.
From our years of experience in the WordPress domain, we've extensive expertise in customizing and optimizing these platforms to meet the unique needs of each client. Our services include theme customization, plugin development, WooCommerce mobile app building,  website optimization, security solutions, and ongoing support and maintenance.
With a focus on delivering high-quality results, WP Swings is committed to helping your business succeed online and grow its digital presence.
2. Team Building Exercise
As you can see, the first three months were back-breaking, possibly requiring millions of keystrokes and clicks. Everyone needed a gateway to recollect, regroup, and rejoice.
And what could be better than a Water Park Adventure at the height of unforgiving summer?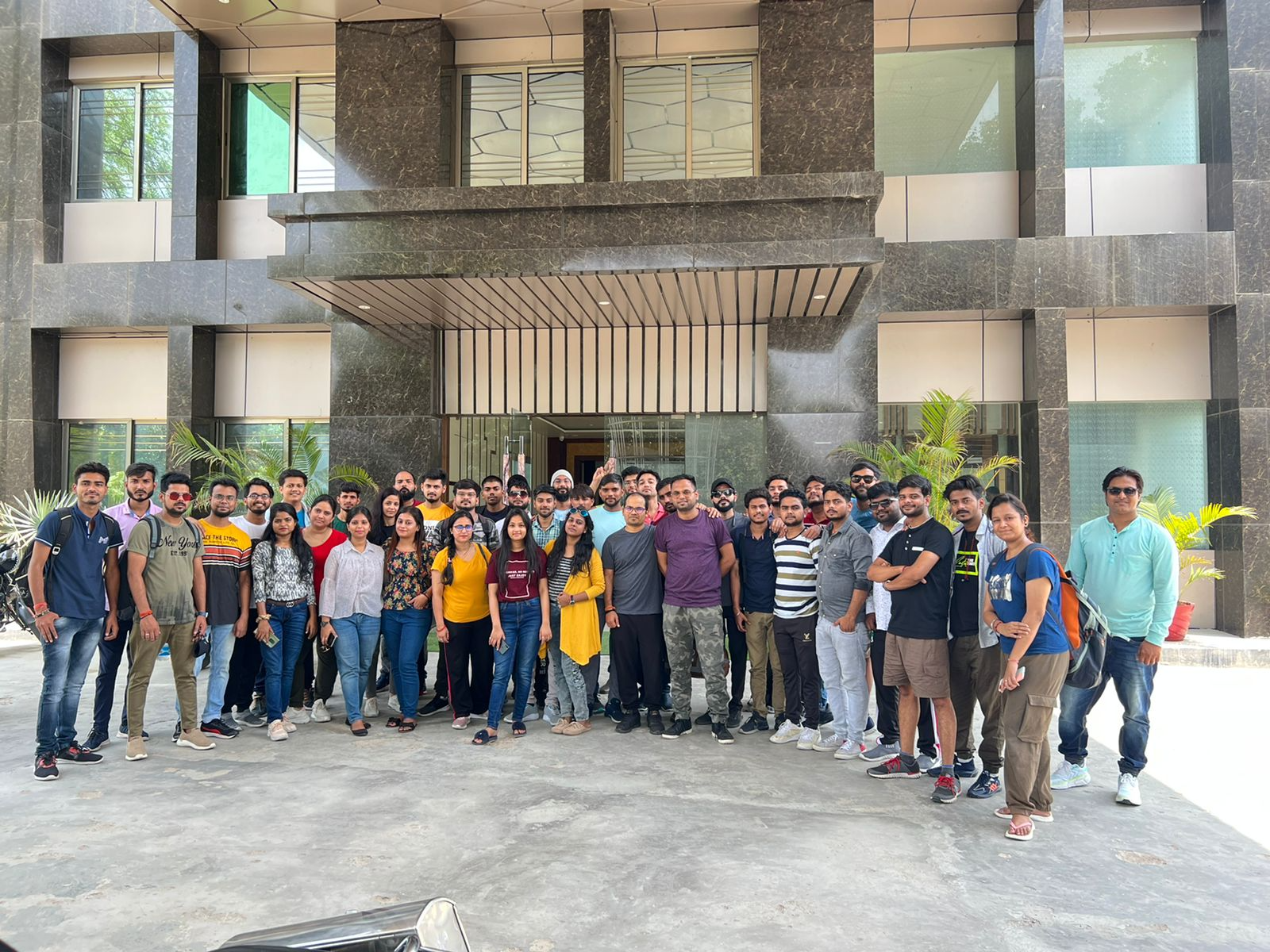 The weekend arrived on Friday, a day earlier than usual, and we spent 24 hours together at the Anandi Magic World.
The whole team was in one location that day. The day went by with various water rides and adventure sports, and the night was lit up with a party.
Yes, we did record this wholesome experience. You can read about our team-building activities here.
Bottomline: For a team to work cohesively, forming connections becomes a professional obligation.
After this fun episode, it was time to pull our socks up and get back to work.
3. How Did WP Swings Fare?
The WP Swings year in review is incomplete without a performance assessment. As we follow a data-driven approach, it is only fair to talk simply in facts and figures.
On-Site Plugins
We have 10+ plugins on our website that help merchants like you optimize their online store sales output with efficient merchandising, a wallet system, tailorable gift cards, loyalty reward programs, etc.
And more. You can check the list of WordPress WooCommerce Extensions.
In celebration of WP Swings' birthday, we have compiled data to provide an honest reflection of our marketing efforts.
60% of our users come from organic search.
New users increased by almost 300% from Q1 to Q4
During the same period, sessions increased by 235%.
We started with a low number but eventually picked up the pace. Towards the end of the year,  the festive season was most beneficial for us.
WooCommerce Marketplace Plugins
We are a registered vendor on WooCommerce with 10 plugins dedicated to storing content & customizations, inventory, shipping & delivery management, gamification, and CRM integrations.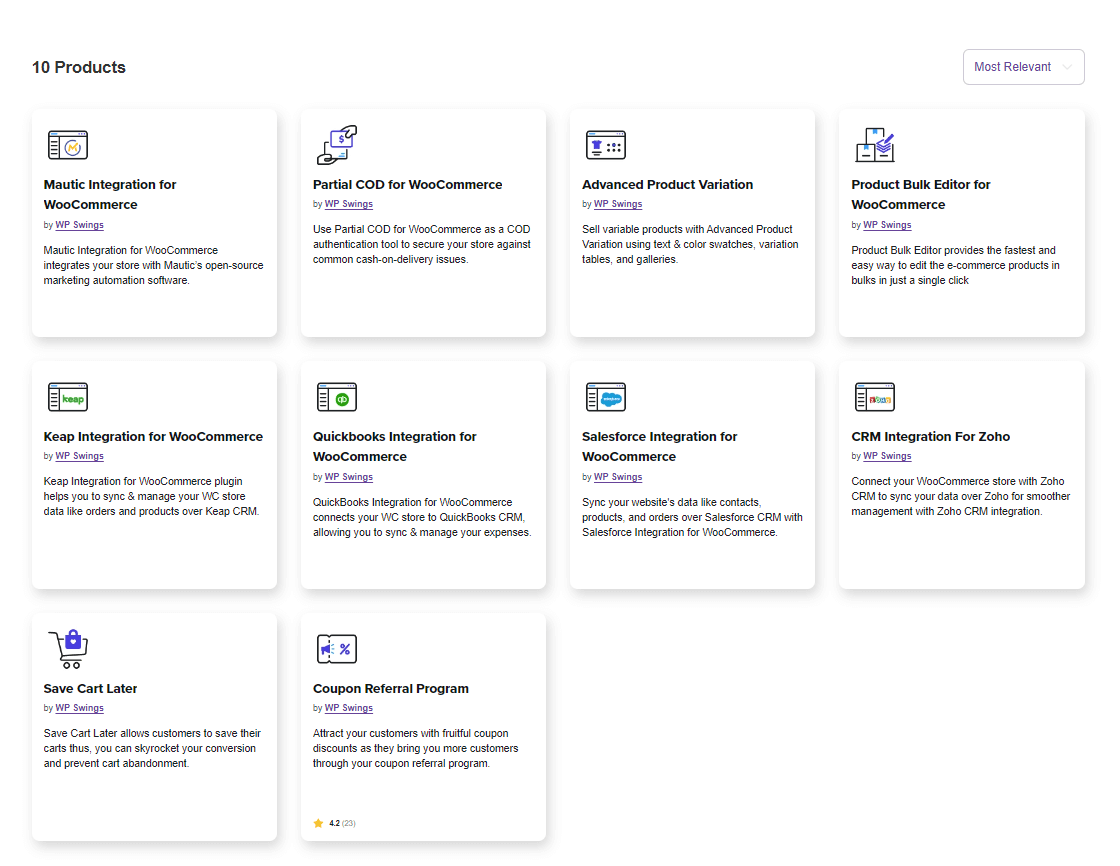 WooCommerce has been a consistent medium of sale for WP Swings.
CodeCanyon – Envato Marketplace Plugins
For those who are unaware, CodeCanyon is a popular digital marketplace for buying and selling PHP scripts, Java Scripts, and other website plugins and components.
It provides a vast library of high-quality, ready-to-use software solutions that help developers save time and effort when building websites and applications. Currently, WP Swings has 8 plugins at CodeCanyon.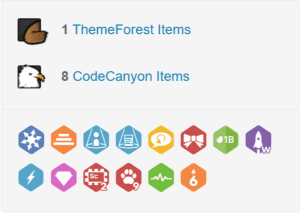 Over the years, we have earned the following badges:
Copyright Ninja
Feedback Guru
Free File of the Month
Weekly Top Seller
Featured Item
Author Level 9
Community Health
and many more.
We have been a part of CodeCanyon for over 6 years and are a featured author in the hall of fame. Our products have been on the trending list quite a few times. Hence, it is essential to appreciate one of our earliest business platforms on WP Swings bday.
Partners of WP Swings
WP Swings partners refer to companies or individuals who have established a relationship with us to offer their products or services in conjunction. Thus, allowing both parties to benefit from each other's strengths and reach a wider audience.
Our top tech partners include WP Engine, Cloudways, Themeum, WP Lovers, etc.
The specifics of the partnership and the benefits offered will vary depending on the agreement between WP Swings and the partner.
On top of that, we also offer Affiliate, Referral, Wholesale, and Co-Marketing partnerships, giving others the opportunity for growth with us.
Part of Fastest Growing Tech Company
While writing the WP Swings year in review, I must introduce you to last year's biggest highlight.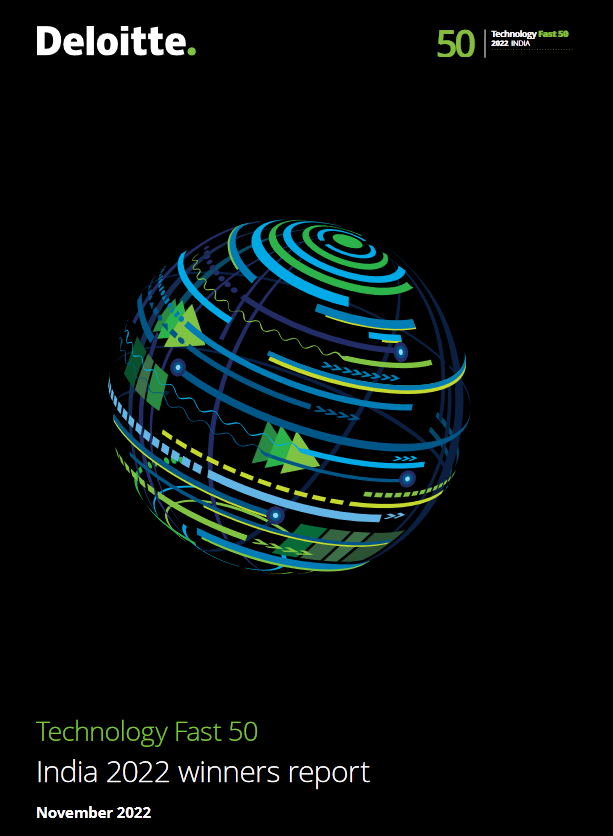 29th November 2022 was an exhilarating day for us as our parent company CEDCOSS was ranked among the fastest-growing technology companies in Deloitte Technology Fast 50 India 2022 Report with a consistent 202% revenue growth over the past three years.
It was the 6th time in a row CEDCOSS managed to rank in Deloitte's list.
Here's what our founder, Mr.Abhisekh Jaiswal had to say about the news: "I extend my gratitude to our merchants, partners, and the wonderful team for making this possible. The core ideas that support our back-to-back yearly rankings include the great characteristics that all CEDCOSSians share."
Yes, we did celebrate this event like it was WP Swings Birthday.
4. Key Product Launches and Updates
The lockdowns were a boon for many digital businesses, including eLearning. So, the Ed-tech sector saw significant growth. To seize that opportunity, we launched the Points and Rewards for Tutor LMS plugin on 15 December 2022.

Tutor LMS is a learning reward system that encourages students and teachers with points for the completion of different learning activities. It essentially implements the concept of gamification in education, which is a proven technique to increase the engagement and retention rate of learners.
The Tutor LMS plugin includes the following features:
Daily Login Points
Reward on Enrollment
Birthday Rewards
Points for Course and Lesson Creation
Gamify Your Learning Website With Points and Rewards
Engage Both Learners and Tutors With a Single Setup.
The role of gamification in eLearning is to make learning more engaging, interactive, and enjoyable by incorporating elements of game design into the learning process.
This can include incorporating game mechanics like points, badges, leaderboards, and levels into the learning experience, as well as using gamified scenarios and simulations to bring the learning content to life.
Gamification can also increase motivation, encourage exploration and experimentation, and enhance the retention of information by making the learning experience more memorable and fun.
You read more about Gamification and its different applications on this blog.
5. Customer Feedback and Satisfaction
During the WP Swings year in review, we will celebrate not just with our team but with our happy customers.
Customer feedback is crucial in eCommerce as it helps businesses to understand their customers' needs, preferences, and opinions. You can use this information to improve your products & services, and customer experience, increase customer satisfaction and drive sales growth.
Reviews
We are listed on top review sites like Trustpilot with dozens of 5-star reviews. Don't take my word for it, go check out our profile.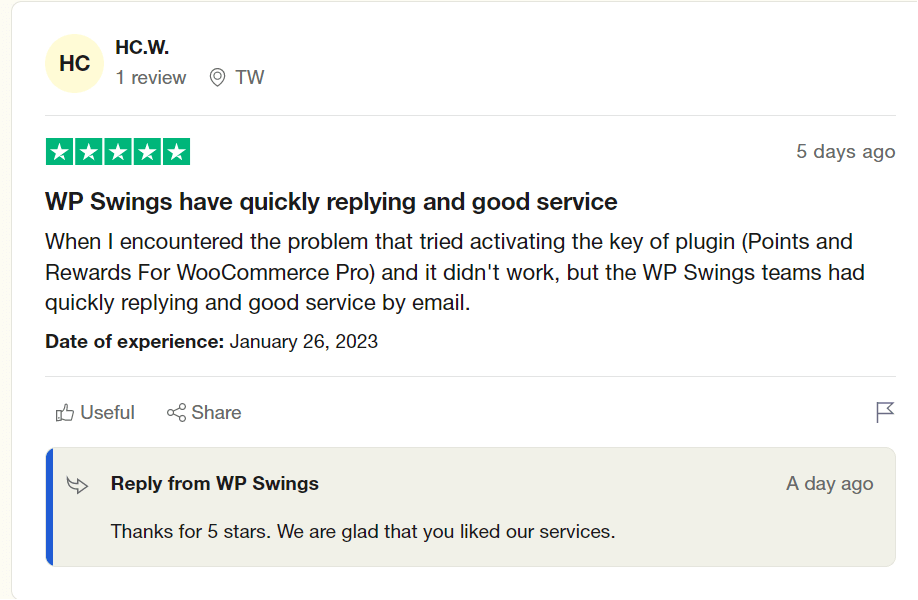 Case Studies
Sometimes, product reviews aren't enough. Customers demand more detailed social proofs to assess the performance of our plugins.

Hence, we have case studies from our loyal customers and show them that our products do work wonderfully. Likewise, you can use user-generated content to nurture different buyer personas.
Video Testimonials
Getting video testimonials is easy if you are on good terms with your loyal customers. Make sure to incentivize them for recording the review for you. Not everyone likes to record themselves, especially when the reasons are commercial.
Here is an example of a customer's success story in video format.
WP Swings Forum
The forum was another addition to our content strategy that allowed us to answer common user questions regarding WordPress, WooCommerce, eCommerce, and our products. The user base is steadily growing and we are hopeful that more productive discussions will take place.
The idea for WP Swings year in review was taken out of one such discussion regarding our birthday. It is commonplace for both merchants and customers to freely discuss and learn from each other. I humbly invite you to be a part of the WP Swings Forum.
6. Future Plans and Roadmap
WP Swings year in review will form the basis to organize our content strategy in 2023. Starting this year, we are following the 360 Content Plan for all our WooCommerce plugins.
A 360 content plan is focused on connecting with customers at all possible touch-points with relevant content. It includes every form of content that our users interact with regularly.
A content 360 plan for WooCommerce plugins is a comprehensive approach to creating, promoting, and distributing content related to a WooCommerce plugin. The goal of a content 360 plan is to provide comprehensive information and support for the plugin, helping potential customers to understand its features and benefits and encouraging them to use it.
The plan typically includes a variety of content formats, such as blog posts, videos, tutorials, and case studies, that showcase the plugin's features and highlight its benefits. The content is typically optimized for search engines and promoted through various channels, such as social media and email marketing, to reach a wider audience.
The aim of a content 360 plan is to provide an engaging user experience with complete information, helping customers to make informed decisions about the plugin and encouraging them to use it effectively. By providing a range of relevant and helpful content, we can increase customer satisfaction, improve their reputation, and drive sales growth.
It's only been a month of implementing our 360 plan, so I can't tell you how well it works. Perhaps, I'll talk about it in the WP Swings year in review for 2023 ;)
Conclusion
This is not just a birthday post, but rather a letter of appreciation to all individuals who have contributed to our journey so far.
We achieved so much in such a short time thanks to the vision of our co-founder Mr. Himanshu Rauthan. Everything went according to plan. Be it product launches, blog migration, rebranding of graphics, and updating marketplace profiles.
Most notably, the Deloitte ranking ensured us that we are in good hands and steering on the right track.
As a contributor to WordPress & WooCommerce community, we do realize the responsibility we have towards the eCommerce space. So, on this WP Swings birthday, I would like you to be a part of our success experiment and learn from our observations.
When you are finished with the WP Swings year in review, make sure to check out our other articles.