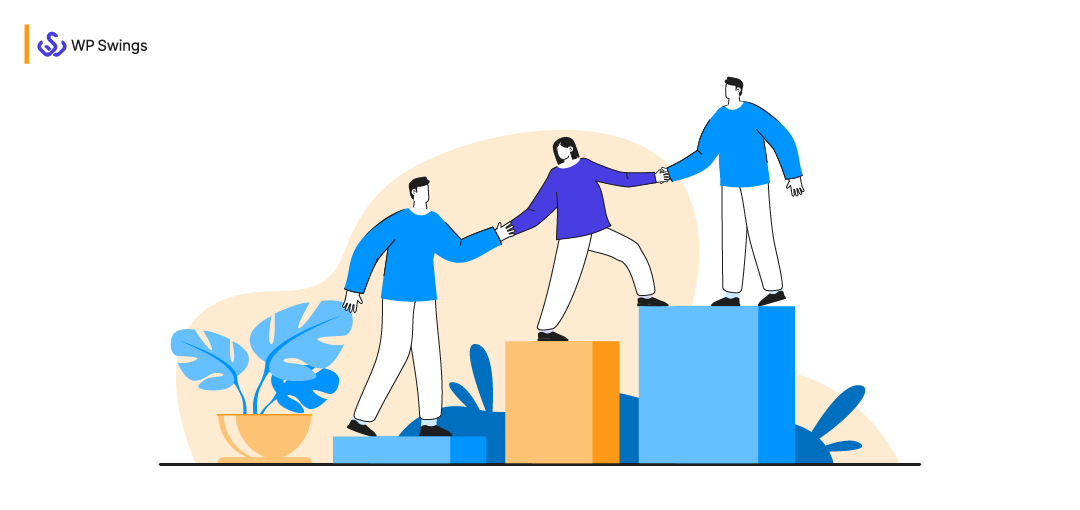 Have you seen a flock of birds flying through the sky in the V formation? As it turns out, the bird leading the formation is the fastest and has the best navigational skills.
This is not unique to birds. The need to rely on excellence is ingrained within the human psyche. We choose to follow the best among us.
Being an expert in a field will automatically place you as the leader in that field. People will respect and trust your decisions and look forward to working with you.
In the eCommerce language, this phenomenon is called thought leadership.
Thought leadership is a business standard. It is earned when an individual or organization becomes a pioneer in their field, niche, or sector.
As the saying goes…
If you succeed, you can lead. ~ Swami Vivekananda.
All businesses knowingly or unknowingly aspire to achieve this status because it guarantees tremendous brand value.
Becoming a thought leader requires years of hard work, learning, consistent quality, patience, and a strategic approach.
However, the term thought leadership has been abused to such an extent that finding a legit thought leader sounds less plausible than finding a unicorn.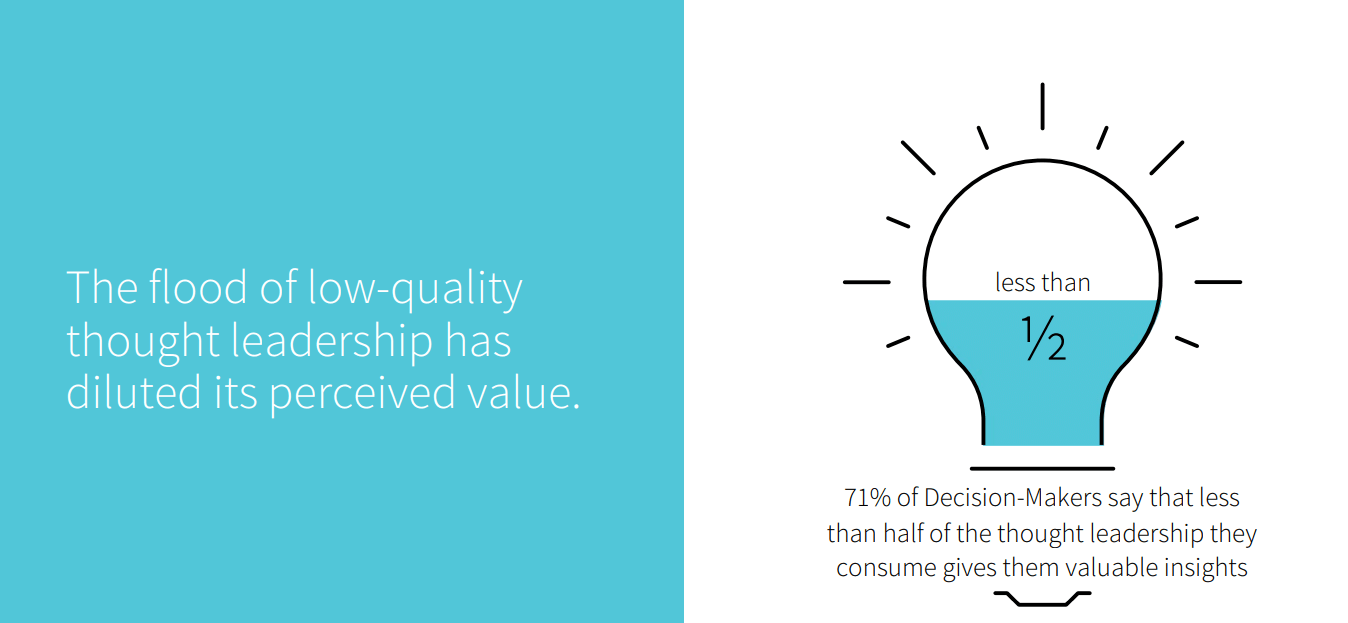 [Source: Edelman Impact Study 2021]
So, in this article, I'll discuss the tips to become a WordPress thought leader and its top five examples, and the benefits of acquiring thought leadership status.
9 Tips On How to Become a WordPress Thought Leader
There is no definite formula for achieving the thought leadership status. But there are some basic principles that you can follow to become a emerge as a better leader within your segment.
1. Figuring Out Your Area of Expertise
The first step to becoming a thought leader is to find a field where you can make a mark.
If you have trouble figuring it out, then a running business assessment and audience analysis will clearly show you what you do best.
Thought leadership is about being a master of one, not the jack of all trades.
It is nearly impossible to be the top player for all products and services you offer. You have to accept that some of them are going to suck.
Value sells, but you can't add value without a solid base.
So, notice what creates the most value for you and stick with it.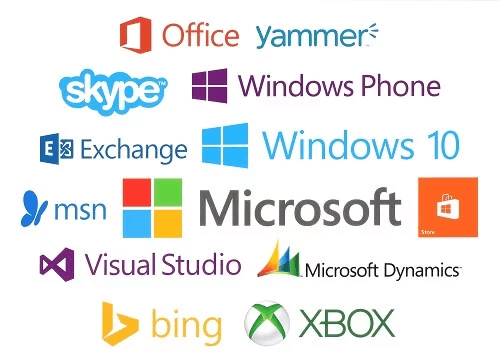 For example, Microsoft primarily is known for its operating system (Windows). However, it also sells enterprise and cloud computing software products & services, Azure, Xbox, etc.
2. Create Content
Content is the foundation of eCommerce marketing. Thought leadership content strategy revolves around the idea of adding value through the content.
Creating content is a rigorous activity, but it pays off well. You have to understand the journey of your average customer and create content accordingly.
Take a look at the share of organizations with a content marketing strategy in place worldwide from 2019 to 2021.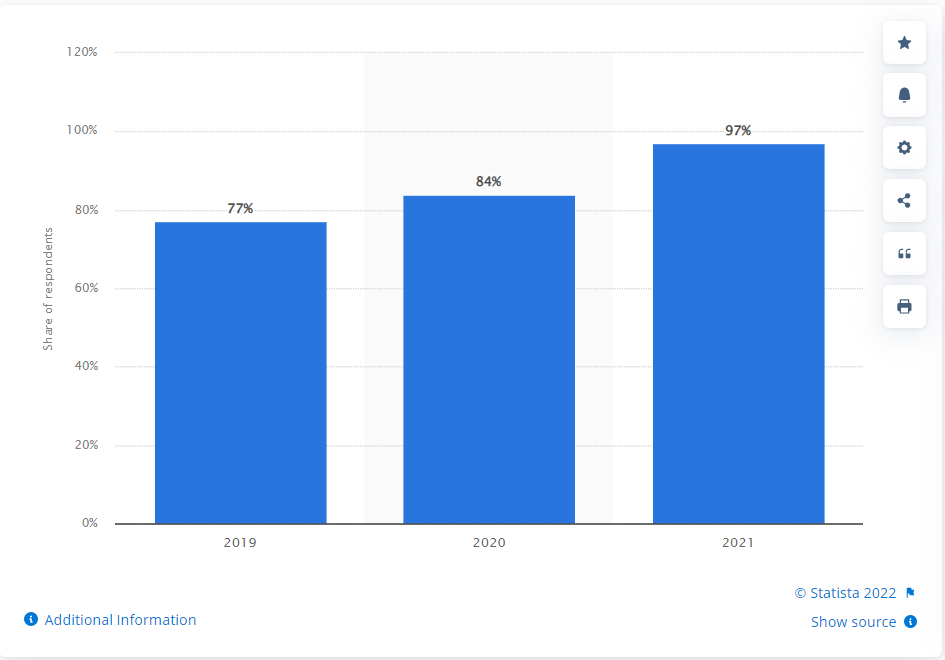 [Source: Statista]
Some users would love to read a product-based blog, while others may fancy a detailed video. It is your job to cater to their demands.
The nature of the market should also be taken into consideration in the content creation process.
Articles, videos, infographics, product pages, guides, etc., are normally required for the B2C audience.
B2B buying is quite complex as it usually involves a group of people representing an organization. The commonly required content includes whitepaper, articles, infographics, videos, documentation, ebooks, case studies, etc.
The scope of content goes beyond selling products and services, it is about satisfying the users' curiosity. People love learning how a product works and benefits their lives.
3. Be Consistent
"Good things take time."
To achieve the thought leadership status, you must be consistent in your quality and quantity of work.
Building an audience is a grueling process. Various sources state that it takes about three to six months to start ranking on Google.
Publishing consistency is not a direct ranking factor on Google. However, if you are providing valuable content to your users routinely, it will boost your engagement rates and brand value.
Users equate consistency with reliability.
Maintain uniformity in content distribution. Post your articles, videos, podcasts, ebooks, etc., with a frequency that suits your business needs.
Contribute to your industry by posting regularly on relevant platforms. It can include blogs, forums, podcasts, etc., on a weekly or monthly basis.
4. Change With Changing Times
Marketing is an ever-evolving subject. Every now and then some new way to engage audiences takes the world by storm.
Some businesses are quick to adapt to these changes to attract new users and create brand awareness. But many brands are reluctant to adjust to these changes and continue following their conventional marketing.
The thought leadership content strategy involves adaptability – the quality to adjust to new conditions.
Adaptability in marketing gives you a head start. You can experiment with new and creative ways to market your products and services and convey your brand's voice.
Take short video platforms such as TikTok, Instagram Reels, and Youtube Shorts for example. A decade ago who would have thought that companies would create 15 to 60-second videos to interact with users and promote products.
Many popular businesses like Milk Bar, Dunkin', and Fenty Beauty are on creating short video tutorials, user testimonials, hashtag trends, product reveal, etc.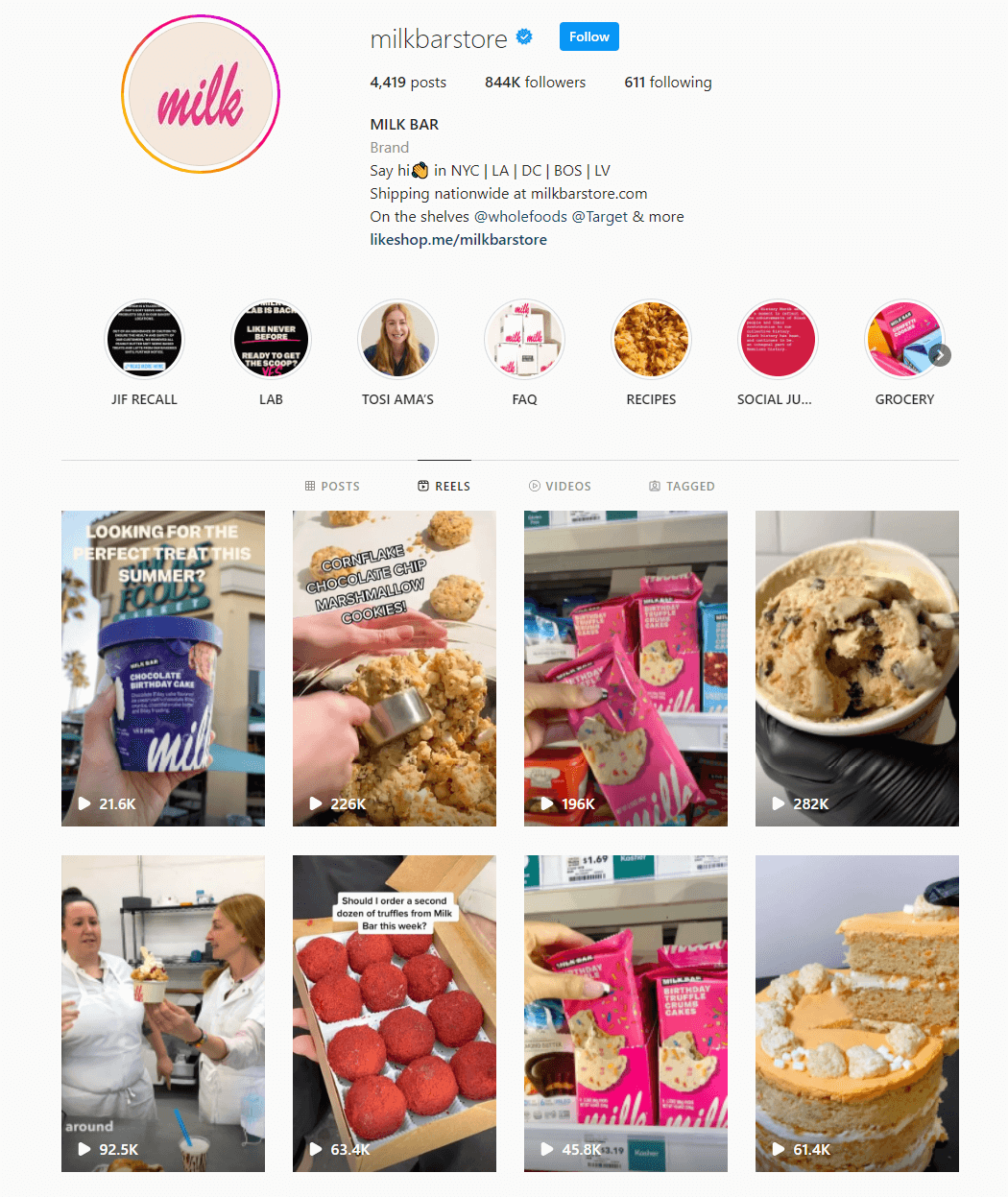 Due to declining attention spans, short videos are much more effective and consumable.
Bottom line: Be quick to adapt to changes. You need to rely on multiple content types to nurture your users.
5. Follow What You Preach
To establish yourself as a successful thought leader, you have to practice what you preach and stay true to your brand voice always.
If you are advocating for a robust content strategy, then you must be following it too. Otherwise, it will create a sense of distrust among your customer base.
For example, some marketing agencies assert that gaining organic rankings and creating original content. But later, they are found to practice plagiarism and use bots to increase engagement on their social media profiles.
This kind of dishonest approach is the surest way to lose every fraction of integrity.
A leader shows the way and also goes the way.
Convert your words into actions before converting visitors into customers.
Falling short of one's ideal in common for both individuals and organizations but to a tolerable extent. People accept your flaws only if they come with a significant amount of strength.
6. Solving Problems Without Self Promotion
Imagine yourself going to a website to learn more about proper supplementation. You are looking to learn what are the basic nutritional needs of an average person? What are the appropriate meal timings? And other key points.
The website, however, only gives vague information to address your doubts and it only tries to draw your attention to their supplementation product range.
Would you buy from such a store? Or leave immediately without the possibility of returning?
Almost everyone would choose the second option.
Mainly because you wouldn't get any value from salesy content and thus, never make a purchase decision.
So, keep the self-promotion to a minimum. Focus on giving quality information to users that are looking to learn through their product research.
Thought leadership is about nurturing your customers throughout their journey to ensure sales.
As Simon Sinek puts it, "A leader's job is not to do the work for others, it's to help others figure out how to do it themselves, to get things done, and to succeed beyond what they thought possible."
The value addition approach will benefit your business and create an example for other merchants to follow.
7. Collaborate with Others
To grow your business, you must connect with other businesses within your niche.
Collaboration is a powerful method to expand your user base, build brand awareness, and ensure collective growth.
Approach those ahead of you, offer a value proposition, and come to an agreement. There are plenty of partnership opportunities such as product development, promotion, lead generation, digital events, podcasts, etc.
It's a two-way exchange that benefits both parties. See it as an opportunity to share your learning with others in your community and come out as a dependable source of exclusive information.
Thus, collaborating with others will set you on the path to becoming an eCommerce thought leader
8. Be Open to Learning
Thought leadership marketing requires a willingness to learn.
The world of eCommerce is ever-changing and so, to keep up with the new trends, tools, and techniques, you must be open yourself to learning.
In any field, the best leaders are constant learners.
The most defining trait of a thought leader is knowing how to move forward with time. They are not afraid to take risks and explore and follow new practices to propel their growth.
The content creation process demands you to grasp new concepts and ideas as they come. Incorporating technology into your work to improve the curation and distribution of content is also a smart thought leadership strategy.
Remember: Stagnation is the kryptonite of a thought leader.
9. Follow Industry Leaders
Great leaders are also great followers.
Everyone wants to be at the top taking key decisions. But people hardly want to invest time and resources in developing worthiness to hold leadership positions.
Your ego is the first hurdle in the pursuit of knowledge. Shift your perspective and think of yourself as not a follower, but a leader under training.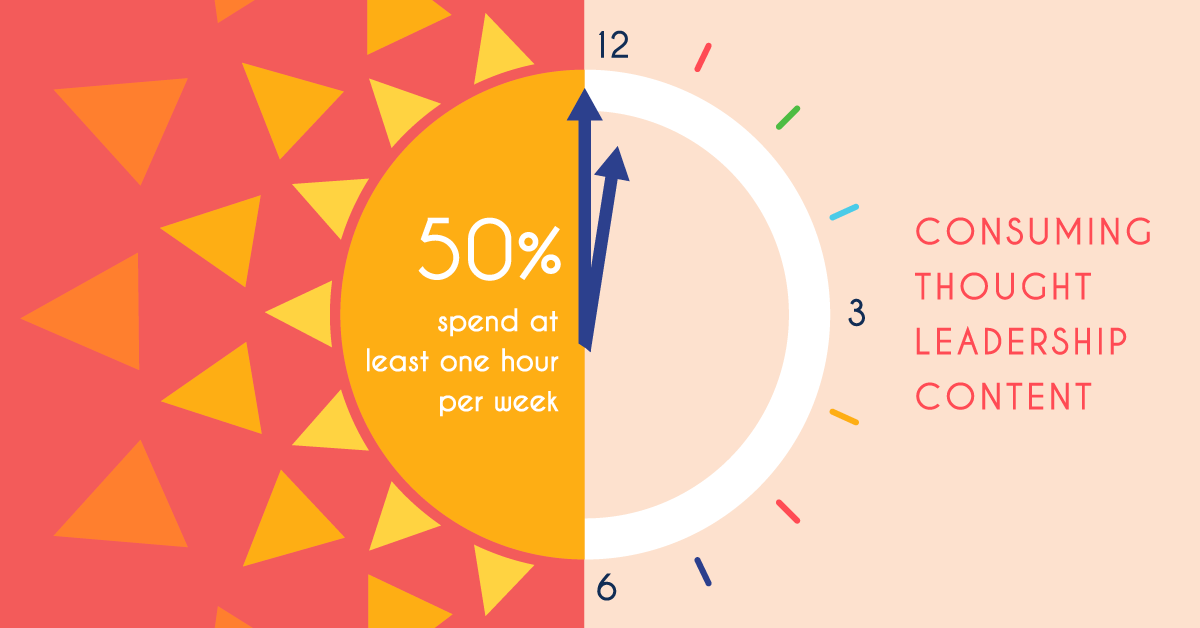 [Source: Harrington Communications]
Thought leadership content marketing involves following the industry leaders for directions. Learn how they are managing their work and deploy those techniques in your editorial planning.
Join their webinars, podcasts, or any other event where you can interact with them. Connect with them and learn the skills required for you to step up the ladder of leadership.
And that's it. There are the steps required for becoming a thought leader.
Benefits of Becoming a Thought Leader
Thought leadership is the ultimate succession of your marketing efforts.
You are creating and distributing content that not only helps sell your products but educates, elevates, and adds meaning to the industry you reside in.
Essentially, both customers and businesses profit from your contribution. So, let's discuss the main benefits of thought leadership:
1. Brand Recognition
When you are churning out valuable content with consistent effort and contributing to the growth of your sectors, you will start to create a name for yourself.
You'll be regarded as a thought leader and further your user base with relative ease.
2. Increased Collaborations
Everyone wants to work with successful individuals or organizations. As you establish yourself as a thought leader, your reputation will precede you.
Industry leaders and growing businesses would be more likely to work with you on partnership projects.
3. Amplifying Sales
Thought leaders easily evoke trust within their users. And trust is a crucial factor for sales.
When you are doing thought leadership correctly, people trust you before making a purchase. It is your job to further nurture their loyalty and turn them into repeat customers.
4. Get More Leads
As a thought leader, you can monetize your brand's popularity and generate quality leads through marketing campaigns. For any event you organize, a large number of people will participate to get the value addition.
More people will subscribe to your content across multiple platforms and further your email list. It will allow you to run successful email campaigns to grow your business.
How to Generate Leads Using a Free Resource Library?
5. Differentiation Advantage
You can set yourself apart from your competitors through thought leadership marketing. As you provide original, valuable, and unique content that gives an edge over your competitors.
Most businesses only imitate what others are doing and severely lack originality. Users find uniqueness attractive.
Being the thought leader in your segment, you'll get the most important clients before anyone else.
There are many more benefits of becoming a thought leader. I've mentioned the ones most commonly noticed.
Top 5 WordPress Thought Leaders
WordPress is the largest content management system in the world with a 42.9% market share.
WordPress is open-source software and so, it has a great reliance on contributors from across the globe to enhance its performance.
Businesses or individuals that operate on WordPress and its subcategories also contribute to the overall success of this platform. Those that have made exceptional contributions to the WordPress community are recognized as thought leaders.
1. Matthew Charles Mullenweg
Matt Mullenweg is one of the founding developers of the free and open-source WordPress we use today. If it was for him, I wouldn't be writing this article.
Matt also worked for CNET Networks from 2004 to 2005 but he quit that job and started investing his full time in Automattic, a company that has developed WordPress.com, Akismet, Gravatar, WooCommerce, etc.
He has been featured in various popular magazines like BusinessWeek, Linux Journal, Vanity Fair, and Inc. Magazine.
His other notable contributions include:
Member of The Well at the non-profit "Charity: Water" organization and has raised $44,000 for them.
A major supporter of the Bay Lights Project and helped them raise more than 1.5 million dollars.
Extends his support to several other humanitarian causes.
2. Chris Lema
He is one of the most well-known figures in the WordPress community. Chances are you might have worked with him at some point in time or may have read his blog.
Chris defines himself as a "public speaker, storyteller, blogger, coach & a product strategist." He is also the VP of Product at Liquid Web. He has been active in the WordPress community for over a decade and has helped numerous businesses reach their goals.
On top of that, Chirs Lema has a reputation for investing in product development. He readily sponsors the WordPress plugins that benefit him and the community.
He is a regular contributor and speaker at WordCamp, where he speaks on topics related to WordPress and WooCommerce.
3. Milan Ivanović
Milan Ivanovic is a WordPress developer and also WordPress.org global translation editor. He is a member of the Theme Review and Community Get Involved Teams.
He has comprehensive web design and development experience and specializes in creating high-performing websites using HTML, CSS, jQuery, WordPress, PHP, and MySQL.
Since 2013, he has been a regular speaker and contributor at WordCamp Europe events. He was also a founding member of the WordPress Community in Siberia.
4. Adam W. Warner
Adam's WordPress journey sounds like a classic success story. He found WordPress in 2004 when he needed to create a website for his side business and started publishing WP tutorials on his website.
He has also worked as a Web development manager for an International HVAC provider. In 2011, he released the first of many FooPlugins. He is also a contributor and speaker at WordCamps since 2016. Currently, he is working as a Field Marketing Manager at GoDaddy Pro.
Over the years, he has made several contributions to the WordPress community and earned a name for himself.
5. David Bisset
David is one of the founding members of WordCamp Miami (WCMIA). He is also an organizer and speaker at WCMIA. He works on building customer solutions and plugins WordPress / BuddyPress/ BuddyBoss.
As a developer, he has worked on Envira Gallery, Soliloquy, and other plugins.
Since 2008, he has contributed to the development of numerous WordPress plugins and themes.
David also routinely publishes blogs, podcasts, and newsletters, and organizes digital and physical conferences.
As you can see, all five WordPress thought leaders have made significant contributions to the WordPress community. A few of them were first changemakers and organizers in their respective fields. They took risks and succeeded, and now the world follows them.
How WP Swings Is Emerging As Thought Leader?
The Story of WP Swings starts in 2016 with the inception of MakeWebBetter. It was the brainchild of two highly competent and skillful WordPress enthusiasts and entrepreneurs — Mr. Himanshu Rauthan and Mr. Abhishek Jaiswal.
With MakeWebBetter, we primarily focused on offering WordPress/WooCommerce plugins and services. We also provided top-class HubSpot Onboarding services and integration solutions that have helped more than 20,000 businesses to this date.
It became the premier integration partner of HubSpot in 2017. Our HubSpot WooCommerce integration became one of the top integration products with over 10,000 active installations.
Our consistent effort in HubSpot has earned us the status of HubSpot Diamond Solutions Partner.
Although we had built an impressive WordPress Profile, we decided to create WP Swings in 2022 to manage the WooCommerce/WordPress products and services separately. And MakeWebBetter was converted into a complete Hubspot Agency.
WP Swings has over 50+ WordPress/WooCommerce extensions distributed over WooCommerce, WordPress.org, and Envato Marketplace.
Also, we offer several custom eCommerce solutions as per clients' needs and have built a splendid WordPress.org profile from scratch.
An Insight into WP Swings Thought Leadership Strategy:
Focusing primarily on WordPress/WooCommerce to capitalize on the user base within this segment
Publishing detailed articles on WordPress, WooCommerce, and General eCommerce topics.
Writing original content and creating our plugins and customer services to assert and expand our expertise.
Working with a team of WordPress developers and Woo experts with decades of experience in the field.
Utilizing video marketing on our Youtube channel, blog, and social media with product tutorials, walkthroughs, and feature explainers videos.
Social media marketing to improve brand awareness, audience engagement, and conversions.
SEO copywriting to create highly engaging and ranking content for our landing pages, product pages, and documentation.
Collaborating and connecting with influencers, industry leaders, and other WordPress experts.
Maintaining consistency by regularly sending product updates, publishing 4 to 5 articles every week, and uploading a maximum of two videos on Youtube every week.
Participating in most prominent marketing and retail events (virtual and physical) throughout the year.
Sharing our knowledge with the WordPress community with posts on publications like Medium, Growth Hackers, and so on.
Partnering with other WordPress/WooCommerce oriented companies
WP Swings is new but the people behind the scenes have been in the WordPress landscape for over a decade. We follow the same steps that we openly advise others. And it's working wonderfully for us.
On a Final Note
Thought leadership is achieved by acquiring expert status in your field of work. It is a standard that most businesses want to reach.
In this article, I've explained what thought leadership is and the steps to becoming a thought leader. Also, shared a list of the top five thought leaders in the WordPress community.
Thought leadership marketing does wonders for your business. It increases your engagement rates, builds the brand's reputation, draws more conversions, and earns users' trust.
And hey, Check out our blogs If you want to learn more about best eCommerce practices.