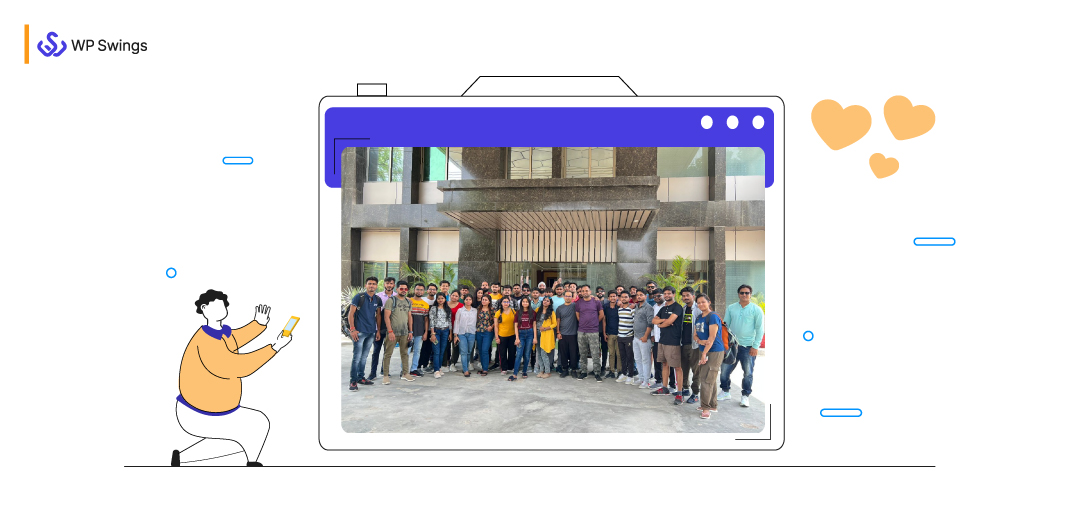 WE MADE IT! The past week was not a regular week. Instead, the weekend began with a full day's leave on Friday. It was the Founders' Day at CEDCOSS Technologies. And it ended up with Team WP Swings gathering together for more than 24 hours together.
We had mind-blowing participation in the event right from its preparatory phase.
"Events like these allow us to spot leaders! You know, people who are new and do not hesitate in volunteering, those kinds of people represent authority and accountability!" said our senior project manager at CEDCOSS, Mr. Shyam Mishra.
It came as a total surprise while only recently we were feeling washed out from all the migration work from MakeWebBetter to WP Swings.
Now all @makewebbetter's WooCommerce solutions have been migrated to @wpswings!

We're so excited to bring this to your information that we're all set to serve you again all as per your needs & business requirements.

Learn more about us, visit👉https://t.co/L2ifpZbNub#WPSwings pic.twitter.com/sM9lDrhoOJ

— WP Swings (@wpswings) February 24, 2022
Umm, let me first brief you about it, if you are not already familiar. We had been serving the WooCommerce and WordPress community for more than 6 years and recently we felt the need of creating a dedicated space for the same. This led to the birth of WP Swings! And long story short, there came all the need to launch our hit plugins with all the updates our users sought, in record time.
So yes, coming back to the event, an outing to Anandi Magic World in Lucknow meant everyone would be expecting a long relaxing weekend. This brought up a real challenge- why would anyone come out of their comfort zone to engage with anyone?
But with the tug of war, cricket matches, and musical chairs happening, no one could resist either. This event was a success in the manner that it brought all of us together.
What Everyone Said!
Here is what everyone had to say about the event:
This trip is simply fabulous and awesome! A big thank you to our founders- Himanshu Rauthan sir and Abhishek Jaiswal sir… Anandi hosted us really well with great food and comfort!
~Manshi, Social Media Team, WP Swings
You know we do not get such time to interact with the people we work with, on a daily basis & on a personal level… in this context, this team outing seemed a perfect idea to me. This trip was a fun ride for all people here with so many engaging activities. The food was delicious, the whole experience was refreshing overall…!
~Bhagyashree, Sr. Content Writer, WP Swings
Talking about my experience here at Anandi Magic World, I would say it was one of its kind. Also because of the activities that we engaged in… the most important part was we spent time with the complete team and gelled up with the team and authorities really well.

After all, you don't get such an opportunity every other day!
~Geetika, Content Writer, WP Swings
Picture Gallery
The Social Buzz…
Here is a little sneak peek into what everyone is talking about at the event at Anandi Magic World on social media!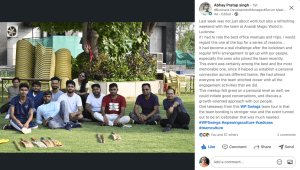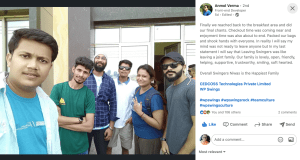 From My Point of View…
I have been working remotely in another state and hence all the FOMO was natural! So, when the news of the party came, I was already disheartened thinking I won't be able to make it to the event this year!
BUT! the whole experience was such, that I did not feel left out even for a moment. All of us who could not join the event were part of it virtually beginning from the preparatory phase till the end!
Here we were holding tight with peals of laughter and discussions to grow together with the content team lead, Anees Ahmad…
And here is a little token of appreciation from the Media team lead, Dristy Srivastava: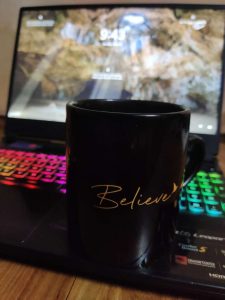 These little thoughtful gestures hold us close together despite the hurdles in geographical proximities.
Goodbyes…
Lastly, the event concluded really well with our founder and director, Mr. Himanshu Rauthan connecting with everyone on an individual level.
Our senior project manager, Mr. Shyam Mishra, also regarded team bonding as an indispensable exercise to increase productivity and engage everyone to ensure better accountability.
Everyone returned home with smiles and memories to cherish for a long long time! The pictures and videos are just a tunnel into the good times, the experience that everyone returned with was without a doubt a unique one!
We are looking forward to serving our WordPress and WooCommerce community with more charisma and enthusiasm than before with leadership that gives us space to grow and an opportunity to voice our opinions.