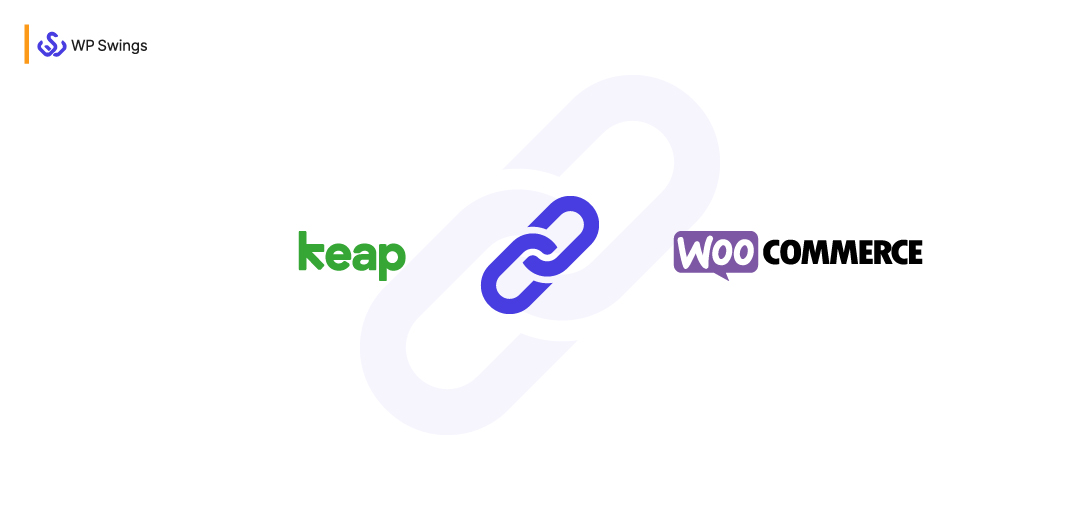 WooCommerce is gaining popularity at an exponential rate and with the expanding volumes, the need for CRM software is also growing. Keap CRM, formerly known as Infusionsoft, is one such software to cater to all your business needs from a centralized perspective. This blog will help you understand the in and out of WooCommerce Keap integration.
I strongly suggest investing in automated ways to transfer data from your WooCommerce store to your Keap panel. This way you will not only save your most valuable resource- TIME but also minimize the incidents of errors in data. Therefore, a Keap integration with the WooCommerce plugin will assist you to optimize the returns from your online business.
In this blog, I have covered a brief overview of WooCommerce and Keap as a CRM. You will also learn how to integrate the two platforms using the Keap Integration with WooCommerce plugin. You will also learn how you can define the rules for data synchronization over Keap CRM using the feeds section in the plugin.
If you are already familiar with WooCommerce, Keap (formerly Infusionsoft) as a CRM, you can jump to the next sections to learn how to connect Keap and WooCommerce, straightaway, using the table of content.
Do You Want To Connect Your WooCommerce Store With Keap?
Give a try to our integration plugin!
What Is WooCommerce?
WooCommerce is an open-source and customizable platform for WordPress to convert your website into an online store. It is used by millions to run their eCommerce stores since it is easy to set up. While some of its extensions are paid, you can still build a fully functional online store using the free WooCommerce extensions from wordpress.org.
Honestly, there is no limit to the features that you can add using the free plugins. From points & rewards, upsell & bump offer plugins, to subscriptions for WooCommerce– you name it and they have it. While WooCommerce presents an ocean of opportunities, you can drive its full potential with the help of Customer Relationship Management (CRM) software.
If you are already acquainted with all of the information above, let me guide you through how investing in CRM software can enhance your revenue manifold. A CRM is a powerful tool since it is a central point of all information related to your business
Imagine everything in one place- your contacts, leads, purchase history, emails, social media views, preferences, location, and so on. That is what a CRM gives you, everything collated together so that you can run automated campaigns and define various workflows to give your customers a personalized experience.
Let us learn more about the advantages that you can reap by employing a CRM system for your WooCommerce store (an example of which is WooCommerce Keap Integration) in the sections ahead.
Benefits of CRM for WooCommerce Stores
1. In the case of a B2B company, CRM can be very helpful in tracking the status of your product or service.
2. In the case of B2C models, CRM is of great use when it comes to keeping a record of existing customers, purchase history, preferences of new leads, etc.
3. All of this data will help you curate personalized targeting and therefore better user satisfaction.
4. Automated data collection, as well as workflows, is a time savior and so is the CRM that allows you to perform these activities.
5. Announce offers based on consumer behavior and preferences.
6. All in all, a CRM will allow you to boost the efficiency of your WooCommerce store. Therefore, increased revenue will be a sure-shot thing to expect.
KEAP As CRM Software
Keap as CRM software aims to organize the clutter and chaos that is caused by the increasing volume of a business. For this, they rely on sales and marketing automation. In sales, there are various functionalities that Keap has to offer.
The previously called Infusionsoft CRM software allows you to capture leads automatically from custom lead forms, landing pages, or even social media. Moreover, you can view the buyers' journey in real-time until the stage of conversion. This will help you plan your sales funnel appropriately as well as a personalized approach for your customers.
For marketing, the Keap CRM allows you to spot the pain points where your company could be losing. Thus, being aware of the leakages in the sales funnel and your vulnerabilities, Keap CRM lets you plan your marketing campaigns accordingly. It will let you score your leads based on which you can easily automate the emails. Once you have all the follow-up emails automated, you can use your precious time to further think of enhancing your business profile or curate creative offers.
Using the Keap panel, you can also strengthen your company's support services. You will have all the past conversations, purchase history for any customer at one place with Keap. Using it, you can not only acknowledge but also resolve the client and customer queries in no time.
Basically, Keap can be a reliable CRM software as it provides all the services you can think of- data Management, mobile accessibility, task management, email integration, customer relationships as a whole.
Below are some benefits of using Keap WooCommerce integration. Read on to understand how it will fulfill all the needs for your WooCommerce stores.
Benefits of KEAP
A. Keap is a completely customizable CRM platform to help you create one of the best customer experiences. It will also resolve the issue of the chaos that accompanies a business with large volumes of transactions.
B. The best part of Keap is that it allows you to create seamless integrations to automate data synchronization using different applications.
Check out the demo for Keap Integration for WooCommerce plugin…
Learn how to capture leads and create contacts effortlessly!
C. Another advantage of using Keap WooCommerce integration is that it allows you to capture leads automatically. You can automate the lead capture process using different plugins as explained in this blog ahead. These can come from the landing pages of your website, social media, or the lead forms created by you on different platforms.
D. The mobile application by Keap has resolved the issue of mobility. Believe it or not, accessibility is a boon. For instance, being able to quickly access a contact who has initiated a query to be resolved will generate long-term relationships with your customers.
E. It allows you to send automated follow-up emails to your leads based on the stage of the buyers' journey that they are in.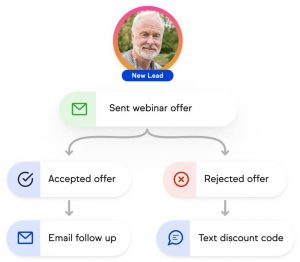 Image Source: Keap
F. You can easily migrate the data you have collated for your WooCommerce store in different platforms to Keap (even from competitor's platforms such as MailChimp or constant contact).
G. All in all, Keap is a comprehensive platform yet easy to use. It will only optimize your processes and not overwhelm you with infinite suggestions or functionalities.
Connect Keap With WooCommerce
The WooCommerce Keap integration plugin by WP Swings allows you to share data of WooCommerce contacts, orders, products data over your Keap CRM objects. This eases the process of data integration and minimizes the incidents of errors. The plugin comes with more functionalities to facilitate data sync such as logs, instant sync feature, etc. These features are explained in the next sections.
We will further discuss how we can set up the connection between the Keap panel and WooCommerce store using the Keap WooCommerce integration plugin.

Once you get your plugin from your WooCommerce account, you need to install the plugin file into the backend of your WooCommerce store. All you need to do is,
Go to Add New in the Plugins section of your WordPress dashboard.
Click on the Upload Plugin button and right away install the plugin.
Click on the Activate button to start using the integration with Infusionsoft (now termed as Keap) plugin.
Create Keap Developer Account
To be able to use the plugin features, you will need the API keys from your Keap panel to get the connection running. You need to create an app in your Keap panel to do the same. Follow the steps given below for a smooth setup:
1. Create your developer account on Keap and sign in to get the API credentials.
2. Open the dropdown menu given with your user id in the top right corner and click on Apps.
3. The new window that would appear now will display all the previously created apps. Click on the +NEW APP button.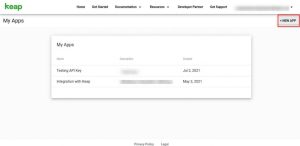 4. Fill in all the mandatory fields- App Name, Description, and App ID. Now, click on Enable and then click on Save.
5. This is where you get the necessary API keys. From here, you can copy the keys for the Client ID and Secret ID respectively.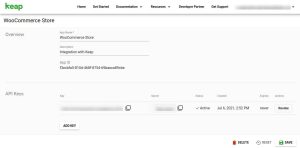 Establish WooCommerce Keap Integration
Once you have these credentials, you can now open the plugin in your WordPress dashboard. Click on the Connect Your Account button to establish the connection.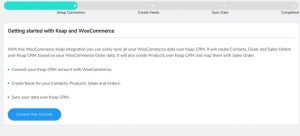 You will be asked to enter the API keys you generated in the previous steps. Copy the Client ID and Secret ID to paste them into the respective fields as shown below.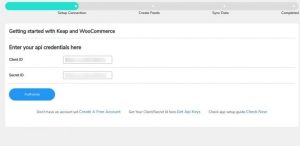 Next, this integration plugin provides you with default feeds for Contacts, Orders, and Products in your WooCommerce store. To allow this plugin functionality, click on the Create Feeds button.
Feed is the set of rules that allow you to sync data into Keap object fields with accuracy.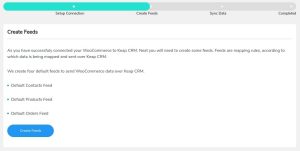 In the next step, you can right away start syncing your WooCommerce data or skip this step to allow the synchronization of data to process later. You can click on the Start Sync button or Sync Later button as per choice.
Still Unclear About WooCommerce-Keap Integration?
Checkout our thoroughly explained setup guide
Here, you will have your connection set up successfully. Click on the View Dashboard button to start reaping the benefits of this WooCommerce Keap Integration plugin.
Add Feeds To Sync Data With Accuracy
The heart of this WooCommerce Keap integration is the feed feature. Besides the already provided default feeds, you can create your own feeds. Simply follow the steps given below:
1. In the backend view of the plugin in your WordPress dashboard, click on the Feeds tab. Next, click on the Add Feeds button.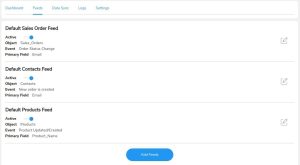 2. Now, quickly add the title of your feed to remember what was your purpose for creating the feed. This is important so that you can activate or deactivate the toggle for the feed whenever needed.
3. Next, select the Keap object- Products, Orders, or Contacts from the dropdown menu. This will help you only map the fields from the selected object in your respective Keap module.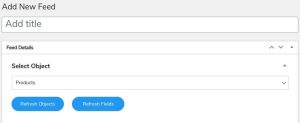 4. Now, map the fields with your WooCommerce store data to automatically sync the data when this particular feed will be activated. An example is shown in the screenshot given below:

5. This WooCommerce Keap integration plugin also allows you to add your own fields. Once a new field is created, you can map it with any other Keap object field you find relevant.

6. From all the fields described by you in the above steps, the plugin lets you set a primary field that will update all the data that will be associated with this Primary Field.

7. Lastly, yet importantly, you need to define the event that will trigger this data synchronization process from the dropdown menu provided.

Click on the Publish button to have this created field functional.
Other Features of Keap Integration With WooCommerce Plugin
The plugin comes with various other features to facilitate your data sync process between the Keap platform and your WooCommerce dashboard. These are mentioned below:
1. Hassle-Free Sync:
The synchronization process is completely seamless. All you need to do is generate the API keys and initiate the setup.
2. Comprehensive Dashboard:
The plugin dashboard allows you to disconnect or reauthorize the connection with merely one click. It also displays the number of contacts, products, and orders that are synced. So, essentially the dashboard comes with everything you will need.
3. Bulk-Sync
The bulk sync option allows you to transfer all the data using the activated feeds to your respective Keap objects. However, the disclaimer is that syncing all the data can be a time-taking process (although it will happen with negligible errors).
4. One-Click Sync
Using this option, you can initiate syncing only the new contacts, orders, and products. This is also error-free as well as will save your time to a great extent.
5. Logs
Logs allow you to detect bugs and errors during data sync. You can spot them in a trouble-free manner. From the plugin settings, you can enable logging as well as set the number of days after which the logs will be automatically deleted.
6. Instant Sync:
This is an interesting feature because if enabled, it will automatically sync any new contacts, products, or orders that will be created in your WooCommerce store using the activated feeds.
Concluding Note
I believe this is all you should know about Keap and its integration with WooCommerce if you are running an online store. Feel free to comment your queries in the comments section or connect with us.
We Provide Personalized Professional WordPress Services!
Explore to find out how we can help your business soar high!