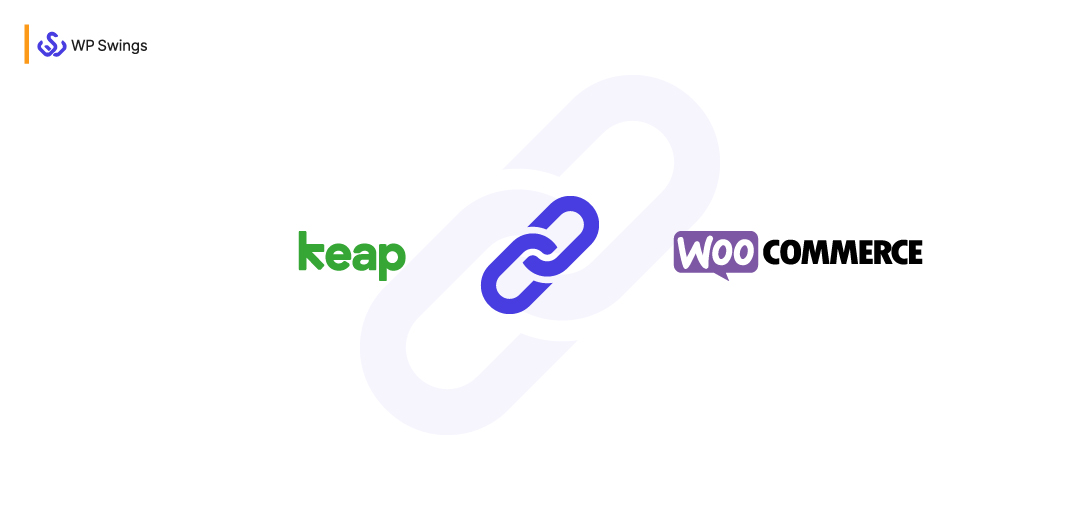 WooCommerce is gaining popularity at an exponential rate and with the expanding volumes, the need for CRM software is also growing. Keap CRM, formerly known as Infusionsoft, is one such software to cater to all your business needs from a centralized perspective. This blog will help you understand the in and out of WooCommerce Keap integrations.
I strongly suggest investing in automated ways to transfer data from your WooCommerce store to your Keap panel. This way you will not only save your most valuable resource- TIME but also minimize the incidents of errors in data. Therefore, Keap integrations with the WooCommerce plugin will assist you to optimize the returns from your online business.
In this blog, I have covered a brief overview of WooCommerce and Keap as CRM. You will also learn how to integrate the two platforms using the Keap Integrations with the WooCommerce plugin. You will also learn how you can define the rules for data synchronization over Keap CRM using the feeds section in the plugin.
If you are already familiar with WooCommerce, and Keap (formerly Infusionsoft) as a CRM, you can jump to the next sections to learn how to connect Keap and WooCommerce, straightaway, using the table of content.
What Exactly Keap Is?
Keap is a customer relationship management (CRM) platform. It offers sales and marketing automation and eCommerce functionalities in one suite. It helps small businesses to streamline sales and handle customer experiences, or anyone who is new to the eCommerce business and is seeking an all-in-one solution.
Moreover, Keap offers checkout cart attributes to improve conversion rates and average cart values by providing built-in invoicing and multiple payment process integrations. The easy automation of this platform helps eliminate manual tasks like email follow-ups and sending texts, and recording new leads instantly after they finish a form on your landing pages or even social media.
You can build up your CRM very quickly due to a reliable customer success manager and simple drag-and-drop sales pipeline builders that helps it to remain organized and bring a precise view of your business possibilities.
Do You Want To Connect Your WooCommerce Store With Keap?
Give a try to our integration plugin!
Benefits of Using Keap CRM
Let us explore some of the key benefits of Keap CRM for all sizes of businesses:
Managing Organization With Efficiency
A good CRM allows you to consolidate all your data in a prominent place, such as the lead and customer details, that can be easily accessible by anyone on the go.
Whether you require the information for closing a sale or fixing a customer issue, you can get this all at your fingertips, no need to find or gather the information from multiple systems.
Easy Follow-Ups
If you are using a CRM that is combined with sales and marketing automation, such as Keap, then it makes the customer journey effortless.
You will no longer require to copy and paste the emails for new leads or set reminders on your calendar to follow up with clients. It will generate automated follow-up emails and text messages to the customers automatically.
Personalized Messages
With this CRM of sales and marketing automation software, you can send emails and text messages with personalization automatically which will be based on the customer's interests or past purchases. A personalized message is vital for building long-lasting relationships with customers.
Sales Opportunities via Data Insights
A CRM can easily track lead conversion trends and customer buying patterns by providing insights into what is working and what is not.
When you have understood where the customers are dropping off or about their buying combinations then you can improve the conversion or can make bundles to boost sales.
Improves Customer Experience
One benefit of having a Keap CRM is that keeping all customer data in one place makes it easier to transition between customer care and sales.
It helps you to build relationships with your customers via personalized messages on time, which results in customer retention and higher customer lifetime value.
How Keap and WooCommerce Together Can Benefit Business
The most well-known eCommerce platform is WooCommerce as it is used by 8.7% of all websites. With recurring payments, changeable product pricing, follow-up data, and more for consumers to keep track of orders, it is the most expandable eCommerce system currently available.
WooCommerce provides pretty much everything you need to automate your online business, and connecting it with a CRM as Keap takes it to the next level with its wide variety of add-ons.
If you are already acquainted with all of the information above, let me guide you through how investing in CRM software can enhance your revenue manifold. A CRM is a powerful tool since it is a central point of all information related to your business
Imagine everything in one place- your contacts, leads, purchase history, emails, social media views, preferences, location, and so on. That is what a CRM gives you, everything collated together so that you can run automated campaigns and define various workflows to give your customers a personalized experience.
Let us learn more about the advantages that you can reap by employing a CRM system for your WooCommerce store in the sections ahead.
In the case of a B2B company, CRM can be very helpful in tracking the status of your product or service.
In the case of B2C models, CRM is of great use when it comes to keeping a record of existing customers, purchase history, preferences of new leads, etc.
All of this data will help you curate personalized targeting and therefore better user satisfaction.
Automated data collection, as well as workflows, is a time savior and so is the CRM that allows you to perform these activities.
Announce offers based on consumer behavior and preferences.
All in all, a CRM will allow you to boost the efficiency of your WooCommerce store. Therefore, increased revenue will be a sure-shot thing to expect.
Here are the top 6 benefits you must know about the Keap…. But knowing benefits is not the final destination for your knowledge until and unless you won't check the functionality on your own…So here we came up with the Keap Integrations for WooCommerce plugin by WP Swings.
Keap Integration for WooCommerce

The Keap Integration for WooCommerce plugin allows you in synchronizing or updating your data. It automatically synchronizes your data over WooCommerce such as contacts, deals, products, and orders which results in the elimination of errors related to manual entry.
By using this plugin you will get an immediate and reliable solution that will help you in optimizing your ROI.
Now let us see what benefits this plugin can provide to your business:
The Keap Integrations for WooCommerce plugin is easy to set up. It is not at all difficult to install and sync your data with Keap, as anybody can install the plugin.
It is simple and easy to synchronize your new data or contacts with this Keap CRM plugin. You can set the settings in advance in CRM of when, how, and what you want to synchronize.
This plugin can even help you in saving your time because it provides you with a quick response to new leads that result in higher returns. Additionally, it conserves time that would otherwise be squandered on manual entry.
The most interesting feature of this plugin is the One-Click Sync option which automates the procedure of data synching with one click. So that you never miss or lose the data during data exchange, adding new contacts, or updating new orders.
Connect Keap With WooCommerce
Keap integrations with WooCommerce make the automation of sales even easier. Pairing these two together is great because it automatically tracks and manages the business by keeping track of customers, products, and orders all in one place. It is a tremendous time saver for business proprietors who are utilizing both platforms.
We will further discuss how we can set up the connection between the Keap panel and the WooCommerce store using the Keap WooCommerce integration plugin.
Once you get your plugin from your WooCommerce account, you need to install the plugin file into the backend of your WooCommerce store. All you need to do is,
Go to Add New in the Plugins section of your WordPress dashboard.
Click on the Upload Plugin button and right away install the plugin.
Click on the Activate button to start using the integration with Infusionsoft (now termed Keap) plugin.
Create Keap Developer Account
To be able to use the plugin features, you will need the API keys from your Keap panel to get the connection running. You need to create an app in your Keap panel to do the same. Follow the steps given below for a smooth setup:
Create your developer account on Keap and sign in to get the API credentials.
Open the dropdown menu given with your user id in the top right corner and click on Apps.
The new window that would appear now will display all the previously created apps. Click on the +NEW APP button.
Fill in all the mandatory fields- App Name, Description, and App ID. Now, click on Enable and then click on Save.
This is where you get the necessary API keys. From here, you can copy the keys for the Client ID and Secret ID respectively.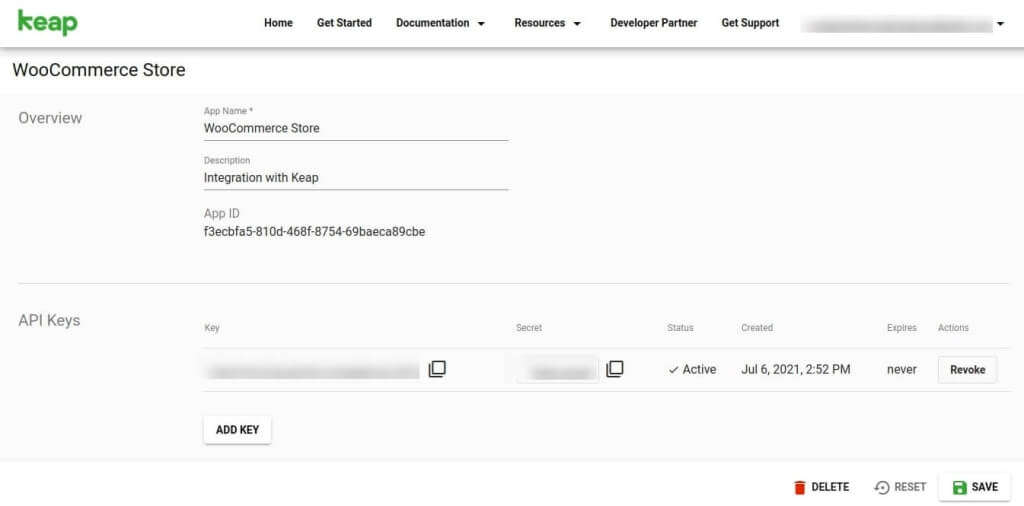 Establish WooCommerce Keap Integration
Once you have these credentials, you can now open the plugin in your WordPress dashboard. Click on the Connect Your Account button to establish the connection.
You will be asked to enter the API keys you generated in the previous steps. Copy the Client ID and Secret ID to paste them into the respective fields as shown below.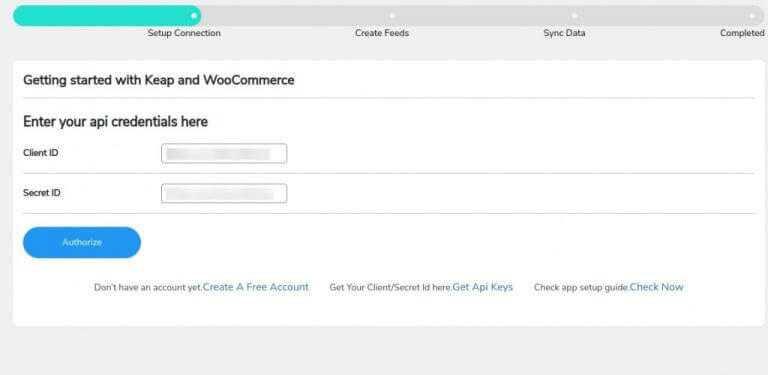 Next, this integration plugin provides you with default feeds for Contacts, Orders, and Products in your WooCommerce store. To allow this plugin functionality, click on the Create Feeds button.
Feed is the set of rules that allow you to sync data into Keap object fields with accuracy.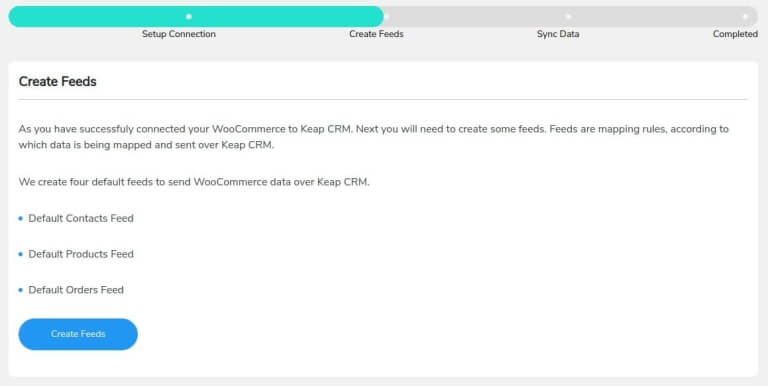 In the next step, you can right away start syncing your WooCommerce data or skip this step to allow the synchronization of data to process later. You can click on the Start Sync button or Sync Later button as per choice.
Here, you will have your connection set up successfully. Click on the View Dashboard button to start reaping the benefits of this WooCommerce Keap Integrations plugin.
Add Feeds To Sync Data With Accuracy
The heart of this WooCommerce Keap integration is the feed feature. Besides the already provided default feeds, you can create your own feeds. Simply follow the steps given below:
In the backend view of the plugin in your WordPress dashboard, click on the Feeds tab. Next, click on the Add Feeds button.
Now, quickly add the title of your feed to remember what was your purpose for creating the feed. This is important so that you can activate or deactivate the toggle for the feed whenever needed.
Next, select the Keap object- Products, Orders, or Contacts from the dropdown menu. This will help you only map the fields from the selected object in your respective Keap module.
Now, map the fields with your WooCommerce store data to automatically sync the data when this particular feed will be activated. An example is shown in the screenshot given below:
This WooCommerce Keap integrations plugin also allows you to add your own fields. Once a new field is created, you can map it with any other Keap object field you find relevant.
From all the fields described by you in the above steps, the plugin lets you set a primary field that will update all the data that will be associated with this Primary Field.
Lastly, yet importantly, you need to define the event that will trigger this data synchronization process from the dropdown menu provided.
Click on the Publish button to have this created field functional.
Other Features of Keap Integrations With WooCommerce Plugin
The plugin comes with various other features to facilitate your data sync process between the Keap platform and your WooCommerce dashboard. These are mentioned below:
1. Hassle-Free Sync:
The synchronization process is completely seamless. All you need to do is generate the API keys and initiate the setup.
2. Comprehensive Dashboard:
The plugin dashboard allows you to disconnect or reauthorize the connection with merely one click. It also displays the number of contacts, products, and orders that are synced. So, essentially the dashboard comes with everything you will need.
3. Bulk-Sync
The bulk sync option allows you to transfer all the data using the activated feeds to your respective Keap objects. However, the disclaimer is that syncing all the data can be a time-taking process (although it will happen with negligible errors).
4. One-Click Sync
Using this option, you can initiate syncing only the new contacts, orders, and products. This is also error-free as well as will save your time to a great extent.
5. Logs
Logs allow you to detect bugs and errors during data sync. You can spot them in a trouble-free manner. From the plugin settings, you can enable logging as well as set the number of days after which the logs will be automatically deleted.
6. Instant Sync:
This is an interesting feature because if enabled, it will automatically sync any new contacts, products, or orders that will be created in your WooCommerce store using the activated feeds.
7. Sync Tags Over Keap:
With the help of this trait of the plugin, you can instantly sync tags over the CRM. The tags can be synced for products bought, SKUs, and the type and even for order status as well.
Concluding Note
I believe this is all you should know about Keap and its integration with WooCommerce if you are running an online store. Feel free to comment with your queries in the comments section or connect with us.
We Provide Personalized Professional WordPress Services!
Explore to find out how we can help your business soar high!