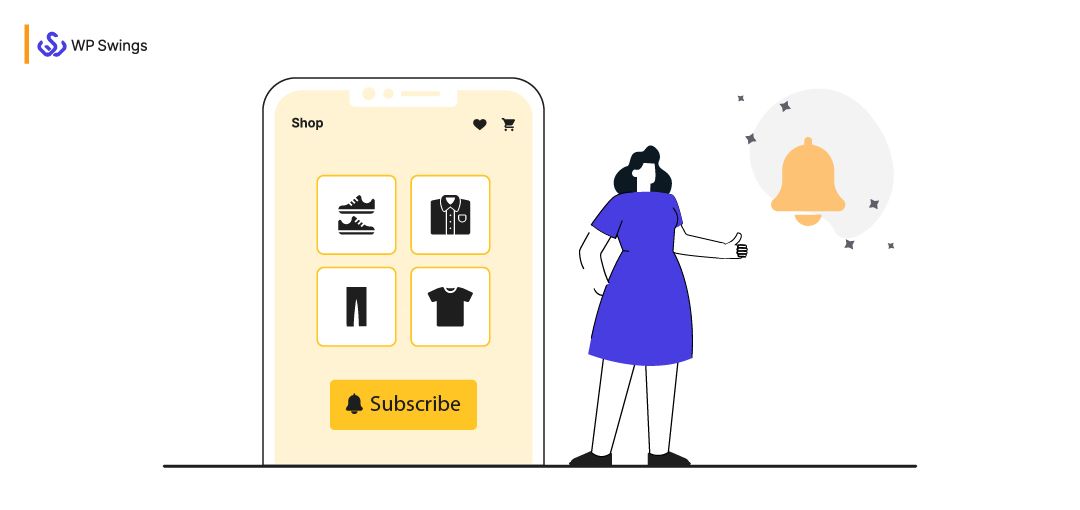 Sell subscriptions online to engage leads, turn them into recurring customers, and stack your share of regular income. How satisfying, right? It sounds like a promising strategy to outsell your competitors
The subscription business model is a long-term strategy for building your user base and revenue. It takes time to cook.
However, implementing a subscription model on your website is faster. You can start creating subscription products and services in minutes, be it online courses, premium media, subscription boxes, gyms, or more.
Of course! There is a subscription plugin for it. (Like Always)
In this article, we will discuss how you can easily sell subscriptions online with the help of the Subscriptions for WooCommerce plugin.
Why Should You Sell WooCommerce Subscriptions?
Let's study how much growth the digital subscription business has attained over the years.
The global subscription e-commerce market size is expected to increase from $72.91 billion in 2021 to $120.04 billion in 2022 at a compound annual growth rate (CAGR) of 64.64%.
You can sell subscriptions online to monetize this growing market demand and start receiving predictable recurring revenue.
It doesn't need to be a physical product or service. In the first quarter of 2023, Netflix generated total revenue of nearly 8.16 billion U.S. dollars, up from about 7.9 billion in the corresponding quarter of 2022. It provides subscriptions for watching movies and web series. Spotify, Hotstar, and Amazon Prime are other such examples.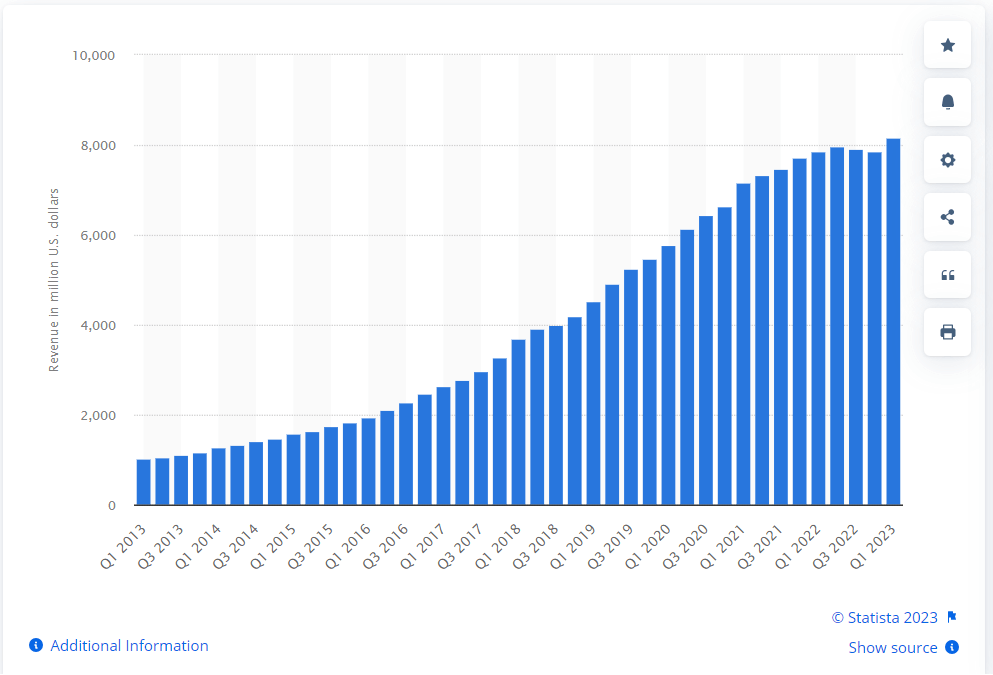 [Source: Statista]
On top of that, the US is the biggest consumer of digital subscriptions, amounting to 53% of the global total. Followed by Europe at 21% and China at 14%.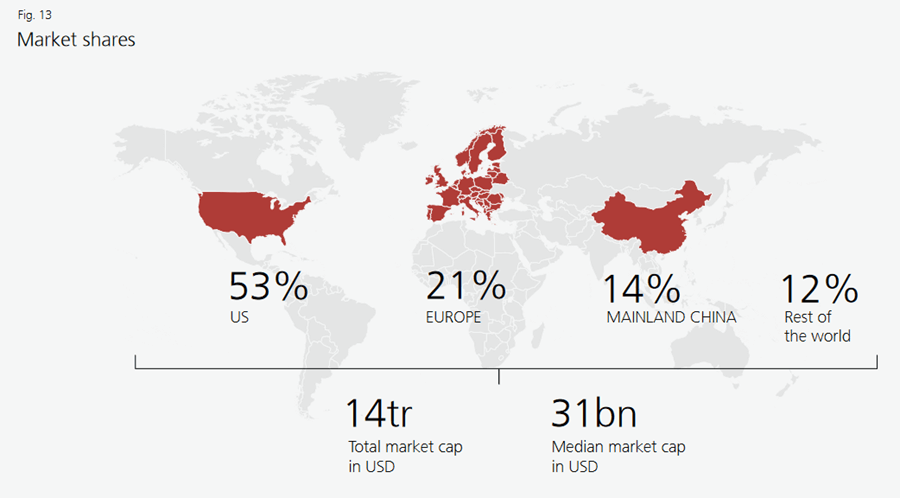 [Source: Sell Courses Online]
Hence, selling subscriptions online can be a smart strategy for you to maintain a consistent flow of income.
How To Sell WooCommerce Subscriptions on Your eCommerce Store
As I remarked earlier, you will need a WordPress / WooCommerce Subscription plugin. There are custom solutions available for it but they are time-consuming. And you don't have the luxury of time.
Subscriptions for WooCommerce Plugin
It lets WooCommerce store owners create and sell subscriptions for products & services.
To start selling subscriptions, all you need to do is install this subscription plugin. This is a free extension designed to render cutting-edge functionalities for creating the best website to sell subscriptions.
Amazing Features of the Free Subscriptions for WooCommerce Plugin
Subscriptions for WooCommerce plugin give you the ability to start selling simple subscription-based products and services free of cost.
The revenue collection of recurring payments is made more accessible through Stripe payment integration.
Build trust among leads by offering free trials with Subscriptions for WooCommerce Plugin. Turn them into loyal customers with your quality services.
Regulate the frequency of the free trials while selling subscriptions for WooCommerce products. In this way, you can escape being exploited for the unlimited use of your free service or product. Offer unlimited subscriptions as well.
Implementing initial fees on subscription-based products is a primary requirement. But, with Subscriptions for WooCommerce, you can add the initial costs for your WooCommerce subscription plans.
The cancel WooCommerce subscriptions facility is for both the admin and the user.
Subscriptions for WooCommerce plugin are integrated with the WooCommerce PayPal Payment Gateway.
Sell subscriptions for any product type. For example, if you are a SaaS business, you can effortlessly sell digital subscriptions.
Above all, the Subscriptions for WooCommerce plugin helps you in the complete subscription management of your store.
Start Selling Subscription-based Products on Your WooCommerce Store in Four Easy Steps
You can sell subscriptions online in four easy steps:
Install & Enable Subscriptions on Your WooCommerce Store
Assign Subscriptions to Single Product
Product Subscriptions Settings
Step 1: Install and Enable Subscriptions
After installing and activating Subscriptions for WooCommerce plugin, you need to enable subscriptions. So that you can sell subscriptions online for physical products or virtual ones. The steps are:
Begin by going to Plugins > Installed Plugins > Subscriptions for WooCommerce > General Settings.
Then you can enable WooCommerce subscriptions by ticking on the check box 'Enable/Disable Subscription.'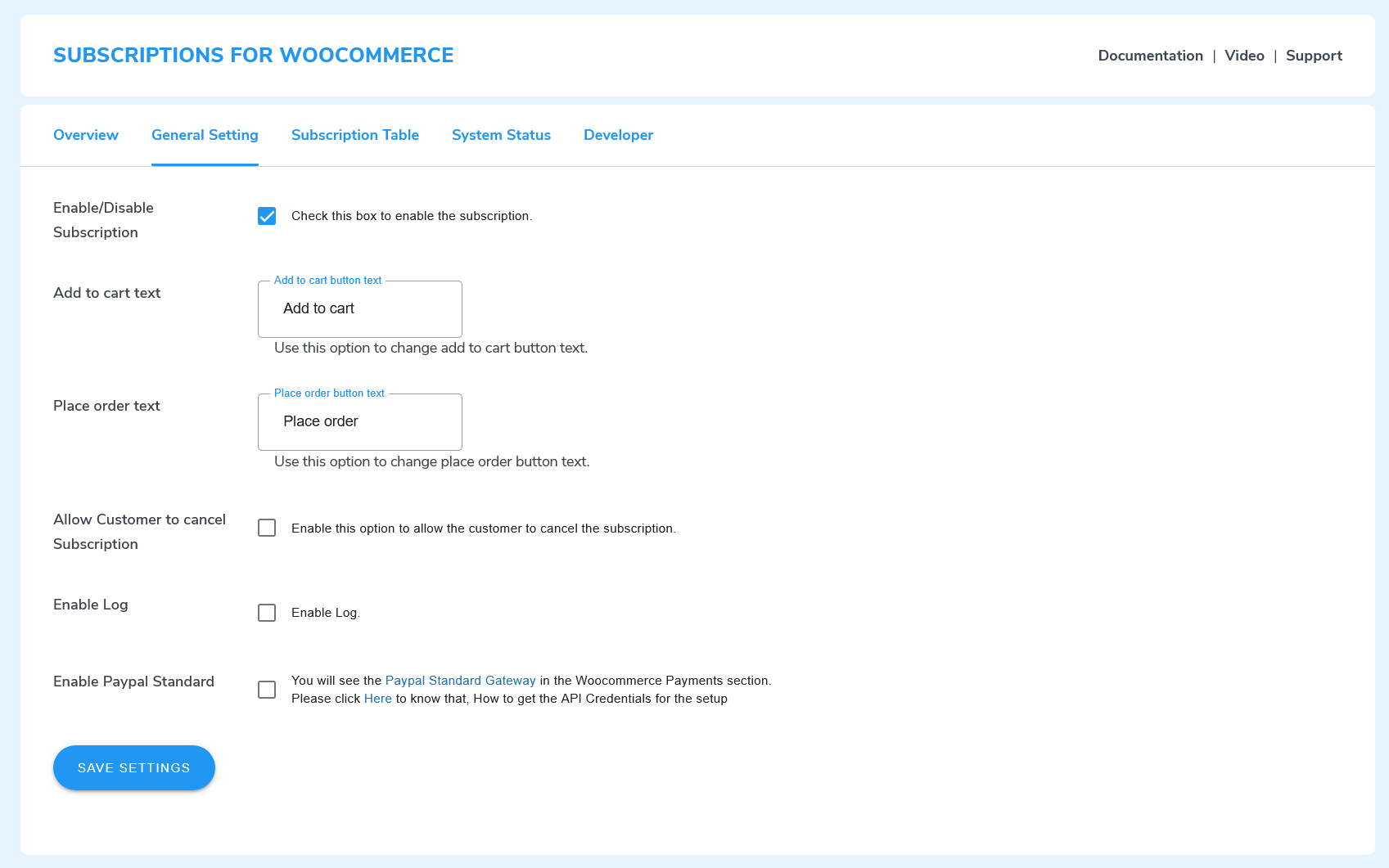 Don't forget to click 'save settings.' Then, the subscriptions will be enabled on simple products.
If you decide you don't want subscriptions on your website anymore, you can disable WooCommerce subscriptions by unchecking the checkbox.
Step 2: Assign Subscription To Simple Products
Once you install the plugin successfully, you can sell WooCommerce subscriptions for simple products with a single click. But before that, you need to assign subscriptions to simple products.
From your dashboard, go to Products > All Products.
Next, choose the services or products you want to make available as a subscription product.
On the product data of a simple product, a subscriptions checkbox will appear. You can tick the subscription check box.

The service or product will be displayed as subscription-based on the frontend now.
Step 3: WooCommerce Product Subscriptions Settings
The subscription settings for the products will be displayed when the subscriptions have been assigned to the products.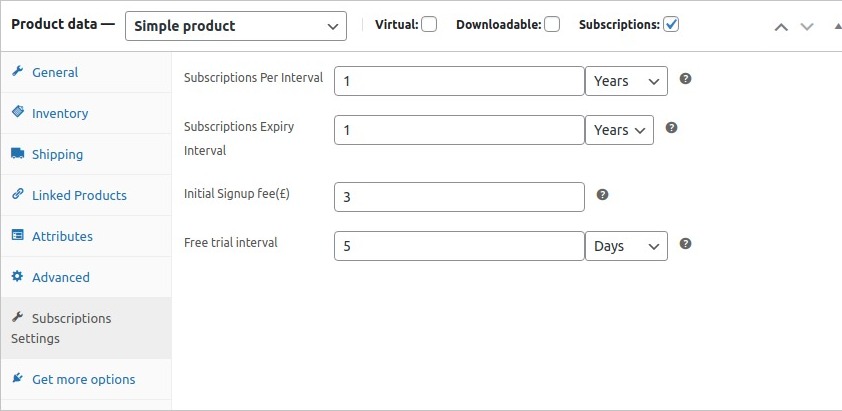 You can continue to configure subscription settings in this chronology only. In the subscriptions settings, you will get the following set of fields:
Subscription Per Interval
This field is for recurring payment intervals. In other words, you can decide when you want to collect your recurring payment for selling subscription-based products or services. Subscription per interval also sets your billing schedule. If you wish to sell monthly subscriptions with WooCommerce, you can set it to a month. However, you will have options of days, weeks, and years. Recurring payments will come to you after the subscription per interval.
Subscription Expiry Interval
Subscription Expiry Interval decides how long the subscription needs to be continued for a subscription-based product or service. As per the requirements of the customer, you can determine the subscription expiry interval at once. After this subscription expiry interval, the subscription will terminate automatically. So, feed the number of weeks, months, or years you want to continue the subscription.
Initial Fees For Subscriptions
It is the sign-up fee for subscriptions that adds to the first recurring payment. It is only taken once as a signing-up fee. So, mention the amount you want to charge for selling monthly subscriptions with WooCommerce. The front end will show the initial fee for a subscription-based product or service afterward.
As the name suggests, the free trial is for giving users a sample of your offer and eventually selling a subscription service to them. It is up to you to set the free trial interval frequency. For instance, you can give a trial for a week or a few days. Such free tests are helpful for various subscription business models.
WooCommerce Subscriptions Details
Well, as far as subscription settings are concerned, you are pretty much ready to roll out your subscription-based products and services on the WooCommerce store. But, here are a few general settings provided in the free Subscriptions for WooCommerce plugin. You can:
Edit the 'Add To Cart' text and 'Place Order' text replacing it with your desired text.

Enable the functionality to cancel subscriptions anytime. Customers and admins both can cancel WooCommerce subscriptions whenever they want.

Get complete details of all the subscription plans in the Subscriptions Table tab.
Also, we provide Subscriptions for WooCommerce Pro plugin which possesses extraordinary features. This plugin will make it much easier for you to sell WooCommerce subscriptions on your store.
Are You Looking for a Subscriptions Plugin To Give a Try on Your Online Store?
Our plugin helps to provide hassle-free subscription services. Avail recurring payments and a consistent flow of income.
Integrated With WooCommerce PayPal Payment Gateway
With the Subscription for WooCommerce plugin, customers will not need to install the WooCommerce PayPal payment Gateway plugin separately. The plugin is successfully integrated with it.
The first-time user will be able to see wps-paypal in the multistep form.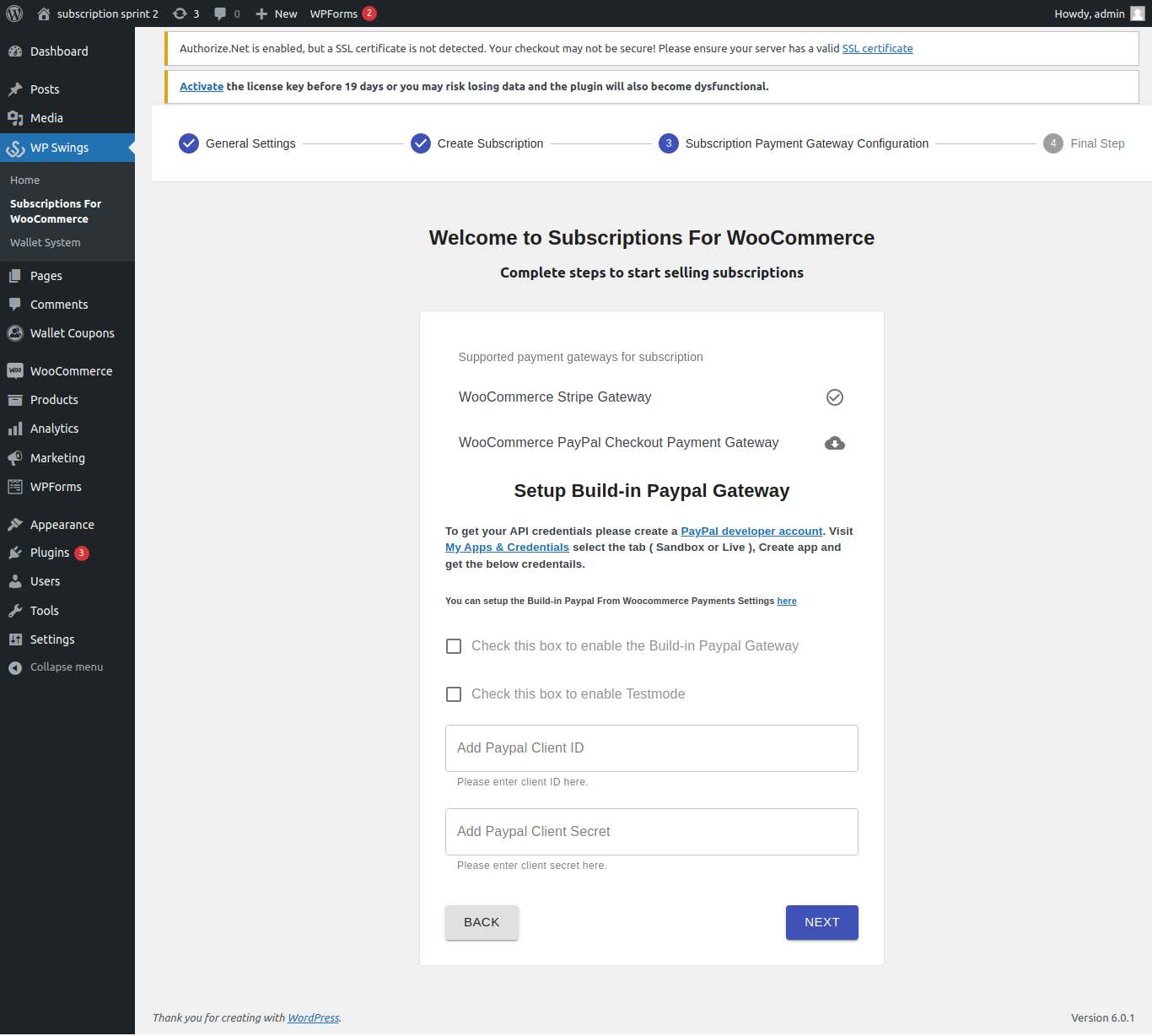 Whereas, old users will have to fill in the Client ID as well as Secret ID in the payment section of WooCommerce.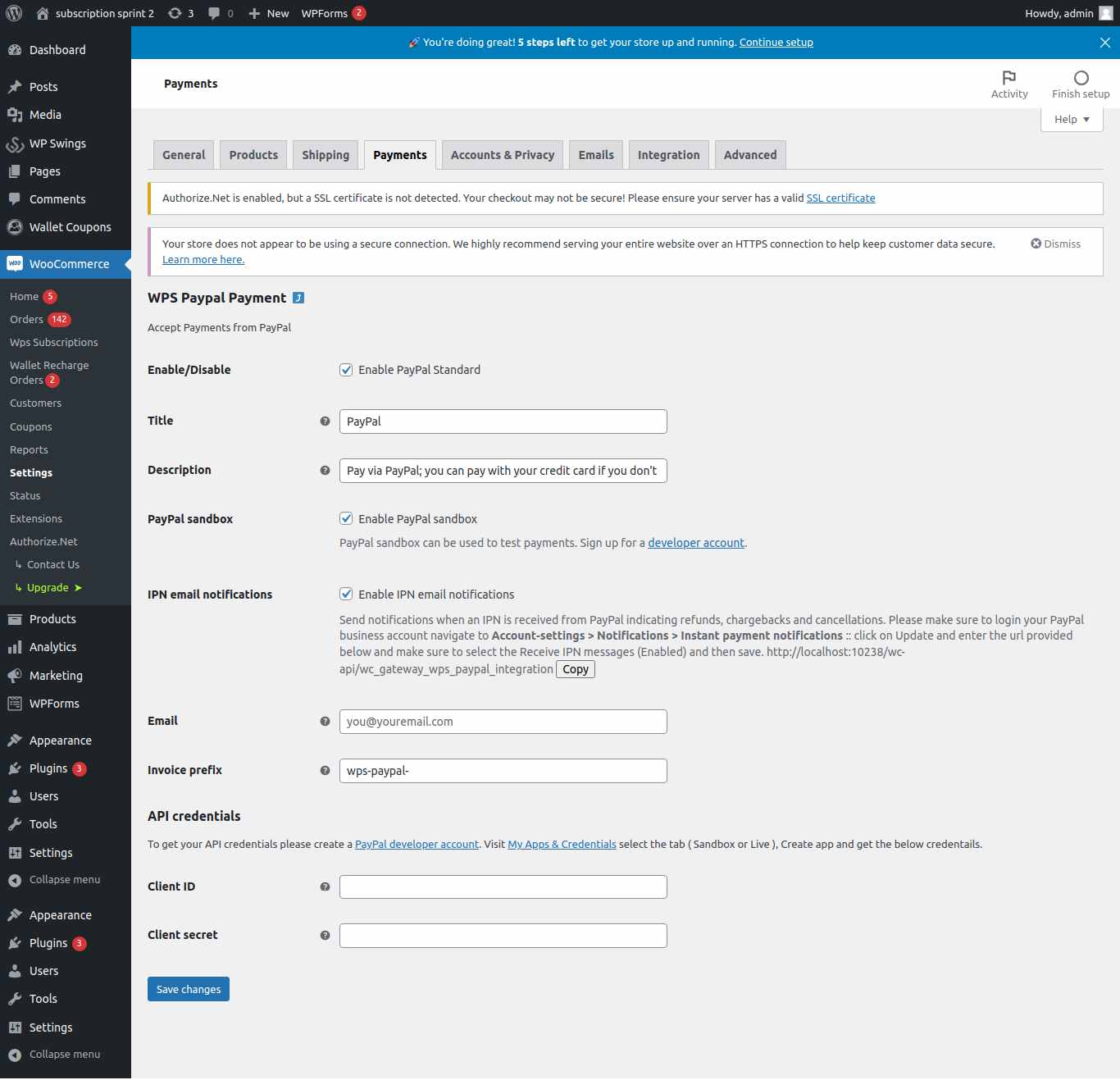 Offer Subscription-based Products & Services With Our Subscriptions for WooCommerce Pro Plugin!
Try Our Subscriptions Plugin.
Benefits of Selling WooCommerce Subscriptions on Your eCommerce Store
Sell subscriptions on your WooCommerce store to avail of the following benefits:
1. Secures Brand Loyalty and Customer Retention
If the customer is delighted with your WooCommerce subscription products or services, they are more likely to be loyal to your brand. A subscription website assures mutual benefit to both customers and merchants:
| Benefits | Consumers | Store Owners |
| --- | --- | --- |
| Savings | eCommerce store owners usually sell WooCommerce subscriptions at a discounted price. Also, there are special bonuses, reward points, perks, etc. | When they sell WooCommerce subscriptions, consumers are more likely to buy products at a discounted price than single WooCommerce products at different prices. |
| Convenience | Subscriptions save consumers time and money. Recurring payments are more convenient than daily expenses. | Automated recurring WooCommerce payments for the store owners make revenue collection a breeze. |
| Renewal | Regularly replenished services need renewal. So, renewal works for the users requirements. | Renewal of service or product ensures revenue security for store owners. |
2. Improves Cash Flow, New Revenue Stream, and Recurring Payments
Subscriptions are likely created for items or services that are in regular demand and need replenishment after a certain period. For example, a WooCommerce subscription box with required kids' protein powder, vitamins, and essential oils at a discounted price for signing up for three months is more likely to be bought by the users than offering them separately.
So, creating a WooCommerce subscription store adds recurring payments for repeated orders and maintains the cash flow for your business.
3. Reduces Customer Churn Rate
The churn rate is the percentage of subscribers lost in a particular period or in the rate of recurring payments.

In simple terms, while selling subscription services you need to provide the optimal quality and get the users hooked to your store.
So, value coupled with quality and garnished with discounts prevent unsubscriptions and increase retention rates.
4. Make the Most of the Holiday Season With Subscription Gifts
Subscription services can be used to get giftable items for the holiday season. Instead of going through the effort of traditional gift giving, people prefer services or products that they can easily present to their loved ones granted it offers value to the giftee.
Some of the most popular subscription services that people buy during the holiday season include streaming services subscriptions, food & beverage packages, gift boxes, beauty, and personal care, and more.
Festive deals and offers running on special days like US Independence Day, Easter, Christmas, Halloween, etc., bring good business to WooCommerce subscription websites.
Examples of Websites That Sell WooCommerce Subscriptions
With the growing popularity of subscription business models, it is becoming a trend to sell subscriptions for WooCommerce websites. There are existing eCommerce stores that are selling subscriptions ideally.
Below are a few examples of websites that sell subscriptions boxes and packages for physical products and get recurring payments:
FabFitFun sells subscriptions for physical products related to beauty, wellness, fitness, and fashion.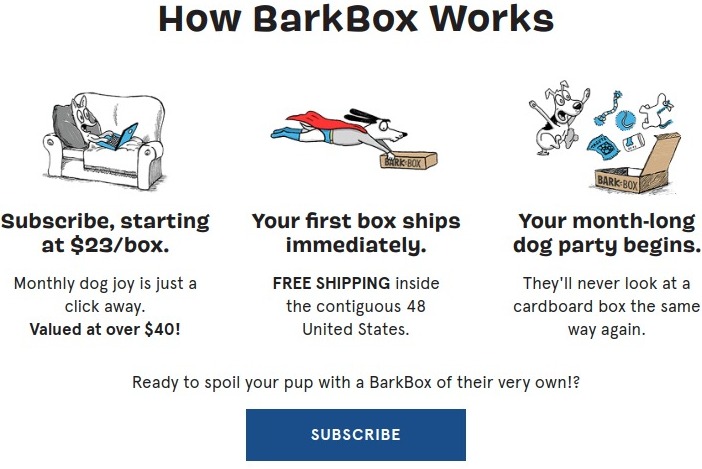 JUSTFAB is a traditional eCommerce store selling footwear that is upgraded with subscriptions.

Dollar Shave Club is one of the most popular subscription services out there. It is known for having affordable shaving kits with top-of-the-class unboxing experience.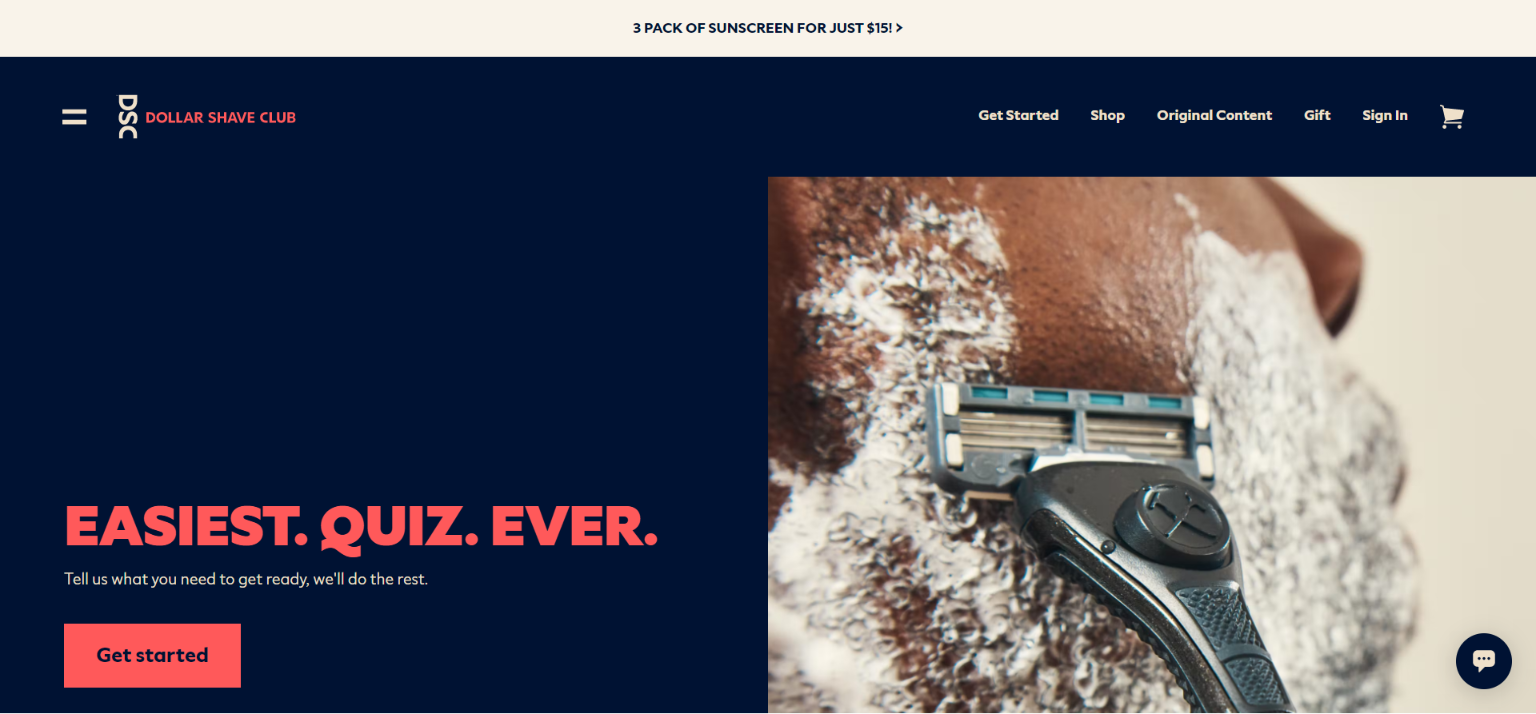 Did you notice that these are not OTT platforms? Instead, they are just like other regular eCommerce platforms refurbished to sell subscription boxes and packages.
Similar to them, you can revamp your WooCommerce store to generate recurring revenue. Let us dive into how you can do it.
Other Plugins Useful for Store Owners Providing Subscriptions
Wallet System for WooCommerce 
The WooCommerce wallet creates a digital wallet system that all customers can use to pay for products and services, including WooCommerce subscription services. 
In this compatibility, you can let users pay for their recurring services and products using their wallet balance. They can buy subscriptions using the Wallet amount as a discount or partial payment method but not as a payment gateway.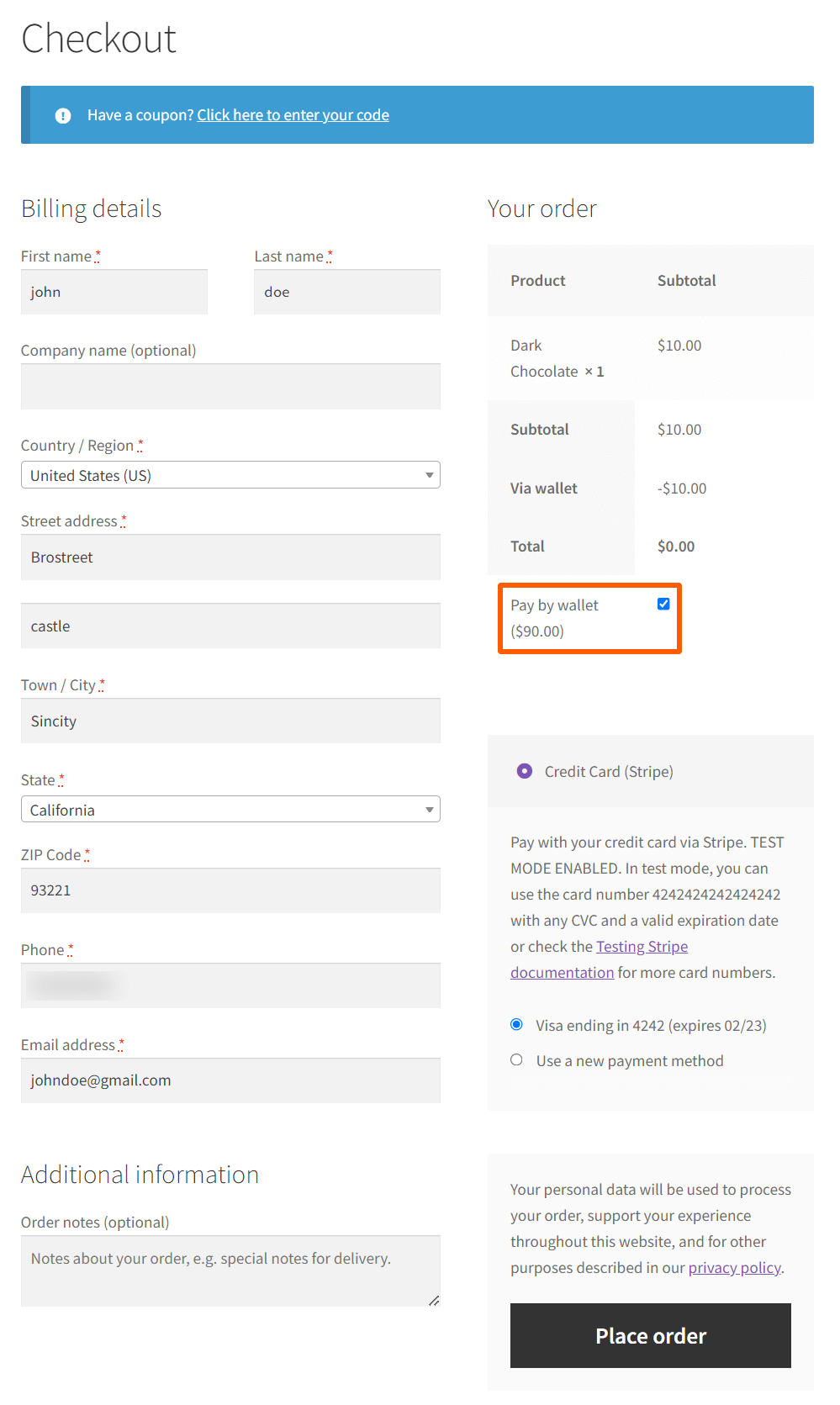 Both Wallet System for WooCommerce Free and Wallet System for WooCommerce Pro are compatible with the WooCommerce subscription plugin. 
Membership for WooCommerce Pro
Membership for WooCommerce Pro plugin enables store owners to sell and manage membership plans. It enables admins to provide attractive offers to special members. In this manner, store owners can use this plugin for creating an effective WooCommerce membership site and collecting recurring revenue.

Also, store owners can easily offer multiple plans in one membership. They can send emails to customers for membership plan actions. They can add categories, tags, and sections that are selected for WooCommerce members only.
Features
Send membership plan actions associated with emails
Provide multiple membership plans into a single plan
Customers will be able to cancel their membership anytime according to their choice
Admins can send emails to customers informing membership plan expiry, completion, and cancelation
Choose the Best Business Model for Getting Recurring Revenue
Get a clear understanding of the difference between subscription and membership business models.
Final Words
Selling WooCommerce subscriptions are a superb way to stay in the loop of payments and purchases. And it greatly helps in the speedup of eCommerce stores.
Subscriptions for WooCommerce plugin enhance the eCommerce functionality of your store to notch up its performance. With more cash in hand and predicted revenue, you won't need to spend more on new customer acquisitions.
So, what are you waiting for?
Just install the plugin and sell WooCommerce subscriptions on your store without facing any difficulty.