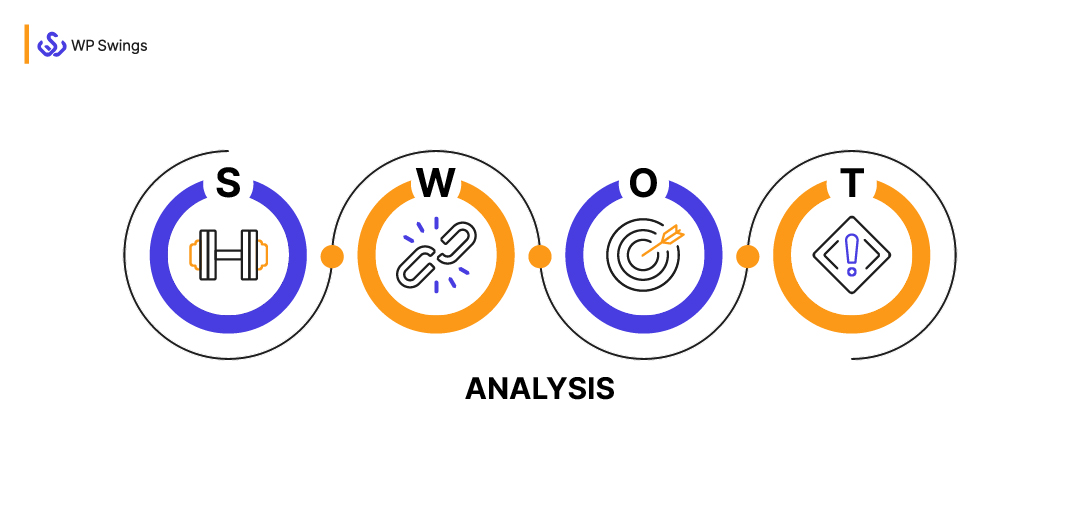 "Marketing SWOT analysis is cool, but strategic thinkers know that there is a point which:- Strengths become weaknesses- Weaknesses become strengths- Opportunities become threats- Threats become opportunities… Strategic entrepreneurs and marketers find the greatest insights hiding behind SWOT".
So, analysis is extremely essential for a marketer to spotlight the various aspects that affect business growth. The best way to depict where your business is standing among thousands of competitors is to conduct a marketing SWOT analysis.
SWOT Analysis is a model invented in the late 1960s by a management Consultant named Albert Humphrey at the Stanford Research Institute. 500 Leading companies adopted the concept for long-term strategy build-up and planning at that time, and as a result, today, almost all companies—established or startups—prefer conducting a SWOT analysis.
However, they aren't aware of the complete details and the versatility that the SWOT model offers.
SWOT is an acronym that identifies Strengths (S), Weaknesses (W), Opportunities (O), and Threats (T) for every growing organization. In other words, marketing SWOT is a comprehensive strategy that collects information about both internal and external factors which may affect your business.
To summarize, strengths and weaknesses are internal factors while opportunities and threats are external factors.
"Execute your future business plans by striking the right opportunity at the right time, keeping aside all the weaknesses and threats and making the best use of your strengths in an appropriate manner"
In this blog post, I will be highlighting some interesting insights related to marketing SWOT. As a result, you can use this as a guide to performing analysis for your business.
If you wish to conduct a SWOT analysis for your company too, then please take a look –
What Is Marketing SWOT Analysis?
As I shared above, marketing SWOT analysis is one of the most popular tools used by companies to assess their strengths, weaknesses, opportunities, and potential threats. In short, it gives you deep insight into your competitive opportunities and potential threats.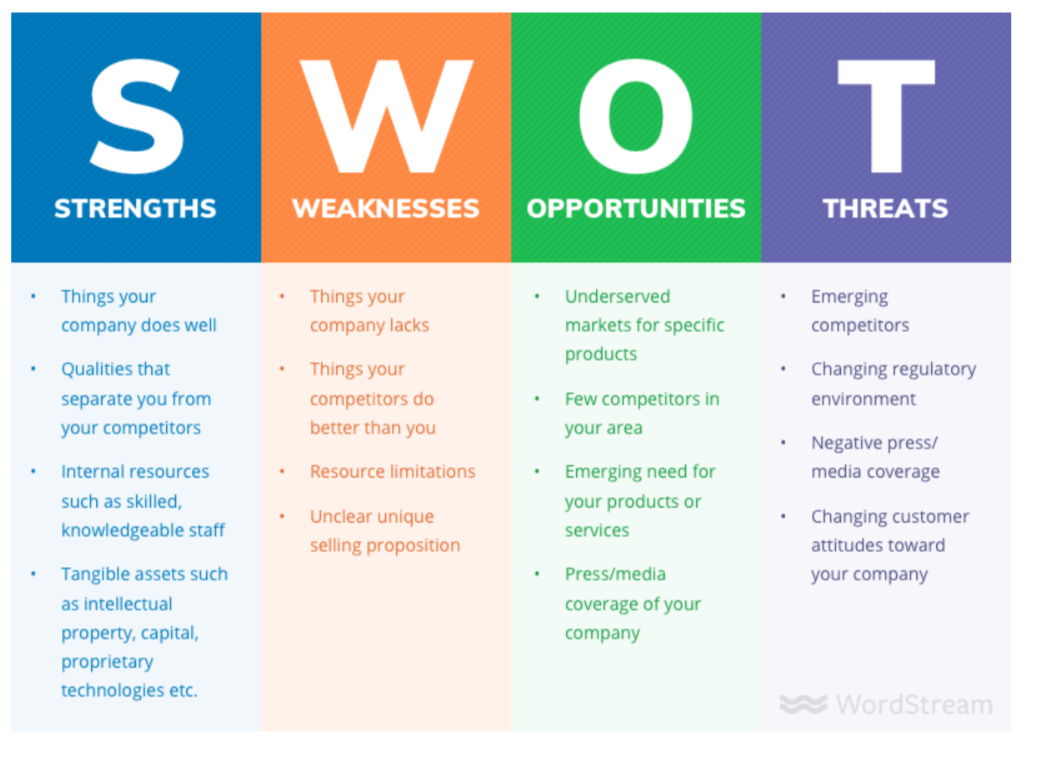 On the basis of this analysis, you can easily define your business goals and plan your marketing strategies and policies. Also, with insights from marketing SWOT, you can visualize all the factors that can make or break your success towards your business goals.
You should implement SWOT analysis in your company whenever-
Starting any new business venture or launching a new product/service
Witness a rapid increase in competition
Your business is achieving its objectives but not within a time frame
There is a need to examine the performance of existing strategies
Any new strategic plan is formulated
Thus, you can see that it is an effective and profitable analysis that will always give you long-term results whenever it is used.
History of SWOT Analysis
In the literature, the origins of SWOT Analysis are obscured. This fills that gap and contextualizes the early stages of its development. The Corporate Development Planning Department of Lockheed is where the empirical foundation for SWOT first began. In 1962, Robert Franklin Stewart, one of its previously unidentified founders, was appointed group leader of the Stanford Research Institute's Theory and Practice of Planning division.
In a paper that was utilized by many sizable organizations around the world, Stewart presented the so-called SOFT Approach in 1965. He provided a logical process (the so-called chain of reasoning) for formulating business goals in it. Staff planners must first gather the values of the stakeholders.
When it comes to each of his own activities, "each manager considers" What needs to be done to protect the current operations' level of satisfaction, to "open the door to opportunities," to "repair the cause of faults," and to "avert the hazards to future operations."
The declarations of company purpose that senior management uses to provide guidance then incorporate these value judgments. The acronym SOFT changed to SWOT (Strengths, Weaknesses, Opportunities, and Threats) in 1967. (SWOT Analysis). We no longer recall Stewart's participatory aim-setting concepts, albeit they would be compatible with those advanced by the Opening Strategy movement.
Understanding The SWOT Matrix For Effective Marketing Growth
So before we learn to apply the SWOT model to our marketing blueprint, let us understand the components of the marketing SWOT matrix.
The matrix is made up of four quadrants, which are obviously – Strengths, Weaknesses, Opportunities, and Threats.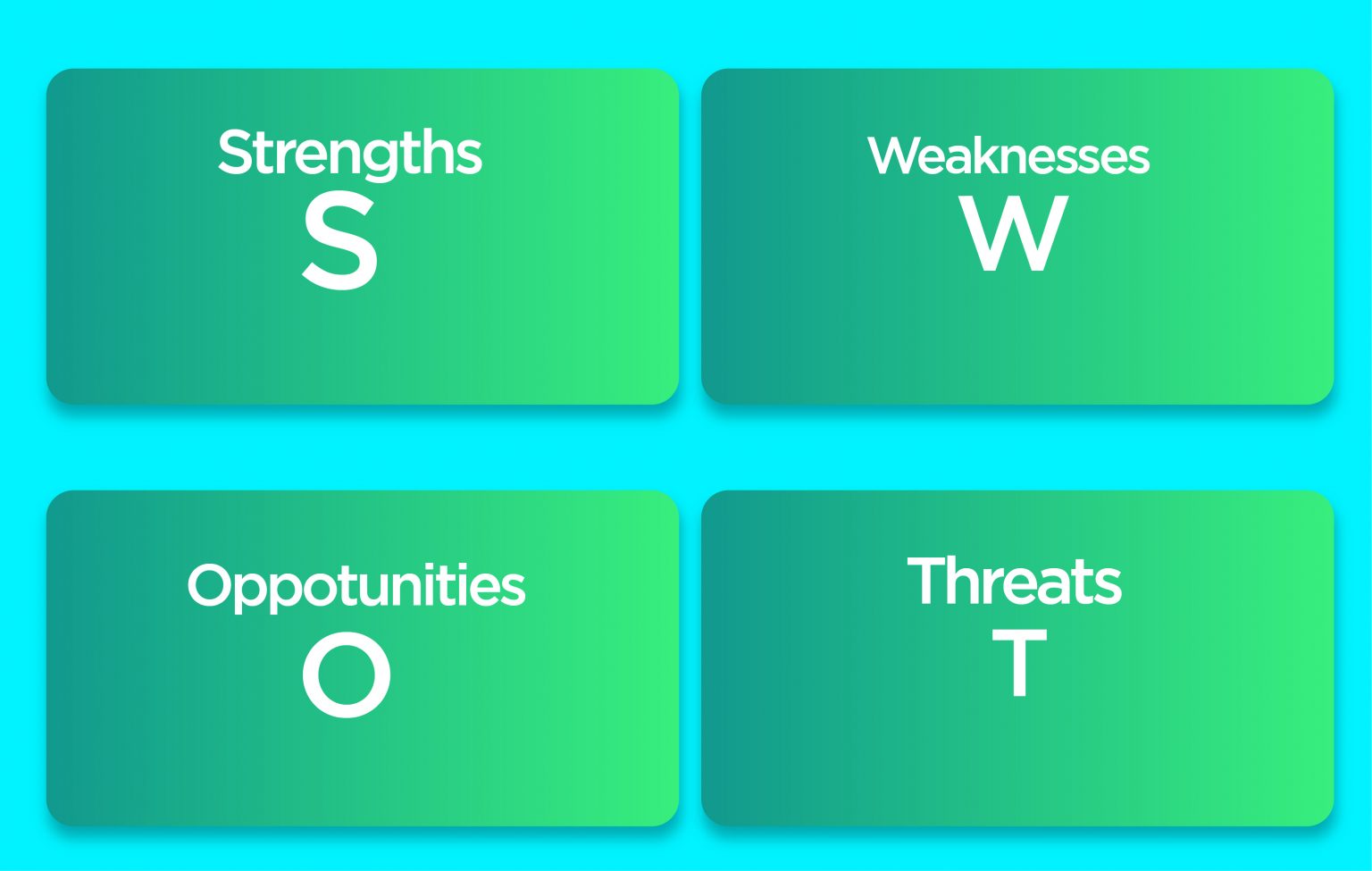 Let's take a clear view of each quadrant:
1. Identify Your Marketing Strengths (S)
The first quadrant is all about the things that your business is already doing well. It could be both tangible (resources, manpower, or machinery) and intangible (a brand's attributes, a unique selling proposition, or your audience).
That is to say, it includes all the aspects that build the strength of your marketing strategy, like:
Firstly, it comprises all the positive marketing attributes of your company.
Secondly, your unique products and services develop your brand identity.
Also, components like customer base, knowledge, technology, intellectual property, and patents.
Your customer loyalty programs and efficient customer service.
Pricing policy and a well-educated hardworking sales team.
Your leadership and management skills
Core competencies play a vital role in maintaining your market position.
To know your marketing strengths, ask yourself the following questions:
What are the advantages at your disposal to make your goals a reality?
What tools are available to you for reaching your marketing goals?
How to leverage your existing audience in reaching your goal?
2. Evaluate Your Marketing Weaknesses (W).
The weakness quadrant is critical self-awareness. There are always factors that tend to hold back your progress toward your goals. A brand's weakness can be, for example:
Internal factors that limit your business growth.
Resources your competitors have but you don't.
It can also include financial discrepancies and a lack of technical expertise.
Change in the business environment and government policies.
Increasing the balance of return inwards in your books of accounts.
Poor communication among team members.
Increase in absenteeism, labor turnover, strikes, and layoffs.
Increase in customer complaints and negative reviews.
If your business is dealing with problems like stagnant sales or unsatisfied customers, it is alarming to ask yourself the following questions:
What are your competitors doing differently from your business?
What are the latest trends that you're missing?
Are you facing resource limitations?
These are very few questions that will let you know where you're lacking and what needs to be fixed.
3. Capture New Marketing Opportunities(O)
Opportunities are your tickets for something positive to happen. But you've got to claim it for yourself before anyone else does.
So opportunities usually arise from situations that are created outside of your business turf. Situations like climatic conditions, pandemic outbreaks, and festive seasons all affect buying behavior and can be used for marketing growth.
Here are a few ways to find opportunities for the marketing SWOT analysis:
Opportunities comprise uncontrollable factors that belong to the external environment.
Seek the right opportunities at the right time, and execute them in the right manner.
Track new market trends and the latest customer preferences.
Strategize your marketing policies for special day sales and the festive season.
Analyze new technologies and promotional channels.
Look for new alliances and more profitable clients for your business.
Focus on employee retention by leveraging new training opportunities.
Promote cross-selling and up-selling of products and services.
Target those areas where your customer base hasn't yet been established.
Here are some questions you must ask yourself if you're on an opportunity hunt:
Is there any underserved market or audience related to your niche?
Is there anything that your competitors are missing?
What new trends are emerging in my industry?
4. Resolve Potential Threats (T)
The last quadrant of the SWOT analysis for marketing growth is threats. Everything that is a risk to your marketing growth is a threat and needs to be resolved.
So what can fall under threat when we talk about marketing growth? Here's the list:
This includes uncontrollable external dimensions which may pose a danger to the existence of your company.
It can include an indispensable increase in prices by your suppliers.
Increasing government regulations and liberalization policies.
Adverse economic conditions might lower sales revenues.
Threats of new substitutes and new rivalries.
Increase in the bargaining power of customers and suppliers.
Any issues related to labor laws and trade unions.
You can ask yourself the following questions to find out some potential risks:
Are there any emerging competitors?
Is there a change in the customers' attitude towards your product or brand?
Thus, by following a complete SWOT analysis, you will be able to prepare the blueprint of your marketing strategy more precisely and efficiently.
Examples of SWOT Analysis for Marketing Growth
So now we know every element of the SWOT analysis for marketing growth. But for the sake of better understanding, let's see some examples.
SWOT Analysis of WP Swings
WP Swings is our new brand, exclusively for our WordPress and WooCommerce audiences.
WP Swings Provide Solutions to Streamline the Functionality of Websites…
Want to know more about WordPress and WooCommerce?
It was a big decision for our co-founders to create a sister brand and leave our already existing and flourishing brand MakeWebBetter, but we took this step after doing a thorough SWOT analysis.
We thought of our business model, and our team decided to take some quick actions. Therefore, we planned to hold a team meeting and use the good old marketing SWOT model to paint a new strategy.
Let me share with you our marketing SWOT analysis infographic format: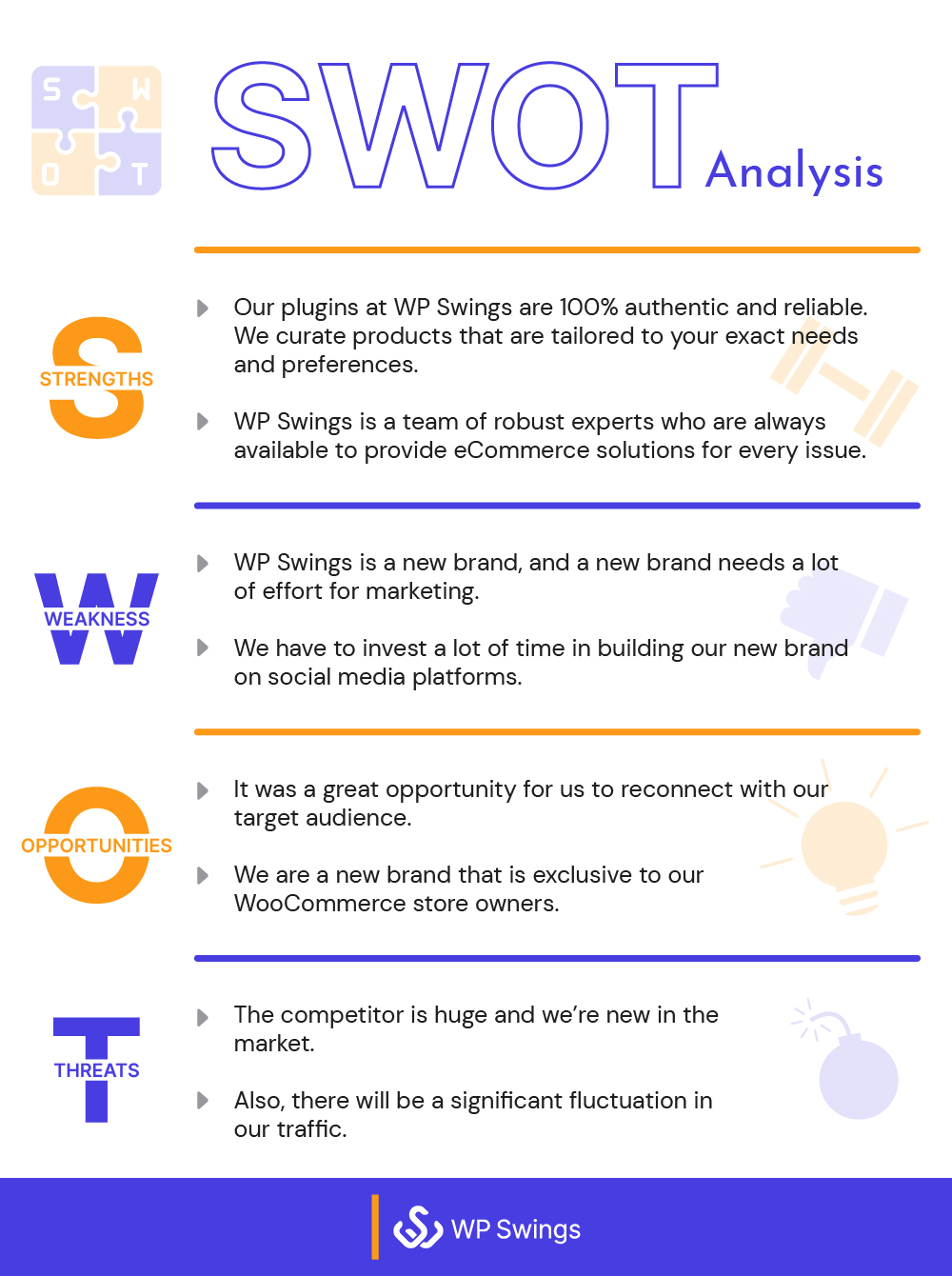 After we were done with the SWOT analysis, we decided to channel our marketing resources into fighting our biggest threats. Our goal was to increase our reach by making more and more people aware of WP Swings.
We also optimized our marketing strategy to retain maximum customers and focused on generating some traffic on our web pages. With the help of a marketing SWOT analysis, we were able to visualize what resources we already had and what needed to be optimized.
If You Are Still Confused About the Information Provided… Kindly Look Out for the Article Mentioned Below
Amazon SWOT Analysis
The first example was all about us and showed how we used the SWOT model for our own marketing growth. Now we've done the SWOT analysis for a very popular brand – Amazon.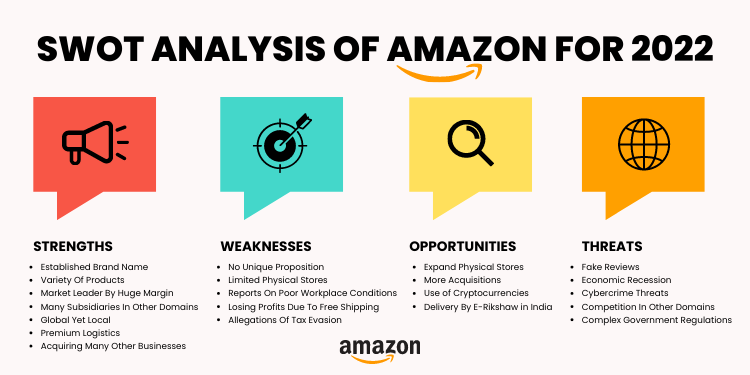 When it comes to hovering over the top SWOT analysis, Amazon is your answer. As you know, Amazon is the leading eCommerce giant as well as a leading cloud player. No doubt its growth since its inception has been outstanding. Let's have an overview of its strengths, weaknesses, opportunities, and threats.
What Are the Internal and External Factors of SWOT Analysis?
Opportunities and threats are usually regarded as external, while strengths and weaknesses are usually seen as internal. The concept of "strategic fit" describes how well a company's internal strengths align with its external prospects.
Depending on how they affect the goals of the organization, internal factors are considered as either strengths or disadvantages. What can be considered a strength for one purpose might be a drawback (distractions, competition) for another. Personnel, finances, production capabilities, and the four Ps of the marketing mix may be among the contributing elements.
The main important part of Internal External factors of SWOT analysis is Strategy Planning…
So, here is the whole concept of strategy planning…
The TOWS Matrix for External-Internal Analysis
Simply doing a SWOT analysis will not work for you to improve your business plan. You have to establish your strategies on the basis of the 4 quadrants of the TOWS Matrix. So, it is very important to establish a connection between them to take impactful actions.
TOWS Matrix Model is a variant of SWOT Analysis, developed by Heinz Weihrich, an American International Business Professor.
The TOWS Matrix Model aims to develop strategic options from External-Internal and internal analysis for maintaining the ideal business administration flow.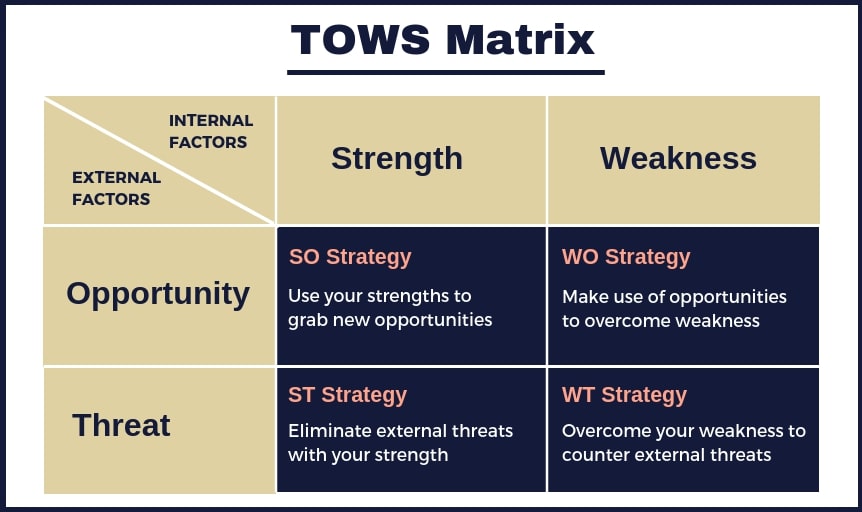 a) Strengths-Opportunities (SO Strategy)
Devise your marketing plans by making the best use of your strengths in order to capture the base of wide opportunities. This can be achieved by –
diversifying new market
launching trending products
reducing the cost of production.
So, list up those strengths which can be fully utilized in the given opportunity.
b) Weakness-Opportunities (WO Strategy)
This implies how you can make use of new opportunities to overcome your internal weaknesses.
For example – By identifying new market trends, you can easily enter those markets & generate much productive work for your employees.
Hence, this will help in reducing absenteeism and labor turnover.
c) Strengths-Threats (ST Strategy)
Utilize your strengths in such a way that you are able to overcome the possibility of external threats. For instance, many companies avoid the threat of rapid competition by opening different units of their company in different geo-locations.
Thus, it helps them to establish their brand identity at different locations.
d) Weakness-Threats (WT Strategy)
One of the best strategies to mitigate external threats is overcoming your weaknesses to tackle the challenges of external threats. You have to remove your internal weaknesses so that outside competitors may not take advantage of them.
Convert your underperforming units into high performing
Develop unique selling policies
Remove unethical policies
Focus on hiring skilled employees
Train your employees to do qualitative work rather than quantitative
5 Steps to Conduct Marketing SWOT Analysis: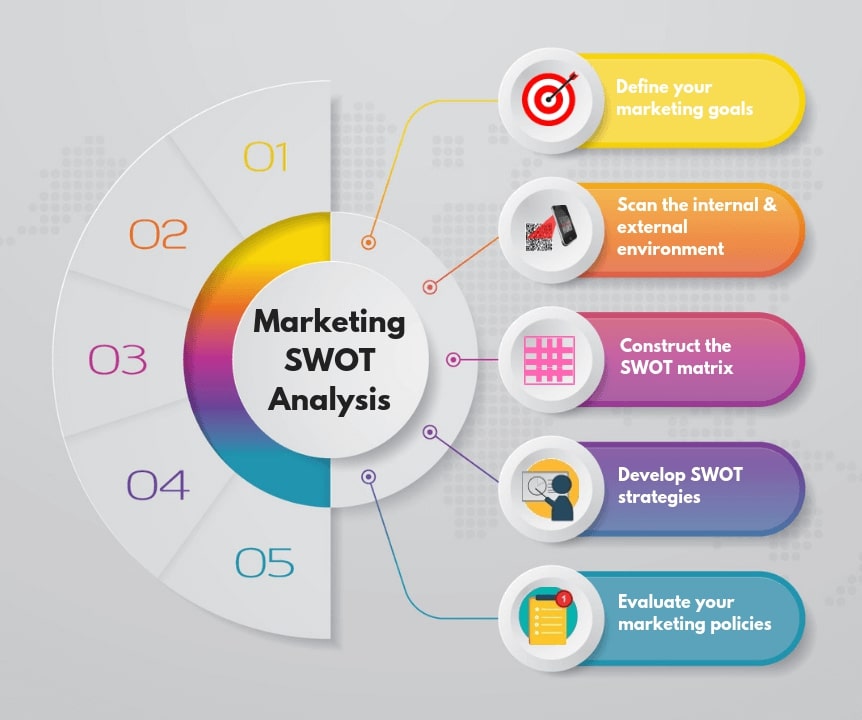 1# Define Your Marketing Goals
First of all, you are required to define your marketing goals. Decide which products and services require more marketing efforts. Inform your sales team about current sales targets. Make a complete audit of your prevailing promotional techniques and based on that decide on new objectives.
For example, many websites help in doing online marketing through SWOT & automate your task by providing tools like SWOT analysis templates, design templates, etc.
2# Scan the Internal and External Environment
Now after deciding your marketing goals, the most prominent step is to scan the external and internal environment. Look upon those factors which can influence your marketing policies.
Internal factors may include your company's policies, workforce, or coordination, and external factors related to government policies, legal factors, and economic conditions.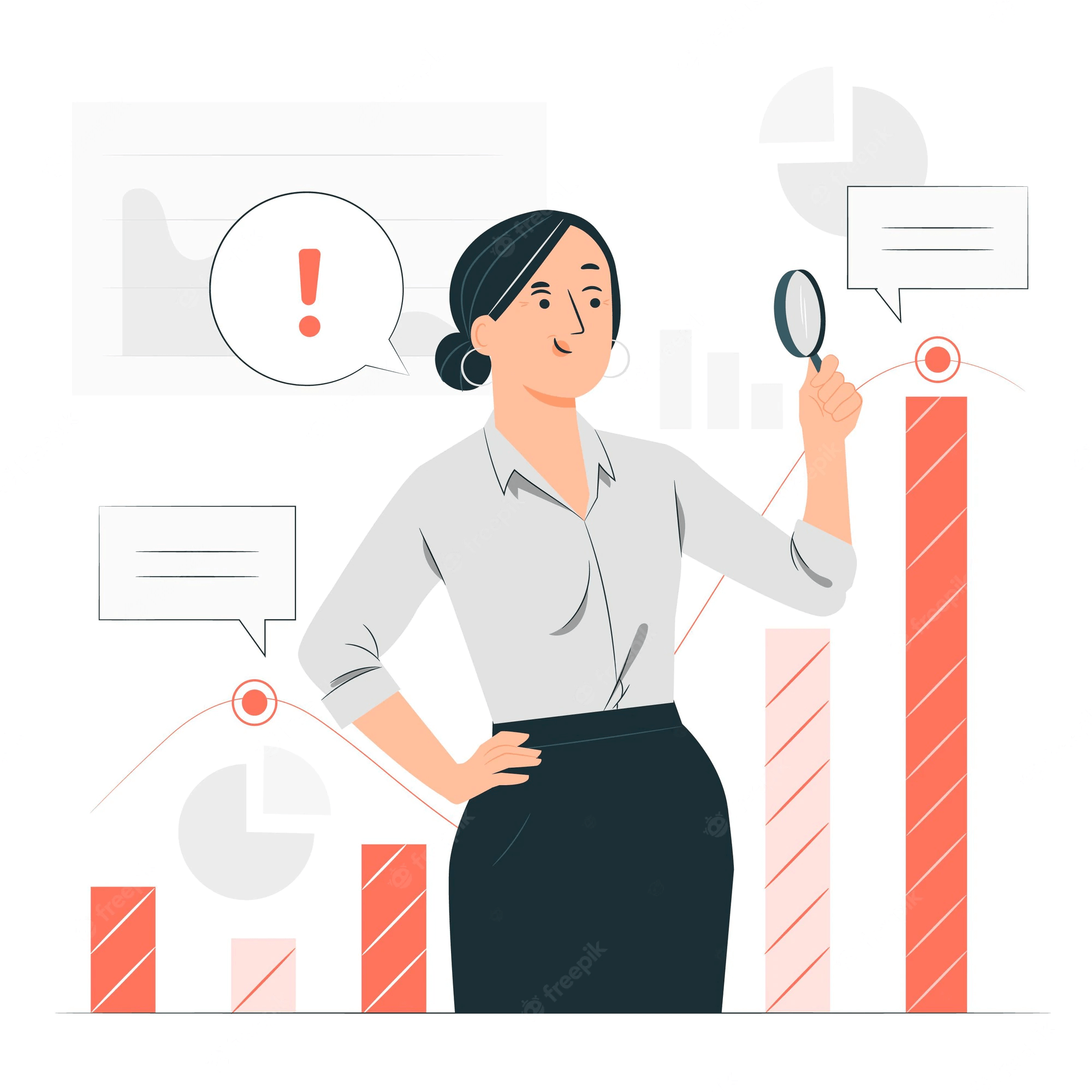 Therefore, on the basis of these factors, you can easily evaluate the current scenario of your company and make relevant decisions.
3# Construct the SWOT Matrix
Classify internal and external scanning of the environment. Explore the factors that you can consider as strengths and weaknesses on the internal level and opportunities and dangers on the external level.
After classification, make a complete proforma of a SWOT Matrix. It is a 4-quadrant matrix in which each quadrant is filled with different factors. With the help of this, you can easily identify both favorable as well as unfavorable factors affecting your business decisions.
4# Develop SWOT Strategies
Making the SWOT Matrix alone does not constitute the completion of your effort. Establish a combination of each quadrant to formulate specific strategies that may help you to draw up your marketing plan. Examine how you can make use of your strengths to overcome your weaknesses & threats.
These strategies will prevent you from any uncertain situations & accordingly prepare your contingency plans.
5# Evaluate Your Marketing Policies
Evaluate your marketing policies from time to time to depict whether they are working in the right direction or not. Consequently, it will help you to know where you are lacking in your strategies.
Analyze the progress of your marketing results from the previous year and the innovations you have included in your strategic planning, and keep updating your SWOT analysis as per the changing environment.
Wrapping Up!
So, now you know what this SWOT for marketing growth is about. The ultimate source of improving your marketing activities is to hold up your strengths and overcome weaknesses and external threats.
In order to reassure your business position in the market world, it is necessary to keep on updating yourself with new changes and opportunities. In conclusion, a SWOT analysis is one of the most straightforward and adaptable reports that highlight all objectives, milestones, and initiatives that should be communicated to managers as well as all other stakeholders.
So, analyze your marketing policies today and conduct your SWOT analysis to discover much better approaches.
Also, share your findings with us in the comment box below!!