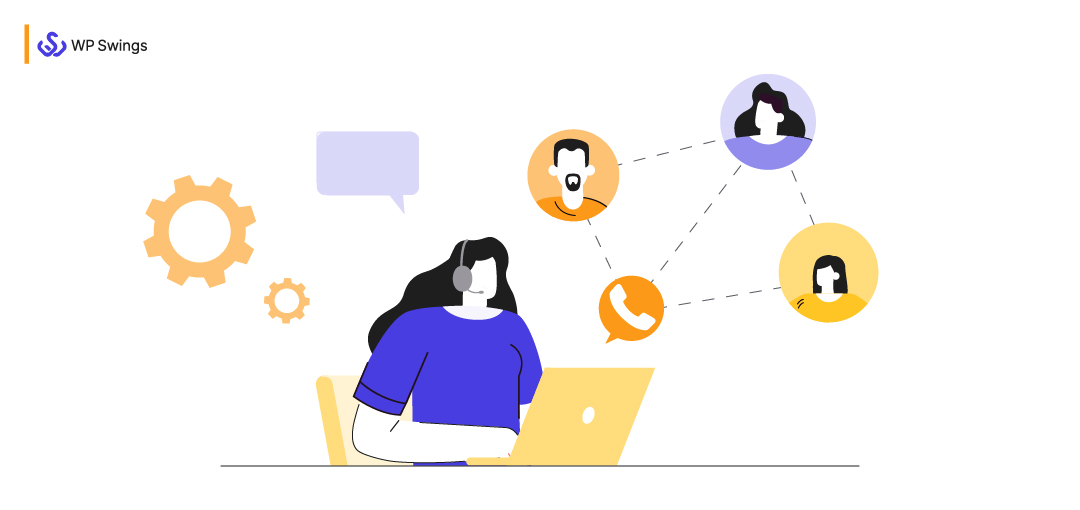 What exactly do Customers want from their Interactions with businesses in a world when there is so much poor Customer Service?
Visualize this: After an afternoon of shopping online, you finally click the dreadful "Complete My Order" button, only to regretfully discover that you accidentally ordered two of the same item. Who do you go to perform effectively without suffering?
Obviously, Customer Service.
Customer service is a crucial component of any eCommerce company. In fact, 90% of customers feel that having a positive customer service experience is strongly related to their sense of brand loyalty. The good news is that a strong customer service plan can assist you in both enhancing client satisfaction and your online business's overall performance.
Businesses strive to exceed and beyond to please their consumers on Get to Know Your Customers Day, which is observed annually on every 3rd Thursday of January, April, July, and October. Find Out More About Your Customers Day dates –

2022 July 21 Thursday
2022 October 20 Thursday
2023 January 19 Thursday
2023 April 20 Thursday
Many successful online stores are based on the backs of their customers. The reason for this is straightforward: new customer acquisition is more expensive than cultivating loyalty, much alone attracting or converting existing ones.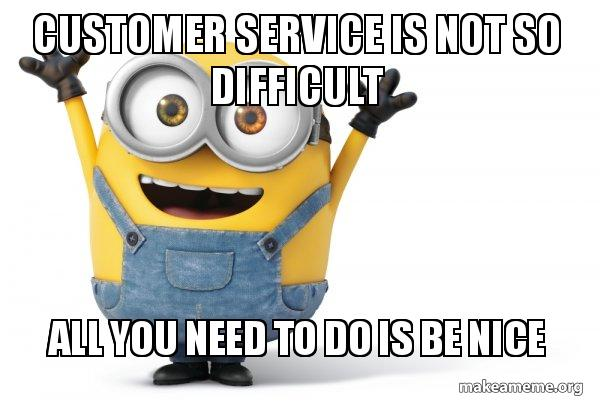 The keystone around which a company's customers' experiences revolve is its customer service. Negative brand engagements and awful social media mishaps can result from poor customer service encounters. A company's commercial development strategies should prioritize improving eCommerce customer service.
Quality is Remembered, long after the Price is Forgotten.
Customer service is a distinctive way that every brand interacts with its audience. The trick is to adjust how it views the objectives of its customer service staff. A distinctive customer experience that supports the brand's promise should be the aim.
Before we continue with the complicated details, let's jump on a few fundamental introductions first—
What Is eCommerce Customer Service and What Does It Entail?
eCommerce customer service is the process of assisting online customers with everything from better decision-making to problem-solving, all while fostering a smooth customer experience across several touchpoints.
Your customer care representatives need to be able to provide prompt help to online clients who have issues or need post-sale support. You can take care of the following areas with the use of eCommerce customer service—
Customer service issues include difficulties with the checkout procedure, the inability to add items to the cart, invalid coupons, etc.
Common inquiries about delivery, refunds, and returns of products
the necessity of providing a constant experience across various communication channels.
Are You Ready to Optimize Your Speed While Adding the Most Wanted Features In Your Online Store?
Checkout our top-rated WooCommerce extension WordPress plugins!
How Does Customer Service for eCommerce Differ From Brick-And-Mortar?
Consumer Experience includes all of the Contacts between your Brand and a Customer, whereas Customer Service is merely one aspect of the overall Customer Journey.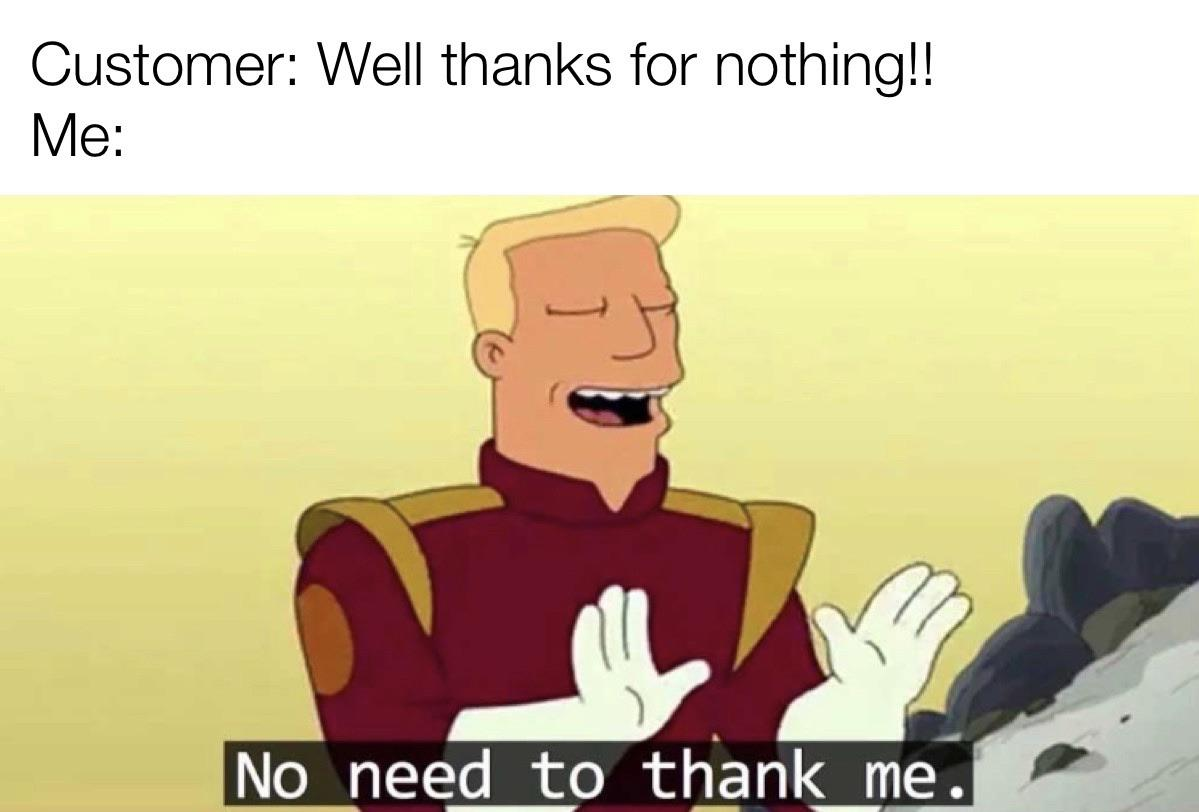 Additionally, they provide three other ways that customer experiences differ from customer service—
A. Level of Control
The customer service that your business offers is entirely under your control. Customer Service is also something you can influence, but because there are so many variables that affect how your customers view your brand, you have less control over it.
B. Metrics
Customer effort score (CES), Net Promoter Score (NPS), and customer satisfaction score (CSAT) all assist support staff in evaluating the effectiveness of their customer service. These metrics can also be used to measure customer service, however teams can also consider customer lifetime value (CLV), customer churn rate, and customer retention rate when assessing the overall customer experience.
C. Ownership
eCommerce Customer support managers and agents are primarily in charge of providing excellent customer service. While other team members may interact with consumers, the support team is responsible for providing the assistance that customers require (and doing it well).
Customer service is a shared organizational responsibility. Giving customers the best experience possible across all touchpoints is the responsibility of everyone working for the company, from the marketing team to the sales team to the product team.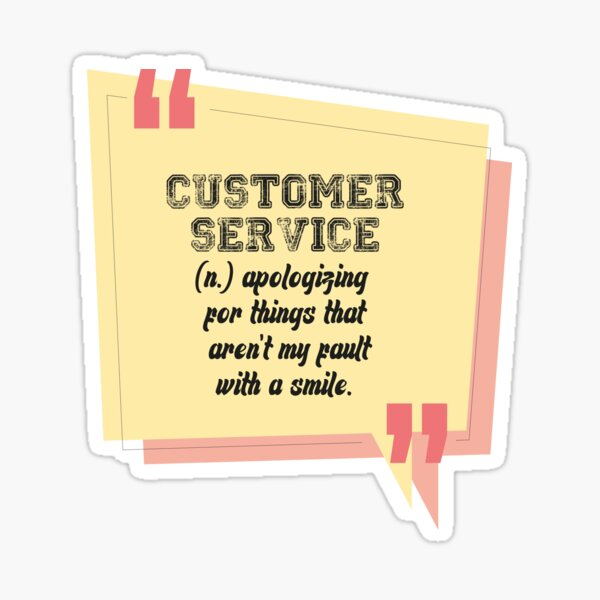 If you've read the post's title, you might be thinking that I should visit the doctor myself. And I understand. You probably don't want to give your customers the impression that they are at a doctor's office (particularly in the context of today's environment).
But I really believe that the doctor-patient connection serves as the best comparison for the type of consultative talks our staff should have with customers. So please bear with me. Your typical doctor's appointment probably goes something like this in your mind:
Step 1: Obtaining Information and Examining
A lot of questions are posed to you by your doctor, such as- How long have you had your headache? Where does it hurt the most? How would you rate your pain on a scale? ), keeping careful notes all the time. In order to determine whether your complaints have a trend, they may also examine your past behavior.
Step 2: Facts Reviewed
When they're finished, they'll probably summarize what you said to make sure they have all the information correct and then ask if you have anything else to say.
Step 3: Diagnosis and Subsequent Actions
Now that they have all the information, they can start making their diagnosis. This could entail prescribing medication for you, responding to additional inquiries you may have, or suggesting additional tests.
Step 4: Follow Up
Finally, your doctor (or a member of their team) will follow up with you to deliver your results or check on how you're feeling if there are test results to transmit or if they are just an exceptionally compassionate doctor's office.
If your doctor rushed or skipped any of these processes, you would probably feel a little offended and consider if you should seek a second opinion as you left their clinic. You should also avoid witnessing the following—
They let you self-diagnose the problem.
While acquiring information, they stop themselves from making a diagnosis and then decide to do so.
They enable you to suggest the medication you require based on an advertisement you observed or the outcomes a friend or relative had with a headache similar to yours.
The core of these encounters are the same—finding the cause of the issue and prescribing the appropriate remedy—even though your employees are undoubtedly offering advice that is very different from that of a doctor.
Given that, why should the method of arriving at that solution be any different?
But time and time again, I've observed businesses concentrating only on the goal of minimizing Average Handle Time (although I've noticed that this trend is bucking more and more these days). As soon as a problem is solved, staff members are urged to move on to the next client.
WP Swings WooCommerce Development Services
Get the expert-led WooCommerce development services essential for your business growth.
But if they've only scratched the surface, how can you be certain that your staff members have properly understood your customer's problem?
Best Practices to Build Your eCommerce Customer Support Service
Healthy communication is essential to maintaining relationships, as it is in most facets of life. In terms of consumer relations, the same is true. A good client experience will be aided by open communication from the beginning.
Do you ever wonder what the finest practices are for customer care in today's online stores? Discover the tactics you must use and enhance your customer service to win over new clients and retain existing ones.
I. Be Curious- Ask Questions
Asking a customer questions can help you better understand their needs. Asking inquiries and getting specific about their request is the greatest way to make sure their wants are addressed if your goods or services can be customized.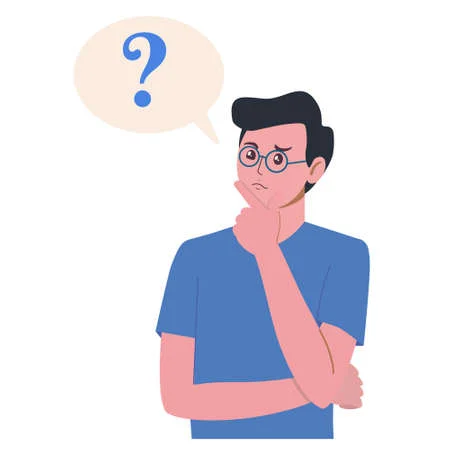 If they have any more requests or inquiries, enquire about them. The first stage in developing a relationship with a consumer includes learning about them and asking questions; this requires trust and loyalty.
Incentivize your Customers' Loyalty with our Points and Rewards Program…
Don't stress out when subjected to reward your Customer's Loyalty with.
II. Don't Forget to Listen em
Always pay attention to what the consumer is saying and even repeat back any important requests or suggestions. With the knowledge that their needs are being understood, this strategy gives them the confidence they need. To make people feel valued and significant, listening is a powerful method.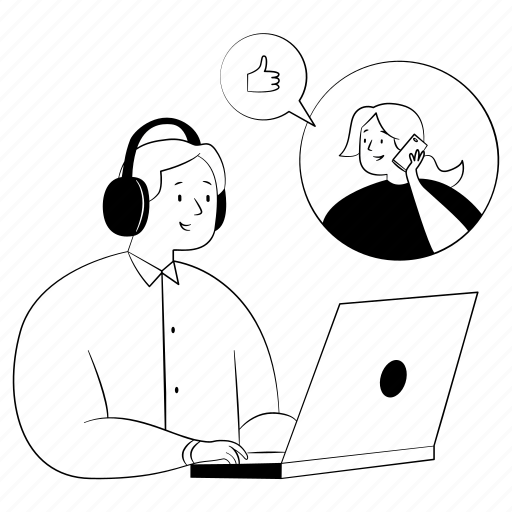 III. Set Up Their Expectations
It is crucial to explain what can be expected from the service or product being supplied after the customer has voiced their demands. There will be no room for uncertainty about what will be given if they are made aware of what to expect. When a business undersells and over delivers, the customer experience typically improves.
IV. Make Use of the Live Chat Feature
Convenience and rapid gratification are what fuel eCommerce. The entire shopping experience is built around that idea: discover a thing quickly, check out quickly, and it arrives at your door.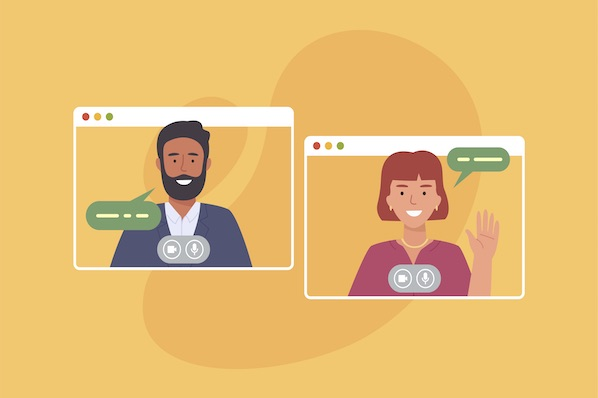 As more and more members of the Gen Z generation start making purchases, live chat is preferred by 79% of customers over phone help. However, only 40% of customers who initiate talks with chatbots anticipate having their problems fixed in a fair length of time. You have a wonderful opportunity to impress your customers because of this.
Turn to Chatbots—they never Sleep.
By using live chat, you may meet this consumer expectation in your communication strategy. Customers receive prompt answers to their questions, and you increase customer confidence by interacting with them.
V. Communicate About Your Service Policies Well
Poor communication or a misunderstanding are frequently the cause of unsatisfied customers. Making corporate policies explicit is good business practice as well as good communication.
A customer will probably feel irritated and be less likely to do business with your company again if they are unaware of your firm's return or cancellation policy and are unable to return a product or get a refund for a service.
VI. Follow Up With an Appealing Deal
Following up a few days later with a discount, offer, or promotional code to thank the consumer for getting in contact will help you keep their interest after a customer service session.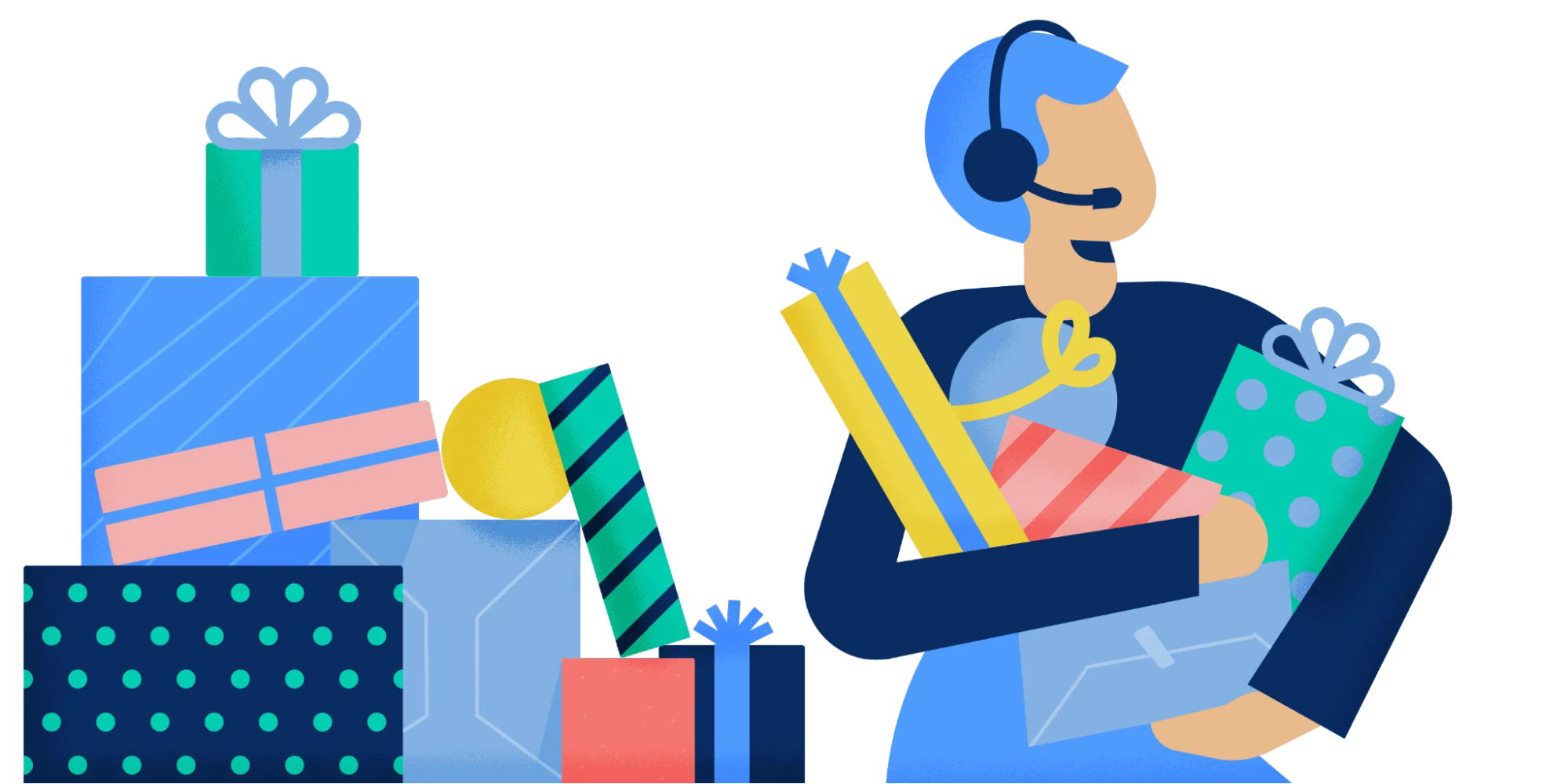 You want to wrap up their customer service experience with a satisfying, gratifying bow because customers who ask inquiries are choosing to interact with the company.
VII. Expand Your FAQ With Additional Common Questions
Most online businesses require a powerful FAQ (knowledge base). These can lessen the number of tickets that are submitted via online chat and other contact methods.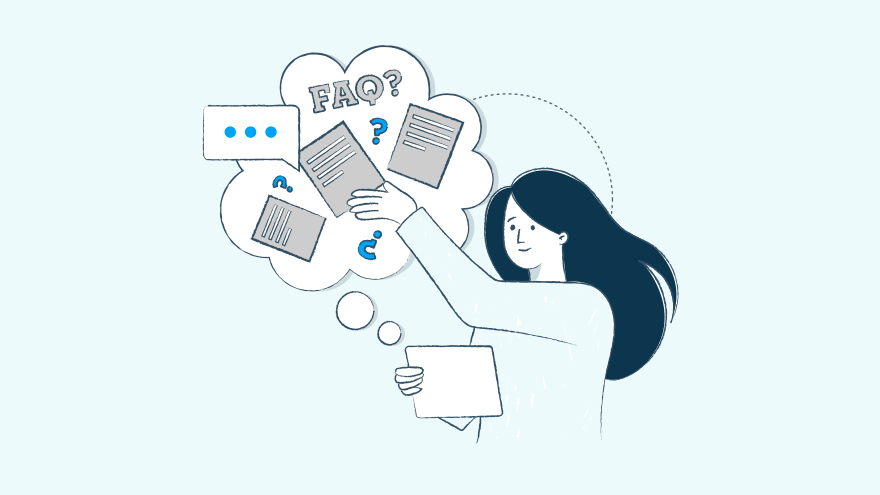 Search for trends in your eCommerce customer support tickets every six months by looking at them. For proactive and scalable customer care, include more topics in your FAQ including inquiries about sizing, shipping, and return policies.
VIII. Focus On Transparency
The status of their orders, their billing history, and their preferred payment methods should all be completely accessible to your online shoppers. Customers can access their whole order history for months or even years in the past with firms that are transparent.
One of the simplest methods to enhance transparency and boost client retention in an eCommerce firm is to make the billing history available to the public.
IX. Be More Versatile
Avoid adopting a hard line because losing them can cost you even more money than finding new ones. It's a success if you can solve their issue and maintain their business operating. Although policies are important, how you carry them out matters greatly.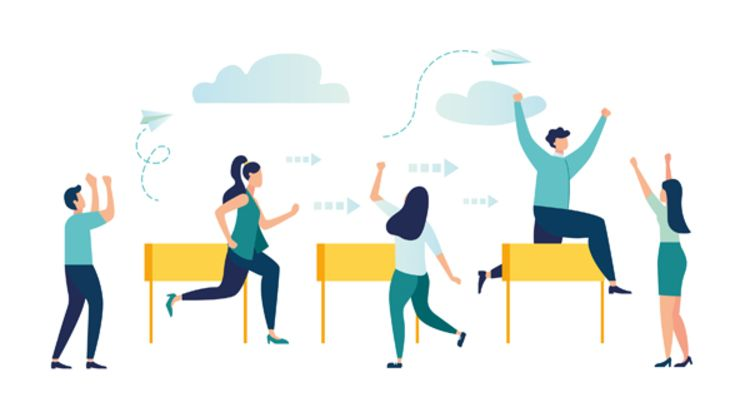 Give your customer service personnel the freedom they require to maintain the satisfaction of reasonable customers.
X. Construct Response Templates
Consistency is key to providing excellent customer service. Email templates are among the finest ways to deliver consistent messaging. Now, the typical online shopper is fairly intelligent. If you simply reply using a subpar template, they will notice.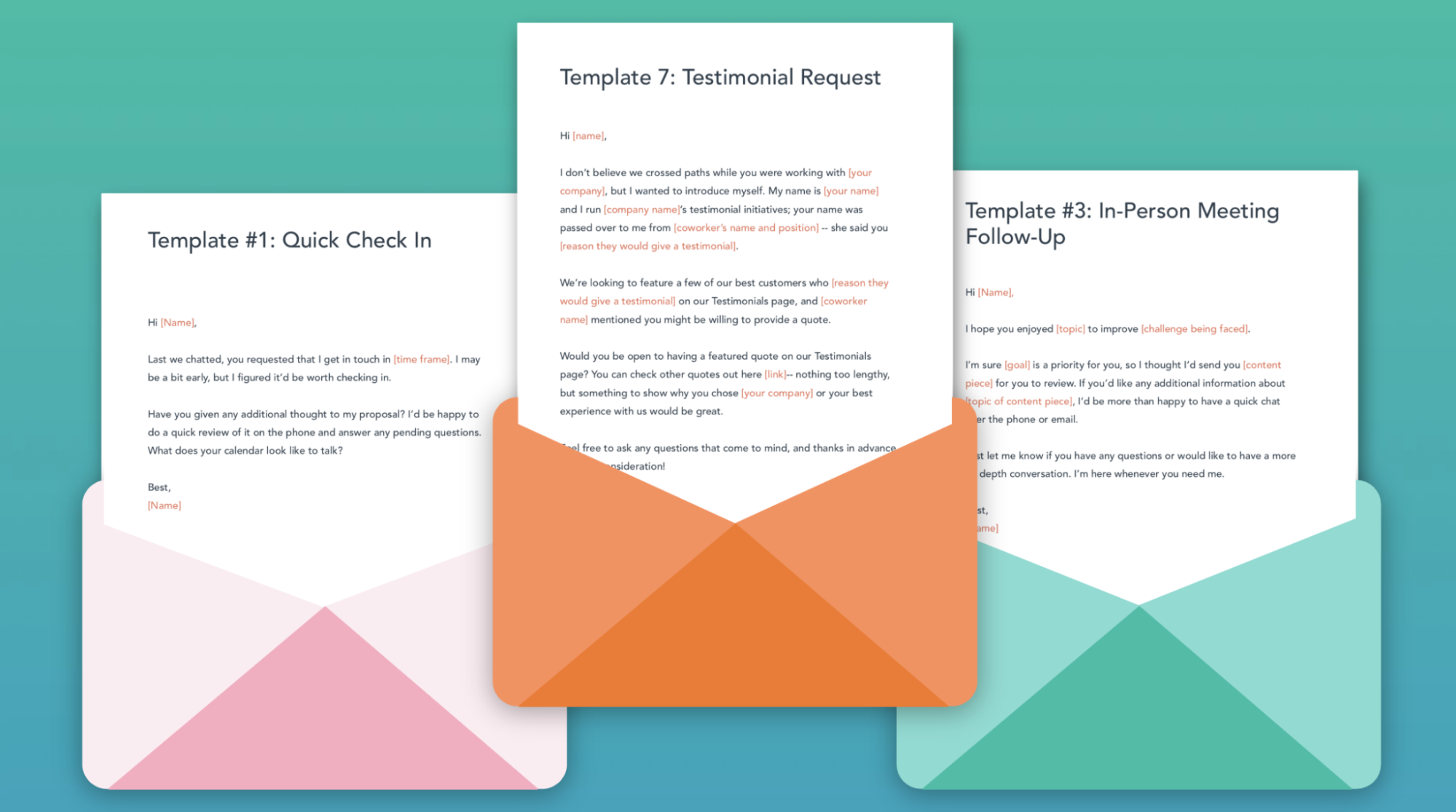 For this reason, you need to develop dozens of unique templates for various types of responses. They must be a perfect fit for the requirement, sounding as though customer service representatives wrote them on the spot.
Customer care scripts might be written for all of these problems and more—
Reps can alter templates to better fit the ticket or deliver them as-is.
XI. Emphasis on Individualization
Your clients want to feel appreciated. Customers today need a simple, hassle-free, and distinctive buying experience. Start by getting to know your consumers, their likes, and values.
Then, build on this knowledge to develop a tailored shopping experience that makes customers feel as though you understand their needs even before they are aware of them.
XII. Create a Multichannel Strategy
Companies with a clearly defined omnichannel customer experience had a 91% customer retention rate, according to a survey by the Aberdeen Group.
Creating a multichannel approach necessitates being there where your customers are, whether that be on Facebook, Instagram, WhatsApp, or Live Chat.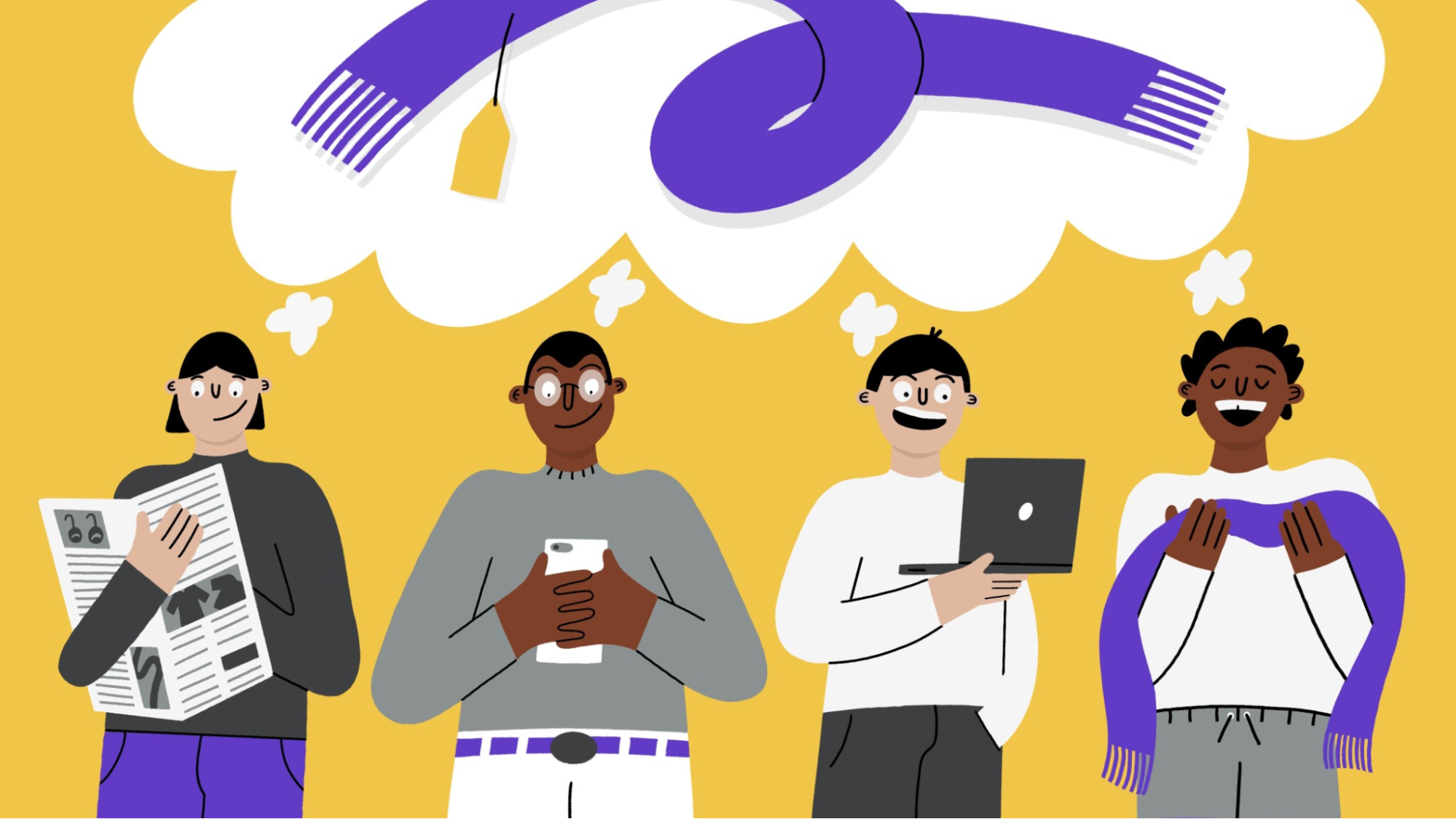 Make sure your consumers are aware that you may assist them through these channels as you set your contact methods. Across all of your customer service channels, you want to strive to offer customers with consistently excellent levels of service.
In order to satisfy your clients, your eCommerce business should provide customer service to them.
XIII. Utilize the Power of Social Media
Since social media is currently regarded as one of the top venues for customer service, many online buyers (particularly Millennials and Gen Z customers) anticipate getting assistance from brands there. There are many drawbacks to using social media sites in your customer care plan, such as tracking issues and the inability to respond with confidential information.
However, when your team manages social media support well, it gives you the ability to showcase the fantastic customer service you offer to followers and potential consumers.
In this case, Wonderskin, a peel-away lip stain mask, assists in resolving a customer concern that could otherwise have discouraged other followers from making a purchase.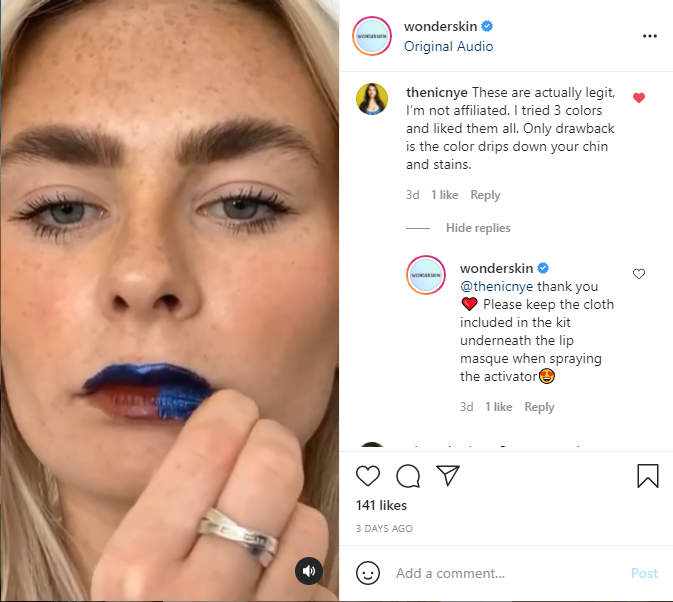 Source: Wonderskin's Instagram
XIV. Enhance Your Typical Response Time
Customers anticipate speedy service in the world of eCommerce. A sale could be lost if you keep a prospective customer waiting. Even worse, ignoring a consumer who is irate or perplexed for a prolonged period of time may result in poor public relations and a devoted foe.
Utilizing tools like chatbots can increase the speed of response in digital customer care channels (even if just to screen and make initial contact).
XV. Connect Over Phone Calls
Larger eCommerce businesses frequently provide phone help to meet customer demand. Additionally, using a phone to address a problem is frequently quick. The average resolution time is 34% faster for eCommerce enterprises who use phone help than for those that don't.
There's no need for a call center to provide consumer phone support!
A customer can be routed to the appropriate support agent when they contact, thanks to Gorgias' unified customer view. And the representative will be able to examine all order details whether it's a first-time customer engagement or a follow-up.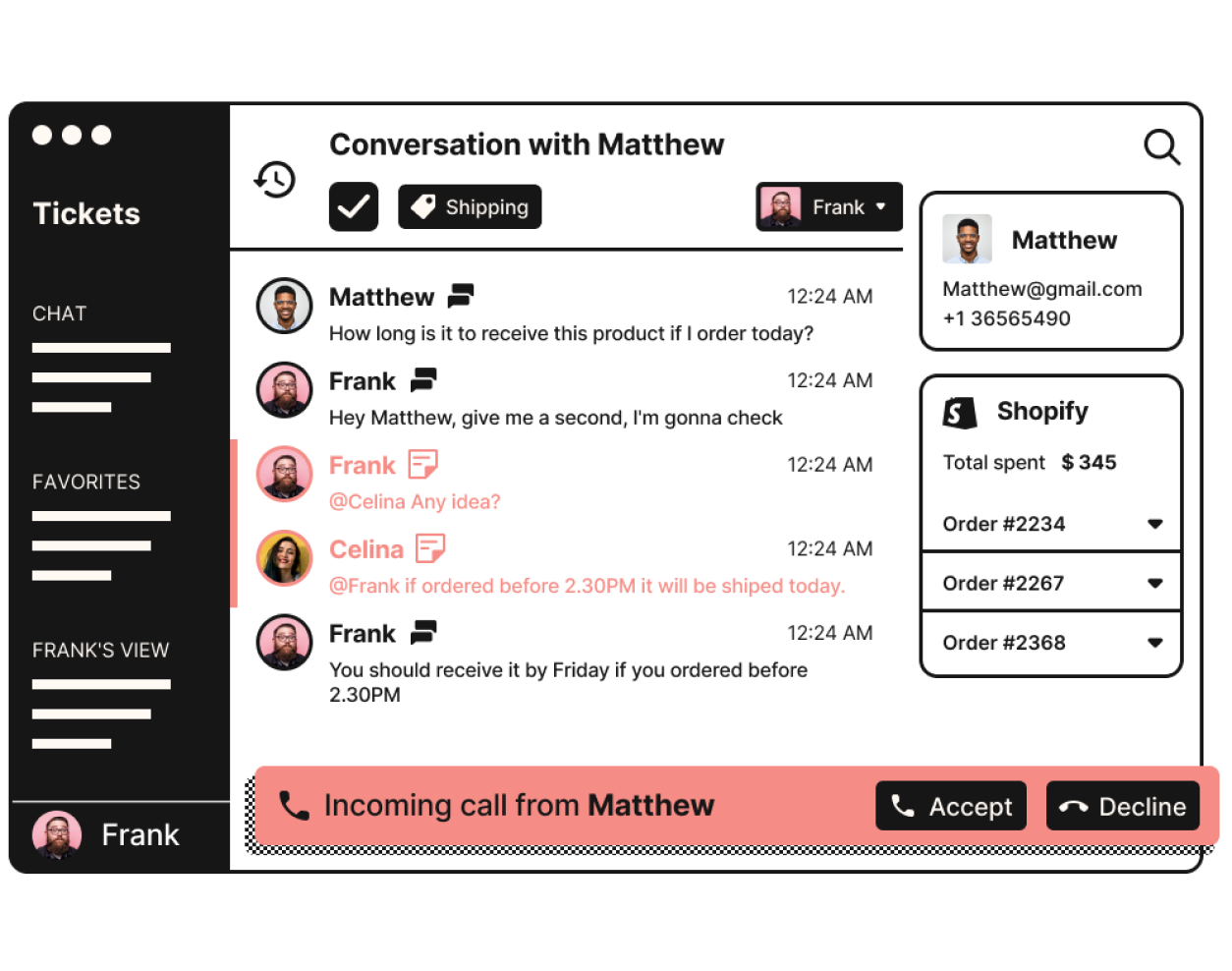 XVI. Identify Problem Areas & Constraints
The more frequent problems you resolve, the more effective eCommerce customer support staff you have available to handle more difficult problems. To identify the locations that trip up typical consumers, lead to cart abandonment, and take up reps' time, use a heat map, send surveys, engage in CRO, examine the text of reviews, and poll your customer service representatives.
Your agents will be able to concentrate their energy more effectively if those problems are fixed.
Why Should Online Retailers Invest in eCommerce Customer Support Service?
One of the few ways to actually stand out in an increasingly crowded online retail sector is by offering a fantastic client experience. Customers can simply move their business to another establishment if they don't receive the service they'd want.
The key to eCommerce customer service is responsiveness. When a consumer has a problem with one of your goods or services, your company needs to be able to step in and assist in resolving it.
To do that, the customer needs 3 things—
They need to know where to find assistance from your business.
The assistance needs to be fast and efficient.
The experience needs to be positive.
Without any sort of ecommerce support service, it would be very difficult to meet all three of those needs. The truth is that when individuals need assistance, they usually go online. Accordingly, you must provide the best online eCommerce customer support if you're selling online.
Customer service may directly and immediately affect your sales. Pre-sale tickets are ones that are available before a transaction. They might deal with things like product availability, sizing, fashion, delivery, etc.
Automation in customer service is widely used by companies to increase the effectiveness of their eCommerce customer support employees. It aims to help clients with less direct interactions with live people. Additionally, it shields businesses from high call volumes, speeds up customer care processes, and minimizes human error.
It makes sense to invest in automated eCommerce customer support technologies in order to free up your agents' time and improve their efficiency.
Automation of eCommerce customer support, which is made possible by technological tools, can eventually improve the customer experience. Here are a few tools you can use for eCommerce—
Best Customer Service Tools to Use for eCommerce Customer Support
You should now understand the importance of customer service for online retailers. Additionally, you ought to have a tonne of ideas about how to improve. By making improvements to your omnichannel approach, you might succeed.
It might entail hastening responses from customers. Whatever path you choose, the following materials will help you on your trip.
1. Avochato
Live chat via text messaging is best.
In addition to being the preferred method of communication with friends and family, 89% of consumers stated they prefer using SMS to contact businesses.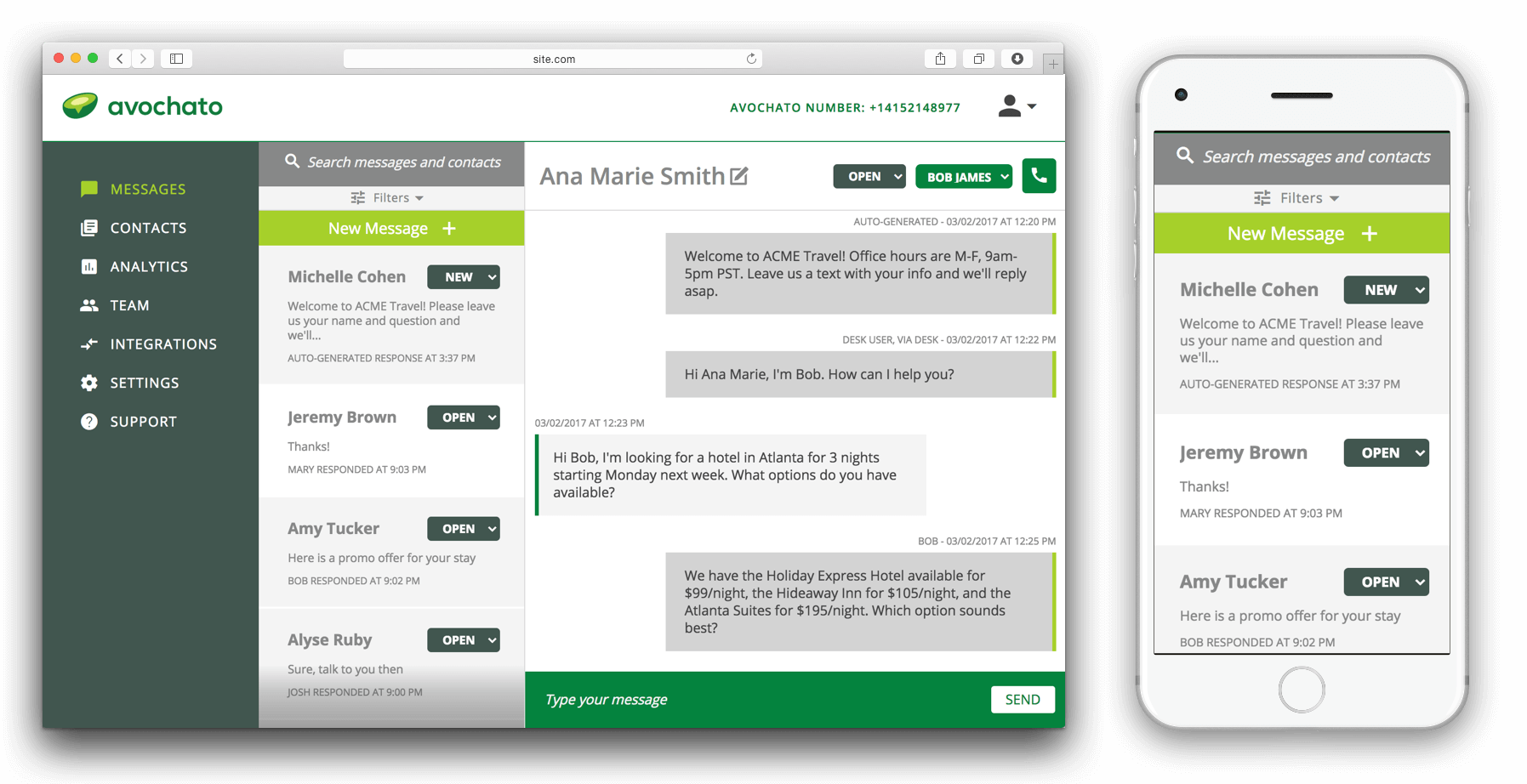 Avochato is a text messaging service used by teams to carry on meaningful, ongoing dialogues with clients after sending out promotional emails.
Teams may set up their Avochato phone number, import customers, and broadcast without the need for any programming. Additionally, the programme interfaces with Microsoft Teams, Slack, and Salesforce platforms.
Starting at $19 per user each month.
2. Wix Answers
For Wix users, best for omnichannel eCommerce customer support.
Wix Answers is specialist support desk software for Wix websites that operate in the cloud. Small-to-midsize companies with a lot of users are catered to by it. A help desk, ticketing system, call center, and live chat can all be set up by teams using the platform.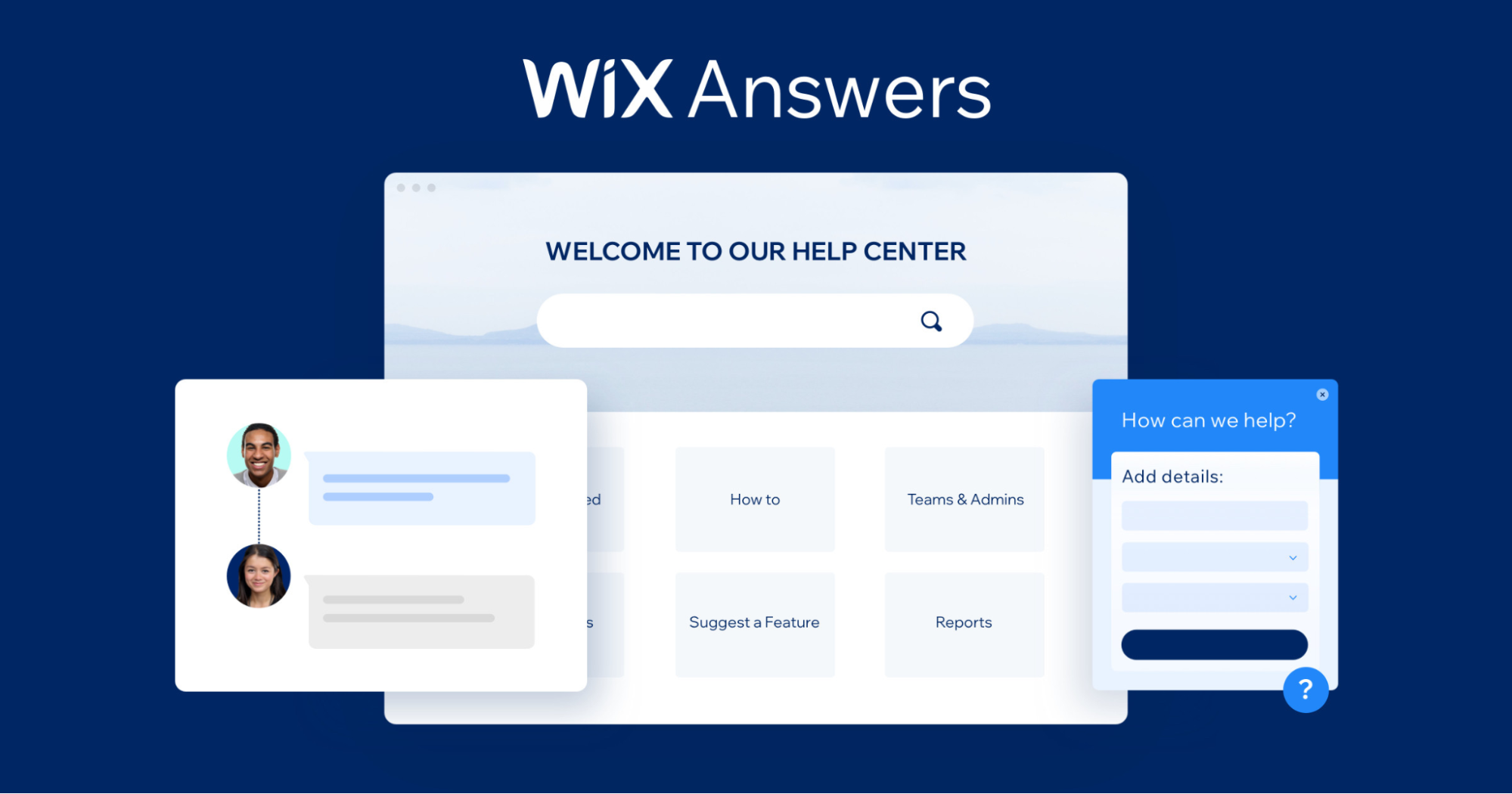 One of the primary advantages of Wix Answers is the capability for teams to build help widgets to contextually show articles and tutorials along the user journey on any page of their website or product.
Cost: Monthly rates begin at $24.
3. Zendesk
Large eCommerce companies with sophisticated installations should use this.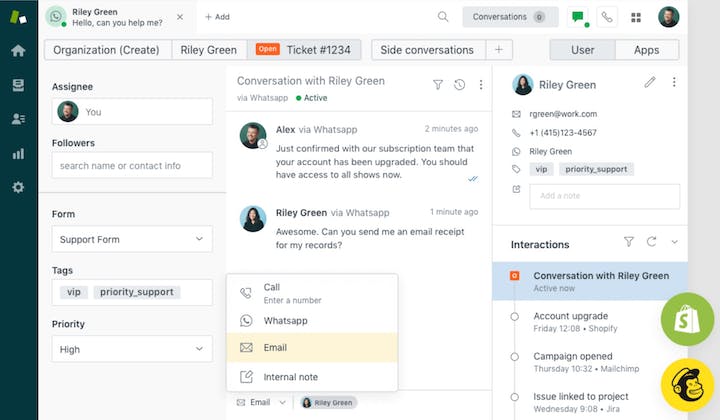 Zendesk, despite having some lower-priced options, is typically linked with larger teams because of the product's relative complexity, the resources required for initial setup, and the final cost.
These less expensive subscriptions don't include chat, phone help, or custom reporting, but they should still provide the essentials for people who primarily require email support.
In contrast, because of its size, it tends to have an enterprise focus, and higher-tier alternatives may be overstuffed with capabilities you don't require.
Monthly rates for agents begin at $19.
4. Typeform
This software is best for surveying client contentment.
Surveys are an essential tool to use because communicating with customers and monitoring their satisfaction are crucial for every organization. With Typeform, you can create web forms and surveys without writing a single line of code.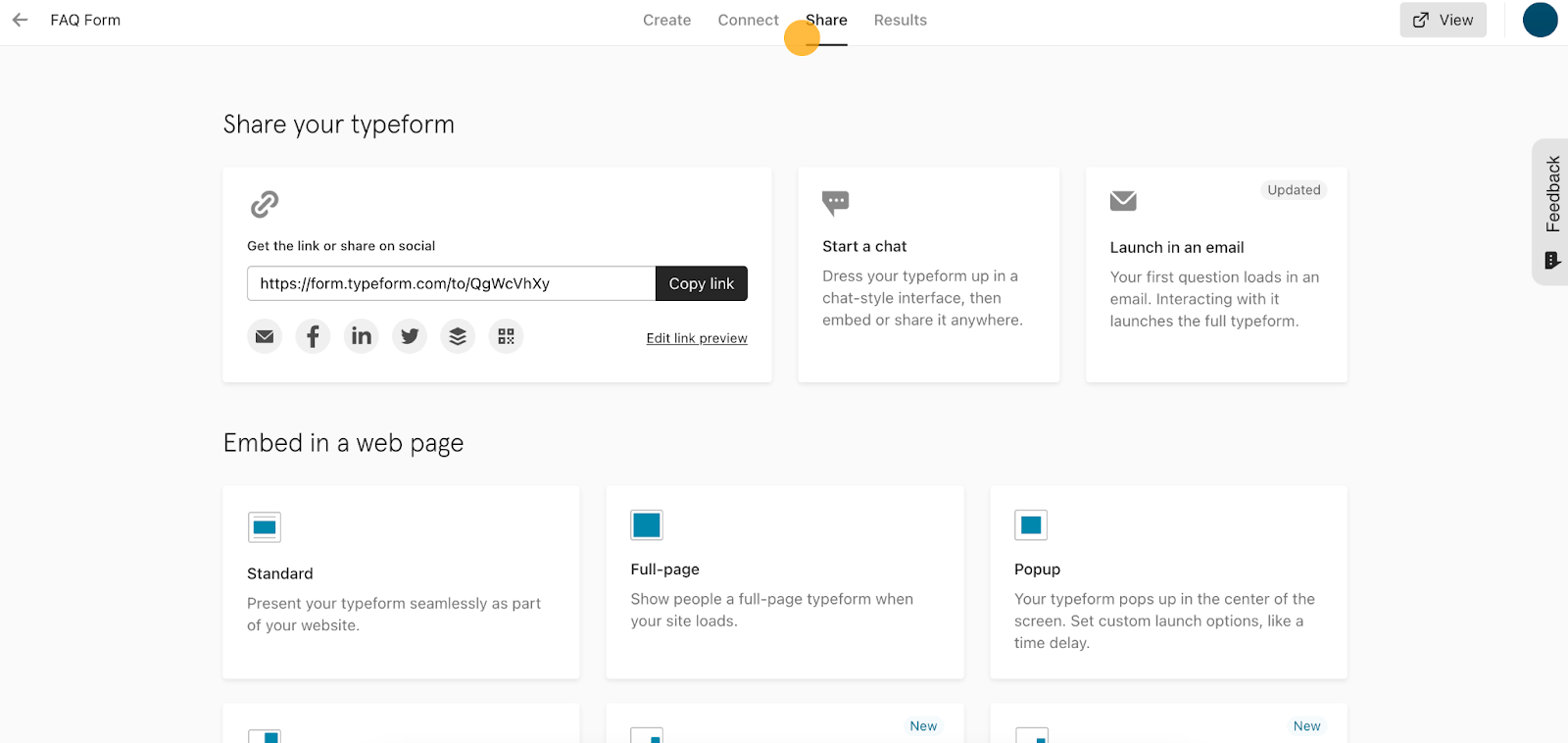 Through Typeform's drag and drop builder, it is simple to set up customer satisfaction surveys, and it provides a cleaner UI than some of its competitors.
Price: $25/month to start.
5. HubSpot Service Hub
Best suited to large companies who already use HubSpot.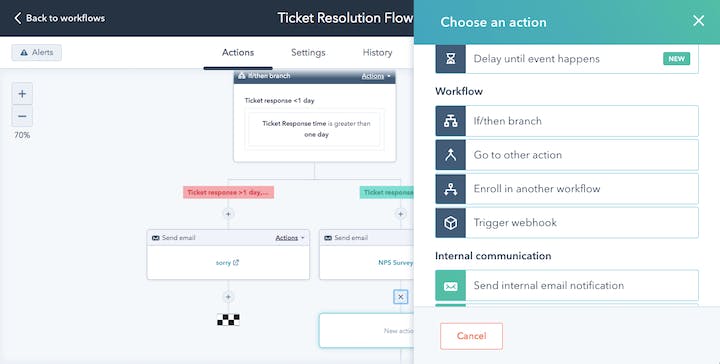 As a tool or resource for marketing, HubSpot may be known to you. For the purpose of assisting your eCommerce customer support team through automation and self-service, their Service Hub collects all of your customer service data and channels in one location.
Flexibility in pricing is not the same as confusing pricing, though. HubSpot's price structure can be confusing for some businesses trying to scale because there are so many different plans and pricing alternatives available.
Starts at $45 per month.
Over To You
The customer is always right" is an expression business professionals have used for a long time.
But even when the customer isn't right, they should always be happy and satisfied with your business and the service that they receive. Customers who have good experiences with businesses will keep coming back and often recommend them to their friends and family. Customer loyalty drives sales and brand recognition.
Customer service is one of the most valuable areas of business, and it's important to develop it within your company. When training employees for customer service, it's important to determine what customers are looking for when they interact with businesses. To do so, you have to create and implement customer service strategies into your day-to-day operations.
Huh…I've tried my level best to explain to you all the efficacies and effectiveness of developing a customer service for your eCommerce store. Please let me know in the comments section whether I was able to persuade you or not..
Till then, Happy Servicing!!! :)