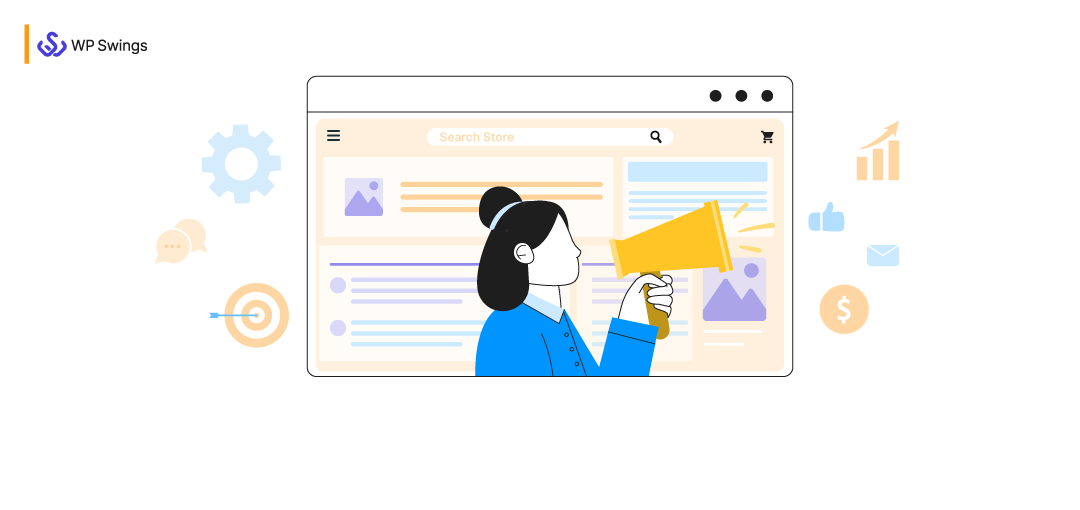 Affiliate marketing is a win-win marketing strategy that has made many merchant billionaires, and promoters millionaires.
It has been constantly escalating without showing any sign of decline. The reason for this constant growth of affiliate marketing is its mutually beneficial nature. The promoters and the merchants both make high benefits in this arrangement of revenue sharing.
According to Russell Brunson, Co-Founder of ClickFunnels:
"It's the ultimate win-win situation. All affiliates get something from the arrangement, as does the company running the affiliate program, making it a mutually beneficial relationship."
Google Trends shows the highest popularity for the keyword "affiliate program" in 2023 (with slight monthly fluctuations)

According to the report by Statista, The U.S. affiliate marketing spend is due to reach 8.2 billion U.S. dollars by 2022, up from 5.4 billion recorded in 2017. — a clear indication that the affiliate marketing business is trending.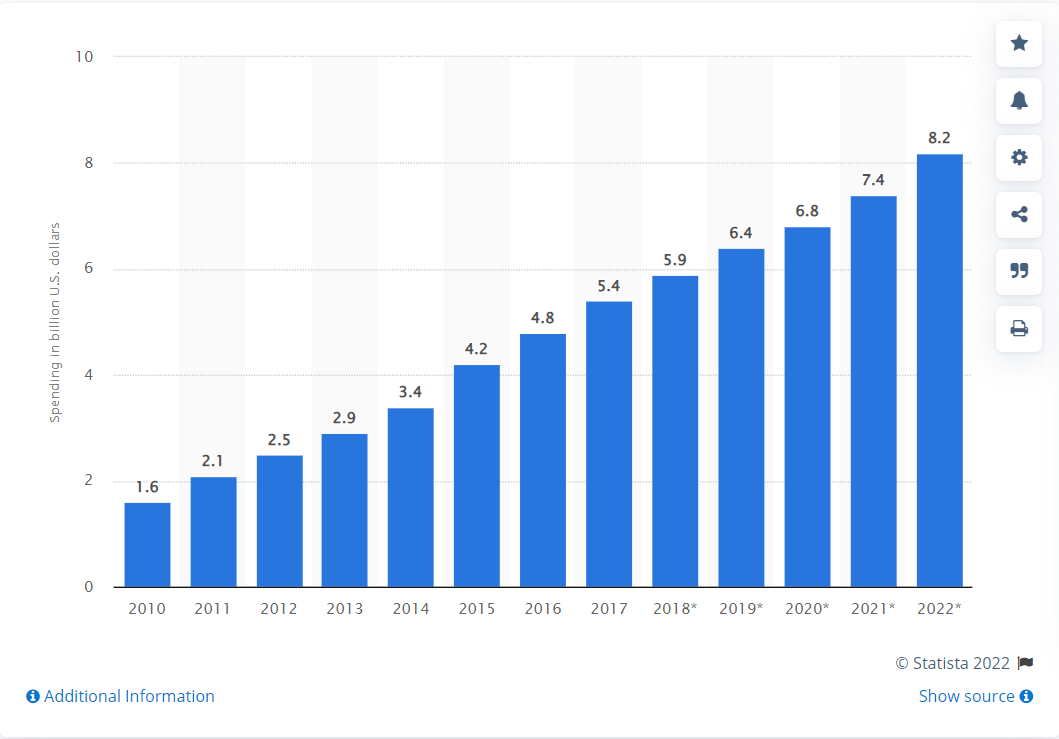 In-house affiliate marketing involves three parties — consumers, promoters, and merchants. The network is added as the fourth member when the programs are managed by the affiliate networks.
How Do Affiliate Programs Work?
Merchants own the products and they start their affiliate programs on their products, while promoters are the advertisers, influencers, bloggers, Youtubers, etc., who have a target audience that might be interested in buying those affiliate products.
We call these audiences, consumers.
Be The Affiliate Star – Join Our Affiliate Program
Login or Register now to shine in our affiliate galaxy!
Promoters help in making sales and merchants give a share of the generated revenue at fixed commission rates. This is what affiliate marketing is.
Having realized the importance of affiliate marketing, businesses are keen on starting their own affiliate program, either in-house or through a partnership with affiliate networks. Promoters are always searching for more profitable affiliate programs to earn the maximum commission.
Further, with such high involvement of businesses and promoters in affiliate business, competition is obvious to rise.
Now:
The biggest challenge for vendors is to design an affiliate program that attracts more promoters and motivates those promoters to bring more sales; not trading off the major portion of their profits into affiliate commissions.
A program that demands less effort and cost for management.
On the other side, the major concern for the promoter is to find the highest-paying affiliate programs to make money online with the least effort and complexity. And, something that matches their interest.
Let's Quickly Understand What is In-House Affiliate Marketing Program
What is In-House Affiliate Marketing Program
In an in-house affiliate marketing program, you have to source or develop your own tools or platform for your affiliate network. This approach grants you absolute control over every aspect of your program, enabling you to recruit partners for product promotion and carefully select the most suitable tools for tracking and measuring performance.
You'll be solely in charge of setting the commission rate and providing support and resources to your affiliates.
Put simply, an in-house affiliate program refers to a unique kind of affiliate marketing initiative where a company takes full control of managing and operating its own affiliate program, rather than relying on an external network.
Top Examples of In-House Affiliate Marketing Programs
Now let's see some of the great examples of in-house affiliate marketing programs to get you inspired
1. DreamHost
DreamHost is a web hosting provider and a domain registration company and it has an in-house affiliate marketing program that enables other businesses and consumers to promote their web hosting and domain registration services and earns a high rate of commission.
They Offer a Tiered Commision rate which means affiliates can earn as much commission as they generate sales.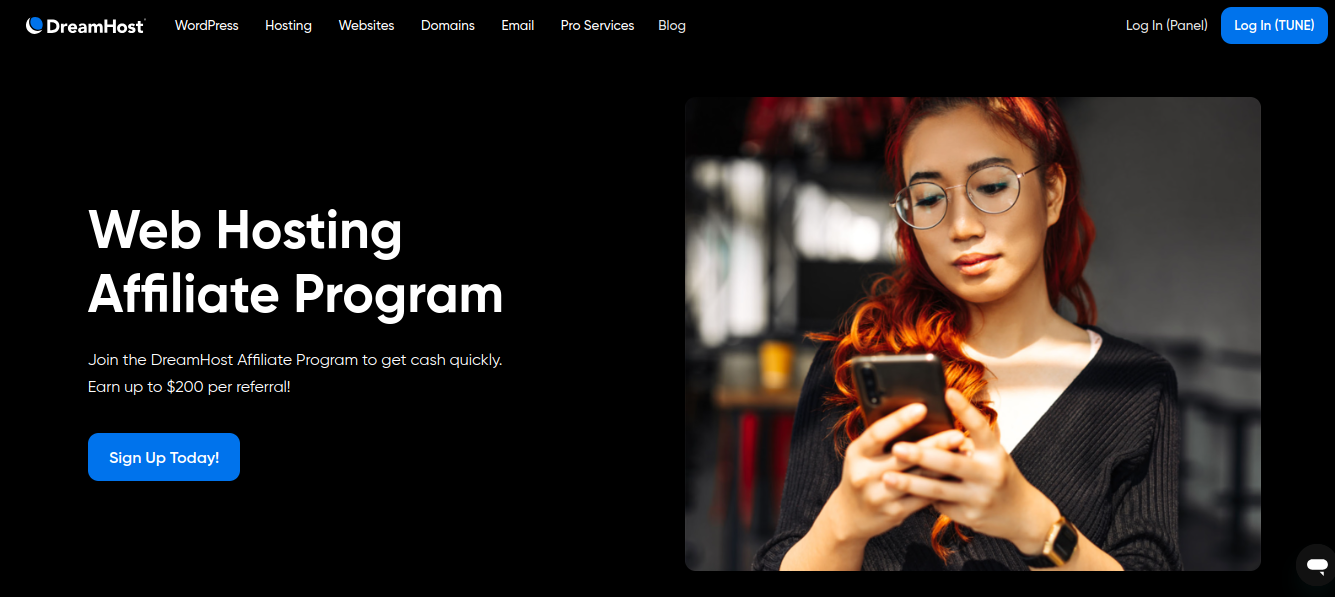 They have a report management system for affiliates to track and measure their commission and sales generated by them. This gives affiliates unique insights and a better understanding of their strategies.
DreamHost also offers resources and support to their affiliates for a better understanding of their services and to ensure that they have the right resources to promote their services successfully.
2. Active Campaign
Active Campaign is a customer relationship management system and marketing automation software that helps businesses manage and automate their marketing, sales, and customer service processes.
In their in-house affiliate marketing program they offer individuals to promote their CRM software. This promotion offers a 30% commission rate on all sales made through their affiliate link.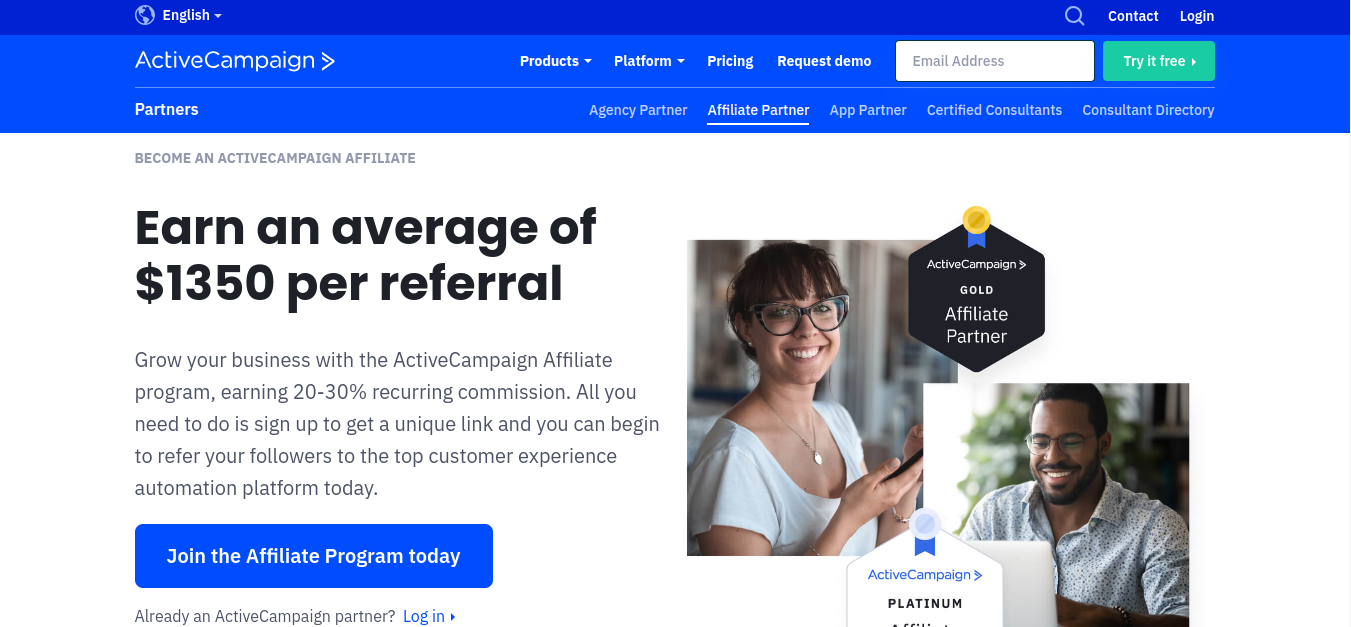 Active Campaign affiliate program benefits include 90 days cookie duration which means affiliates can earn commissions on a referral link even when a purchase is made after 90 days of referral link generation.
3. Amazon Associates
With a staggering selection of over 13 million products, Amazon has earned its reputation as one of the most renowned eCommerce platforms globally. If you're considering joining an affiliate program, look no further than Amazon Associate. It's the ultimate choice for any aspiring affiliate marketer.
Basically, Amazon Associate is an affiliate program that allows you to earn commissions by promoting and recommending products offered by Amazon to others.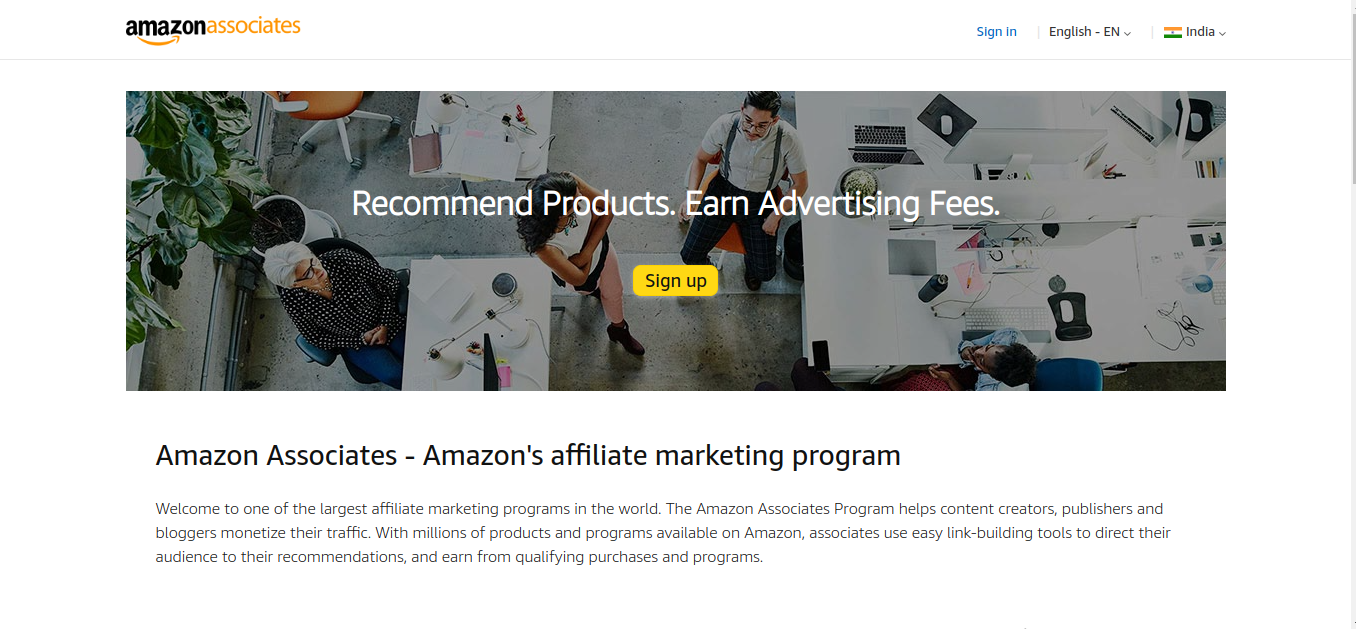 The main advantage of joining the Amazon affiliate program lies in the vast selection of products available for promotion, ranging from beauty to fashion and everything in between. The commission rates on Amazon are generally 1-10% depending on the products you choose.
Another great advantage is that Amazon provides you with various promotional materials, including banner ads, text links, and product widgets. These resources empower you to effortlessly showcase their exceptional products.
4. Rocket.net
Rocket.net is a top-notch hosting provider, specializing in delivering exceptional managed hosting solutions for websites and applications.
You can Earn a commission by promoting Rocket.net hosting services to your audience through the in-house affiliate program. It is open to both individuals and businesses.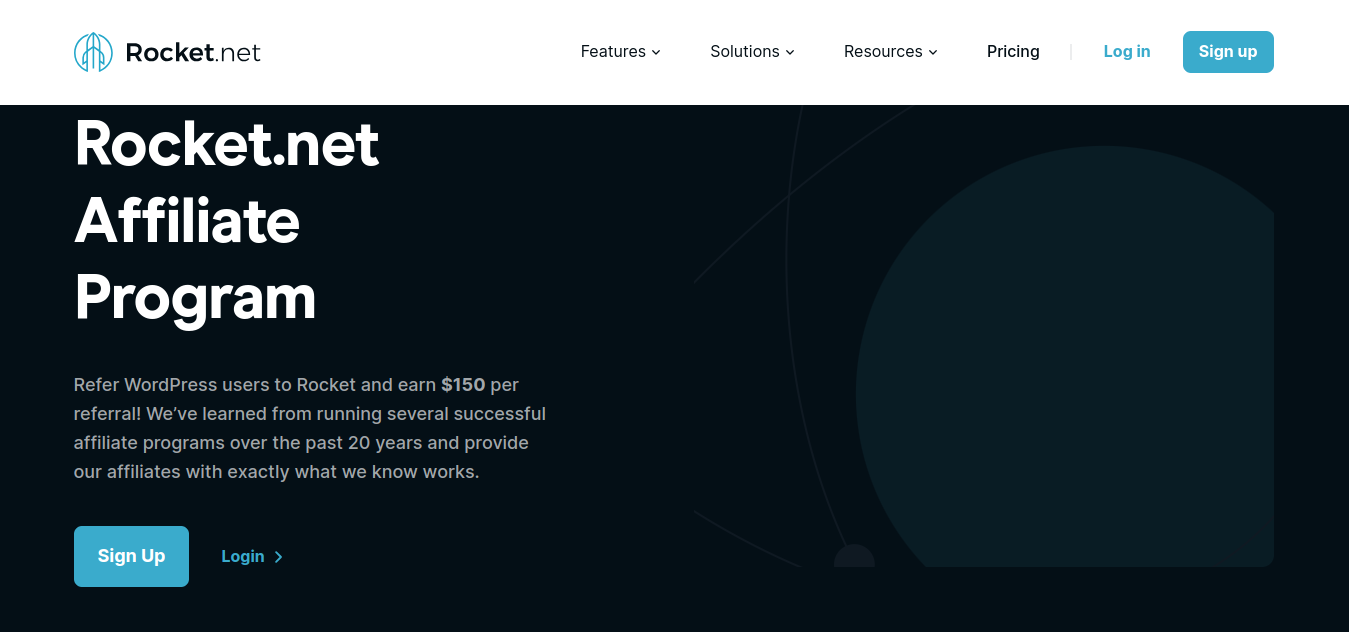 By sharing the unique referral link provided by Rocket.net, affiliates have the opportunity to earn a commission on every sale that is made. Affiliates are usually granted a commission rate ranging from 15% to 20% of the sale, which is paid out to them on a monthly basis.
5. Fiverr
Fiverr is a well-known online marketplace that connects freelancers with clients, it has an in-house affiliate program that allows you to earn commissions by promoting their marketplace for freelance services.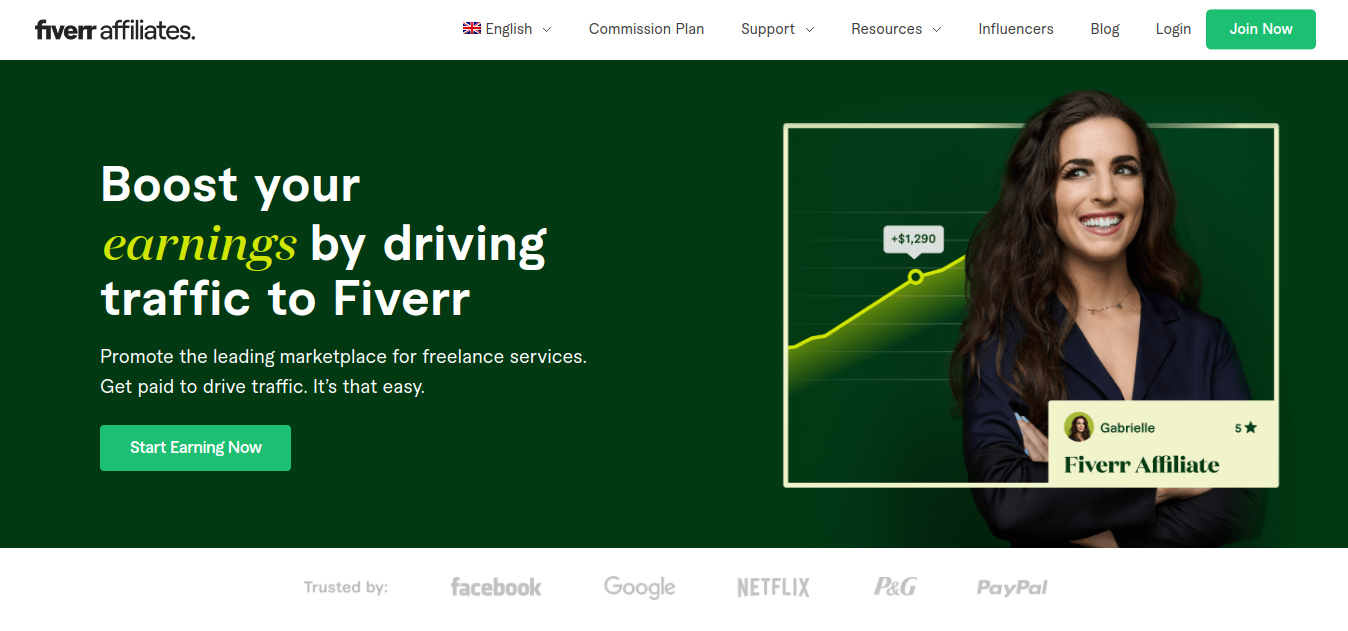 Fiver affiliate benefits include no referral limit and lifetime attribution, fiver provides you with interactive and Easy-to-use dashboards to launch, manage, and monitor campaigns also you'll get creative resources and A portfolio of high-performing creative assets to help you promote.
Fiverr commission can reach up to $150 depending on the services you promote.
In-House Affiliate Marketing Program vs Affiliate Network: Which is Better?
How is an in-house affiliate marketing program different from an affiliate program that is managed through an affiliate network? Which one is better and why?
These questions are important for both merchants as well as promoters when starting an affiliate marketing business.
An affiliate program that is controlled and managed by the business/company itself without the aid of any third-party network is known as an in-house affiliate program.
For example, WP Swing's in-house affiliate program — a popular WooCommerce products-based affiliate program with a high commission rate of up to 35%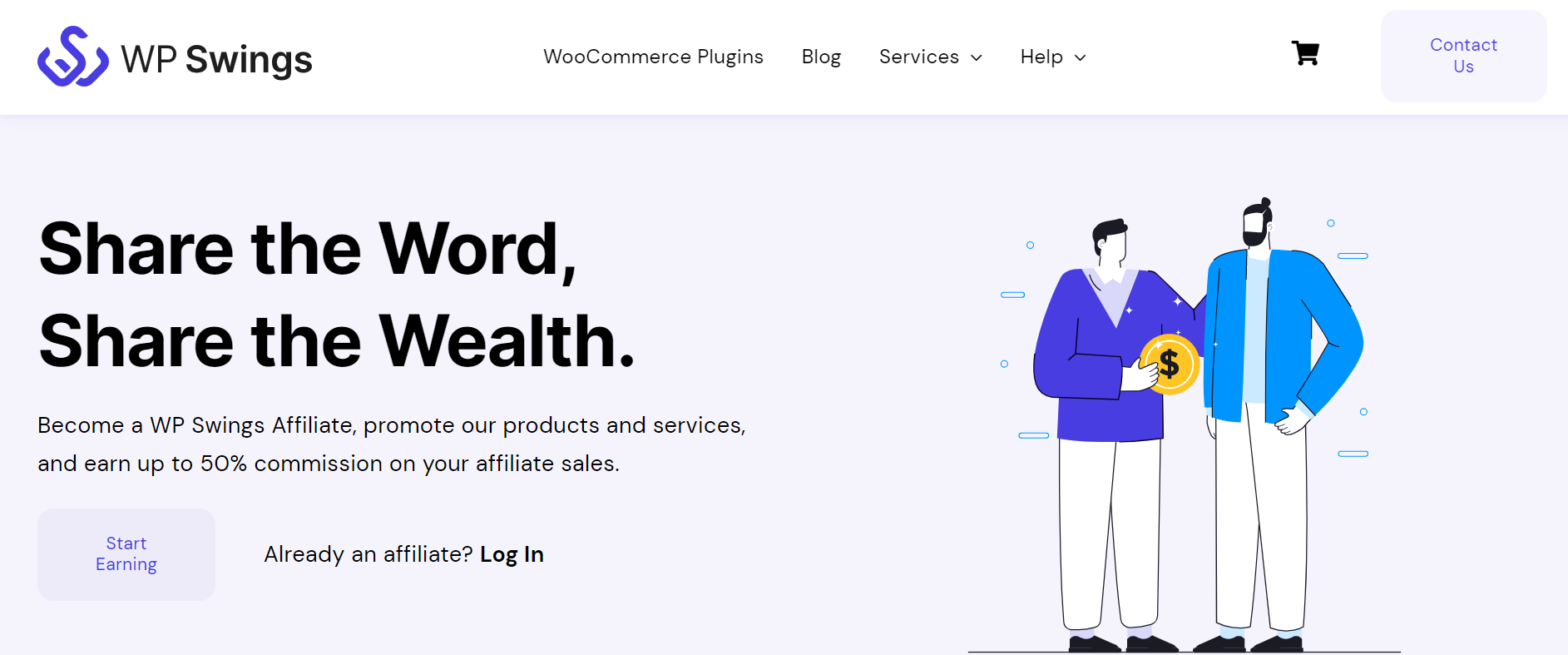 An affiliate network is a common platform for merchants and promoters to interact with each other. Merchants offer affiliate commissions on their various products while promoters choose the products of their choice to promote, make sales, and earn a commission.
For providing such a platform, the network charges entry fees and a share of sales.
Consider the example of WPForms which runs its affiliate program through the ShareASale affiliate network: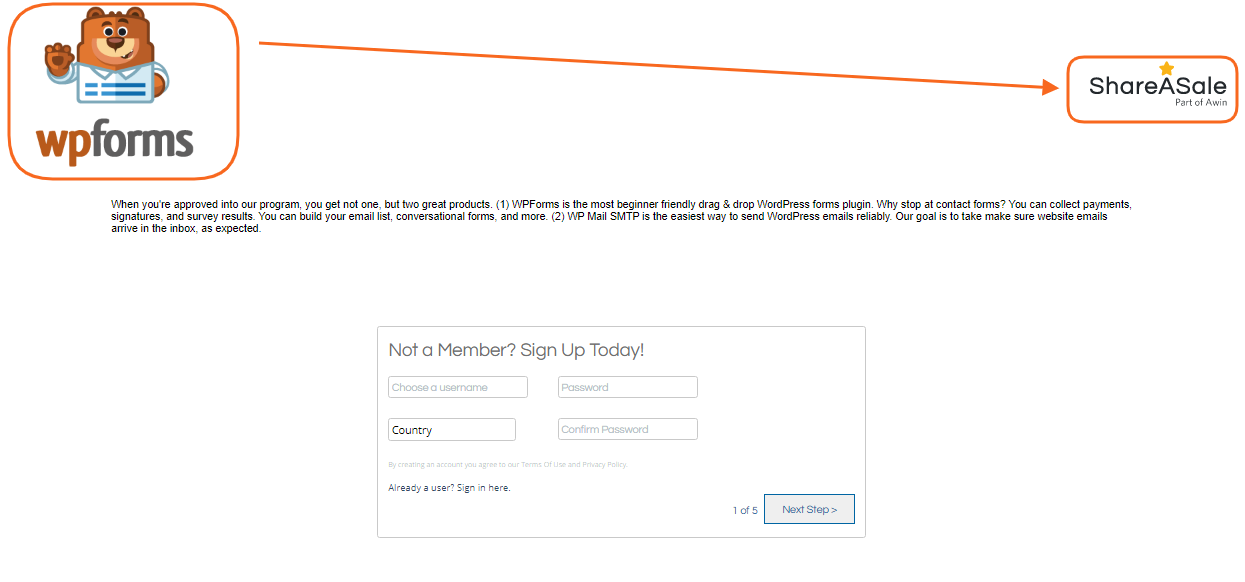 For merchants, deciding whether to get their in-house affiliate program or to get it managed by an affiliate network is a daunting task.
Both types of programs have their pros and cons. However, merchants often choose affiliate networks if they don't want to allocate resources to affiliate program management.
Is that a wise decision? Should merchants weigh all other benefits of the in-house program over the management burden? How much does it cost?
On the other side, promoters' only motive is to make easy money from the affiliate program, no matter whether it is an in-house affiliate program or those on affiliate networks.
However, promoters still wonder which type of program offers easy earning. What type of program is more profitable, i.e., one that offers a higher commission? And many other queries.

Let's start with the detailed comparison:
#1. Setup Cost
Setting up an in-house affiliate program requires some charges initially. Afterward, regular charges are applied to keep the program going.
Let's see what are the major expenses of designing either of these affiliate programs.
An in-house affiliate program includes the following three types of setup expenses:
Platform Designing Cost: The expenditure in purchasing software or plugins that are required to design and organize the in-house affiliate programs.
For example, AffiliateWP plugins cost $99 – for one site. There are many other WordPress plugins specifically made for the purpose of controlling and managing affiliate programs.
Management Cost: You will need an affiliate manager to look after all the procedures and management of your in-house affiliate program. And, affiliate network management costs mainly include the salary paid to the manager and other similar management-related expenses. The salary of affiliate managers depends on several factors such as country, business, workload, etc.
The image below shows the average and trends of the affiliate manager's salary.
Promotional Cost: Your newly built in-house affiliate program needs influencers, bloggers, YouTubers, etc., to join your affiliate program as your promoters and start generating sales to earn the offered commission. To get more resourceful promoters, you need to promote your affiliate program on various affiliate channels such as social media posts and ads , Google Ads., etc.
Talking of the cost incurred in setting up network affiliate programs, the major expenses include a one-time setup cost, commission on each sale, and monthly recurring charges. This pricing may vary from network to network.
Share a Sale Setup Cost
For example, the one-time setup cost for ShareASale is $550, with $100 as a minimum deposit amount.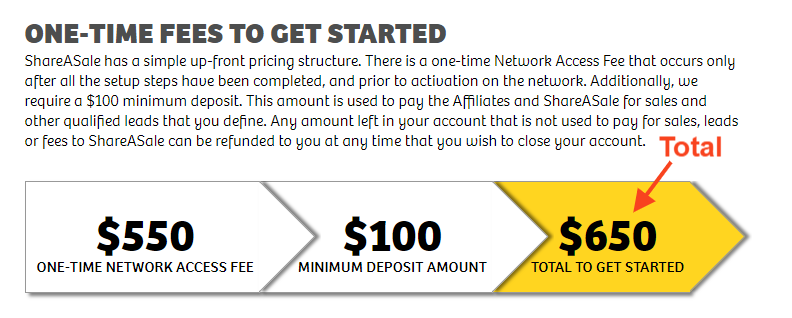 For every affiliate sale generated on the network, the sale is divided into three parts; one share goes to the affiliate, one to the network, and the remaining goes to the merchant.
Apart from this, the ShareASale affiliate network charges a monthly recurring fee.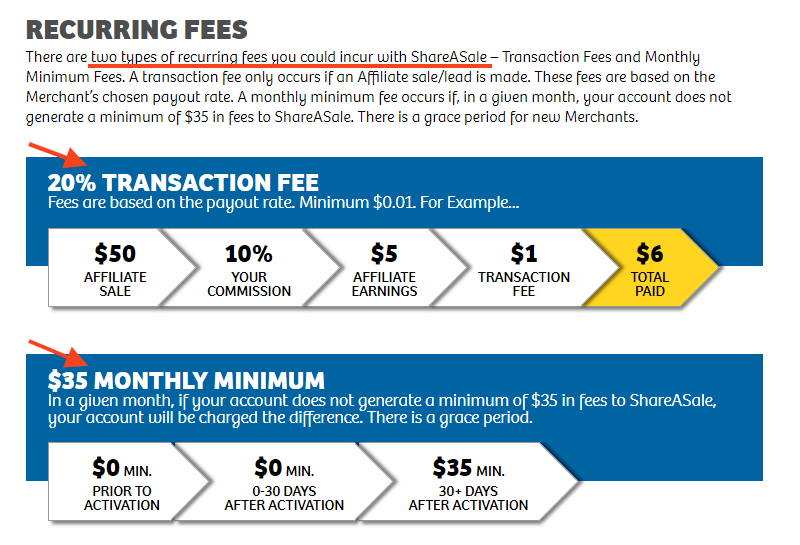 Overall, both the programs have setup charges, more or less, based on the set goals.
BUT spending on in-house affiliate programs strengthens your firm with the hope of long-term high profits. Whereas network affiliates may reduce your monetary benefits with various charges.
#2. Offering Higher Commission Rates
The simple rule — the higher the commission you offer to your affiliates, the higher their interest would be in your program.
"I always try to give my affiliate the most commission possible. The more you can pay your affiliates, the more traffic they will send."
— Ryan Alarid, Owner of Native Vitality
Therefore, when planning for an in-house affiliate program, you must calculate carefully and try to offer the maximum commission possible from your end.
Since no intermediate commission holder is involved in an in-house program, higher commissions can be offered by the merchants.
For example, at WP Swings, we offer the highest commission rate of 35% at the fourth stage.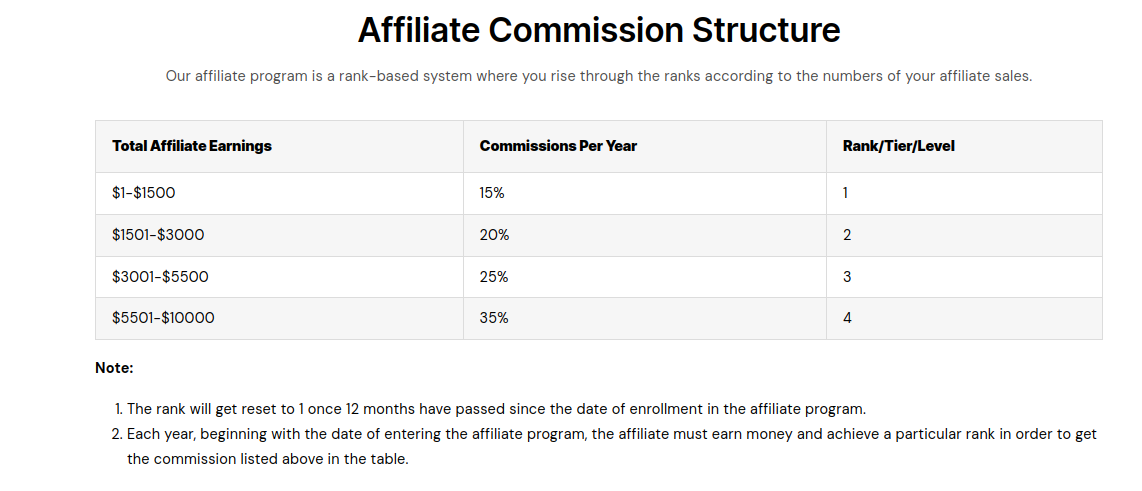 But it's not always easy to leverage higher commissions, as that might kill your profit margin.
Join Our Affiliate Program
Let's Earn and Grow Together – We Provide a Huge 35% on Affiliate Sales
Conversely, affiliate network-based program commissions can vary depending on the features you opt for, product sales, and other factors.
Consider the WPForms affiliate program through the ShareASale network, where 20% of affiliate sales go to the affiliate network as transactional fees, which makes it hard for WPForm to offer not more than 20% commission to its affiliates.

#3. Flexibility and Control Over the Program
Being the sole owner of the in-house affiliate program, merchants have full control over the rules and regulations of the program. They can amend it and make it best suited for their brands.
The decision of the firm will be considered final in case of any discrepancies.
Affiliate networks have tons of partners — you being just one of many. Therefore, they have commonly applicable guidelines and strategies, and there is usually less room for personalization.
An in-house affiliate program is more flexible. For the convenience of promoters, the affiliate manager can amend general rules and grant exceptions to individuals.
#4. Responsibility Of Finding Affiliate Partners
Affiliate networks have tons of registered advertisers who are keenly searching for new and profitable products to promote and earn. Therefore, with affiliate networks, the burden of finding affiliate partners is less. The network establishes the connection.
However, an in-house affiliate program requires self-promotion to find affiliates. Finding dedicated affiliates is a challenge for the company but with effective strategies, it can be done.
Further, all the promotional efforts you make in an in-house affiliate program sum up over time and strengthen your brand whereas the efforts made for affiliate network programs strengthen the network.
#5. Direct Interaction with Affiliates
The affiliates who join an in-house affiliate program can directly interact with its merchant without the involvement of any intermediate body, which allows them to understand the products & services and various intricacies of the program. Conversely, the merchants can learn about their customers directly from the affiliates.
Affiliates' feedback on any product is a cumulative opinion of their target audience, which can help you to improve and update your affiliate products.
This is restricted in network programs, where merchants have less interaction with their promoters.
#6. Support and Help
Reputed affiliate programs of both types pay special attention to providing support and help to their affiliates. A program with poor support facilities risks the retention of the existing affiliates partners.
Providing multi-channel support such as chat, call, and email support can make it easy for the affiliates to seek help.
In-house program support may directly connect the affiliates with the program manager, as in the case of the WP Swings in-house affiliate program.
Similar support and help services are available for the network programs as well. However due to the high amount of support queries, quality responsiveness may vary.
#7. Other Reasons
Not all affiliates you approve to join your program are sincere candidates; some are scammers and deceivers. Such affiliate partners will degrade the essence of the program.
Affiliate networks have procedures to detect these scammers and block them to protect your program.
Whereas in-house affiliates are more vulnerable to such bad affiliates, particularly when the affiliate manager isn't smart enough to detect them in the first instance.
The server strength is another concerning issue for the in-house affiliate program.
The in-house affiliate program is hosted on the server where your store or website is hosted, which may fail to handle sudden high traffic. However, affiliate networks use high-performance servers and are capable of holding abrupt high traffic or loads.
Let's now learn how to build an in-house affiliate program for your online store.
Setting up Your First In-House Affiliate Program
In this section, you will learn to set up an in-house affiliate program for your online retail shop, or for other forms of online businesses; no matter product-based or service-based.
Choosing the right plugin is the first step.
There are several affiliate plugins for WordPress such as Affiliate WP, Post Affiliate Pro, Affiliate Manager, Ultimate Affiliate Pro, Affiliate Royale, etc., which complete the platform setup in just a few minutes.
All you need to do is to click "Add New" on the plugin section, search for the affiliate plugin that you wish to get started with, install, and activate (make the payment, in case you are using the paid version).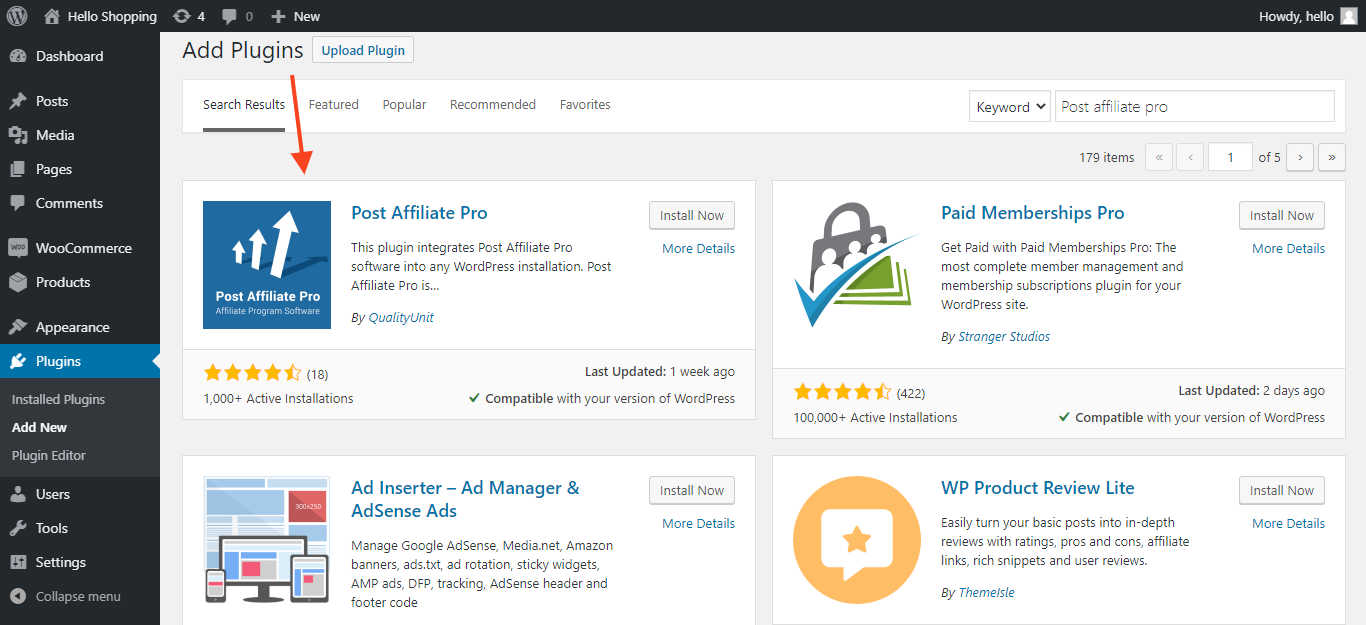 These plugins add a complete management environment, with several in-built features.
The common features include:
Accurate affiliate tracking
Payout services Integration
Real-time reporting
Referral link generator
Affiliate registration
Set cookies expiration
Customizable email
Affiliate approval
Offering creatives
Coupon code tracking
Referral rates and types
Other forms of integration
Support and help feature
You require these features in the management of the in-house affiliate program. We will not go through these plugins in detail, here.
But, let's look at various aspects of the program setup that you must be ready with.
#1. Get An Affiliate Manager
Your program requires regular management and care, hence employing a fixed and capable person to handle this desk is vital.
The affiliate network management task includes; maintaining and updating the platform, promoting the affiliate programs at various affiliate channels to attract more affiliates, scrutinizing and approving new affiliates, providing support, paying earned commission, and other management queries.
Without a manager, the process will turn random and unorganized.
#2. Decide the Extent of your Program
You must be sure about the extent of your affiliate program. A target point is a must.
What is the range of your budget?
How many affiliates would you be targeting to get for your program?
What is your expected ROI?
How extensively do you wish to promote your affiliate program?
To keep the technical, marketing, and management-related aspects in sync and fulfilling each other, you need to answer the above questions convincingly.
#3. Make It Easy To Join
A complicated procedure to join the program will lower the motivation of affiliates to join it.
Making it easy, quick, free of cost, etc., will increase the chance of more affiliates showing interest in your program.
The most simple steps are:
Fill Registration Form ———> Wait for Approval ———> Get Started
Further, you should try to keep the registration form as simple as possible and extract only the important information in the beginning.
Pro Tip: You can take a look at WP Swing's Affiliate Program Registration Form for guidance. (promoters can fill it and start earning straight away)
#4. Choose Payment Methods To Offer
PayPal is the most convenient and quick method of payment, locally as well as internationally. Other options include paying directly to bank accounts, debit, or credit cards.
You can add new payment methods through integration with payment gateways. But make sure that whatever method you choose is easy, less time-consuming, and inexpensive.
For beginners, I would suggest PayPal as the first choice for paying affiliates.
Get Ahead With WooCommerce Payments
Discover The Payment Revolution – Everything You Need to Know About WooCommerce Payment
#5. Help Affiliates To Understand Your Products
Once the affiliates have joined your program, they are actively looking for your most profitable and popular products to promote and start earning the commission.
Make it easy for them to quickly discover your products by writing product-centric articles, product lists, promotional methods, downloadable PDFs, videos, and other resources to understand your affiliate products well enough to win buyers easily.
Many retailers provide free sample products to their affiliates to offer a first-hand experience with the products. If providing demos and sample products is feasible for you, then please do so.
#6. Fix Commission Rates
It's completely your decision to decide how much commission you can afford to offer your affiliates.
Generally, one-time-paying products such as electronics products, clothing, fashion, beauty products, etc., have low commissions.
Whereas software-as-a-service (SaaS) products are often subscription-based and have a recurring payment. Thus, such products allow a high commission to their affiliates.
#7. Decide Cookie Period
The buyers don't buy products immediately after clicking the affiliate link, they would take some time for consideration and finally decide whether to buy the product or not.
A cookie is a small piece of information stored in your system. The cookie period is the amount of time it takes for the cookies to expire after creation.
In affiliate marketing, the cookie period is the duration for which the affiliates hold the right to claim for commission after a lead is generated through their affiliate link.
For example, Wix offers 90 days of cookies duration, which means that any person visiting Wix through an affiliate link and signing up any time before 90 days, the respective affiliate will get its commission for that.
#8. Be Prepared With Terms and Conditions
Don't take affiliate terms and conditions lightly.
Having a proper set of affiliate rules signed with your affiliates is necessary to avoid future problems.
It binds your affiliate partners to follow a certain set of regulations and allows you to have the right of their termination in case of any misconduct. It makes the procedure legal and protects your rights.
Pro Tip: Read the WP Swing's Affiliate program Terms and Conditions to get guidance in setting up your own program.
Now, let's check the WP Swings in-house affiliate marketing program in detail.
WP Swings In-House Affiliate Marketing Program
This section will provide an example of an in-house affiliate program for merchants to check various aspects of affiliate network management, the dashboard, strategies, and other essential features that they need to care for while starting and managing their own program.
Whereas the promoters can consider this as their next opportunity to join and earn a maximum of 35% commission on each successful sale.
A successful affiliate marketer also considers whose product to promote. Are those trusted brands? Is the firm rising or declining? Whether the company sells globally or regionally? etc.
"Products from trusted sources and brands make it easy for the affiliates to convince their audience to purchase, hence the earning possibility is much higher."
WP Swings is a digital marketing agency, recognized globally for its WooCommerce services and plugins. Its affiliate program offers high-earning opportunities to affiliates who are interested in promoting WooCommerce plugins.
Affiliate Program Dashboard Tour
The dashboard of WP Swings' affiliate program provides complete access and control to the affiliates over their account. It assists the promoters to keep their overall affiliate marketing efforts, information, earnings, referrals made, etc., centric to one commonplace.
The image below shows the dashboard of WP Swing's affiliate program.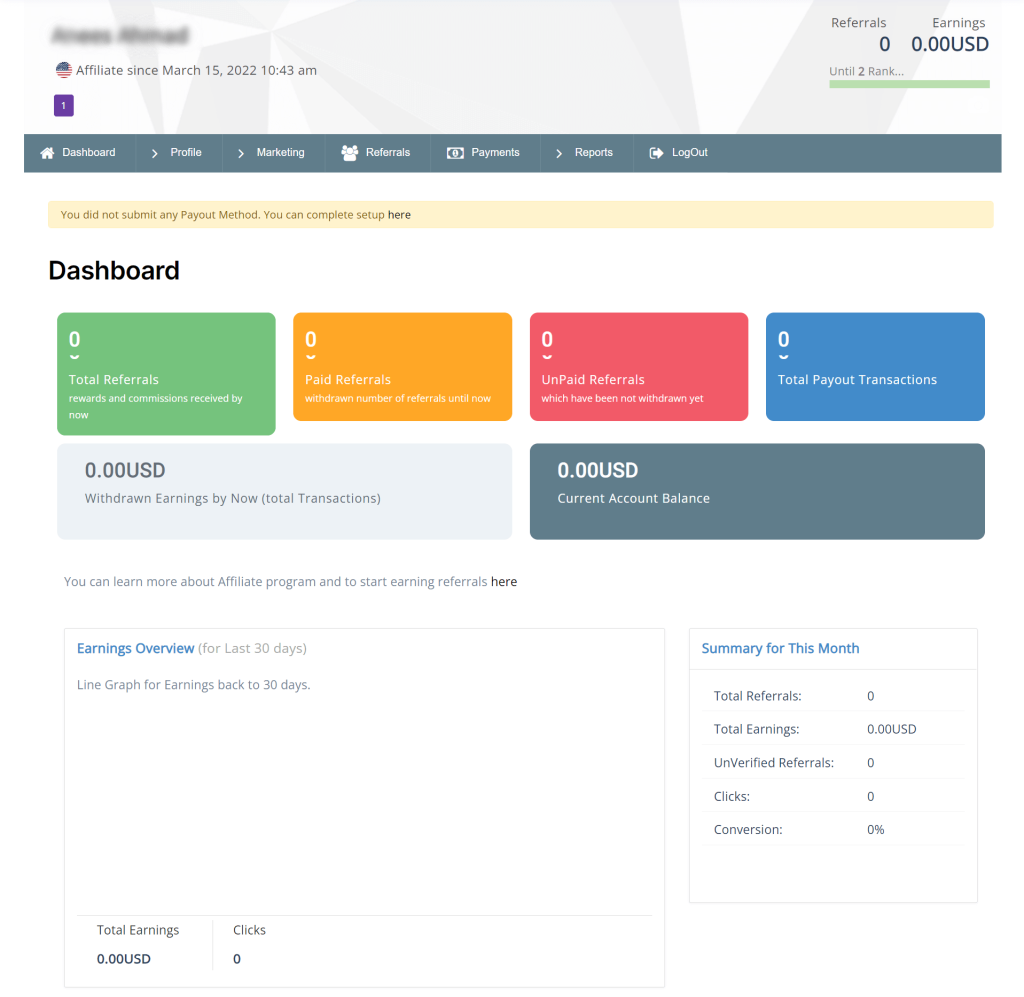 There are 5 more tabs in the dashboard panel. They are:
Affiliate Profile Tab
This tab consists of three sub-menus namely "Edit Account", "Change Password" and "Payout Details". The first 2 sub-menus are self-explanatory which allows affiliates to edit their account details and password.
Payout Details is where affiliates can enter their payment type and payment email address.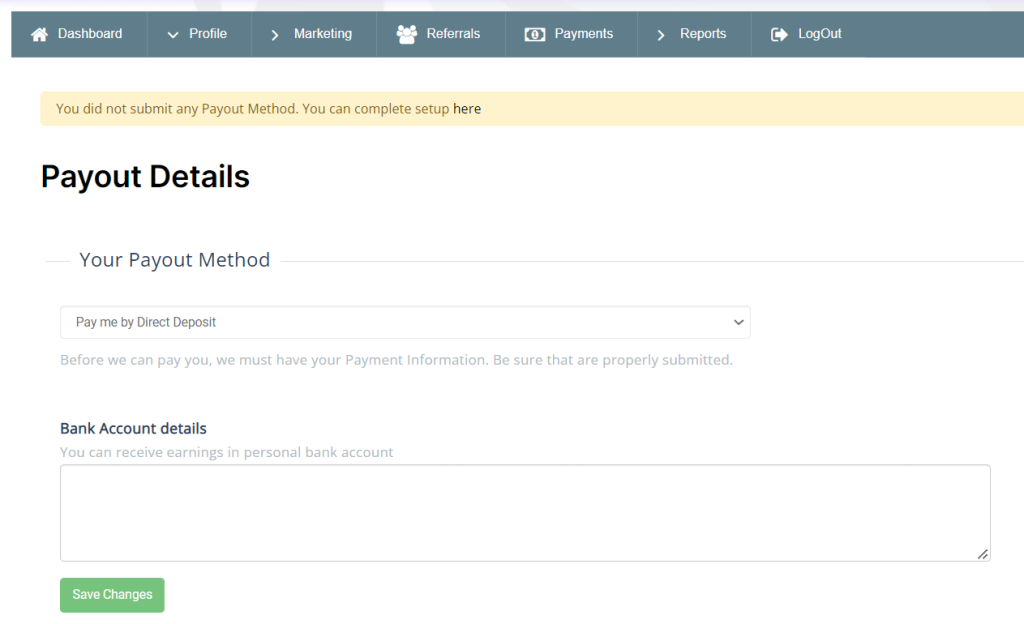 Payment type involves PayPal and a Bank Account. Affiliates can choose according to their convenience. But PayPal is more advisable as it is much quicker and easier.
Marketing Resources Tab
This consists of 'Affiliate Links', 'Campaigns', and 'Creatives'.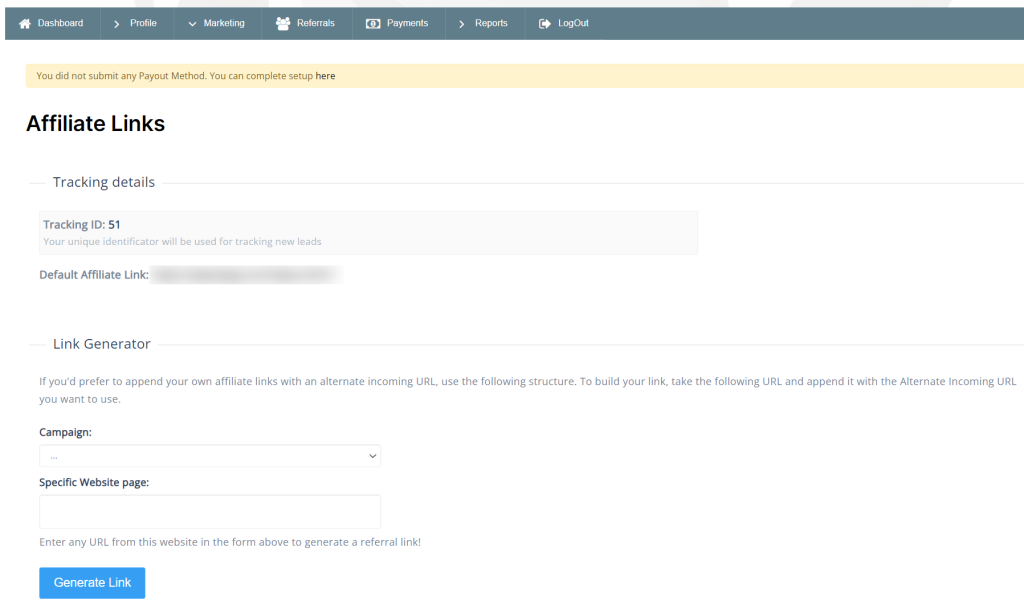 Creatives is where affiliates can find the preloaded images of WP Swings products and can use them on their websites, blogs, etc. You are not authorized to use any other banners, other than the ones present in this section.
Campaigns section allows affiliates to build separate online marketing campaigns as per various categories such as festive campaigns, or any product-specific campaign. This helps in the proper segmentation of the affiliate marketing efforts.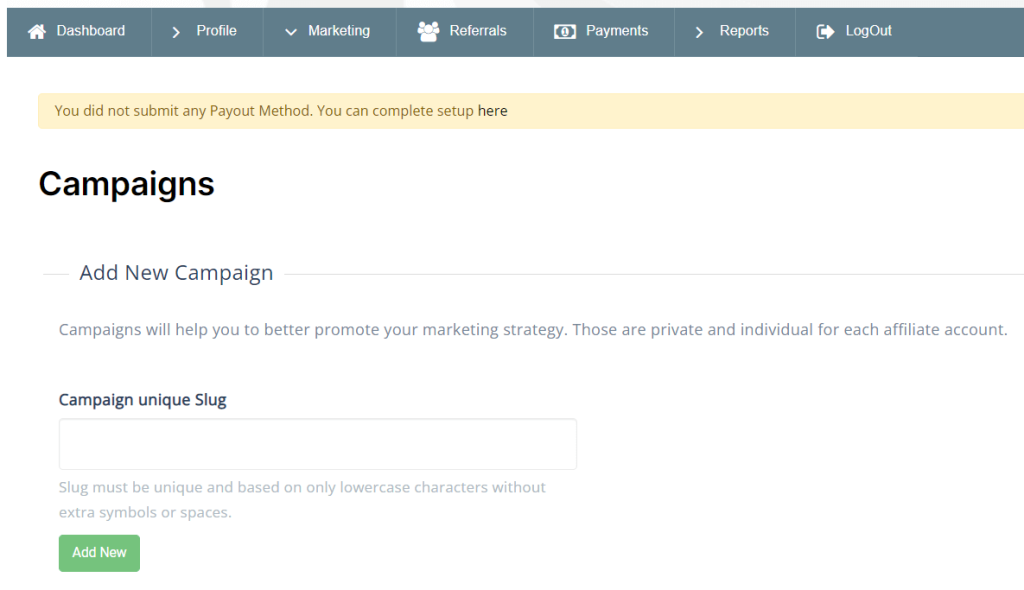 The 'Affiliate Links' allows affiliates to generate their referral link. Or they can simply use the default ones.
Referrals:This gives affiliates an insight into the referred clients and sales.
Affiliates Payments: This section allows affiliates to apply for manual payments for specific time periods.
Overall: This tab consists of 4 sub-menus: Overall, Traffic Logs, Campaign Reports, and Referral History.
In the overall section, you can see your progress and current rank. Under traffic logs, you can view the total traffic, conversions, and success rate via your affiliate campaigns for a specific time.
Campaign reports give you deep insights into the different affiliate campaigns you run. Referrals History shows you the full history of your referrals to date.
Log Out: This lets you log out of your WP Swing's affiliate account.
Top WP Swings Products You Can Promote
The list of WP Swings eCommerce plugins will be the right place to look after all the products and choose what you wish to promote and earn.
I have listed the top products and their respective commission below.
Note: These plugins are made for designing an eCommerce store and customization. Hence, merchants too can choose and strengthen their eCommerce business (The commission is calculated for fourth-tier).
Let's see the list:
One Click Upsell Funnel For WooCommerce Pro
Price: $69     Commission: $24.15
Wallet System For WooCommerce Pro
Price: $79      Commission: $27.65
RMA Return Refund & Exchange For WooCommerce Pro
Price: $69      Commission: $24.16
Gift Cards For WooCommerce Pro
Price: $79      Commission: $27.65
Points and Rewards for WooCommerce Pro
Price: $99       Commission: $34.65
Note: These prices are just for example. They may change in the future.
Tips to Manage Your In-House Affiliate Program
The major downside of in-house affiliate programs is that they demand self-management and self-promotion to hook the attention of affiliates.
To make this affiliate network management task cost-effective and smooth, I've listed some useful tips to help you.
Tip #1: Competitor Analysis
If your deal is weaker than your competitors' deal, the promoters will show the least interest in your program.
Therefore, carrying out an extensive analysis of all competitors before fixing your rules, commission rates, privacy policies, terms of conditions, etc. would help to keep you prepared for the competition.
Tip #2: Commission Claim
It's not just successful sales that always earn the promoters. Some businesses even pay their affiliates to bring leads or even clicks.
Whether you should pay for clicks or leads or not, depends on your business model.
If clicks and leads add to your revenue, then add it to your affiliate's revenue as well.
Hence, the three most used commission claims are:
Pay per sale.
Pay per lead
Pay per click.
Tip #3: Finding Quality Affiliates
Finding good affiliates requires time, effort, and strategy.
The success of your affiliate program depends on how successfully your affiliates can market your products and services. In conclusion, you need quality affiliates.
Exposing your affiliate program to various channels, creating a separate landing page, writing content about it, running social media and search engine ads, referral programs, word of mouth, etc., all can help to get high-quality promoters or influencers for your program.
Don't miss adding your affiliate program landing page to your website's footer.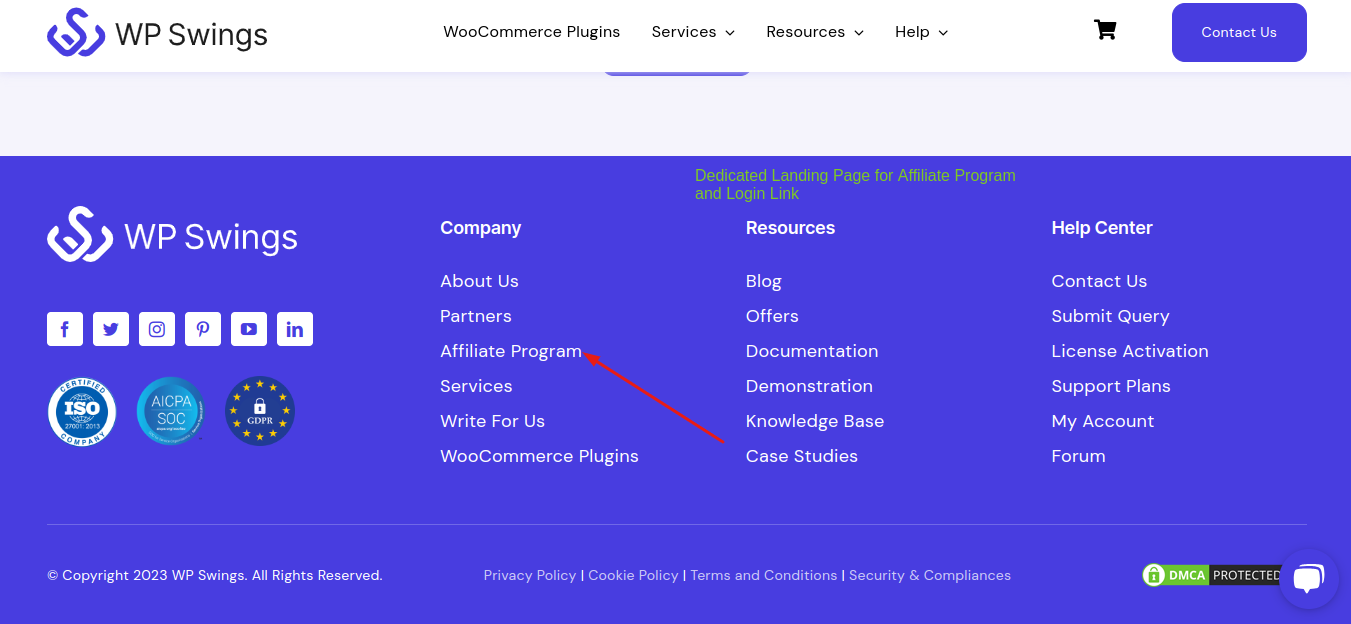 Sending affiliate-centric emails to your existing customers is also effective as they are more likely to join your affiliate program.
Tip #4: Offer Creatives And Marketing Resources
If your affiliates generate sales, you will earn too.
Therefore, helping your affiliates with creatives, banners, custom images, videos, flash links, etc., is the best for business. These resources will help them market your products effectively and increase affiliate earnings.
Tip #5: Set Clear Expectations
Set clear expectations through an affiliate agreement to help affiliates build your brand and improve your sales. Most professional affiliates look for a level of professionalism in your program.
Define ground rules of promotion and strategies and be clear about your expectations with affiliates, this will help them to reach their full promotional potential and will also help them to understand challenges and opportunities for your brand growth.
Tip #6: Provide Promotional Asset
You can provide your affiliate promotional assets like banner ads, promotional offers, and even content that they can add to their blog or website. Connect these assets to your analytics and CRM software to easily measure Key Performance Indicators and Metrics.
FAQs: Common Questions Regarding Affiliate Marketing Program
1. How big is the affiliate marketing industry?
According to the stats by Optinmonster Affiliate marketing has become a successful business worth more than $17 billion (as of 2023). This is a big increase from $13 billion in 2016.
The future also looks bright for affiliate marketing. Experts predict that by 2030, the value of the affiliate marketing industry could reach $40 billion.
2. How can affiliate marketing help my brand?
Allows you to save money on marketing
It allows you to build connections with other professional marketers and affiliates
Cost-effective and high return on investment
It helps you to expose your product to new markets and customers
3. What is an Affiliate Network?
An affiliate network is a common platform for merchants and promoters to interact with each other. Merchants offer affiliate commissions on their various products while promoters choose the products of their choice to promote, make sales, and earn a commission.
4. What is a Super Affiliate?
A super affiliate is a professional affiliate who has built a thriving affiliate business and has a high affiliate value to constantly drive large amounts of traffic and customers to your products. These types of affiliates make large income from affiliate programs mostly in five to six figures.
5. How to Track Affiliate Sales Activity?
You can track affiliate sales by providing every publisher a unique ID which is used to track cookies that are embedded in their referral links. From the cookies, you can track the affiliate's sales activity. This can be viewed from the affiliate dashboard.
Wrapping Up!
Affiliate marketing is an easy way to increase visibility, bring more traffic, and drive sales. Since it's performance-based revenue sharing, the risk is small.
Starting your in-house program is tough in the beginning but has several long-term benefits. With the help of this article, setting up an in-house program will become easy for you.
The tips will further assist you in managing the program smoothly and making it extremely successful.
Thanks for reading. Let me know what you prefer — in-house affiliate marketing programs or network-based affiliate programs and why.